Amazon Prime doc tells story of Black, queer civil rights pioneer
RBG quoted Anna Pauline (Pauli) Murray before Supreme Court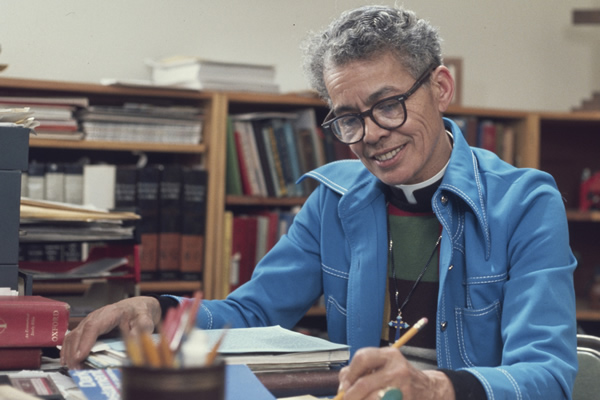 No one could have imagined the life of Anna Pauline (Pauli) Murray, the Black, queer, gender nonconforming civil rights pioneer who lived from 1910 to 1985.
Few people have done as much to make the world more just than Murray. Last year, Murray's scholarship was used to help the ACLU successfully argue before the Supreme Court that Title VII of the Civil Rights Act of 1964 protects LGBTQ+ people from being fired in the workplace because of their sexual orientation and gender identity. Yet, many people don't know who Murray was.
"My Name is Pauli Murray," a new documentary playing in select theaters and streaming on Amazon Prime, tells the story of Murray's fascinating life. The engrossing film is co-directed by Betsy West and Julie Cohen, who directed "RBG," the popular documentary on Ruth Bader Ginsburg.
"RBG" is a good documentary. Yet, the 131-minutes-long "My Name is Pauli Murray" is even better.
Conveying the complexity of Murray's life in a doc of that short length would fell many mortals. But West and Cohen are up to the task.
Using recordings of Murray's voice; Murray's letters, footage of everything from Murray with one of her dogs to Harlem in the 1930s along with interviews with Murray's family and biographers, the film draws you into Murray's world.
To say Murray was a Renaissance woman isn't trite. Murray was a lawyer, poet, writer, activist and educator. That's just the tip of the iceberg!
For decades, Murray and Eleanor Roosevelt were friends. Murray was a co-founder of the National Organization for Women. Gay writers James Baldwin and Langston Hughes were her writing buddies. Murray and Baldwin were the first Black writers to be invited to the distinguished MacDowell writing colony.
In her 60s, Murray left her tenured position teaching at Brandeis University to go to seminary. She became the first Black woman to be ordained a priest by the Episcopal Church.
It doesn't stop there! A paper Murray wrote as a Howard Law School student was a key element of Thurgood Marshall's strategy in overthrowing racial segregation in Brown v. Board of Education. Ruth Bader Ginsburg quoted Murray when she argued against sex discrimination before the Supreme Court.
While she was alive, Murray was closeted about much of her personal life. Murray had a decades-long relationship with Irene Barlow. But, because of the times in which she lived, Murray couldn't be open about their relationship.
Murray felt that she was misgendered—like a man in a woman's body. This, too, Murray kept secret.
In "My Name is Pauli Murray," Murray's family and biographers refer to Murray with the pronouns "she and her." A non-binary activist refers to Murray as "they."
Murray is having a much-deserved moment. In 2016, Yale University named one of its residential colleges after Murray. It was the first time a Yale college was named after a person of color or an (openly) LGBTQ+ person. In 1965, Murray was the first African American to graduate from Yale with a doctorate in judicial science.
In 2017, the National Park Service, part of the Department of the Interior, Murray's family home in Durham, N.C., as a National Historic Landmark.
Watching, "My Name is Pauli Murray," you're bowled over by Murray's resilience and achievements. Fifteen years before Rosa Parks, she protested racial segregation on buses.
"I've lived to see my lost causes found," Murray says.
It's hard to humanize an icon. But, the filmmakers don't place Murray on Mount Olympus.
Even as a child, we learn, Murray wanted to wear pants. That was fine during the week, her Aunt Pauline said, but Murray would have to wear a dress to church on Sunday. Though, few understood Murray's feelings, Aunt Pauline called Murray "my boy girl."
Murray and Barlow never lived together. Yet, you get a sense of their intimacy from the letters they exchanged. They called each other "Linus" and "Charlie Brown" (characters in the Peanuts comic strip) and wrote of longing to "share" listening to Brahms' Fourth Symphony and the New York Times crossroad puzzle.
"My Name is Pauli Murray" will leave you talking about Murray and how to honor her legacy. That would have made Murray happy.
Gnarly 'Saltburn' takes us on a sexy, savage ride
Buzzed-about film manages to shock even when we expect the jolt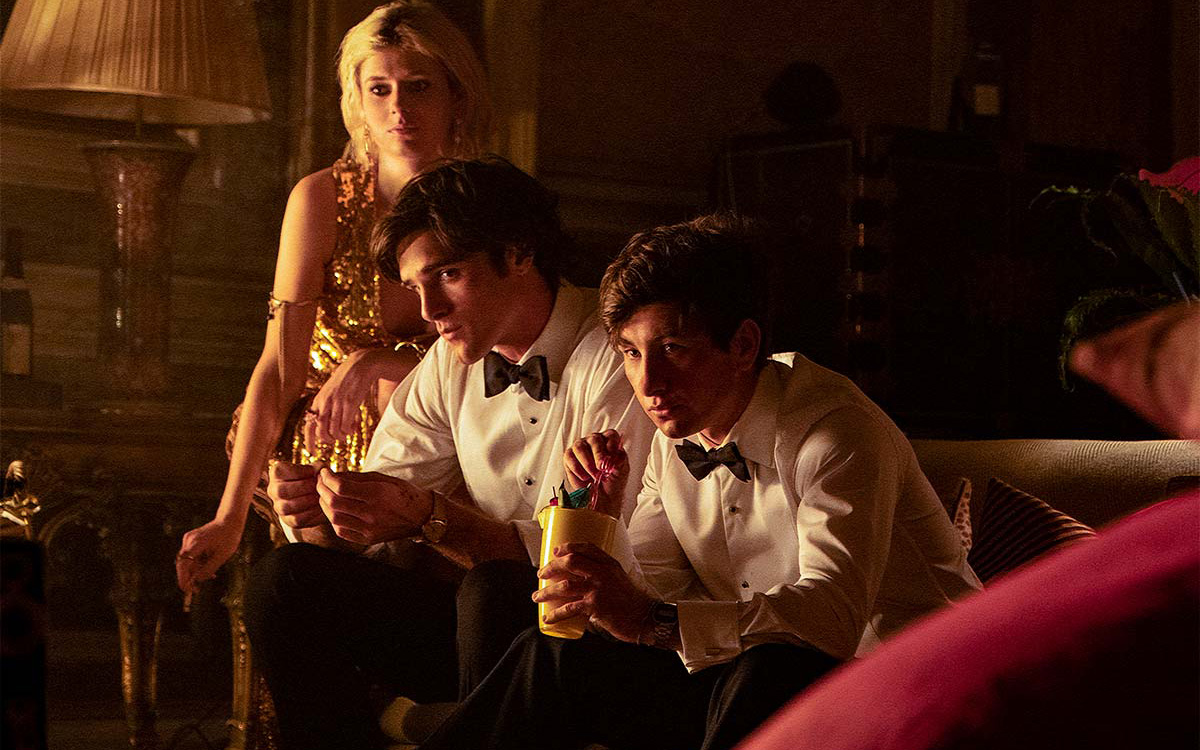 When a movie comes with as much buzz behind it as "Saltburn," one can't help but have expectations.
This is especially true when the buzz is fueled by rising talent, both in front of the camera (in this case, Oscar-nominee Barry Keoghan in his first leading role, alongside "Euphoria" sensation Jacob Elordi) and behind it (Oscar-winning writer/director Emerald Fennell, following up her debut feature, "Promising Young Woman"). When you add a deliberately vague, shamelessly provocative publicity campaign, which offers little more than a suggestion of the film's premise while luring us in with imagery that implies a dark but sexy wild ride through the world of the decadent upper class, it's almost impossible not to walk into the theater without feeling like you're in for a thrill.
That, of course, is exactly what Fennell and company want you to feel. "Saltburn," which opened in wide release the day before Thanksgiving, is a movie that counts on both your expectations and your ignorance; it needs you to be prepared for anything while knowing next to nothing, and it relies on your imagination to make assumptions and draw conclusions as you go. It's the story of Oliver Quick (Keoghan), a first-year student attending Oxford University on scholarship in the mid-2000s. Relegated at first to outsider status among his privileged peers, he becomes infatuated with wealthy Felix Catton (Elordi), a handsome and popular classmate, and gains his attention through a chance encounter. The two become close companions, and when the school term ends he is invited to spend the summer with Felix at Saltburn – his family's sprawling country estate.
It's there the movie begins to follow a more gnarly path. Immersed in the idyllic, dilapidated luxury of Saltburn, Oliver finds himself entangled in the dysfunctional dynamic of the household; he easily wins the approval of Felix's father and mother, Sir James and Lady Elspeth (Richard E. Grant, Rosamund Pike), but jealous sister Venetia (Alison Oliver), and scheming cousin Farleigh (Archie Madekwe), a "poor relation" who sees him as a threat to his own tenuous position in the family, are a different matter, and he must learn to navigate the behind-the-scenes politics required to keep them at bay.
It's impossible, really, to say much more about the events that unfold beyond that point, other than to say that it's a far cry from the nostalgic, semi-sweet gay coming-of-age story it might seem to be in the beginning, if the occasional ominous chord in the soundtrack and the glimpses of ugly human behavior on the screen didn't suggest otherwise. "Saltburn" is one of those movies that demands to be seen knowing as little as possible about its plot if one is to get the full experience, and we won't be revealing anything here that would ruin that – not even whether the "will-they-or-won't-they?" steaminess of Oliver and Felix's bromance ever comes to fruition.
What we will tell you is that Fennell – whose first film electrified audiences with a devastating twist ending – knows how to play an audience. She sets up "Saltburn" as a flashback; we know from the beginning that something big and presumably bad has happened, and its protagonist is a likable misfit who proceeds to narrate how it came to pass. From the film's first moments, we are anticipating the twist – which begs the question of how a twist can be a twist if we already know it's coming.
"Saltburn" addresses that question, though some viewers might not like the answer, by playing not just on our expectations, but on our hopes. While we may expect to be shocked, we also hope for a certain outcome; more than that, we become so attached to that hope that it can blind us to reality, so that when it finally hits us, it feels like we never saw it coming even though it was in plain view all along. That's the best we can do in explaining how Fennell's wickedly subversive, deeply disturbing mindfuck of a movie manages to shock us even when we expect the jolt.
Of course, it also delivers plenty of other shocks — drugs, sex, homoeroticism, lots of full-frontal nudity — before it gets there, and quite a few more disquieting, transgressive moments in which we see things that jar our understanding of what we are seeing or simply can't believe what we're seeing. When the gravesite scene comes up, you'll know that's one of the moments we're talking about.
Still, it takes more than shock value to make a movie worth watching, and "Saltburn" doesn't rest its laurels on a bag of manipulative tricks, no matter how skillfully they're executed. Fennell's movie delves deep into the economic class divide – a worldwide phenomenon epitomized by the genteel squalor of its upper-crust English setting – through its microcosmic portrait of the Catton family, whose benign and polite demeanor barely conceal the casual cruelty and shallow banality of their lifestyle. Even Felix – who, as superbly played by Elordi, seems genuinely kind and much more grounded than the rest of his clan – is ultimately a spoiled "golden child" used to getting what he wants and not above using his considerable charms to do make it happen. More than that, it plays with the uncomfortable notion that there's a part in all of us, no matter how much we may deplore the perceived excesses of the one percent, that would be willing to do anything to live in that world. Indeed, it's this conflicted idea that gives Fennell's movie its teeth, made even sharper by the fact that, no matter how ridiculous or downright awful her characters may be, she makes us feel for – and even like – all of them.
Of course, she's also an extremely literate Englishwoman, and she peppers her movie with references and themes from Shakespeare to Dickens to Agatha Christie, while paying ironic homage to the entire "country house" genre of British fiction. Her film craft is bold and distinctive, delivering (with the help of cinematographer Linus Sandgren) pastoral pleasures and Fellini-esque Bacchanales with equally arresting style. She deploys the talent of composer Anthony Willis to provide a stately-yet-gothic musical score that thrums with a low warning of menace, keeping us on edge throughout. And she has the good sense to assemble a superb cast – with the dryly hilarious Pike and the quietly heartbreaking Oliver as standouts, alongside Elordi – to make it all work. 
It's Keoghan, though, who is ultimately the glue holding "Saltburn" together. His Oliver Quick is a character destined to become iconic, a one-of-a-kind portrait of enigmatic humanity that bestows movie star status upon the young Irish actor after a steadily impressive roster of high-profile supporting roles. When the film is over, you will either love him or hate him, but you will never forget him.
In fact, the same can be said about "Saltburn" itself, which has had its share of negative reviews from critics put off by its over-the-top style and manipulatively orchestrated storytelling. We'd have to respectfully disagree; it's an outrageous movie, to be sure, but purposefully so – and as for the storytelling, it is through its unapologetic manipulation that a movie which might easily otherwise have been just another mindless, lurid thriller into a savage piece of cinema that you'll want to see again and again.
End-of-year lineup offers holiday feast for queer movie lovers
Gripping 'Saltburn' features stellar performances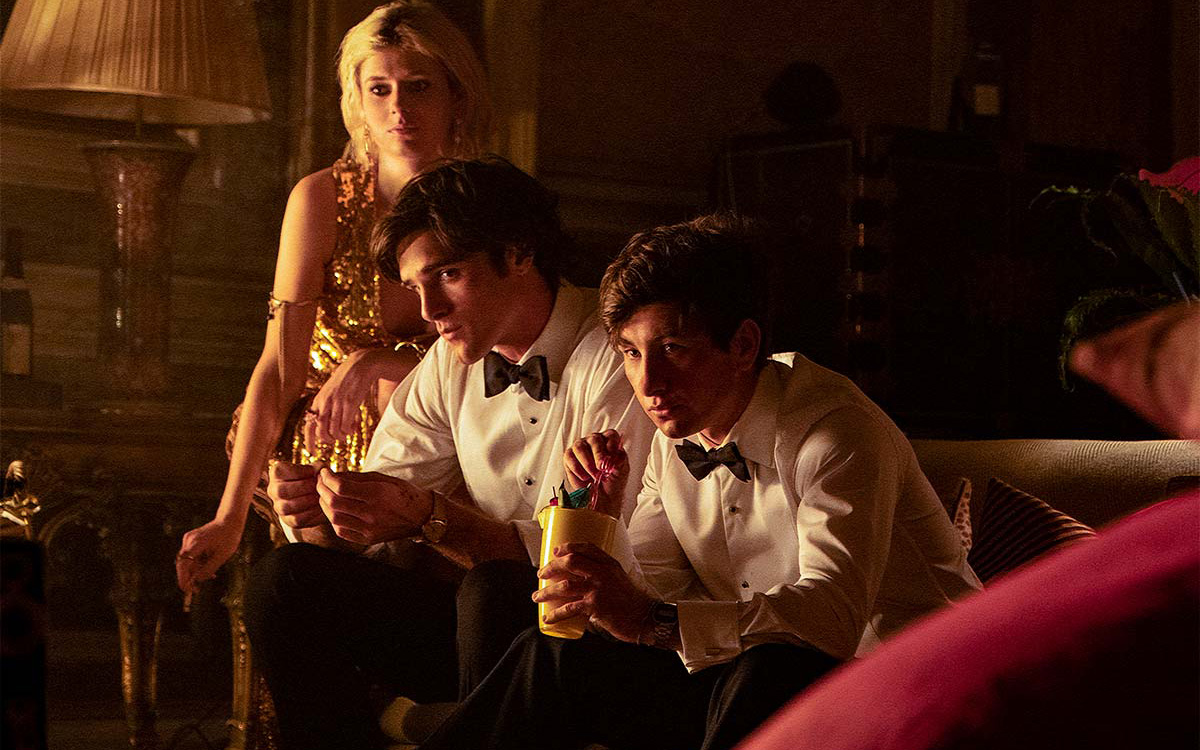 Looking back, we'd have to say that 2023 has been good to fans of outstanding cinema. From summer's existential one-two punch of "Barbie" and "Oppenheimer" to an iconic filmmaker's delivery of a new masterwork with "Killers of the Flower Moon," we've already seen enough top-notch artistry on the big screen to know there are going to be some tight races in this year's awards season.
But don't start making your Oscar predictions yet, because there's still more to come, including Ridley Scott's Joaquin Phoenix-starring "Napoleon" and Yorgas Lanthimos' darkly fantastical sci-fi comedy "Poor Things," not to mention Timothèe Chalamet in a purple frock coat as "Wonka." And as our annual Blade Holiday Roundup of current-and-upcoming movies clearly shows, even if most of them aren't exactly "seasonal" in terms of tone or subject matter, there are sure to be quite a few queer (or queer-related) titles in the mix to make the competition even more interesting.
In fact, a potential awards juggernaut is already in theaters: SALTBURN, the second film from Oscar-winning writer/director Emerald Fennell ("Promising Young Woman"), which premiered at this year's Telluride Festival and represents the latest ascension in the rise of two sensational young actors. Jacob Elordi ("Euphoria," "Priscilla") is likely more familiar to many viewers – his blend of impossibly good looks and authentic talent have gained him a lot of attention for a range of reasons, and both those qualities are put to good use here. But it's Barry Keoghan ("Dunkirk," "The Banshees of Inisherin") who is the real breakout star of this twisted, darkly comedic psychological thriller as Oliver Quick, a working class boy who earns a scholarship to Oxford and becomes infatuated with rich-but-sensitive fellow student Felix (Elordi). Invited to spend the summer at his boy crush's family estate (the "Saltburn" of the title), he gradually becomes enmeshed within their privileged dynamic – and to say anything more than that would be to spoil the "can't look away" fun that makes this savage, stylish, and sexy mindf*ck of a movie into something you can't wait to watch multiple times. Also starring Rosamund Pike, Richard E. Grant, Alison Oliver, Archie Madekwe, and Carey Mulligan in a delicious supporting turn, it goes into wide release on Nov. 22.
Another title now in theaters is NEXT GOAL WINS, from Oscar-winner and auteur-on-the-rise Taika Waititi ("Jojo Rabbit," "Thor: Ragnarok"), in which the uniquely whimsical New Zealand filmmaker presents his take on the "true sports" genre. It's a comedic-but-inspirational underdog tale centered on the American Samoa soccer team, which after a brutal 31-0 FIFA loss in 2001 hired a down-on-his-luck maverick coach to turn themselves around in hopes of qualifying for the World Cup. Waititi's infectiously winning blend of quirky absurdism and heartfelt sentiment makes this an automatic must-see, even if its handling of a trans character – real-life soccer player Jaiyah Saelua (played by Samoan "third gender" actor Kaimana), considered by FIFA as the first trans woman to compete in a World Cup qualifier game – has met with mixed response. Still, it's one of two current films boasting the return of the exquisite Michael Fassbender (the other is David Fincher's "The Killer," which should also be on your list), so we think it's worth seeing anyway; that way you can make up your own mind about the controversy over its approach to trans inclusion. Also starring Oscar Kightley, David Fane, Rachel House, Beulah Koale, Uli Latukefu, Semu Filipo, and Lehi Falepapalangi, with appearances by Will Arnett and Elisabeth Moss.
Also currently on big screens is Todd Haynes' MAY DECEMBER, which reunites the revered queer indie film pioneer with longtime muse Julianne Moore and casts her opposite Natalie Portman in the true-story-inspired tale of an actress who travels to Georgia to meet a woman – notorious for an infamous tabloid romance, years before – that she is set to play in a movie. Loosely suggested by the real-life story of Mary Kay Fualaau, who was imprisoned for having sex with an underage pupil and later married him, it's steeped in the kind of uncomfortable ethical-and-emotional danger zone that is a hallmark of Haynes's best work, so it's no surprise that it brings out the best in his two lead actresses. The buzziest performance in the film, however, comes from "Riverdale" star Charles Melton, who has drawn raves as Moore's husband. Distributed by Netflix, it will stream on their platform starting Dec. 1 – but why wait when you can see it in theaters now?
Bringing a double appeal for movie buffs who are also lovers of classical music is MAESTRO, going into limited release Nov. 22 before it begins streaming on Netflix Dec. 20, which stars Bradley Cooper – who also wrote and directed – as legendary conductor/composer Leonard Bernstein and documents (among other things) his relationships with both wife Felicia Montealegre (Carey Mulligan) and longtime male partner David Oppenheim (Matt Bomer). Though initially plagued with criticism over Cooper's use of a prosthetic nose to play the Jewish Bernstein, endorsement from the late musical genius's family and positive reviews of his performance have helped that conversation fade into the background, and the biopic – which also stars Maya Hawke, Sarah Silverman, Michael Urie, Brian Klugman, Gideon Glick, and Miriam Shor – looks poised to be a winner.
Releasing in limited theaters Dec. 1 and expanding wide on Dec. 8 is EILEEN, adapted from Ottessa Moshfegh's acclaimed 2015 debut novel, finally hitting screens nearly a year after a splashy debut at Sundance. Set in Boston of the mid 1960s, it tracks the relationship that develops when a young woman working at a juvenile detention center is drawn in by the allure of a new and glamorous older colleague (Anne Hathaway), who may also be drawing her into something much more dangerous than a workplace flirtation. With a screenplay by the author (alongside husband Luke Goebel) and direction by William Oldroyd, it's been described by co-star Hathaway as "'Carol' meets 'Resevoir Dogs'" – and that's enough to make it irresistible, as far as we're concerned.
Coming to Hulu on Dec. 6 is WE LIVE HERE: THE MIDWEST, a documentary from filmmakers Melinda Maerker and David Miller that explores the lives of several LGBTQIA+ families in the American heartland; these include a trans/queer family with five children in Iowa expelled by their church, a gay Black couple with a young daughter facing homophobic and racial prejudice in Nebraska, a gay teacher in Ohio trying to create a safe space for queer students, and a lesbian couple homeschooling their bullied son on a farm in Kansas. Profiling families who struggle to remain part of a region in which they have deep roots, it's a snapshot of a precarious historical moment in time when anti-queer legislation and sentiment is rapidly multiplying across the country, forcing queer Midwesterners to endure a clash of values as they strive to build lives in the communities they love in the face of mounting discrimination.
Another much-anticipated release comes on Dec. 22 with ALL OF US STRANGERS, the latest effort from "Looking" creator Andrew Haigh – whose 2011 "Weekend" places high on the list of all-time great queer romance films – starring top-shelf UK thespians Andrew Scott ("Sherlock," "Pride," "Fleabag") and Paul Mescal ("Aftersun," "The Lost Daughter") in a ghostly romantic fantasy loosely adapted from Taichi Yamada's 1987 novel "Strangers." In it, a melancholy Londoner (Scott) strikes up a relationship with a mysterious neighbor (Mescal) through a chance encounter that leaves him increasingly preoccupied with memories of his past; returning to his suburban childhood home for a visit, he finds it occupied by his parents (Claire Foy, Jaime Bell), who seem to be living in it exactly as they were when they died there, three decades before. An ethereal meditation on grief, nostalgia, and, ultimately, love – both the romantic and familial kinds – that leans more into the metaphysical than the supernatural as it weaves its disquieting tale and is somehow more haunting because of it, it's already a fixture in the pre-awards-season chatter. Put this one on your list in bold letters.
On Christmas Day, if you're looking for that perfect "big event" family movie to take in after the presents have been unwrapped and the feast devoured, you couldn't ask for a more perfect candidate than THE COLOR PURPLE, which is not a remake of Steven Spielberg's 1985 movie of Alice Walker's 1982 novel – though Spielberg, along with the original film's co-star Oprah Winfrey and its composer Quincy Jones, as well as Walker herself, is one of its producers – but rather the film adaptation of the Tony-winning 2005 Broadway musical version of the book. Confused? No need to be, though we must admit the film's advertising campaign may have contributed to that feeling by all-but-erasing any clue that it's a musical. But with a superstar cast headlined by Fantasia Barrino, Taraji P. Henson, Danielle Brooks, Colman Domingo, Corey Hawkins, Halle Bailey, and H.E.R., along with a proven score of powerful songs by Brenda Russell, Allee Willis, and Stephen Bray, it will all make sense after you sit back and let yourself be immersed in what's sure to be a reverent and heartfelt celebration of Black culture, history, and heritage, told through the experience of an uneducated and impoverished Black queer woman in rural Georgia of the early 1900s, that fully honors the transcendent spirit of its timeless source material.
And lastly, speaking of Christmas, this December won't disappoint the sentimentalists out there for whom the season wouldn't be the season without one or two of those much-ridiculed but secretly adored holiday romances, a genre which – after years of clinging to a stubborn "straights only" policy – has finally blossomed with a whole queer-inclusive subgenre of its own. In fact, Hallmark – the channel that, let's face it, is pretty much synonymous with the whole phenomenon – has no less than 40 heartfelt Christmas love stories slated for broadcast, and among those are at least three which will be must-sees for queer fans: CHRISTMAS ON CHERRY LANE (premiering Dec. 9), starring out actor Jonathan Bennett ("Mean Girls") and Vincent Rodriguez III as a gay couple trying to expand their family among two other intertwined stories; FRIENDS & FAMILY CHRISTMAS (premiering Dec. 17), featuring Ali Liebert and Humberley Gonzalez ("Ginny and Georgia") as a pair of lesbians who get set up on a date for the holidays and find themselves connecting more than they expected; and though it centers on a straight romance, CATCH ME IF YOU CLAUS (premiering Nov. 23) has sure-fire queer appeal thanks to its out-and-proud star, "King of Hallmark" actor Luke Macfarlane ("Bros"), playing it straight as Santa's son, who meets an aspiring news anchor (Italia Ricci) just in time to spice things up for the holidays.
Go ahead and watch them all, we won't judge you. Happy holidays and happy viewing!
'Nyad' stays afloat thanks to stellar performances
An engaging story that provides visibility for strong, authentic queer characters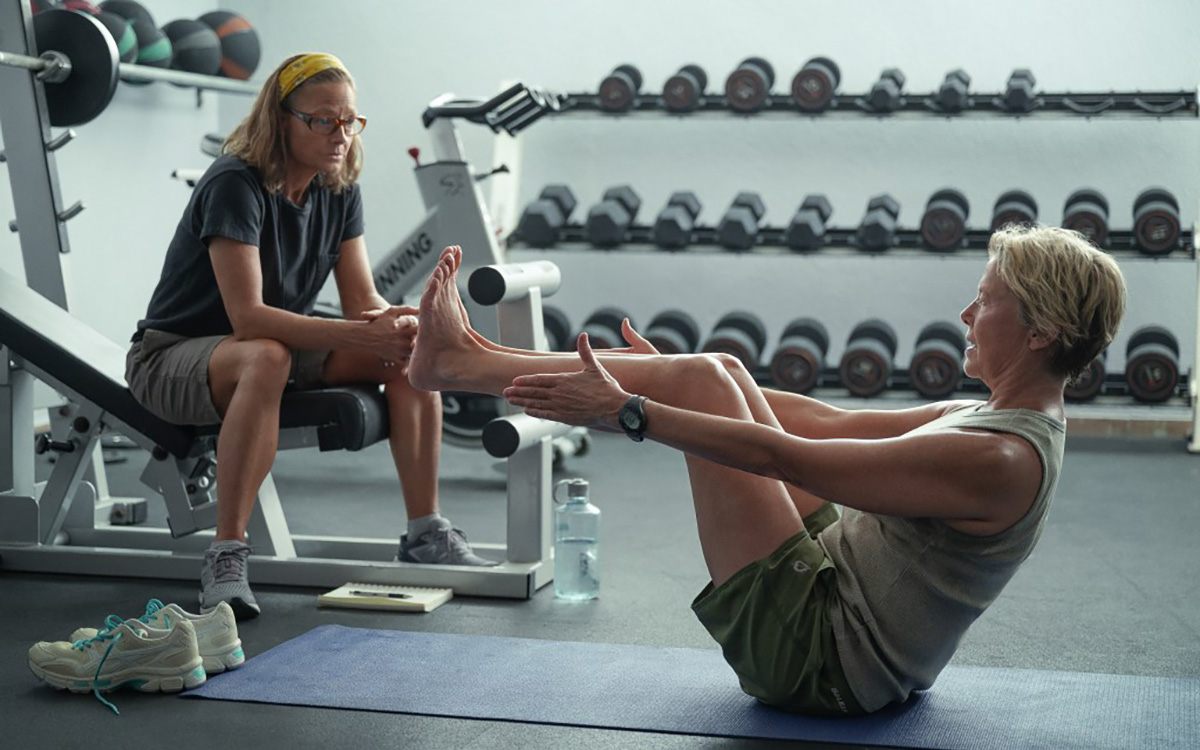 Biopics are the thing this year, it seems.
So far, 2023 has brought us big-and-buzzy movies about a world-changing scientist ("Oppenheimer"), a pop culture princess ("Priscilla"), and an unsung hero of the Civil Rights movement ("Rustin"), with the much-anticipated "Napoleon" from Ridley Scott, starring Joaquin Phoenix in the title role, soon to come. All of these have centered on more-or-less well-known real-world figures. Even Rustin, whose long-obscured historical contributions have been amplified since the Obama era, can safely be said to have a more famous name than the woman whose story (or, at least, part of it) is told in "Nyad."
That film, produced by Netflix and released on its platform Nov. 3, relates the saga of marathon swimmer – also author, journalist, and motivational speaker – Diana Nyad, who in 1978, at age 28, attempted and failed to become the first person to complete the swim from Cuba to Florida. Someone else (equipped with a shark cage) would go on to claim that record, but the movie picks up the saga when Nyad (Annette Bening), now 60, decides to try the swim again. To make her unlikely dream come true she enlists the aid of her best friend and former coach Bonnie Stoll (Jodie Foster), who reluctantly agrees to the challenges.
Bolstered by confidence, drive, and a determination to complete what she started long ago – not to mention a seasoned sea captain (Rhys Ifans) to guide her course and a team of experts brought in to help protect her from the dangers of the deep – Nyad embarks on a late-life quest to accomplish her seemingly impossible goal, refusing to give up the effort despite failure, fate, and the uncontrollable forces of nature itself.
As written by Julia Cox and co-directed by husband-and-wife team Jimmy Chin and Elizabeth Chai Vasarhelyi ("Free Solo"), "Nyad" fully embraces all the conventions of the sports-bio subgenre, from training montages to heartbreaking disappointments to adrenalin-pumping suspense, and – to its credit – manages to do so without feeling like a cookie-cutter repetition of formula. Part of this, of course, can be attributed to the "edginess" points it earns by focusing on an athletic hero that is not only female, but a 60-something gay female at that.
Another key factor is its adventurous environment and setting, which puts us into a world that most of us will never visit and forces us to imagine a feat almost none of us could hope to achieve. The thrill of the ride is more than enough reason to take the journey, and it's easy to be sucked into the vicarious experience as we root the movie's eponymous real-life heroine on toward a hoped-for triumph.
Still, it's impossible not to observe a certain rote quality to the film's approach. Even for those who go into "Nyad" without knowing her story (which, with the exception of those with an interest in the world of competitive long-distance swimming, is likely to describe most of us), it seems unthinkable that Diana Nyad won't accomplish what she sets out to do – after all, why would a movie about her exist had she not done so? Presumably recognizing the same point, Chin and Vasarhelyi angle their movie toward the visceral, attempting to immerse us in a first-person experience instead of keeping us hanging on the eventual outcome. This is a story about a personal journey, about the friendship and teamwork that make it possible, and not a "will she make it or not?" nail-biter.
To that end, "Nyad" benefits most from the two stars who anchor it. As Nyad, Bening is an indomitable – sometimes imperious – spirit, driven to the point of obsession, and might well come off as something less than likable were it not for the perfectly balanced counterweight provided by Foster's breezy, down-to-earth Stoll. There's an easy chemistry between them, a symbiotic alignment that works to both their benefits. We like Nyad better because Stoll likes her, and we respect the easy-going Stoll more because Nyad does. These two film veterans allow us to see their characters reflected through each other's eyes, heightening the emotional connection we feel toward both and giving the movie a loving heart – albeit a platonic one, since "Nyad" refreshingly focuses on a story of female friendship without imposing a perfunctory and unnecessary "Hollywood" love story into the middle of it – with which we can all relate even if we can't wrap our heads around the intense physical and psychological pressure of being a long-distance open sea swimmer. 
Yet even with two superb performances leading the charge, there's still an air of disingenuousness to "Nyad," a showy, exaggerated sense of drama that feels designed to keep things exciting. After all, no matter how intense a real-life marathon swim might be for the person in the water, watching it from the perspective of an observer would mostly be a monotonous affair, and the film tries hard to keep itself moving briskly, leaning heavily into edgy cutting and a rapid-fire narrative style as it elides its way over the routine stuff between the obstacles and setbacks. It's an understandable approach, but one that fails to generate real suspense, because (as noted above), Nyad's eventual success feels like a foregone conclusion from the beginning, even when things lean hard into the stakes-raising drama of swimming with hungry sharks and poisonous jellyfish. As a result, when these things happen, they feel manufactured.
Indeed, some of the events in the narrative are manufactured, and while such examples of artistic license have always been standard practice in "fictionalizing" true stories on the screen, there have been criticisms leveled at the film's representation of events – particularly its depiction of Nyad's final swim, some details of which were poorly logged and subject to conflicting accounts from members of her support team. Those controversies are omitted or glossed over here, which can't help but tarnish the movie's clear intent to celebrate a queer hero.
Nevertheless, as a piece of old-fashioned, inspirational Hollywood entertainment, it works well enough, thanks largely to Bening and Foster, who elevate it to awards-worthy status in spite of itself. And if, in the long run, it doesn't rise to the level of their performances, it's still an engaging story that provides all-too-rare visibility not just for strong and authentic queer characters, but for strong and authentic older ones, too.
In Hollywood, that's got to be almost as remarkable a feat as swimming 100 miles in the open ocean.