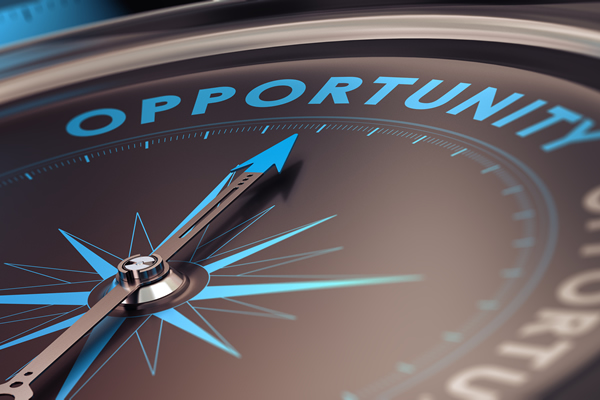 The Comings & Goings column is about sharing the professional successes of our community. We want to recognize those landing new jobs, new clients for their business, joining boards of organizations and other achievements. Please share your successes with us at: [email protected]. 
The Comings & Goings column also invites LGBTQ+ college students to share their successes with us. If you have been elected to a student government position, gotten an exciting internship, or are graduating and beginning your career with a great job, let us know so we can share your success.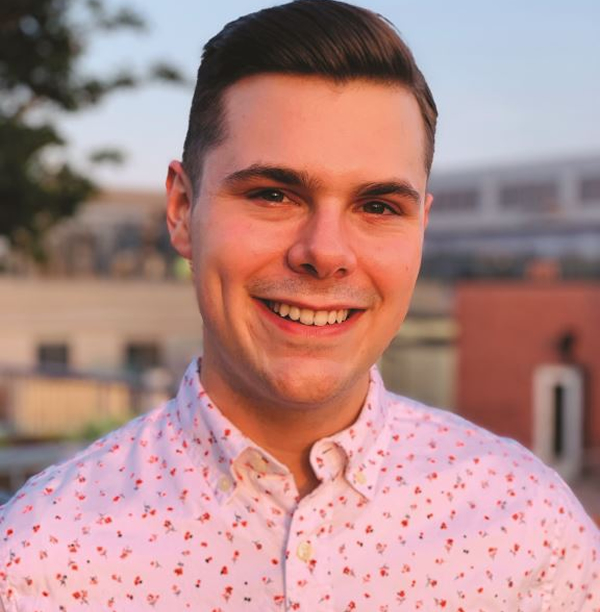 Congratulations to Steven McCarty on being named president of the Kiwanis Club of Washington, D.C. He said, "I'm honored to be installed as the president of the Kiwanis Club of Washington, D.C. and to be able to shepherd our programs and volunteers to impact youth where they are needed most. Our club's new partnership with SMYAL has already turned a portion of their Youth Center in Southeast D.C. into the first Clinical Services Department in the District that offers free and affirming mental healthcare to LGBTQ Youth. As an openly gay man, I'm proud to further our club's mission with radical empathy and inclusion." McCarty has also recently been awarded Kiwanis' highest honor, the George Hixson award.
McCarty is a Technical Program Specialist at stac labs in D.C. He is also founder and campaign manager at Abolish Racism 2020. He worked as a Senior Customer Success Manager, Crowdskout. He was a workplace equality intern at Human Rights Campaign and a summer fellow at Michigan State AFL-CIO, in Lansing, Mich.
McCarty earned his bachelor's in Political Science and Communications Studies at the University of Michigan in Ann Arbor.
Congratulations also to Shin Inouye on his appointment as Executive Vice President of Communications, The Leadership Conference on Civil Rights and Human Rights, The Leadership Conference Education Fund.
Wade Henderson, interim president and CEO of The Leadership Conference and The Education Fund said, "We are thrilled Shin Inouye will be taking on even greater responsibilities on our senior leadership team. His incredible talent and commitment to this organization and our work are truly outstanding, and his strategic leadership will no doubt continue moving us forward in the fight to protect and advance civil and human rights."
Inouye has held a number of positions with the organization including Managing Director of Communications. Inouye also held a number of high-level positions in the Obama administration, including Press Secretary and Acting Senior Adviser for Intergovernmental and External Affairs, Department of Homeland Security, U.S. Citizenship and Immigration Services; Adviser for Intergovernmental and External Affairs, Executive Office of the President; White House Office of Communications: Director of Specialty Media; and served as an authorized spokesperson for the Obama Inaugural Committee, with a focus on specialty media outlets, including LGBTQ, AAPI, Native American, Youth/College, Faith, and Jewish press. Prior to that Inouye was Communications Director in the Office of Congressman Jerrold Nadler (N.Y.) and has also worked for the ACLU and as a summer intern with the American Chamber of Commerce in Japan.
Inouye received a number of honors including being named One of 25 "LGBTI next generation leaders to watch" by Out in National Security and the Atlantic Council; and One of "40 Asian American Pacific Islander National Security & Foreign Policy Next Generation Leaders" by New America and the Diversity in National Security Network.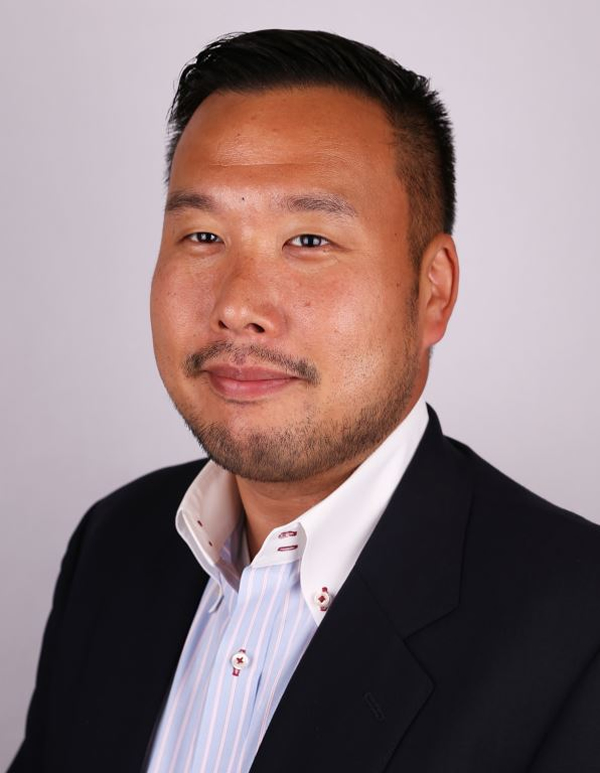 Poll indicates Moore well ahead of Cox in Md. gubernatorial race
Democrat has 32-point lead over anti-LGBTQ Republican opponent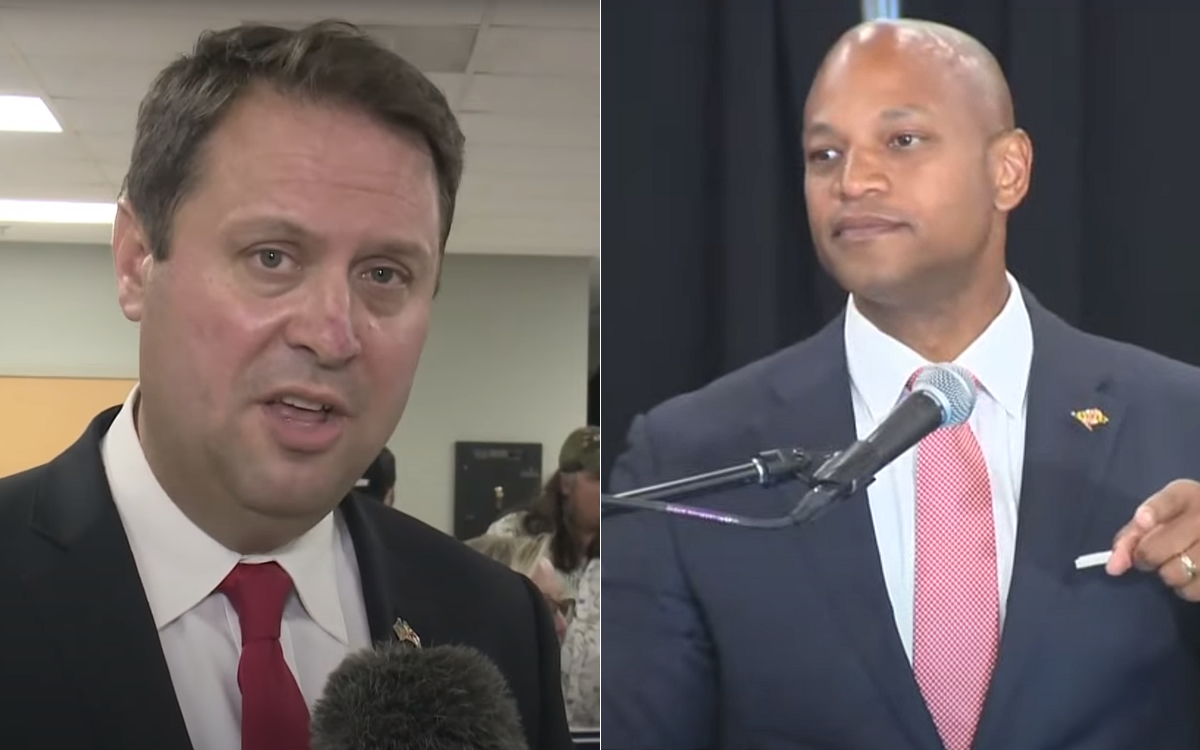 A new Washington Post-University of Maryland poll shows Democrat Wes Moore is ahead of Republican Dan Cox by 32 points in the state's gubernatorial race.
The poll, which was released on Saturday, shows 60 percent of respondents supported Moore, compared to only 28 percent who backed Cox. The Post and the University of Maryland surveyed 810 registered Maryland voters by telephone from Sept. 22-27.
The results mirror those of the 2020 election, when now President Joe Biden defeated then-President Donald Trump in Maryland by 33 percentage points. The former president has endorsed Cox, who opposes LGBTQ rights.
While the poll reflects the candidate for whom Marylanders are more likely to vote, it also shows the one who is generally more liked. Fifty-one percent of respondents have a favorable opinion of Moore, compared to only 28 percent of respondents who said they feel favorably about Cox.
A Democrat from Baltimore County told the Post that she feels like Moore understand the issues of marginalized communities, 
"He is coming from an African American family and knows how hard life can be," she said.
An Independent from St. Mary's County told the Post they agrees with Cox's opposition to teaching students about gender identity and structural racism in the classroom. The voter also said they feel Republicans can help the economy more than Democrats can.
Judge postpones ruling on whether Casa Ruby should be dissolved
Request by Corado for gag order to stop 'one sided' information denied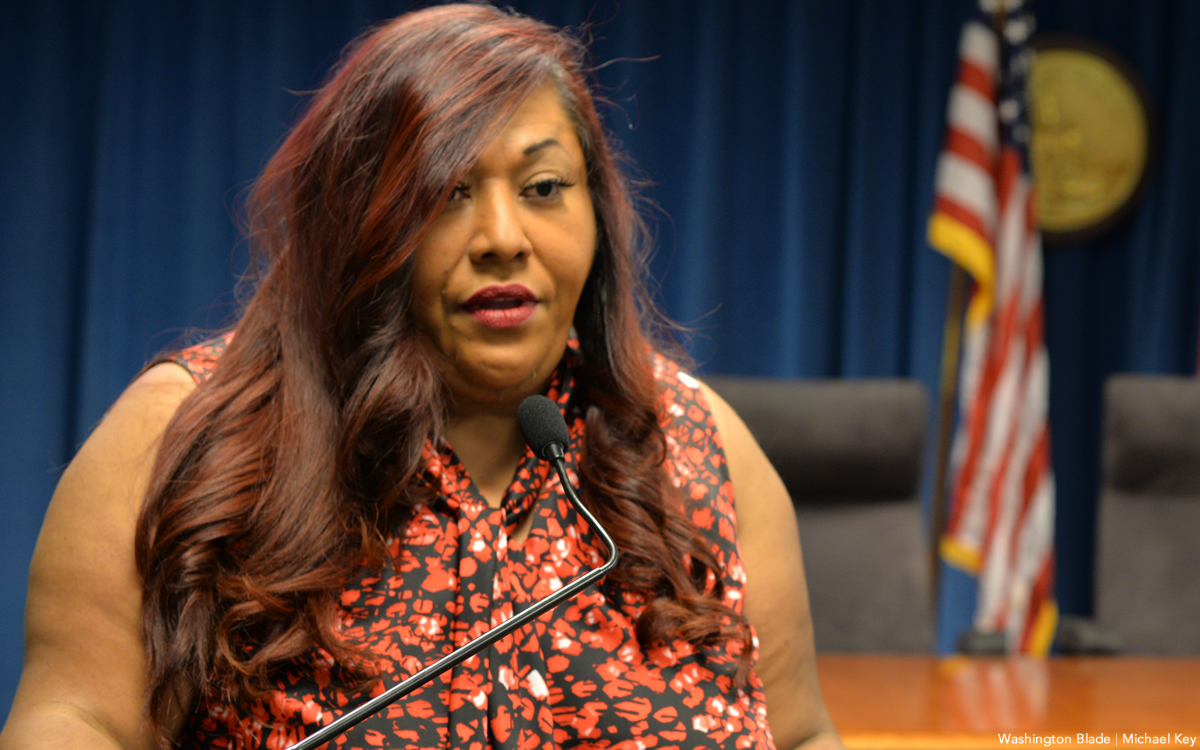 A D.C. Superior Court judge on Thursday said she was not ready to issue a ruling on whether the LGBTQ community services center Casa Ruby should be dissolved as recommended two and a half weeks earlier by a court-appointed receiver that took control of Casa Ruby's operations.
Judge Danya A. Dayson stated at a Sept. 29 court status hearing that the Office of the D.C. Attorney General, which filed civil charges against Casa Ruby and its founder and former executive director Ruby Corado in July, needed more time to complete its investigation into Casa Ruby's operations.
"We think it may be premature to immediately commence proceedings for dissolution while our investigation is still pending," Cara Spencer, an official with the Office of the Attorney General, told the judge. "We're still gathering information. We still intend to shortly serve discovery so we can bring it to a resolution promptly," she said.
The AG's office filed a civil complaint against Casa Ruby and Corado on July 29 alleging that the LGBTQ group had violated the city's Nonprofit Corporations Act for the past several years. The complaint says improper actions by Corado, including the unaccounted-for expenditure of funds and a failure by the Casa Ruby Board of Directors to provide oversight led to a financial crisis.
The complaint notes that Casa Ruby employees were not getting paid and over $1 million was owed to landlords in back rent for at least three buildings Casa Ruby used for its offices and to provide emergency housing for homeless LGBTQ youth.
With Corado spending most of the past year in El Salvador, according to Casa Ruby employees, the employees and managers struggling to keep its operations going said they were forced to shut down all operations in late July.
Corado, who attended the Sept. 29 status hearing through a phone hookup, said she had yet to retain a lawyer due to a "shortage of funds." She told Dayson she expects to finally retain an attorney but said she had not received a copy of the receiver's report that recommended Casa Ruby be dissolved. One of the attorneys with the AG's office told Dayson the office sent a copy of the report to four email addresses it had for Corado and Casa Ruby.
At the judge's request, one of the AG office officials sent another copy of the report to Corado during the hearing to an email address that the judge asked Corado to provide.
Dayson on Aug. 12, at the recommendation of the AG's office, appointed the Wanda Alston Foundation, a D.C. organization that provides housing for homeless LGBTQ youth, as the Casa Ruby receiver. One day earlier, Dayson approved the AG office's request that Casa Ruby be placed under receivership.
On Aug. 3, also at the request of the AG's office, the judge issued an order that all of Casa Ruby's bank accounts and financial assets, which had been under the sole control of Corado, be frozen. Dayson lifted that freeze after the Alston Foundation assumed control of Casa Ruby under the receivership.
As she had at the Aug. 11 court hearing, Corado stated in the Sept. 29 hearing that Casa Ruby's financial problems were caused by the D.C. government withholding as much as $600,000 in grant funds for services Casa Ruby had provided.
Officials with the D.C. Department of Human Services, which initially approved the grants, have said some of the grant funds were withdrawn or cancelled because Casa Ruby failed to comply with the terms of the grants. In some cases, the officials said, required financial reports were not filed to substantiate how the funds were spent.
Corado also asked Dayson at the Sept. 29 hearing to order the receiver and officials with the AG's office stop releasing "one-sided" information that she said was falsely placing her and Casa Ruby in a negative light through reports in the press.
"The story that has been painted is that Casa Ruby left the clients in the cold," Corado said. "That is not accurate."
When asked by Dayson what she wanted the court to do, Corado said, among other things, she did not want the receiver to be allowed to disclose information about what happened in the court proceedings that Corado said was being reported by the press inaccurately.
She said highly negative publicity resulting from the release of information from the previous court hearing resulted in her receiving death threats and damage to the engine of her vehicle in an act of vandalism that cost $1,700 to repair.
Dayson said Corado appeared to be seeking a gag order to prohibit the receiver or the AG's office from discussing or releasing information that was part of the public record. Saying there were insufficient grounds for such an order, Dayson announced she was denying a request to seal court records or issue a gag order against the receiver.
The judge ruled in favor of a request by the AG office attorney to file an amended complaint for the case, directing them to file the amended complaint by Nov. 28. Court records show that Dayson directed the parties to return to court for scheduling hearings on Oct. 28 and Jan. 6.
Former FreeState Justice executive director denies allegations against them
Jeremy LaMaster denies they launched 'coordinated attack'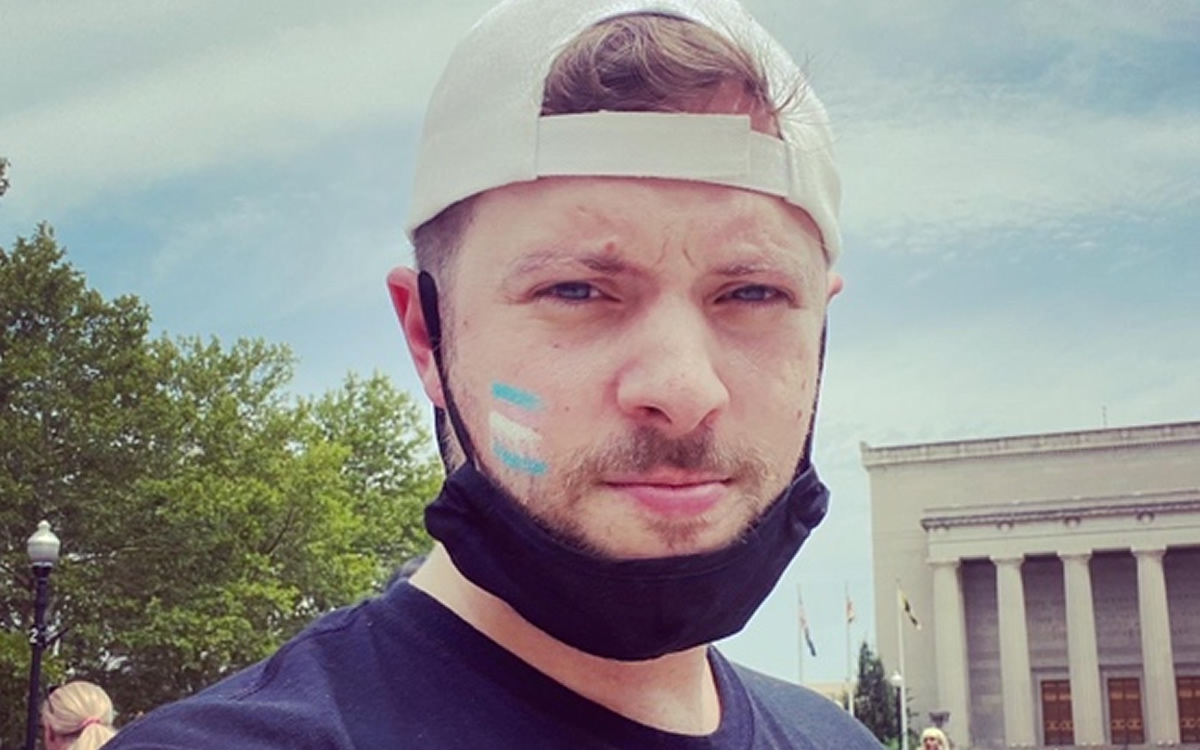 The former executive director of FreeState Justice on Tuesday denied they have launched a "coordinated attack" against their former organization.
Jeremy LaMaster on Sept. 19 announced their resignation after they said FreeState Justice"s board of directors declined their request to step down.
FreeState Justice two days later in a federal court filing against LaMaster said they "immediately began a coordinated attack on FreeState's operations; in particular, its IT assets" after they left a Sept. 16 meeting in which the board informed them they "were relieved of their duties, and the final two weeks of their employment were to be spent cooperating in the transition of FreeState's operations."
"When FreeState discovered LaMaster's improper interference, it terminated their employment effective immediately, ordered them to cease and desist and to rectify their actions," reads the court filing. "LaMaster did not abide and continued to hijack and misappropriate FreeState's IT infrastructure and documents."
"What would hacking into someone's email and deleting an email do," LaMaster told the Washington Blade during a FaceTime interview.
LaMaster, who uses they/them pronouns, told the Blade they started "working on this transition stuff" once they returned home from the Sept. 16 meeting and "I started getting error messages for our intake system."
"After the Sept 16 meeting, someone else, not me, began deactivating email accounts, including mine, breaking workflows for our client intake and other processes, causing a lot of problems for our IT infrastructure," said LaMaster on Wednesday in a follow-up text message.
LaMaster said they began to receive text messages on Sept. 18 about "criminal charges" and "allegations."
LaMaster told the Blade they tried to call now FreeState Justice Executive Director Phillip Westry on Sept. 18, but he did not accept his call.
"I sent an email to the team about this is what happened, this is what I was doing,'" said LaMaster. "Some of our things are down. Please let me know."
LaMaster said they sent a Slack message to Westry and now Deputy Executive Director Tina Jones on the morning of Sept. 20 in order to "help transition IT." LaMaster told the Blade they "learned about the restraining order and a number of IT issues and allegations when everyone else did."
LaMaster, who is representing themself, attended a court hearing in Baltimore on Monday.
LaMaster told the Blade that they said they could provide passwords to their FreeState Justice email account. LaMaster said they provided the passwords to all other software systems the organization uses.
LaMaster sent the Blade a screenshot of a text message thread between them and Jones.
"Please provide the the (sic) appropriate login credentials and administrator access to all FreeState Justice systems," Jones told LaMaster. "Please do not attempt to access any systems or the office."
"As I mentioned yesterday — I do not know the passwords off the top of my head and will need to either 1) test them or 2) reset them. This required accessing the systems," responded LaMaster. "I'm not being obtuse — but you've all made a large number of false (and impossible) accusation based on the very limited understanding of our tech, or tech in general (not being rude, but y'all know it's true.)
"Like I said, I think a phone call or Zoom, we can even record it so that I cam (sic) do/show exactly what I am doing," added LaMaster. "I'm here for the lawyer robot responses and the desire for retaliation to continue to block FreeState legal services delivery, and then turn around and blame you (sic) lack of cooperation and knowledge on me."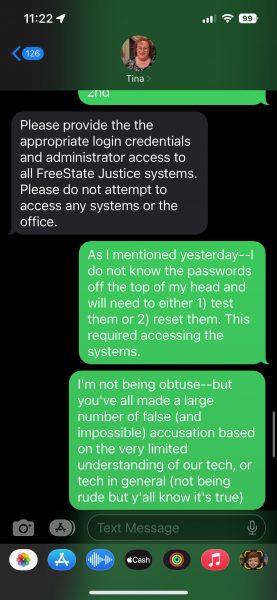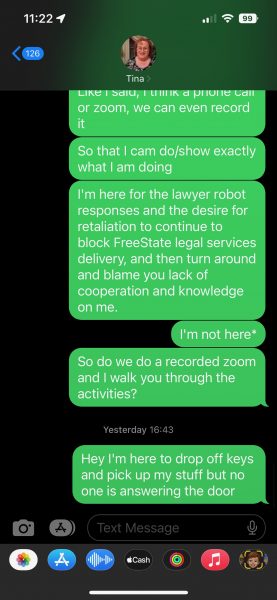 LaMaster told the Blade they were "supposed to return items and keys and such" to FreeState Justice's offices at 4:30 p.m. on Tuesday, but "no one was there." The text thread shows LaMaster texted Jones at 4:43 p.m. to let her know that they're "here to drop off keys and pick up my stuff, but no one is answering the door."
"They're still holding my personal belongings and not accepting my keys and FSJ (FreeState Justice) checks," LaMaster told the Blade.
Board has 'white supremacist culture'
LaMaster in June 2020 succeeded Mark Procopio as executive director.
LaMaster in their resignation letter said they stepped down after board members refused their request to immediately step down "due to persistent violations of our board handbook, consistent failures in their fiduciary responsibilities, and using positions of power to engage in partisan lobbying within FreeState Justice and their repeated refusal to add new members and leadership to the board."
LaMaster in his email noted they "exhausted every avenue over the past two years to get our board fully staffed and running, and I made good faith efforts to work with the board to ensure that our clients and low-income LGBTQ Marylanders remained at our center."
"Instead, the board has refused to accept any new board members since 2021 and refused to staff and run core board activities as per our handbook," wrote LaMaster. "Instead, they have worked to consolidate power and amend the board handbook in secret to lower the minimum number of board members required and ensure that our policy positions prioritize relationships with legislators, not the best interests of our clients and community. I have provided clear warnings and consistent concerns over these issues that were repeatedly ignored."
LaMaster reiterated his criticism of the board when they spoke with the Blade.
"As with most nonprofits, I'm sure if you talk to any executive director, they will tell you the large number of challenges that comes to board and nonprofit boards and cultivating and building them and supporting them. There have been chronic issues for two years now," they said.
"I think everyone gets a pass with the (COVID-19) pandemic, but at some point, stop getting passes," LaMaster added. "There was just a lot of really poor decision making that was costing the organization money, and really not fulfilling core responsibilities laid out in our board handbook."
LaMaster specifically noted the board's abrupt decision in May 2022 to stop offering COVID-19 vaccines to people experiencing homelessness after FreeState Justice's landlord "did a full Karen" and "went to the board and was complaining about a whole lot of things, the majority of which were not true."
"It basically screwed six or seven of our homeless clients out of getting their second dose," they said.
LaMaster also said board members did not take their calls for more advocacy on behalf of LGBTQ students in Maryland seriously. LaMaster further accused board members of threatening FreeState Justice's 501(c)(3) status because of their ties to politicians they didn't specifically identify.
"We don't exist to help politicians get easy wins and in the General Assembly," said LaMaster. "We exist to provide widespread advocacy work and transparent information to the community."
LaMaster also accused board members of engaging in unethical behavior.
They said Brianna January, the board's vice president, repeatedly asked FreeState Justice staff to secure funding that would allow her to be hired as the organization's policy director. LaMaster provided the Blade with a text message in which January asked them to hire her.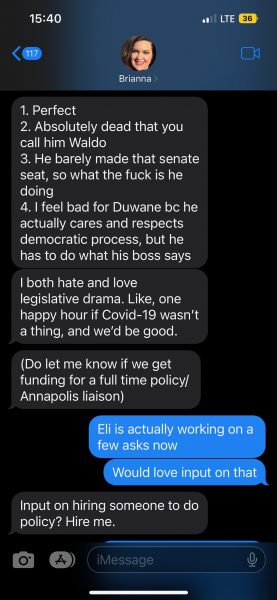 LaMaster further reiterated their previous claim the board engages in white supremacism.
"When I say white supremacist culture within the board, this response is case and point of that culture, of that type of culture," they said.
Westry on Wednesday declined to comment on LaMaster's allegations.
"FreeState Justice has provided comments on this issue to several publications about the ongoing litigation with Jeremy LaMaster," Westry told the Blade in an email. "We are in active litigation with LaMaster and will offer no further comment."