Have to pee? Check out new John Waters Restrooms
BMA introduces gender-neutral facilities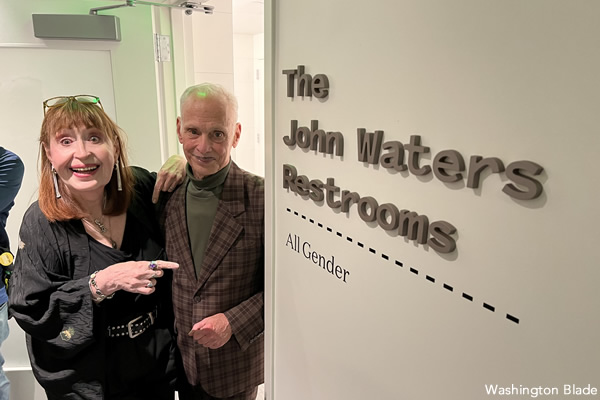 The Baltimore Museum of Art unveiled its latest addition on Wednesday: the John Waters Restrooms, named for the iconic filmmaker who is a trustee of the museum.
There were plenty of snickers and jokes about who would be the No. 1 and No. 2 patrons of the new facilities, but beneath the potty humor was an important message about access to the most fundamental spaces in society.
Joining Waters at a BMA event Wednesday to officially dedicate the gender-neutral restrooms was Elizabeth Coffey, a transgender actress and longtime friend and collaborator of Waters'. Coffey noted the importance of access to public spaces to the trans community. Preceding her at the lectern was Christopher Bedford, the Dorothy Wagner Wallis director of the BMA, who noted that adding the gender-neutral restrooms was the right thing to do.
After brief remarks, Coffey and Waters led a group of museum supporters and reporters downstairs to see the new space and Coffey cheekily took the inaugural trip into one of four private stalls. The stalls and adjoining communal washroom were designed by Quinn Evans Architects and feature white tile with bright red tile in the stalls. The idea for naming the restrooms came from Waters when he bequeathed his fine art collection to the BMA, according to a museum statement. 
The John Waters Restrooms will open to the public on Sunday, Dec. 12, in conjunction with the adjacent Nancy Dorman and Stanley Mazaroff Center for the Study of Prints, Drawings and Photographs and Ruth R. Marder Center for Matisse Studies. Waters is about to embark on a national tour of spoken-word performances.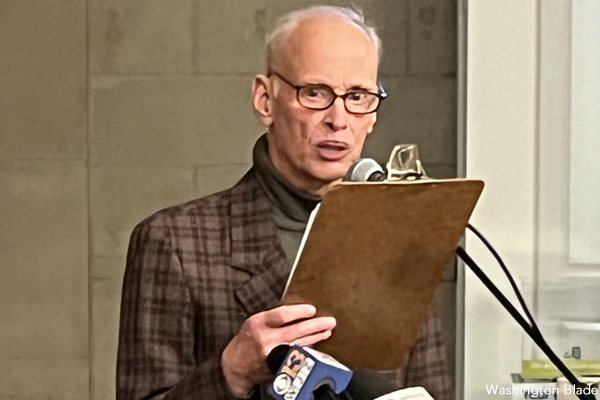 Artists examine gender identity in D.C. exhibition
Event sponsored by the Blade, Dupont Underground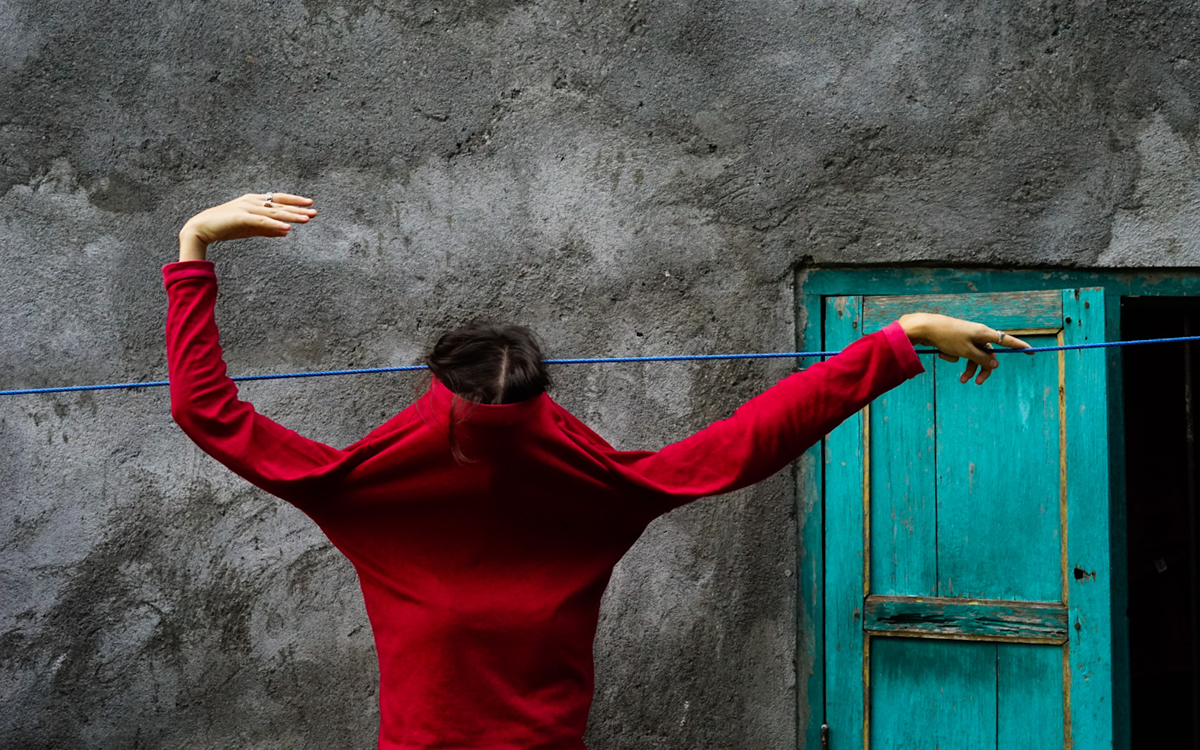 Each weekend this June, visitors to Dupont Underground — an arts space built into an abandoned trolley station under Dupont Circle — will find walls lined with artwork ranging from embroidery to watercolors. Together, the pieces make up the Underground's latest exhibition, "The Gender Within: The Art of Identity," which unites more than 35 local artists in a conversation on gender identity and the dynamic ways that gendered labels are experienced.
Sianna Joslin, a web developer by day and one of the artists participating in the exhibition, is including a piece entitled "The Inherent Agony of Having A Body" — an embroidery hoop that depicts an anatomical model of a transmasculine individual bearing top surgery scars and patterned red boxers.
The piece juxtaposes "the old ideals of the human body, the male form, with top surgery scars (and) these funny pennant boxers," they said. "It's kind of a play on what society has traditionally considered masculine versus these new symbols of masculinity that transmasculine folks are embracing."
Another artist, Rashad Ali Muhammad, brings to the exhibition a compilation of videos in which colorful, moving backgrounds are transplanted onto the faces of different people — pieces that originally began as NFTs.
This project, entitled "A World Within," was inspired by the realities of existing in a period of social volatility like the pandemic, and aims to show the "worlds" that exist within each person, Ali Muhammad said.
Left to face the challenges of the pandemic and broader social inequities, "you need to take the time inwardly to think about and process everything that's going on," they explained. "You have to go within to understand who you are sometimes."
Nikki Brooks, whose painting "Blaq Jesus" portrays a Black and androgynous Jesus smoking a cigarette with a nondescript expression, rooted her creative exploration in her experience with societal gender norms.
"For a long time I struggled with my gender expression. I had to live up to how people framed me … putting this femininity on me," she said. The painting challenges "pressures from people saying that one person has to be one way, or express themselves one way," and encourages others to "let them live how they feel on the inside."
Brooks also noted the use of religious imagery was key to her piece. In historical depictions of Jesus, he is often assigned certain racial and gender identity markers according to societal demands, she said. "This Black Jesus in a way defies all those stigmas" tied to the identities depicted by connecting them to a revered religious icon.
The artists all noted that they are excited by the diversity of experiences the Underground's exhibition has brought together.
"We're going to see — from all of these different artists — interpretations of what gender means to them, and I just think that's wonderful," Joslin said. "I really hope that it expands on that notion of gender for a lot of people."
Ali Muhammad found the exhibition especially meaningful for openly creating space for queer artists.
"In the history of art, a lot of artists tend to be queer … but people don't talk about that," they said. "Focusing specifically on queer art and queer artists (says) we are here, we are represented."
The exhibition, cosponsored by the Washington Blade and Dupont Underground, can be accessed at 19 Dupont Circle, N.W., each Friday, Saturday and Sunday in June from 11 a.m. to 5 p.m. Entry costs $10 per person, or $7 for students, seniors and members of the military.
Not-to-miss exhibits at Baltimore's Gallery Blue Door 
Works by Brooks, Halvorsen now on display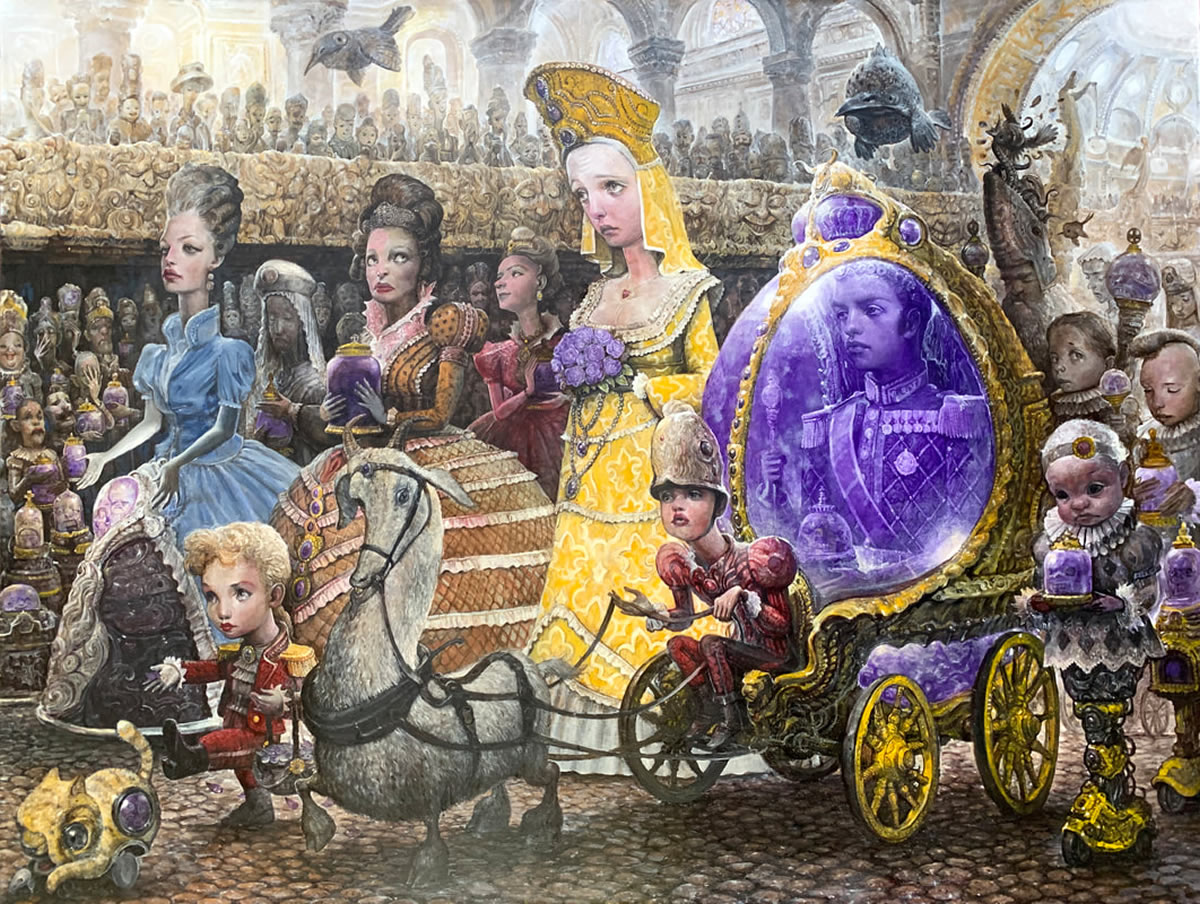 Baltimore's bustling art scene includes several current exhibits at the gay-owned Gallery Blue Door.
Striking works by acclaimed artist Scott Brooks are on display now through July 9 in an exhibit titled "Self Contained — Pandemic Era Works."
"The Work in 'Self Contained' was created over the last two years," Brooks said in a statement. "It has been a challenging time for the world, and for myself personally. As an artist, being in lockdown gave me the gift of time."
Brooks, a former D.C. resident who is gay, is a figurative artist who has been living and working in Baltimore since 2016. His art borders on the surreal and ranges from portraiture to complex narratives, according to the gallery.
Also currently on display is an exhibit titled "Becoming" by out artist Tracey Halvorsen, which runs until May 14.
"This latest body of work reflects a composite of subject and abstraction through continued exploration of landscapes, still life, and narrative themes," according to a statement from the gallery.
Gallery Blue Door should be on your list of places to visit in Charm City. It's located in a historic row home in Mount Vernon, long the epicenter of LGBTQ life in Baltimore.
BMA exhibit traces friendship between Matisse and Etta Cone
Baltimore collector helped build world's preeminent repository of French master's work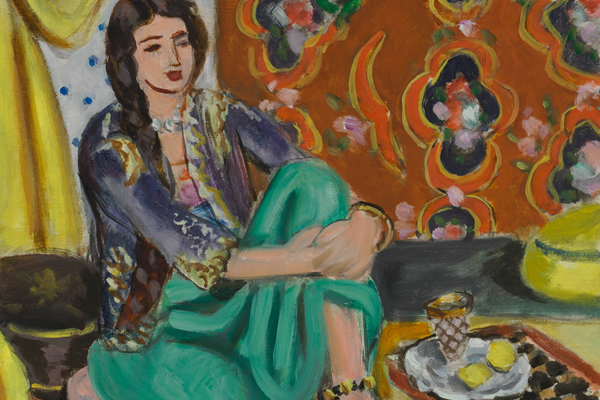 The Baltimore Museum of Art is the world's most important repository of French modern master Henri Matisse's work and this fall, a new exhibition will explore the friendship between the artist and Etta Cone, the Baltimore collector who befriended Matisse in 1906.
The two maintained a close 43-year friendship, during which time Matisse traveled to Baltimore and created works with Etta and the BMA in mind. Etta and her sister Claribel ultimately collected about 700 of Matisse's works, according to the BMA, including Blue Nude (1907), The Yellow Dress (1929-31), and Large Reclining Nude (1935).
This new exhibit, "A Modern Influence: Henri Matisse, Etta Cone, and Baltimore" will trace their friendship through letters they exchanged and includes more than 160 paintings, sculptures, prints, drawings, and illustrated books.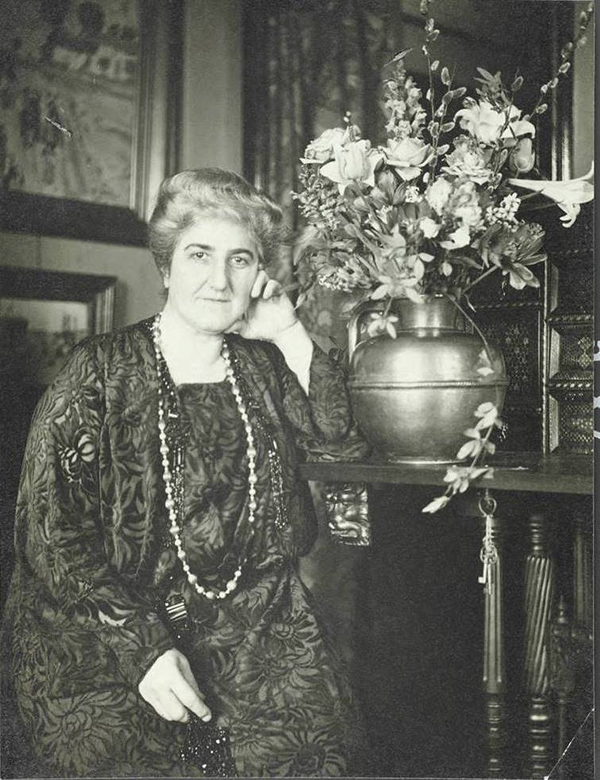 "For years, scholars have debated the purchases made by both Cone sisters, with much more credit given to the important acquisitions of major paintings by older sister Claribel," the BMA said in a statement. "'Modern Influence: Henri Matisse, Etta Cone, and Baltimore' will for the first time fully recognize Etta's achievements as a collector and acknowledge her role in building the majority of the sisters' Matisse collection, particularly the sculpture, drawings, and prints."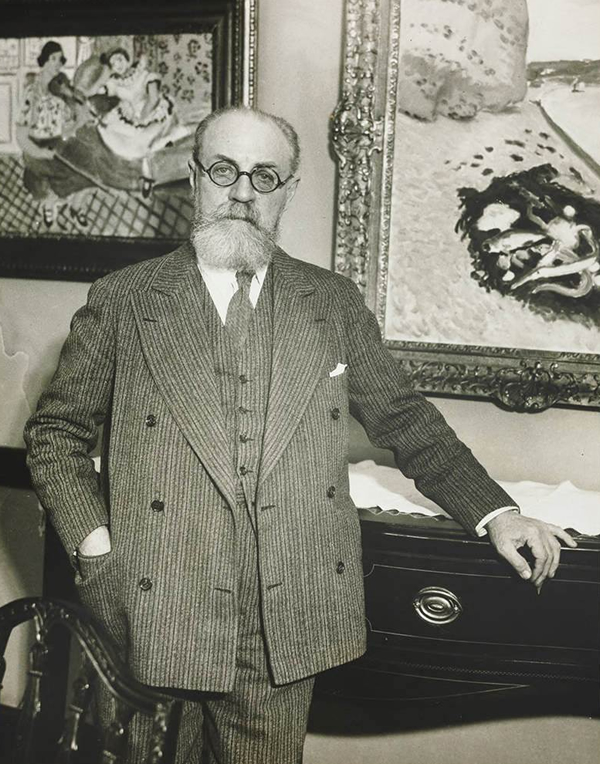 "Etta Cone and Matisse shared a love of gesture and the female form, expressed not only through her collection of his major paintings, but through an early and sustained interest in his print making and drawing practices. The exhibition begins with work on paper and ends there as well," said Leslie Cozzi, BMA associate curator of prints, drawings, and photographs.
The exhibition will feature a large selection of drawings, including masterpieces that are rarely on view due to light exposure restrictions, the BMA announced.
"Etta Cone's dedication to art, and to Matisse's work in particular, has had a profound impact on the BMA and the focused and studied ways in which the museum continues to develop its collection. The forthcoming exhibition captures the exciting possibilities that can be achieved when artists, collectors, and public institutions join in a shared vision and commitment. We are delighted to present visitors with the incredible story of Etta Cone and the significant works of art that she brought to our museum, and to have this exhibition serve as a prelude to the presentations, programs, and publications that we'll be able to create through our soon to be opened Ruth R. Marder Center for Matisse Studies," said Christopher Bedford, the BMA's Dorothy Wagner Wallis Director.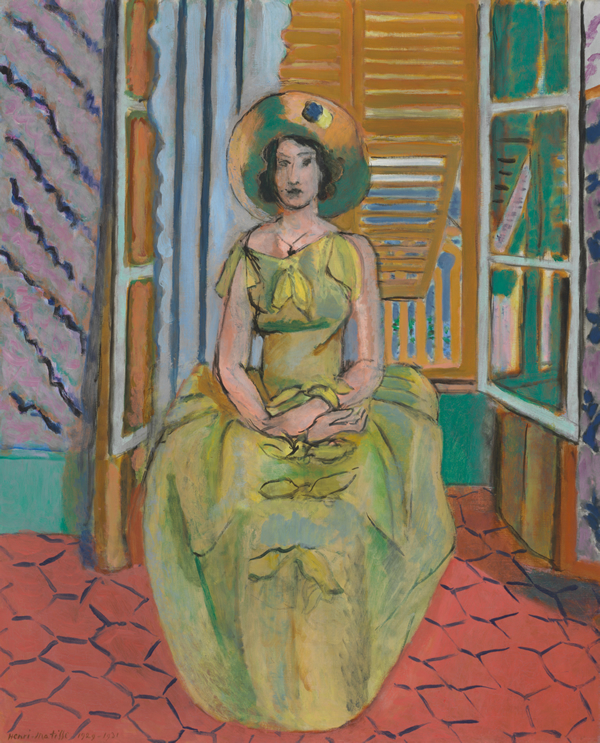 The Marder Center, which is scheduled to open in December, will present the breadth of the BMA's Matisse holdings, while supporting the development of new scholarly publications that advance discussions on the trajectory of modern art, according to a statement.
"A Modern Influence: Henri Matisse, Etta Cone, and Baltimore" opens Oct. 3 and will be on view until Jan. 2, 2022. Tickets are available through artbma.org. Prices are $15 for adults, $13 for seniors, $12 for groups of 7 or more, $5 for students with ID, and $5 for youth ages 7-18. BMA Members, children ages 6 and under, and student groups are admitted free. For more information, call 443-573-1701.