Closed for 600 days, Signature reopens with 'Rent'
New artistic director on 'surreal' return to live theater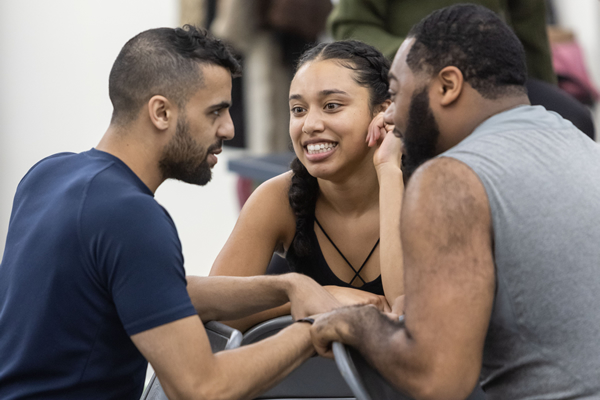 'Rent'
Nov. 2-Jan. 2, 2022
Signature Theatre
4200 Campbell Ave., Arlington
$40-$108
sigtheatre.org
For Signature Theatre's out artistic director Matthew Gardiner, Jonathan Larson's Pulitzer and Tony-winning musical "Rent" has been a constant yet evolving force in his life.
Gardiner, 37, recalls his obsession as a middle schooler with Larson's score ("Seasons of Love," "La Vie Boheme," "Santa Fe," etc.) and story about a group of down-and-out artists struggling in New York City's East Village circa 1989. "I loved it then and still do. 'Rent' was my 'Hair'," he says. "I listened to the double CD over and over again."
And now, after 600 days of closure, Signature is reopening with – you guessed it — "Rent" directed by Gardiner. Two years ago, he would have looked at the 1996 rock musical loosely based on Puccini's "La Bohème" nostalgically, but not now, he says.
Before the pandemic, "Rent" was already scheduled to be Signature's fall 2021 season opener, Gardiner explains. "Back when live audiences were a remote possibility, we considered maybe reopening with something else, but as I delved into it through the lens of my experience over the past two years, the piece spoke to me in a new way. The ideas of disconnection, need for community, and the universal understanding of loss, are more real to us now."
During the time without live audiences, Gardiner built on his directorial skill set by working with his brother James Gardiner and Chiet Productions filming Signature's series of high-quality streaming offerings. He says, "I'm proud that we put art out into the world in the only way we could at that time."
In July 2021, Gardiner, with 15 years of experience leaving him perfectly poised to take the reins, was named the company's artistic director.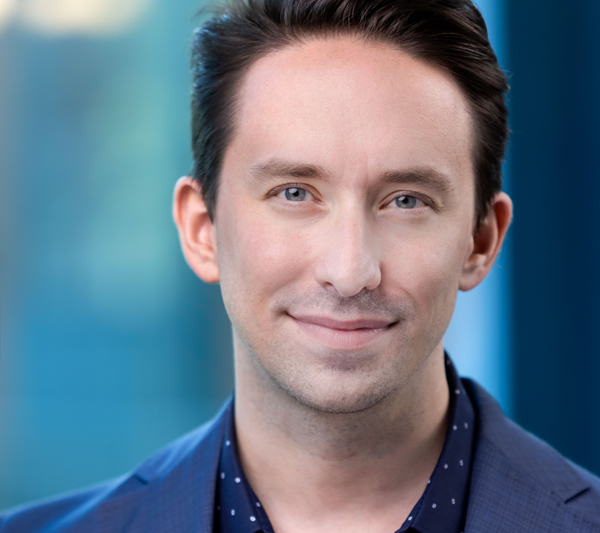 WASHINGTON BLADE: What's it like to be directing live theater again?
MATTHEW GARDINER: Surreal and wild. Some days it's really easy – I'm right back on riding that bike. And other days I wonder if I know how to do this. I'm not alone. We all feel like that. Many of the other artists in the room – the creative team, actors, and musicians –are coming back to this for the first time too.
Also, this piece provides its own challenges asking artists to access a place emotionally that is raw and very real. The challenges go beyond just being back in a rehearsal room.
BLADE: What's your approach to the show?
GARDINER: I wouldn't want to direct if we were doing a remount of director Michael Greif's original, iconic staging, and I'm not about setting "Rent" on the moon or in 2020 instead of 1990. I trust the writer and trust that the creative team I have around me isn't interested in doing a rehash.
By really investigating the housing issues of that time in New York's Lower East Side, the AIDS epidemic, and the need for community, you recognize how it's a mirror to this moment. It doesn't take any force feeding for the audience to see how it relates to today. And the actors bring their lived experience to the project. The production feels very relevant.
BLADE: And the score?
GARDINER: Yes, the score too. "No Day But Today" [an inspiring song about seizing the day] rings truer to me now than it did before Covid-19.
BLADE: Was it a strange time before being named artistic director?
GARDINER: I was already associate artistic director. And without an artistic director, I took the lead in making artistic director decisions like the idea of a film season, and the concept of both maintaining a home for actors at Signature while inviting new people into the tent all the time. Still, I never felt like I had the job in the bag.
BLADE: Is it exciting to be officially in charge?
GARDINER: I'm thrilled to be in the position I've always dreamed of, not necessarily at Signature, but as the artistic leader of a theater. To have an artistic vision and impact a community in that way is exciting. I'm listening to a lot of people including the community, artists, and colleagues at Signature, and doing my best to make informed decisions.
BLADE: Challenges?
GARDINER: Wondering if the size of audience will match what we had before the pandemic – yes, I lose some sleep over that. And it's important to me that we continue to produce at high level of quality that people expect from us.
That said, I'm much more excited than scared.
D.C. theaters offer something for every holiday taste
From 'Hip Hop Nutcracker' to plenty of Scrooge productions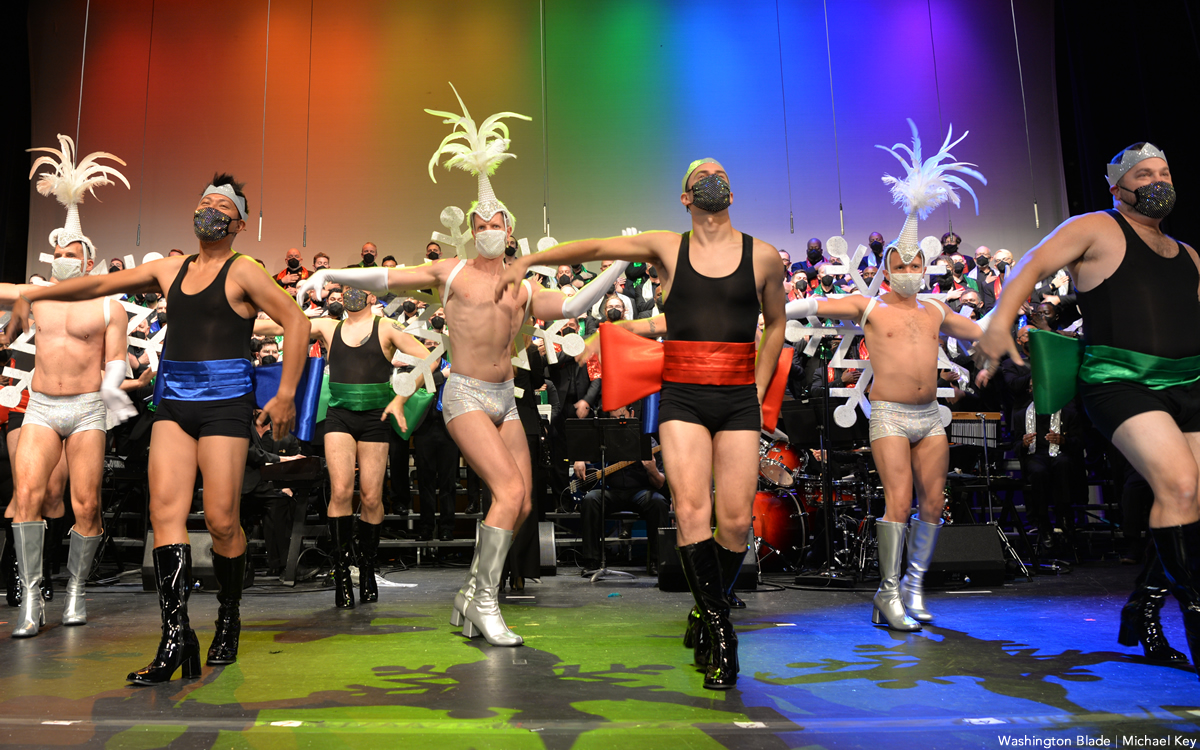 For many Washington area theatergoers, it wouldn't be the holidays without seeing an old chestnut or two. At the same time, newer productions are rapidly becoming yuletide traditions in their own right, and with every unfolding holiday season, the DMV scene is additionally gifted with fresh and exciting works.
It's a lot. Here's a sampling.
National Theatre presents "A Magical Cirque Christmas" (Dec. 16-18), an evening of varied performers and spectacular double-jointed cirque artists accompanied by your favorite holiday music performed live. Mistress of Magic Lucy Darling hosts this exciting and enchanting holiday entertainment for the entire family (well, almost, children under four are strictly verboten). Broadwayatthenational.com
At Synetic Theater in Crystal City, it's "Snow Maiden" (Dec. 1 – 23) based on a 19th century folk tale about a lonely man who creates a woman out of snow and created by Helen Hayes Award-winning choreographer and Synetic co-founder Irina Tsikurishvili. Synetictheater.org
In Falls Church, Creative Cauldron is conjuring magic with "The Christmas Angel" (Dec. 2-18). Married collaborators Matt Conner and Stephen Gregory Smith's musical is based on a little-known 1910 novel by Abbey Farwell Brown about a lonely woman who finds happiness through a box of old toys. Creativecauldron.org
The season now upon us offers myriad opportunities to experience Charles Dickens' "A Christmas Carol," the redemptive tale of Ebenezer Scrooge, perhaps the most celebrated Christmas character after Santa, Rudolph, and the baby Jesus.
Historic Ford's Theatre version of "A Christmas Carol" (through Dec. 31) has been a popular Washington tradition for more than 30 years. The beautifully produced and consistently well-acted take on the Dickens' classic (originally conceived by Michael Baron), features Craig Wallace reprising Scrooge, who after a night of ghostly visits, rediscovers Christmas joy. fords.org
At Olney Theatre, Paul Morello lovingly revisits his celebrated take on the "A Christmas Carol" (through Jan. 1). In his solo adaptation of Dickens' ghost story (created and performed by Morello), he brings to life more than 40 different characters including Scrooge, the entire Cratchit family, the specters, and numerous celebrants.
Olney is also reviving its holiday musical success "Disney's Beauty and the Beast" through Jan. 1, and reprising roles in the tale as old time terrific are out actor Jade Jones as Belle and Evan Ruggiero as the Beast. Out actor Bobby Smith plays Lumiere. Marcia Milgrom Dodge directs. Olneytheatre.org
In various books and interviews, movie star Bette Davis recounts how as a young girl, she most looked forward to finding theater tickets under the tree (a Davis family Christmas tradition). Perhaps you know a youth or adult, who'd like receive tickets this holiday season? The Kennedy Center Opera House is tempting audiences with a traveling production of the Broadway blockbuster "Wicked" (Dec. 8-Jan. 22), the much-loved prequel of the "Wizard of Oz." Kennedy-center.org
Signature Theatre adds to the holiday fun with "Into the Woods" (through Jan. 29), Stephen Sondheim and James Lapine's unique musical spin on treasured fairytales and "happily-ever-after." The large, uber-talented cast features — among other big names — Nova Y. Payton, out actor David Merino, and Maria Rizzo. Matthew Gardiner directs. Sig-theatre.org
Then there's always "The Nutcracker." Here are four from scores of local productions.
The Washington Ballet presents its charming version at the gilded Warner Theatre through Dec. 30. With Tchaikovsky's timeless music and splendid choreography by Septime Weber, this 1882 Georgetown-set production features historical figures including George Washington and King George III, along with the usual suspects like children, rats, fairies and a mysterious godfather. Washingtonballet.org
Bethesda's Music Center at Strathmore presents "The Hip Hop Nutcracker" (Dec. 19-22), Tchaikovsky's classic re-imagined with MC Kurtis Blow ("White Lines"). Strathmore.org
And Kansas City Ballet's celebrated seasonal tradition, "The Nutcracker," is at the Kennedy Center through Nov. 27, so you'll need to move fast.
The beloved Puppet Co. located within Glen Echo Park presents its 34th annual "The Nutcracker" through Jan. 1. The delightful puppet show includes Tchaikovsky's familiar music and the story of Clara and her prince, with some Puppet Co. nursery rhyme spin. (Recommended for ages 4+. Run time approximately 50 minutes.)
Running nearly concurrently at the Puppet Co. is "Hershel and the Hanukkah Goblins" (Dec. 1-30). "Hershel just wants to celebrate Hanukkah with the community, but the Queen and King of the Goblins have forbidden the lighting of the candles. Can Hershel save the day and lift the curse for this shtetl (village)?" (Recommended ages 5+. Run time approximately 60 minutes.) Thepuppetco.org
And for those who might find themselves all Nutcracker-ed out, Ballet Hispánico returns to the Kennedy Center with internationally renowned choreographer Annabelle Lopez Ochoa's "Doña Perón" (Nov. 30-Dec. 3), a truly exciting portrait of Eva "Evita" Perón. Kennedy-center.org
And for something festive, edifying, and relaxed, try the National Symphony Orchestra's "Ugly Sweater Holiday Concert" at The Anthem on Dec. 6. Go ahead, why not don something hideous and enjoy your favorite holiday songs?
Gay Men's Chorus of Washington is back with "The Holiday Show" (Dec. 3-11), an annual extravaganza that promises sparkly snow, tap dancers, and over-the-top costumes at their usual venue, the historic Lincoln Theatre in the U Street Corridor. Slated for the program are songs like "Sleigh Ride," "Underneath the Tree," "The 12 Rockin' Days of Christmas," "God Rest Ye Merry, Gentlemen," and "Hard Candy Christmas" performed by the full Chorus, soloists, all GMCW ensembles, and the GenOUT Youth Chorus. Gmcw.org
Poignant 'Sanctuary City' depicts two immigrants struggling to get ahead in America
Undocumented friends navigate post-9/11 New Jersey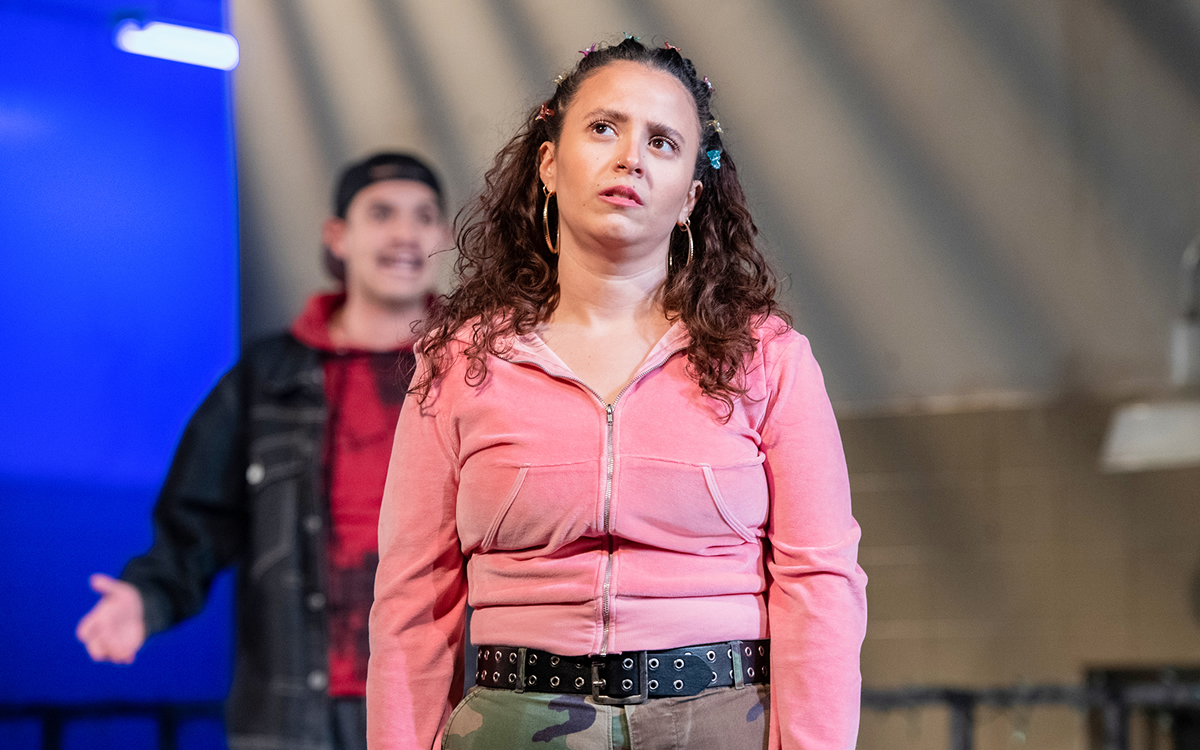 'Sanctuary City'
Through Nov. 27
Arena Stage
1101 Sixth St., S.W. 
$41-$95
Arenastage.org
As a kid growing up in San Juan, Puerto Rico, María Victoria Martínez was obsessed with musicals, Broadway shows like "West Side Story" and Disney movies were on nonstop rotation. She knew the scores by heart and longed to play not the ingenues or princesses, but rather character roles like "The Little Mermaid's" villainous Ursula and Miss Hannigan, the comically bitter lush in "Annie."
"Imitating the singers is how I learned English," says Martínez, 30. It also ignited a passion for theater that ultimately lured her into show biz (though she doesn't do musicals).
After earning a bachelor's degree from the University of Puerto Rico followed by a master's degree from A.R.T. (American Repertory Theater Institute for Advanced Theater Training at Harvard University), she kicked off a career as a multifaceted actor. Martínez follows the work, but splits most her time between San Juan and New York City: "It's my idea of a bicoastal existence," she says.
Currently Martínez, who identifies as queer, is at Arena Stage starring in Pulitzer Prize-winning playwright Martyna Majok's "Sanctuary City," an Arena/Berkeley Repertory Theatre co-production directed by David Mendizábal with associate direction and transfer direction by Cara Hinh.
Set in Newark, N.J., not long after 9/11, a time when anti-immigrant sentiment was on the rise, the new work is a timely and poignant piece. Martínez and out actor Hernán Angulo play longtime undocumented friends (simply called G and B, respectively), struggling to get ahead in America, the only home they've ever known.
Without giving too much away, adds Martínez, G's position in the U.S. is more stable than B's. Still, she's willing to fight to help secure his fate. He is arguably her only friend.
WASHINGTON BLADE: Would you describe your character, G, as the fierier of the two?
MARĺA VICTORIA MARTĺNEZ: Yes. As I read the play, I definitely saw this ardent fire in G. When she feels safe the fire burns but she feels in danger, her fire is combustible and liable to burn everything down. G is the engine that tries to keep B going, to uplift him, to find ways for him to stay in the country.
They share moments when they seem like brother and sister, sometimes friends, and even lovers. It's left open for audience to interpret as they watch the play. It's messy. And that's what makes it good.
BLADE: Was it tough moving the production across country?
MARTĺNEZ: Transferring theaters was tricky – they're very different spaces. In Berkeley we were in a black box almost in full round. Arena's Kreeger Theater is proscenium, so we've had to flatten out our blocking. But in doing so we found new moments in the show.
Audiences are different in every city. In California, there were certain moments in the show where audiences were really cracking up and here, we don't hear a peep. But after all, theater is a living organism and moving gives new and different life.
BLADE: In "Sanctuary City," you and Hernán Angulo play such incredibly close friends. How is that relationship offstage?
MARTĺNEZ: We were so fortunate to have been cast together. We got along right off the bat and now we're very close. I identify as queer and he identifies as a gay man. But it's really our Latinidad (Latinness) that brought us together. And we both love to laugh a lot. When apart we Facetime and share Tik Toks and serious articles too.
I'm Puerto Rican and he's Mexican American from the Bay Area. I'm interested in Mexican culture. Spanish is my first language; and Hernán speaks Spanish, so there's that too.
BLADE: Have you witnessed the courage and pain of undocumented people firsthand?
MARTĺNEZ: In Puerto Rico most of the immigrants are Dominicans. We're generally welcoming to them. But I have seen some bad things, and when I witness that aggression, it doesn't make sense to me. I can't understand blocking someone from seeking refuge.
BLADE: Anything directed at you personally?
MARTĺNEZ: Yes, I experienced some unsettling xenophobia when Trump was first elected. I was still at A.R.T. and traveling home to San Juan. At the airport, I was speaking Spanish and a lady purposely bumped into me and told me to go back to my country. I hold a U.S. passport, so you can only imagine what happens to people who are more vulnerable.
These things are really important to talk about. And I'm happy and proud to be doing the show in D.C. I think it gives it even more meaning.
'Ballad of Emmett Till' recounts last two weeks of a life cut short
A deftly staged and well-acted look at seminal American tragedy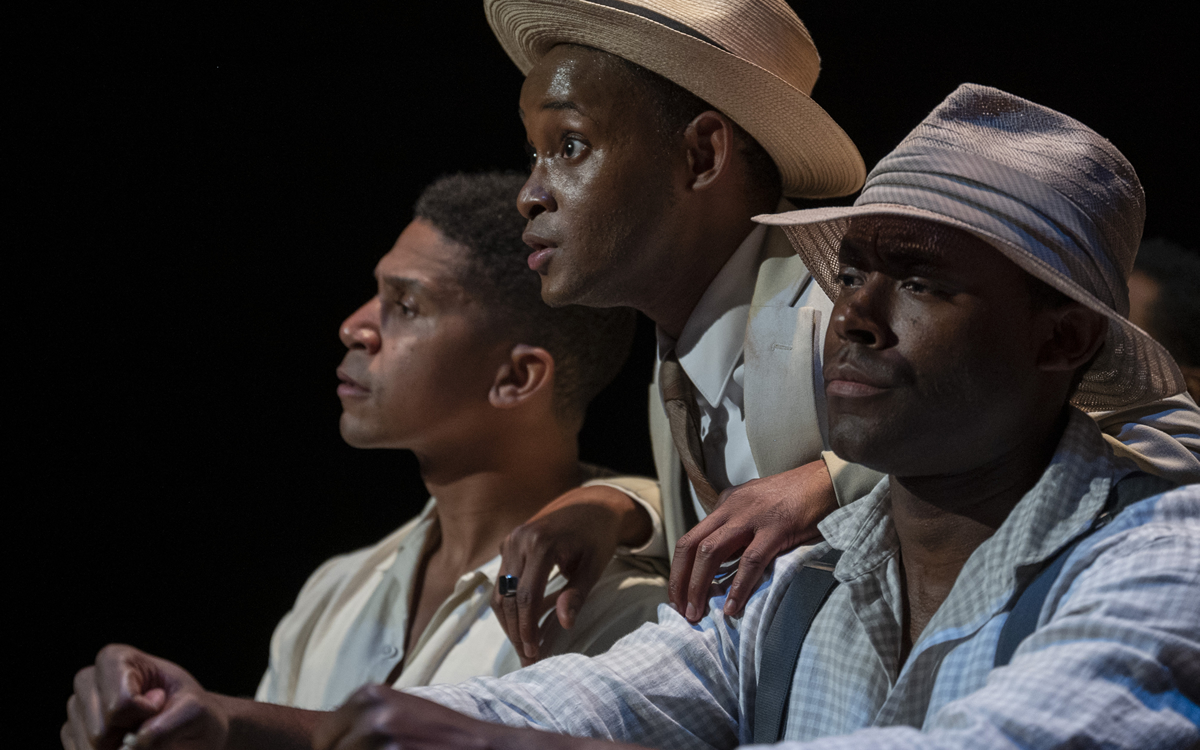 'The Till Trilogy: The Ballad of Emmett Till'
Through Nov. 20
Mosaic Theater Company
Atlas Performing Arts Center
1333 H St., N.E.
$50-$64
Mosaictheater.org
"The Ballad of Emmett Till," the first part of playwright Ifa Bayeza's "The Till Trilogy" (now playing at Mosaic Theater Company), recounts the last two weeks of the title character's short life.
There are bursts of joy and laughter during those days, but always lurking is the knowledge that the Black 14-year-old's infectious vitality will soon be horrifically snuffed out for allegedly whistling at a white woman.
The piece, deftly staged by Talvin Wilks, opens with the cast gathering on a dimly lit stage, hauntingly chanting the boy's name, a sound that's both foreboding and alluring, an invitation to hear his story, a seminal tragedy that drew the attention of a nation.
It's the summer of 1955 and young Emmett, affectionately nicknamed Bobo, convinces his protective mother to grant him a little independence. Wearing a summer suit, new bucks, and that jaunty straw hat (made so familiar from the real life Till's iconic photograph), he boards a train headed from Chicago to Money, Miss., where he'll spend time with family in the Jim Crow South.
The road from the rural station to the humble home of Emmett's Great Uncle Mose, a tenant farmer and lay preacher, narrows from two lanes to one to a dirt lane. It's a happy place where everyone is expected to work. And despite being warned to defer to racist whites without question, Emmett and his cousin experience a freedom they don't know on Chicago's Southside. In the South, the city boys are free to drive and party at the boozy juke joint on Saturday nights. And while Emmett doesn't take to picking the cotton or wringing a chicken's neck, he adapts to other aspects of country life like fishing and going barefoot.
Antonio Michael Woodard nails Emmett as an energetic, smart-alecky, endearing youth, a child on the threshold of young manhood.
The stellar cast's remaining five members play multiple roles: Billie Krishawn plays Emmett's mother Mary Till-Bradley whose brave decision to display her son's grossly disfigured corpse in an open casket for the world to see is credited with helping to spark the civil rights movement, as well as young boy cousin and Caroline Bryant, the white woman who set off the chain of events that led to Emmett's death; out actors Jaysen Wright and Vaughn Ryan Midder convincingly double as both Emmett's pals and the vicious white men who killed him; and the stalwartly versatile Jason Bowen plays Mose and other various Mississippians important to the story.
As the piece's two older women, Rolanda Watts (of TV talk show fame) is excellent, instantly delineating between the two with a slight intonation or change of posture. She exudes warmth as Emmett's great aunt, a kind woman who knew nothing about cotton but followed her heart and ended up the wife of a poor planter.
Bayeza sets the story in the past and present. At times, Emmett tells his own story, insisting he isn't going to die, that he's the chatty Chicago kid who will never stop talking, he'll always be heard. The piece is also laced with sympathetic songs, ranging from hummable doowop to plaintive ballad, sung unaccompanied by some of the cast.
With roughly hewn planks and beams, set designer Andrew Cohen creates a barnlike atmosphere, evoking the scene of the crime. Sound designer Kwamina "Binnie" Biney adds atmosphere with the sounds of wild water fowls, and chickens clucking in the coop.
The playwright did her homework. In addition to describing his love for nice clothes and budding interest in girls, Bayeza details Emmett's stammer and the bout with polio that left him with a withered leg. She touches on Mary's jobs, relationships, intelligence, and ambition.
After a long, drawn-out death scene, the story's painful ending is delivered as implicitly assured, but not without some promise of hope.
Running concurrently through Nov. 20 are the other parts of the trilogy: "That Summer in Sumner" and "Benevolence."