Trans candidate concedes in Erie county exec race
Democrat was attacked over out-of-state campaign funds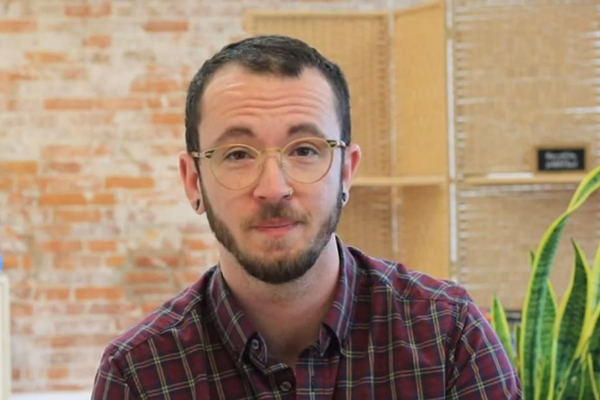 UPDATE: Tyler Titus conceded the race for Erie County Executive on Wednesday. They issued the following statement: "Since launching my campaign, I've talked with so many people who found a home in our campaign, who found light and inspiration in our shared vision for an inclusive future. I've talked with countless transgender youth in Erie County and across the country who told me our campaign inspired them to strive for greater heights, defy expectations, and feel hope for a safer, brighter future."
Erie, Pa., school board president Tyler Titus was behind by more than 4,000 votes shortly before midnight on Tuesday in their bid to become the nation's first openly transgender and nonbinary person to win election as a county executive.
Titus, a Democrat, had 28,253 votes, or 45.9 percent, compared to their Republican rival Brenton Davis, who had 32,786 votes, or 53.3 percent, with 147 of the county's 149 precincts counted, according to the latest available returns on Tuesday night from the Erie County election board.
The Erie Times-News reported that Davis declared victory in the hotly contested county executive race shortly before midnight, claiming that the "math" from the vote count made it no longer possible for Titus to win.
It could not immediately be determined how many mail-in ballots were uncounted on Tuesday night, but the LGBTQ Victory Fund, which endorsed Titus and raised over $283,000 for their campaign, said it heard from sources that as many as 4,000 mail-in ballots had yet to be counted.
Josh Rosenbaum, Titus's campaign manager, said election officials would resume counting ballots at 9 a.m. Wednesday. He said Titus would make a statement sometime on Wednesday.
"The [Titus] campaign is going to review everything in the morning and make sure everything is in before they make a final decision one way or another," Victory Fund spokesperson Elliot Imse told the Washington Blade.
Political observers said Titus ran an aggressive, well-funded campaign against Davis, who Titus supporters say appealed to anti-transgender and anti-LGBTQ sentiment among some voters by accusing Titus of planning to impose an "unknown agenda" on Erie County.
Davis also criticized Titus for raising most of Titus's campaign funds from donors who live outside of the county and outside of Pennsylvania. The Titus campaign raised just over $541,000 as of Nov. 1, more than double the amount raised by the Davis campaign. A significant percentage of the funds raised by the Titus campaign came through the fundraising effort of the LGBTQ Victory Fund, the national group that raises funds for LGBTQ candidates running for public office throughout the country.
"Tyler Titus is continuing the sale of Erie County government to out-of-region donors who have pumped huge dollars into what is supposed to be a local political race," the Davis campaign said in an Oct. 25 statement. "When somebody outside Erie County invests this kind of money in a county-level election, you can bet it's not about improving the lives of people here," the statement said. "It's about imposing an unknown agenda with mystery dollars."
The Titus campaign and its supporters called the Davis campaign's claims about out-of-town donors with a hidden agenda an unfounded ruse aimed at diverting voters' attention from the issues that Titus raised to improve the lives of Erie County residents.
During the campaign, Rosenbaum, Titus's campaign manager, called Titus's ability to raise money from supporters outside the county a sign that their ideas and positions on the issues enjoy widespread support.
"It's exciting to us that there are people from all across Erie County, across Pennsylvania and some across the country who believe in Tyler's message and Tyler's ability to lead Erie County into a future that's healthy, safe and prosperous for all of us," Rosenbaum told the Erie Times-News. "It shows that Tyler is inspiring to so many people."
Titus became the first out transgender person to win election to public office in Pennsylvania in 2017 when Titus won election to the Erie City school board. Fellow school board members later elected Titus to serve as president of the board.
In May of this year Titus won an upset victory in the Erie County Democratic primary in a four-candidate race to capture the nomination for the County Executive post. Most Democratic Party leaders in the county supported County Councilor Carl Anderson, whom Titus beat in the primary by a margin of just 218 votes. Following the primary, the Erie County Democratic Party and the Pennsylvania Democratic Party endorsed Titus and actively supported Titus's campaign.
However, Democratic candidate Rita Bishop, who finished in fourth place in the primary and who identifies as a lesbian, announced she was breaking ranks with her party to endorse and actively support Republican Davis in the November election.
In a controversial Facebook message on Oct. 25, Bishop posted five photos of Titus, in one of which Titus was wearing female clothes that was taken before Titus fully transitioned to their status as a transgender and nonbinary person.
"Who is the real Tyler Titus?" Bishop stated in her posting. "He doesn't know."
The posting drew an immediate flurry of more than two-dozen postings by Facebook users denouncing Bishop for what they called a hurtful and hateful attempt to attack a transgender candidate.
Titus's supporters said they were hopeful that what they considered an attempt by Bishop and GOP candidate Davis to use the trans issue to distract voters' attention from Titus's positions on how the Erie County government can be improved would be unsuccessful.
But some of Titus's supporters said the anti-trans attacks by Davis supporters could be successful in alienating voters who otherwise might have supported the Democratic candidate for county executive.
Titus has a master's degree in community counseling and a doctorate degree in social work. Titus has worked in recent years as a licensed professional counselor operating a private counseling practice
Titus's campaign website says Titus is married to Shraddha Prabhu, an assistant professor at Pennsylvania's Edinboro University, "and the proud parent of two phenomenal children."
Political observers have pointed out that Erie County is considered an election bellwether for the nation as well as for Pennsylvania, which they say could be predictive of whether Democrats or Republicans come out ahead in the 2022 congressional midterm elections. Donald Trump narrowly won Erie County in the 2016 presidential election and President Joe Biden won in the county by a close margin in 2020.
But in addition to Titus's status as a transgender and nonbinary candidate, the Titus campaign stressed that Titus was a progressive who ran to the left of their Democratic primary rivals.
"The campaign is anchored by the belief that progressive policies are popular, and that when you speak directly to the values of the voter, you can win anywhere," an Oct. 18 statement from the Titus campaign said.
"Don't Say Gay" student leader says school stopping run for student leadership
Jack Petocz organized a state-wide student protest against Florida's "Don't Say Gay" bill & annoyed administrators suspended him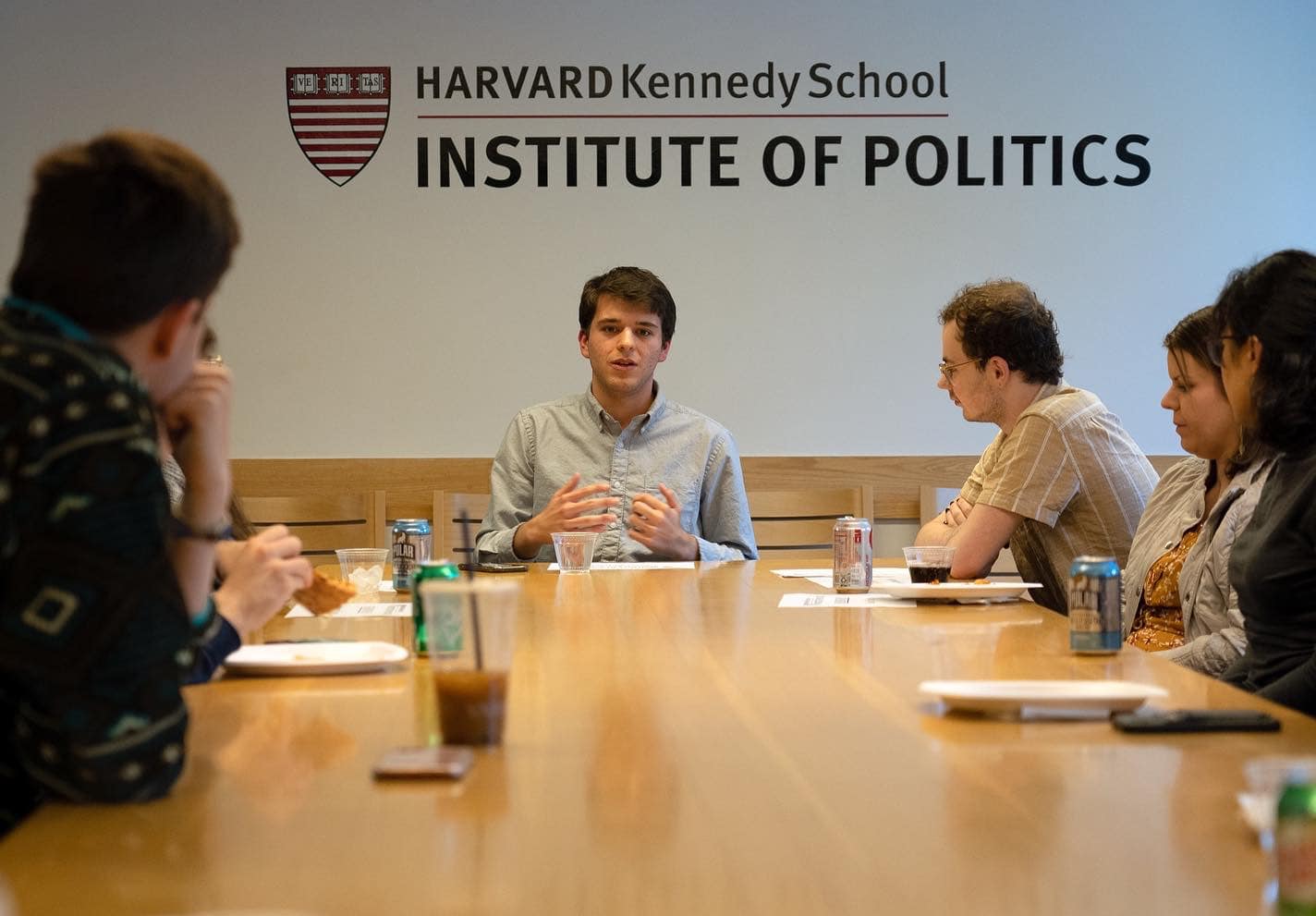 Jack Petocz, a Flagler Palm Coast High School junior, organized a state-wide student protest against Florida's "Don't Say Gay" bill this past March, and at his school, annoyed administrators suspended him.
On Tuesday, Petocz said that the school's disciplinary action is now preventing him from running for senior class president.
"When I returned, the administration assured me that no further disciplinary action would be taken. A month later, they broke this verbal agreement and placed a level 3 referral on my record. Now, due to this high level of discipline, I am being prevented from running for senior class president. I am continuing to be punished for standing up for my identity and against widespread hatred."
The suspension over the student walkout became a viral moment that propelled the 17-year-old into the national spotlight and into the national discourse over a spate of harsh laws targeting the LGBTQ+ community.
17-year-old Cameron Driggers, a student LGBTQ+ activist-organizer of the group Recall Flagler County School Board and co-leader of the walk-out, his friend's suspension inspired him to create a petition on Change.org to pressure Flagler Palm Coast High School Principal Greg Schwartz to rescind his seemingly arbitrary decision to suspend Petocz.
One protest at the school over its suspension of Petocz brought together a grizzled and proud Out gay U.S. Marine Corps veteran accompanied by his fellow vets, who alongside with Driggers and the other young adolescent activists protested in a rally in front of the school at the same time Petocz and his father were inside meeting with Flagler Palm Coast High School Principal Greg Schwartz, hoping to get him to rescind his seemingly arbitrary decision to suspend Petocz.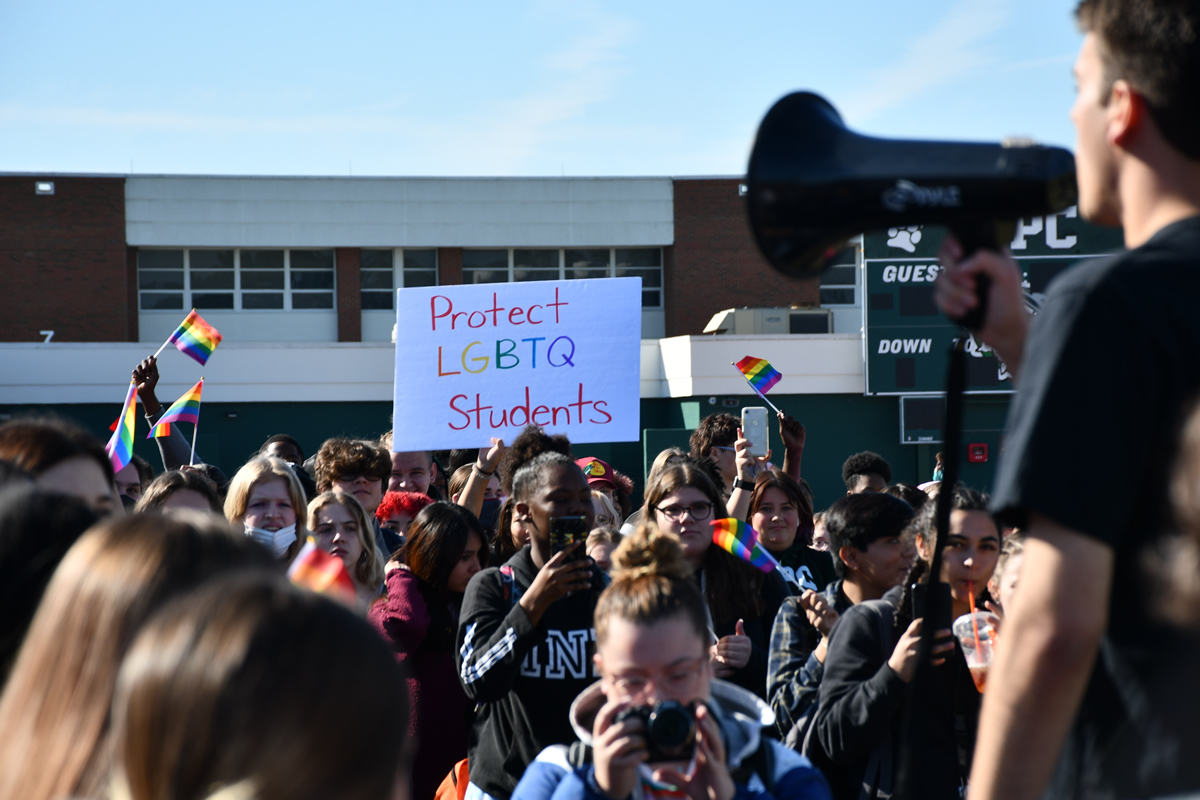 Later on during the day Driggers posted to the Change.org petition the news that Principal Schwartz had backed off.
"Recall FCSB is pleased to announce that Jack's suspension has ended and he is back on-campus. We are grateful for the thousands of people around the globe that shared, tweeted and protested in support of Jack, the organizer behind the state-wide Don't Say Gay Walkout. Over 7500 signatures were collected on a condemnation of Principal Greg Schwartz' conduct last Thursday. With Jack back on campus, Recall FCSB will continue to empower student leaders in and out of school," Driggers wrote.
Principal Schwartz also committed to removing the 'disciplinary action' from Petocz's school record.
On Tuesday, Petocz announced that Principal Schwartz and other school officials are barring him from running for an elected student office.
My name is Jack Petocz. I am the high school junior who led walkouts in opposition to the "Don't Say Gay" bill and was suspended for passing out pride flags. Now, I'm being prevented from running for senior class president. No matter what, I won't stop fighting for my community. pic.twitter.com/5lG6EYIXo2

— Jack Petocz (@Jack_Petocz) May 17, 2022
In response to the news, PEN America issued the following statement from Jonathan Friedman, director of the Free Expression and Education program:
"By going back on their word and imposing a red mark on Jack Petocz's disciplinary record, the Flagler Palm Coast High School administration appears bent on retaliating against him for organizing the walkout against the 'Don't Say Gay' bill. This is unconscionable. Jack exercised his right to protest as a citizen, and he led the walkout with the school's approval. No student ought to be intimidated or punished by school authorities for their political speech, and the school already told him he would not be disciplined. This is especially troubling alongside news of other efforts to censor or intimidate students raising their voices for LGBTQ+ rights across Florida. The leaders of Flagler Palm Coast High School should remove this infraction from his record so that he can run for class president just like any other student."
On Twitter, Petocz urged people to contact his school to get officials to reverse this latest decision.
If you want to help me fight, click the link below to send an email to administrators and the superintendent of my district. It's ridiculous queer kids have to be punished while fighting for our rights. https://t.co/oBOKZDLavb

— Jack Petocz (@Jack_Petocz) May 17, 2022
History making win- Out Lesbian could be Oregon's next governor
"This will be a three-way race for the highest office in our state, and this will be an election unlike anything any of us have ever seen"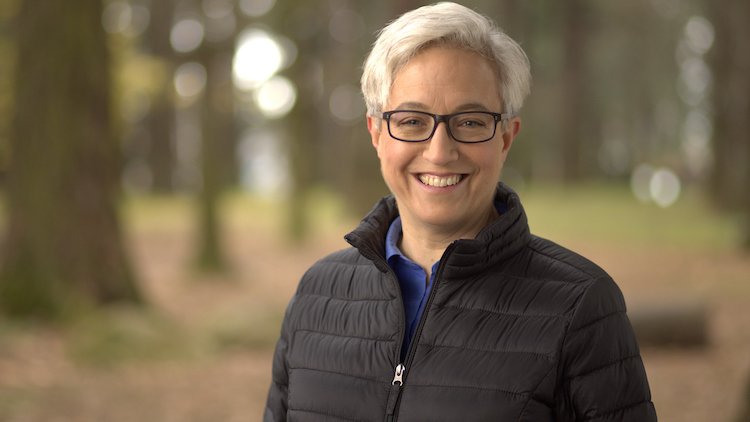 The Democratic gubernatorial primary Tuesday win by Oregon Speaker of the House Tina Kotek, who had announced her run for the governor's seat to replace incumbent Democratic Governor Kate Brown, who is term limited last September 1st, 2021, positions her to become the first Out Lesbian governor in the nation should she win the general election in November.
Kotek's win comes during an uptick in the elections nationwide as more candidates running for office identify as LGBTQ". More than 600 LGBTQ candidates are on ballots this year, according to the LGBTQ Victory Fund.
According to the Victory Fund, at least 101 people ran or are running for the U.S. Senate or U.S. House – with 96 still actively running as of February 21, 2022. That marks a 16.1 percent increase in LGBTQ Congressional candidates compared to the 2020 election cycle, when 87 people ran.
Speaking to her supporters after it became clear she had won over Oregon Treasurer Tobias Read, who was polling second among Oregonian progressives, "This will be a three-way race for the highest office in our state, and this will be an election unlike anything any of us have ever seen," Kotek said.
Republican state legislator Christine Drazan along with an independent candidate, Betsy Johnson are slated to be on the November ballot.
Last Fall when she announced her candidacy, she said, "I am running for Governor because I know that, together, we can reckon with the legacies of injustice and inequality to build a great future for Oregon." She also noted, "Oregonians are living through a devastating pandemic, the intensifying impacts of climate change, and the economic disruptions that leave too many behind. We must get past the politics of division and focus on making real, meaningful progress for families across our state."
"A victory for Tina would shatter a lavender ceiling and be a milestone moment in LGBTQ political history, yet she is running not to make history, but because there are few people as prepared and qualified to serve as Oregon's governor," said Mayor Annise Parker, President & CEO of LGBTQ Victory Fund. "Under Tina's leadership, Oregon has led in passing legislation to improve roads and education, raise the minimum wage and ensure all residents are treated fairly and equally. As governor, Tina will make Oregon a role model for the nation."
U.S. demands more access to Brittney Griner in Russia
Out WNBA star detained in Moscow in February
U.S. Ambassador to Russia John Sullivan on Tuesday said Russian officials have denied consular visits to detained WNBA star Brittney Griner three times this month.
"For the third time in a month, Russian authorities have denied an embassy visit to detained U.S. citizen Brittney Griner," said Sullivan in a statement the U.S. Embassy in Moscow posted to its Twitter account. "This is unacceptable. We call on @mfa_russia (Russia's Foreign Affairs Ministry) to provide timely consular access, in line with Russia's international and bilateral obligations."
#AMBSullivan:  For the third time in a month, Russian authorities have denied an Embassy visit to detained U.S. citizen Brittney Griner. This is unacceptable. We call on @mfa_russia to provide timely consular access, in line with Russia's intl & bilateral obligations.

— Посольство США в РФ/ U.S. Embassy Russia (@USEmbRu) May 17, 2022
Griner — a center for the Phoenix Mercury and a two-time Olympic gold medalist who is a lesbian and married to her wife — was taken into custody at Moscow's Sheremetyevo Airport in February. Russian officials said customs inspectors found hashish oil in her luggage.
The State Department earlier this month determined Russia "wrongfully detained" Griner.
A Russian court on May 13 extended her detention for another month. The Women's National Basketball Players Association, a union that represents WNBA players, has endorsed a Change.org petition that urges the Biden administration to "prioritize" Griner's release.
State Department spokesperson Ned Price on Tuesday told reporters during his daily press briefing that a consular official "was able to speak with" Griner "on the margins of her court proceedings" on May 13.
"That consular official came away with the impression that Brittney Griner is doing as well as might be expected under conditions that can only be described as exceedingly difficult," said Price.
"But sporadic contact is not satisfactory," he added. "It also may not be consistent with the Vienna Convention, to which Russia has subscribed. That is why we continue to urge the Russian government to allow consistent, timely consular access to all U.S. citizens detained in Russia, in line with those very legal obligations, and to allow us to provide consular services for U.S. citizens detained in Russia."
Price on Tuesday also said Secretary of State Antony Blinken "had an opportunity in recent days to speak with" Griner's wife.
Blinken spoke with her on May 14.
"He conveyed once again the priority we attach to seeing the release of all Americans around the world, including Brittney Griner in the case of Russia, Paul Whelan in the case of Russia — those are Americans who we consider to be wrongfully detained," said Price.