Business experts split on criticism of Buttigieg on supply chain issues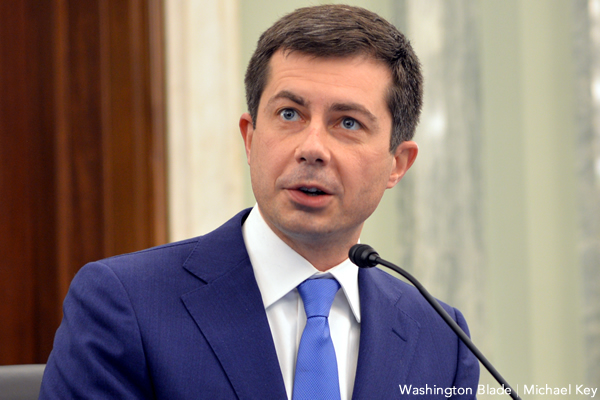 Amid images of goods stranded on ships near America's ports and notable price increases in basic commodities, including food and gasoline, right-wing critics are lambasting Pete Buttigieg in his role overseeing the supply chain as transportation secretary, although business experts in the field are split over whether that criticism is valid.
Business experts who spoke to the Blade — and whose own views may be colored by their political affiliations — offered a range of explanations for the break down in the supply chain, such as a sharp increase in demand among American consumers, the coronavirus pandemic, and a shortage of truck drivers responsible for transporting goods, which led to different conclusions as to whether Buttigieg, the first openly gay person confirmed by the U.S. Senate for a Cabinet position, was responsible.
Daniel Innis, a professor at the University of New Hampshire Peter T. College College of Business and Economics and who specializes in marketing and logistics and is a board member of Log Cabin Republicans, said criticism of Buttigieg is "certainly warranted" because he isn't showing leadership in bringing stakeholders to the table.
"Pete can help by sitting down with the trucking industry, the railroads and so on and saying, 'Look, this is a crisis that we have to solve,'" Innis said. "Eventually, you know, we're going to get to a place where things that are really important aren't available to us, and this has to be fixed. So you know, we need some leadership coming from Mayor Pete."
As a result of supply chain issues, consumers are seeing increased prices for goods, including basic necessities like food and gasoline. With the Thanksgiving holiday fast approaching, experts say prices for turkey could be the most expensive in history for American consumers.
Innis, who said the supply chain depends on flow and "if any part of the chain breaks down, the whole thing collapses," said the problem he's hearing is on the receiving end at terminal hubs where truck drivers are supposed to pick up goods.
As an example, Innis offered a personal anecdote about being in Savannah, Ga, and seeing about 20 ships on the coastline waiting to come into the port. Such a port, Innis said, would be a first stop for goods before they're loaded on trains and headed to terminal hubs, where truck drivers then pick it up.
"That's where it's breaking down," Innis said. "Things are not getting picked up. And maybe a month or so ago, the Union Pacific Railroad basically barred anything coming out of LA for a week, so they could clear out the stuff from the Chicago terminal that wasn't being picked up. So it seems to me based on my observation that we've got a real problem with truck drivers at the final destinations, and they're not able to pick things up. So it backs up the entire system, and it's backed up now all the way to the ocean."
Specific things Buttigieg should be addressing with the trucking industry, Innis said, are why there is an such an acute truck driver shortage and what could be done to address it, including whether or not to change hours of service limiting the number of work hours truckers can drive each day, at least in the short term.
Other ideas Innis brought up, amid a national discussion about making community college free, was whether or not to make truck driver training free or giving 0 percent loans for the cost of school. Additionally, Innis said regulations prohibiting truckers under age 21 from driving across state lines should be scrapped.
"If you can drive from Miami to Jacksonville, which is eight hours, shouldn't you be able to drive from Jacksonville to Charleston, which is four?" Innis said. "So you see, these are the things that he needs to be talking with the industry about, and maybe taking steps to address. And with just those little things, even if you pick up 10 or 15 percent of capacity, you have really moved things forward, maybe enough to start to gradually bring down the backlog."
But defenders of the Biden administration say the supply chain breakdowns are complications of the increased demand, not any mismanagement at the top.
Jason Miller, associate professor of supply chain management at the Michigan State University Eli Broad College of Business, echoed the sense the blame for supply chain issues should be placed on increased demand and not Buttigieg.
"The disruptions the import supply chain is experiencing are due to record demand for imports due to record consumer spending on durable goods," Miller said. "As such, there is nothing Secretary Buttigieg could truly do in such a scenario."
Indeed, as Miller pointed out, waterborne containerized imports by weight through the first nine months of 2021 are up 17 percent from the first nine months of 2019, according to data from the Census Bureau obtained from USA Trade Online.
"This is why I like to characterize the import supply chain as strained due to record demand, as opposed to broken," Miller concluded.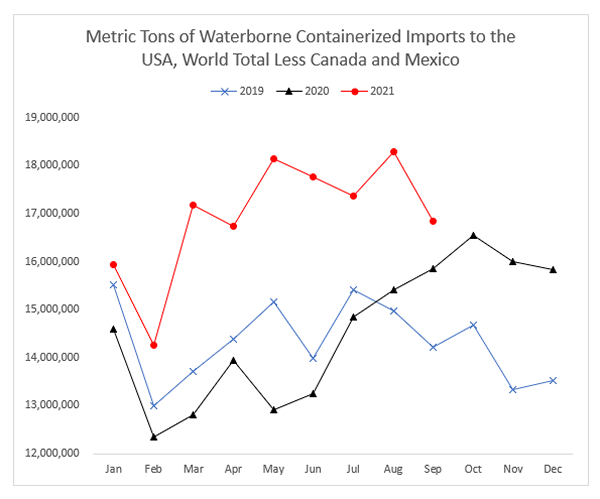 Innis, however, said ascribing supply chain issues to the simple increase in demand for goods — while valid in some respects — was over-simplifying matters, pointing out supply chain issues include goods produced and distributed domestically.
"Meat is not being imported from China," Innis said. "It's not sitting on a container, nor is bread, nor paper products nor all of these things that aren't showing up in our stores. My nephew works at Whole Foods. He says they're getting half shipments from companies. That is not sitting out on the ocean. And so, I'm not buying it across every category."
Lisa Anderson, a supply chain expert and blogger with the Claremont, Calif.-based LMA Consulting Group, said Buttigieg has fallen short in his role as transportation secretary amid the supply crisis, concluding with respect to objections over his performance: "Unfortunately, the criticism is warranted."
Among the tasks Buttigieg should take on, Anderson said, are touring the ports, talking to truck drivers and owner operators to understand the constraints from the front lines, coordinating with groups such as the Inland Empire Economic Partnership, the center of the logistics supply chain and conduit from Asia to the rest of the United States and finding ways to bridge government interests with business interests for the common good.
"It is a complex issue and will require strong leadership, involvement, collaboration, innovation and new thinking (breaking the traditional thinking) to resolve," Anderson concluded.
Right-wing critics have seized on the supply chain issues and turned them into an indictment of the transportation secretary, who with his spouse Chasten Buttigieg, is a new parent, electing to stay on paternity leave for two months as the crisis unfolded.
Fox News's Tucker Carlson, in a segment last month calling Buttigieg missing in action over the supply chain crisis, speculated Buttigieg may have taken off work "learning how to breast feed," which defenders of Buttigieg denounced as a homophobic attack (although the snide comment could easily be made of a man in an opposite-sex relationship opting to go on paternity leave). Later, Carlson in a subsequent segment posited affirmative action is only the reason Buttigieg has the role of transportation secretary, implying the position was given to the former South Bend mayor and presidential candidate simply because he's gay.
Innis, distancing himself from other critics in right-wing media despite his conservative political affiliations, said he was "not going to criticize" Buttigieg's decision to go on paternity leave, which he called "something that is a part of life."
The coronavirus pandemic, which disrupted livelihoods and economies from top to bottom across the globe, has also been identified as a factor in complications with the global supply chain, regardless of the administration in power.
Mahour Parast, a professor at Arizona State University's School of Sustainable Engineering and the Built Environment who specializes in supply chain risk and resilience management, said "external shocks" can be in play with such systems and pointed to coronavirus as an example of such a disruption.
"A supply chain that is designed to be efficient (e.g. cost-effective) cannot be simultaneously resilient to disruptions," Parast said. "This means that when disruptions such as COVID happen, the supply chain has difficulty to be responsive (because the entire system is designed to be efficient and to minimize cost). To be efficient, redundancy should be eliminated because redundancy adds cost to the system. To be resilient, redundancy is needed because it increases a system's responsiveness."
As an example of an eliminated redudancy that could end up being needed in a supply chain crisis, Parast pointed to the decision to move operations overseas to benefit from lower production cost or access to raw materials, which he said leads to cost savings at the expense of responsiveness and agility.
"One can make supply chains more resilient by regionalizing supply chain operations in which case there are several locations to back up each other in case of disruptions," Parast said.
The Biden administration, for its part, has declared steps it would take to ease supply chain issues, mostly consistent with the dispersement of U.S. government money as a short-term solution. On Tuesday, the White House announced funding for a pop-up container yard project underway at the Port of Savannah, a $420 million grant program for ports and marine highways launched within the next 45 days and identifying coastal and waterway projects by the U.S. Army Corps of Engineers construction.
The White House announcement comes days after President Biden signed into law the bipartisan infrastructure package after months of negotiations among lawmakers, which he was set on Wednesday to promote at an event at the Port of Baltimore.
In his defense, Buttigieg has said in media appearances that supply chain issues aren't the result of mismanagement, but prosperity and suppliers not being able to keep up under Biden administration policies seeking to lift the country up from economic stagnation.
Buttigieg, appearing on a CNN segment last month with Jake Tapper to respond to criticism about supply chain issues, said the problem exists because "retail sales are through the roof."
"If you think about those images of ships, for example, waiting at anchor on the West Coast, you know, every one of those ships is full of record amounts of goods that Americans are buying because demand is up, because income is up, because the president has successfully guided this economy out of the teeth of a terrifying recession," Buttigieg said. "Now the issue is, even though our ports are handling more than they ever have, record amounts of goods coming through, our supply chains can't keep up."
In June, the Biden administration set up a supply chain disruptions task force, which is led by the secretaries of commerce, transportation, and agriculture and charged with focusing on areas where a mismatch between supply and demand has been evident: homebuilding and construction, semi-conductors, transportation and agriculture and food.
A Department of Transportation spokesperson, asked by the Washington Blade to comment for this article, said Buttigieg in his role as co-chair of the Task Force "is focused on ensuring that the Department is doing all it can to address these issues and has made progress along the way."
Among other examples, the spokesperson pointed to the Ports of Los Angeles and Long Beach announcing they would expand hours of operation; new support for paid apprenticeship programs in the truck driving industry; and Union Pacific railroad announcing it would go to 24/7 operations.
Innis, at the end of the day, rejected the idea Buttigieg's hands were tied, saying despite increased demand causing blockages in the supply chain "there are steps that can be taken to ease it, and those are not being taken."
"When you drill down into certain product categories, there are severe problems that aren't being addressed that have nothing to do with the oceans, or even the trains," Innis said. "Because your bread isn't riding on a train. It's on a truck coming from a local area. And these shortages are real. You walk through the grocery store, you see it."
House GOP sinks their own spending bill, Dems object to anti-LGBTQ riders
Vote was 216-212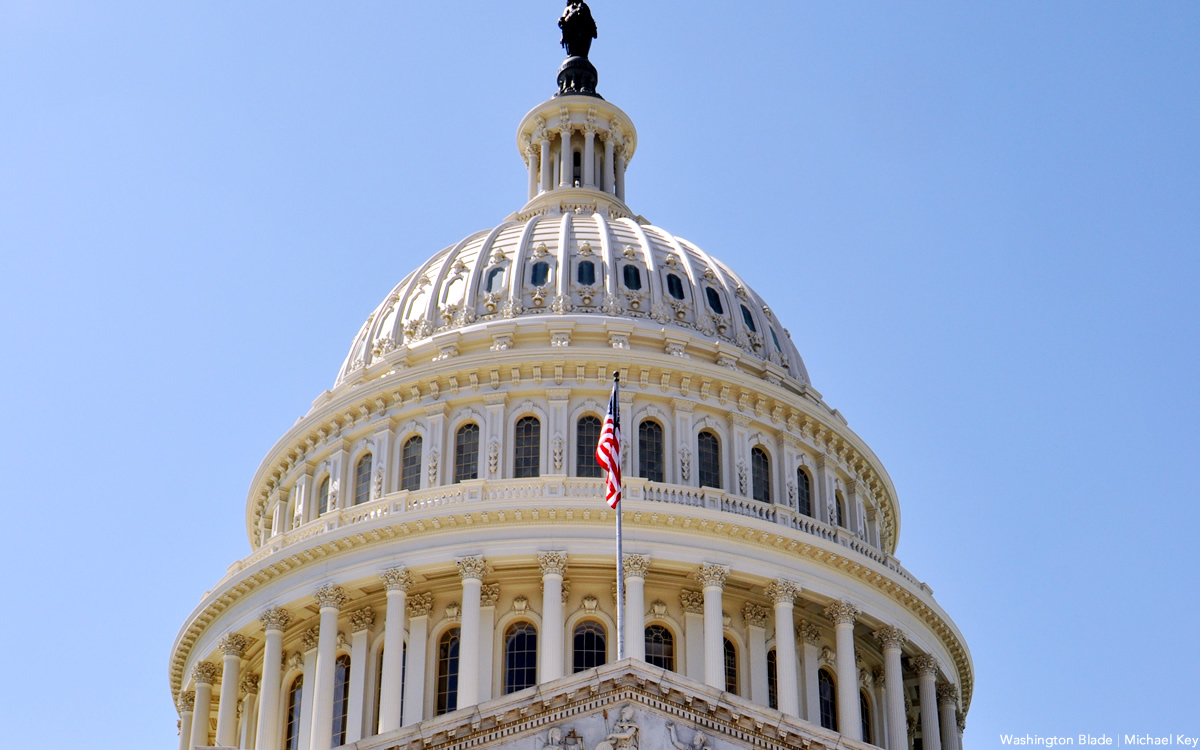 A group of four hardline House Republicans on Thursday joined Democratic colleagues to sink their own spending bill, a $886 billion military appropriations package full of riders from GOP members that include anti-abortion and anti-LGBTQ provisions.
The 216-212 vote raised the likelihood of a government shutdown if lawmakers are unable to forge a path forward before the end of September.
"Instead of decreasing the chance of a shutdown, Speaker McCarthy is actually increasing it by wasting time on extremist proposals that cannot become law in the Senate," Senate Majority Leader Chuck Schumer (D-N.Y.) said.
His counterpart in the House, Speaker Kevin McCarthy (R-Calif.), expressed frustration with his own caucus, characterizing the impasse he has reached with colleagues as "frustrating in the sense that I don't understand why anybody votes against bringing the idea and having the debate."
"And then you got all the amendments if you don't like the bill," he continued. "This is a whole new concept of individuals that just want to burn the whole place down — it doesn't work."
A group of 155 House Democrats on Thursday issued a letter objecting to anti-LGBTQ provisions in the bill, the 2024 National Defense Authorization Act, addressing the message to U.S. Sens. Jack Reed (D-R.I.) and Roger Wicker (R-Miss.), chair and ranking member of the Senate Armed Services Committee, and U.S. Reps. Mike Rogers (R-Ala.) and Adam Smith (D-Wash.), chair and ranking member of the House Armed Services Committee.
The effort was led by Congressional Equality Caucus Chair U.S. Rep. Mark Pocan (D-Wis.) and the co-chairs of the Caucus's Transgender Equality Task Force, U.S. Reps. Sara Jacobs (D-Calif.) and Pramila Jayapal (D-Wash.).
Specifically, the letter argues several anti-equality amendments would "actively target LGBTQ+ service members and LGBTQ+ dependents and threaten the recruitment, retention, and readiness of our Armed Forces."
Among these are riders prohibiting coverage of gender affirming healthcare interventions for service members and their dependents; banning LGBTQ Pride flags, drag shows and other events; and restricting funding for certain books in schools operated by the Department of Defense Education Activity.
Senate confirms federal judge who fought for marriage equality as a lawyer
Three Republicans voted for Rita Lin's nomination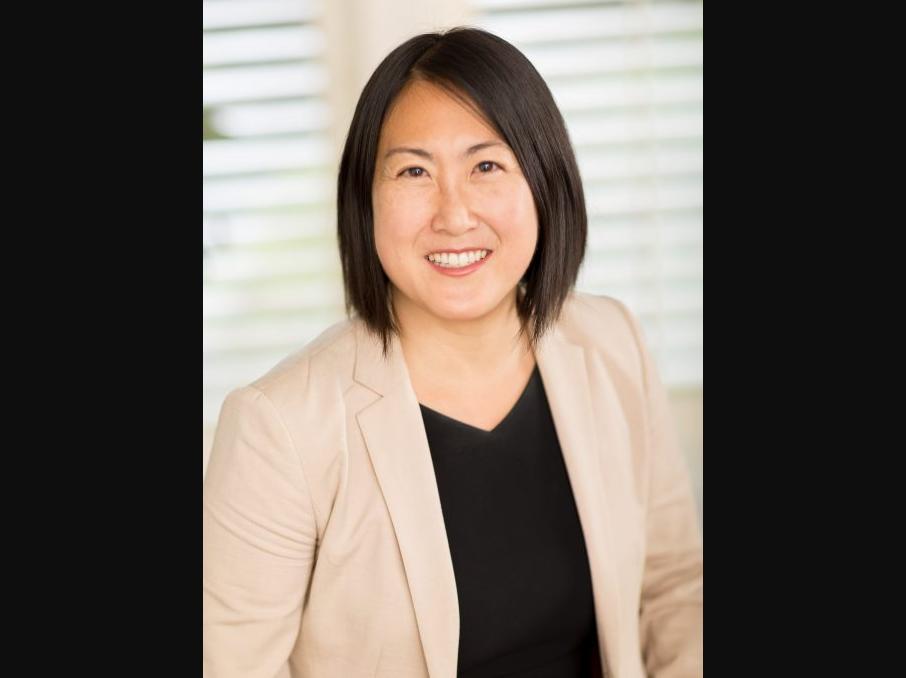 The U.S. Senate on Tuesday voted 52-45 to confirm Rita Lin's nomination by President Joe Biden to serve as a judge on the U.S. District Court for the Northern District of California.
The first Chinese American woman to serve in the role, Lin previously fought for marriage equality as an attorney in private practice with the multinational firm Morrison and Foerster.
As co-counsel in a 2012 case challenging the Defense of Marriage Act in federal court, she secured the first ruling striking down the law, which proscribed marriage as exclusively heterosexual unions, since President Obama announced his administration would no longer defend it.
The Senate's vote to confirm Lin was supported by all present Democratic members and three Republicans: U.S. Sens. Susan Collins (Maine), Lindsey Graham (S.C.) and Lisa Murkowski (Alaska).
Last year, during hearings for her nomination in the U.S. Senate Judiciary Committee, Sen. John Kennedy (R-La.) objected to an article she wrote in 1998 while a junior at Harvard University calling members of the Christian Coalition "bigots."
The Christian Coalition was founded by the late Christian media mogul Pat Robertson, who attracted controversy throughout his life and career for making sexist, homophobic and racist remarks.
Lin was appointed as a judge in the San Francisco Superior Court in 2018, and she currently presides over felony and misdemeanor criminal trials. She previously served as an Assistant United States Attorney in San Francisco.
Wexton, ardent LGBTQ ally, will not seek re-election
Congresswoman diagnosed with progressive supranuclear palsy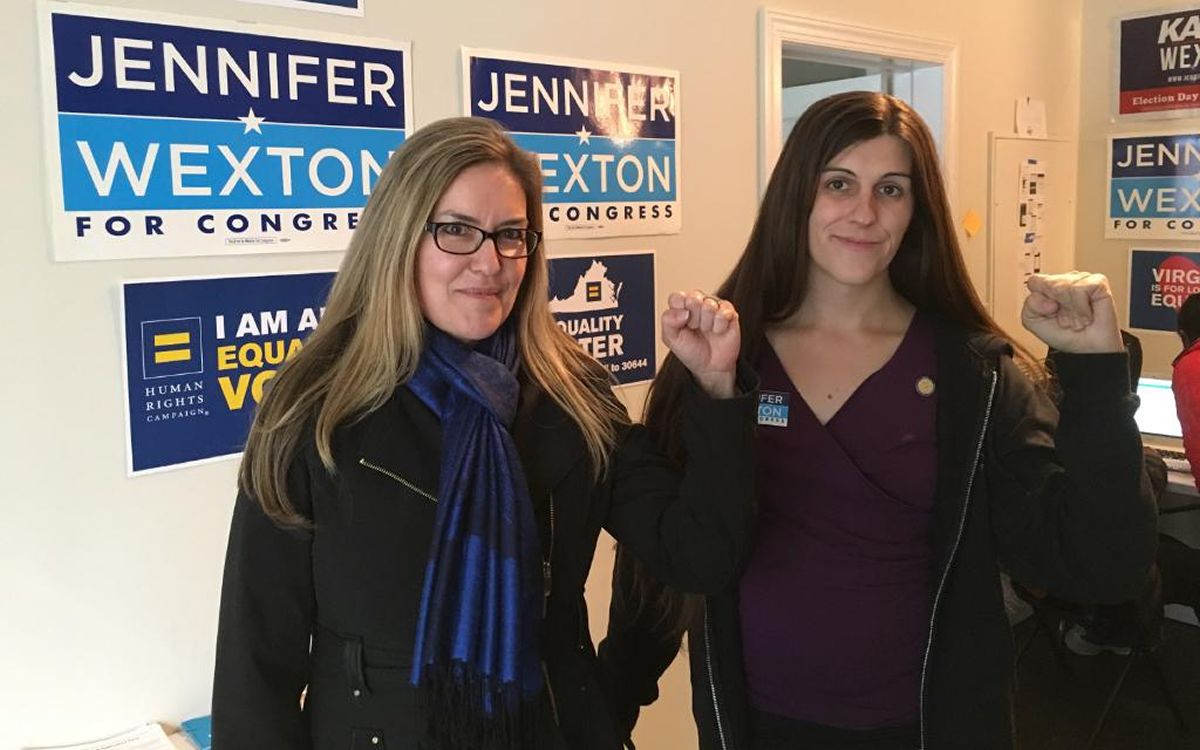 U.S. Rep. Jennifer Wexton (D-Va.) announced on Monday she will not seek reelection after receiving a diagnosis of progressive supranuclear palsy, a neurological disorder that the congresswoman described in a statement as "Parkinson's on steroids."
"I'm heartbroken to have to give up something I have loved after so many years of serving my community," she said. "But taking into consideration the prognosis for my health over the coming years, I have made the decision not to seek reelection once my term is complete and instead spend my valued time with Andrew, our boys, and my friends and loved ones."
A vice-chair of the Congressional Equality Caucus who was formerly a co-chair of its Transgender Equality Task Force, Wexton has been a staunch ally of the LGBTQ community since her first election to Congress in 2018 and during previous five-year tenure in the Virginia State Senate.
".@RepWexton is a strong ally to LGBTQI+ people," the Caucus posted on X. "We extend our support to her & her family during this time and thank her for championing LGBTQI+ equality."
"On my lowest days, she's quite literally been a shoulder to cry on, and on my best days, she was the second person I told about my engagement last year," Virginia Del. Danica Roem (D-13) told the Washington Blade on Monday.
The congresswoman is "a role model, mentor and genuine public servant whose friendship and advocacy means the world to me," said Roem, who is the first openly trans representative to serve in any state legislature and will be the first in Virginia's State Senate if she is elected to the newly drawn 30th district seat next year.
"I spent so many years closeted in part because of the fear and loathing perpetuated by elected officials toward LGBTQ people in Northern Virginia broadly and greater Prince William [County] specifically that made for a hostile, unwelcoming environment," she said.
"To go from that to having such outspoken, fearless representation from my member of Congress in Rep. Jennifer Wexton hasn't so much been a breath of fresh air as much as a completely new biosphere," Roem said.
She added, "I'm so grateful to her for everything she's done and the example of inclusivity she's set for her constituents."
Roem pointed the Blade to an article in the Washington Post entitled, "How Jennifer Wexton became the 'patron saint of the transgender community,'" which details the ways in which LGBTQ rights "with an emphasis on the transgender community" had become Wexton's "signature issue" just "six months into her first term."
In fact, on the day she took office, the congresswoman became only the second member to fly a transgender Pride flag outside her office.
Equality Virginia, the state's largest LGBTQ advocacy group, also noted Wexton's advocacy for the community in a post Monday on X: "Thank you @RepWexton for being a tireless advocate for LGBTQ+ people in the General Assembly and in Congress."
"You've made our commonwealth a better place," the group wrote, adding, "we're sending our love and strength to you, your family and your entire team."
"In 2018, this state senator I called my legislative role model and looked up to so much as a first-year delegate, came over for dinner crepes to share her wisdom, humor and guidance," Roem said on X. "Five years later, Rep. @JenniferWexton is still a mentor, friend and champion for NOVA."
The Washington Post reported Wexton's planned departure means her seat representing Virginia's 10th Congressional District could be vulnerable in next year's elections, as it was held by Republicans for 40 years prior to the congresswoman's defeat of GOP incumbent Barbara Comstock in 2018.