Does a potential overturn of Roe imperil LGBTQ rights?
Some fear that Obergefell marriage decision could fall
The oral arguments before the justices of the United States Supreme Court had barely ended in the case brought by the state of Mississippi defending its law banning abortion after 15 weeks, Dobbs v. Jackson Women's Health Organization, when alarms were set off in legal circles as some argued that Obergefell v. Hodges — the same-sex marriage decision — would be in danger should the high court rule to overturn Roe v. Wade.
Florida State University law professor Mary Ziegler, appearing on NPR's 'Heard on All Things Considered,' told host Mary Louise Kelly that there was a basis for concern over whether the court would actually overrule its precedents in other cases based on the questions and statements raised during the hearing by the conservative members of the court.
Asked by Kelly if she saw a legal door opening Ziegler affirmed that she did. Kelly then asked her, "Them taking up cases to do with that. What about same-sex marriage?"
Ziegler answered, "Yeah, same-sex marriage is definitely a candidate. Justices Alito and Thomas have in passing mentioned in dicta that they think it might be worth revisiting Obergefell v. Hodges – the same-sex marriage decision.
"And I think it's fair to say that in the sort of panoply of culture war issues, that rights for same-sex couples and sexual orientation are still among the most contested, even though certainly same-sex marriage is more subtle than it was and than abortion was.
"I think that certainly the sort of balance between LGBTIQ rights and religious liberty writ large is a very much alive issue, and I think some states may try to test the boundaries with Obergefell, particularly knowing that they have a few justices potentially willing to go there with them."
As almost if to underscore the point raised by Ziegler during the hearing, Associate U.S. Supreme Court Justice Sonia M. Sotomayor pointed out that the high court has taken and "discerned" certain rights in cases from the Constitution.
Along with abortion, the court has "recognized them in terms of the religion parents will teach their children. We've recognized it in their ability to educate at home if they choose," Sotomayor said. "We have recognized that sense of privacy in people's choices about whether to use contraception or not. We've recognized it in their right to choose who they're going to marry."
In following up the cases cited by Justice Sotomayor, Associate U.S. Supreme Court Justice Amy Coney Barrett asked Mississippi Solicitor General Scott Stewart, who was defending the state's abortion law, whether a decision in his favor would affect the legal precedents in those cases cited by Justice Sotomayor.
In his answer to Justice Barrett, the state's Solicitor General said cases involving contraception, same-sex marriage and sodomy wouldn't be called into question because they involve "clear rules that have engendered strong reliance interests and that have not produced negative consequences or all the many other negative stare decisis considerations we pointed out."
However, Lambda Legal Chief Strategy Officer and Legal Director, Sharon McGowan had a different take and interpreted remarks by Associate U.S. Supreme Court Justice Brett Kavanaugh to mean that the decisions in Lawrence v. Texas, which decriminalized private sexual intimacy between same-sex couples, and Obergefell v. Hodges, which struck down remaining bans on the freedom of same-sex couples to marry, would actually justify overturning Roe v. Wade.
In a publicly released media statement McGowan noted: "During today's argument, Justice Kavanaugh suggested that two key Supreme Court decisions protecting LGBTQ civil rights—Lawrence v. Texas and Obergefell v. Hodges—support overruling Roe v. Wade and Planned Parenthood v. Casey.
'To that we say, NOT IN OUR NAME. LGBTQ people need abortions. Just as important, those landmark LGBTQ decisions EXPANDED individual liberty, not the opposite. They reflected the growing societal understanding of our common humanity and equality under law.
"Just as the Supreme Court in Brown v. Board of Education rejected the lie of 'separate but equal,' the Supreme Court's decisions in Lawrence and Obergefell appropriately overruled precedent where it was clear that, as was true with regard to race, our ancestors failed properly to acknowledge that gender and sexual orientation must not be barriers to our ability to live, love, and thrive free of governmental oppression. …
"These landmark LGBTQ cases, which Lambda Legal litigated and won, and on which we rely today to protect our community's civil rights, were built directly on the foundation of Casey and Roe. Our interests in equal dignity, autonomy, and liberty are shared, intertwined, and fundamental."
On Sunday, the Blade spoke with Shannon Minter, legal director for the National Center for Lesbian Rights, a national LGBTQ+ legal organization that represented three same-sex couples from Tennessee, whose case was heard by the U.S. Supreme Court along with Obergefell and two other cases.
Minter is urging caution in how people interpret the court arguments and remarks made by the justices.
"We should be cautious about taking the bait from anti-LGBTQ groups who falsely argue that if the Supreme Court reverses or undermines Roe v. Wade, they are likely to reverse or undermine Obergefell or Lawrence. In fact, that is highly unlikely, as the argument in Dobbs itself showed," he said.
"The only reason Justice Kavanaugh mentioned Obergefell and Lawrence, along with Brown v. Board of Education, was to cite them as examples of cases in which the Supreme Court clearly did the right thing. All of those decisions rely at least as strongly on equal protection as on fundamental rights, and even this extremely conservative Supreme Court has not questioned the foundational role of equal protection in our nation's constitutional law," Minter stressed.
During an interview with Bloomberg magazine, David Cortman, of the Scottsdale, Ariz.-based anti-LGBTQ legal group Alliance Defending Freedom, which has been listed by the Southern Poverty Law Center as an extremist hate group, said "two things in particular distinguish abortion from those other privacy rights: the right to life and the states' interest in protecting a child."
Cortman, whose group urged the justices to allow states to ban same-sex marriages, said those other rights may be just as wrong as the right to an abortion. "But the fundamental interest in life that's at issue in abortion means those other rights are probably not in any real danger of being overturned."
But Cortman is of the opinion that there is little impetus among the court's conservatives to take up challenges to those cases.
However, the fact that the six to three makeup of the high court with a conservative majority has progressives clamoring for the public to pay closer attention and be more proactively engaged.
Kierra Johnson, executive director of the National LGBTQ Task Force, in an emailed statement to the Blade underscored those concerns:
"Reports and analysis coming out of Wednesday's Supreme Court hearing on Dobbs v. Jackson Women's Health Organization are extremely disturbing and represent a threat to our individual constitutional rights to privacy and autonomy. There is no 'middle ground' on what the Constitution guarantees and what was decided decades ago with the Roe v Wade decision.
"This is about liberty, equality, and the rule of law, not the political or partisan views of those sitting on the bench. The unprecedented decision to remove a constitutional right recognized by the Supreme Court 50 years ago would set back civil rights by decades. ….
"Abortion access is essential, and a fundamental right under the U.S. Constitution. Bans on abortion are deeply racist and profoundly sexist – the harshest impacts fall on Black and Brown women and pregnant people and on our families and communities.
"If you think this decision will not affect you, think again: a wrong decision by the Supreme Court means you, too, will lose your bodily autonomy, your ability to own your own personal and community power. This is not just about abortion; it is about controlling bodies based on someone else determining your worthiness. This is a racial justice issue. This is a women's issue. It is an LGBTQ issue. It is a civil rights issue. These are our fundamental rights that are at stake."
Lesbian mother from El Salvador released from ICE custody
Jessica Barahona-Martinez arrested on June 26, 2017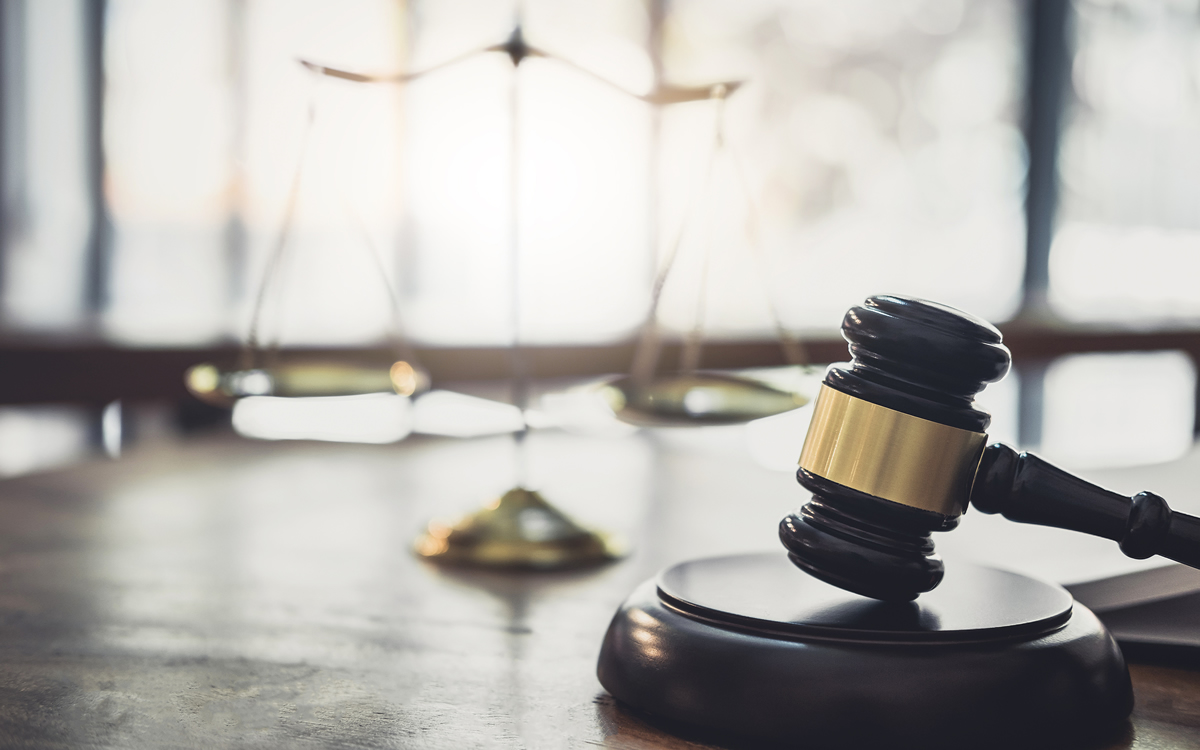 A federal judge last week ordered the release of a lesbian mother from El Salvador who had been in U.S. Immigration and Customs Enforcement custody since June 2017.
Jessica Patricia Barahona-Martinez and her three children entered the U.S. on May 31, 2016. A court filing notes she fled "persecution she faced in El Salvador as a lesbian, and because the government had falsely identified her as a gang member."
Barahona-Martinez lived with her sister and other relatives in Woodbridge, Va., until ICE arrested and detained her on June 26, 2017. She was housed at two ICE detention centers in Virginia until her transfer to the South Louisiana ICE Processing Center, a privately-run facility the GEO Group, a Florida-based company, operates in Basile, La., in October 2020.
An immigration judge in November 2019 granted Barahona-Martinez asylum for the second time. The government appealed the decision and the Board of Immigration Appeals, which the Justice Department oversees, ruled in their favor.
The American Civil Liberties Union and the ACLU of Louisiana last month filed a writ for habeas corpus petition in the U.S. District Court for the Western District of Louisiana's Lafayette Division that asked for Barahona-Martinez's release. U.S. District Judge Terry A. Doughty on Sept. 27 ruled in her favor.
"Petitioner (Barahona-Martinez) ultimately argues that her prolonged detention violates due process; she moves that this court issues a temporary restraining order, requests release, a bond hearing, an expedited hearing and costs and attorney fees," wrote Doughty.
"This court finds that petitioner has plausibly alleged her prolonged detention violates due process," added Doughty.
An ACLU spokesperson on Monday told the Blade that ICE has released Barahona-Martinez and she is once again in Virginia with her children and sister.
State Department hosts intersex activists from around the world
Group met with policy makers, health officials, NGOs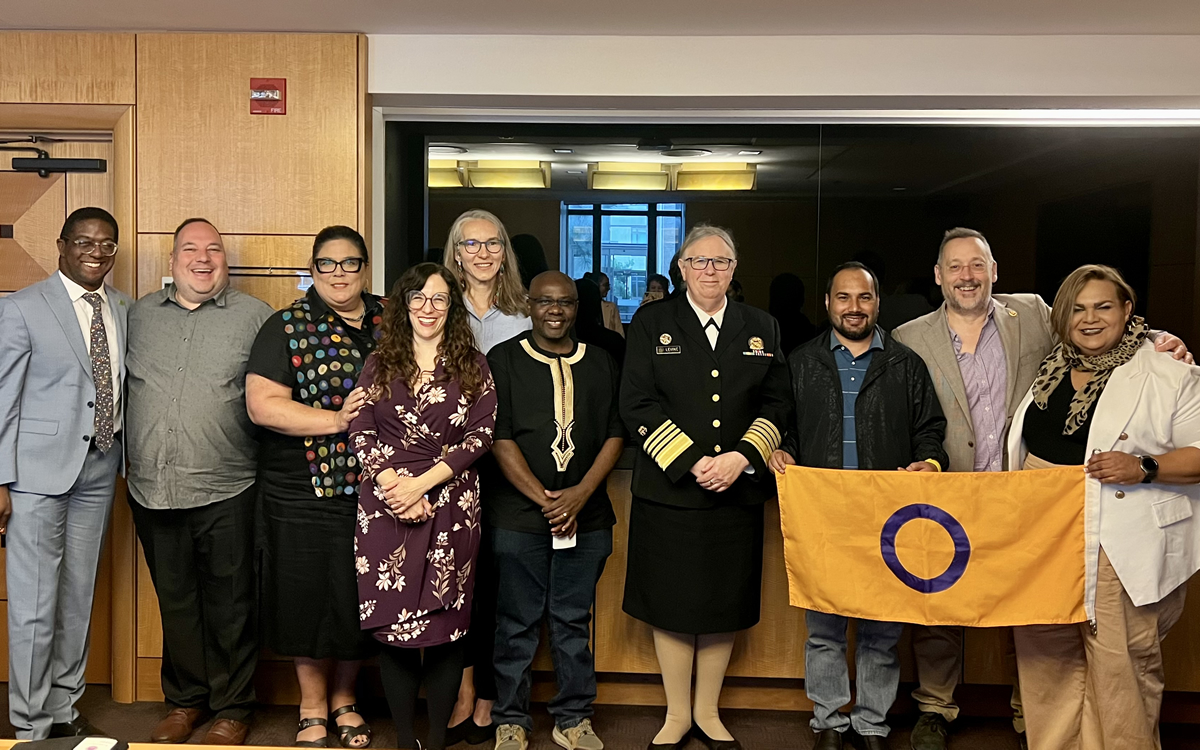 The State Department last week hosted five intersex activists from around the world.
Kimberly Zieselman, a prominent intersex activist who advises Jessica Stern, the special U.S. envoy for the promotion of LGBTQ and intersex rights abroad, brought the activists to D.C.
• Morgan Carpenter, co-founder and executive director of Intersex Human Rights Australia
• Natasha Jiménez, an intersex activist from Costa Rica who is the general coordinator of Mulabi, the Latin American Space for Sexualities and Rights
• Julius Kaggwa, founder of the Support Initiative for People with Atypical Sex Development Uganda
• Magda Rakita, co-founder and executive director of Fujdacja Interakcja in Poland and co-founder of Interconnected UK
• Esan Regmi, co-founder and executive director of the Campaign for Change in Nepal.
Special U.S. Envoy for Global Youth Issues Abby Finkenauer and Assistant Health Secretary Rachel Levine are among the officials with whom the activists met.
Zieselman told the Washington Blade on Sept. 21 the activists offered State Department officials an "intersex 101" overview during a virtual briefing.
More than 60 Save the Children staffers from around the world participated in another virtual briefing. Zieselman noted the activists also met with Stern, U.N. and Organization of American States officials, funders and NGO representatives while in D.C.
"The people we met were genuinely interested," Rakita told the Blade.
Stern in an exclusive statement to the Blade said "the visiting intersex activists clearly had an impact here at State, sharing their expertise and lived experience highlighting the urgency to end human rights abuses, including those involving harmful medical practices against intersex persons globally." Andrew Gleason, senior director for gender equality and social justice at Save the Children US, in a LinkedIn post he wrote after attending his organization's meeting with the activists echoed Stern.
"There are many learnings to recount from today's discussion, but one thing is clear, this is unequivocally a child rights issue, and one that demands attention and action at the intersection of LGBTQI+ rights, reproductive rights and justice, disability justice and more," wrote Gleason. "Gratitude to the panelists for sharing such poignant testimonies and providing insights into what organizations like ours can do to contribute to the broader intersex movement; and thank you to Kimberly for your leadership and bringing this group together."
The activists' trip to D.C. coincided with efforts to end so-called sex "normalization" surgeries on intersex children.
Greek lawmakers in July passed a law that bans such procedures on children under 15 unless they offer their consent or a court allows them to happen. Doctors who violate the statute face fines and prison.
Germany Iceland, Malta, Portugal and Spain have also enacted laws that seek to protect intersex youth.
A law that grants equal rights and legal recognition to intersex people in Kenya took effect in July 2022. Lawmakers in the Australian Capital Territory earlier this year passed the Variation in Sex Characteristics (Restricted Medical Treatment) Bill 2023.
Intersex Human Rights Australia notes the law implements "mechanisms to regulate non-urgent medical care to encourage child participation in medical decisions, establish groundbreaking oversight mechanisms and provide transparency on medical practices and decision making." It further points out the statute "will criminalize some deferrable procedures that permanently alter the sex characteristics of children" and provides "funding for necessary psychosocial supports for families and children."
"It's amazing," Carpenter told the Blade when discussing the law and resistance to it. "It's not perfect. There was some big gaps, but physicians are resisting every step of the way."
The State Department in April 2022 began to issue passports with an "X" gender marker.
Dana Zzyym, an intersex U.S. Navy veteran who identifies as non-binary, in 2015 filed a federal lawsuit against the State Department after it denied their application for a passport with an "X" gender marker. Zzyym in October 2021 received the first gender-neutral American passport.
Federal government prepares for looming shutdown
White House warns of 'damaging impacts across the country'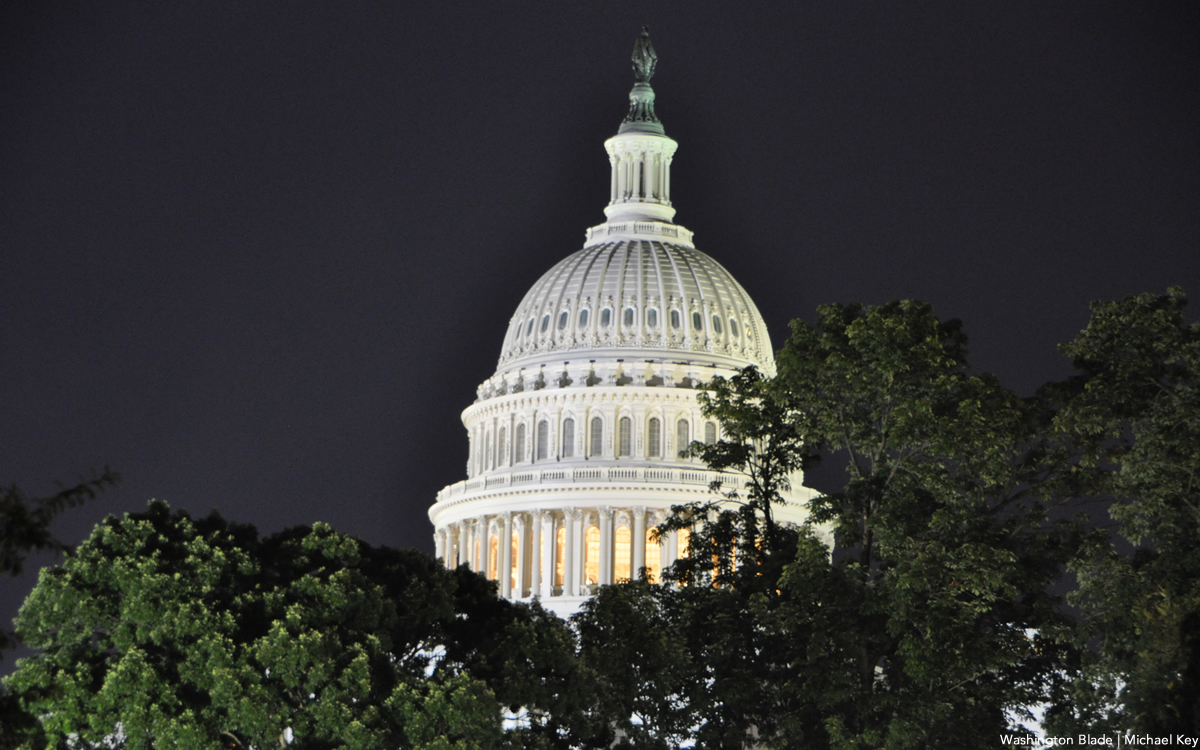 However remote they were on Monday, odds of avoiding a government shutdown were narrowed by Thursday evening as House Republicans continued debate over their hyper-partisan appropriations bills that stand no chance of passage by the Upper Chamber.
As lawmakers in the Democratic controlled Senate forged ahead with a bipartisan stop-gap spending measure that House GOP leadership had vowed to reject, the federal government began bracing for operations to grind to a halt on October 1.
This would mean hundreds of thousands of workers are furloughed as more than 100 agencies from the State Department to the Advisory Council on Historic Preservation roll out contingency plans maintained by the White House Office of Management and Budget. On Thursday the Office of Personnel Management sent out memos to all agencies instructing them to ready for a shutdown on Sunday.
Before 1980, operations would continue per usual in cases where Congress failed to break an impasse over spending, as lapses in funding tended to last only a few days before lawmakers brokered a deal.
Since then, the government has shut down more than a dozen times and the duration has tended to become longer and longer.
"Across the United States, local news outlets are reporting on the harmful impacts a potential government shutdown would have on American families," the White House wrote in a release on Thursday featuring a roundup of reporting on how the public might be affected.
"With just days left before the end of the fiscal year, extreme House Republicans are playing partisan games with peoples' lives and marching our country toward a government shutdown that would have damaging impacts across the country," the White House said.
The nature and extent of that damage will depend on factors including how long the impasse lasts, but the Biden-Harris administration has warned of some consequences the American public is likely to face.
Transportation Secretary Pete Buttigieg, for example, warned: "There is no good time for a government shutdown, but this is a particularly bad time for a government shutdown, especially when it comes to transportation."
Amid the shortage of air traffic controllers and efforts to modernize aviation technology to mitigate flight delays and cancellations, a government shutdown threatens to "make air travel even worse," as Business Insider wrote in a headline Thursday.
Democratic lawmakers including California Congresswoman Barbara Lee and Maxine Waters, meanwhile, have sounded the alarm in recent weeks over the consequences for the global fight against AIDS amid the looming expiration, on Oct. 1, of funding for PEPFAR, the President's Emergency Plan for AIDS Relief.