Top 10 movies of 2021
Spielberg dazzles and Campion triumphs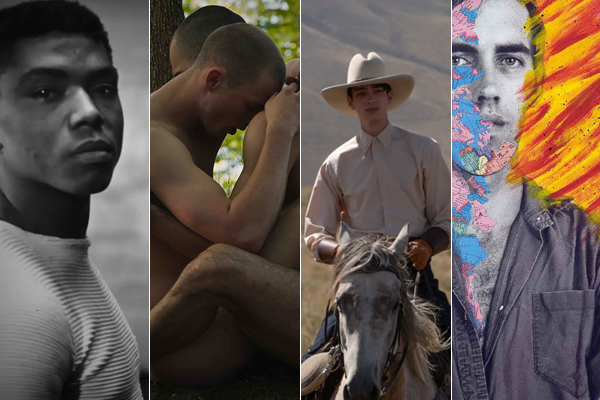 As Hollywood struggled to adapt to the ongoing pandemic, 2021 brought us a surprisingly eclectic crop of movies – something clearly reflected by the Blade's list of our 10 best-reviewed films of the year, which includes three musicals, three documentaries, and a western:
#10: tick, tick… BOOM!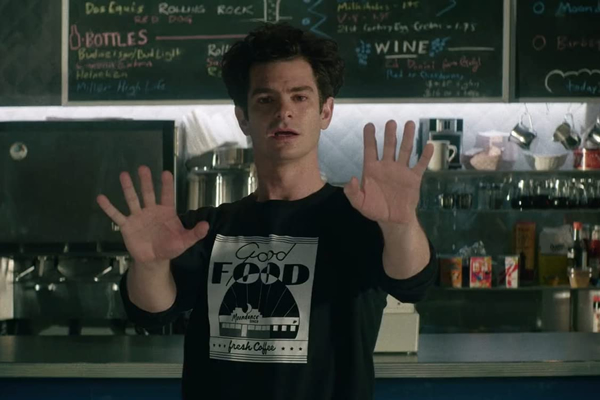 Lin-Manuel Miranda makes another appearance on the list with his feature directorial debut, this adaptation of an autobiographical work by "Rent" composer Jonathan Larson that is possibly the most perfect movie ever made for musical theater fans. Following the young Larson as he grapples with the dilemma of whether to give up his Broadway hopes for an easier life and a more secure future, it's an explosively energetic love letter to musicals that celebrates the joy of theater while honoring the legacy of a groundbreaking artist taken too soon by tragedy. The outstanding cast (which includes Bradley Whitford as the late Stephen Sondheim and a who's-who of Broadway legends showing up at every turn) is led by Andrew Garfield, who surpasses expectations with a tour-de-force performance as Larson.
#9: Ailey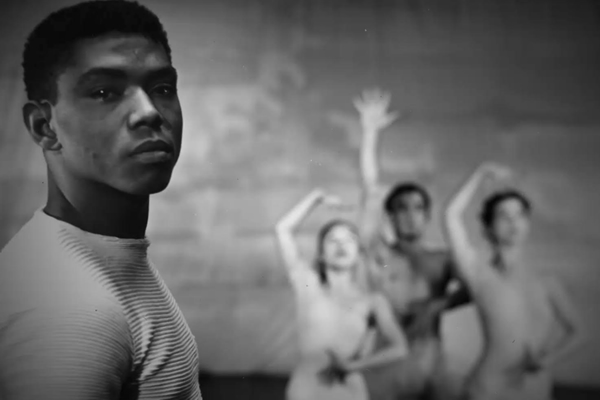 More than 30 years after his death, Alvin Ailey is still lauded as a trailblazing pioneer for his breathtakingly theatrical presentations exploring and uplifting Black experience in America – but even among dance aficionados, many people today would be hard-pressed to tell you much about his life. Jamila Wignot's ethereal documentary attempts to correct that with a dreamy portrait of a genius who sublimated his entire being into the creation of his art – and better still, mines a bounty of exquisite performance footage to provide the gift of seeing dancers in motion as they execute the sheer visual poetry of his choreography.
#8: In the Heights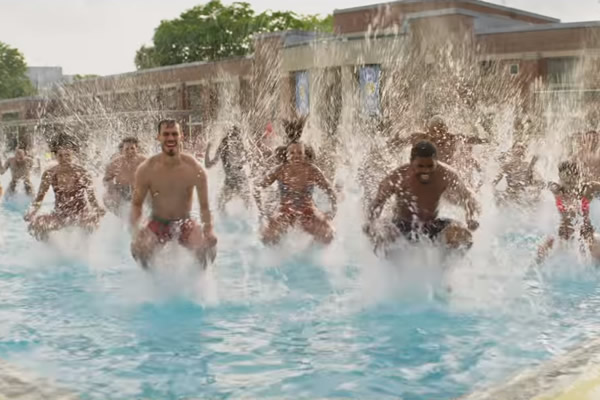 Onstage, Lin-Manuel Miranda's first Broadway musical was an infectious celebration of community, infused with a generous spirit of hope and driven by an irresistible Latin beat. On film, director John M. Chu delivers all that and more with breathtaking cinematic vision and a healthy dose of "magical realism" that does nothing to undercut the material's streetwise swagger. Recapturing the elusive charm of the old-school movie musical while asserting itself as a product of its own time, it spotlights a dazzlingly talented ensemble (led by Anthony Ramos in an eminently likable performance) and delivers the almost euphoric refreshment of seeing a major Hollywood film populated almost entirely by people of color. That alone is enough to make it one of the year's most important movies.
#7: Swan Song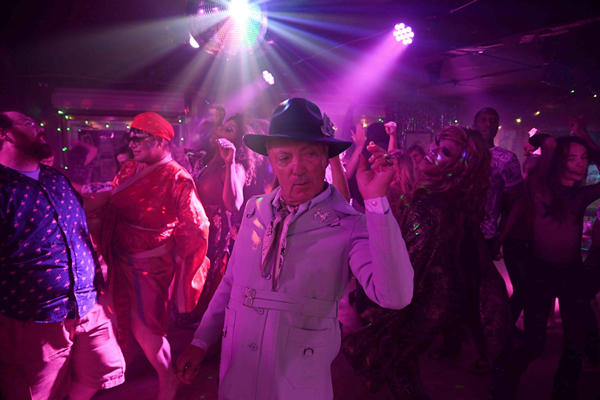 From director Todd Stephens comes this unexpected delight of an indie comedy, featuring underground cinema icon Udo Kier as "Mr. Pat," an elderly hairdresser who breaks out of his nursing home to style a former client's hair for her funeral. The improbably cast but brilliant star delivers a master class in subtlety and shade that ceaselessly entertains us as he sashays his way through a small-town odyssey that doubles as a meditation on the forgotten fabulosity of our queer elders – reminding us how much they've lived through, how much we owe them, and how much they still have to offer, all while keeping an irresistible smile on our face.
#6: Benedetta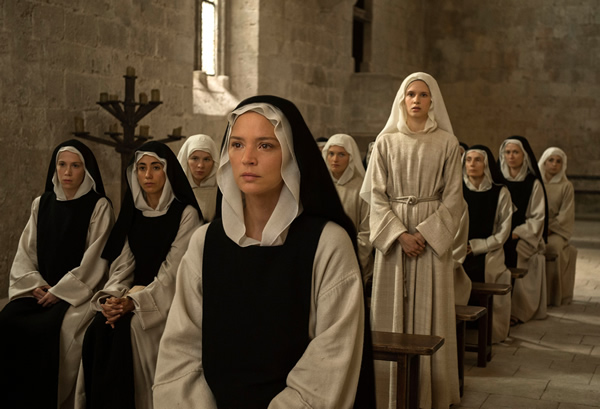 Veteran Dutch filmmaker Paul Verhoeven returns in top form with this slice of obscure-but-true history about the rise and fall of a 17th century nun, heralded as a prophet because of her intense religious visions until a secret lesbian affair draws the ire of the church hierarchy. True to the "Showgirls" director's reputation as a provocateur, it's a blend of social satire, psycho-sexual themes, graphic violence, and near-exploitation-level erotic imagery – but it's also full of sly observations about religious hypocrisy, systemic oppression, and the way white heterosexual cisgender men keep the deck eternally stacked in their own favor.
#5: Wojnarowicz: F*ck You F*ggot F**ker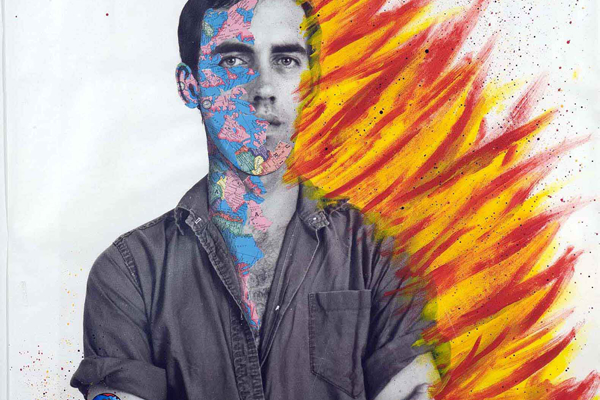 Chris McKim's documentary about iconic AIDS-era artist David Wojnarowicz is comprehensive, immersive, and heavy with the almost corporeal substance of the late artist himself, a valuable historical chronicle made possible by the intensity with which he recorded his own life – and the skill with which McKim compiles that material to deliver him to us nearly three decades after his death. Revealing Wojnarowicz as an incendiary rebel who saw his own body as a weapon against a cruel and indifferent establishment, McKim honors him with a powerful film that not only informs, but inspires us to take up the torch of its subject's righteous rage.
#4: Saint-Narcisse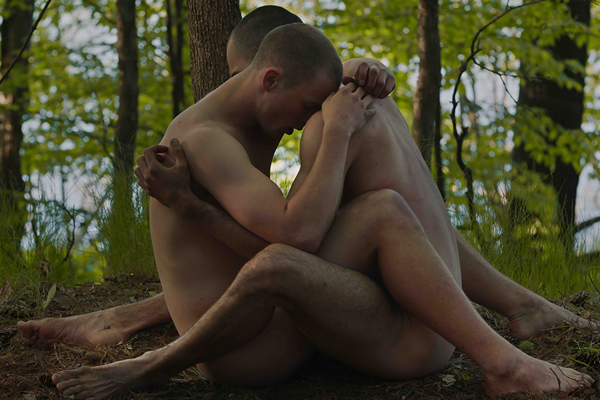 The latest film from Bruce LaBruce is a deliciously subversive adult fairy tale set in the 1970s, in which a selfie-snapping narcissist reunites with his long-lost mother and goes on a quest to rescue his twin brother from a monastery where he is being kept as a sex slave. A blasphemous web of sex, incest, and revenge, it's a campy, unabashedly queer psychosexual thriller that proves the iconoclastic Canadian director still delights in pushing our buttons. At the same time, it's a sly satire of our modern, self-obsessed culture that forces us to question societal norms – and a welcome reminder that queer cinema can still be transgressive.
#3: Velvet Underground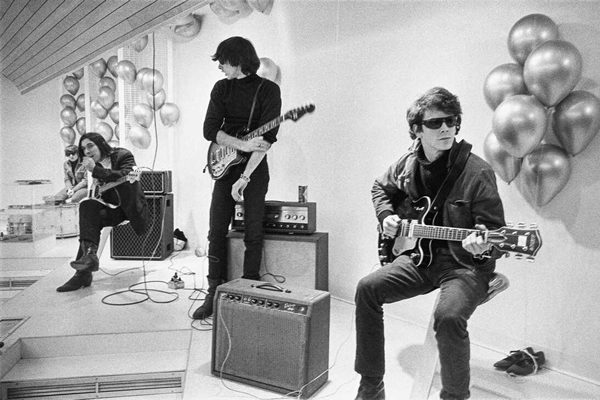 Todd Haynes' lavishly immersive chronicle of the proto-punk band that rose to ephemeral fame in Manhattan's Warhol-dominated art world of the 1960s is more than just a music documentary, it's a piece of pure cinema that exemplifies its genre while transcending it entirely. The veteran queer director doesn't just give us the story of the Velvets in sights and sounds, he transports us to the time and place that allowed them to exist via a seamless blend of visuals, words, history, and, above all, music, providing a total sensory experience that feels like a direct portal into the era itself.
#2: The Power of the Dog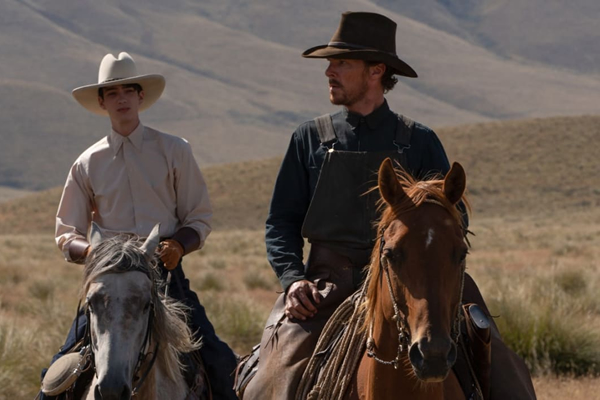 Jane Campion's elegiac western has garnered awards buzz for good reason. In its character study of a domineering rancher who browbeats everyone around him until long-repressed feelings are sparked by his brother's "sensitive" new stepson, her movie subverts more than one toxic trope, deconstructing the myth of the hyper-masculine cowboy hero while leaning into our pre-conditioned expectations about queer romantic narratives to set up a perversely satisfying surprise ending right before our eyes. With a powerhouse performance by Benedict Cumberbatch at its center, and boosted by sumptuous location cinematography, this visually eloquent period drama draws us in and leaves us shaken like few American films in recent memory.
#1: West Side Story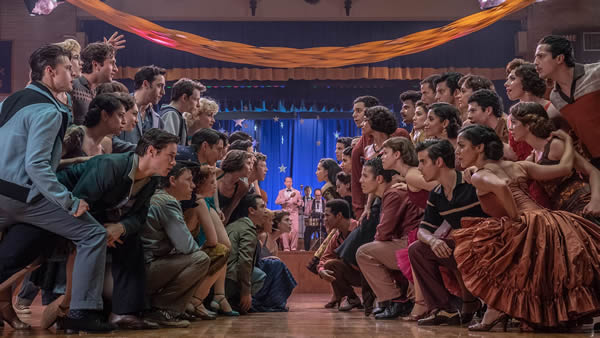 Steven Spielberg's remount of Bernstein and Sondheim's musical retelling of "Romeo and Juliet" achieves what doubters assumed would be impossible: a rendering that succeeds in bringing a contemporary sensibility to the classic material while leaving it fundamentally unchanged. Sumptuously re-staging this stylized 1950s story of racial conflict and violence for a more evolved era, it's a new adaptation in which Spielberg's unparalleled fluency in visual storytelling blends with Tony Kushner's literate expansion of the original script for an effort that celebrates the original masterpiece while transforming it into something thrillingly new – and showcasing a spectacularly talented young cast, to boot. Purists may quibble and racists may be triggered by the purposeful omission of subtitles in Spanish-language scenes – but this career-capping triumph deserves all its accolades, nonetheless.
Join Joel Kim Booster on 'Fire Island' this summer
Gay rom com features queer Asian cast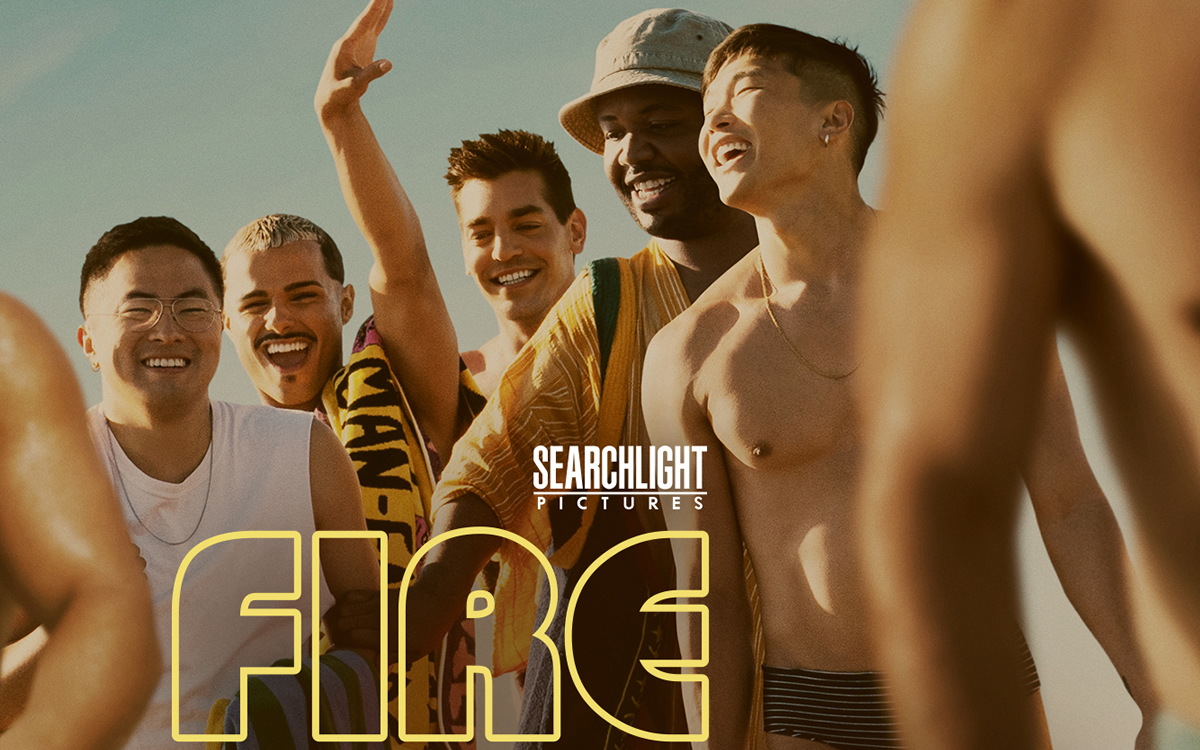 It would be an understandable mistake to see Joel Kim Booster on one of the two "Out Traveler" magazine covers he's gracing this month and assume he was just another sexy fashion model, but the 34-year-old Korean-American comedian is not having a moment in the blazing sun of queer pop culture just because of his undeniable talent for rocking a Speedo.
He is actually in the middle of the publicity push for the upcoming film "Fire Island," which he wrote and in which he co-stars with (among others) close friend Bowen Yang and comedy legend Margaret Cho, and which begins screening exclusively on the Hulu streaming service just in time for Pride month.
Directed by Andrew Ahn ("Spa Night"), it's a movie that's generating a lot of buzz, partly because it's the first predominantly queer film to be backed by a major movie studio (Disney, through its Searchlight Pictures division). We've been burned too many times not to be skeptical about such a project, but anyone already familiar with Booster's work will undoubtedly tell you it's not likely to be another watered-down, safe-for-the-mainstream offering designed to check off boxes on the diversity agenda. Since he first made a splash with an appearance on "Conan" in 2016, he has gained a following among queer and straight audiences alike with his unapologetically gay, unabashedly sex-positive comedy, leading to what some might call a meteoric rise to the brink of superstardom through an acclaimed stand-up career, his roles on TV in shows like the short-lived sitcom "Sunnyside" (on which he was a regular), "Shrill," and "The Week Of" (as well as his writing for shows like "Billy on the Street" and "The Other Two"), and his popular podcasts ("Urgent Care with Joel Kim Booster + Mitra Jouhari" and "The Joy Fuck Club").
Now he's poised to become a movie star with "Fire Island," a gay romantic comedy set in the titular vacation retreat that dares not only to feature a cast made up entirely of queer characters, but doubles down by putting the focus on queer characters who also happen to be Asian. To top it all off, it gives Booster a chance to show off his literate side with a story – which concerns a group of gay best friends out for sexual adventure, and possibly even romance, on what might be their last trip to the iconic gay getaway – adapted from no less esteemed a literary source than Jane Austen's "Pride and Prejudice."
The Blade was fortunate enough to chat with Booster in the middle of this very high-pressure month before his feature film debut, and our conversation was informed by the kind of erudite and compassionate intelligence that has marked the young comedian's career from the start.
BLADE: In your comedy, you've drawn a lot of inspiration from being raised as a Korean adoptee by white American parents in a deeply Christian midwestern community. Does that experience figure into the movie, too?
BOOSTER: Of course! As a transnational adoptee, my entire life I've been fighting against this nagging feeling of not quite fitting in – and that's whether I'm around white people, or Asian people, or even some gay people. It's tough, and it's been such a paramount part of my life to find people who make me feel seen and accepted and to keep them close, so it felt really important for the theme of chosen family to stay in the forefront when I was making this movie. As much as it's a "rom com," it's also about friendship – about relationships with people who, like I say in the movie, "fill in the gaps."
BLADE: How did you hit on using Jane Austen as a source?
BOOSTER: It was really a lucky accident. I brought "Pride and Prejudice" with me on the first trip Bowen and I ever took to Fire Island. I would be lying there on the beach reading it and thinking, "It's amazing how the things she was writing about are so relevant to what we're experiencing on this island right now." It was kinda wild, and it started out as threat, a joke – I would keep saying, 'I can't wait to write an all-gay adaptation of 'Pride and Prejudice' set on Fire Island,' and people would boo and throw things at me. But after that I would always bring an Austen book with me to read on the island, because it felt special to me. There was just something so prescient about what she wrote, and about her observations on class, especially reading it in this place where we had sort of created our own class system, as gay men.
BLADE: When did it stop being a joke?
BOOSTER: Actually, my agent suggested that I should write it, because I was in between projects. I just had a pilot that was passed on by Comedy Central, I was depressed, I had nothing to do – so I ended up writing it as a half-hour pilot script. But nobody wanted it until Quibi [the short-form entertainment platform that launched and folded in 2020 after failing to meet projected subscription levels]. Say what you will about them, but they really invested a lot of money and time into new and young voices, and they took a lot of chances. They took a chance on me, and when they folded I had this script that I could point to which I had written and developed with them. This movie was a tough pitch to sell on just a log line, but I had this finished project, this complicated piece of work to show people, that was much more intricate than I think "Gay 'Pride and Prejudice'" would maybe lead people to believe.
BLADE: Your movie is just one of several big queer titles on deck for 2022, including Billy Eichner's rom com, "Bros." How do you feel about that?
BOOSTER: Honestly, it really takes some of the pressure off. When we get, like, one gay movie a year, a lot of attention and scrutiny gets put on that movie and it's expected to be everything to everyone in our community. And our community is huge, and it's diverse, and there are so many stories that aren't being told. I'm so glad Billy's movie is coming out as well, he was my first comedy boss, and I'm really happy that people in our community are going to have two big gay rom coms to choose from.
BLADE: We haven't seen "Bros" yet, but we've seen "Fire Island." There's a review embargo [until May 23], but I think it's safe to say nobody is going to boo or throw things at you. Do you feel any sense of competition about it?
BOOSTER: My hope is that people love both, but it's nice that if somebody goes to see my movie and says, 'That's not for me, I don't see myself there,' then a couple months later they'll see Billy's and they'll have another shot at it. And I hope both of our movies are successful enough that they create a million clones. I hope it's just the beginning.
"Fire Island," which also stars Conrad Ricamora ("How to Get Away With Murder") and a host of other familiar queer performers, premieres on Hulu on June 3. 
'Everything Everywhere' does the multiverse right
Quirky film boosted by Jamie Lee Curtis's 'feud' with Marvel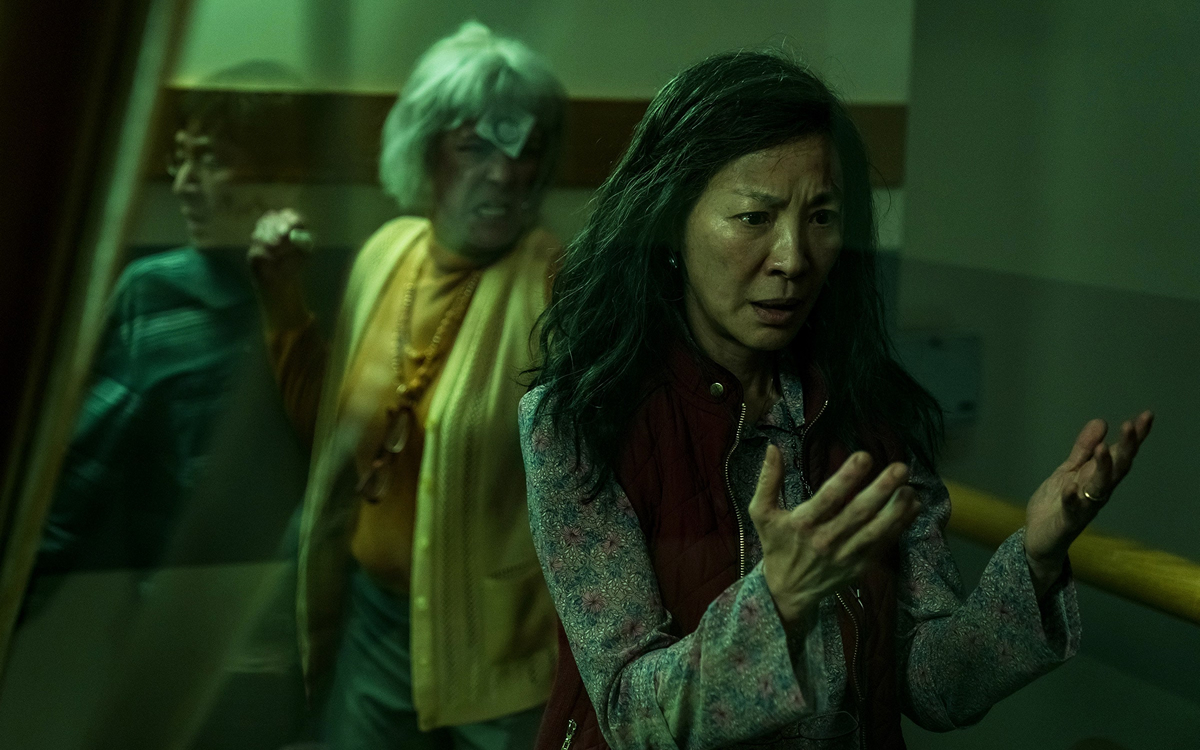 Last weekend, the Marvel Studios blockbuster machine unleashed its latest piece of cinematic eye-and-brain candy, "Dr. Strange and the Multiverse of Madness," in which the titular hero traverses multiple versions of reality to save the universe from chaos and destruction.
Marvel, of course, didn't invent the concept of the "multiverse" – in fact, they're not even the first ones to release a movie about it this year; another multiverse film beat "Dr. Strange" into theaters by nearly six weeks – and it's been enjoying a slow, word-of-mouth-fueled juggernaut of box office success ever since.
That movie, a genre-bending indie production titled "Everything Everywhere All at Once," caused a bemusing stir on social media last week, when Jamie Lee Curtis (one of its stars) launched a tongue-in-cheek feud with "Dr. Strange" in a string of Instagram posts. It was all in fun, but one couldn't help recognizing a sense of authentic pride when she teased, among other things, that her film "out marvels any Marvel movie they put out there."
Perspective is everything, of course, but she's not wrong. While Marvel fans will undoubtedly find "Dr. Strange" a satisfying trip into the multiverse and back, the rest of us would do well to seek out "Everything Everywhere All at Once" while it's still on the big screen – and yes, that even applies to people who couldn't care less about any universe but this one.
Conceived, written and directed by Dan Kwan and Daniel Scheinert (collectively known as "Daniels" since their early career directing music videos), it's a fast-paced wild ride that begins in one of the most mundane realities imaginable – the life of a middle-aged Chinese-American immigrant named Evelyn (Michelle Yeoh), who operates a laundromat with her mild-mannered husband Waymond (Ke Huy Quan), endures strained relationships with her elderly father Gong Gong (James Hong) and her lesbian Gen Z daughter Joy (Stephanie Hsu), and faces a tax audit – conducted by a humorless and hostile IRS agent (Curtis) – which could bankrupt the family business. This stressful quotidian mix is suddenly disrupted when a visitor appears, claiming to be from another universe, and tells her that a powerful evil being has undertaken a sinister plot that threatens to destroy not just his universe and her universe, but all the universes. Further, he informs her that she is the only person in ANY universe who has a chance of defeating this malevolent force in battle. Needless to say, she is hesitant to believe him – but it's not long before she is leaping from timeline to timeline as an unlikely inter-dimensional warrior on a mission to save existence itself from annihilation.
At the risk of making a spoiler-ish statement, that mission turns out to be as absurd as it is apocalyptic. The Daniels' film – which had been baking in their heads since 2010 – has no desire to ply its audiences with high-tech wizard battles in outer space or any of the other tropes of the sci-fi adventures it simultaneously spoofs and salutes; instead, it draws on a long tradition of existentialist thinking – something that, for obvious reasons, goes hand-in-hand with stories about existing in a reality full of infinite possibilities that all lead to oblivion – to accentuate the ridiculous. One of the worlds we visit, for example, is populated by human beings who have hot dogs for fingers, and that's just the most blatant of the many delicious absurdities the film serves up. It makes for a lot of laughs, but it nevertheless sets us to ponder the implications of infinite possibility we concoct within our own imaginations.
To that end, "Everything" balances its quirky, surrealist humor by showing us a few more plausible universes, as well. To gain the skills necessary to defeat her nemesis, Evelyn must visit other versions of her life; she experiences herself as a movie star in martial arts films, or a skilled hibachi chef, or a world-class opera singer, and visiting these realities drives home the point that one small decision – like choosing whether to marry someone or not – can divert our path toward a vastly different lifetime. We see the power of the past to shape our future, for better or for worse, through empowerment or regret, and the power in ourselves to change a multitude of worlds with a single choice. Inevitably, too, we see the nihilistic despair that comes of recognizing one's insignificance in the face of a vast and seemingly uncaring universe; what's the point of living in a world of infinite potential outcomes if none of those outcomes matter?
If that all sounds a little too philosophical for your tastes, don't worry; Kwan and Scheinert pull off the rare feat of encompassing these speculative issues within a story that is not only relatable, but wildly entertaining – and a lot of it has to do with the cast of avengers they've assembled.
First and foremost is Yeoh, whose status as a martial arts screen icon is just one of the strengths she brings to the table; her performance is a career-topping triumph in which she commits to making the beleaguered, unremarkable Evelyn palpably and painfully human even when immersed in the most outrageous of circumstances, and in the process gives us the kick-ass heroine for the ages we never knew we needed. As her put-upon husband, Quan is an invaluable asset; the former child actor (who appeared in "Indiana Jones and the Temple of Doom" and "The Goonies" before moving behind the camera for a career as a sought-after stunt coordinator) brings his own history to the mix, too, and brings us an entire array of Waymonds, all manifesting different flavors of his irresistible underdog charm. Hsu contains multitudes as Joy – no spoilers, but her troubled relationship with her mom is not limited to this universe – and screen veteran Hong is full of surprises as Gong Gong. Finally, Curtis uses the various iterations of her frumpy tax accountant to turn her supporting role into a scene-stealing audience favorite.
The fun these performers clearly have with their roles goes a long way toward keeping things light, no small accomplishment in a brainy cinematic excursion like this one. More importantly, they seem to fully understand and embrace what this madcap sci-fi comedy caper is really all about – and that makes all the difference, because "Everything Everywhere All at Once" may be an action-packed adventure dealing in the same epic conceptual scale as "Dr. Strange," but it's less concerned with titanic battles and cosmic catastrophes than it is with the very small, very ordinary concerns of everyday human life. Sure, it exploits the multiverse as a plot device to enable its imaginative and far-fetched flights of fancy, and it does so with relish, but it ultimately uses it to remind us – gently, and without laying it on too thick – that we have the power to change our reality with every choice we make.
The fact that it delivers that message in a story that puts Asian and queer characters front-and-center is just another great reason to call this disarmingly oddball movie the brightest gem of the season.
Well, that and the hot dog fingers.
Hulu's joyful 'Crush'
New film solidifies 2022's status as banner year for queer representation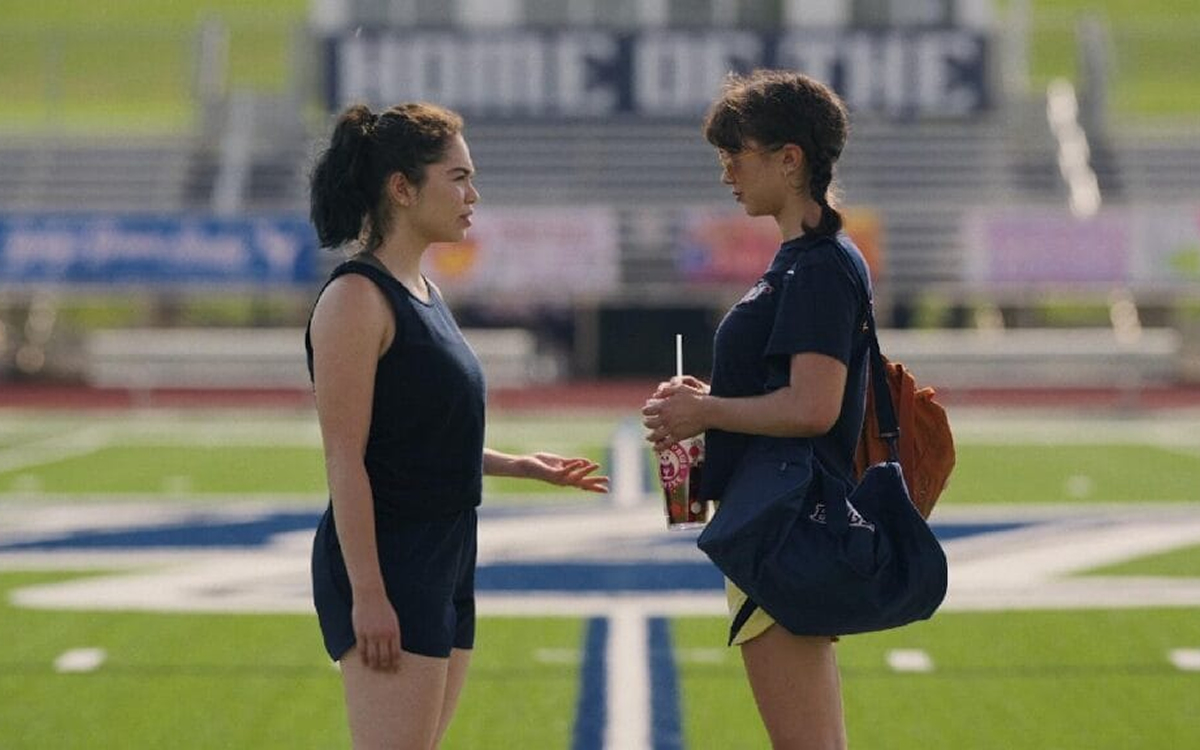 It's only May, and already 2022 is shaping up to be one of the queerest years on record when it comes to film.
It's certainly a breath of fresh air, particularly in a cultural environment marked by increased and aggressive anti-LGBTQ sentiment from the eternally bigoted social and religious conservatives of the extreme right, and while it's impossible to ignore (and unwise to disregard) their rhetoric and their thinly veiled authoritarian attempts to legislate us out of existence, we have every right to take a moment to enjoy the fact that we live in a time when queer lives and queer stories can grace our screens without portraying us as victims, villains, freaks, degenerates or worse.
What's even more gratifying – and definitely a step in the right direction – is the increased diversity on display in these queer stories. Where once most of us had to settle for mostly seeing gay men (usually white) as stand-ins for our entire community, we're now getting a growing number of movies that place the focus on the other colors of our rainbow, and it's a welcome reminder of the beauty that exists in acknowledging and accepting the experiences of everyone.
Consider, for instance, "Crush," Hulu's newest entry to the LGBTQ teen romance genre, which started streaming on April 29, and puts a lesbian love story in the spotlight.
It's true that, in an era before LGBTQ characters could be brought to the screen with the freedom and genuine lived experience that makes today's queer movies feel so authentic, women in love – or at least, in lust – with each other were often seen as "acceptable" in mainstream cinema. While we had lesbian stories, however, those stories were almost always told by men, and straight men at that, leaving us with romanticized (or more accurately, fetishized) depictions that were hopelessly tainted by the male gaze. While movies like "Basic Instinct" and "Bound" may have been successful films that brought queer women into the public eye, they can scarcely be said to have presented a positive or even relatable image in which any real-life lesbian viewers might be able to recognize themselves.
Nothing could be further than the case in "Crush," a film with the advantage of having actual women building it from the ground up. Directed by Sammi Cohen (making her feature directorial debut) from a screenplay by Kirsten King and Casey Rackham, it's the story of Paige (Rowan Blanchard), a freshly out high-schooler with a passion and a talent for art. Though she has no interest in sports, she impulsively joins the school's track team in a bid to get closer to the beautiful and popular Gabriela (Isabella Ferreira), the team's co-captain, on whom she has harbored a longtime crush. She knows nothing about track, however, so the team's coach (Aasif Mandvi) assigns her to Gabriela's twin sister AJ ( Auliʻi Cravalho) for training. As their friendship grows, she begins to develop unexpected feelings – a situation complicated by the threat of potential suspension over mistaken accusations of vandalism due to a wave of anonymous graffiti art that has been appearing all over the campus. Desperate to find the real culprit, Paige enlists AJ to help solve the mystery and clear her name, and soon finds herself facing a dilemma over which of the two sisters she really wants to pursue.
Written by King and Rackham with the deliberate intention of capturing the joy of growing up queer rather than usual turmoil and trauma that accompanies so many LGBTQ coming-of age stories, the pair were inspired by their own life experiences. Cohen, drawn to the project for similar reasons, directs the film with an eye toward bringing that all-too-rare positivity to the screen, and the result is an upbeat, infectiously happy tale of young love that should, as a perhaps ironic consequence, be eminently relatable to a mainstream (i.e. non-queer) audience, too. Yes, there is some drama – choosing between multiple crushes is hard, after all, and the threat of punishment over something you didn't do is enough to turn any teenage life into a Hitchcockian suspense – but none of it ever seems to dim the brightness that shines straight from the movie's proud heart.
Equal share of credit for that irresistible optimism is due to the authenticity of a young cast that seems, above all, to be having a lot of fun; Blanchard and Cravalho establish a charming chemistry from their first moments together onscreen, which keeps us rooting for the inevitable outcome even when they can't yet see it, and Ferreira plays against the stereotype of the "popular girl" to create a gracious, genuinely lovely persona that makes it easy to see why anyone would have a crush on her. Tyler Alvarez and Teala Dunn, as a couple who are Paige's best friends and sidekicks, are engaging and well-drawn enough to keep them from being simply a token "straight couple," and Megan Mullally proves once more why she's not only a queer icon but a national treasure as Paige's libido-driven mother, ravenously pursuing her daughter's track coach in an amusing reversal of pursuer/pursued gender roles that will keep the grown-ups chuckling, too.
That's fortunate, because "Crush," like many comedies aimed at teens, sidelines its adult characters and relies on them mostly for comic relief, and while younger viewers may be engrossed, the movie admittedly eschews sophisticated nuance in exploring the emotional ups and downs of its romantic triangle. Likewise, in choosing to set this lesbian love story in an environment where queerness is normalized and acceptance is seemingly universal, it provides a welcome template for the world we want to see (not to mention the invaluable contribution of giving young LGBTQ+ people the positive representation they so desperately need), the non-existence of homophobia it presents will inevitably be a bit beyond the capacity of some adult viewers to willingly suspend their disbelief.
"Crush" is a movie that is determined to MAKE us believe, however, and to show us what life could be like for our children if we did. Thanks to its unmistakable sincerity and unshakable good will, it goes a long way toward succeeding.