What I Learned from Joe Biden 45 (Gulp!) Years Ago
Why The Lessons Give Me Hope for 2022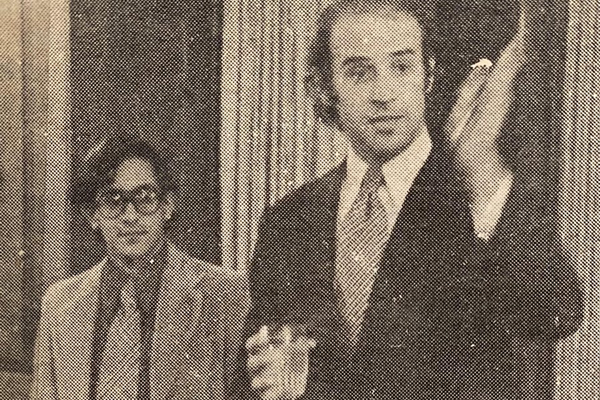 The twin threats that still loom over us — the anti-democratic radicalization of the Republican Party and the persistence of the pandemic — are making this a tough time to appreciate the many first-year successes of the Biden Administration.
We are in an undeniable moment of peril and there is every reason for alarm, but also for hope. I will continue beating the drum on the urgency of passing measures such as the John Lewis Voting Rights Advancement Act, the Freedom to Vote Act, the Protecting Democracy Act, and the Judiciary Act, as well as holding those attacking our democracy accountable.
And in this end-of-year piece, I reflect on how what I learned from President Biden so many years ago gives me hope that in 2022 we can turn a corner. We can prevail in the work of defending and righting our democracy.
It was the summer of the Bicentennial. The summer I first saw a fax machine (which, during several minutes of noise, laboriously spooled out, on a curl of smelly, waxy paper, documents arriving from Wilmington to Washington). The summer after my sophomore year in college. The summer of 1976, when I interned for a then-wunderkind senator named Joe Biden.
Even as a kid, I was into history and politics. I knew that Biden, at the age of 29 — still too young to serve — had defeated a seemingly unbeatable incumbent. I was aware of the horrible car accident following his election, and how he rode back and forth by train to be there with his two little boys at bedtime. I watched Biden become "a liberal who breaks ranks" (as I described him in my diary), a gregarious, energetic, precocious, ambitious young senator.
My diary from 1976 shows me also to have been energetic, precocious, and — sometimes cringe-worthily — ambitious. I had a diverse network of friends and roommates. Despite a cascade of plays, movies, lectures, pleasure reading, and other distractions catalogued in my diary, I was excelling academically. I had succeeded in winning election as Speaker of the Yale Political Union, climbing to the top of the greasy pole among the other greasy pols at a school full of wannabes. And as my diary recounts, in blow by blows, 1976, as it happened was also the year I first had sex. With a woman.
When I reread the diary now, I am struck by how much this 19-year-old kid was doing, how well he was doing, how insightful and passionate he was about so much. And that, indeed, is how I've long remembered that year — a time of growth, accomplishment, and adventure.
But the diary also records what I had forgotten: so much second-guessing and self-doubt, a sense of losing ground and erratic confidence, critiques of my friends and myself… so much yearning outpacing my undeniable striving. I had forgotten how much perspective I did not have then on what really mattered, even as I was doing stuff that mattered and wrote endlessly in the diary about wanting to matter.
One of the things I wanted back then was to land a job in Washington. And so I was thrilled when the hotshot young Senator Biden agreed to come speak to the Political Union. After presiding, as Speaker, over his appearance, I wrote in my diary:
February 10: Senator Biden was impressive tonight. Young, energetic, warm, and intelligent. Egotistical to some extent…. I want to work for him…. I want a summer job in DC. This is important, unlike the Speakership. It'll show that my credentials stand up in the 'real world' and will be that critical initial involvement leading to other jobs.
Over the next couple months — while juggling impressive courses and activities, and wrapping up the Speakership — I wrote letters, made calls, and even traveled to DC in hopes of securing an internship. My diary displays the determination and idealism with which, in the midst of my studies and activities, I pursued that ambition. For instance:March 8: A day of firsts and things that would have been orgasmic at one point in my life. Lunch with a congressman (we talked politics and then job), going on the floor of the House, sitting in the Speaker's chair and standing at the podium where Truman gave the Truman Doctrine speech, where State of the Union speeches are given. Riding in Members Only elevators, hobnobbing with Senator Biden like a friend [but] no definite job…. Biden and I are becoming real chummy. His AA asked me back tomorrow, as the Senator and I kibitzed our time away. Good luck. I want a job so badly….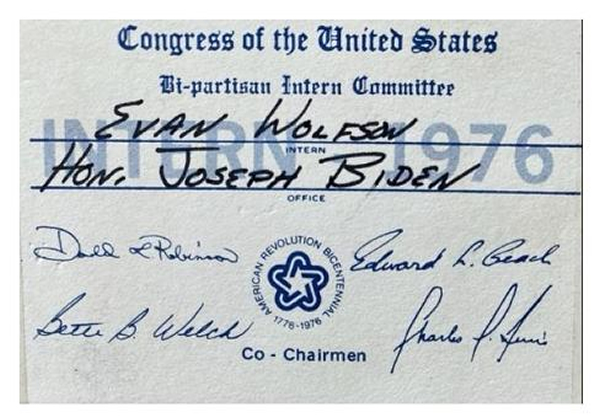 Then, on April 20, I got the call.
For the next several months, my diary contains voluminous descriptions of an exciting, busy Bicentennial Summer in DC, and my thrills, frustrations, and aspirations as a witness to, and sometime participant in, the activities of an office of a Senator on the go. The numerous entries tended to go like these:
May 25: Attended my first Foreign Relations Committee hearing…. I sat on the stage behind the Senators and entered through the private doors. Funny how when I see the sign STAFF on the elevator, I almost turn away until I realize and then get a kick out of it…. Am going to slowly widen my activities until they see I'm reliable and capable. Did some press work (phoning in 'actualities,' quotations on tape from Biden…to radio stations in Delaware). I used a computer research machine, 'Scorpio,' to read a report on Rhodesia and took such stuff out on own initiative this evening, having ordered it from the Library of Congress. Tomorrow — sale of nuclear reactors. Must remember that my goal this year should be to know how an office and Congress run…not to make policy. I have eleven years (at least) to go on that….
June 3: To my great joy, I was assigned as the Intern for Foreign Relations. I've handled some relatively thorny constituent requests…. I also decided that the only way I would advance from office work (not exactly crap, but not policy-making either) would be to take initiative and show them what I can do. I figured that the one thing I know I've gotten from a Yale education that I would not have gotten on my own is the ability to write quickly and well. So, I made impressive inquiries at the Congressional Research Service, including a jaunt to the Library of Congress (where my researcher was shocked and probably a little annoyed to discover that I was younger than he, and not a Legislative Assistant) …. I submitted it to my L.A. [legislative assistant], a former C.I.A. guy who knows everyone in the foreign relations business (!); he seemed pleasantly surprised. I hope he'll consider it good and timely enough to: A) submit it to Biden, and B) warrant including me, at least as an observer, in the substantive areas of senatoring.
June 9: Started work at Roy Rogers [where I moonlit nights to make some money during that unpaid summer internship].
July 21: Was walking down the hall to the Foreign Relations Committee when [Vice Presidential nominee Walter] Mondale popped out (he has the office right across from us). He began walking right in front of me, and the TV people ran backwards ahead of us with bright lights and cameras. I was flanked with Secret Service — and hadn't even tried to get into the picture! Couldn't have done better if I'd tried. Had a low today, too: had to go pick up the Senator's lunch. Although LA's do it (and in other offices, it's one of the high points of an intern's day), it still rankled.
Even during that long-ago summer, I noted firsthand how much Biden cared about policy and government across a broad range of areas, tapping many sources of expertise and input, putting in the work. I wrote on June 16 that the Senator "does look at every single letter that goes out with his signature. He also rejects drafts and demands a lot — rightfully so." I saw how engaged he was, and what a people person.
One diary entry, for instance, gives the flavor, recounting an outing at the beach with the Senator and the woman he was then dating whom I was introduced to as Jill — now our First Lady Dr. Jill Biden — whom I liked right off the bat and every time I was with her.
August 1: Yesterday…I went to Delaware to spend time at the Biden picnic for volunteers and supporters…. What a folksy state. The Senator running around clowning and taking pictures in his bathing suit, splashing with his kids in the water. The Governor [Sherman Tribbitt]– 'howaya, Sherm' — in loafers and short sleeves walking on the sand. Me playing 'football' with Beau and Hunt Biden (7, 6), then taking them in the cold ocean, counting continually to make sure — like a camp counselor — that there were 5 kids all the time, heads above the water and all….The kids gave me something to do other than fawn on the Senator, as I knew very few of the people there. At one point the Senator grabbed me and made a joke about Yale; I had walked in front of someone taking a picture with him — boy, was I embarrassed. He and I bantered a little, in and out of the water — but I still am not sure he knows my name… I still don't know where I stand. I so want to be a part of things…
Back at school in the fall, I stayed in touch with the Senator's office, and occasionally heard from him as well — treasuring every contact.
September 27: Got a nice note from Biden…. He says that he is glad I took him up on the suggestion that I keep in touch with ideas for legislation. He said, 'You have always been a reservoir of ideas. [!] … In light of all your outside interests, I trust your studies are not suffering. Keep in touch… Joe.'
Soon, though, my diary reveals that I was busier than ever — juggling highs and lows of friendships, teaching Sunday School, and diving into a new role as Yale campus co-coordinator for the Carter-Mondale campaign, all while shouldering another challenging course load (my favorite semester at college, it turned out). And throughout, figuring out for myself what it was going to mean to be gay.
Of course, 1976 was a long time ago, and very early in my life. Still ahead of me lay graduating college and law school; the Peace Corps; decades of lawyering and activism; founding and leading the successful and transformative campaign to win the freedom to marry; teaching at Georgetown and Yale; close circles of friends (including, still, the college roommates I had written and worried about, and now, our respective spouses and partners); uncle-hood; travels; and a happy marriage to the man I love. In 1976, I had no way of knowing that this was what life held in store for me — but as I reread the diary, I can see now that the 19-year-old me was finding his way to at least two major lessons that have shaped my life (and been hallmarks of my work) ever since.
First, I learned that year that greatness as in "I want to be great" comes, if at all, from actual service, making a difference for others, rather than from the credentials and things I'd begun the year by pursuing — to be Speaker of the Political Union, or to be in politics for the sake of glory or even attention. I discovered that after striving to get elected Speaker, the actual position didn't feel as worthwhile as I had thought it would, whereas engaging in debates (and meeting visitors like Biden), my grunt work organizing the campus and helping deliver a Connecticut win for Jimmy Carter, teaching students at Sunday School, and digging as an intern into substantive research — not to mention my actual studies — felt gratifying and proved meaningful.
I was learning for myself the lesson best conveyed in my favorite speech of Martin Luther King, Jr.'s, the one I hang on the wall of every office I've had. When they give my eulogy, Dr. King said, "tell them not to mention that I have a Nobel Peace Prize — that isn't important. Tell them not to mention that I have three or four hundred other awards — that's not important. Tell them not to mention where I went to school…. I'd like somebody to mention that [he] tried to give his life serving others… tried to love somebody. [All] of the other shallow things will not matter…. I just want to leave a committed life behind."
My diary shows me learning another lesson, too: the power and affirmation that come from not wallowing in the negative, from being hopeful, from focusing on the pathway not the problem, from being kind — to others, and to myself.
While I wince at the young me's sometimes shallow ambition and excessive judgment ("fancied greatness," as another hero, Abraham Lincoln, described his youthful sense of self), I am simultaneously proud of what the young me was actually doing — even as he wrestled with what it meant and where he wanted to go. As the young me learned that year to pursue a committed life in a meaningful way, and to be charitable toward others, so older me is again reminded to be kind to my young self, too.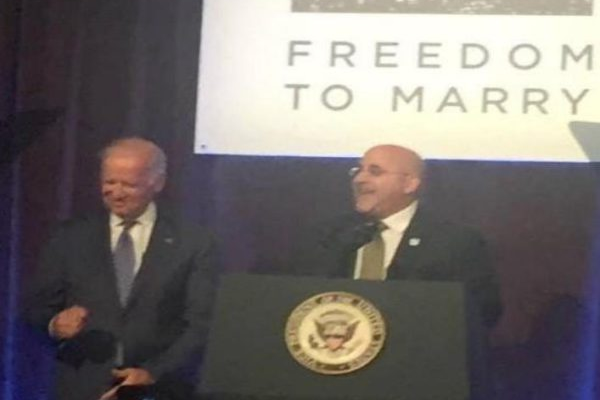 I last spent real time with Joe Biden when the then-Vice President spoke to the more than 1000 advocates and celebrants at Freedom to Marry's Victory Celebration on July 9, 2015.
"Let me begin by saying I take full credit for Evan" were Biden's opening words (greeted by laughter). He then shared lessons he'd learned from his father about love, his evolution in understanding gay people, and how he came to support the freedom to marry — even getting out in front a bit to help nudge the Administration along. He recalled his pivotal Senate role in defeating the anti-gay Robert Bork, nominated by Reagan to the Supreme Court. That, in turn, led to the appointment of Justice Anthony Kennedy instead, who went on to write the marriage victory we had worked for and were celebrating.
"In 1983, there was a Harvard Law essay making the constitutional case for marriage equality written by a young man," Vice President Biden told the audience. "He said, 'Human rights illuminate and radiate from the Constitution, shedding light on the central human values of freedom and equality.'…. That was the basis upon which I took on Judge Bork."
"These were not words from an illustrious Supreme Court Chief Justice," Biden concluded. "These are the words written by Evan Wolfson when he was in law school. Pretty courageous for a 26-year-old kid at Harvard Law School when the future looked so dark and lonely."
Whether or not his former intern's law school thesis on marriage, written just a few years after my internship, really had been top of mind in Biden's thinking as he took on Bork and continued his Senate career, I still appreciated his generosity. It was yet another example of what I know I really learned from him.
When I endorsed him for president, I wrote that "Biden [sometimes] got things I cared about wrong — even, initially, my own work to win the freedom to marry. But, crucially, he has also always shown a willingness to listen and learn, an eagerness to explore new approaches and syntheses, a capacity to empathize and evolve."
"I have seen firsthand," I added, "how, unlike Trump, Joe Biden cares about governing, knows how the government works, and will work through it, not war on it…. Biden's concern for people and deep knowledge and experience give him the ability to bring people together" and to deliver on good ideas to restore our democratic possibilities.
From a wunderkind senator, the embodiment of ambition, Joe Biden came to embody virtues of empathy, faith in government, and hope as a politician, candidate, and now, our president. On him now — and on us — literally rests the future of America as a democracy.
I can't claim to know President Biden well enough to know every bit of his inner thinking, but from what I've experienced in interacting with him , it's clear that in his own way, too, Joe Biden learned what I began learning under his tutelage: A committed life is found not in just the ambition to be great, but the ambition to "do great" — to do for others. To persevere and put in the work. To listen and to grow. To be kind. To be hopeful, and to convey hope. And, too, and always, the personal matters.
Now, heading into 2022, we must redouble our efforts to help (and push) President Biden and all true democrats. Together we must rally enough Americans to defend liberal democracy, reach for justice, combat inequality, and build America back better. We have to persuade, organize, hang in, maneuver, mobilize, and vote. What I learned as a college kid, and since, sustains my belief that we Americans can, yet again, meet the call to action and rise to the great work this moment and history require.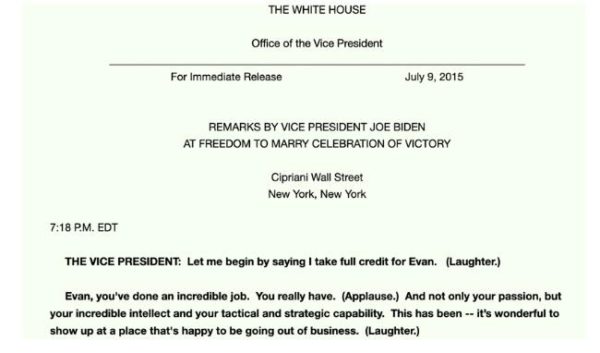 Vice President's Remarks, Freedom to Marry Victory Celebration, July 9, 2015
*********************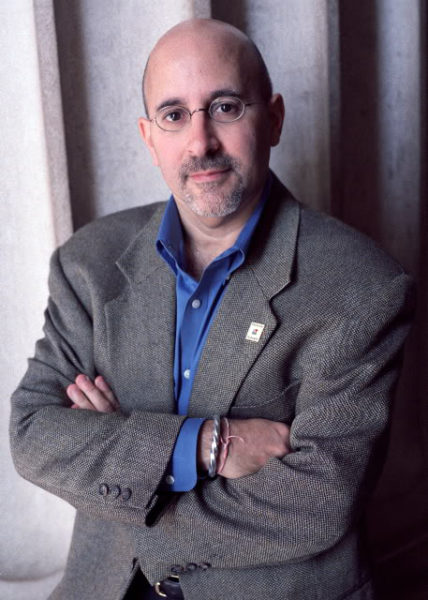 Evan Wolfson led the campaign to win the freedom to marry for same-sex couples. Since victory in 2015, he advises and assists diverse movements in the US on "how to win," as well as activists seeking to win marriage in other countries worldwide.
*********************
The preceding piece was previously published on Medium and is republished with permission.
Turkey Pride crackdowns only strengthen LGBTQ resistance
Hundreds arrested in Istanbul on Sunday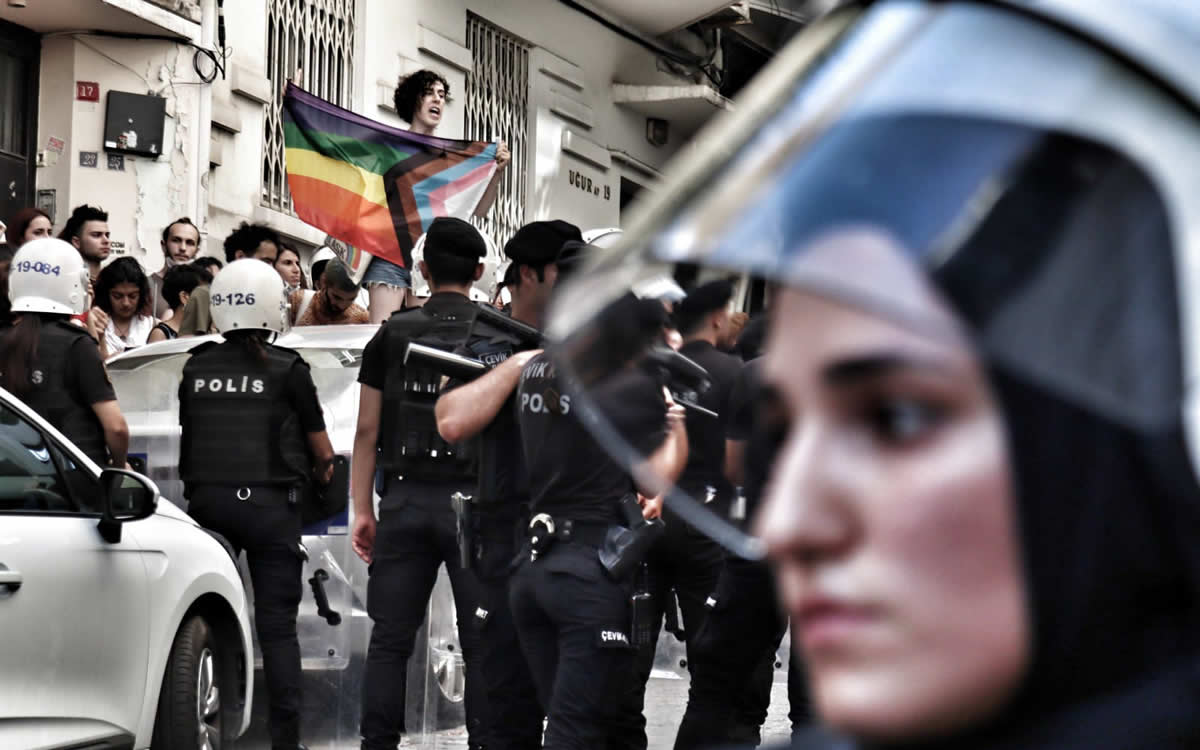 The waving colors of the thousand shades inside of a rainbow,
The sparkling joy from the pride and honor of self-declaration,
The echoing sounds of the steps for solidarity in the cobblestone streets of İstanbul, 
To unite for equality, for justice, for solely our right to be.
This was our goal, our expectation and our hope for Pride Turkey 2022. It has, however, been overshadowed by the government's vicious attempts to repress the colors of the LGBTQI+ community.
First, it started with the ban of Pride speeches and panels that many district governors and other local authorities across Turkey announced. Local police officers raided the many event venues as if "illegal" activities were being conducted.
As in the last couple of years, it was already expected the government would ban the Pride marches in many cities. It was, however, the first time the government officially tried to prevent even face-to-face community gatherings of LGBTQI+ organizations. It was a type of intervention reflecting the level of fear and intolerance of the government regarding the growing connection, solidarity and public visibility of LGBTQI+ community.
Nevertheless, oppression often brings out the most creative means. As such, Pride committees have carried all the activities on digital platforms. Many activists and civil society representatives have shown support by participating in live broadcasts from event venues, and the voice of LGBTQI+ solidarity still reached a wide audience.
Subsequently, the most drastic pressure by the government has manifested itself during the Pride marches. The police violently intervened and used unproportionate force against marchers in many cities, which resulted in a radical number of unwarranted detentions.
While 530 LGBTQI+ activists were taken into custody over the last 37 days across Turkey, 373 of them were arrested during the Istanbul Pride march on June 26. This constitutes a first, since the Istanbul Pride arrests constituted the largest number of people taken into custody during a street march since the Gezi protests.
Will these enormous efforts to pressure win the day? The answer is "definitely no." On the contrary, it sparked a backlash by triggering strong solidarity among Turkey's queer community. The outstanding resistance of LGBTQI+ marchers gained public recognition on social media, while persistent legal support of LGBTQI+ initiatives canceled all the detentions. In the end, the exhaustive pressures of the government could not manage to fade the multicolor of LGBTQI+ identity. In fact, it helped our rainbow flag to shine even more glamorous and visible.
We, as members of the LGBTQI+ community, have once again proved through this entire experience that solidarity, togetherness and collective resistance are the most powerful facilitators in our fight to exist equally.
In honor of the unbreakable resistance of Turkey Pride 2022 supporters,
Thanks to you, the cobblestones of Istanbul and every street in Turkey echoed with the steps of LGBTQI+ solidarity.
Dilek İçten is a journalist, researcher and civil society expert with a demonstrated history of working in interdisciplinary and investigative research projects examining the socio-cultural dynamics of media, gender and migration. The focus of her work varies from freedom of expression, media censorship and journalistic independence to gender based-discrimination and hate speech against disadvantaged groups and minorities.
As Israel readies for new elections, the LGBTQ community is at risk
U.S.-based groups attacking transgender Israelis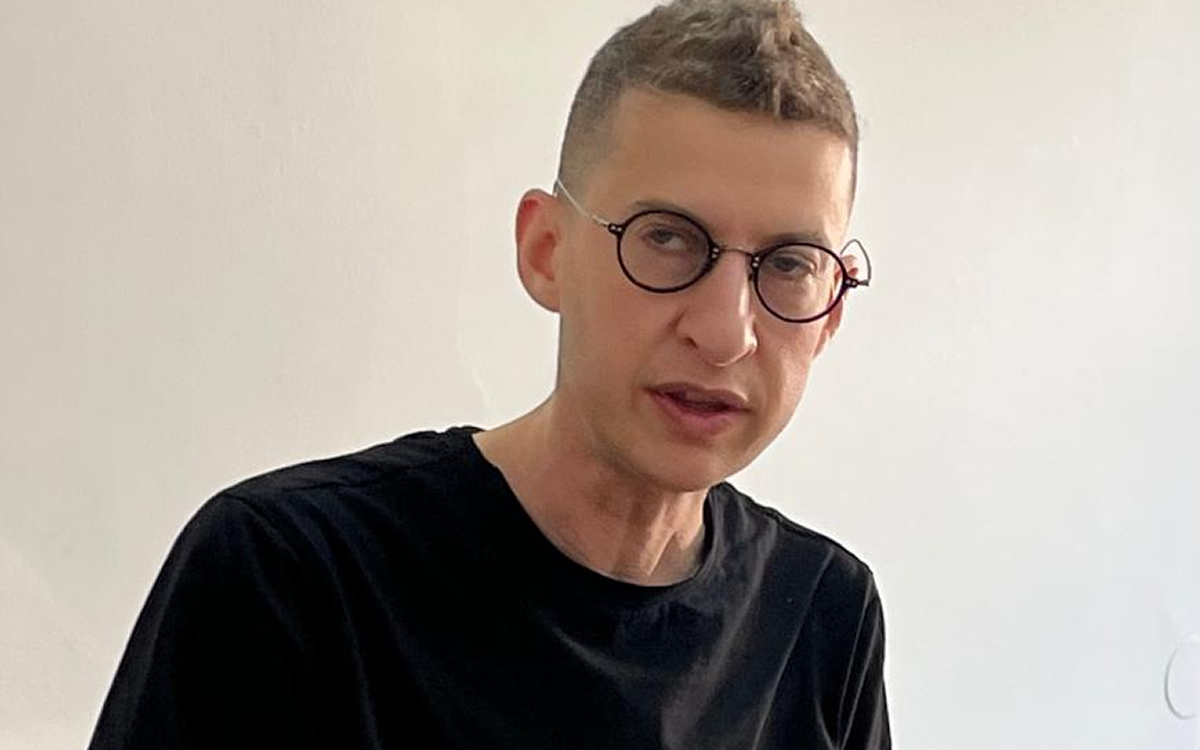 Israel's government has collapsed — and the county is headed to new elections for the fifth time in three years. In this renewed period of uncertainty, Israel's LGBTQ community has cause for particular concern. Any new coalition would likely welcome parties that oppose LGBTQ inclusion back into government, posing a clear and imminent threat to their human rights.
But amidst this trepidation, there is still much to celebrate: 30 LGBTQ leaders from the U.S. met with their counterparts in Israel this month. The backdrop was Tel Aviv Pride, one of the largest in the world. The leaders were there for more than celebrations. They came to learn. As with past A Wider Bridge trips, North Americans travelling to Israel and Israelis travelling to North America shared strategies for building LGBTQ inclusion, fighting conversion therapy, protecting young people needing shelter, and building vibrant pride centers. Pride celebrations got their start in the U.S. and will take place in more than 60 Israeli cities this month. Over the years, both of our countries have imported many successful approaches from one another. But one American import to Israel is less than welcome: Political transphobia. Let's not let it become something that unites our nations.
As leaders of groups in Israel and the U.S., we've watched with sadness as trans kids in America have been put in harm's way through legislation making their medical care less available and prohibiting their teachers and school counselors from providing the lifesaving support they need. And it turns out that the same retrograde forces fighting trans inclusion in the U.S. are backing similar efforts in Israel. There have always been opposition to LGBTQ rights, including trans inclusion in both countries and around the globe. What's new is a vastly well-funded campaign — with plenty of American backing — directed at attacking the Israeli trans community. While the fight for LGBTQ equality in Israel hasn't been easy, historically the community hasn't been used as a political cudgel. That's changing, and we're ringing the alarm bell.
Groups like the Kohelet Forum, which is largely American-funded, are trying to take their American brand of anti-trans hate to Israel. While think tanks and policy shops aren't a new phenomenon in Israel, Kohelet has adopted the broader American model of political change-making. They've launched a constellation of organizations working informally together to usher in transformational policy change. With the support of Kohelet and others, the anti-trans movement has exploded in Israel.
Their orchestrated effort comes at a very unfortunate moment. Ma'avarim, Israel's most prominent trans organization, and the entire Israeli trans community have worked tirelessly for years, building careful relationships, educating important allies — and is making tremendous advances due to an Israeli government that was willing to embrace many key goals. There are historic opportunities to implement new life-saving policies including access to healthcare, legal recognition of gender identity, and diversity in the education system. All of this is now in jeopardy. Just as these successes are coming to fruition, the anti-trans movement is using social media and other tactics to spread disinformation and false accusations such as "men in dresses raping women in bathrooms." These fabrications are felt by many in the trans community to be like anti-Semitic blood libels — made-up stories that lead to fear, hatred, and even violence. They help fuel anti-trans advocacy and lobbying to advance exclusionary policies and legislation to deny Israeli transgender persons their dignity and rights.
The new anti-trans movement has several distinctive features that require new responses. Firstly, unlike the traditional opposition for LGBTQ rights that springs from religious and social conservatives, anti-trans advocacy is now often fronted by self-styled "progressive" women. They bring with them established connections within liberal circles. Secondly, the central arena of the "progressive" anti-trans campaign is both traditional and social media — drawing on existing networks with hundreds of thousands of followers, while trans community organizations have minimal presence in social media beyond the trans community. Thirdly, the funding being poured into anti-trans campaigns eclipses the budgets of LGBTQ organizations. In Israel alone, the groups waging battle against the trans community have budgets in the tens of millions with hundreds of paid staff, many of whom work on anti-trans campaigns.
None of us should sit idly by while these attacks on the trans community take place. As in other countries, this anti-trans hate movement poses an immediate threat to the safety and wellbeing of transgender and gender non-conforming persons. We cannot allow them to have their very existence denied.
But it doesn't stop there. While transgender persons are the immediate targets of hate and violence, anti-trans campaigns have far-reaching political aims: dividing the liberal bloc of women's, LGBTQ and minority rights, instilling hate, and turning liberal democratic societies against a newly created enemy from within. Anti-trans propaganda has proved instrumental in spreading disinformation and conspiracy theories that further undermine democratic values in society.
The eyes of the world often look to Israel on LGBTQ rights. Dana International, a trans woman from Tel Aviv, won the Eurovision music contest, became an international hero, and played a role in ushering greater acceptance of the trans community.
The world will be watching after Israel's new elections: Will they continue to make progress in affording rights and protections to LGBTQ people? Or will they turn back the clock? Now more than ever, fighting the anti-trans movement must be a top priority not only for the transgender community but for LGBTQ people, feminists, and the wider progressive community in Israel- and in the United States.
Ethan Felson is the executive director of A Wider Bridge, an organization that fights for LGBTQ inclusion, counters anti-Semitism, and strengthens relationships between the LGBTQ community in Israel and North America. Elisha Alexander is the founding director of Ma'avarim, Israel's leading NGO advocating for the transgender community.
To Biden: No Pride in detention of transgender, queer communities
Jennicet Gutiérrez declines to attend White House Pride event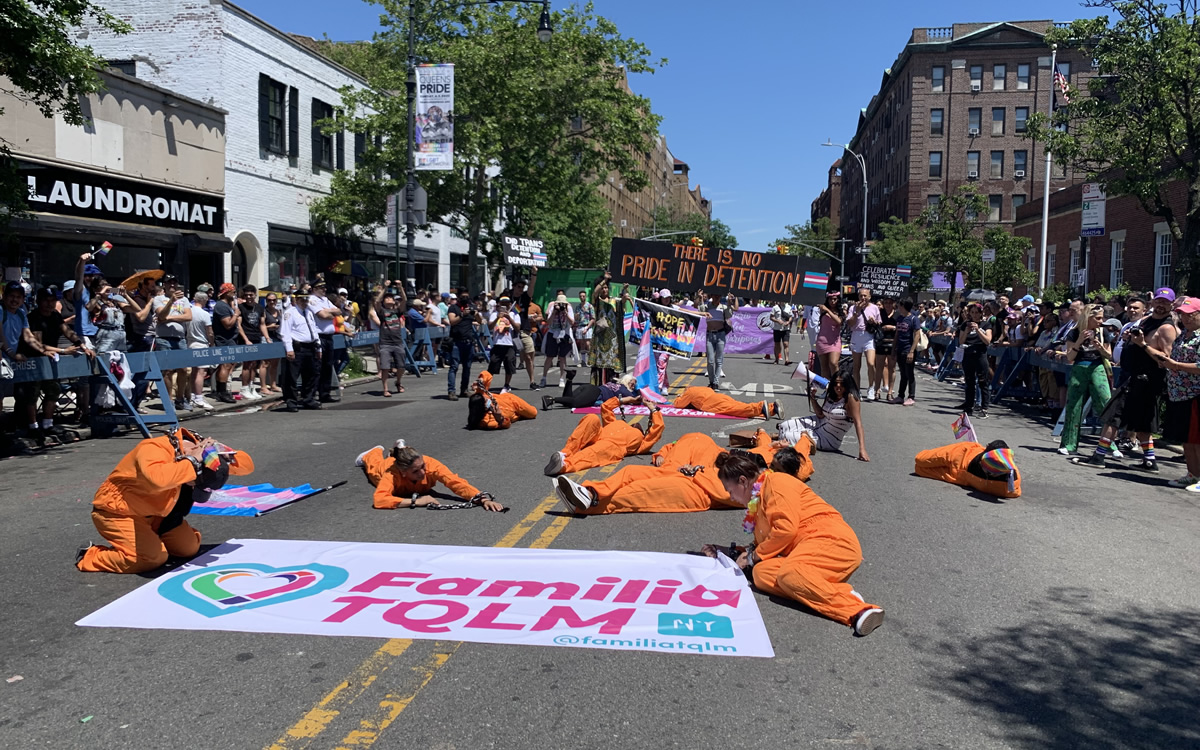 Editor's note: This is the letter that Jennicet Gutiérrez sent to the White House in response to the invitation she received to attend its Pride Month celebration.
June 13, 2022
Dear President Biden and Dr. Biden,
I received your invitation to the White House Pride Celebration on June 15, 2022, and with a clear conscience I am letting you know that I will not be attending this event. There should be no White House celebration when trans and queer communities are suffering and being detained by your administration. There is no pride in detention.
At the start of your administration you pledged to protect LGBTQ+ people worldwide, but it's a commitment that you have failed to uphold at home.
Almost a year ago, while you were holding a Pride reception, trans and queer immigrant leaders from across the nation marched to the White House, demanding the release of trans people, people living with HIV, and any medical condition, from detention centers across the country. We are still seeking justice for Victoria Arellano, Roxsana Hernández, and Johana Medina, trans women who died because of the negligence of Immigration and Customs Enforcement (ICE).
Our members across the country are marching and protesting this Pride Month with the same demand of ending the violence and killings of trans people. There have been over two million deportations since you took office, setting you up to be the next deporter-in-chief. Your administration has used Title 42 as an excuse to deport immigrants seeking a better future, most of them Black and brown people and including trans and queer immigrants, even as your administration is relaxing requirements for people traveling to the United States. More than 32 states have drafted bills that would criminalize trans youth and their families for providing life affirming healthcare. Transgender people and children are under attack by the same white supremacist forces that are plaguing our nation and we haven't seen your administration's response be enough in the face of these attacks.
The reality is that as this celebration is taking place, trans people currently in ICE custody will be in unsafe conditions. You could easily stop their suffering by instructing the Department of Homeland Security to implement a policy of liberating trans people, people living with HIV and other medical conditions, as well as other vulnerable people.
Ending trans detention and using your executive powers to protect LGBTQ people would have a greater impact on our community and would save many lives rather than hosting an event to deliver a well-crafted speech with broken promises.
Respectfully,
Jennicet Eva Gutiérrez
—
13 de julio del 2022
Estimados presidente Biden y Dr. Biden,
Recibí su invitación a la Celebración del Orgullo de la Casa Blanca el 15 de junio de 2022 y con la conciencia clara les hago saber que no asistiré a este evento. No debería haber celebración de Orgullo en la Casa Blanca cuando las comunidades trans y queer están sufriendo y siendo detenidas por su misma administración. No hay orgullo en la detención.
Al comienzo de su administración, se comprometió a proteger a las personas LGBTQ + en todo el mundo, pero es un compromiso que no ha podido mantener en casa.
Hace casi un año, mientras celebraban una recepción de Orgullo, líderes inmigrantes trans y queer de todo el país marcharon a la Casa Blanca, exigiendo la liberación de las personas trans, las personas que viven con el VIH y cualquier condición médica, de los centros de detención de todo el país. Todavía estamos buscando justicia para Victoria Arellano, Roxsana Hernández y Johana Medina, mujeres trans que murieron debido a la negligencia del Servicio de Inmigración y Control de Aduanas (ICE).
Nuestros miembros en todo el país están marchando y protestando este mes del orgullo con la misma demanda de poner fin a la violencia y los asesinatos de personas trans. Ha habido más de dos millones de deportaciones desde que asumió el cargo, lo que lo prepara para ser el próximo jefe-de-deportaciones. Su administración ha utilizado el Título 42 como una excusa para deportar a los inmigrantes que buscan un futuro mejor, la mayoría de ellxs personas Negras y personas de color, e incluyendo a inmigrantes trans y queer, mientras su administración está relajando los requisitos para las personas que viajan a los Estados Unidos. Además, más de treinta y dos estados han redactado proyectos de ley que criminalizan a los jóvenes trans y sus familias por proporcionarles atención médica que afirma su género y salvan sus vidas. Las personas transgénero y los niños están siendo atacados por las mismas fuerzas supremacistas blancas que están plagando nuestra nación y no hemos visto que la respuesta de su administración es suficiente frente a estos ataques.
La realidad es que a medida que se lleva a cabo esta celebración, personas trans actualmente bajo custodia de ICE estarán en condiciones inseguras y peligrosas. Usted podría parar fácilmente su sufrimiento instruyendo al Departamento de Seguridad Nacional para que implemente una política de liberación de personas trans, personas que viven con VIH y otras condiciones médicas, así como otras personas vulnerables.
Poner fin a la detención trans y usar sus poderes ejecutivos para proteger a las personas LGBTQ tendría un mayor impacto en nuestra comunidad y salvaría muchas vidas en lugar de organizar una celebración de Orgullo para pronunciar un discurso bien elaborado con promesas incumplidas.
Respetuosamente, 
Jennicet Eva Gutiérrez