Amy Schneider becomes first woman $1M Jeopardy! winner
Schneider, 42, commenced her winning streak in November hitting the million mark during her 28th game this past Friday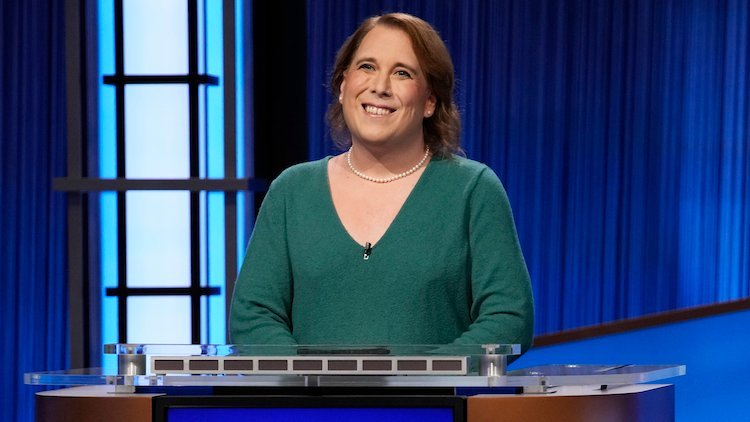 Amy Schneider, the Transwoman software engineering manager from Oakland, became the first woman and fourth $1 million Jeopardy! winner since the game show first aired on March 30, 1964.
Schneider, 42, commenced her winning streak in November hitting the million mark during her 28th game this past Friday. "It's not a sum of money I ever anticipated would be associated with my name," Schneider said. "To be good at Jeopardy!," Schneider added; "you just have to live a life where you're learning stuff all the time."
The New York Times reported that the other three $1 million Jeopardy! winners, Ken Jennings who went on to compete in a record 74-game run, won in 2004 after his 30th game. In 2019 the distinction was also won by James Holzhauern and this past Fall, 2021 by Matt Amodio.
GLAAD's director of transgender representation, Nick Adams, in an emailed statement said; "Amy Schneider's incredible run on Jeopardy! allows families all over the country to get to know her as someone who is great at word puzzles, has in-depth knowledge on a range of topics, and who also happens to be a transgender woman. Amy is using her history-making appearances and new platform to raise awareness of transgender issues and share a bit of her personal story too."
After her early successes last November, Schneider told Newsweek that she had been trying to get on the show for over a decade.
"I'm not sure quite how long [ago I first applied], but I remember trying out when I still lived in Ohio, and I've lived in Oakland since 2009, so it has to have been at least that amount of time," she said.
Schneider also explained how her transition in 2017 might have helped her finally get a spot on the show.
"The reality is that for the first few years of that, when I was trying out, I was, as far as any of us knew, a standard white guy," she told the magazine. "And there's just more competition for those slots on Jeopardy! They're making a TV show, they don't want everybody to look the same, and I looked a lot like many of the other contestants, and I think that definitely made it a little tougher for me at that time. I would have got on eventually — I was never gonna stop trying!"
In the post-Alex Trebek era, multiple trans contestants have appeared on the show, including Kate Freeman, who became the first out trans champion in "Jeopardy!" history last December.
Schneider, who became the first trans contestant to qualify for the Tournament of Champions in November, was robbed at gunpoint over the New Year's weekend in her home city of Oakland.
"Hi all! So, first off: I'm fine. But I got robbed yesterday, lost my ID, credit cards, and phone," she said. "I then couldn't really sleep last night, and have been dragging myself around all day trying to replace everything," she wrote in a tweet about the incident.
Hi all! So, first off: I'm fine. But I got robbed yesterday, lost my ID, credit cards, and phone. I then couldn't really sleep last night, and have been dragging myself around all day trying to replace everything.

— Amy Schneider (@Jeopardamy) January 4, 2022
According to the Associated Press, Oakland police said they are investigating the armed robbery that occurred on Sunday afternoon. No arrests have been made.
The robbery took place just days after Schneider won her 21st consecutive game, surpassing Julia Collins as the most winning woman in the show's history.
In an email statement to NBC News, a "Jeopardy!" spokesperson said, "We were deeply saddened to hear about this incident, and we reached out to Amy privately to offer our help in any capacity."
Schneider, an engineering manager from Oakland, has been an inspiration to many during her historic run on the show.
"Seeing trans people anywhere in society that you haven't seen them before is so valuable for the kids right now that are seeing it," she told ABC affiliate KGO-TV in November, adding: "I'm so grateful that I am giving some nerdy little trans kid somewhere the realization that this is something they could do, too."
PHOTOS: Miss Freddie's 2022
Brooklyn Heights wins the coveted crown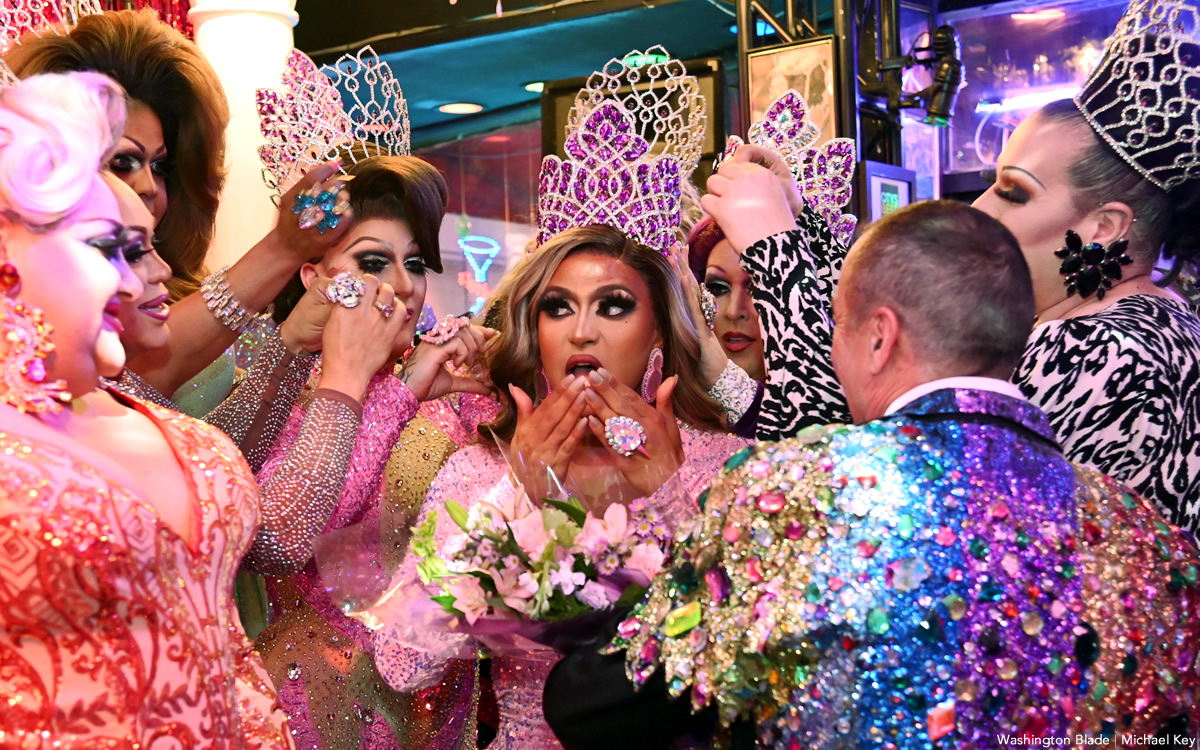 The Miss Freddie's drag pageant returned in-person this year to Freddie's Beach Bar & Restaurant in Arlington, Va. on Friday, May 20. Six contestants vied for the crown, but the "Pandemic Queen," Tatiyanna Voche' (Miss Freddie's 2020 and 2021) passed on her crown to Brooklyn Heights of Baltimore, Md. following talent, beachwear, "Met Gala-inspired looks," and on-stage question categories of competition. Chasity Vain and Deja Diamond Jemaceye placed second and third respectively.
Patti Lovelace was crowned Miss Freddie's Emeritus as voted upon unanimously by the former Miss Freddies.
"First Lady of Freddie's" and the Washington Blade's Best of Gay D.C. "Best Drag Queen" of 2015 Destiny B. Childs served as emcee alongside former Miss Freddie's Monet Dupree.
(Washington Blade photos by Michael Key)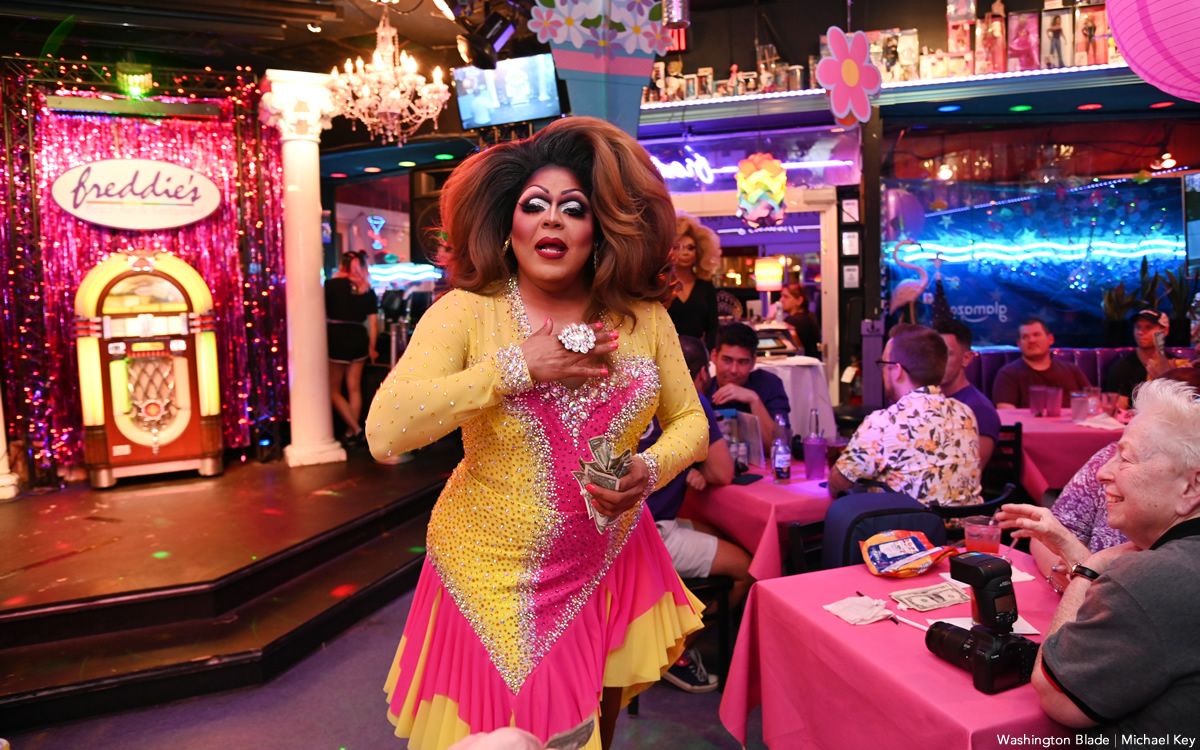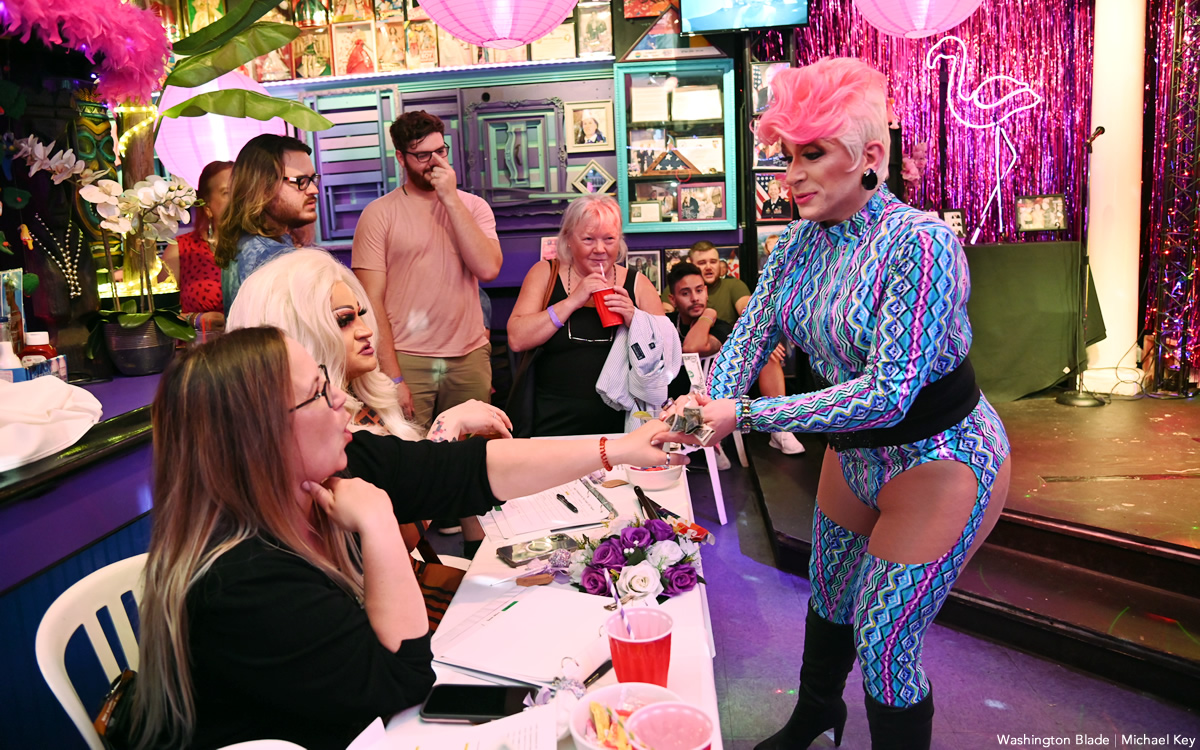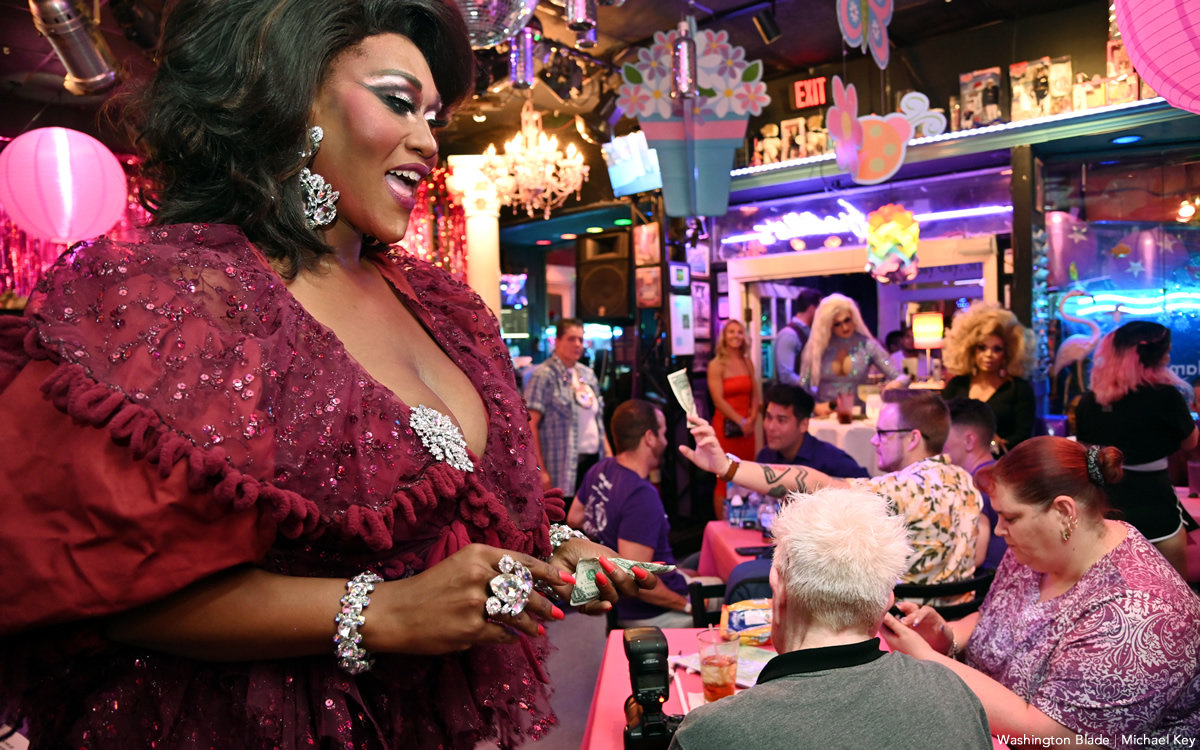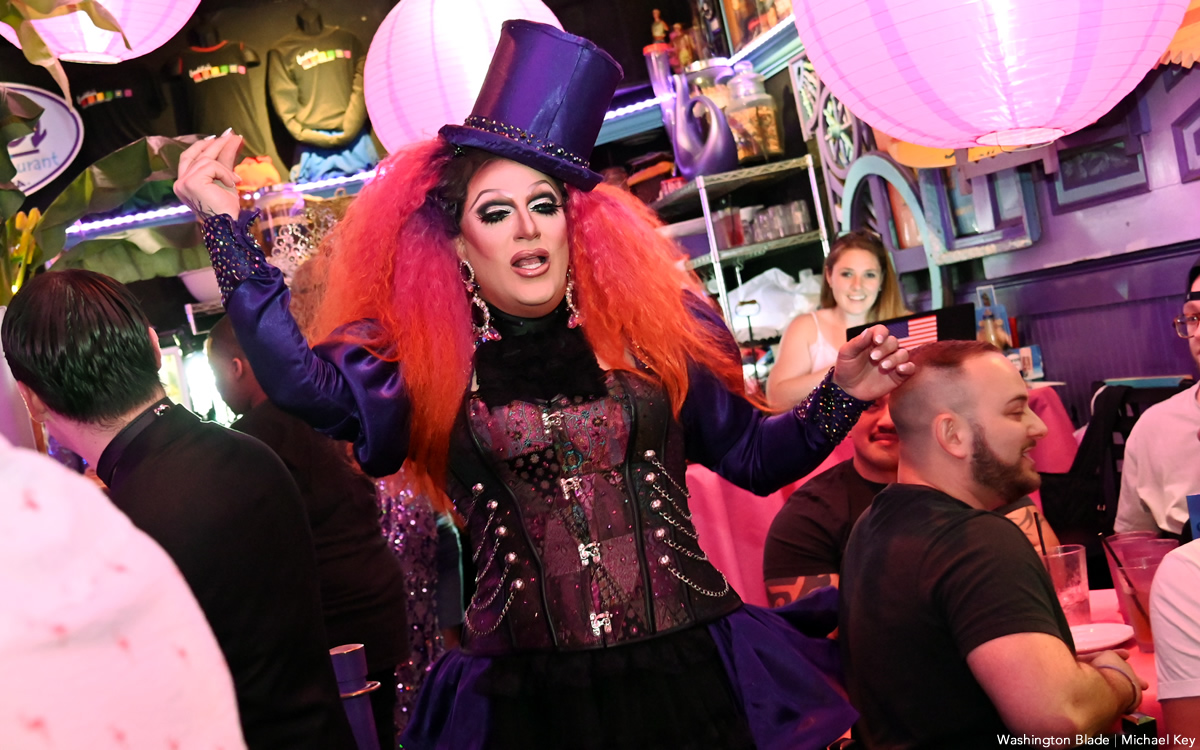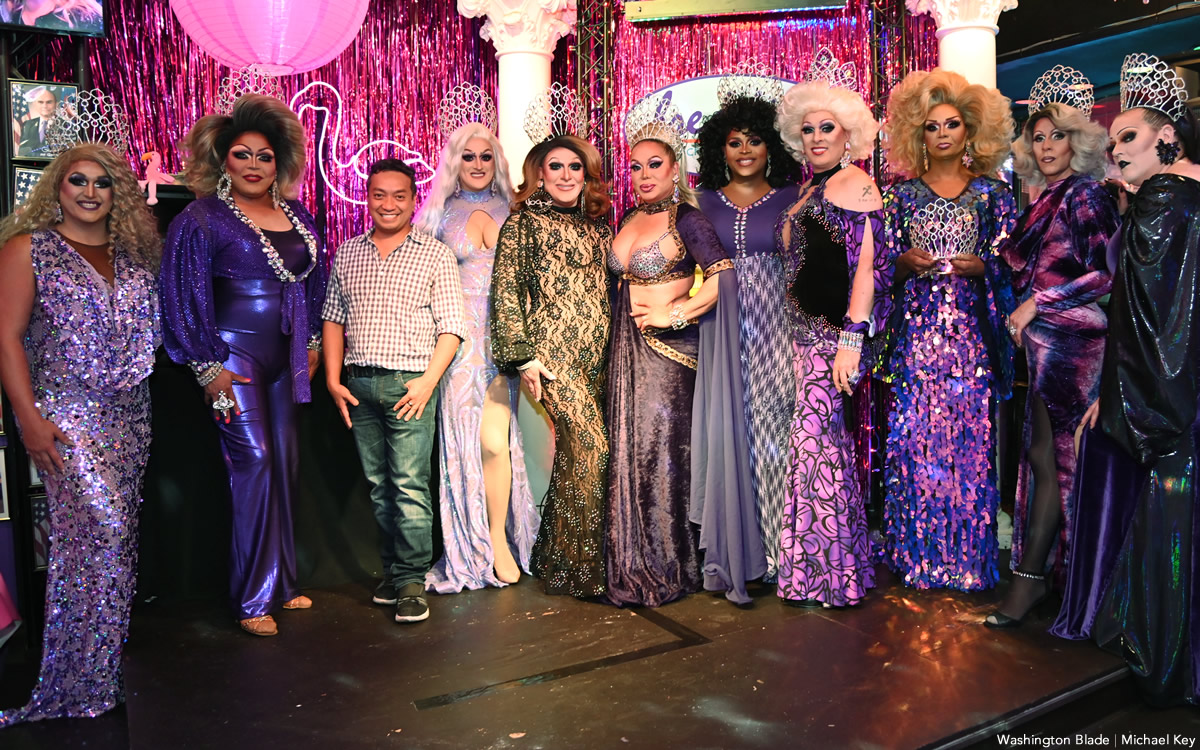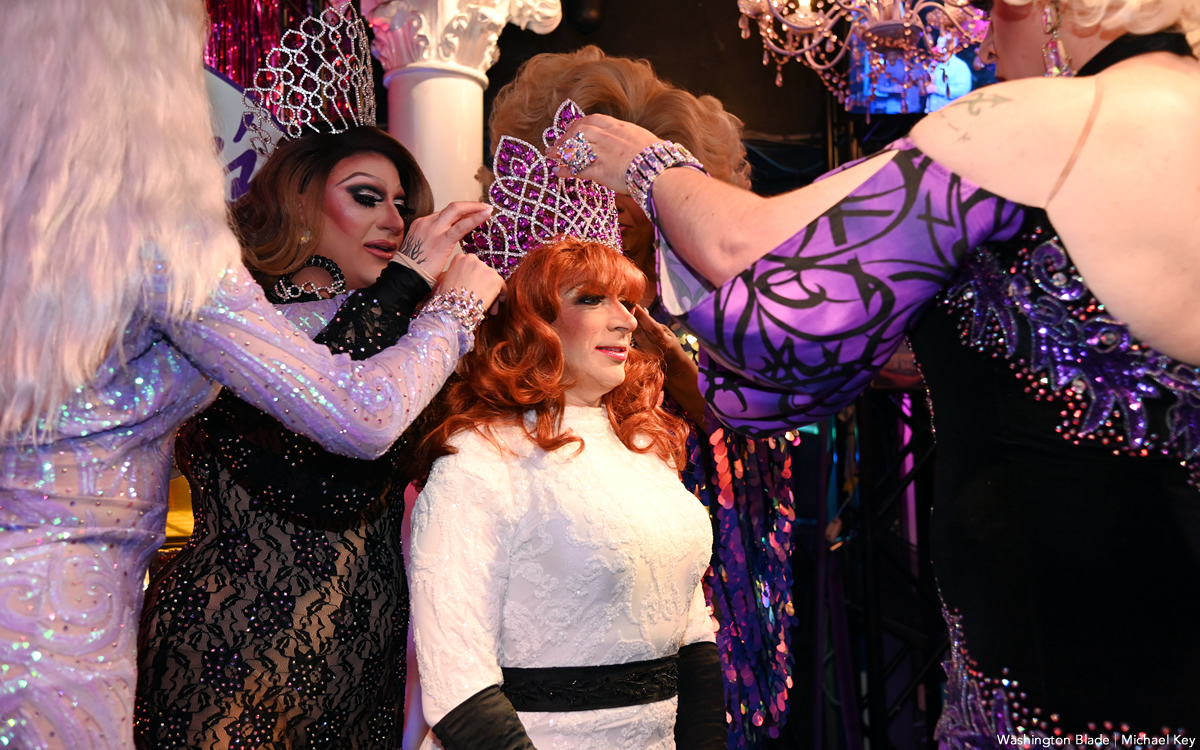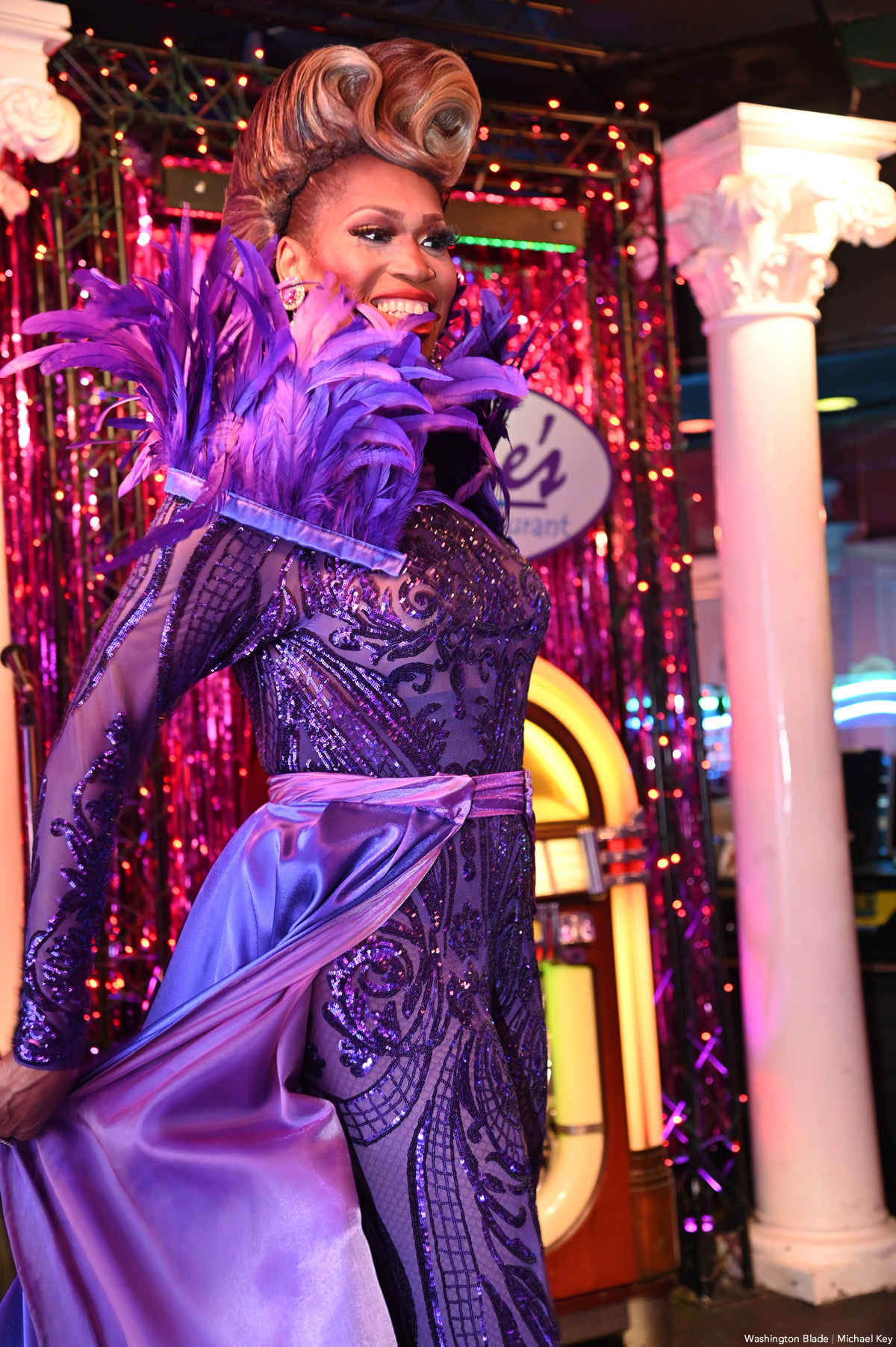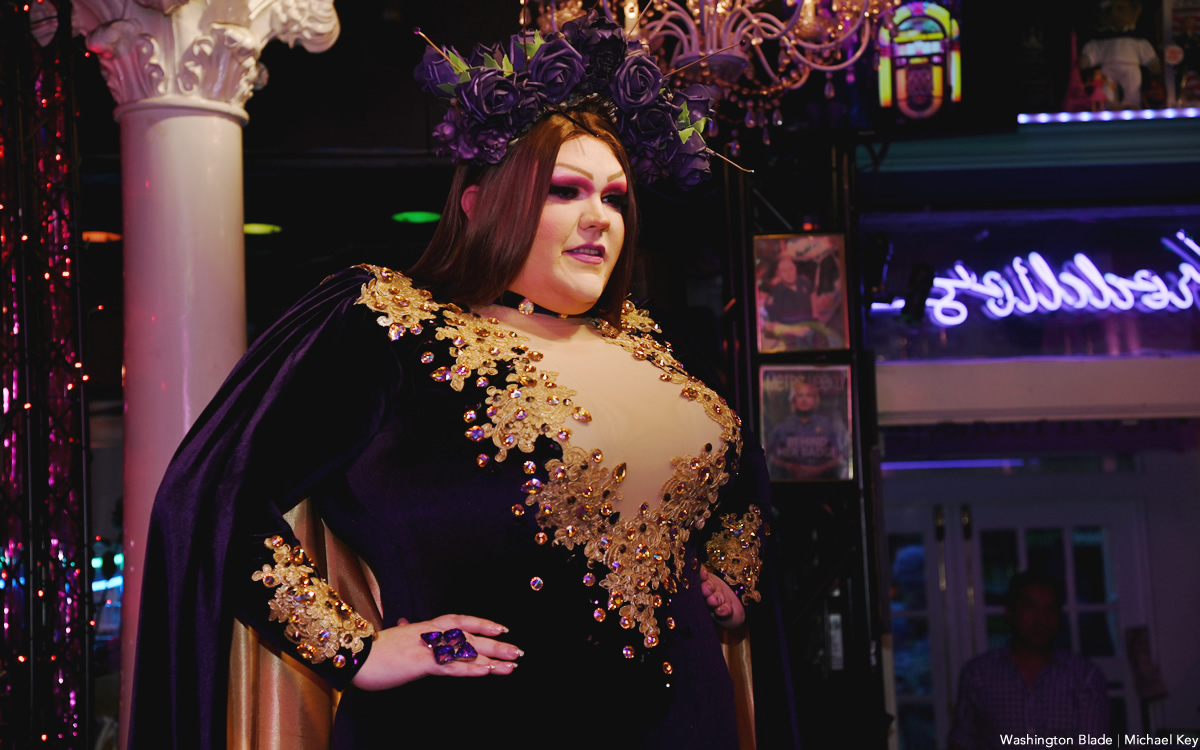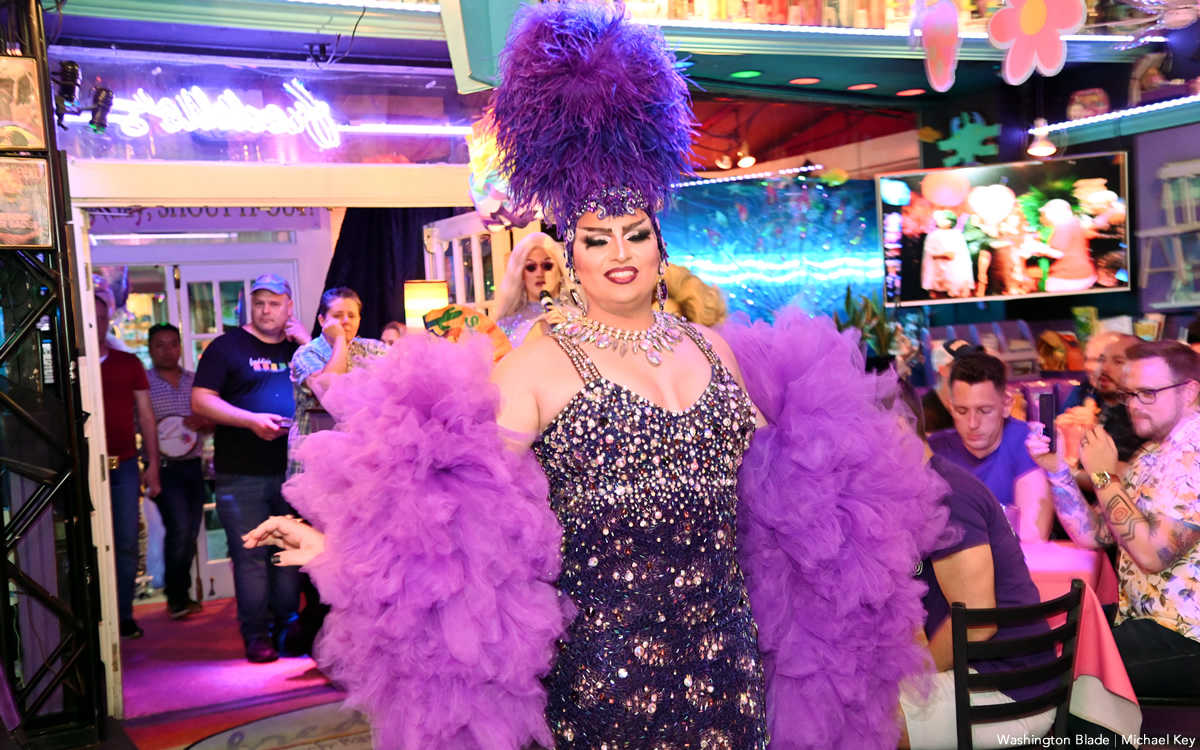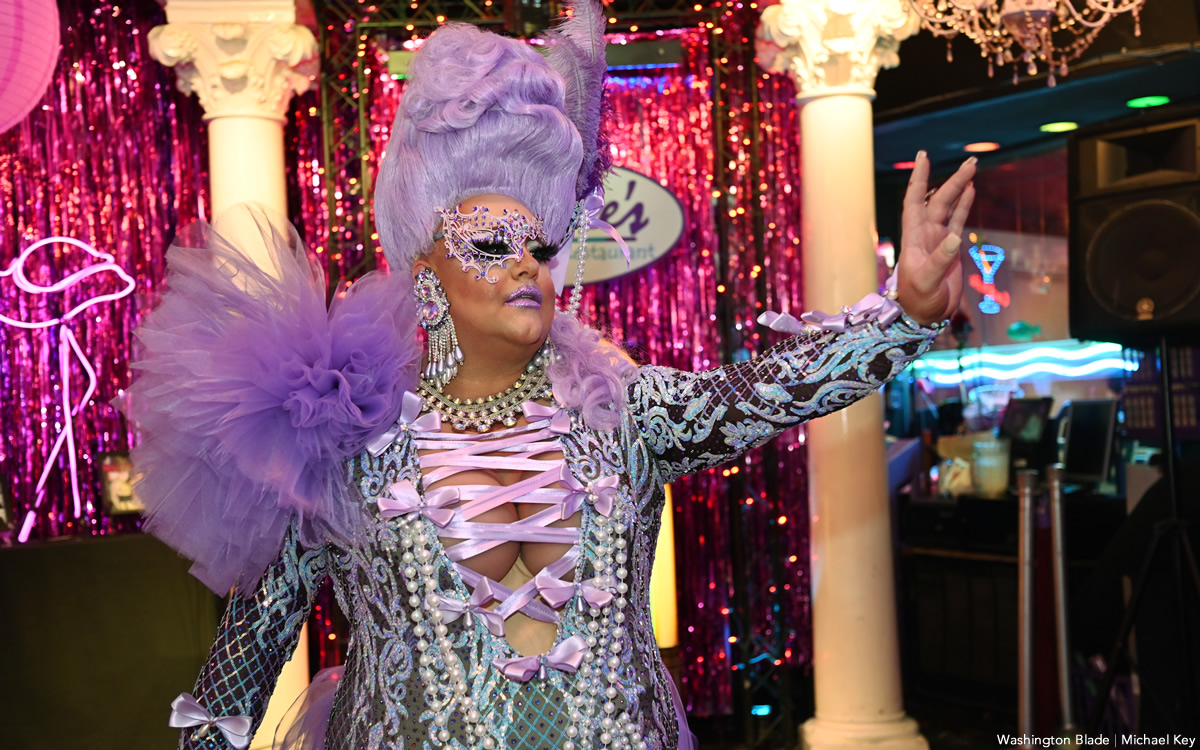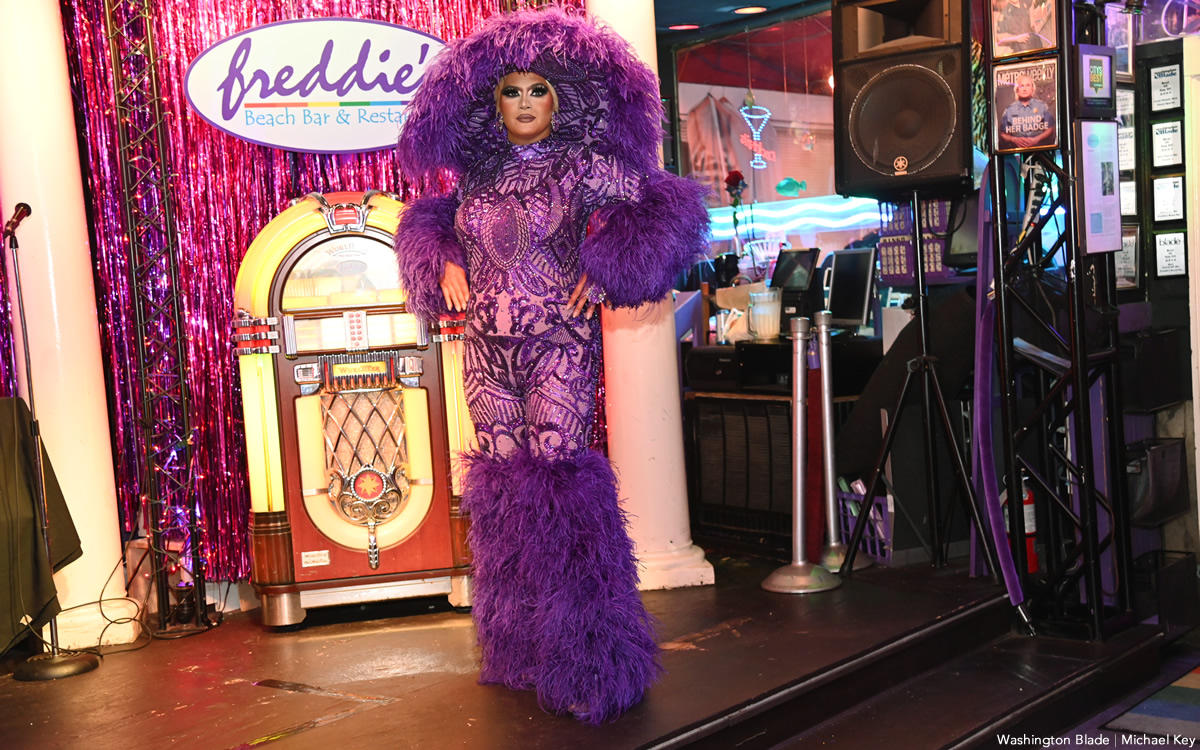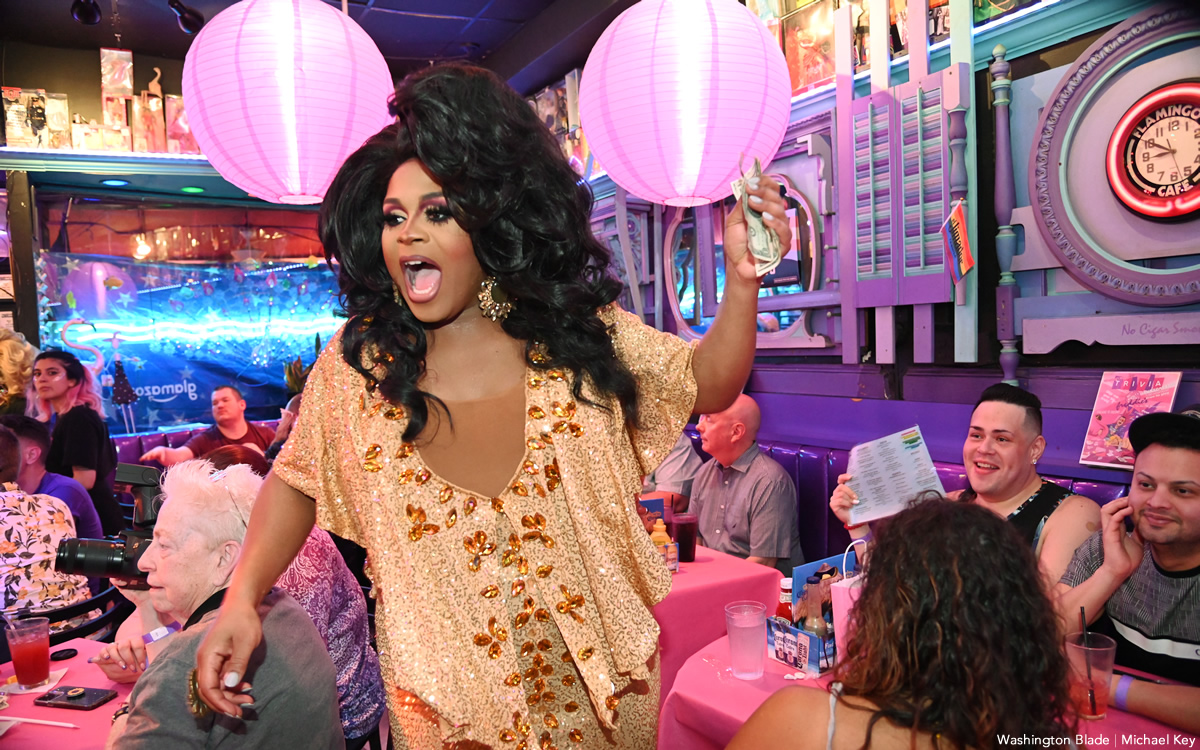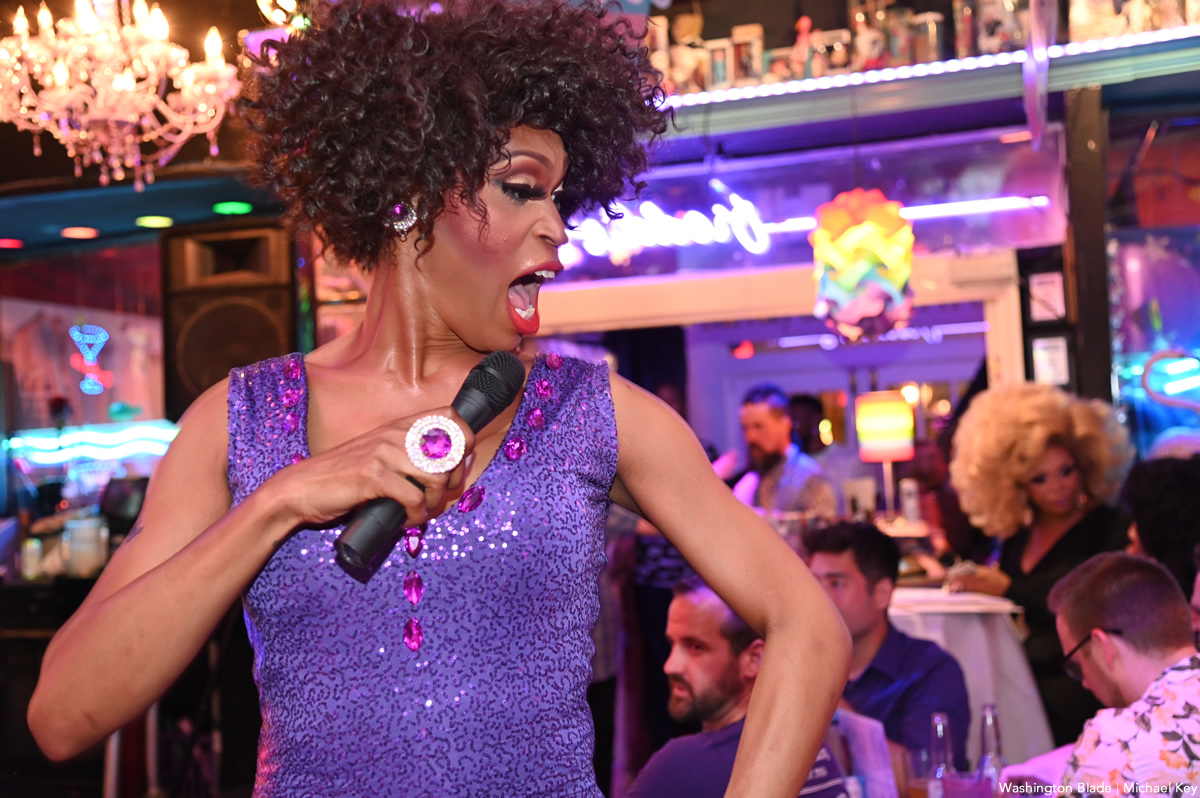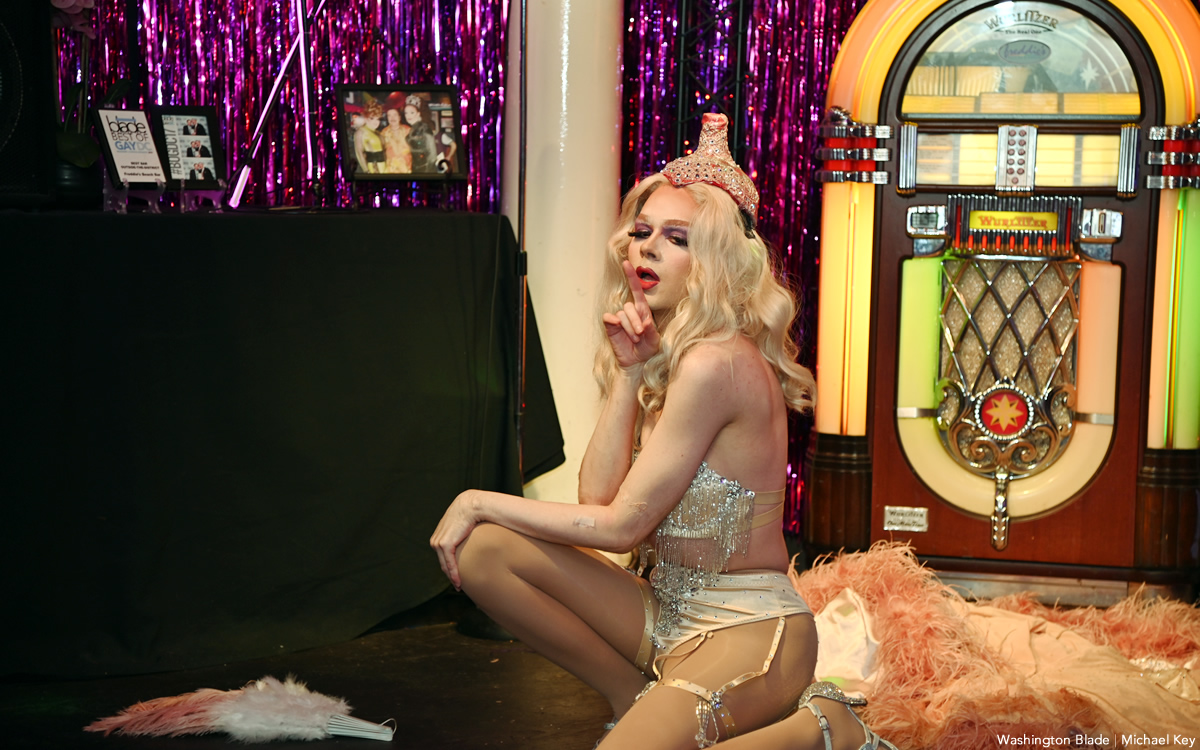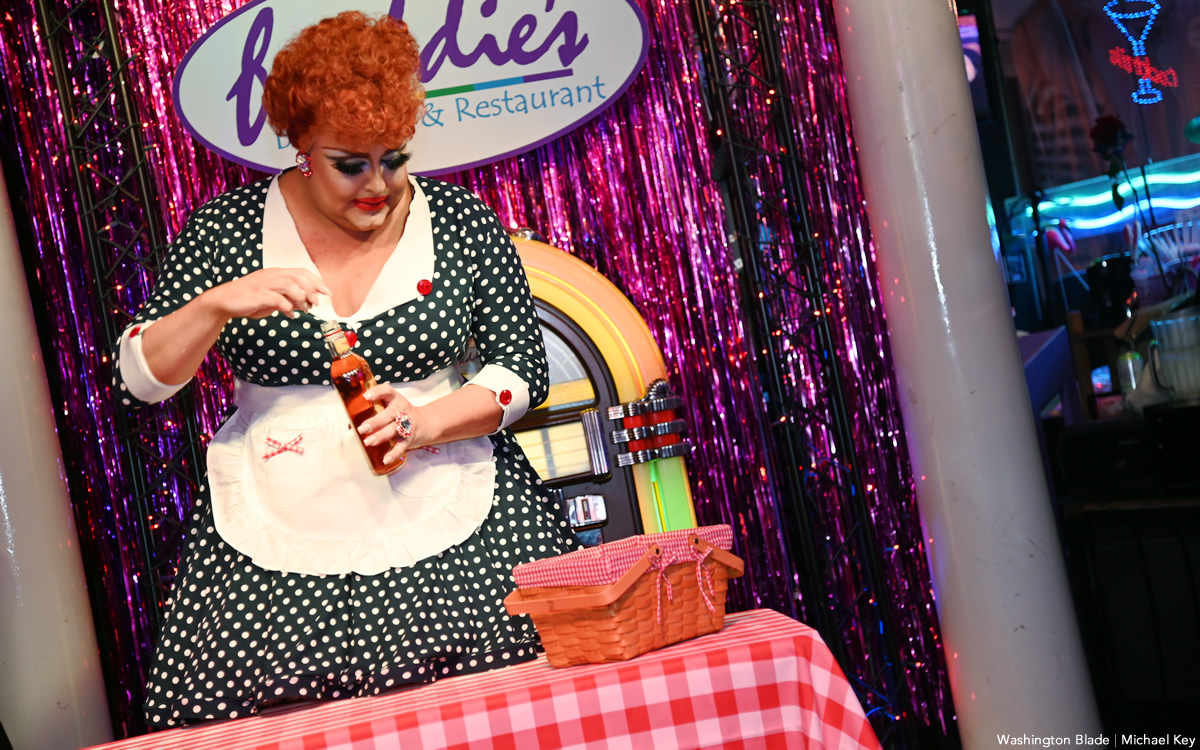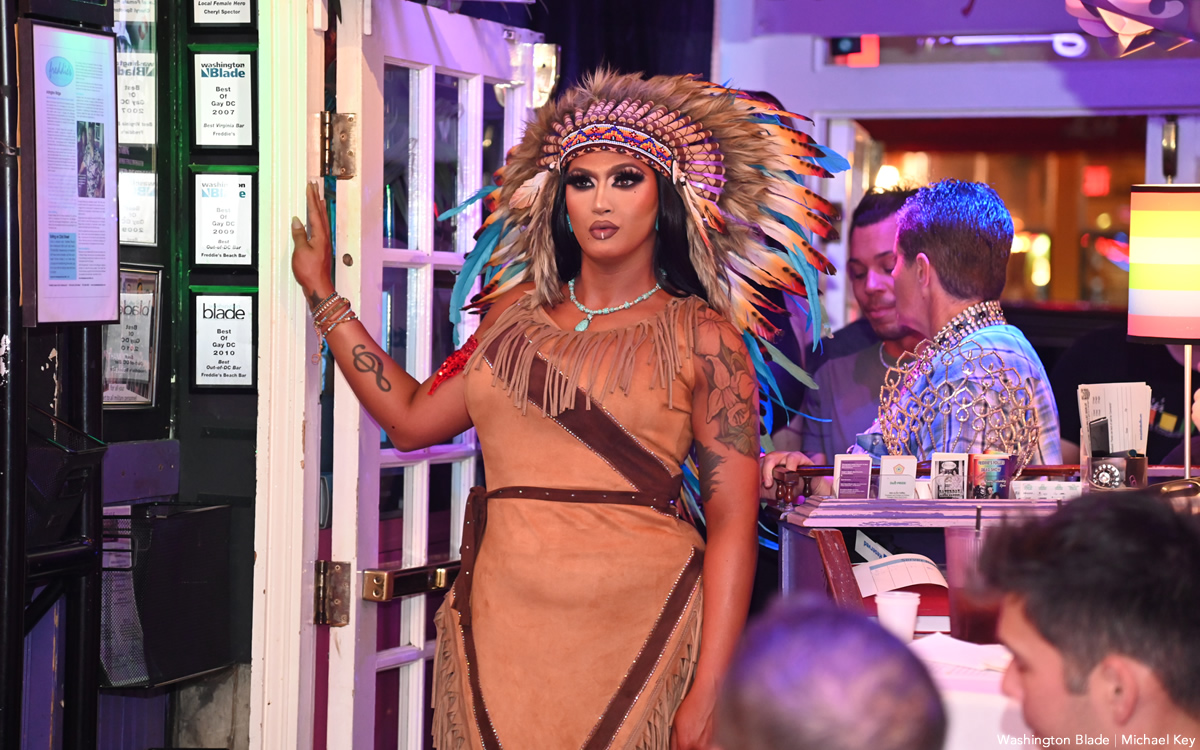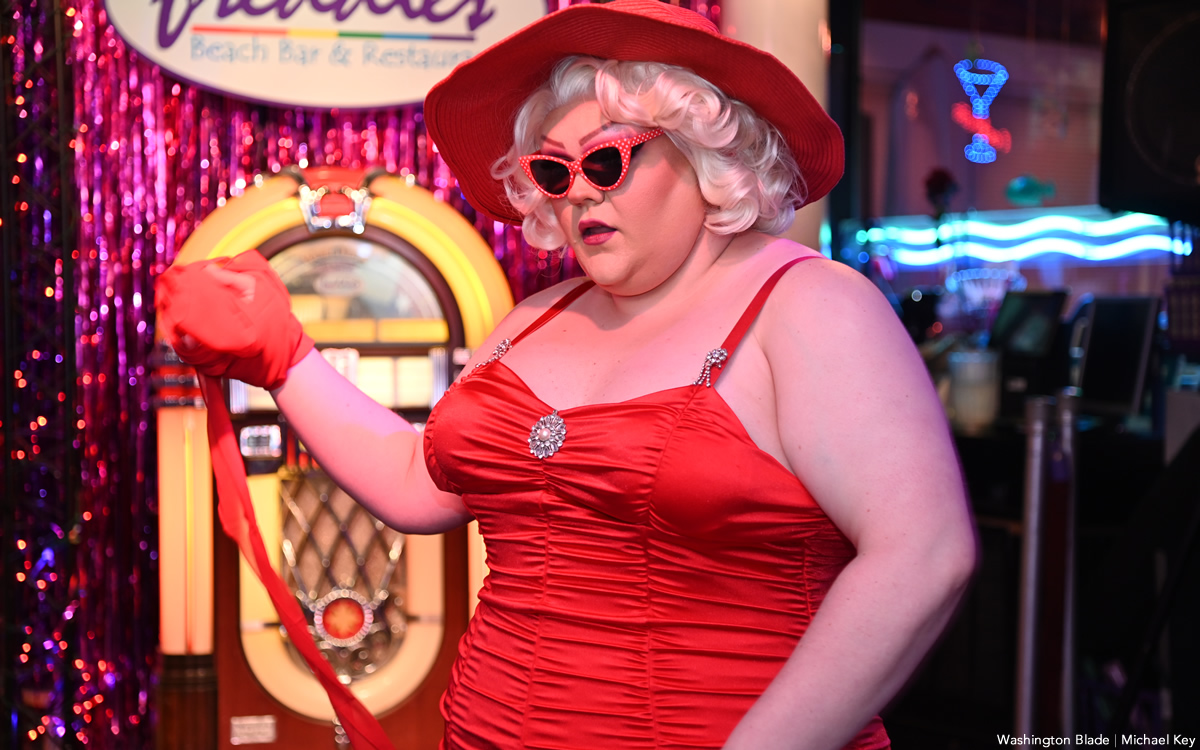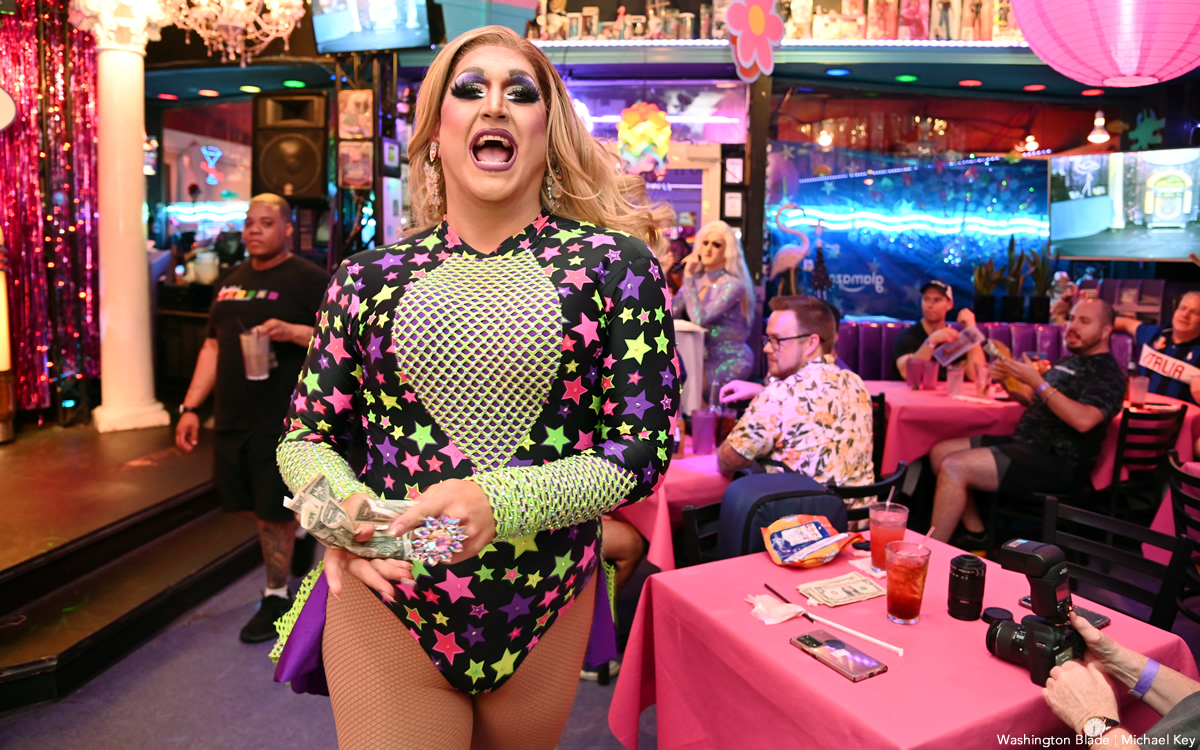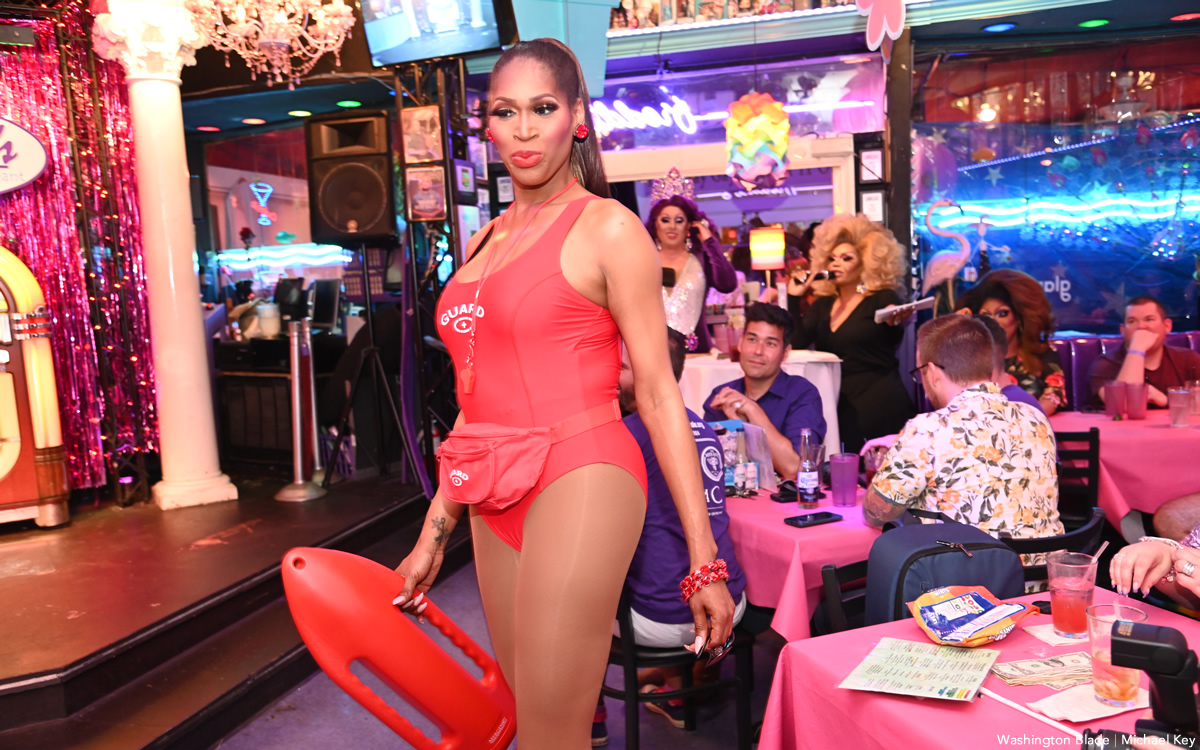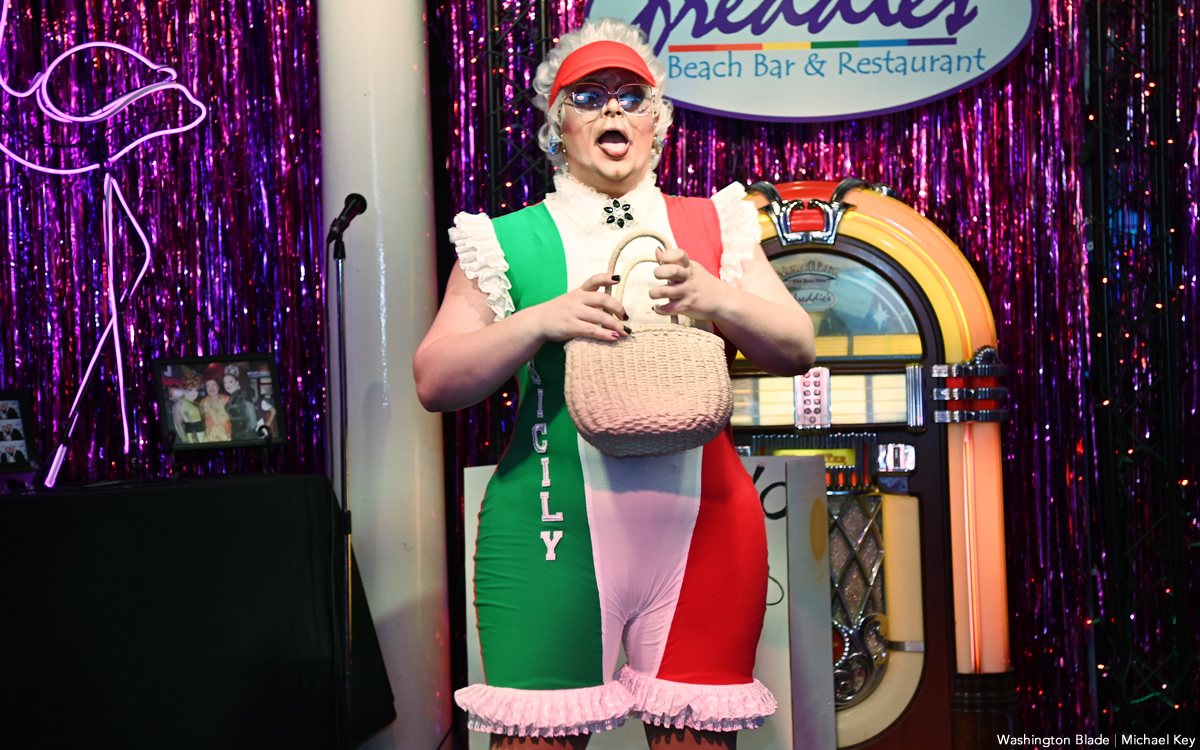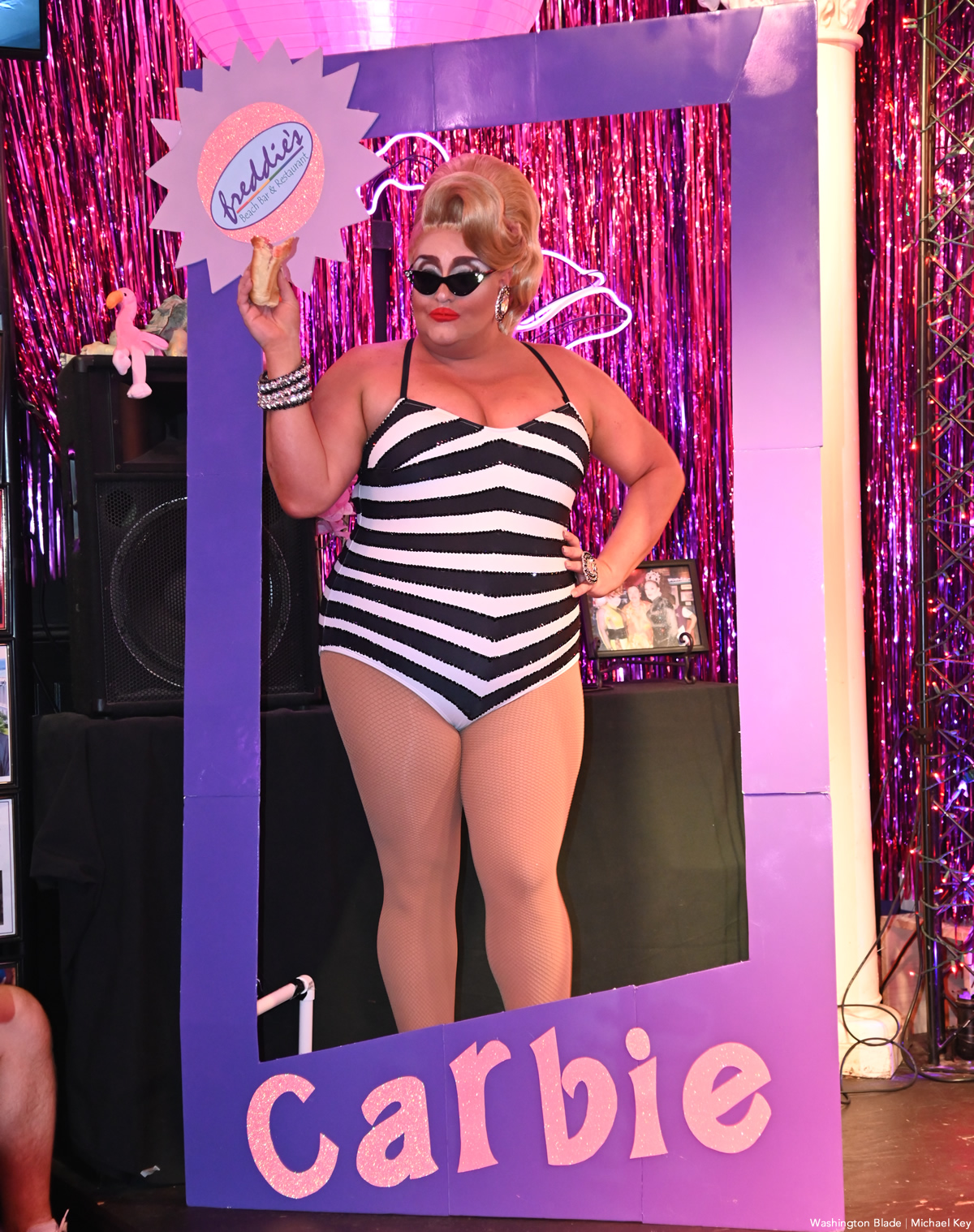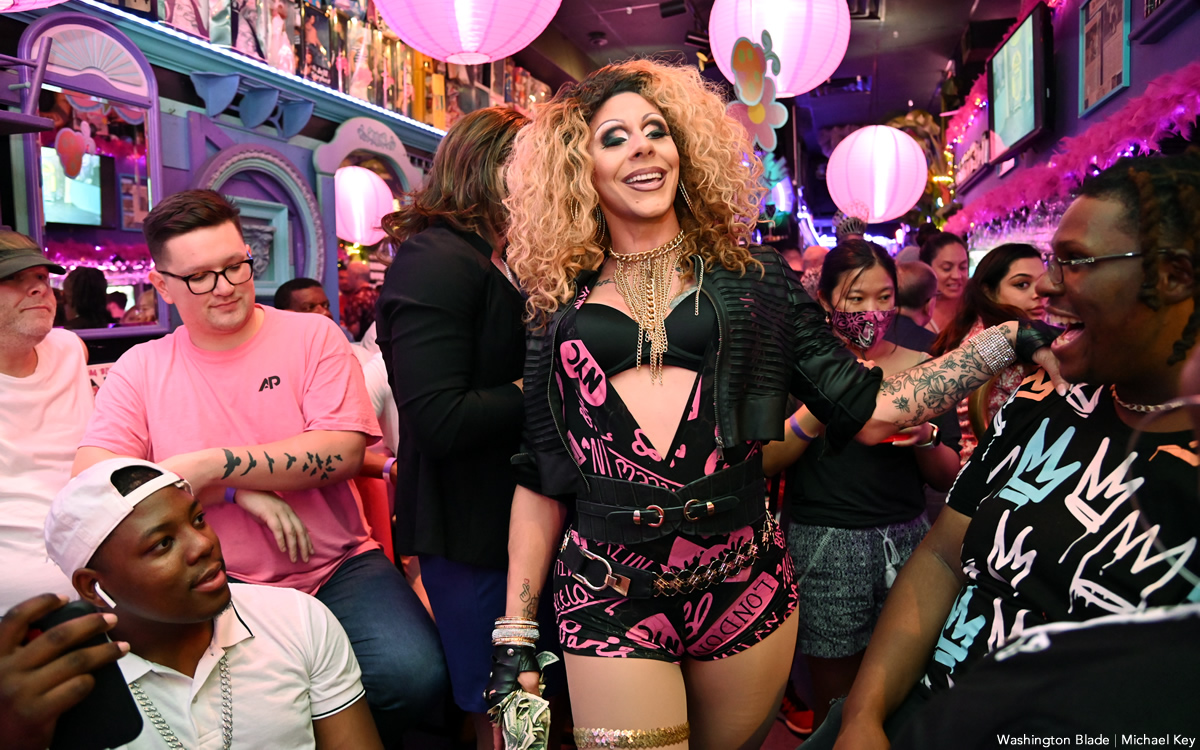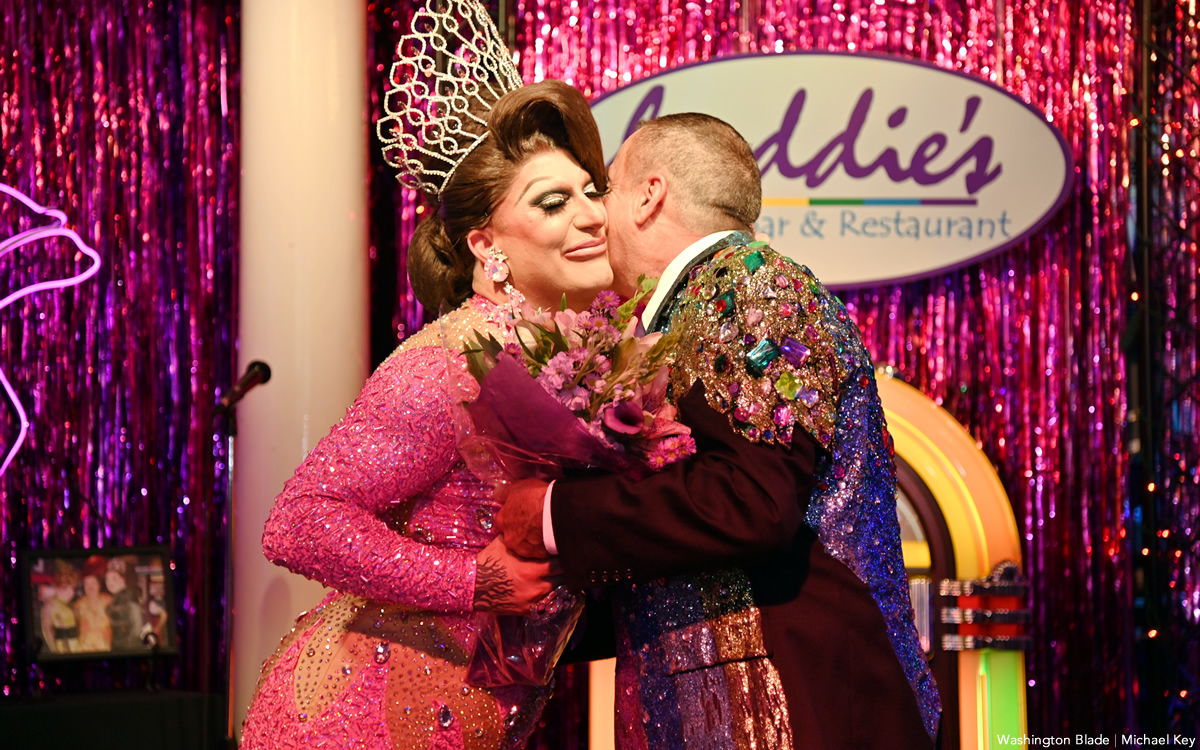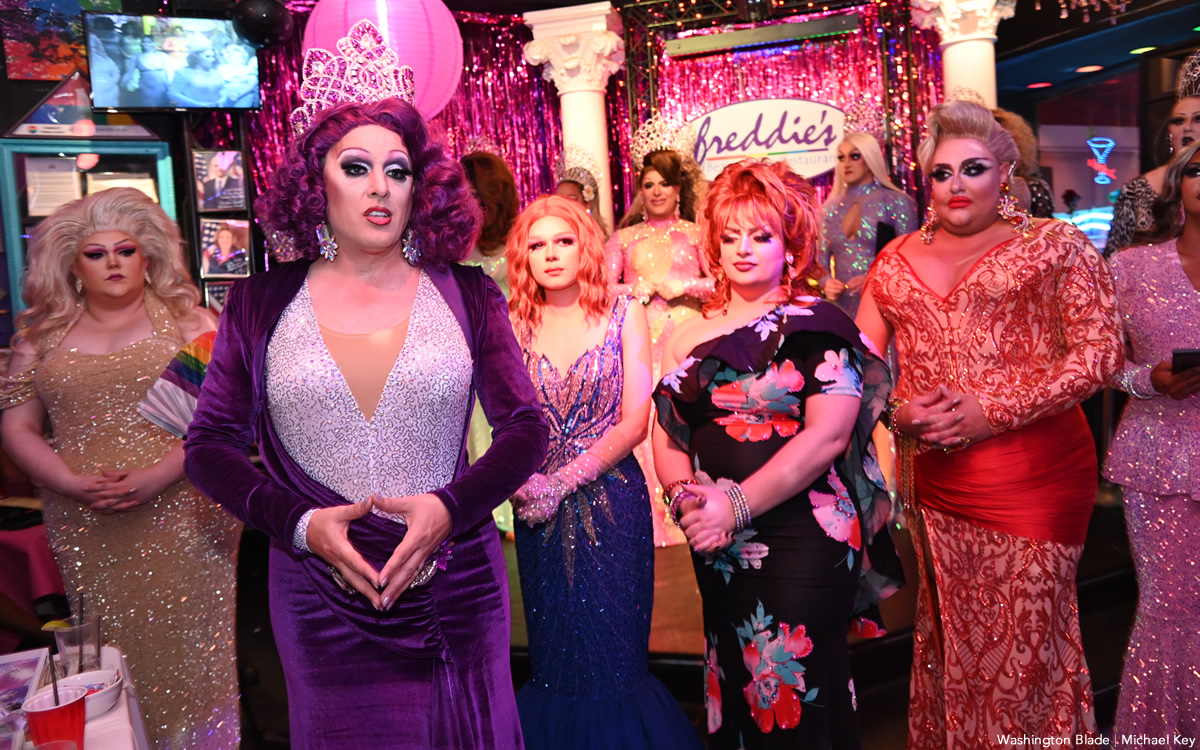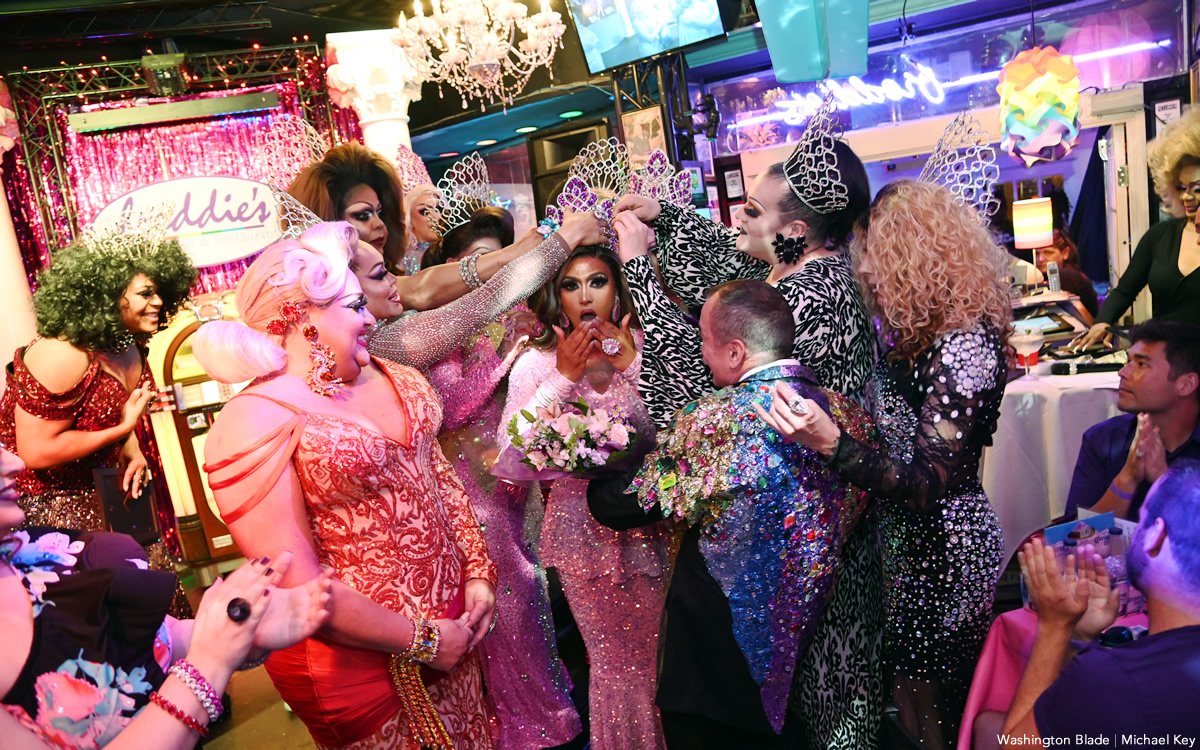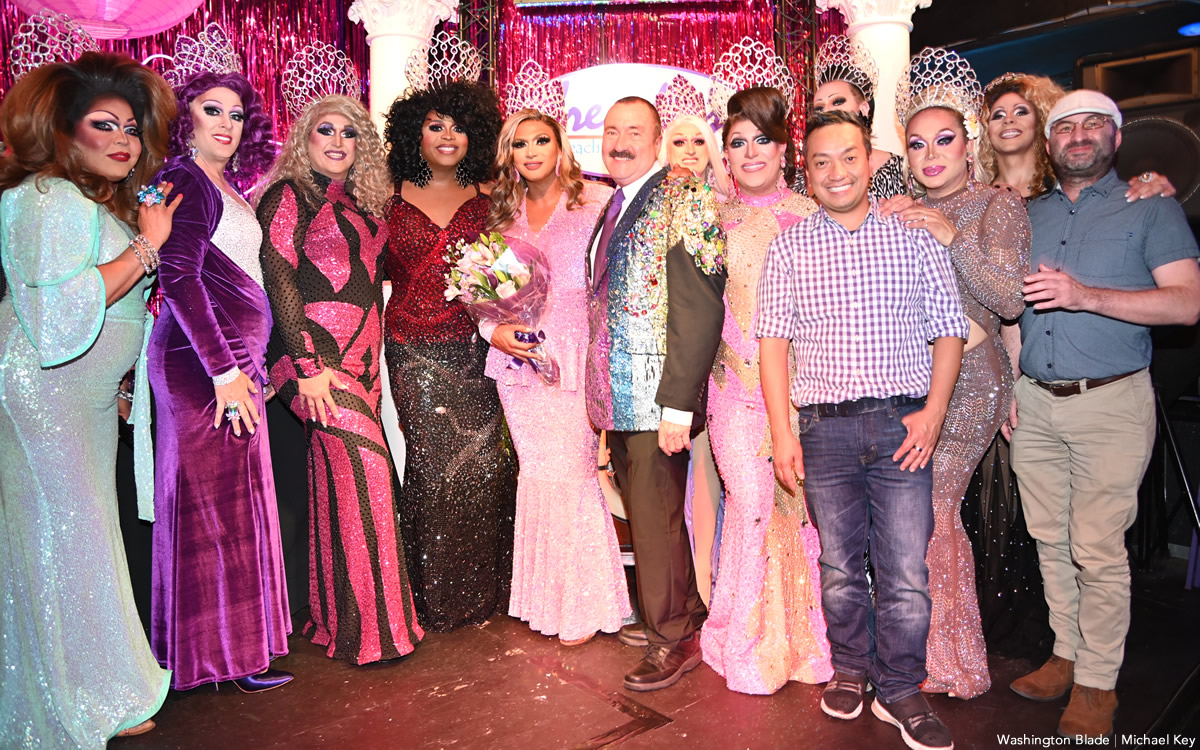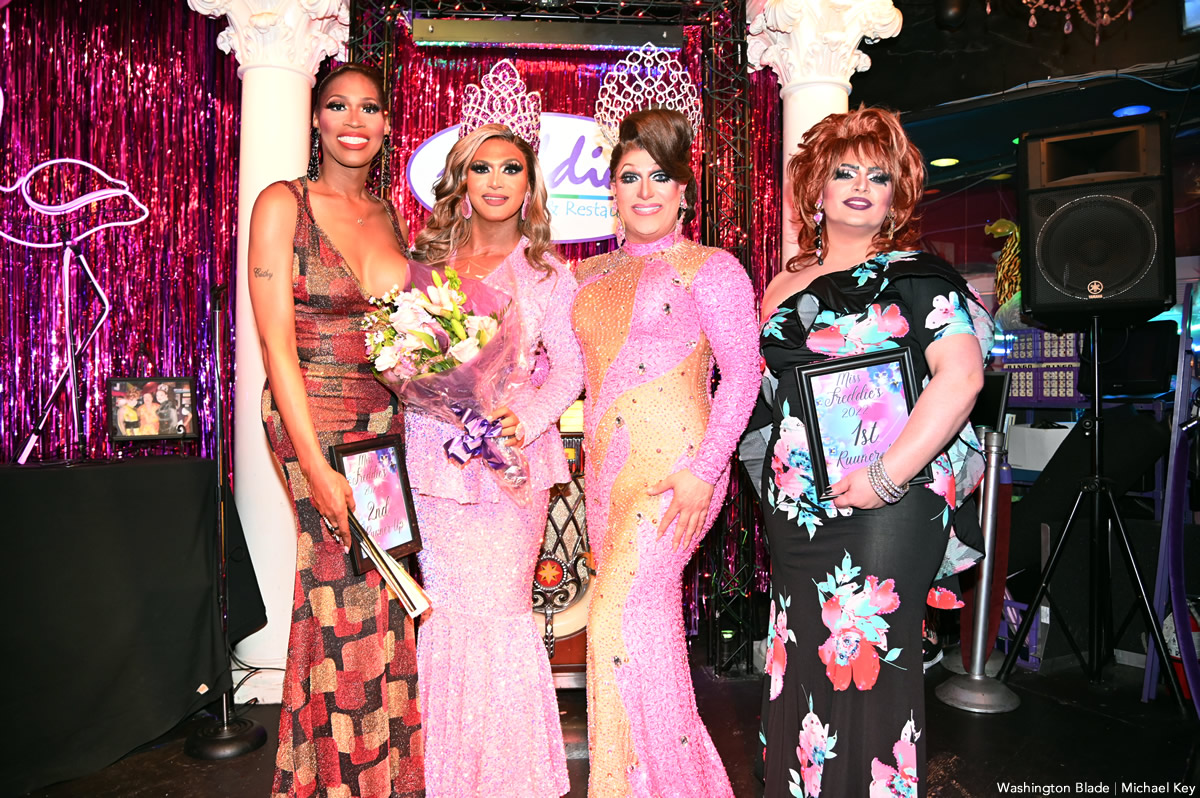 Check out final season of 'Grace and Frankie' — it ends well 
Groundbreaking show highlights queer, straight elders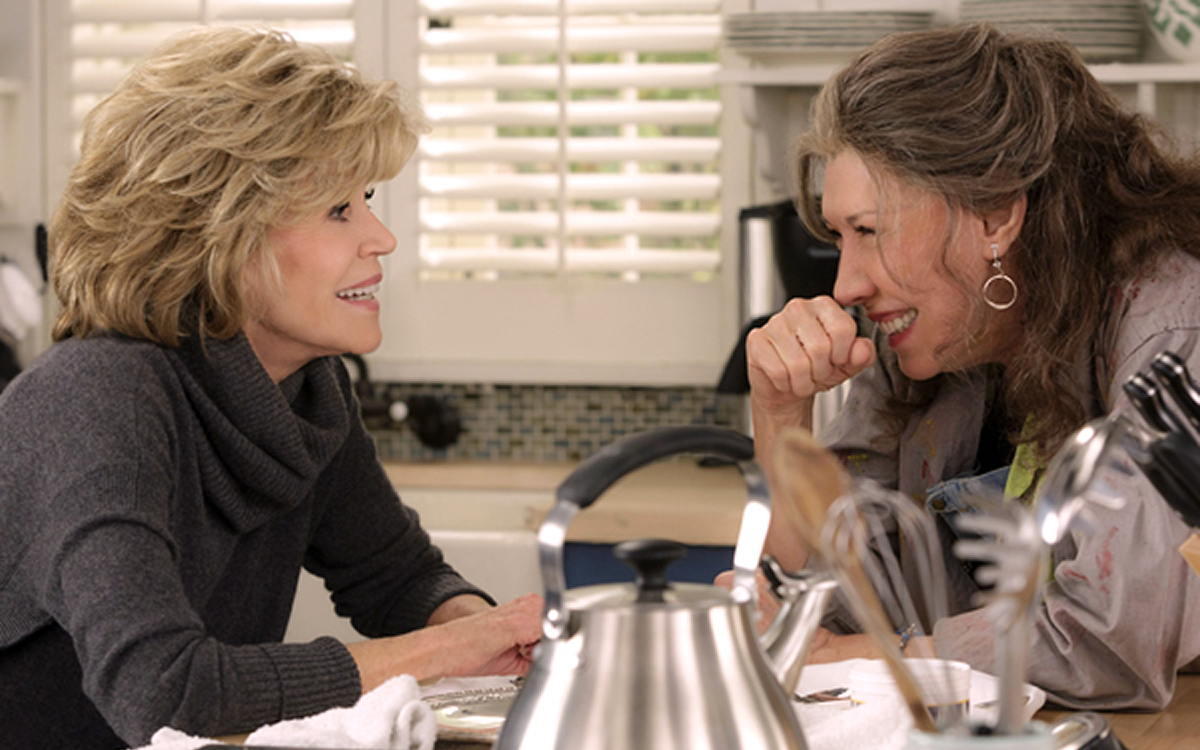 They make up a fake Jewish holiday (M'Challah) to avoid seeing their friends, lie to their kids about killing their bunny, obsess over playing John Adams in a (very gay) community theater production of the musical "1776" and create vibrators that glow in the dark. Their children sell their house out from under them and make them wear panic alerts.
These people might well creep you out in real life.
But, thankfully, they're the funny and engaging characters on "Grace and Frankie," the series, whose seventh and final season has recently dropped on Netflix.
The show, starring Lily Tomlin, 82, (Frankie) and Jane Fonda, 84, (Grace) as two hetero elders whose husbands (Martin Sheen, 81 as Robert and Sam Waterston, 81, as Sol) leave them to marry each other, is, deservedly, Netflix's longest-running series.
In 2019, there were 54.1 million people in the United States over 65, according to a Administration for Community Living of the U.S. Department of Human Services report. Elders, the study says, are expected to make up 2l.6 percent of this country's population by 2040.
There are nearly three million (2.7 million) LGBTQ people over aged 50 in the U.S. and 1.1 million queer elders 65 and older in this country, according to a 2017 Movement Advancement Project and SAGE report.
Yet aside from "Transparent," few TV series (broadcast, cable or streaming) have featured, let alone, been centered around, older queers.
"Grace and Frankie" is the rare series that's focused on the lives of elders (hetero and queer). Unlike some shows that showcase older people, it's been mostly entertaining, even thought provoking, rather than dull or didactic throughout its run.
Set in San Diego, "Grace and Frankie" throughout its seasons has told the story of how Frankie and Grace have created a life of their own as Robert and Sol have entered a new chapter of their lives as a same-sex couple.
Frankie, Grace, Robert and Sol, who are in their 70s, are affluent. Robert and Sol are successful divorce lawyers. Grace has run a flourishing cosmetics company. Frankie is a new-agey artist who teaches art to ex-convicts.
When Robert and Sol say that they're leaving them to wed each other because same-sex marriage has become legal in California, Frankie says she's done a fundraiser for that.
The beach house where Grace and Frankie live is breathtakingly gorgeous. Yet these characters encounter the indignities and dilemmas of aging from learning about social media to coming out in late life to memory loss to end-of-life decisions.
Grace and Frankie run up against the condescension that older women often face. Yet though these are serious concerns, "Grace and Frankie" hasn't been a downer.
In one episode, as I've written before in the Blade, Grace and Frankie, though they're practically jumping in front of his face, can't get a store's sales clerk to notice them. Because he's paying so much attention to a young woman. Frankie gives up and steals a pack of cigarettes. If "you can't see me," Frankie says, "you can't stop me."
In season two, their friend Babe (Estelle Parsons), who is terminally ill, tells Frankie and Grace that she wants them to help her end her life. Though it's difficult emotionally for them, the women give their friend Babe a good-bye party that's joyous without being maudlin.
Robert and Sol deal with Robert being in the early stages of dementia. This narrative is touching, but not sappy. Though you should have a tissue in hand for Robert and Sol's elevator moment in the show's finale.
Like many old people, the characters have their ups and downs in relating to their adult children. These off-spring from Brianna (June Diane Raphael), a 21st century Cruella de Vil, to Bud (Baron Vaughn), the often wrong-headed "good son," would try any elder's soul.
The main pleasure of "Grace and Frankie" is watching Tomlin and Fonda. The two forces of nature, friends since their "9 to 5″ days, make you laugh and cry with the BFFs Grace and Frankie.
TV series, like everything, have to end. Check out "Grace and Frankie." It ends well.
Join Joel Kim Booster on 'Fire Island' this summer
Gay rom com features queer Asian cast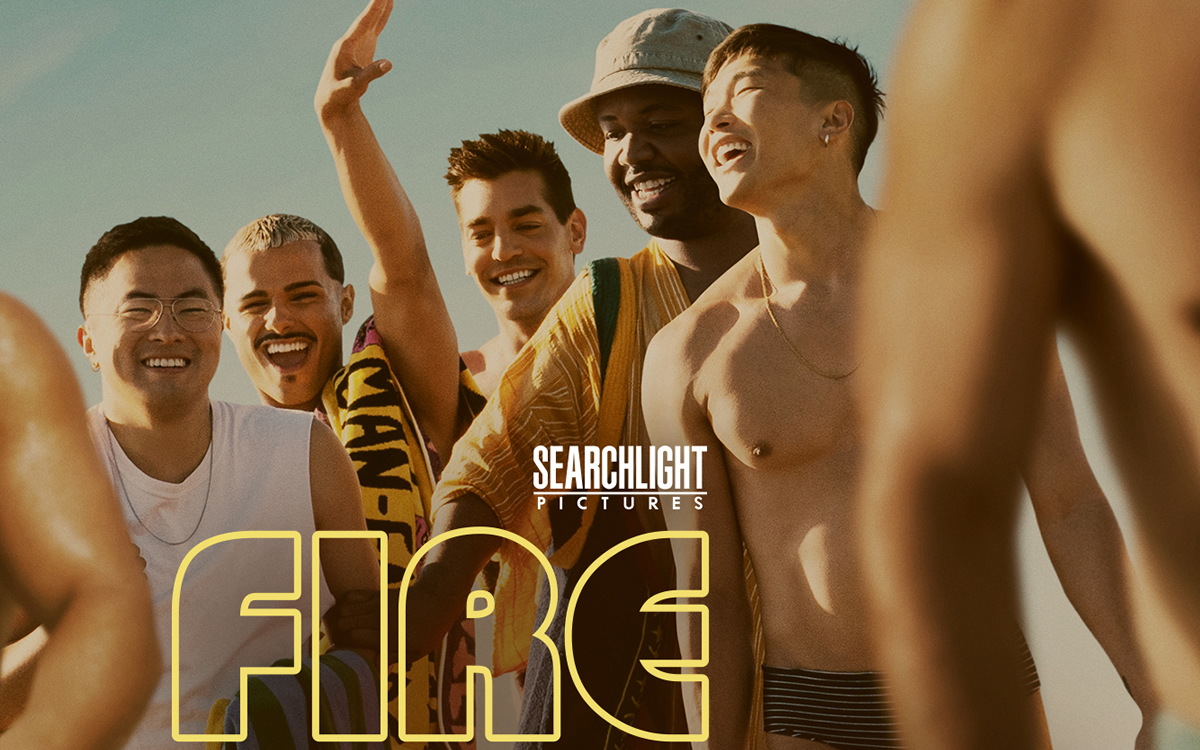 It would be an understandable mistake to see Joel Kim Booster on one of the two "Out Traveler" magazine covers he's gracing this month and assume he was just another sexy fashion model, but the 34-year-old Korean-American comedian is not having a moment in the blazing sun of queer pop culture just because of his undeniable talent for rocking a Speedo.
He is actually in the middle of the publicity push for the upcoming film "Fire Island," which he wrote and in which he co-stars with (among others) close friend Bowen Yang and comedy legend Margaret Cho, and which begins screening exclusively on the Hulu streaming service just in time for Pride month.
Directed by Andrew Ahn ("Spa Night"), it's a movie that's generating a lot of buzz, partly because it's the first predominantly queer film to be backed by a major movie studio (Disney, through its Searchlight Pictures division). We've been burned too many times not to be skeptical about such a project, but anyone already familiar with Booster's work will undoubtedly tell you it's not likely to be another watered-down, safe-for-the-mainstream offering designed to check off boxes on the diversity agenda. Since he first made a splash with an appearance on "Conan" in 2016, he has gained a following among queer and straight audiences alike with his unapologetically gay, unabashedly sex-positive comedy, leading to what some might call a meteoric rise to the brink of superstardom through an acclaimed stand-up career, his roles on TV in shows like the short-lived sitcom "Sunnyside" (on which he was a regular), "Shrill," and "The Week Of" (as well as his writing for shows like "Billy on the Street" and "The Other Two"), and his popular podcasts ("Urgent Care with Joel Kim Booster + Mitra Jouhari" and "The Joy Fuck Club").
Now he's poised to become a movie star with "Fire Island," a gay romantic comedy set in the titular vacation retreat that dares not only to feature a cast made up entirely of queer characters, but doubles down by putting the focus on queer characters who also happen to be Asian. To top it all off, it gives Booster a chance to show off his literate side with a story – which concerns a group of gay best friends out for sexual adventure, and possibly even romance, on what might be their last trip to the iconic gay getaway – adapted from no less esteemed a literary source than Jane Austen's "Pride and Prejudice."
The Blade was fortunate enough to chat with Booster in the middle of this very high-pressure month before his feature film debut, and our conversation was informed by the kind of erudite and compassionate intelligence that has marked the young comedian's career from the start.
BLADE: In your comedy, you've drawn a lot of inspiration from being raised as a Korean adoptee by white American parents in a deeply Christian midwestern community. Does that experience figure into the movie, too?
BOOSTER: Of course! As a transnational adoptee, my entire life I've been fighting against this nagging feeling of not quite fitting in – and that's whether I'm around white people, or Asian people, or even some gay people. It's tough, and it's been such a paramount part of my life to find people who make me feel seen and accepted and to keep them close, so it felt really important for the theme of chosen family to stay in the forefront when I was making this movie. As much as it's a "rom com," it's also about friendship – about relationships with people who, like I say in the movie, "fill in the gaps."
BLADE: How did you hit on using Jane Austen as a source?
BOOSTER: It was really a lucky accident. I brought "Pride and Prejudice" with me on the first trip Bowen and I ever took to Fire Island. I would be lying there on the beach reading it and thinking, "It's amazing how the things she was writing about are so relevant to what we're experiencing on this island right now." It was kinda wild, and it started out as threat, a joke – I would keep saying, 'I can't wait to write an all-gay adaptation of 'Pride and Prejudice' set on Fire Island,' and people would boo and throw things at me. But after that I would always bring an Austen book with me to read on the island, because it felt special to me. There was just something so prescient about what she wrote, and about her observations on class, especially reading it in this place where we had sort of created our own class system, as gay men.
BLADE: When did it stop being a joke?
BOOSTER: Actually, my agent suggested that I should write it, because I was in between projects. I just had a pilot that was passed on by Comedy Central, I was depressed, I had nothing to do – so I ended up writing it as a half-hour pilot script. But nobody wanted it until Quibi [the short-form entertainment platform that launched and folded in 2020 after failing to meet projected subscription levels]. Say what you will about them, but they really invested a lot of money and time into new and young voices, and they took a lot of chances. They took a chance on me, and when they folded I had this script that I could point to which I had written and developed with them. This movie was a tough pitch to sell on just a log line, but I had this finished project, this complicated piece of work to show people, that was much more intricate than I think "Gay 'Pride and Prejudice'" would maybe lead people to believe.
BLADE: Your movie is just one of several big queer titles on deck for 2022, including Billy Eichner's rom com, "Bros." How do you feel about that?
BOOSTER: Honestly, it really takes some of the pressure off. When we get, like, one gay movie a year, a lot of attention and scrutiny gets put on that movie and it's expected to be everything to everyone in our community. And our community is huge, and it's diverse, and there are so many stories that aren't being told. I'm so glad Billy's movie is coming out as well, he was my first comedy boss, and I'm really happy that people in our community are going to have two big gay rom coms to choose from.
BLADE: We haven't seen "Bros" yet, but we've seen "Fire Island." There's a review embargo [until May 23], but I think it's safe to say nobody is going to boo or throw things at you. Do you feel any sense of competition about it?
BOOSTER: My hope is that people love both, but it's nice that if somebody goes to see my movie and says, 'That's not for me, I don't see myself there,' then a couple months later they'll see Billy's and they'll have another shot at it. And I hope both of our movies are successful enough that they create a million clones. I hope it's just the beginning.
"Fire Island," which also stars Conrad Ricamora ("How to Get Away With Murder") and a host of other familiar queer performers, premieres on Hulu on June 3.