Hyattsville mayor dies by suicide
Kevin Ward and husband adopted son in D.C. in 2012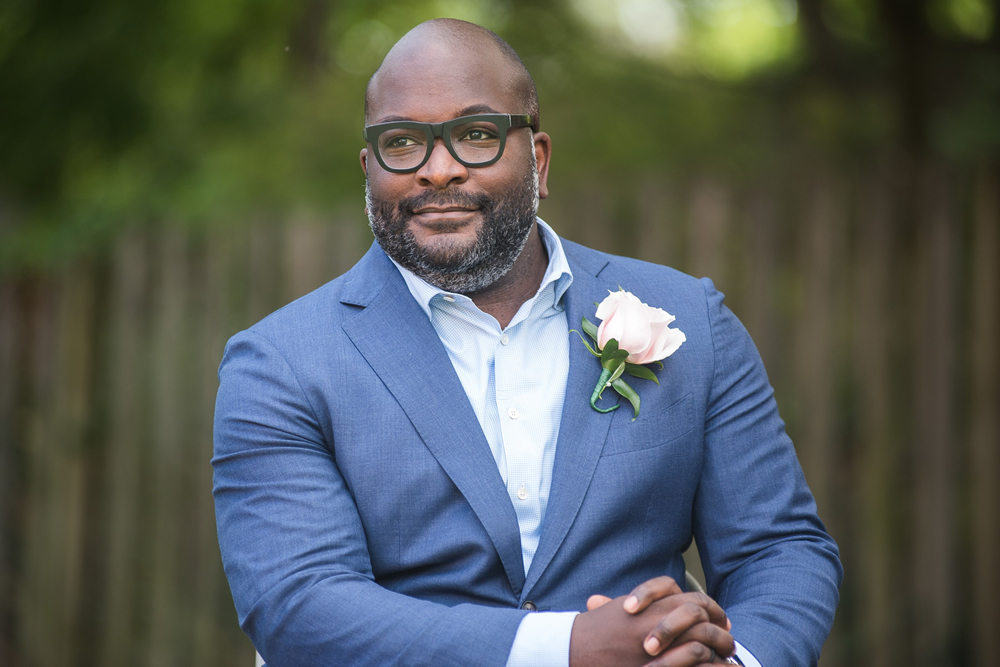 The city of Hyattsville released a statement on Wednesday afternoon announcing that their city's openly gay Mayor Kevin Ward had died one day earlier by an apparent suicide.
"The city of Hyattsville reports with great sadness that our beloved Mayor Kevin Ward passed away yesterday, Jan. 25, from an apparent self-inflicted gunshot wound," the statement says.
"Mayor Ward was a valued and trusted leader and a fierce advocate for all the people of Hyattsville," the statement continues. "We are heartbroken at this loss and extend our deepest sympathy to the mayor's family," it says.
"No further information is available at this time," the statement adds. "Details about services and remembrances will be shared when they are available."
The Washington Post reported that U.S. Park Police disclosed that Ward was found deceased in Fort Marcy Park in McLean, Va., with a "self-inflicted gunshot wound."
Ward, 44, became acting mayor of Hyattsville on Jan. 1, 2021, following the resignation of former Mayor Candace Hollingsworth. He was next in line to become mayor under the city's political system in his then-position as president of the Hyattsville City Council.
He won election to complete the remainder of Hollingsworth's term through 2023 in a May 11, 2021, special election, receiving 57.8 percent of the vote in a three candidate race, according to the Hyattsville election board. His closest opponent, Joseph Solomon, received 31.7 percent of the vote.
Nearby fellow gay mayors — Patrick Wojahn of College Park and Jeffrey Slavin of Somerset — said they got to know Ward through Maryland political circles and thought very highly of him.
"He was insightful, smart and dedicated," Wojahn said. "He always seemed very confident and together as a person. And he had a great sense of humor."
Slavin said he shared that remembrance of Ward, adding that he found Ward to be a "very nice person" dedicated to the people he served both as mayor and during his two terms on the Hyattsville City Council.
"There was noting in his public life that would have predicted this," said Slavin in referring to Ward's sudden passing.
The Washington Blade first reported on Ward in 2012 in a feature story on Ward and his then-domestic partner Chad Copeland when the two attended a ceremony at the D.C. Superior Court to complete the process of adopting their then-5-year-old son Norman. Ward and Copeland were among several gay couples who had their adoption papers signed by a judge at the ceremony.
On the website for his mayoral election campaign last year Ward said he and his family made Hyattsville their home in 2014 after he and his husband adopted their two sons.
"I am a pretty straightforward person," he said in message to voters on his campaign website. "I believe in listening more than talking. But when I talk, I am not one to mince words or tell people what they want to hear," he said. "I believe in doing the work. I believe that if I can help someone, then I can change her or his life," he continued.
"This is why I dedicated my career to providing the best technology to education and to human services, to help as many people as I can," he said.  
Ward was referring to his career in the field of educational and human services technology.
University of Maryland students march for LGBTQ rights on 'Maryland Day'
Participants wore Pride flags, waved 'say gay' placards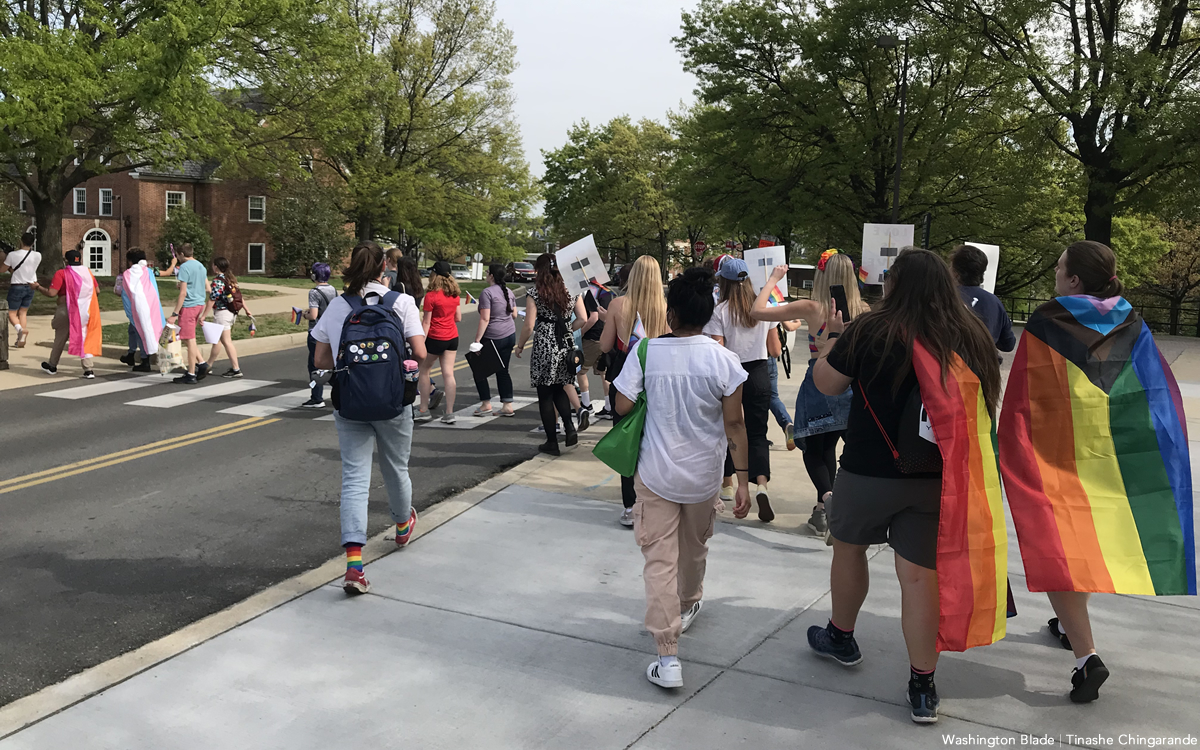 LGBTQ students at the University of Maryland marched across campus Saturday in response to legislation passed in many states that bars the discussion of gender identity and sexual orientation in schools. As this happened, families from across the state were gathered all over campus to celebrate the university's annual community outreach event, "Maryland Day." 
The "Let's Say Gay Parade" began in the Adele H. Stamp Student Union, trekked through McKeldin Mall—where many Maryland Day attractions were situated—and ended in the student union. Students, parents and members of the campus community were in attendance. 
"For the people who aren't at this event today, call [and email] your local representatives," said Veena Aruldhas.
Aruldhas, 23, is a senior studying information science at the university. They are also vice president of the school's Pride Alliance and also work on the Pride month committee within Multicultural Involvement Community Advocacy, a campus inclusion group.
"Show up for the people who can't speak for themselves because their rights have been infringed upon," said Aruldhas.
Legislation aimed at erasing discussions about gender and sexual identity in schools has been on the rise across the country.
Republican Florida Gov. Ron DeSantis signed the controversial "Don't Say Gay" bill in late March that bans public school teachers from providing instruction about sexual orientation and gender identity in classrooms. The bill also allows parents to sue schools that violate its prescriptions.
Ohio lawmakers also proposed a similar bill in early April that, in addition, limits education about other "divisive concepts" such as the 1619 Project, critical race theory and "any other concept that the state board of education defines as divisive or inherently racist."
While Maryland legislators this year haven't launched attacks on classroom instruction like the other two states, recent efforts to provide health equity for transgender individuals through the Trans Health Equity Act were stalled in this year's General Assembly 90-day legislative session.
Therefore, graduate student Joey Haavik, 26, believes the rise of homophobic legislation around the country escalates the need for Marylanders to review local legislation. 
"This didn't get as much attention," they said in reference to the Trans Health Equity Act. Haavik is studying international education and policy and works as an advisor to campus LGBTQ organizations. "So, even though people experience many differing levels of hatred, there's many ways to advocate for our community."
State Sen. Mary Washington (D-Baltimore City), who attended the event and also gave a keynote speech, spoke on the bill's failure.
"Events like these empower us to mobilize against attacks on marginalized people in our communities," she said. "We must be relentless in the fight for a fair and just world."
House of Delegates candidate Ashanti Martinez also spoke about the bill at the event.
Martinez is a Democrat campaigning for the District 22 seat, and if elected will be the first openly gay Afro-Latino man from Prince George's County to represent the jurisdiction in the chamber.
"The [bill] vanished … [and] we want to know why," he said. "This erasure of LGBTQ folks is intentional."
Md. General Assembly passes inclusive schools bill
Republican Gov. Larry Hogan has 30 days to sign HB 850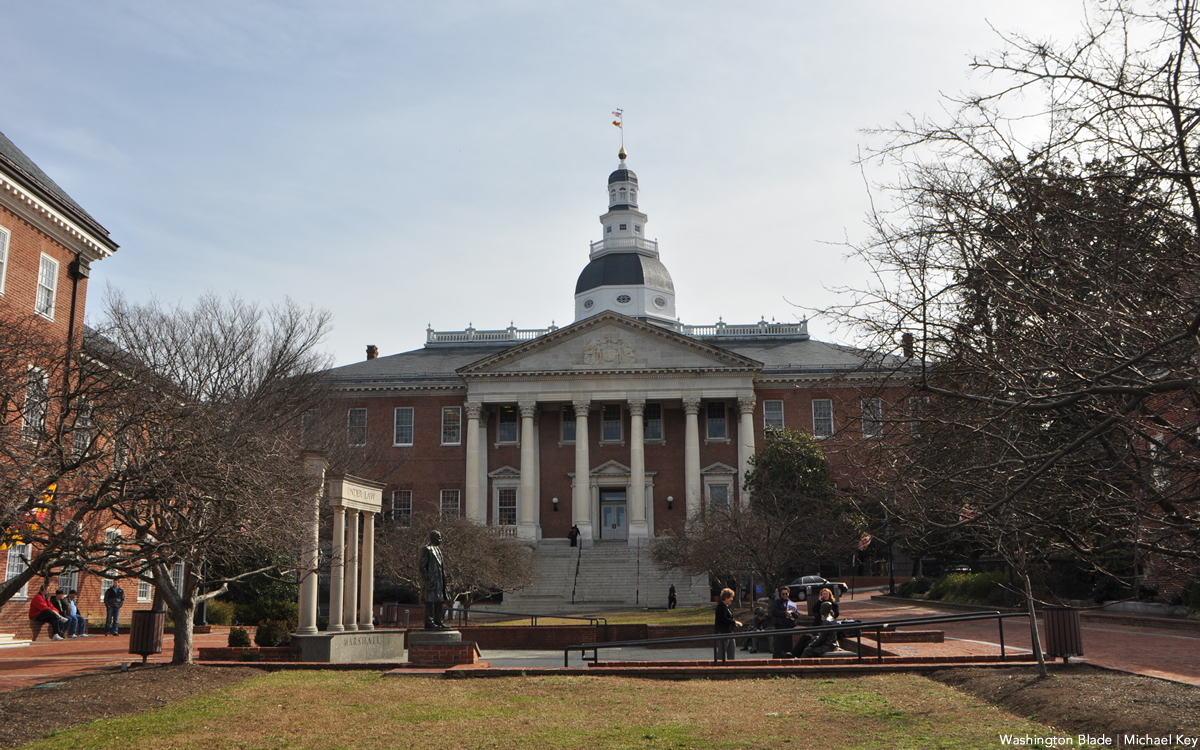 The Maryland General Assembly voted Monday to ban state-funded schools and county boards of education from discriminating against students on the basis of sexual orientation, gender identity race, nationality, disability, and other identity markers.
The House of Delegates passed the Inclusive Schools Act, also known as House Bill 850, by a 96-36 margin. It is now headed to Republican Gov. Larry Hogan's desk and the governor has 30 days to either sign or veto the legislation. If he takes no action, the bill will take effect on July 1.
"After five years of introduction, me and [Sen. Cory McCray's] prohibition on discrimination in schools has reached final passage," said state Del. Jheanelle K. Wilkins (D-Montgomery County) in a Twitter post Monday evening.
Wilkins was one of the bill's sponsors.
Should state-funded schools — pre-kindergarten, primary and secondary — and boards of education not adhere to nondiscrimination policies, they risk losing part of all their financing. The bill also prohibits retaliatory actions against students, parents and individuals who file complaints alleging discrimination.
"There is an important message in this legislation, as well, that taxpayer money should never fund those engaging in discrimination, bias, and hate," said FreeState Justice Executive Director Jeremy LaMaster in an online press release Tuesday morning.
The Maryland State Department of Education will increase general fund expenditure by $42,100 in fiscal year 2023 to accommodate provisions for the bill, according to the bill's fiscal and policy note.
The passing of the Inclusive Schools Act follows years of documented discrimination in schools around the state.
The Baltimore Sun reported in 2020 that Black students in the Carroll County Public Schools District were subjected to harassment that included being called racial slurs, bullied, caricatured when classmates asked to touch their hair, and being perceived as unsafe to be around.
"We all have to live by these certain rules and regulations in order to avoid the speculation [that] we're doing something bad," student Kelechukwu Ahulamibe told the Baltimore Sun, referring to the "rules of survival" his mother taught him to maneuver his surroundings.
Black people comprise 3.9 percent of the county's population, according to Census data. This has translated into a lack of Black students in its school system that has left some feeling like outsiders in their community.
To remedy this, public schools in the area have created student cultural organizations where marginalized children and allies can congregate and support each other. The Carroll County Public School District also has an Equity and Inclusion Outreach program available for parents and students as a resource for educational programming and accountability.
Transgender health care bill passes in Md. House committee
Trans Health Equity Act of 2022 passed by 14-8 vote margin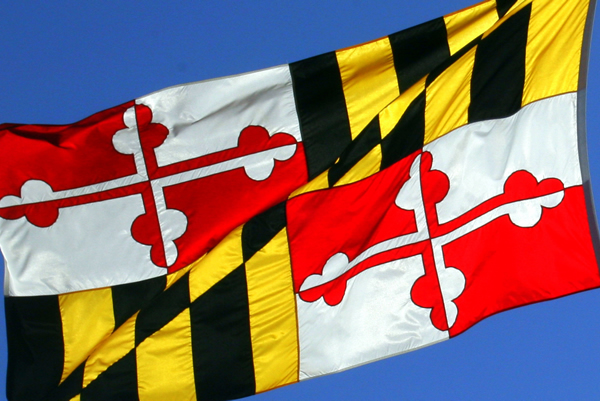 A bill that would require Maryland's Medicaid program to provide coverage for gender-affirming treatment for transgender people passed in a Maryland House of Delegates committee on Friday.
The House Health and Government Operations Committee passed the Trans Health Equity Act of 2022 by a 14-8 vote margin. It will proceed to the House floor next week for consideration.
Legislators who sponsored the bill include state Sen. Mary Washington (D-Baltimore City), who believes that the committee vote is "a promising step in the right direction."
"It's been eight years since we passed legal protections outlawing discrimination against trans people in the areas of employment, housing, public accommodations and credit," she said in an email statement to the Washington Blade. "We are one step closer to enhancing these basic economic civil rights with the passage of a bill that protects the public health and safety of all LGBTQ people."
Washington also added that the bill will remove barriers within the Medicaid program to cover the full range of gender affirming treatment and procedures for low-income people.
According to the bill's revised fiscal and policy note, Medicaid would be required to cover individual procedures that range from less than $800 for voice therapy to more than $25,000 for facial feminization or masculinization surgeries. 
This would increase Medicaid expenditures by $52,743 for individuals who are transitioning from male to female and $52,493 for individuals who are transitioning from female to male. The bill would also increase the number of Medicaid enrollees seeking treatment to 25 people a year, according to the Maryland Department of Health. 
Prior to the vote, the Blade spoke to activists who attended a rally on Thursday in Annapolis in support of the Trans Health Equity Act.
Trans Maryland, Annapolis Pride and Baltimore Safe Haven, among other advocacy groups, organized the rally.
"It was a beautiful expression of trans resilience and pride at a time when so many states are attacking trans rights," said Sam Williamson, a Skadden Fellow for Homeless Persons Representation Project, which provides free legal services for low-income persons who are homeless or at risk of homelessness.
"This bill will save lives and bring Maryland Medicaid up-to-date with the leading medical standards for gender-affirming care," they said.
Other activists also expressed faith in the bill's future, given its prior success in the Senate.
"I feel good about it having passed the Senate, which is usually the more difficult chamber to get things out of," said CP Hoffman, policy director at FreeState Justice, an organization that provides legal services and policy advocacy to trans individuals in the state. 
Hoffman is also a practicing lawyer and member of the Maryland State Bar Association.
"Usually, I try to stay cautiously optimistic with all bills until they've passed every chamber," they added.
Optimism among advocacy groups in the state isn't blind.
Legal action will be imminent if Republican Gov. Larry Hogan doesn't sign the bill into law.
"We are considering filing a complaint with the U.S. Department of Health and Human Services and bringing a federal discrimination action under Section 1557 of the Affordable Care Act," said Hoffman.
FreeState Justice in the past has helped pass comprehensive non-discrimination state laws in favor of LGBTQ healthcare provisions.
In 2020, it helped overturn an archaic state law that prohibited nursing homes and hospitals from discriminating on the basis of race or national identity, but not sexuality. It also had health insurance non-discrimination rules, under the Affordable Care Act, written into state law so health insurers can't discriminate on the basis of sexual orientation, gender identity, race, national origin and sex, among other identity markers.