Md. General Assembly passes inclusive schools bill
Republican Gov. Larry Hogan has 30 days to sign HB 850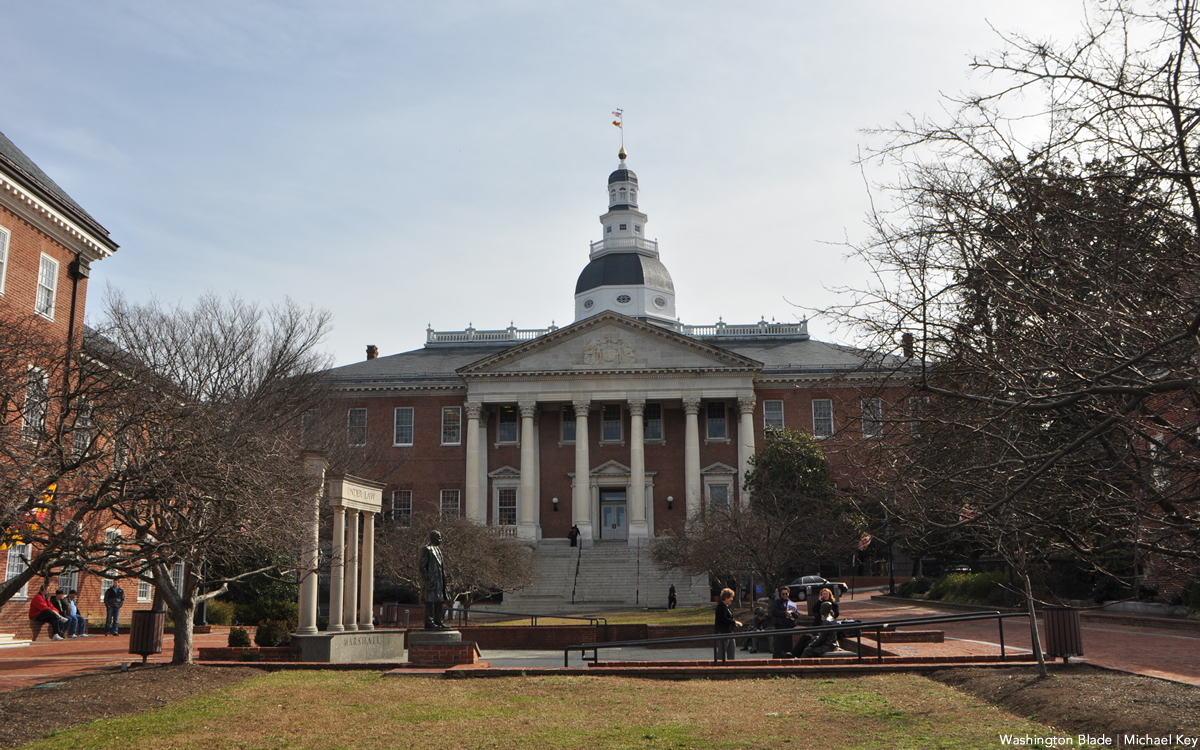 The Maryland General Assembly voted Monday to ban state-funded schools and county boards of education from discriminating against students on the basis of sexual orientation, gender identity race, nationality, disability, and other identity markers.
The House of Delegates passed the Inclusive Schools Act, also known as House Bill 850, by a 96-36 margin. It is now headed to Republican Gov. Larry Hogan's desk and the governor has 30 days to either sign or veto the legislation. If he takes no action, the bill will take effect on July 1.
"After five years of introduction, me and [Sen. Cory McCray's] prohibition on discrimination in schools has reached final passage," said state Del. Jheanelle K. Wilkins (D-Montgomery County) in a Twitter post Monday evening.
Wilkins was one of the bill's sponsors.
Should state-funded schools — pre-kindergarten, primary and secondary — and boards of education not adhere to nondiscrimination policies, they risk losing part of all their financing. The bill also prohibits retaliatory actions against students, parents and individuals who file complaints alleging discrimination.
"There is an important message in this legislation, as well, that taxpayer money should never fund those engaging in discrimination, bias, and hate," said FreeState Justice Executive Director Jeremy LaMaster in an online press release Tuesday morning.
The Maryland State Department of Education will increase general fund expenditure by $42,100 in fiscal year 2023 to accommodate provisions for the bill, according to the bill's fiscal and policy note.
The passing of the Inclusive Schools Act follows years of documented discrimination in schools around the state.
The Baltimore Sun reported in 2020 that Black students in the Carroll County Public Schools District were subjected to harassment that included being called racial slurs, bullied, caricatured when classmates asked to touch their hair, and being perceived as unsafe to be around.
"We all have to live by these certain rules and regulations in order to avoid the speculation [that] we're doing something bad," student Kelechukwu Ahulamibe told the Baltimore Sun, referring to the "rules of survival" his mother taught him to maneuver his surroundings.
Black people comprise 3.9 percent of the county's population, according to Census data. This has translated into a lack of Black students in its school system that has left some feeling like outsiders in their community.
To remedy this, public schools in the area have created student cultural organizations where marginalized children and allies can congregate and support each other. The Carroll County Public School District also has an Equity and Inclusion Outreach program available for parents and students as a resource for educational programming and accountability.
Gay, lesbian incumbents, candidates on Md. county ballots
State's primary is on July 19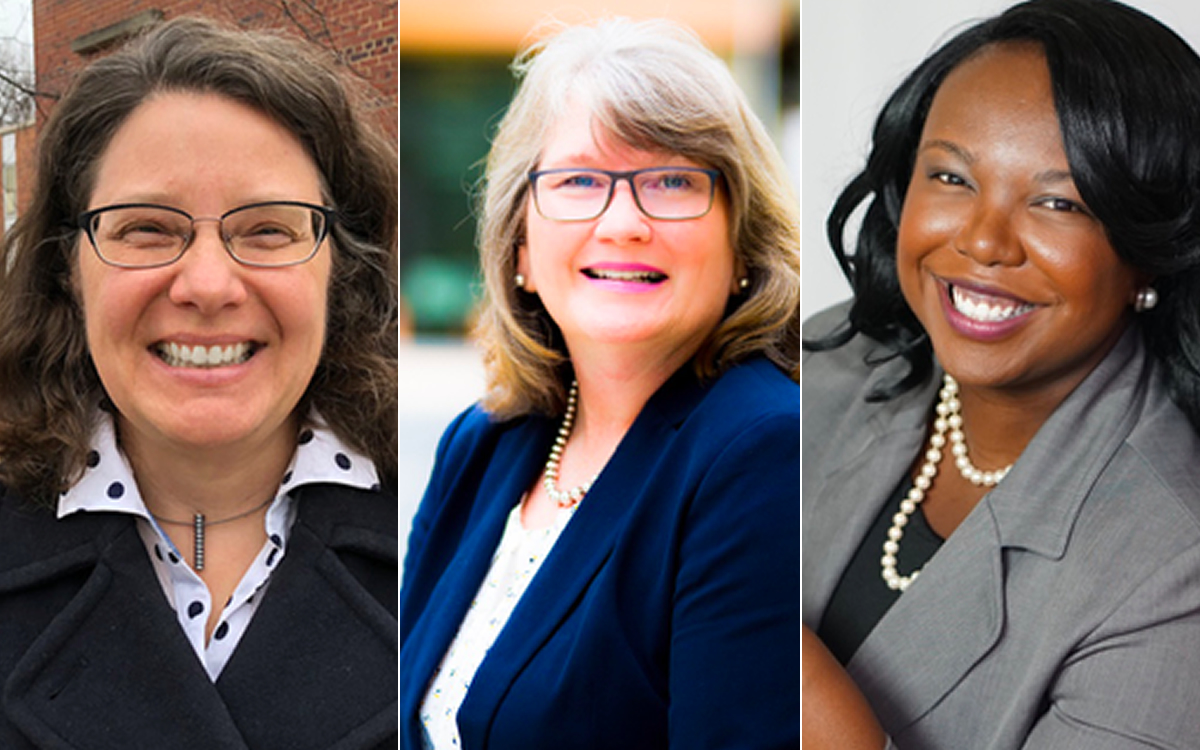 The Washington Blade this week spoke with five openly gay and lesbian candidates who are either running for office or are seeking re-election in Montgomery, Prince George's and Howard Counties.
Montgomery County Councilman Evan Glass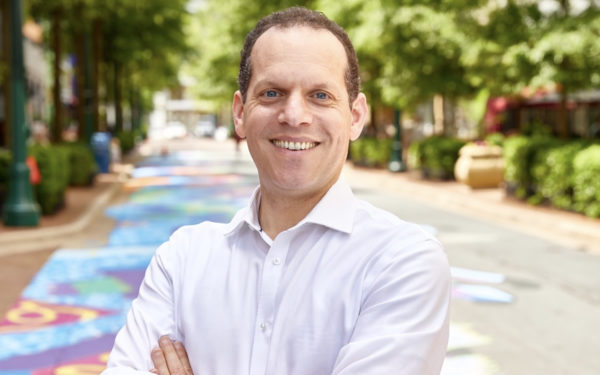 Evan Glass serves as the vice president of the Montgomery County Council and as its first openly LGBTQ member. Previously working for 12 years as a CNN journalist, he was first elected in 2018.
Glass told the Blade that running to continue as a member of the Council was rooted in the change that has been able to be made thus far.
"When I first raised the Pride flag in an official manner in 2019, I received a lot of pushback and hate," Glass said. "But we persisted and have continued expanding Pride events and celebrating our beautiful diversity."
Since his election, Glass' initiatives in Montgomery County have included a host of local legislation aimed at promoting and furthering social justice and LGBTQ equality in the county.
Along with measures, such as the county's Housing Justice Act and Oversight and Small Business Investment Act, Glass' efforts led to the Council to pass its Pay Equity Act designed close the gender wage gap by modifying how the county determines salaries for employees. He also worked to spearhead the passage of the county's LGBTQ Bill of Rights, which expanded its anti-discrimination code to include gender expression and HIV status and ban discrimination in areas such as healthcare facilities, nursing homes and personal care facilities.
As he makes his bid for reelection later this summer, Glass said that he hopes to expand on the accomplishments he has been able to make so far.
"I'm proud of my work to create more affordable housing, to make our buses free for all youth, and to keep our residents healthy and safe during the pandemic," Glass said. "These efforts haven't been easy, but they are critical to fostering a more fair and equitable community."
Montgomery County Circuit Court Clerk Karen Bushell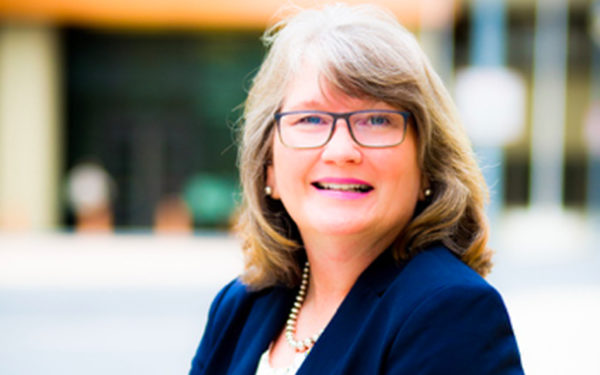 Karen Bushell grew up in the Midwest before moving to the D.C. area in 1985, where she met her wife in 1995. Bushell had four children and her wife had two children when they met, and according to Bushell, "we had a very, very busy house."
Bushell started serving in the judiciary in 2001 — as an HR associate, and then as a judicial assistant for many years. When Barbara Michael retired as Clerk of the Court in April 2021, Bushell was appointed to the position, making her the first openly LGBTQ person to hold it.
The Clerk of the Court serves as an independent record keeper of what happens in the courts, and Bushell described the clerk's role as primarily that of a public servant.
"I love my job; I love being part of the judiciary. Being a public servant, it's always good to know at the end of the day, that you help somebody," Bushell said. "I think being a public servant is something that is important to me, so that is one of the reasons that that I'm running."
Prince George's County Public Schools Board of Education member Pamela Boozer-Strother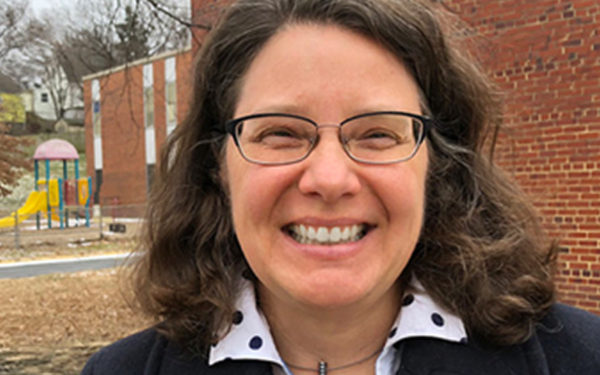 Pamela Boozer-Strother first became involved in LGBTQ and reproductive rights advocacy in the late 1980s as part of what was then called the National Lesbian and Gay Journalists Association. During the decade she spent working with NLGJA; she worked towards inclusive workplace policies, fair and accurate news coverage of LGBTQ issues, and domestic partner benefits.
After living in Adams Morgan for years, Boozer-Strother moved to Prince George's County with her spouse Margaret, where they adopted a child and built a life together. Boozer-Strother first became involved in the school system when her son started attending public school in Prince George's County, and in 2018 she ran for the Board of Education and won. 
"I had an opportunity to make a difference by being visible, and finding other gay, lesbian, bisexual and transgender families and staff — and ultimately, students — and helping to build that network of support," Boozer-Strother said. "It's taken some time; I ran for the board in 2018 as an out candidate and I won, and I am thrilled to live in a community that saw that as an asset."
Boozer-Strother has worked extensively on school construction, educational equity policy, LGBTQ-inclusive curricula and the board's climate change action plan.
"Of course, I focused in on the relevance of my representation and my skills and background that I could bring to [my platform.] But really, I got into this because of school construction," Boozer-Strother said. "I'm really proud to say that, as of today, seven projects that serve District 3 students are fully funded."
Prince George's County Council candidate Krystal Oriadha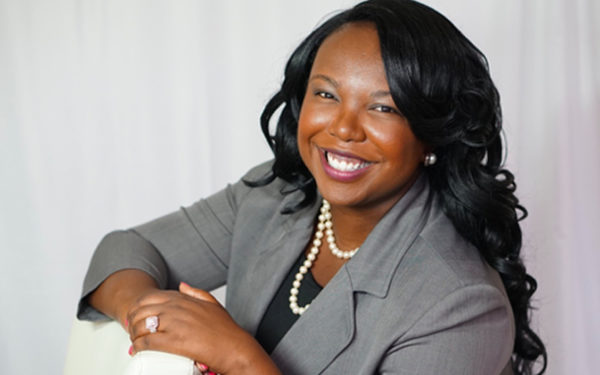 Krystal Oriadha studied business at Howard University before getting an MBA and working at Hewlitt-Packard. After a few years with HP, Oriadha moved back to the DMV area, where she said that "I wanted to use my skill set to help people and make an impact."
Oriadha has now been a community organizer and advocate for more than 12 years — she worked with the U.S. Department of Health and Human Services on human trafficking prevention, reproductive healthcare, domestic violence campaigns and tribal nations issues for about four years before she made her first run for office, for the same seat for which she is running now. Although Oriadha lost that election by 30 votes, she became the new council member's policy director, which gave her the chance to work on making legislation as a staffer.
"I think I learned that I wanted to be the principal even more, because they had the ability to make deals, cancel what I thought was really good legislation," Oriadha said. "It's really different when you're the person that gets the make that last call — that's the difference between having a seat at the table and being outside of the room when decisions are being made."
Oriadha currently serves as the executive director of PG Change Makers, a local nonprofit she co-founded after returning to Prince George's County to do community work in the aftermath of George Floyd's murder. Although she was not initially planning to run for office again, Oriadha said that she is doing so at the request of her community.
"I was not planning on running again because it is a lot of work and I never really cared about being elected, but the community is asking me to, so I decided to go ahead and give it another try," Oriadha said.
Oriadha said that proudly representing all aspects of her identity is a crucial part of her campaign.
"When I first ran, there was a lot of talk about how not to talk about the LGBTQ+ part, because I'm straight presenting. And for me, what was so important is that I made it very clear who I am, and that I didn't shy away or hide that part of myself, because to me, you're not breaking the [glass] ceiling if people don't even know the ceiling existed. I think that we've never had an openly elected LGBTQ+ person sit on our County Council before," Oriadha said.
"I think what this will show is that you can run and be yourself and it won't cost you anything. I think that's what is so important about this election."
Howard County Register of Wills Byron Macfarlane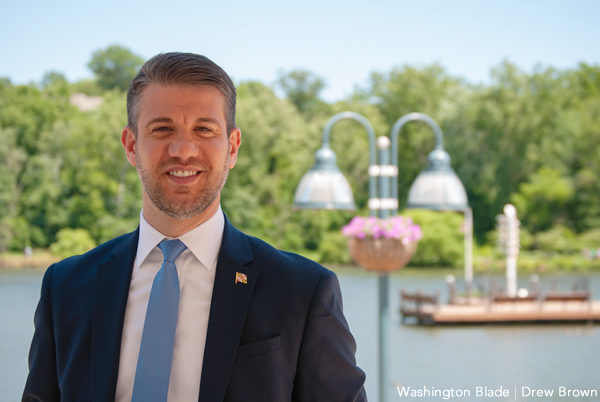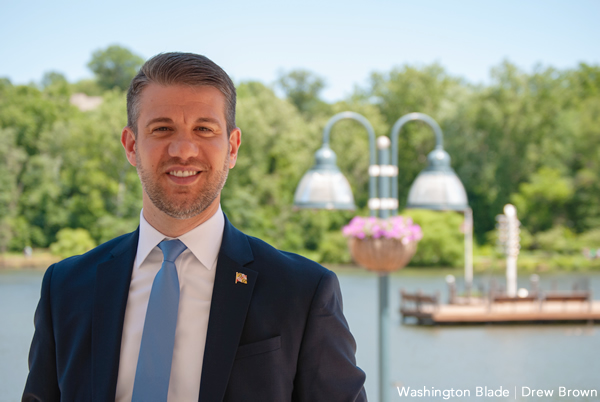 Howard County Register of Wills Byron Macfarlane has served in the position since 2010 and was the first openly LGBTQ person elected in Howard County.
Along with his involvement in a plethora of state and local groups and organizations and being admitted to the state bar association, Macfarlane gained experience working for multiple prominent lawyers and politicians including County Councilman Guy Guzzone, Circuit Court Judge Richard Bernhardt, state Sen. Edward Kasemeyer and the late-U.S. Sen. Ted Kennedy (D-Mass.)
During his tenure in office, Macfarlane has made supporting the LGBTQ community an integral facet of his identity as a public official and a fellow citizen.
"Queer kids see the hate coming from the dark corners of our community," Macfarlane wrote on Twitter. "They need to hear from us — from you — that we love and support every one of them."
Since being elected, Macfarlane has overseen a number of reforms implemented in the Register's office, including modernization of its technological aspects and a cut on taxpayer expenditures for antiquated procedures. Modernizing the Register's office and leading on reform, while also being receptive to his constituents, Macfarlane has said, have been some of his top priorities.
"I've proven myself as a reliable and responsive figure in our local government, that I've been extremely effective delivering meaningful reform, and that now more than ever our community needs steady, forward-looking leadership they can trust," Macfarlane told the Blade. "I'm running for re-election because representation matters, because I want to continue serving the public with professionalism, compassion, and fairness, and because I want to continue pushing reforms to make probate faster, fairer and less expensive for Marylanders."
Editor's note: Somerset Mayor Jeffrey Slavin, who is openly gay, won re-election on May 10.
Abortion rights in post-Roe Maryland, Delaware
Practice generally legal, with some restrictions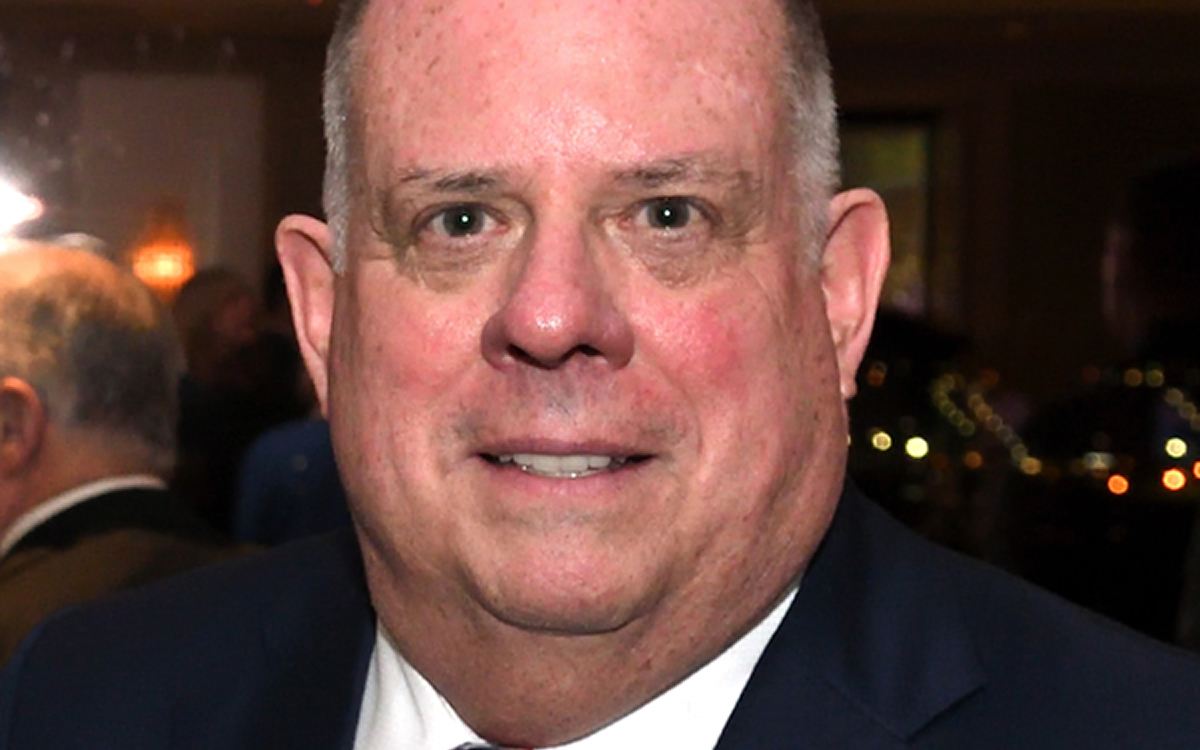 The U.S. Supreme Court on Friday overturned Roe v. Wade, which in 1973 found that the decision to receive an abortion was generally protected by the Constitution of the United States. With the broadest federal protection of abortion access now rescinded, the legality of abortion will by and large be determined on the state level.
In Delaware, abortion is legal through the Medical Practice Act — but with some restrictions.
After fetal viability, or the point where a fetus can survive outside the uterus, abortion in the First State becomes illegal unless necessary for the patient's "life or health," or if the fetus has a condition "for which there is not a reasonable likelihood" that it will survive outside the uterus, according to Subchapter IX of the act.
Additionally, under the state's Parental Notice of Abortion Act, physicians cannot perform a surgical abortion on minors under the age of 16 unless the patient's parent or guardian has received at least 24 hours notice from a medical professional. Notice is not required for nonsurgical abortions.
On the federal level, the funding of abortion is illegal through the 1977 Hyde Amendement "except in cases of life endangerment, rape or incest," according to the Guttmacher Institute, a sexual and reproductive rights advocacy organization. States are only federally required to fund abortions that meet these conditions through federal-state Medicaid programs.
While some states also fund abortions deemed medically necessary regardless of whether they endanger a patient's life, Delaware state law does not extend beyond federal guidelines: The state only funds abortions in cases of life endangerment, rape or incest.
Abortion legislation in Delaware mirrors neighboring Maryland, whose laws include similar restrictions on abortion after fetal viability and abortion for minors under the age of 16. But abortion laws in these states are generally more restrictive than other mid-Atlantic counterparts, such as New Jersey and New York.
Maryland Gov. Larry Hogan (R) weighed in on the state's abortion law on Friday.
"In 1992, Maryland voters approved a constitutional referendum legalizing and protecting access to abortion as a matter of state law – that measure remains in effect today following the Supreme Court decision in Dobbs v. Jackson. I swore an oath to uphold the Constitution and the laws of Maryland, and that is what I have always done and will continue to do as governor."
The impact of Roe v. Wade's fall in Delaware remains uncertain. While the abortion rate in Delaware steadily declined between 2014 and 2017, recent findings show that instances of abortion are increasing once again in the state, reflecting a rise on the national level.
Howard County executive announces plans for LGBTQ commission
Calvin Ball made announcement at Wednesday press conference in Columbia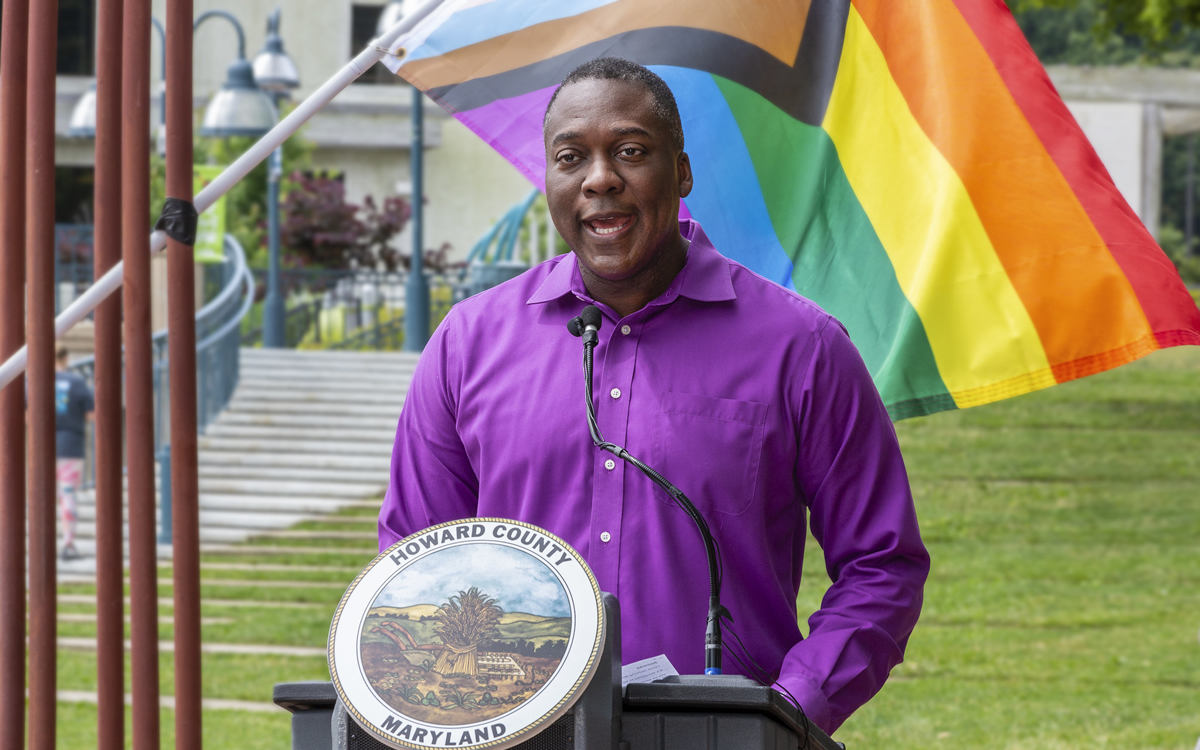 Under the "People's Tree" sculpture near the Columbia lakefront, Howard County Executive Calvin Ball announced at a press conference on Wednesday the filing of legislation that would permanently establish the current LGBTQ Workgroup as a formal commission.
The new commission would follow the work of the LGBTQ Workgroup launched in 2019 by Ball.
"This commission will help move Howard County forward and will identify best practices to affirm members of the gay and transgender community; recommend initiatives to support LGBTQIA+ families and children; and advise us on policy and programs that impact our gay and transgender community, and on how to improve outcomes for underserved and at-risk members of the LGBTQIA+ population," said Ball in his opening remarks in front of a crowd that included members of the LGBTQ Workgroup, county employees, members of the county's Human Rights commissioners and LGBTQ activists and allies as well as elected officials and candidates.
He added, "The commission will support, plan, and help execute events, like PRIDE, to celebrate and affirm our community."
Ball, speakers at the event included Human Rights and Equity Administrator Yolanda Sonier; Register of Wills Byron Macfarlane; Howard County Human Rights Commissioner Bob Ford; PFLAG-Howard County President Jumel Howard and community member Vicki Weiss Vivrette.
"Howard County and Maryland have always led the way on LGBTQ+ rights," said Macfarlane, a lifetime Howard County resident and the first openly gay elected official in the county. "From Howard County's anti-discrimination law passed many decades ago, to hate crime and anti-discrimination laws at the state level, to Maryland becoming one of the first states to pass marriage equality — not by judicial fiat — but by popular vote. Our community and our allies have achieved so much, but we know our hard-fought rights are under siege as we speak."
Ford, the only out member of the county's Human Rights Commission, continued that point.
"From a failed attempt to disrupt a Pride celebration in Idaho, to storming into a drag queen storytelling session in California, to over 200 bills in state legislatures aimed at stripping the rights of LGBTQ people especially trans kids — these are wake-up calls. Moreover, at one political party's convention in Texas this past weekend, language was added to their platform that 'homosexuality is an abnormal lifestyle choice' and that party opposes 'all efforts to validate transgender identity.'"
Ford pointed out that recent Pride flag burnings in Baltimore and that Pride flags have been banned in neighboring Carroll County schools, the chopping down and theft of a welcoming sign from a local church, and a vocal group of parents trying to ban LGBTQ content from books to curricula in schools indicate Howard County is not immune to hate.
The plan for the establishment of the new commission requires the approval of the county council and will be filed in July.
The George Howard Building, the headquarters for Howard County government, was bathed in rainbow lights after Wednesday's event.