Orrin Hatch dies at 88
Former Utah senator's LGBTQ rights record was mixed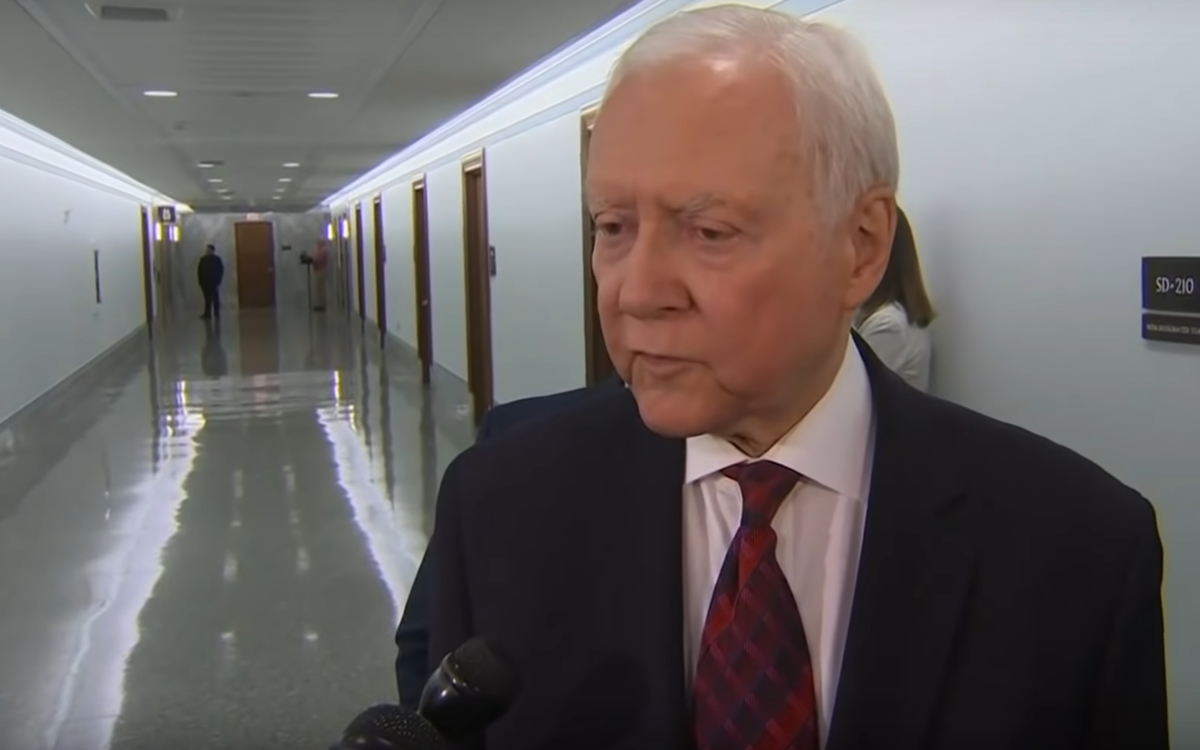 Former Republican U.S. Sen. Orrin Hatch, who spent over 40 years representing the state of Utah, died on Saturday at the age of 88.
The Orrin G. Hatch Foundation announced that he passed away at 5:30 p.m. MT surrounded by his family. No specific cause of death was given.
Hatch's Senate career spanned from 1977-2019, longer than any other Republican in the nation's history.
The senator was best known for his efforts to get the Americans with Disabilities Act and the Children's Health Insurance Program passed in the Senate and signed into law. He was also known for his committed political philosophy as a fiscal moderate on Capitol Hill within the Republican Party.
The Salt Lake City Tribune noted Sunday reporting on his career:
"In his early years in the Senate, Hatch was seen as a right-wing brawler, fighting for a balanced-budget amendment and laws undermining labor unions. He didn't earn his deal-making reputation until he struck up a friendship with a liberal lion, late Massachusetts Democratic Sen. Ted Kennedy. Known as the 'Odd Couple' in Washington, they teamed to pass the Children's Health Insurance Program, the first research bill on AIDS and the Americans with Disability Act."
During a speech on June 17, 1987, then-President Ronald Reagan wryly noted in reference to Hatch and the federal budget; "Let me just say that if every member of the Senate were like Orrin Hatch, we'd be arguing over how to deal with a federal surplus. And that's why I like to think of Orrin as `Mr. Balanced Budget'."
His stance on hot button political/cultural issues was extremely conservative. Hatch was strongly opposed to abortion and was the author of the Hatch Amendment to the Constitution that failed to get Senate approval, which stated that there is no constitutional right to abortion and empowered the states to restrict abortion as they saw fit.
On immigration, the senator embraced tougher enforcement immigration policy including expanding the number of Border Patrol officers at the Southern border with Mexico. But he partnered with U.S. Sen. Dick Durbin (D-lll.) introducing the DREAM Act, which would provide a pathway to citizenship for the children of undocumented immigrants, who were children when their parents came to the U.S.
Thus far the legislation has languished even after being reintroduced several times, but has not been approved by majorities in either house of Congress.
On LGBTQ rights Hatch initially took the Republican Party and conservative stance on the issues of equality. At the start of his political rise in Republican politics as a newly elected U.S. senator in 1977, he told students from the University of Utah; "I wouldn't want to see homosexuals teaching school anymore than I'd want to see members of the American Nazi Party teaching school.
Nine years later in 1996 he supported the Defense of Marriage Act.
Hatch also voted against the Matthew Shepard and James Byrd Jr. Hate Crimes Prevention Act in 2009, which expanded federal hate crime laws to include crimes committed against people based on their gender identity and sexual orientation. During Senate debate over the legislation, he questioned whether it was necessary, suggesting that anti-gay violence was not "a major problem."
As the country moved towards wider acceptance of same-sex marriage, in 2012, the senator voted to confirm U.S. District Court Judge Robert Shelby to the federal bench in Utah, who then-President Barack Obama had nominated.
Shelby on Dec. 20, 2013, struck down Amendment 3 of Utah's State Constitution, which defined marriage as a union solely between a man and a woman, opening the way for same-sex marriage in the state.
Shelby ruled that Amendment 3 was in violation of the U.S. Constitution's 14th Amendment, which guarantees due process and equal protection. As a result Shelby's ruling set off a series of other district court decisions that overturned bans in several other states.
His ruling was affirmed by the 10th Circuit Court of Appeals on June 25, 2014. On Oct. 6, 2014, the U.S. Supreme Court declined the review the 10th Circuit's ruling, legalizing same-sex marriage in Utah.
The ruling by Shelby and the effect on the effort to legalize same-sex marriage was noted by Hatch on a Salt Lake City radio show in 2014 saying that, even though he may not like it, legal gay marriage is inevitable:
"Lets face it. Anybody that does not believe that gay marriage is going to be the law of the land just hasn't been observing what's going on," he said on KSL NewsRadio's "Doug Wright Show."
"The trend right now in the courts is to permit gay marriage and anybody who doesn't admit that just isn't living in the real world."
Prior to his statements to KSL, in April 2013, Hatch stated publicly that he viewed same-sex marriage as "undermining the very basis of marital law," but declined to support a federal marriage amendment and endorsed same-sex couples' right to form a civil union, stating that the law should "give gay people the same rights as married people"
Between January 2012 and February 2014, plaintiffs in Michigan, Ohio, Kentucky and Tennessee filed federal district court cases that culminated in Obergefell v. Hodges.
After all district courts ruled for the plaintiffs, the rulings were appealed to the Sixth Circuit. In November 2014, following a series of appeals court rulings that year from the Fourth, Seventh, Ninth and 10th Circuits that state-level bans on same-sex marriage were unconstitutional, the Sixth Circuit ruled that it was bound by Baker v. Nelson and found such bans to be constitutional. This created a split between circuits and led to a Supreme Court review.
On June 26, 2015, Obergefell overturned Baker and required all states to issue marriage licenses to same-sex couples and to recognize same-sex marriages validly performed in other jurisdictions.
Also in 2013 he was one of only 10 Republican senators who voted in favor of the Employment Non-Discrimination Act, legislation that would have prohibited discrimination in hiring and employment on the basis of sexual orientation and gender identity for those identifying as gay, lesbian, bisexual or transgender. On Nov. 7, 2013, the bill passed the Senate with bipartisan support by a vote of 64–32. Obama supported the bill's passage, but the House Rules Committee voted against it.
It appeared to political observers and others that as time moved on, the senator was becoming more progressive in his viewpoints regarding LGBTQ people.
In July 2017, after then-President Trump announcement that he ordered a ban on military service for transgender Americans the senator said; "I don't think we should be discriminating against anyone, transgender people are people, and deserve the best we can do for them."
In June 2018, the year he retired from the Senate, Hatch gave a speech on the Senate floor expressing his support for the LGBTQ community and drawing attention to the high suicide rates among LGBTQ youth.
"No one should ever feel less because of their gender identity or sexual orientation," Hatch said. "LGBT youth deserve our unwavering love and support. They deserve our validation and the assurance that not only is there a place for them in this society, but that it is far better off because of them. These young people need us—and we desperately need them."
********************
Statement by President Joe Biden on the Passing of Former Senator Orrin Hatch
Jill and I and the entire Biden family are saddened to learn of the passing of Orrin Hatch, the longest-serving Senator in Utah's history, and the longest-serving Republican senator in our nation's history.

Orrin Hatch once shared in an interview that he had a soft side, and he had a tough side. To serve with Orrin, as I did for over three decades, was to see—and appreciate—both.

He was the fighter who carried with him the memory of his humble upbringing near Pittsburgh, who never humored a bully, or shied from a challenge. The young man who, upon receiving his degree from Brigham Young University, was the first in his family to graduate college; the young lawyer who built a successful law practice; and the senator who sprinted from meeting to meeting because there was so much to do—indeed, when Sen. Hatch retired, he had sponsored or co-sponsored more legislation than any senator at the time.

I saw that energetic, sharp-elbowed Orrin in the many battles we had over tax policy, the right of workers to join a union, and many others.

At the same time, Sen. Hatch was also a man of deep faith; a gentle soul who wrote songs and poems, and shared them with friends, colleagues and the world. This was the Orrin who looked out for the people who often didn't have a voice in our laws and our country. I saw this in his efforts to pass the Americans with Disabilities Act and the Children's Health Insurance Program.

When I first launched the Cancer Moonshot as vice president, one of the first visits I made was to the Huntsman Cancer Institute in Salt Lake City, at Orrin's request. We both saw speeding the pace of cancer research as an issue that transcended political divisions.

When I cast my 10,000th vote in the Senate, Orrin came to the Senate floor and we had a chance to speak. I said that the greatest perk one has as a senator was access to people with serious minds, a serious sense of purpose, and who cared about something. That was Orrin.

He was, quite simply, an American original.

Jill and I send our deepest sympathies to Elaine, and all of the Hatch children, grandchildren, and great-grandchildren.
Former senator Orrin Hatch passes away at 88:
Republican Pa. governor nominee opposes LGBTQ rights
Former President Trump backed state Sen. Doug Mastriano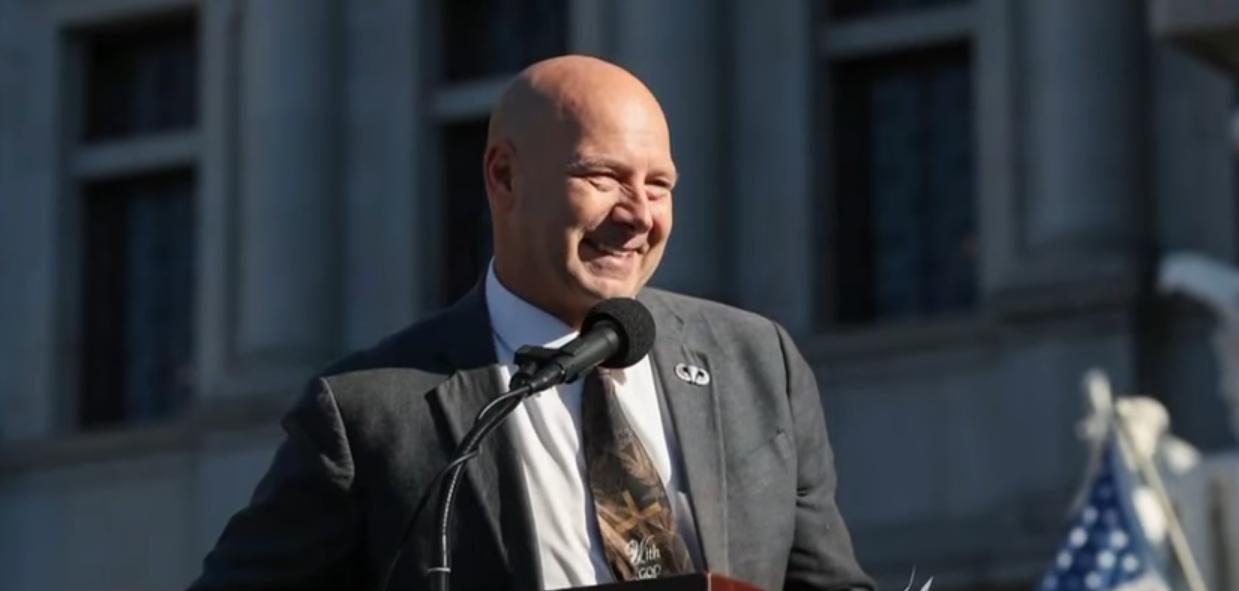 Republican leadership in the Keystone State are expressing quiet alarm over the emergence of radical-right state senator who secured his place as the party's nominee in the race against Democratic nominee for governor, Josh Shapiro, who is himself currently serving as the commonwealth's attorney general.
State Sen. Doug Mastriano, who represents Cumberland, Adams, Franklin and York Counties in the South Central Pennsylvania area bordering Maryland, was not seen as a truly viable candidate in the primary race to be the party standard-bearer until he was endorsed by former President Trump.
Pennsylvania's gubernatorial race has serious implications for the outcome of the 2024 presidential election cycle as well. The commonwealth is a strategic swing state and the occupant of the governor's chair in Harrisburg will lend considerable influence to a final vote count.
Mastriano is a polarizing figure within the state's Republican Party.
The retired U.S. Army colonel has campaigned at political events that included QAnon adherents, he espoused a political agenda that embraced Trump's Big Lie about the 2020 election, rejected measures taken to protect Pennsylvanians including masks in the coronavirus pandemic, holding an anti-vaccine "Medical Freedom Rally" rally on the state Capitol steps days after declaring his candidacy for the GOP governor's primary race, and also mixing in messaging of Christian nationalism.
He also supports expanding gun rights in Pennsylvania and in the state Senate sponsored a bill to ban abortion once a heartbeat is detected.
NBC News noted that Mastriano pledged in his election night address that on the first day of his administration he would crack down on "critical race theory," a catchall term Republicans have used to target school equity programs and new ways of teaching about race, transgender rights and any remaining COVID-19 vaccine requirements.
"CRT is over," Mastriano declared. "Only biological females can play on biological females' teams," he added, and "you can only use the bathroom that your biology and anatomy says."
His anti-LGBTQ views have long been part of his personal portfolio. The Washington Post reported that 21 years ago while attending the Air Force's Air Command and Staff College in 2001, then-Maj. Mastriano wrote his master's thesis on a hypothetical "left-wing 'Hitlerian putsch'" that was caused by "the depredations of the country's morally debauched civilian leaders." Among those "depredations," in his words, was the "insertion of homosexuality into the military."
As the Post reported, his paper shows "disgust for anyone who doesn't hold his view that homosexuality is a form of 'aberrant sexual conduct.'"
The paper is posted on an official Defense Department website and lists Mastriano as the author at a time when he said he received a master's degree from the school.
Two decades before he was Republican nominee for Pennsylvania governor, Doug Mastriano warned in a master's thesis that morally debauched political leaders weren't fit to oversee the U.S. military. https://t.co/NHOnijBng7

— The Washington Post (@washingtonpost) May 20, 2022
This is not the only instance of Mastriano professing anti-LGBTQ beliefs.
In 2018, he stated his belief that LGBTQ couples should not be allowed to adopt a child. During an interview with 103.7 FM, when asked "should LGBTQ couples, i.e. two moms or two dads, be allowed to adopt?" Mastriano answered, "No." [This takes place at the 16:00 mark.]
NBC News interviewed David La Torre, a Republican and former adviser to fellow gubernatorial candidate Jake Corman.
"As far as what a Pennsylvania government would look like with Mastriano in charge, quite frankly, it's just not something I'm ready to think about at this point," La Torre said, adding that while there are many unknowns, the dynamic between Mastriano and the state General Assembly, currently controlled by Republicans, would be one to watch.
"All I know is this — he will govern as governor like he campaigned," he said. "He would govern with a sledgehammer and expect Republicans to fall in line. And it would be one of the more fascinating tugs of war we've seen in Harrisburg."
Dave Ball, chairman of the Washington County GOP, told NBC News that Mastriano's victory was "a shame" for the party, the product of "a phenomenon that I truly don't understand." But any misgivings won't stop Ball from working toward the ultimate goal: taking back the governor's mansion, saying it's a must-win race. (The two-term incumbent, Tom Wolf, a Democrat, is term-limited.)
As if telegraphing the battles to come should he take the governor's chair, Politico reported: "Our biggest problem," said Mastriano on Steve Bannon's "War Room: Pandemic" podcast on Tuesday, "is going to be these feckless RINO-type Republicans here that will not allow us to have a fighter as governor. But we're going to beat them and they're going to lose power, and they're going to be put to shame."
Mastriano lists agenda as governor during Pa. GOP nominee victory speech:
History making win- Out Lesbian could be Oregon's next governor
"This will be a three-way race for the highest office in our state, and this will be an election unlike anything any of us have ever seen"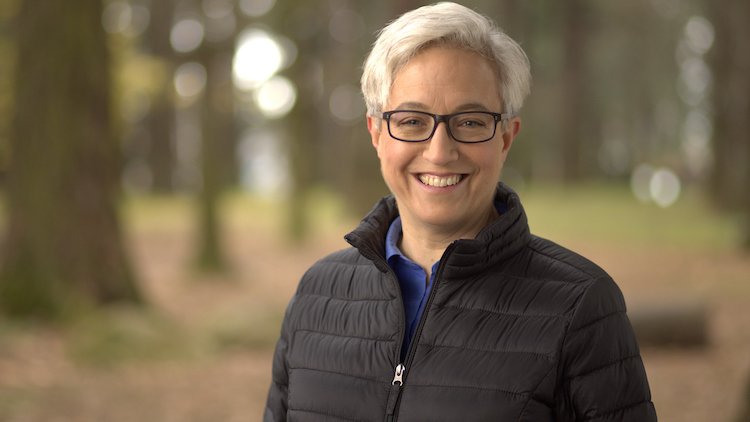 The Democratic gubernatorial primary Tuesday win by Oregon Speaker of the House Tina Kotek, who had announced her run for the governor's seat to replace incumbent Democratic Governor Kate Brown, who is term limited last September 1st, 2021, positions her to become the first Out Lesbian governor in the nation should she win the general election in November.
Kotek's win comes during an uptick in the elections nationwide as more candidates running for office identify as LGBTQ". More than 600 LGBTQ candidates are on ballots this year, according to the LGBTQ Victory Fund.
According to the Victory Fund, at least 101 people ran or are running for the U.S. Senate or U.S. House – with 96 still actively running as of February 21, 2022. That marks a 16.1 percent increase in LGBTQ Congressional candidates compared to the 2020 election cycle, when 87 people ran.
Speaking to her supporters after it became clear she had won over Oregon Treasurer Tobias Read, who was polling second among Oregonian progressives, "This will be a three-way race for the highest office in our state, and this will be an election unlike anything any of us have ever seen," Kotek said.
Republican state legislator Christine Drazan along with an independent candidate, Betsy Johnson are slated to be on the November ballot.
Last Fall when she announced her candidacy, she said, "I am running for Governor because I know that, together, we can reckon with the legacies of injustice and inequality to build a great future for Oregon." She also noted, "Oregonians are living through a devastating pandemic, the intensifying impacts of climate change, and the economic disruptions that leave too many behind. We must get past the politics of division and focus on making real, meaningful progress for families across our state."
"A victory for Tina would shatter a lavender ceiling and be a milestone moment in LGBTQ political history, yet she is running not to make history, but because there are few people as prepared and qualified to serve as Oregon's governor," said Mayor Annise Parker, President & CEO of LGBTQ Victory Fund. "Under Tina's leadership, Oregon has led in passing legislation to improve roads and education, raise the minimum wage and ensure all residents are treated fairly and equally. As governor, Tina will make Oregon a role model for the nation."
Karine Jean-Pierre on her firsts: 'I am a Black, gay, immigrant woman'
High praise for first out WH press secretary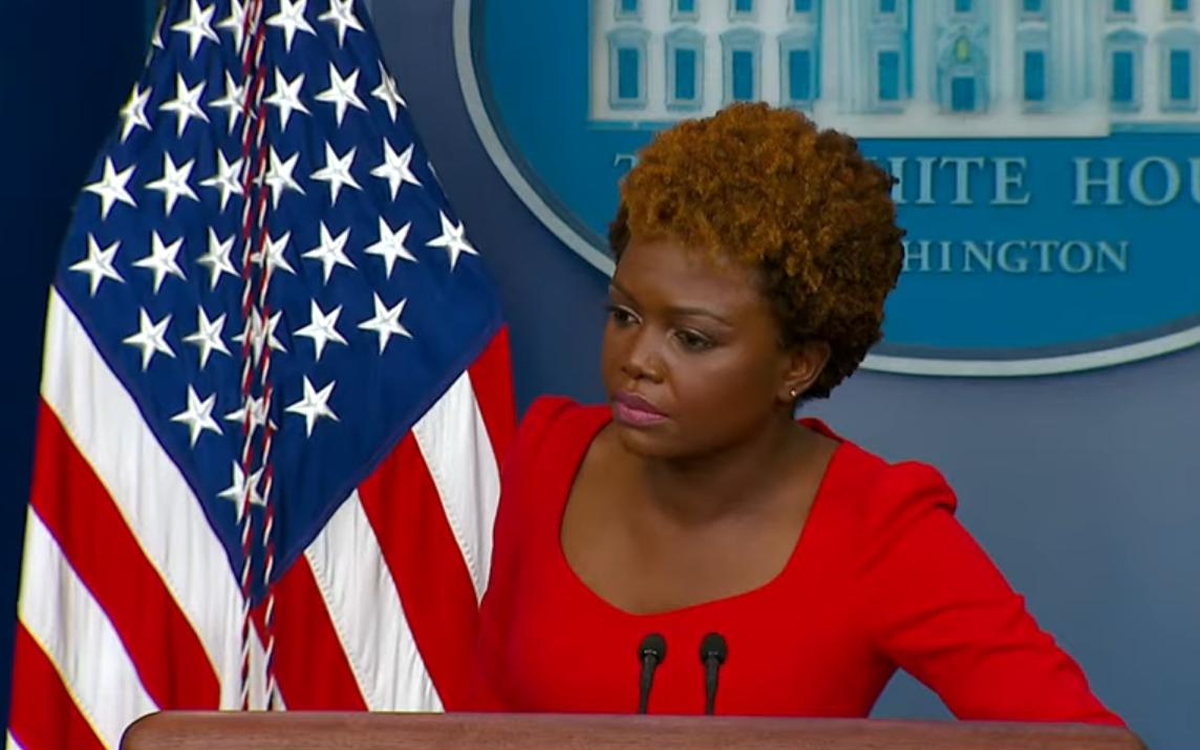 Karine Jean-Pierre is no stranger to progressive politics.
She takes on the role of White House press secretary as part of a long career working on building political coalitions and as a spokesperson for advocates before coming to the Biden administration, which has won her close allies and admirers who continue to cheer her on. Jean-Pierre's new position as top spokesperson for President Biden — and the first Black, first openly gay person to become White House press secretary — is the latest endeavor she pursues in that broader mission.
Rahna Epting, executive director of MoveOn.org, knew Jean-Pierre from when she worked at the progressive organization and she quickly became a rising star "because she's so incredibly skilled at communicating in a way that real people understand."
"She was incredibly relatable to people that were watching her at home on TV," Epting said. "And she could speak to you know, she she did that role during the Trump era for MoveOn and she really spoke to the hearts and minds of what people were feeling and thinking during that time."
It was during Jean-Pierre's time with MoveOn when she was serving as a moderator for a panel with Kamala Harris and famously rose to block an animal-rights activist who was physically threatening the candidate.
When protests emerged during the Trump era over policies such as his travel ban on Muslim countries, efforts to repeal the Affordable Care Act, and the two impeachment votes seeking to remove Trump from office, Epting said Jean-Pierre was key in MoveOn.org being at the front lines of those efforts.
"Karine was on TV and she was representing the movement in ways that sparked or electrified the energy that was actually being felt out there," Epting said.
Jean-Pierre, 45, has a distinctive story of rising to become White House press secretary as an immigrant from a Haitian family whose parents brought her to the United States, where she was raised in Queens, N.Y., from the age of five. Jean-Pierre cared for her younger siblings growing up as her mother worked as a home health aide and her father worked as a taxi driver.
Despite these humble beginnings, Jean-Pierre nonetheless reached astonishing heights. After receiving her master's degree from the School of International & Public Affairs at Columbia University, Jean-Pierre went on to work for President Obama, serving as regional political director for the White House Office of Political Affairs during the Obama administration's first term, before returning to the White House after Biden was elected president.
Michael Strautmanis, now executive vice president for public engagement at the Obama Foundation, worked with Jean-Pierre in the 2008 presidential campaign and at the White House under Obama and said the first thing that came across to him was how she "always had it covered."
"She never came and asked me for advice on something where she didn't already have one or two or three possible solutions to the challenge that she always had," Strautmanis said. "She was always very, very well prepared, so she just sort of stood out to me."
Jean-PIerre brings all this background to the role of White House press secretary in addition to achieving many firsts in the appointment as a Black woman, an LGBTQ person and an immigrant. Her partner is Suzanne Malveaux, a CNN reporter and former White House correspondent.
In her maiden briefing on Monday as White House press secretary, Jean-Pierre said the opportunity granted to her in her new role was not just an achievement, but the culmination of work from many who came before her.
"I am obviously acutely aware that my presence at this podium represents a few firsts," Jean-Pierre said,. "I am a Black, gay, immigrant woman, the first of all three of those to hold this position. I would not be here today if it were not for generations of barriers — barrier-breaking people before me. I stand on their shoulders. If it were not for generations of barrier-breaking people before me, I would not be here."
Asked by April Ryan of The Grio, a Black news outlet, about the many firsts she achieved by taking on the role as White House press secretary, Jean-Pierre recognized the signal that sends and brought up an article from a newspaper that went to her elementary school in Hampstead, N.Y.
"And these kids wrote me a letter," Jean-Pierre said. "And in the letter, they talked about how they can dream bigger because of me standing behind this podium. And that matters. You know, as I started out at the beginning: Representation matters. And not just for girls, but also for boys."
A White House spokesperson said Jean-Pierre was unable to make the Washington Blade's deadline in response to an interview request for this article. Among the questions the Blade planned to ask was whether or not she feels a special obligation to represent and speak for the communities in her role as White House press secretary.
It wasn't a straight line for Jean-Pierre to get to the position as White House press secretary. Although she worked for Harris in the Biden campaign, she came to the White House as deputy White House press secretary under Jen Psakl, who was responsible for Biden. (At the start of the Biden administration, Politico reported that Jean-Pierre's relationship with the vice president became strained and Jean-Pierre was effectively estranged in the final five months of the campaign.)
But Jean-Pierre quickly won high praise in her role as a Biden spokesperson. In May 2021, when she gave her first on-camera briefing as a substitute for Psaki, Jean-Pierre was considered effectively to have knocked the ball out of the park and reportedly won a round of applause from her colleagues upon retuning to the press office.
Ester Fuchs, who was an instructor for Jean-Pierre when she was at Columbia University's School of International & Public Affairs and later her colleague when she returned as a lecturer, said key to understanding Jean-Pierre's success in communications is her balance of optimism and realism.
"She showed really a deep understanding of American politics, and particularly divisions in American politics," Fuchs said. "But she was very much committed to the idea that the American Dream was still real for people like her, but with a kind of realpolitik understanding of what were the roadblocks, and always very committed to equity and fairness and making sure that people who were new immigrants or from high -needs population had a chance to be heard."
The high praise Jean-Pierre receives from her former colleagues and friends undermines the argument in conservative media she was selected for the role of White House press secretary only because she checks off numerous boxes in the base of the Democratic Party's coalition. Tucker Carlson of Fox News, for example, aired a segment last week deriding the appointment as the latest example of identity politics. Carlson mocked supporters for saying being LGBTQ is "the only thing you need to know" about Jean-Pierre, essentially ignoring the commitment and achievement she has made in getting there.
But there's also a boon of having a good personality. Jean-Pierre's smile as a means of being effective in disarming and comforting people was one of her features that came up two times independently among the people close to her the Blade consulted for this article.
Strautmanis said he'll be watching to see whether or not Jean-Pierre's humor comes out in her new role in White House press secretary as well as her capability to make people around her implicitly trust her, but ultimately predicted she would "kick ass."
"She just engenders a tremendous confidence," Strautmanis said. "And so, I think that's the other thing that people are going to see, which is that as she speaks, you're just gonna have a sense that, 'You know, I trust what this person is saying,' and I think that's a really hard thing to do in that in the work that she's done before in that job. But I think that's why she transitioned from being a political staffer into communications, because she has that ability in communications to be up front, be direct, be honest, and yet still kind of push forward a particular agenda. I think that's a rare combination."