2022 DC Brau Pride Pils can is 'Proud to Say GAY!'
DC Brau Reveals Winning Design of its 5th Annual Pride Pils Can and Announces The Upcoming Pride Pils Dance Party & Launch, Co-Hosted by DACHA Beer Garden and Electric Rainbow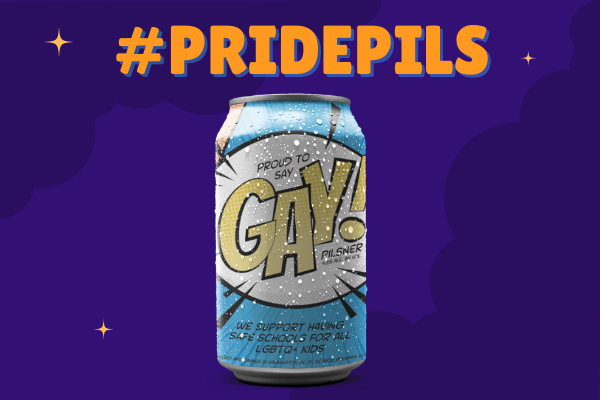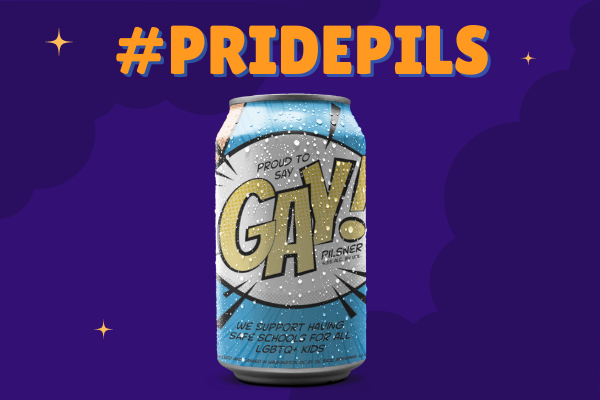 DC Brau, D.C.'s original craft brewery, reveals the winning design of its 5th annual Pride Pils can and announces the celebratory Pride Pils Dance Party & Launch event. In support of The Blade Foundation and SMYAL, DC Brau partnered with local artist Chord Bezerra of District Co-Op to design this year's can, with locals voting for their favorite art on The Washington Blade.
DC Brau will showcase the winning Pride Pils design, kicking off DC Pride with a celebration at DACHA Beer Garden in Navy Yard on Thursday, June 2nd, from 6pm – 11pm. In partnership with Dacha and beloved local LGBTQIA+ dance party, Electric Rainbow, guests will enjoy DC Brau beer, featuring the newly minted 2022 Pride Pils can and bites available for purchase from Dacha. Artist and DJ, Chord Bezerra, will close out the evening with a live DJ set and dance party kicking off at 8pm.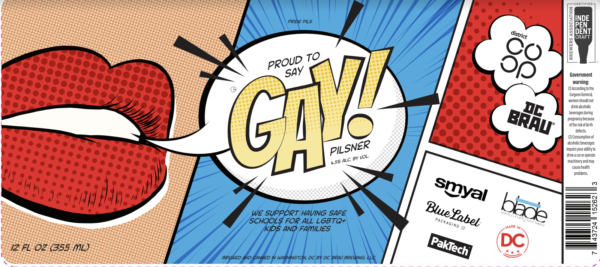 The winning art, designed by Chord Bezerra, was created in direct response to Florida's "Don't Say Gay" bill, which limits what classrooms can teach about sexual orientation and gender identity, which disenfranchises vulnerable youth. This design seeks to counter the bill's harmful message and celebrate Pride across the LGBTQIA+ community. In addition to the design being featured on DC Brau's 2022 Pride Pils can, supporters can purchase Proud to Say GAY! merchandise, including T-shirts, sweatshirts, stickers, and more from District Co-Op. Proceeds from each purchase will benefit The Blade Foundation and SMYAL.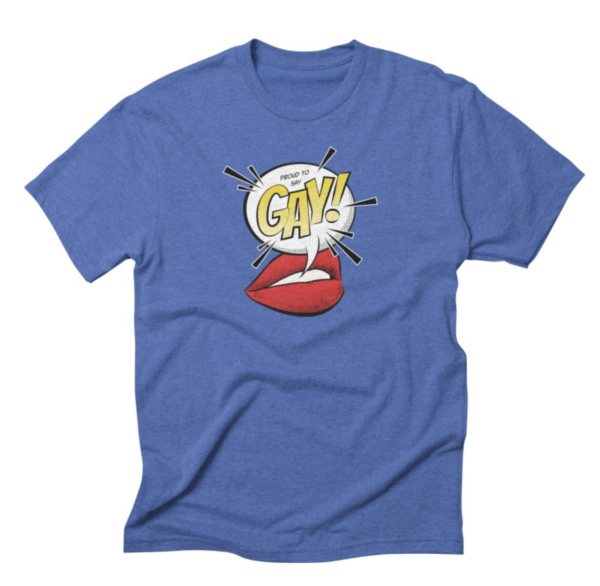 Since launching Pride Pils in 2017, DC Brau has donated more than $42,083 to The Blade Foundation and SMYAL, selling more than 81,576 Pride Pils cans. This year, the can labels have been generously donated by Blue Label Packaging Co. along with PakTech's donation of packaging handles.
Guests are encouraged to RSVP in advance via Eventbrite. General admission tickets are free, with VIP tickets available for a donation of $20, which includes a complimentary can of Pride Pils and access to the VIP area near the DJ booth. All donations and event proceeds will go directly to The Blade Foundation and SMYAL.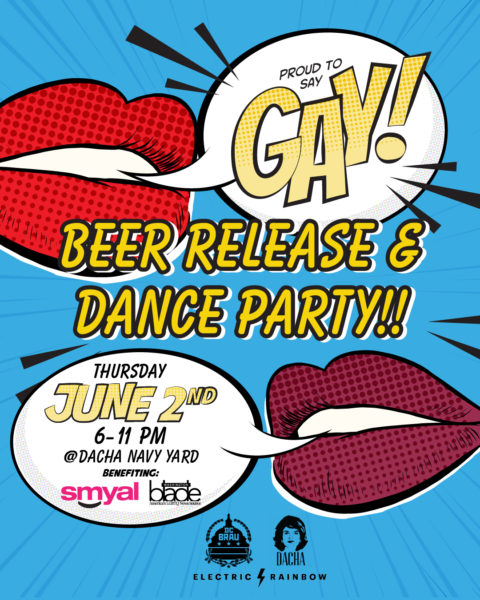 About DC Brau:
DC Brau Brewing Company is DC's original craft brewery, brewing award-winning beer utilizing a delicious and uniquely American blend of North American and European techniques and ingredients. Founded in 2011, DC Brau is distributed throughout the greater National Capital Region, Maryland, Delaware, Pennsylvania, and internationally in the UK. Co-Founders Brandon Skall, Jeff Hancock and Mari Rodela have become pillars in the DC beer community by creating DC's first craft brewery with creative, expertly brewed beers and hard seltzers. For more information on DC Brau, visit www.dcbrau.com, and follow on social media @dcbrau.
About The Washington Blade: The Washington Blade was founded in 1969 and is known as the "newspaper of record" for the LGBTQ community both locally and nationally. For more information, visit washingtonblade.com and follow on Facebook (@WashingtonBlade) & Twitter/Instagram (@WashBlade).
About District CoOp: District CoOp is a collection of artists celebrating design, diversity and the culture of D.C. We're all about supporting and empowering local artists and creating a brand for the people by the people. All designs are available in both men's and women's and as a tank or crew. Follow us on Instagram (@District_CoOp) or Facebook (@DistrictCoOp).
About SMYAL:
SMYAL (Supporting and Mentoring Youth Advocates and Leaders) supports and empowers lesbian, gay, bisexual, transgender, and questioning (LGBTQ) youth in the Washington, DC, metropolitan region. Through youth leadership, SMYAL creates opportunities for LGBTQ youth to build self-confidence, develop critical life skills, and engage their peers and community through service and advocacy. Committed to social change, SMYAL builds, sustains, and advocates for programs, policies, and services that LGBTQ youth need as they grow into adulthood. To learn more, visit SMYAL.org
10 LGBTQ events this week
It is Black LGBTQ Pride and Memorial Day Weekend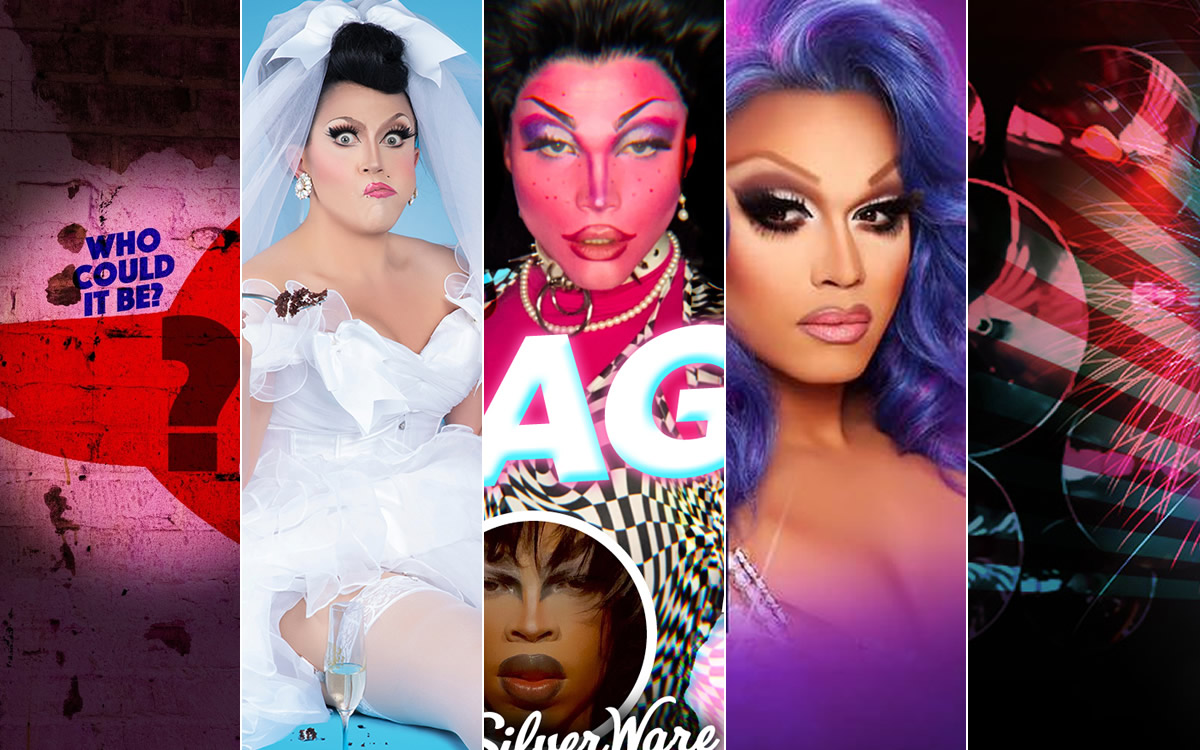 Below are our picks for some of the most fun and creative things to do this week in D.C. that are of special interest to the LGBTQ community.
BenDeLaCreme "Ready to be Committed"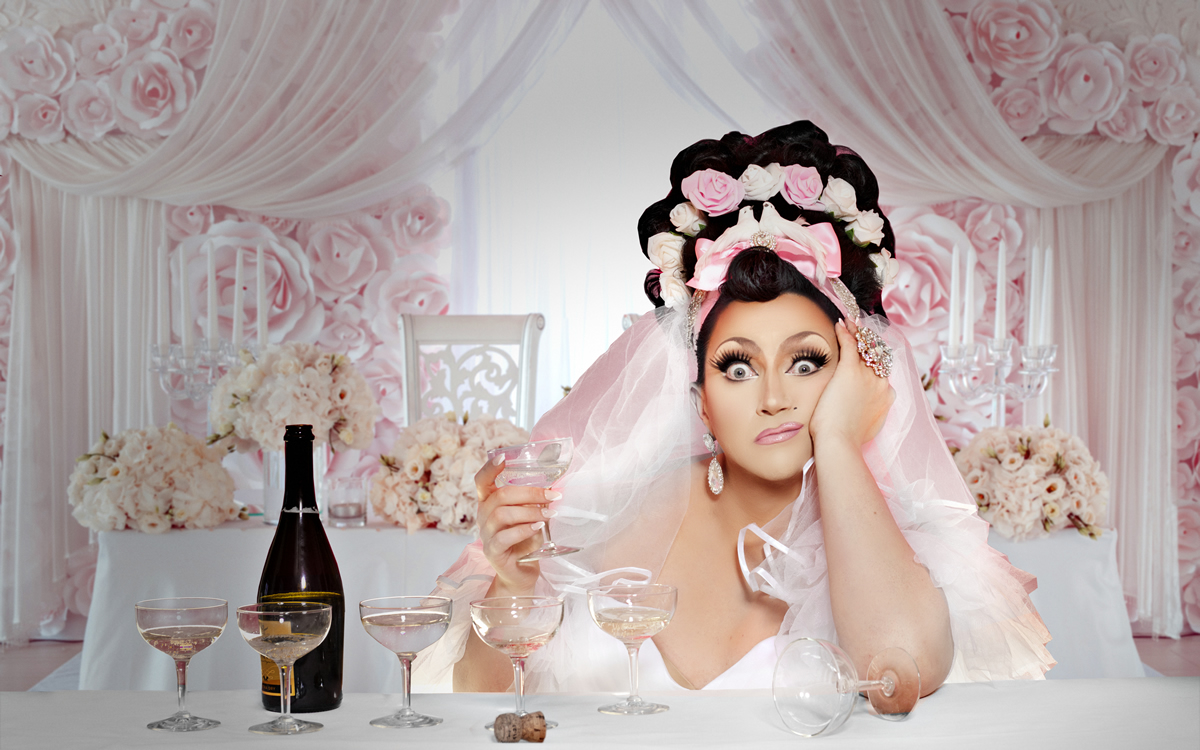 Monday, May 23
7 p.m.
9:30 Club
815 V Street, N.W.
$45
Facebook | Website | Ticketmaster
"RuPaul's Drag Race" alumni BenDeLaCreme performs "Ready to be Committed" at the 9:30 Club Monday. Doors open at 7 p.m. Seating is first come, first serve.
Mystery Reveal Party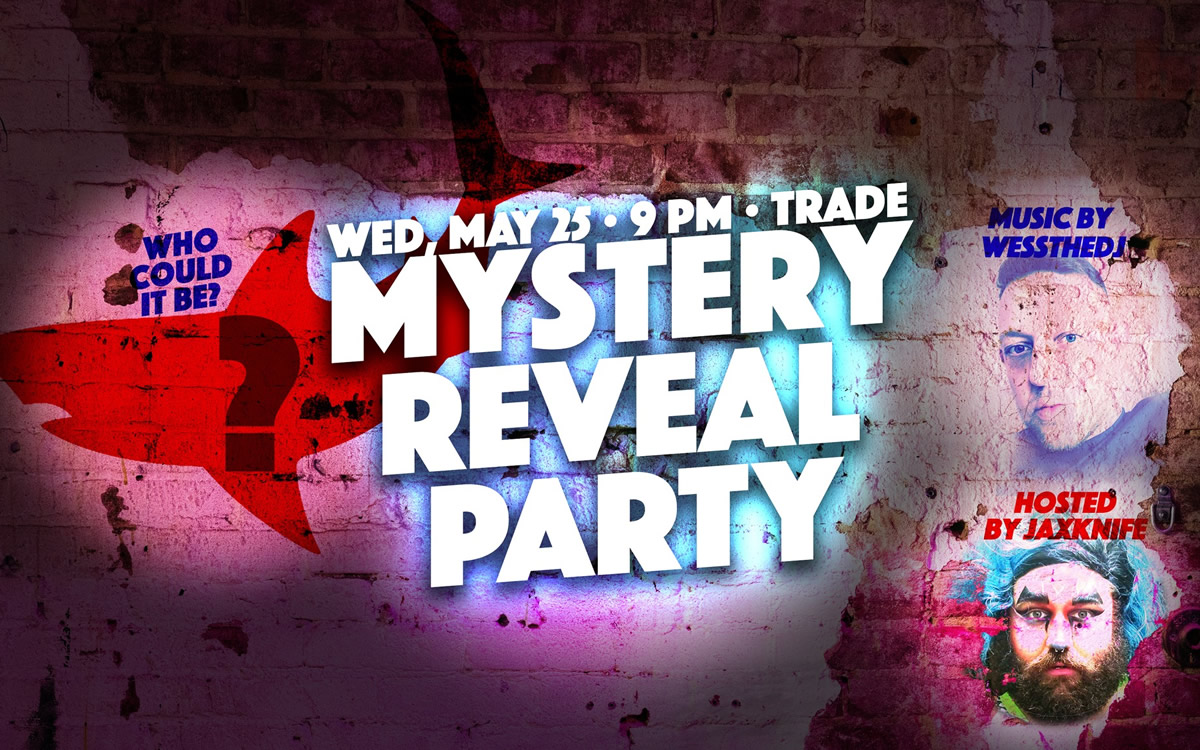 Wednesday, May 25
9 p.m.
Trade
1410 14th Street, N.W.
Facebook
Meet the mystery guest at a mystery reveal party hosted by Jaxknife on Wednesday. Mystery drink specials include $3 shots and $7 beer/shot combos.
Black, Gay and Thriving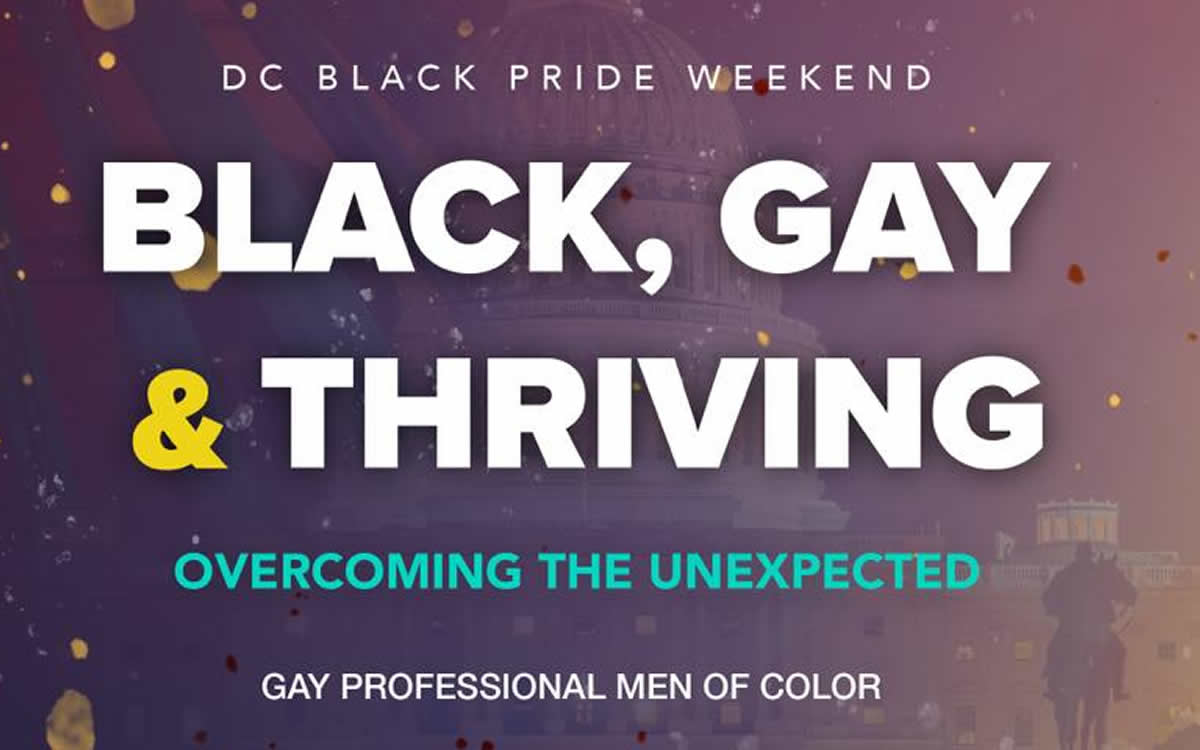 Thursday, May 26
5:30 p.m.
ANC 5D Community Meeting Room
371 Morse Street, N.E.
Facebook | Eventbrite
Gay Professional Men of Color (GPMC) holds a networking event on Thursday at the beginning of Black Pride Weekend in D.C.
LGBTQ+ Evening Out in Del Ray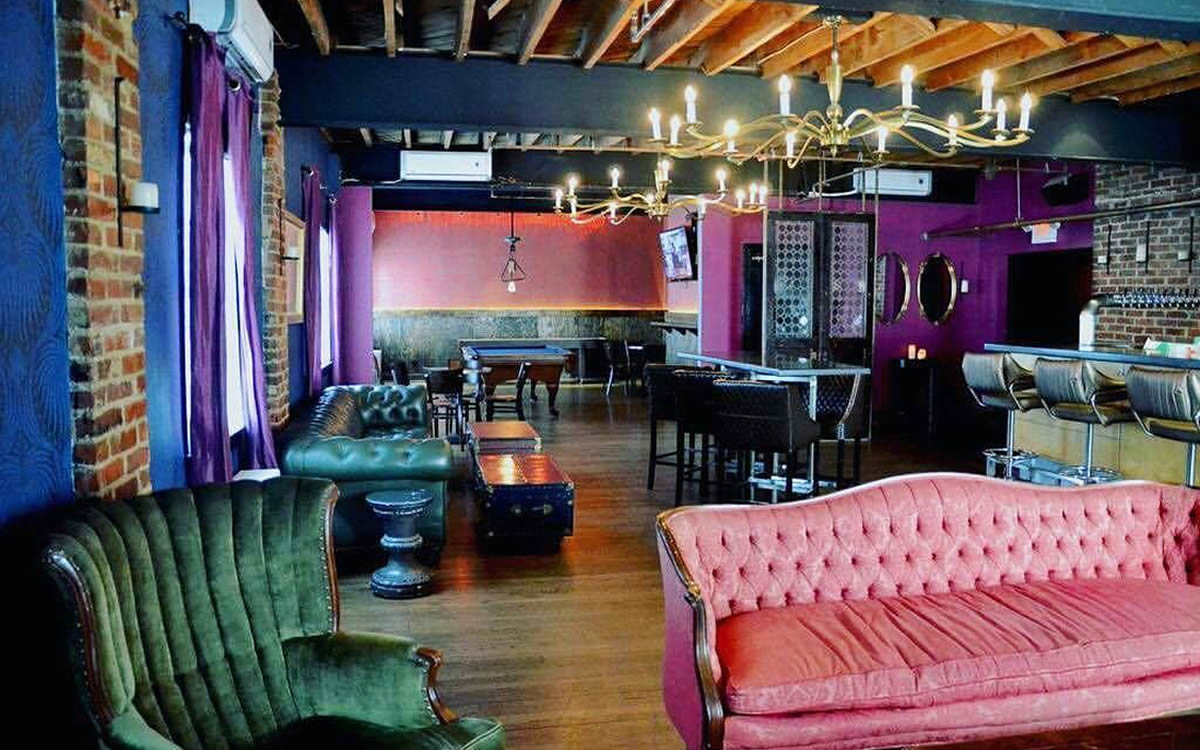 Thursday, May 26
7-10 p.m.
Bar No. 9 Lounge at the Evening Star
2000 Mt Vernon Avenue
Alexandria, Va.
Facebook | Eventbrite
Join a free gathering and make some new friends at the Bar No. 9 Lounge (upstairs) in the Del Ray neighborhood of Alexandria, Va. on Thursday.
Trans Agenda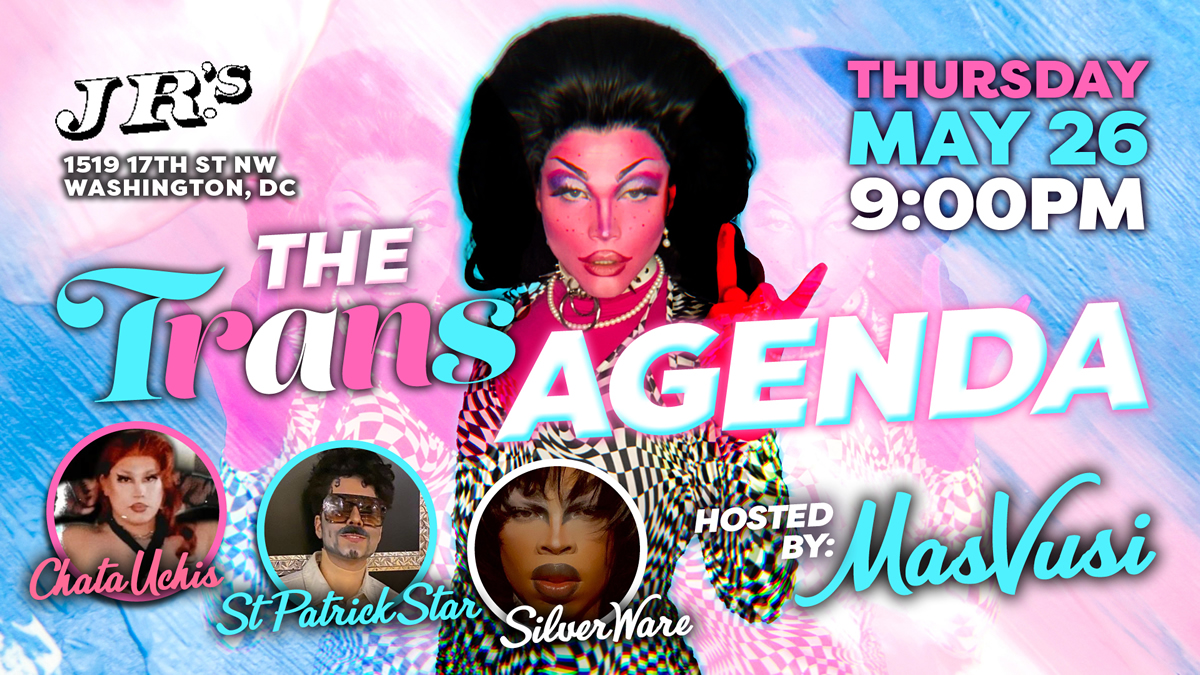 Thursday, May 26
9 p.m.
JR.'s
1519 17th Street, N.W.
Facebook
A show featuring all trans performers at JR.'s includes host MasVusi, Silver Ware, Chata Uchis and St. Patrick Star.
RuPaul's Drag Race British Invasion Tour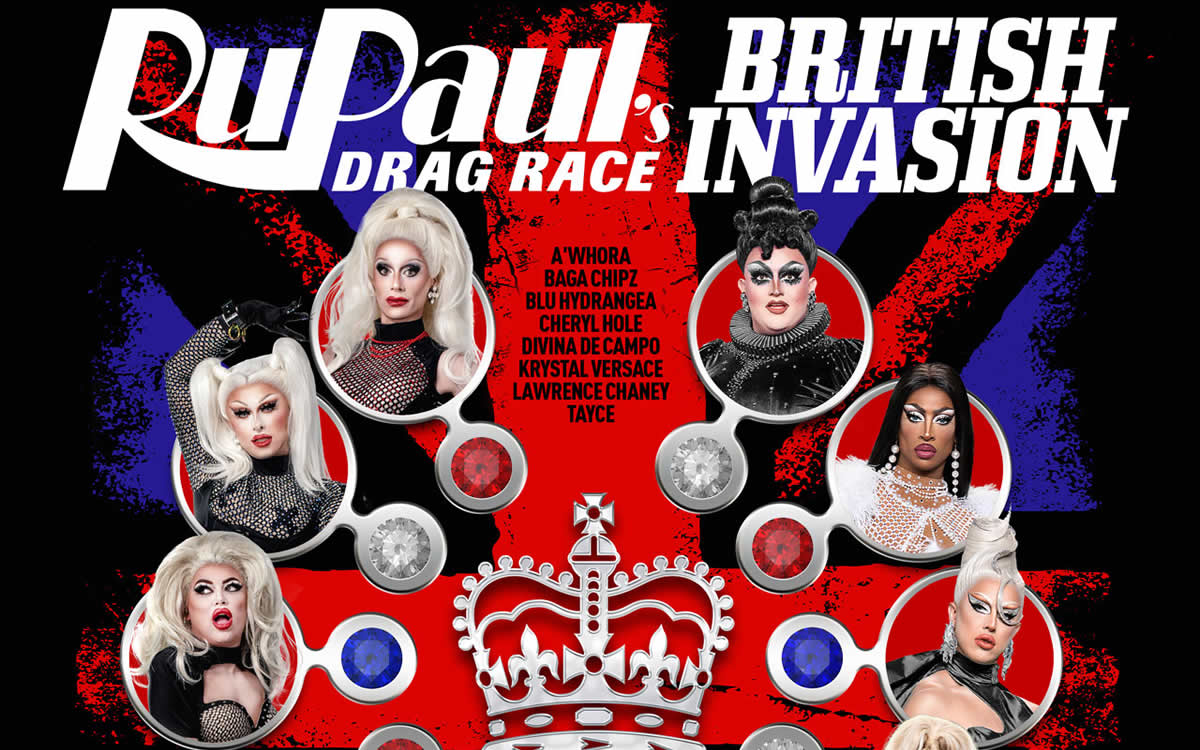 Friday, May 27
8 p.m.
Warner Theatre
513 13th Street, N.W.
$45-$153
Facebook | Live Nation
See the queens of RuPaul's Drag Race U.K. as the British Invasion Tour makes its Washington, D.C. stop at the Warner Theatre on Friday.
GLOW/CRAZY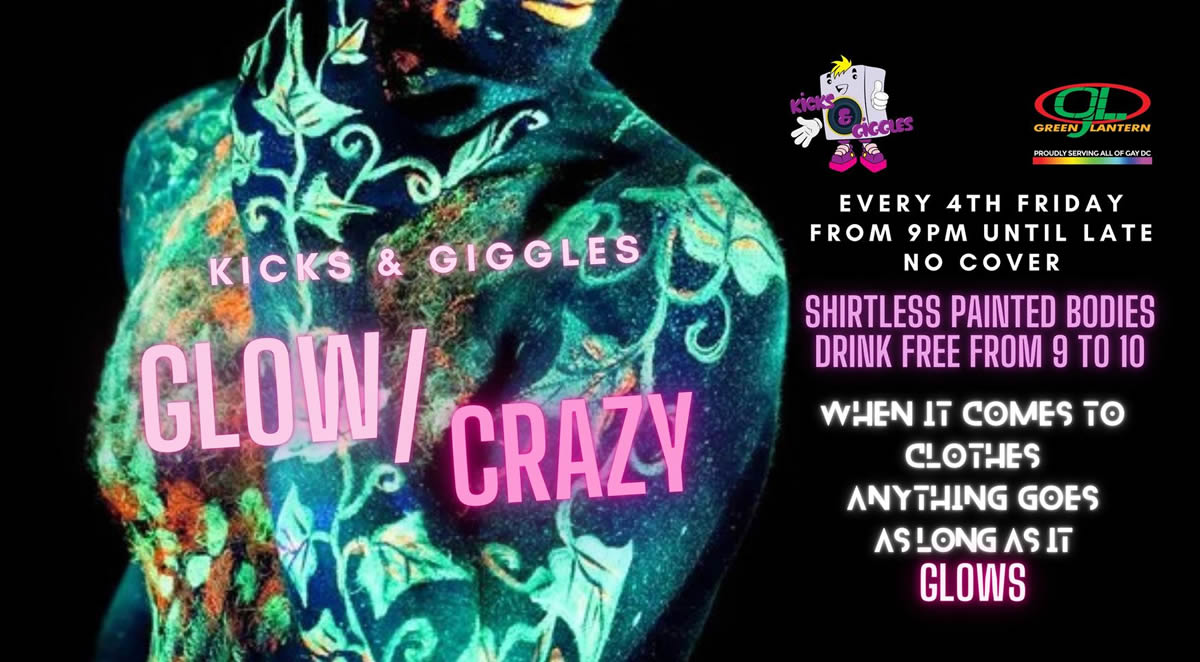 Friday, May 27
9 p.m.
Green Lantern
1335 Green Court, N.W.
no cover
Facebook
Enjoy a Kicks & Giggles dance party at the Green Lantern complete with DJs and glow paint. From 9 to 10 p.m., if you're wearing body paint on your chest or back, you drink for free!
Anything But Clothes Party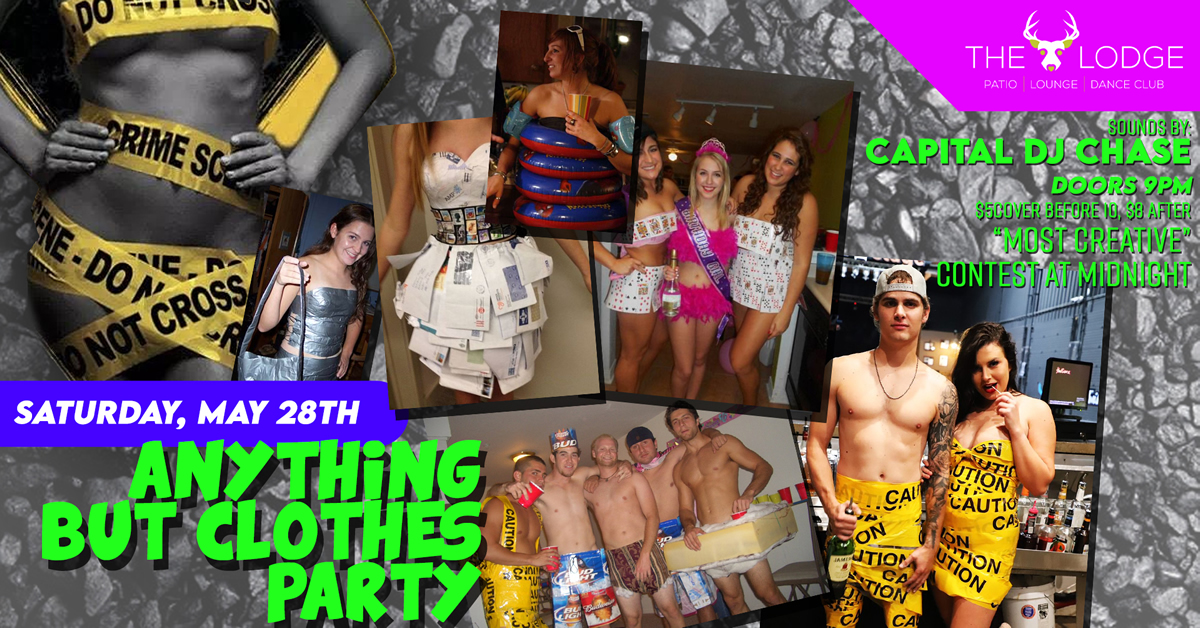 Saturday, May 28
9 p.m.
The Lodge
21614 National Pike
Boonsboro, Md.
$5 cover before 10 p.m. / $8 cover after 10 p.m.
Facebook
Join Capital DJ Chase for the "Anything But Clothes Party" at The Lodge on Saturday. There will be a most creative outfit (not clothes) contest at midnight.
Black Pride Brunch & Babes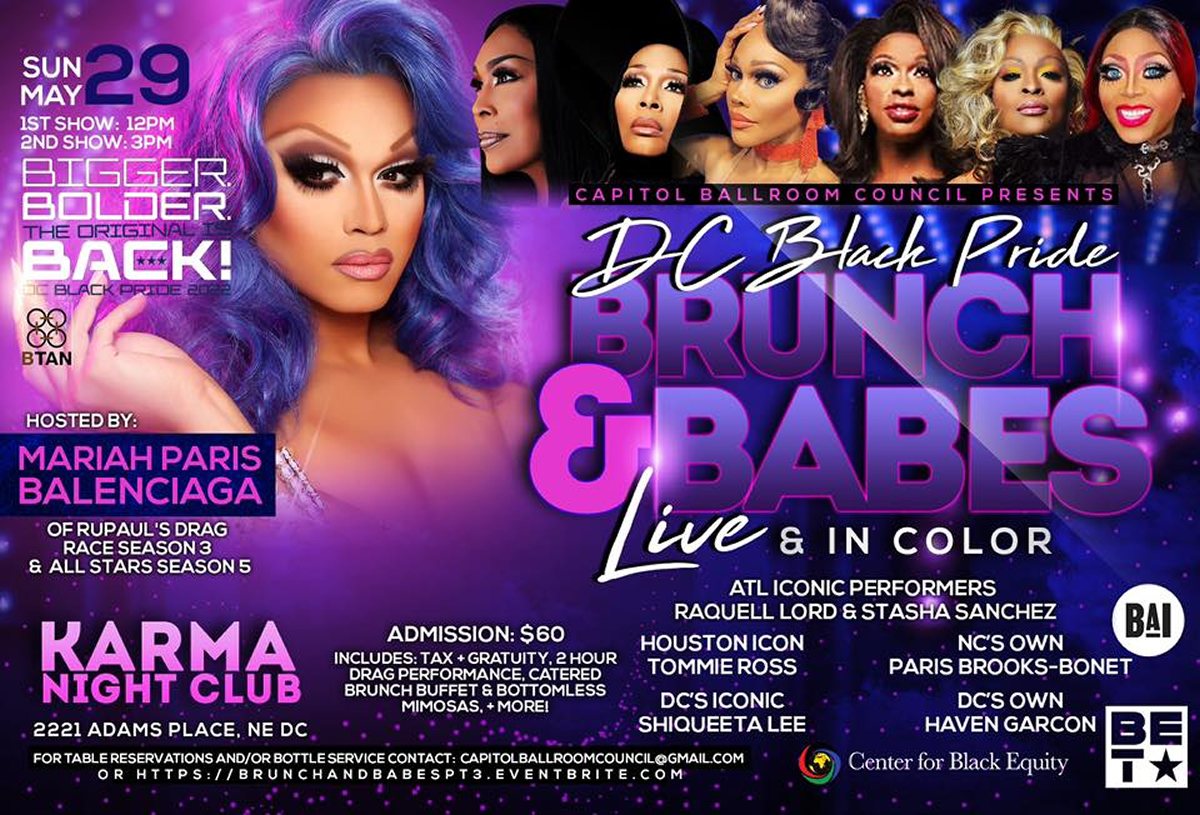 Sunday, May 29
11:30 a.m.-6 p.m.
Karma Night Club
2221 Adams Place, N.E.
$60
Facebook
Celebrate Black Pride with the Capitol Ballroom Council at a ballroom performance with a catered brunch buffet and bottomless memosas- Sunday, May 29, 11:30 a.m.-6 p.m. Black Pride Brunch & Babes at Karma Night Club.
Flashy Memorial Day Weekend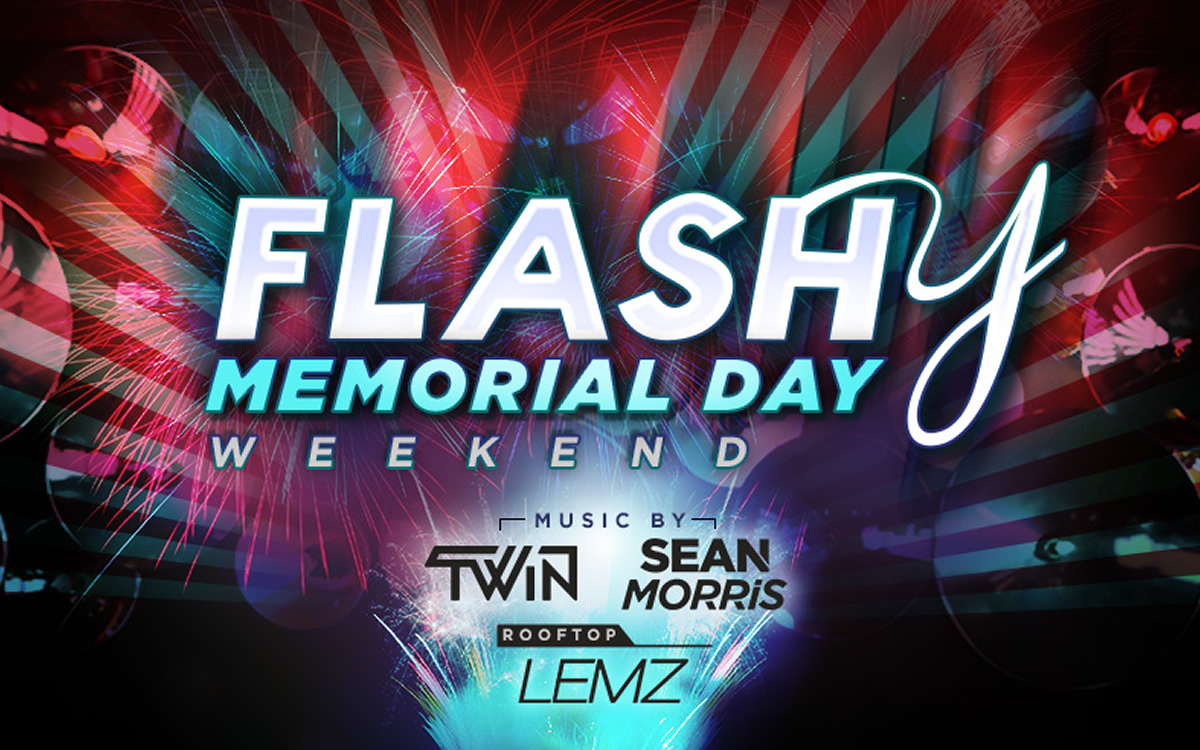 Sunday, May 29
10 p.m.-5 a.m.
Flash
645 Florida Avenue, N.W.
$30 advance / $40 door
Facebook | Eventbrite
Celebrate Memorial Day Weekend Sunday night into the wee hours of the morning at Flash. Music by DJ Twin, DJ Sean Morris and DJ Lemz.
If you would like to let us know about an upcoming event, email [email protected] with details.
PHOTOS: Summer Kickoff Party
Washington Blade holds annual event at The Pines in Rehoboth Beach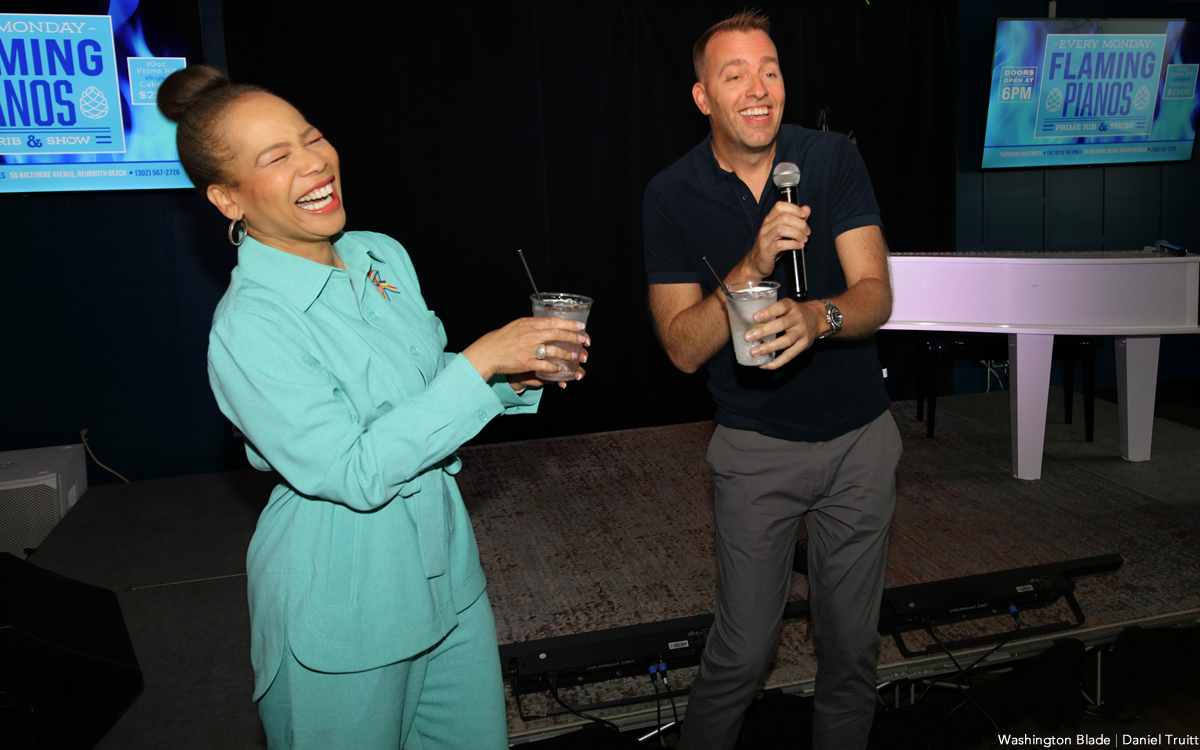 The Washington Blade held its 15th annual Summer Kickoff Party at The Pines in Rehoboth Beach, Del. on Friday, May 20 with special guest Congresswoman Lisa Blunt Rochester (D-Del.).
(Washington Blade photos by Daniel Truitt)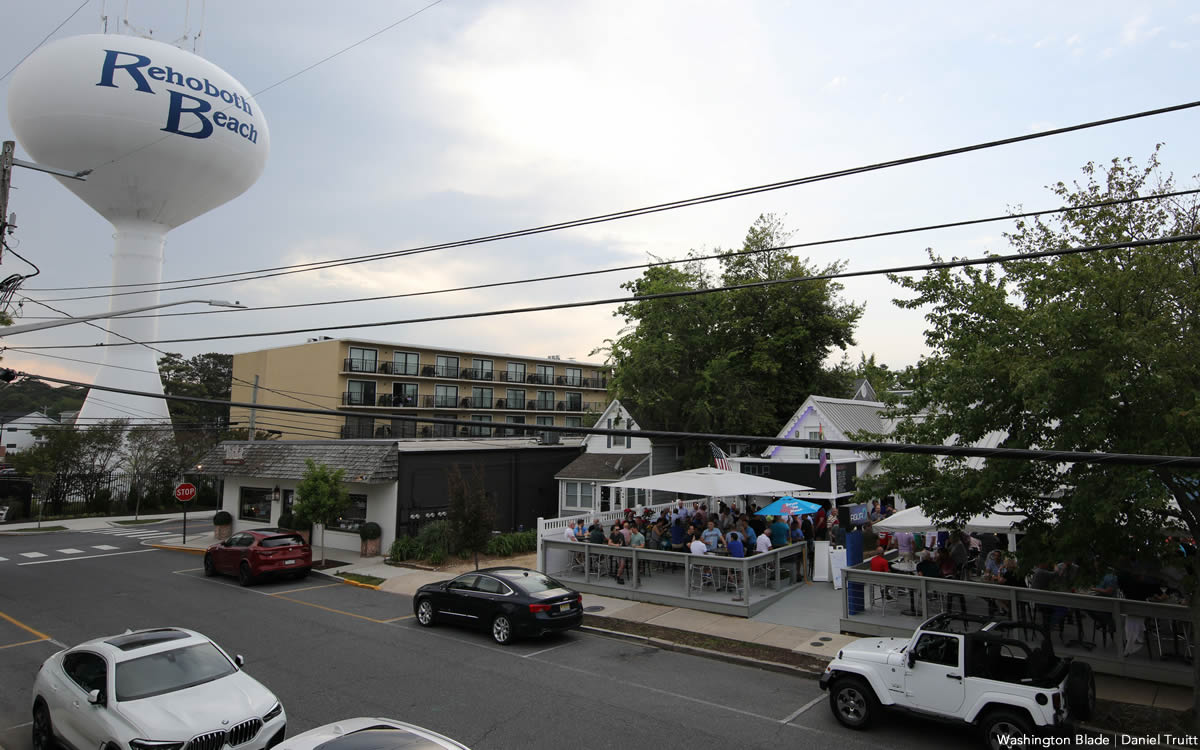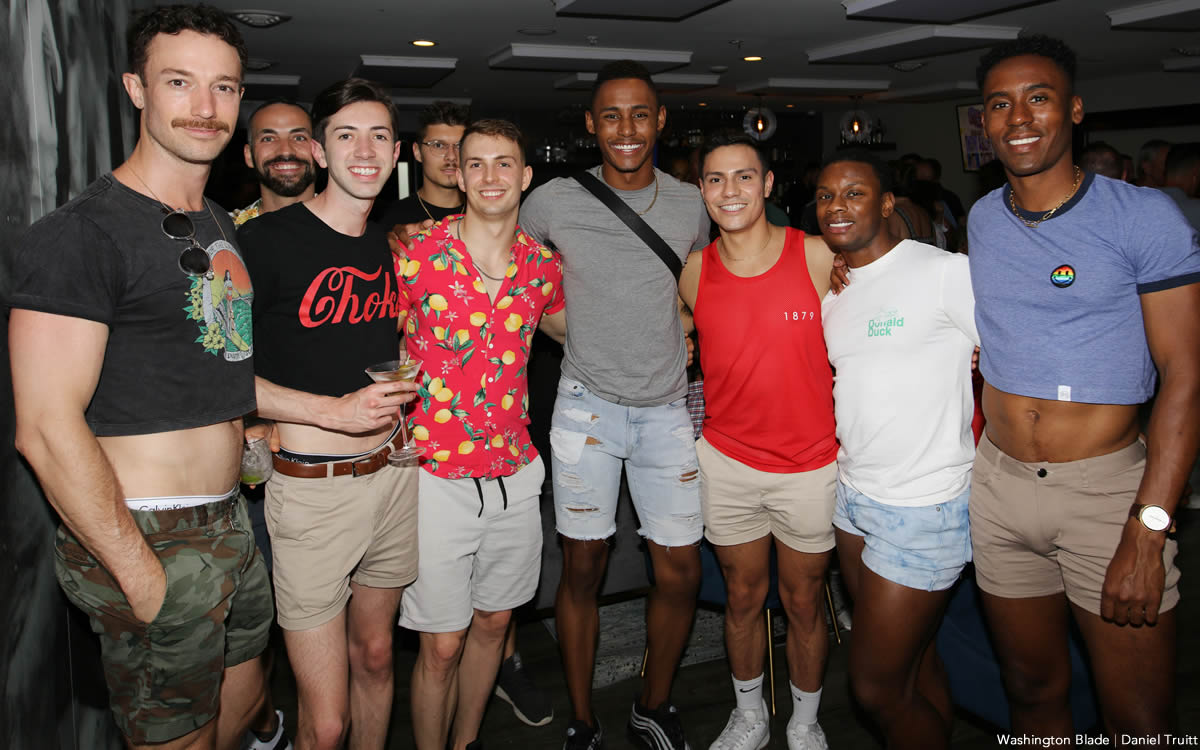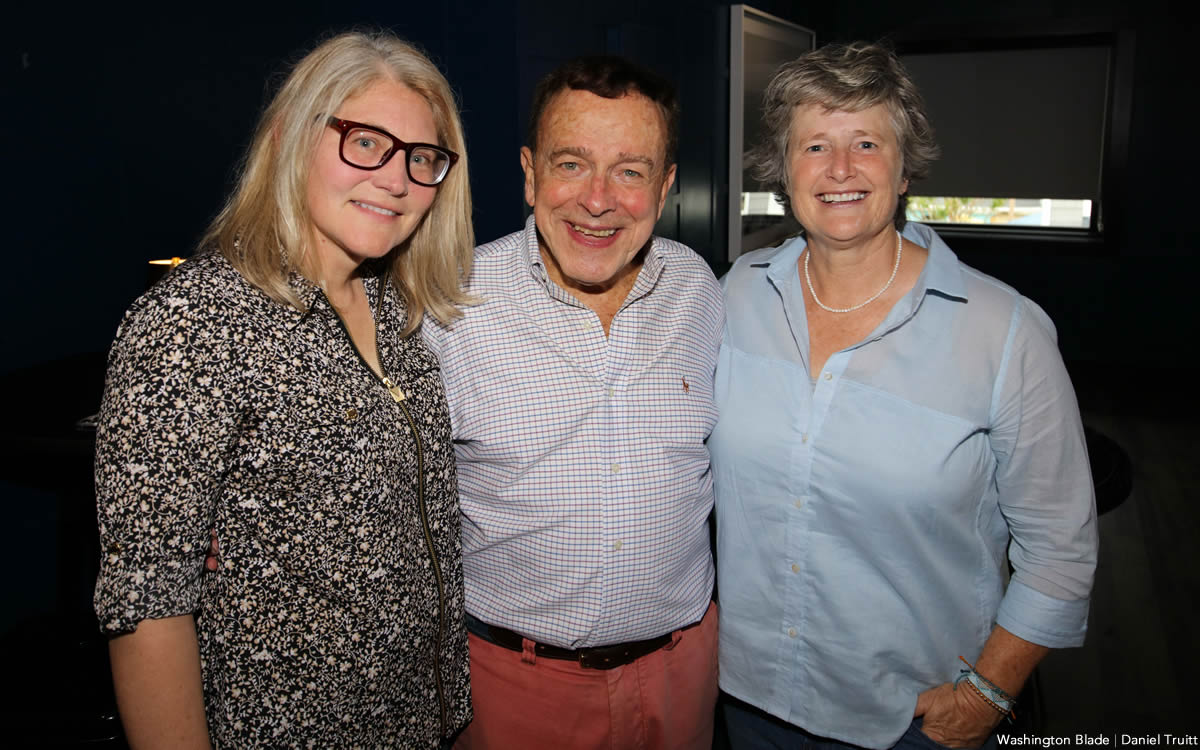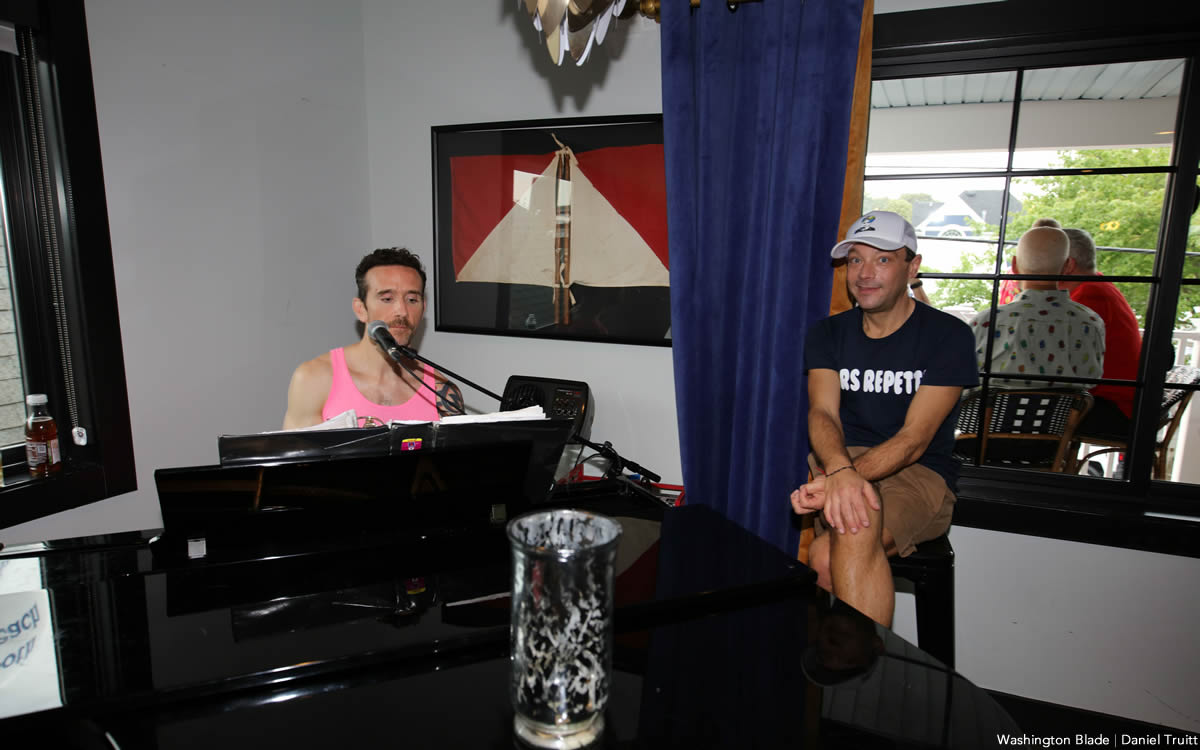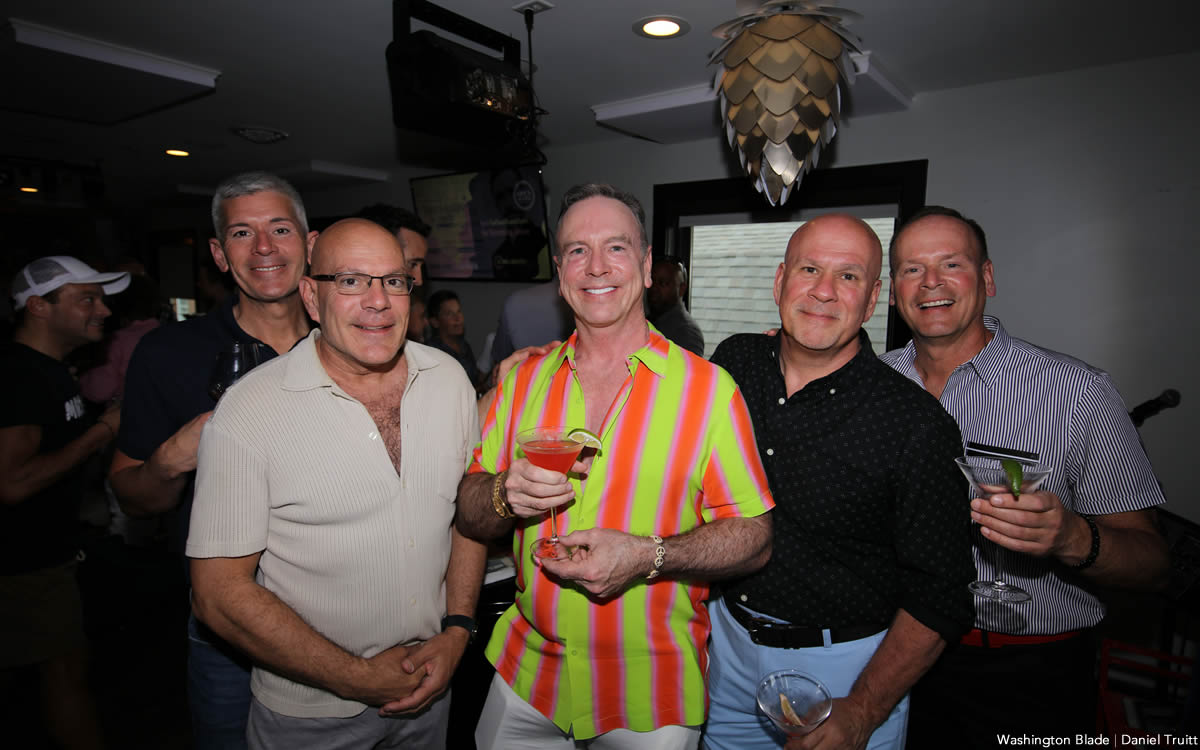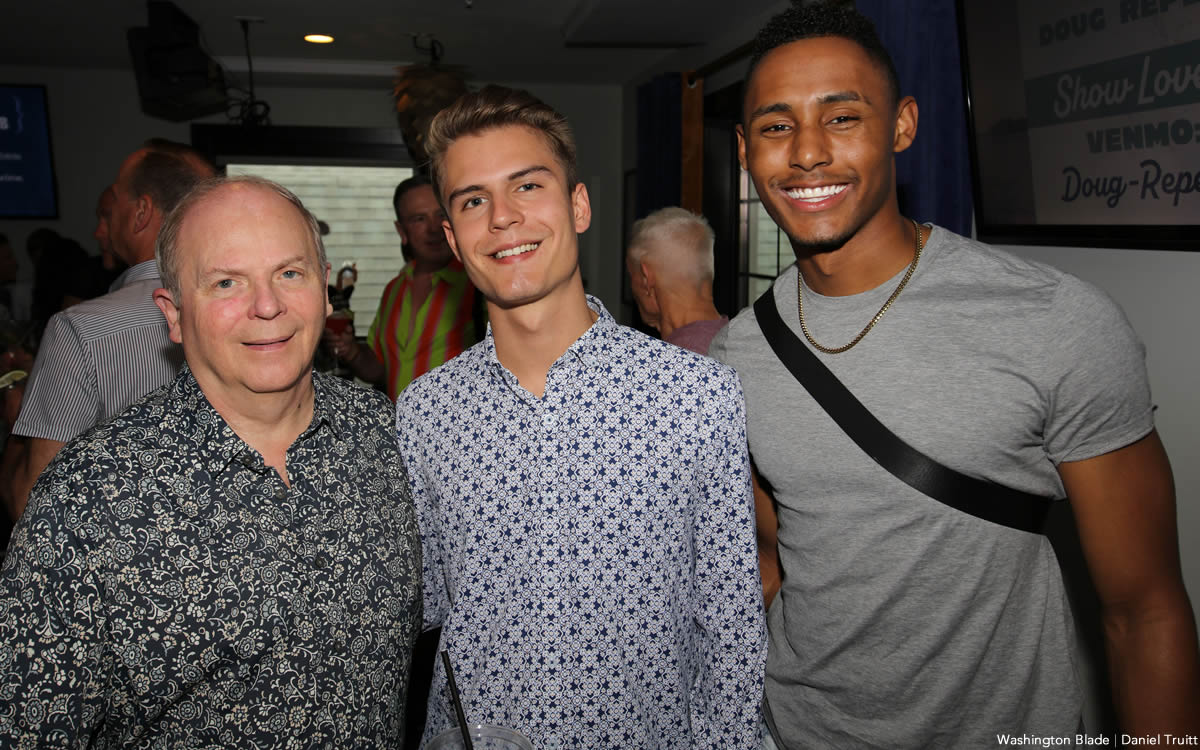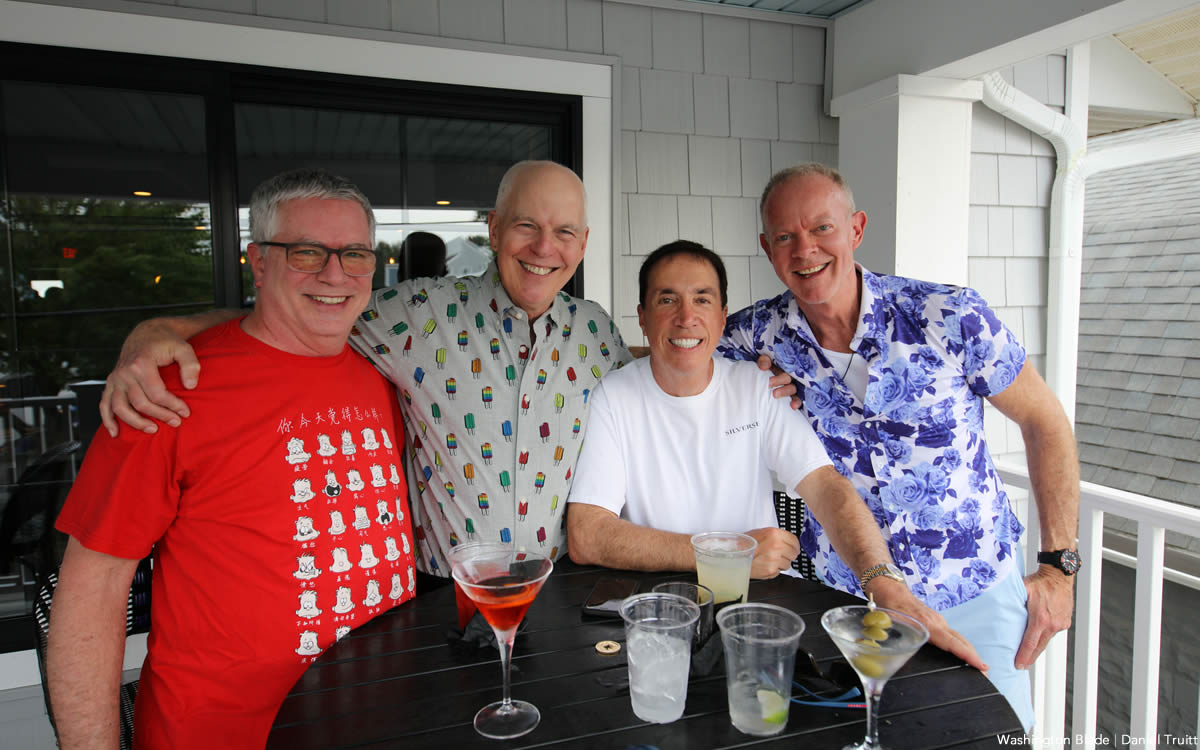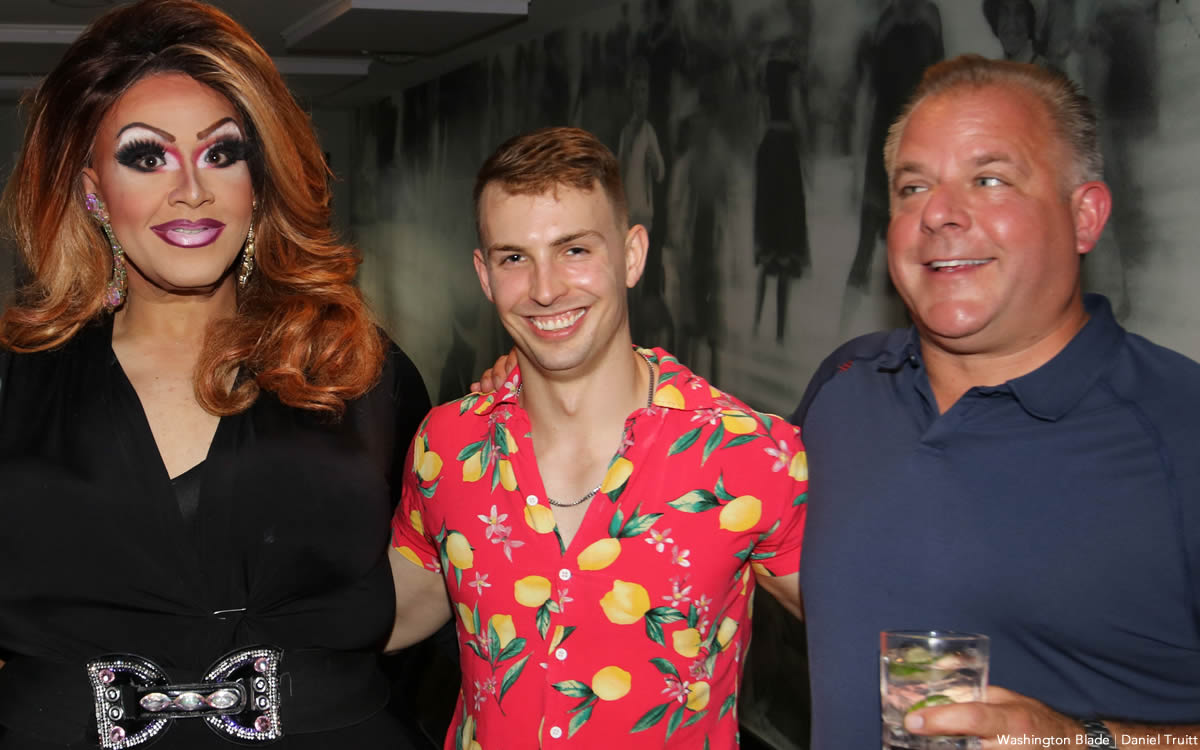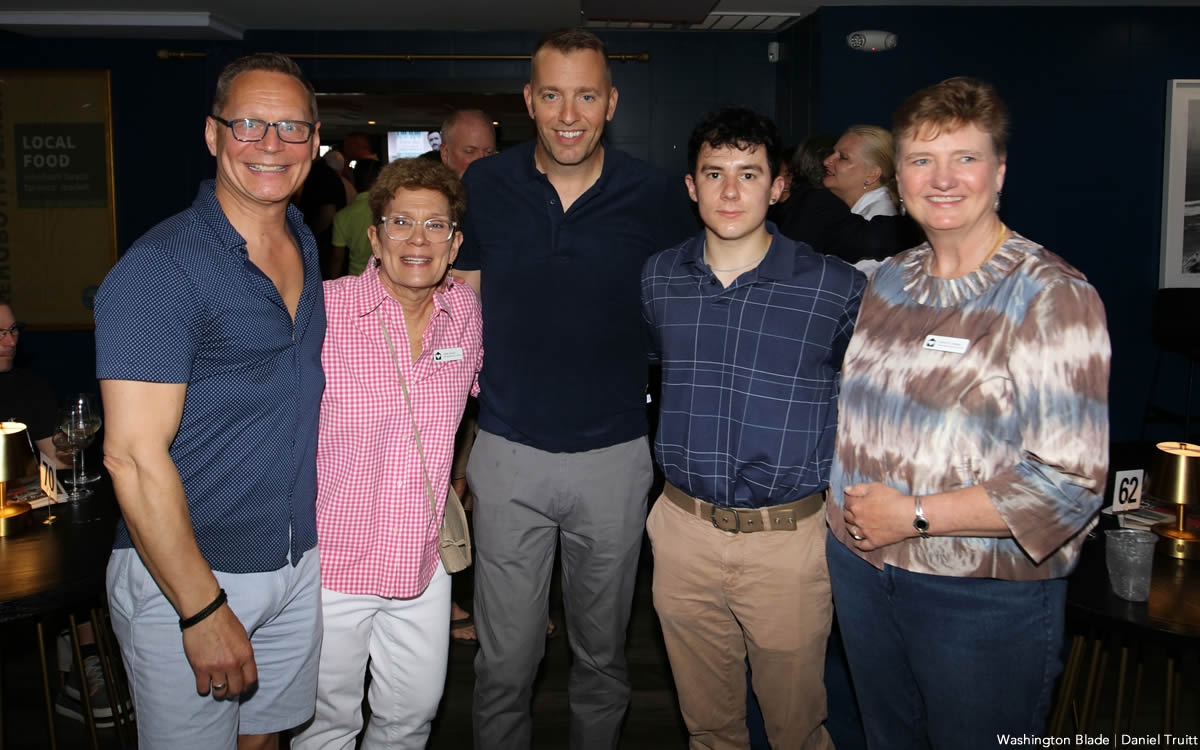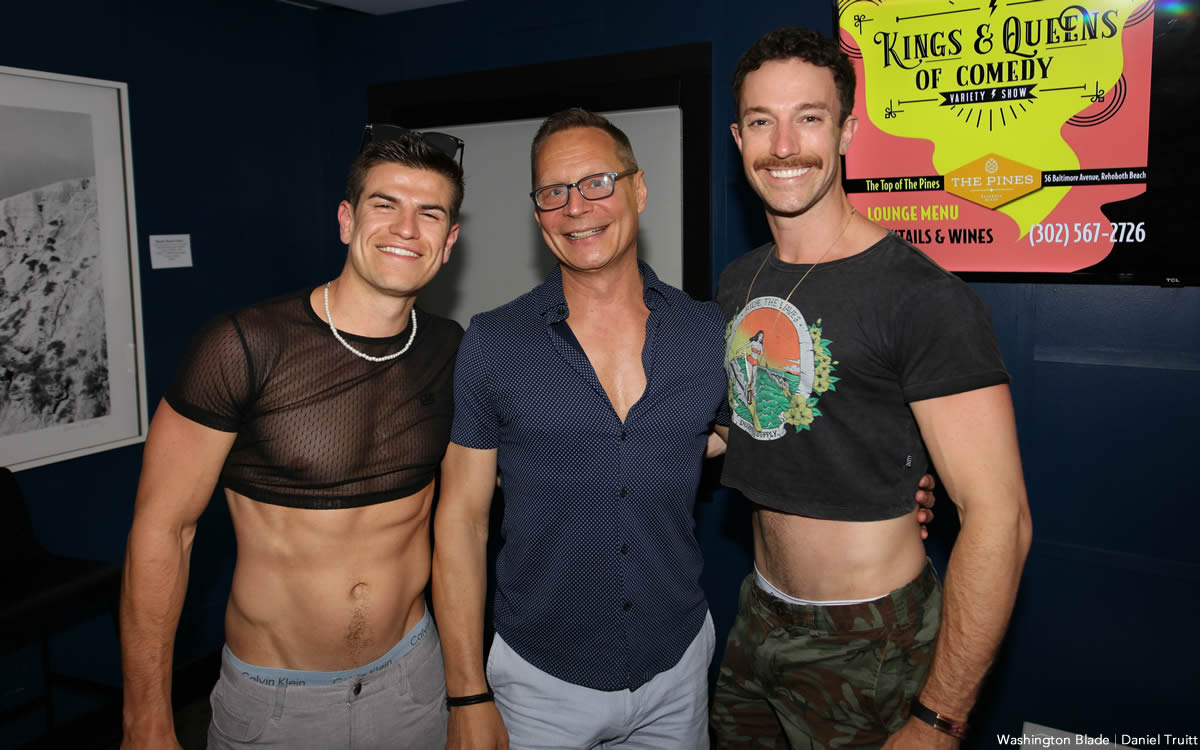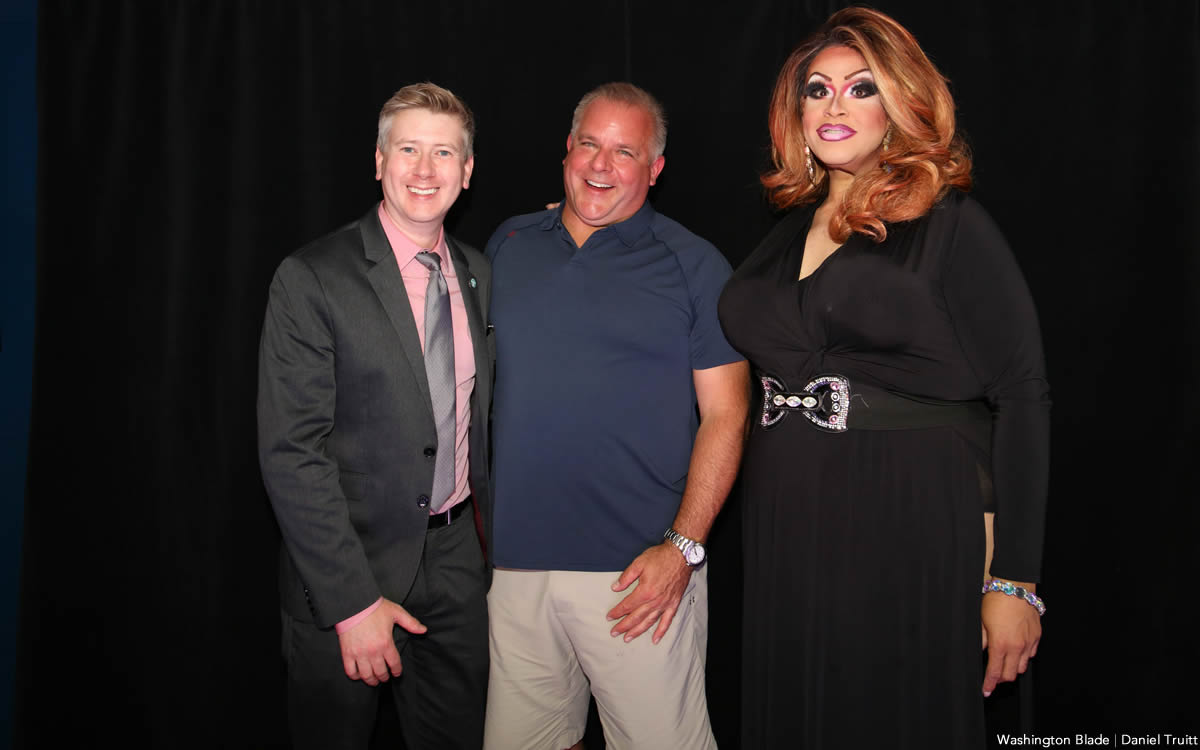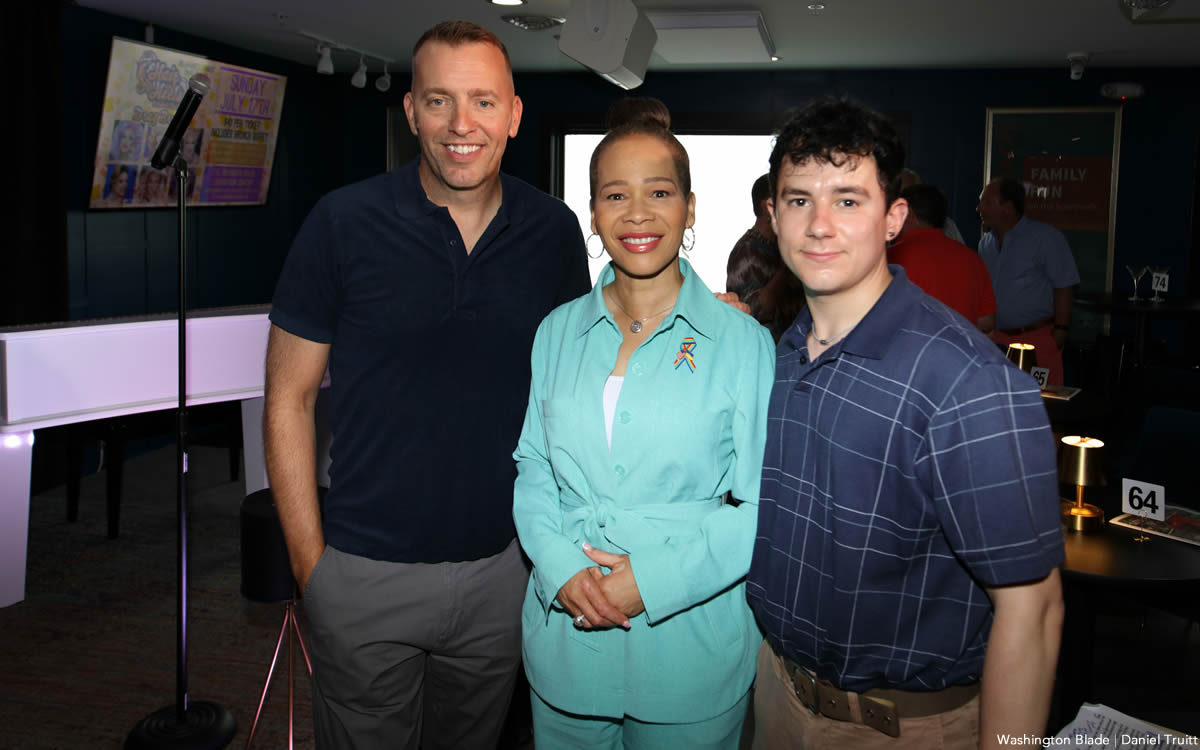 PHOTOS: Worthy Mentoring Pride Brunch
Carson Kressley serves as emcee for LGBTQ fundraiser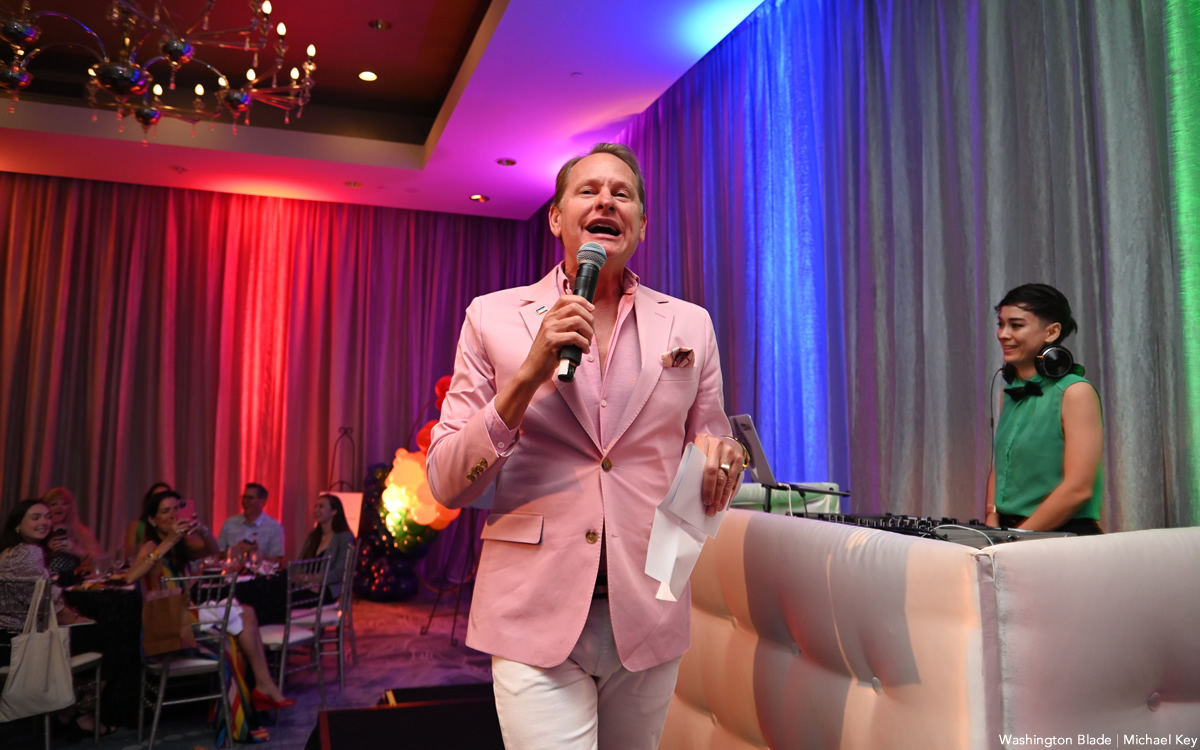 Carson Kressley of "Queer Eye for the Straight Guy" and "RuPaul's Drag Race" served as the emcee for the Worthy Mentoring Pride Brunch at the Four Seasons Washington Hotel on Sunday, May 22. Worthy Mentoring is a nonprofit that connects mentors and mentees in the LGBTQ+ community through a mobile iOS and Android App.
(Washington Blade photos by Michael Key)