DC Black Pride to return in-person this year
'Bigger. Bolder. The original is back.'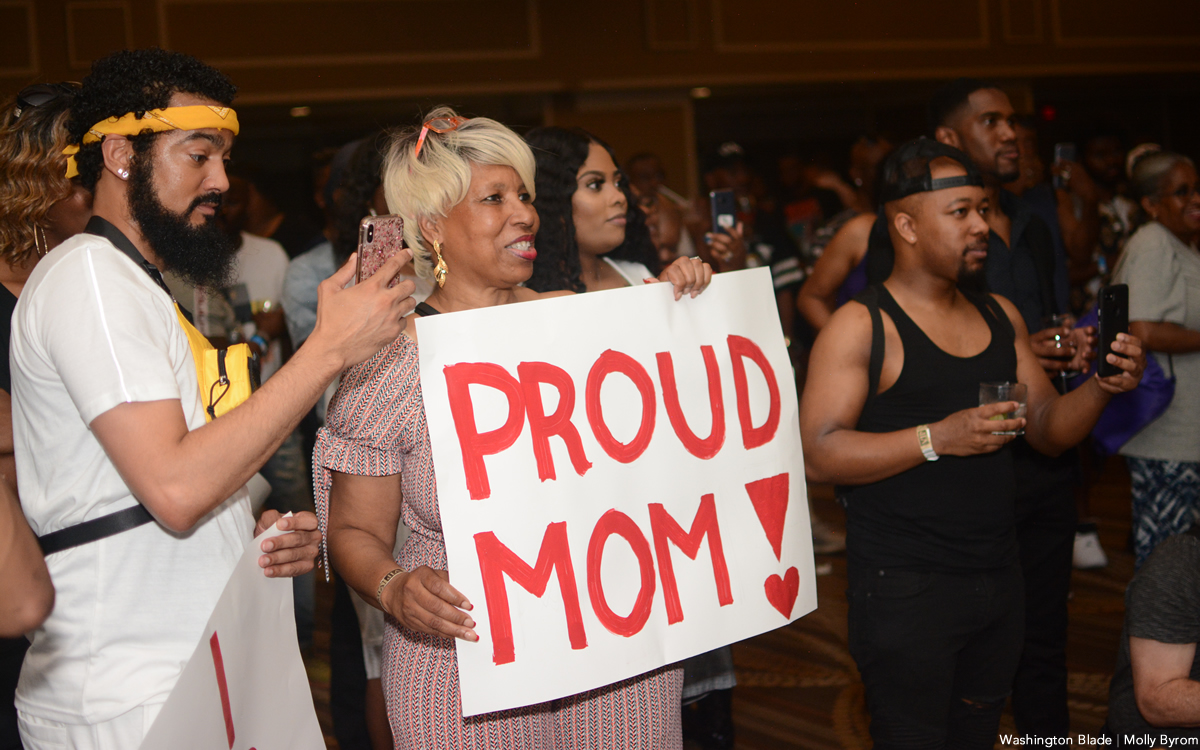 Since 1991, Black LGBTQ people and their allies have flocked to the streets of D.C. during Memorial Day Weekend to celebrate the beauty of the Black LGBTQ community and to raise awareness and funding to combat HIV/AIDS. Now, after a two-year hiatus triggered by the COVID-19 pandemic, this year's Black Pride has returned with a focus on creating community.
"This is really the place to be if you're Black and queer in D.C.," said Kenya Hutton, deputy director for the Center for Black Equity, an LGBTQ advocacy organization that plans the event. Hutton has been involved in planning DC Black Pride for the past 13 years.
"There is a heavy buzz early on about Black Pride [this year]," he said.
This year's events will run for four days, and will attract both a local and international audience including LGBTQ advocates from England, France, and Ghana.
"We have two members from the House of Garcon coming in from Paris," said Hutton. "A lot of international people are coming to D.C., and after a two-year hiatus, the hunger to be back [is there]."
The weekend will commence with an opening reception on Friday, May 27 at 5 p.m. at the Renaissance Washington D.C. The event, also presented by Impulse DC and Us Helping Us, People Into Living, Inc., will feature live performances by Queen Diva Big Freedia and Atlantic Recording artist Tai'aysha. There will also be special appearances by D.C. Mayor Muriel Bowser and other guests who will be announced at the event.  The event is free — registration is available on Eventbrite— and also includes two drink tickets.
Other events to look out for during DC Black Pride include kickoff events such as the Unity Ball on Thursday, May 25 at 9 p.m. at Karma DC hosted by commentator Kirk "Boom" Balenciaga, with music performances by DJ Tony Play, and the official Saturday night main event— "The White Party"— which will feature a performance by rapper and social media star Saucy Santana on Saturday, May 28 at 10 p.m. at Echostage.
In addition to the celebratory events, there will also be workshops focusing on a myriad of topics such as LGBTQ health, diversity, body positivity, and a writer's forum.
The Black Pride Wellness Suite Open will be on Friday, May 27 at 2 p.m. at Renaissance Washington DC. The event, sponsored by DC Health, will provide HIV and full panel STD testing, safer sex kits and harm reduction supplies, and same-day PrEP initiation and PEP to those eligible.
"Becoming You: The Body Positivity Workshop" will be on Saturday, May 28 at 11 a.m. at Renaissance Washington DC. The workshop will be hosted by Tonka Garcon, from the HBO hit show "Legendary," who will guide attendees on how to build self-confidence, love, and appreciation "without feeling left out."
The writer's forum will be on Saturday, May 28 at 2 p.m. and will be hosted by author James Earl Hardy who has written books such as "Men of the House" and "B-Boy Blues."
Given that DC Black Pride will take place with the backdrop of  the May 14 Buffalo, N.Y., shooting and other recent incidents in D.C. as well, the Center for Black Equity has boosted its security measures to ensure that attendees are safe.
"We are working closely with the Maryland Police Department [and] one of their officers will walk through an active shooter training [with our staff]," said Hutton.
Hutton added that because the pandemic took away the Black LGBTQ community's ability to gather for two years, it is essential that guests leave the event feeling a sense of belonging.
"This is home. This is where it starts. This is our culture," he said. "DC Black Pride is always home for queer people."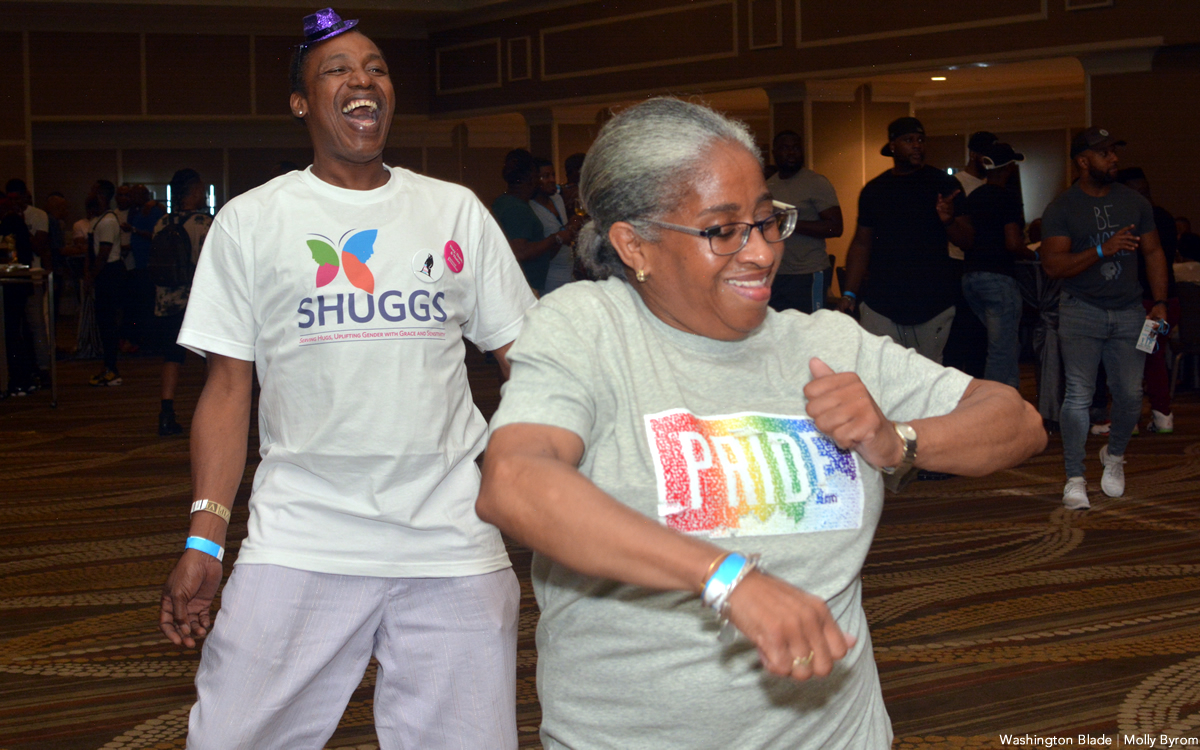 Studies report that the pandemic disproportionately affected LGBTQ individuals' mental health.
LGBTQ people faced mental health and substance abuse problems at higher rates than their non-LGBTQ peers due to lower incomes, fewer work opportunities and a lack of access to adequate healthcare, according to 2021 health analyses by the Kaiser Family Foundation.
Other studies also show that 16% of Black people reported having a mental illness, and 26% of people who reported a severe mental illness over the past year are men, according to the National Alliance on Mental Illness.
To bring to light the importance of mental health and wellness in the LGBTQ community, other organizations such as D.C. nonprofit group Us Helping Us will host events "to understand the complex issues of intersectionality that Black, gay, transgender, and bisexual men face."
Us Helping Us will host "Pride Festival in Park" on Monday, May 30 at 12 p.m. at Ford Dupont Park. The organization works to improve the health and well-being of Black men with HIV and AIDS, and will partner with Amerigroup DC for Monday's event.
"Every day, we see the impact our mental health services have on our clients, whether it be through individual appointments with our therapists or counselors or our support groups," said DeMarc A. Hickson, the nonprofit's executive director in a press release. "Mental health is critical to keeping our clients healthy physically."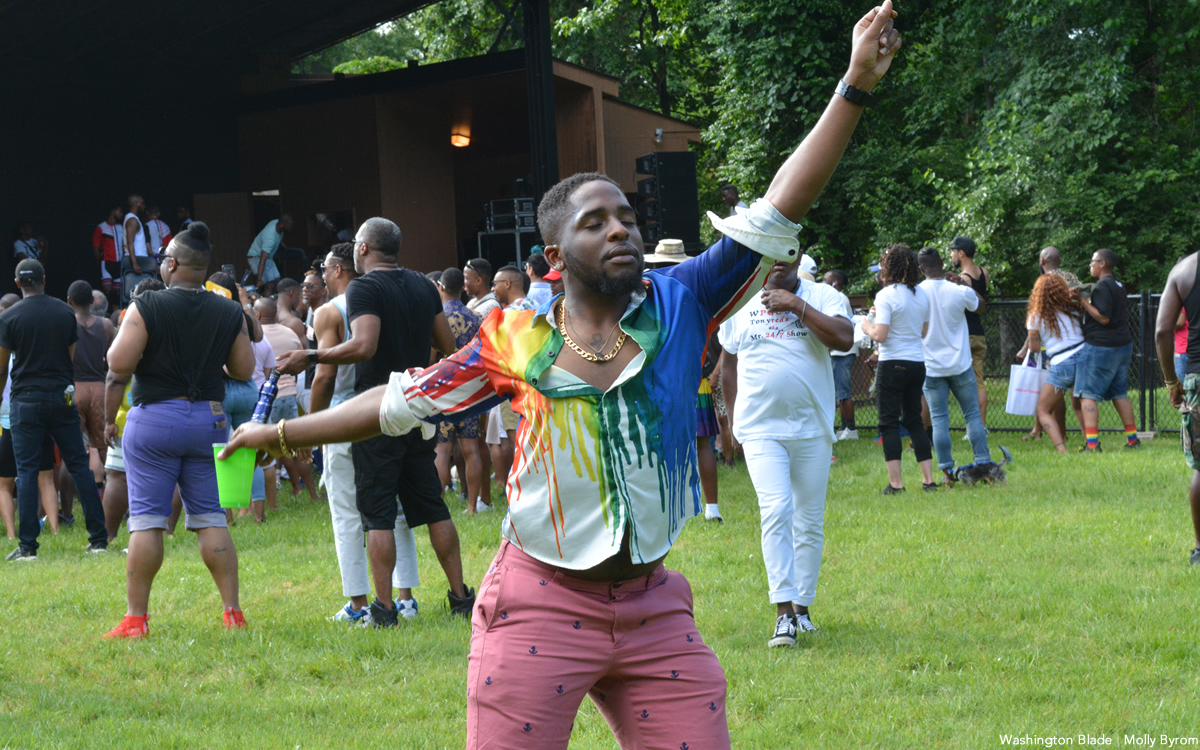 10 LGBTQ events this week
A Gaga afterparty and a cardboard boat regatta among attractions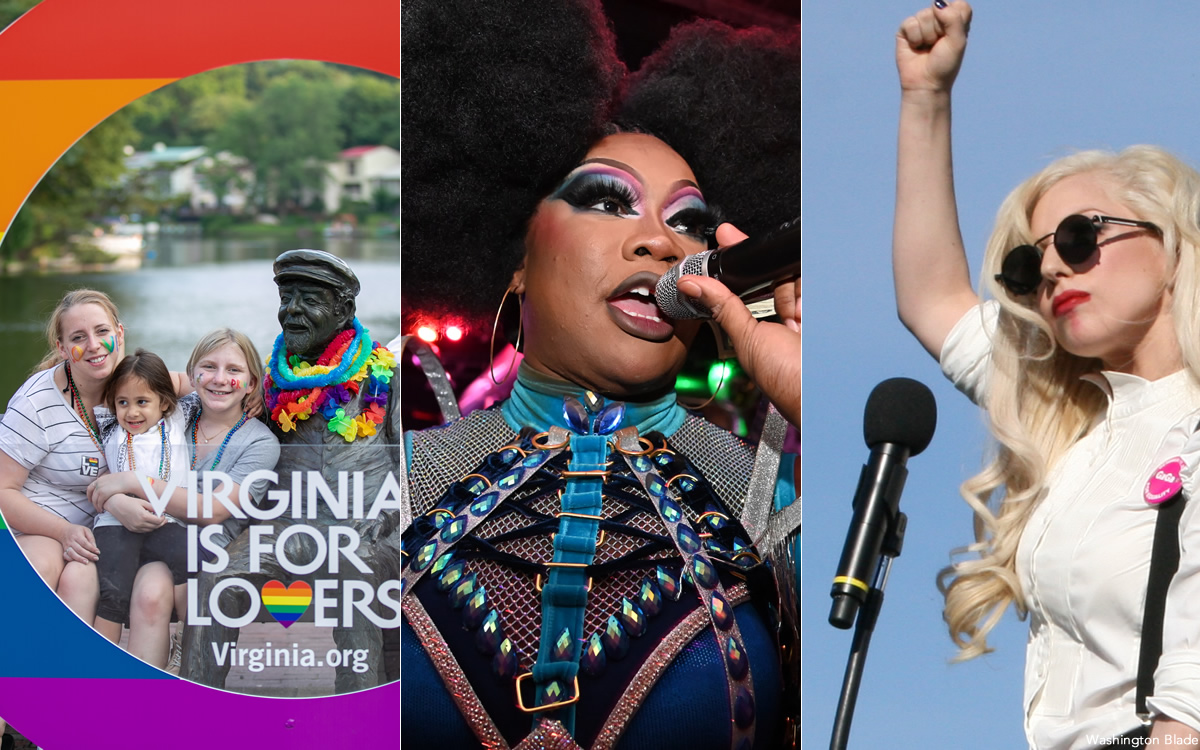 Below are our picks for some of the most fun and creative things to do this week in the DMV that are of special interest to the LGBTQ community.
---
Reign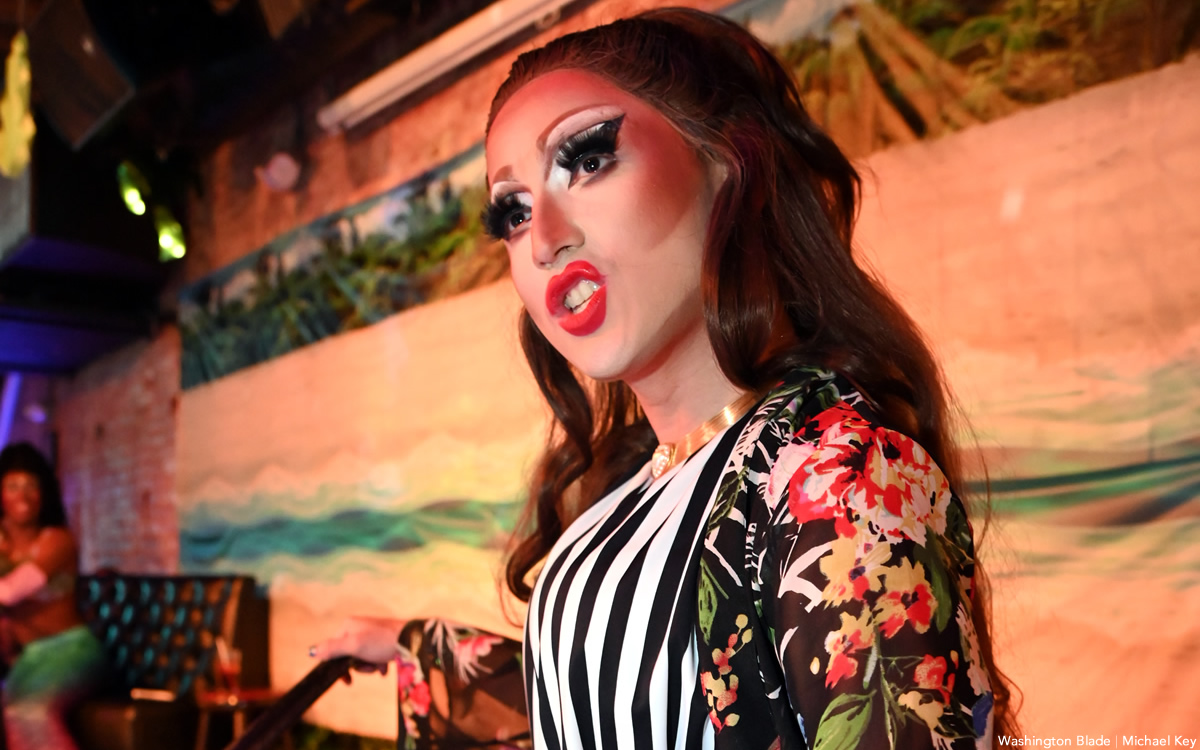 Monday, August 8
8-11 p.m.
DIK Bar
1637 17th Street, N.W. (second floor)
Facebook
Join Logan Stone, Dabatha Christie and Hennessey for a fun-filled drag show at Dupont Italian Kitchen Bar tonight at 8.
---
OMGaga Afterparty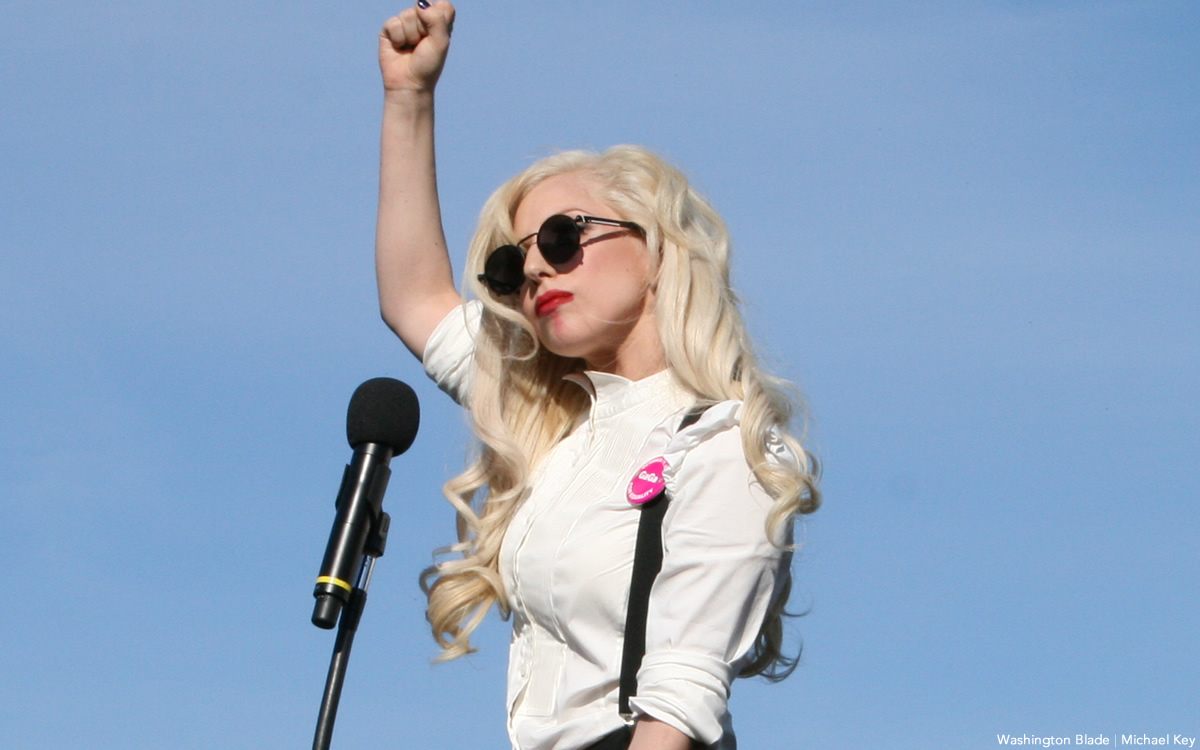 Monday, August 8
10 p.m.
Green Lantern
1335 Green Court, N.W.
Facebook
Did you catch the Gaga concert tonight? Whether you did or not, join the afterparty at Green Lantern. Show your ticket stub from the concert for a free drink on the dance floor.
---
Drag Bingo with Desiree Dik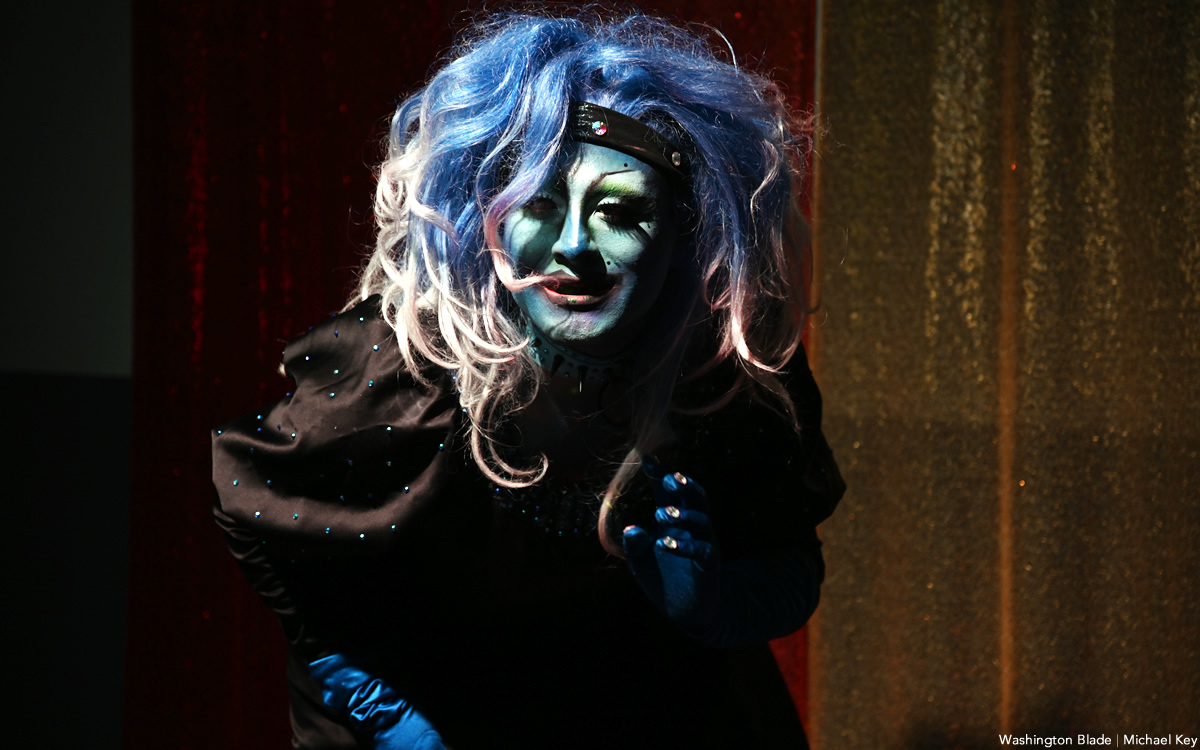 Tuesday, August 9
7-9 p.m.
Red Bear Brewing Co.
209 M Street, N.E.
Facebook
Join Desiree Dik for a game of bingo at Red Bear Brewing Co. on Tuesday. Free to play.
---
Queer Trivia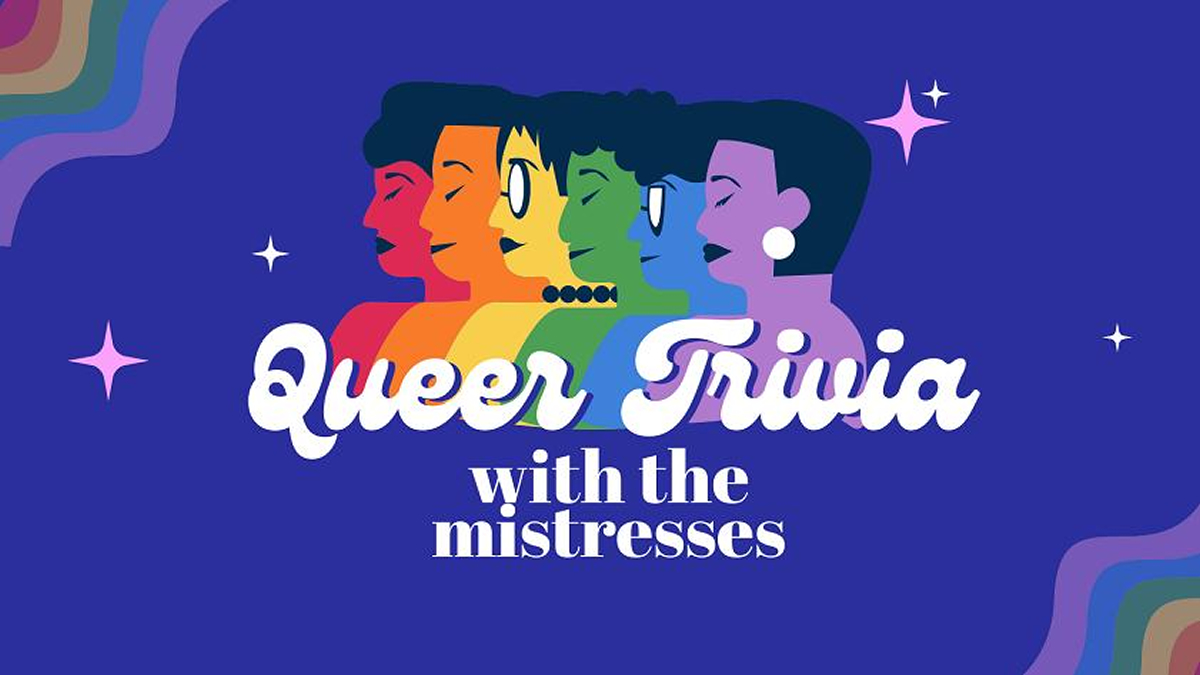 Wednesday, August 10
7-9 p.m.
Dew Drop Inn
2801 8th Street, N.E.
Facebook
The Mistresses lead a night of Queer Trivia on all things gay at the Dew Drop Inn on Wednesday.
---
Thirst Trap Thursdays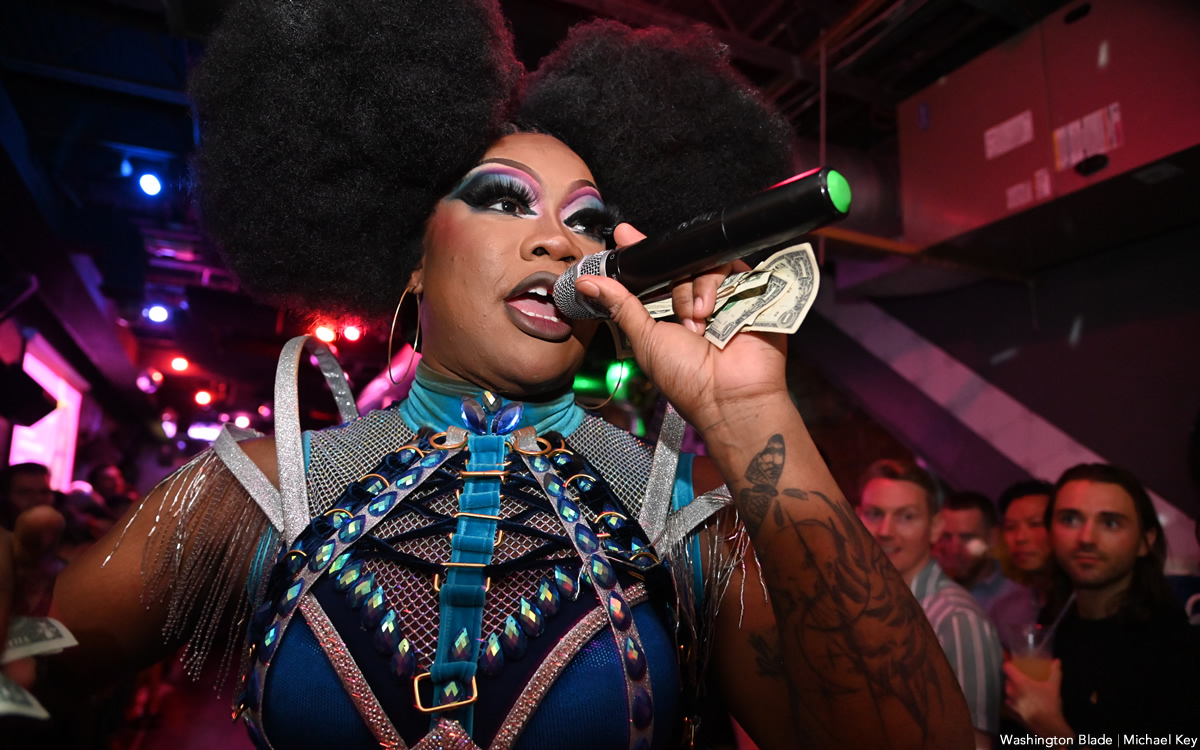 Thursday, August 11
10 p.m.
Pitchers DC/A League of Her Own
2317 18th Street, N.W.
Facebook
Venus Valhalla and Cake host the Thirsty Thursdays drag show at Pitchers/ALOHO on Aug. 11.
---
LGBTQ Social at Wild Days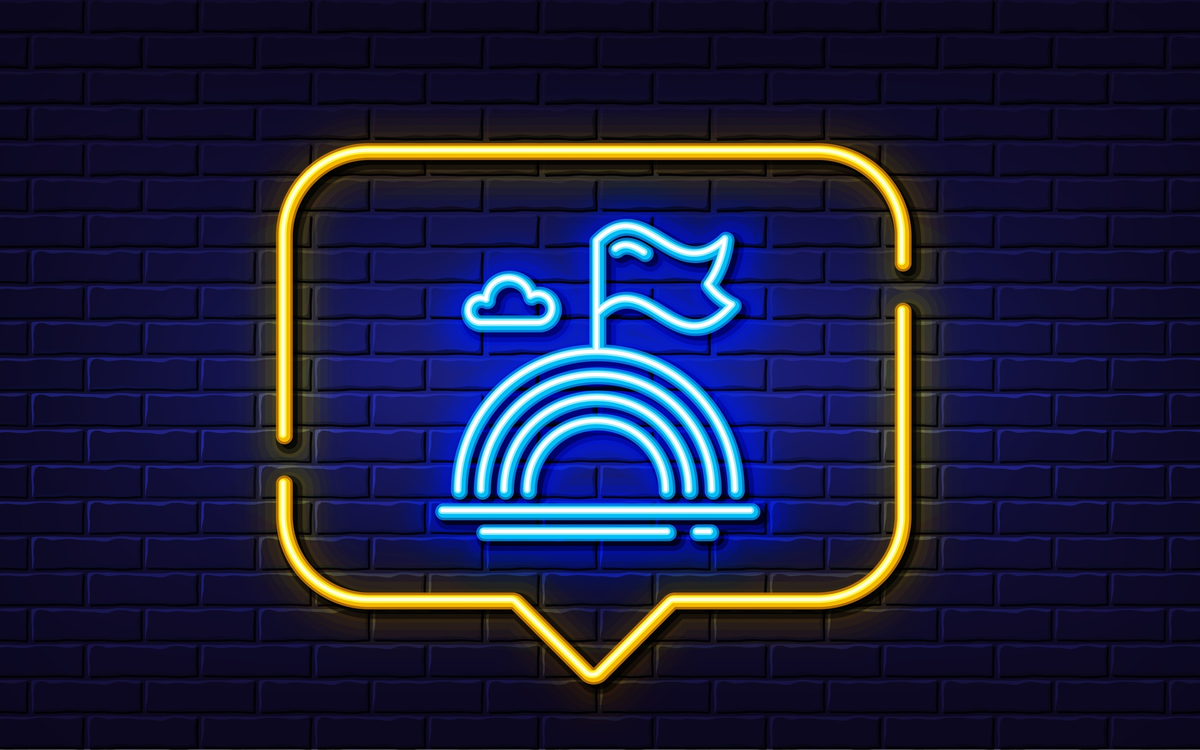 Friday, August 12
7-9 p.m.
Wild Days Rooftop Bar at the Eaton Hotel
1201 K Street, N.W.
21+
Eventbrite
Have some casual conversations with new friends in the LGBTQ community over drinks in a relaxed atmosphere. Hosted by Go Gay DC.
---
A Love Letter to RENT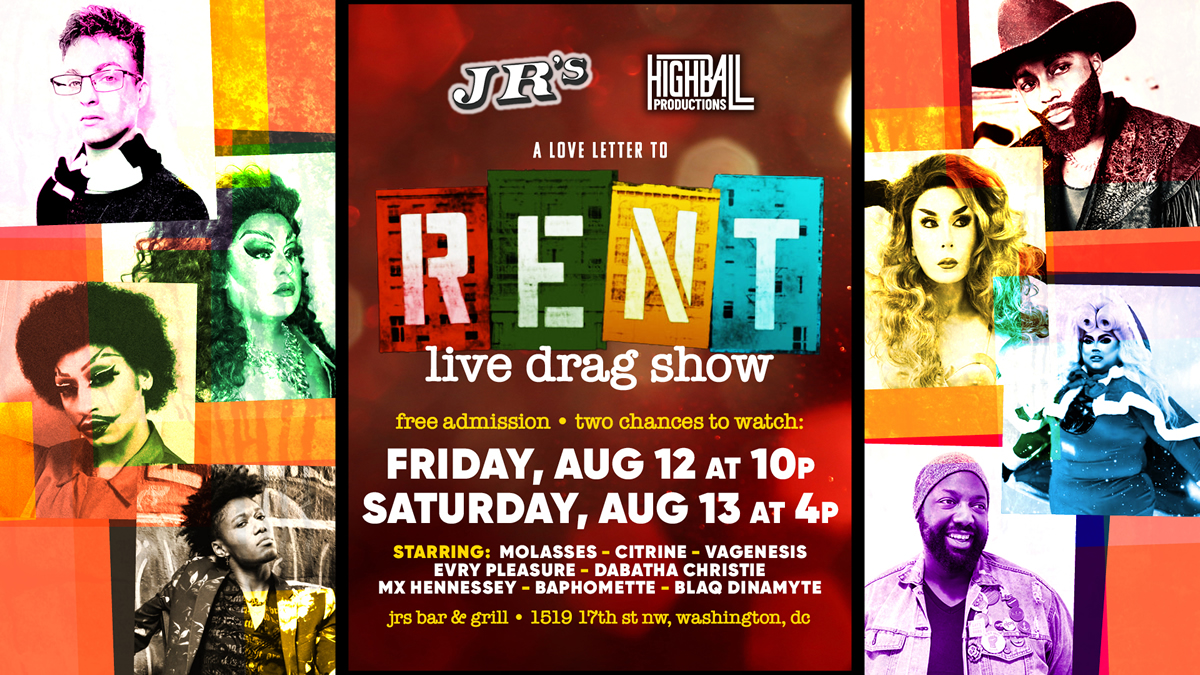 Friday, August 12
10 p.m.
JR.'s Bar
1519 17th Street, N.W.
Free admission
Facebook
Watch a drag show dedicated to the hit musical RENT. If you miss the first show on Friday, come by on Saturday at 4 p.m. for an encore performance.
---
Lights On, Barks Out! Disco Heat Drag Brunch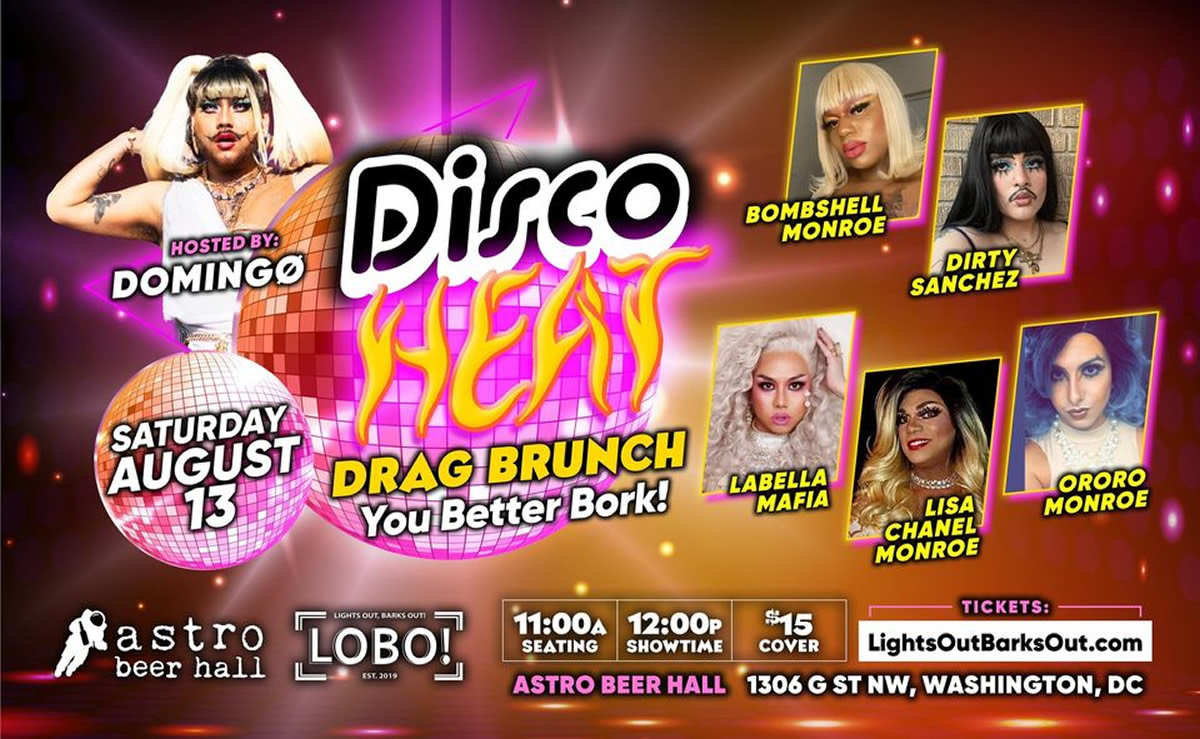 Saturday, August 13
Seating 11 a.m./show 12 p.m.
Astro Beer Hall
1306 G Street, N.W.
$15 cover
Facebook
Join host Doming0 for the Disco Heat Drag Brunch on Saturday at Astro Beer Hall.
---
Lake Anne Cardboard Boat Regatta
Saturday, August 13
2 p.m.
Lake Anne Plaza
1609 Washington Plaza
Reston, Va.
Facebook | Website
Watch a cardboard regatta race along Lake Anne in Reston, Va. Or, you could even participate (rules here)!
---
Mister & Miss AGLA Scholarship Fundraiser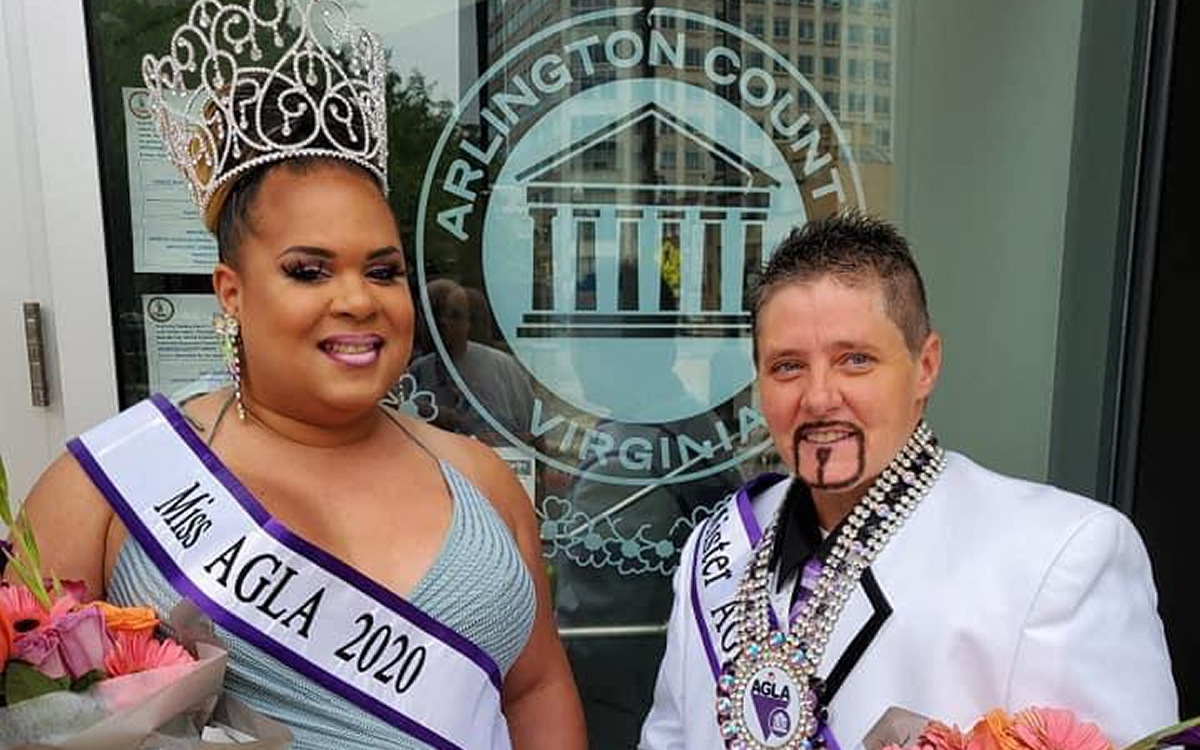 Sunday, August 14
7-9 p.m.
Freddie's Beach Bar & Grill
555 23rd Street S
Arlington, Va.
$10 donation requested
Facebook
Join a fundraiser for a good cause: a college scholarship for an outstanding Arlington County Public High School senior. Also, the 2022 Mr. and Miss AGLA will be crowned.
---
PHOTOS: United Night OUT
Team DC and Federal Triangles honored at halftime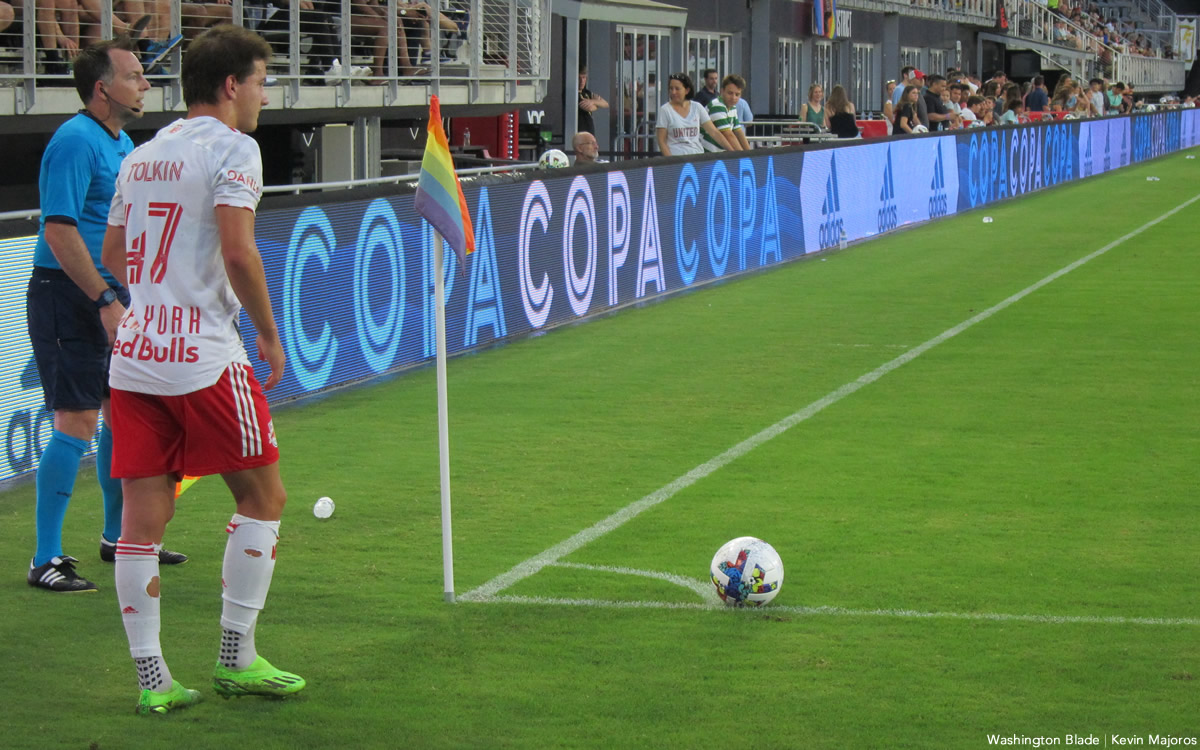 United Night OUT 2022 was held on August 6 at Audi Field with DC United taking on their Atlantic Cup rivals, the New York Red Bulls. The two teams battled to a 0-0 scoreless draw in their 99th meeting. The LGBTQ community event was co-hosted by Team DC and the Federal Triangles Soccer club who were both honored at halftime.
(Washington Blade photos by Kevin Majoros)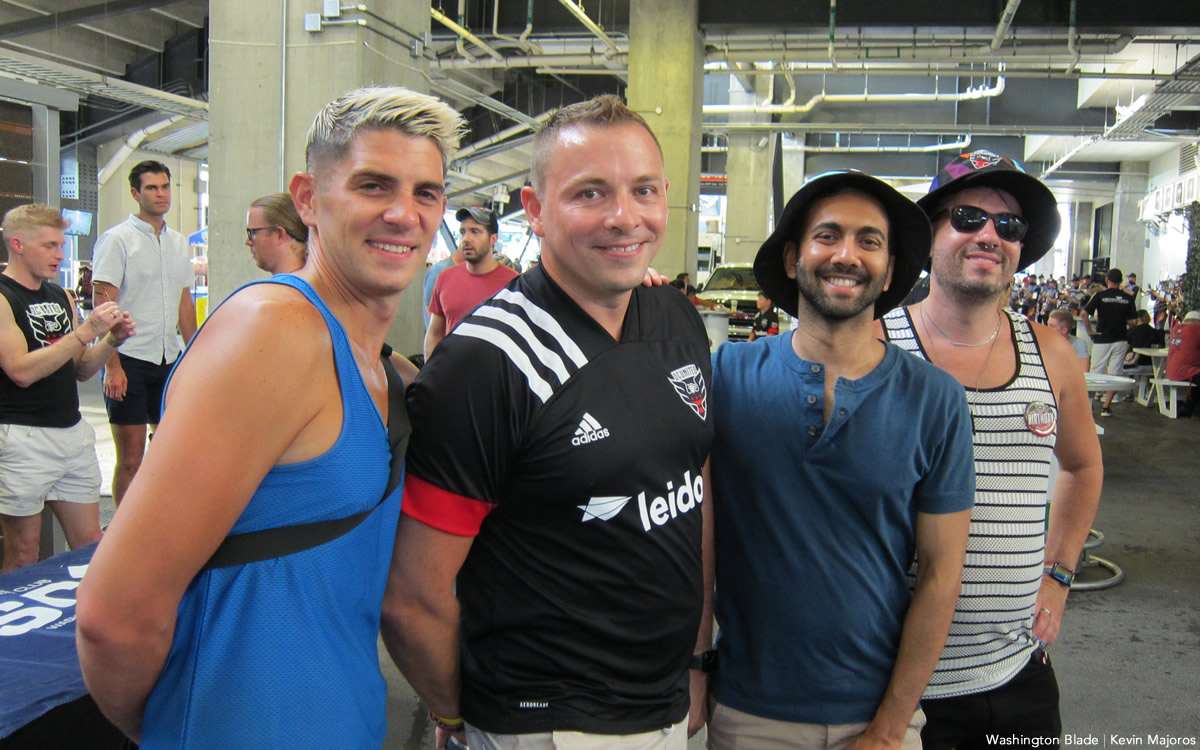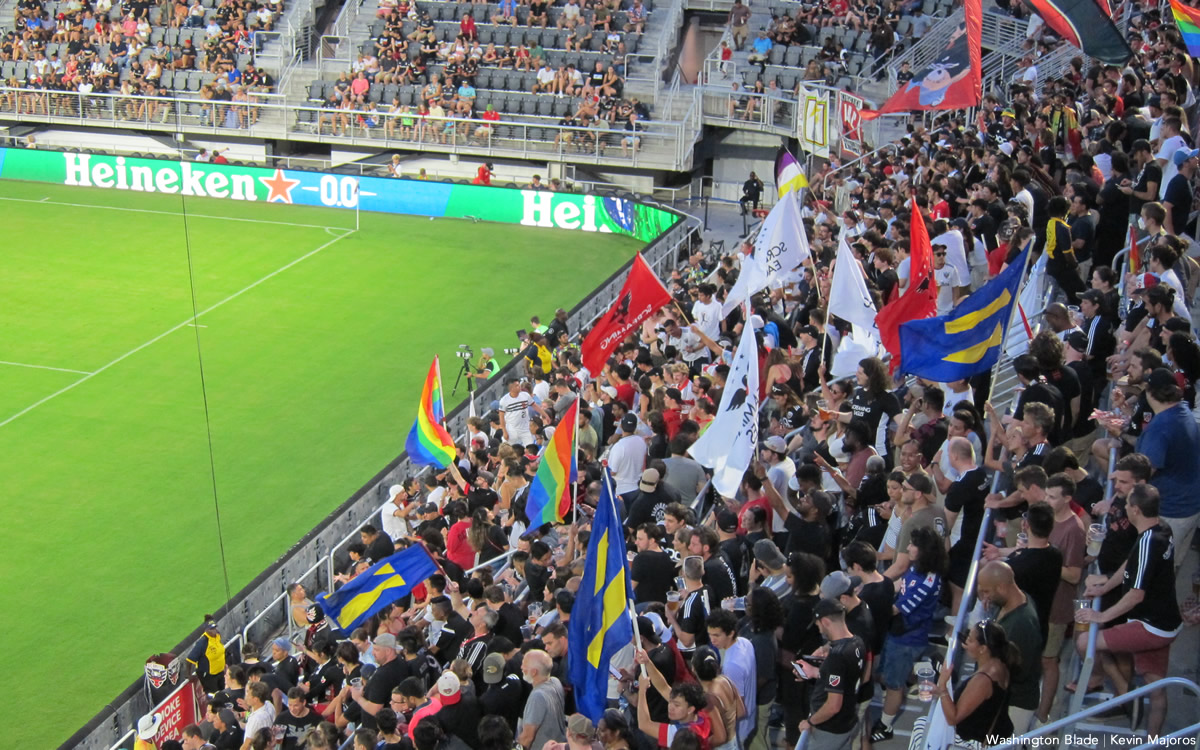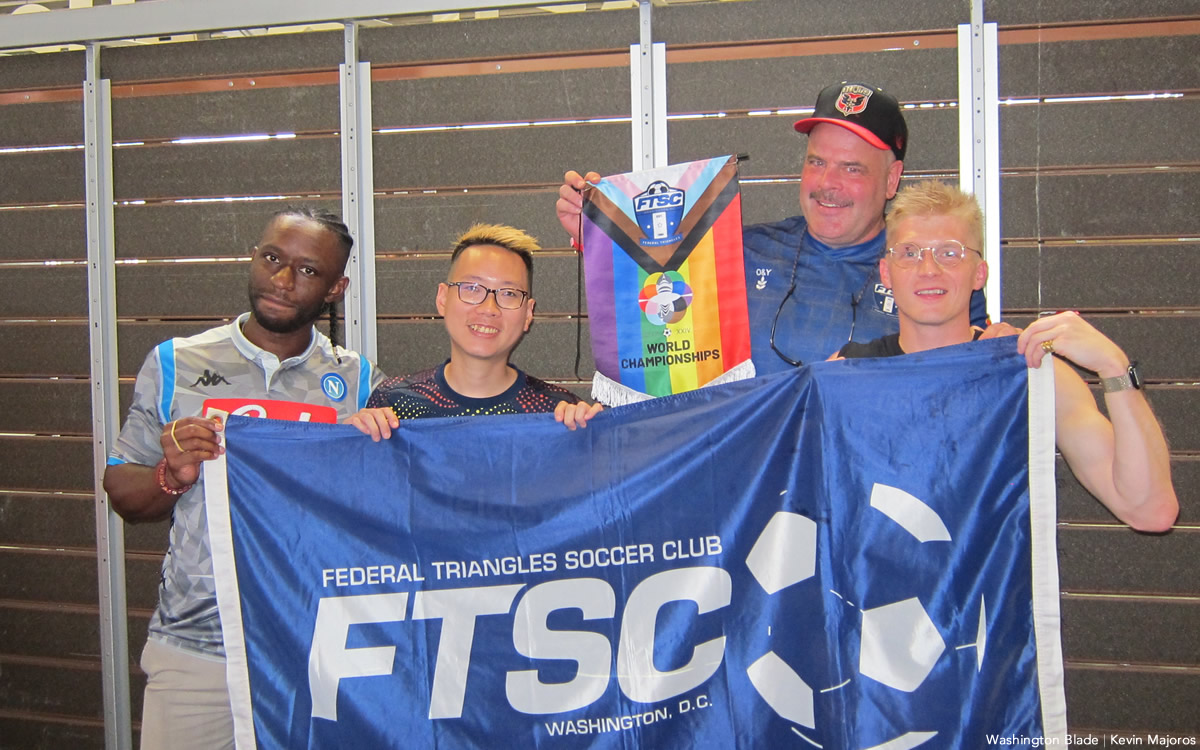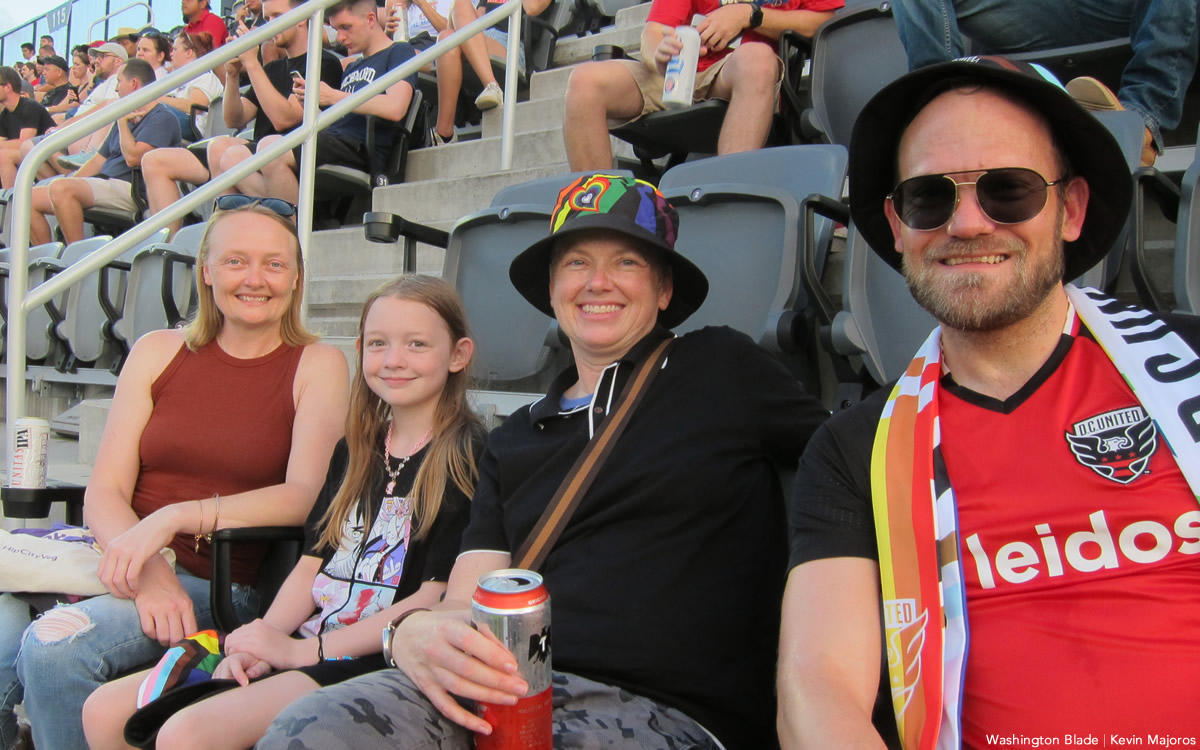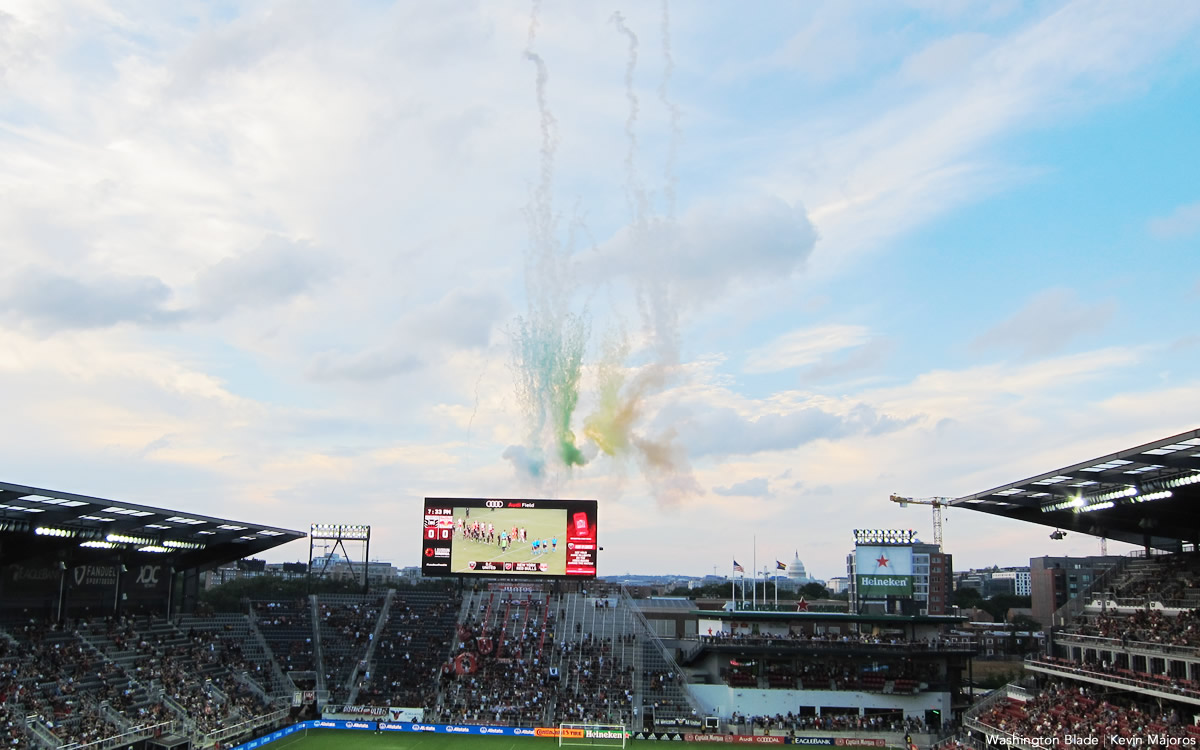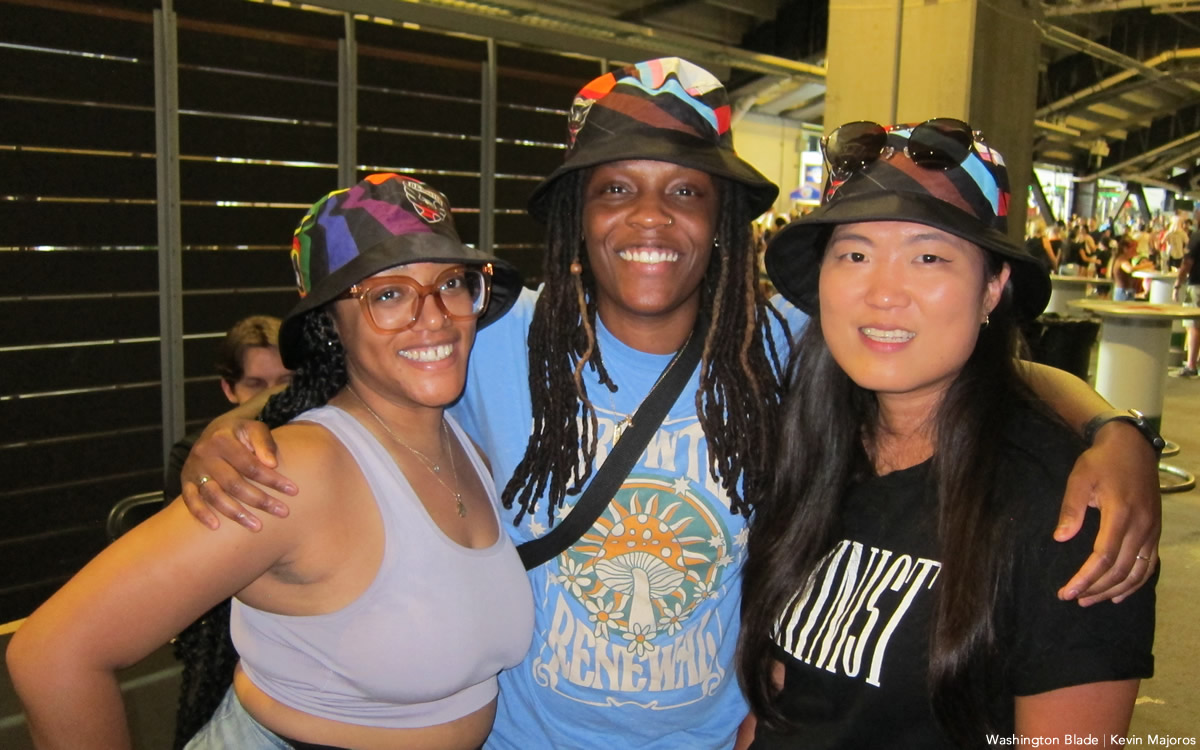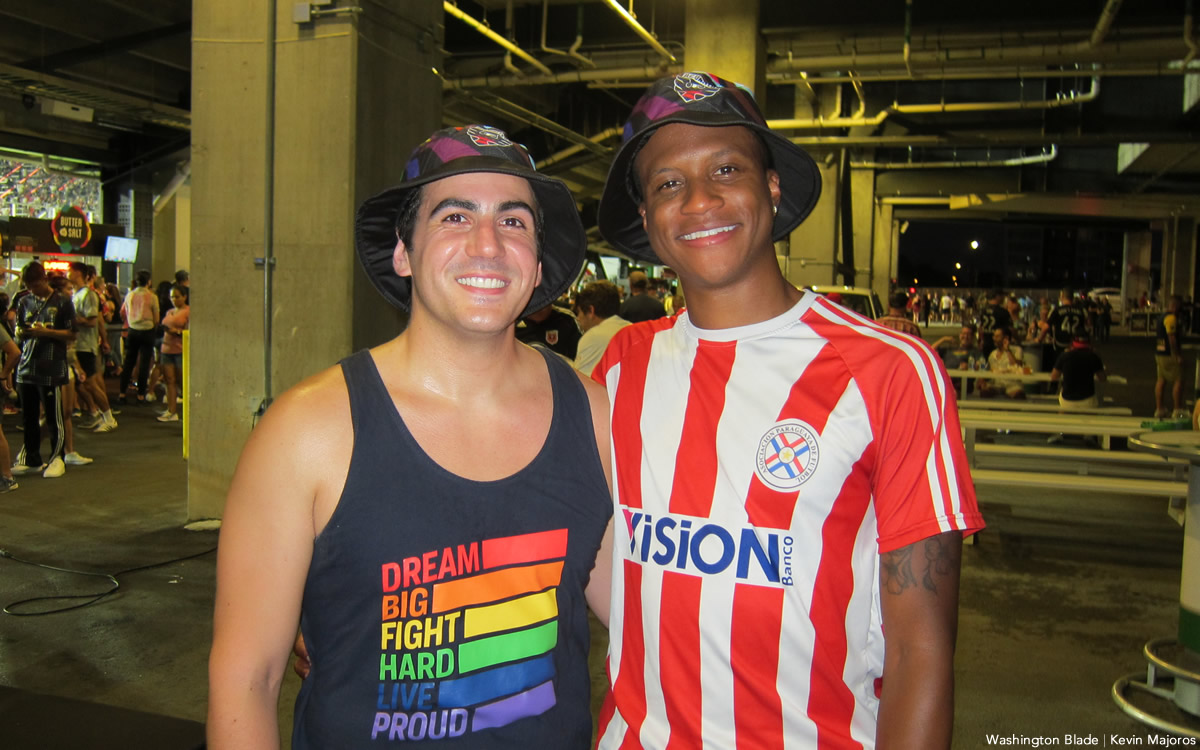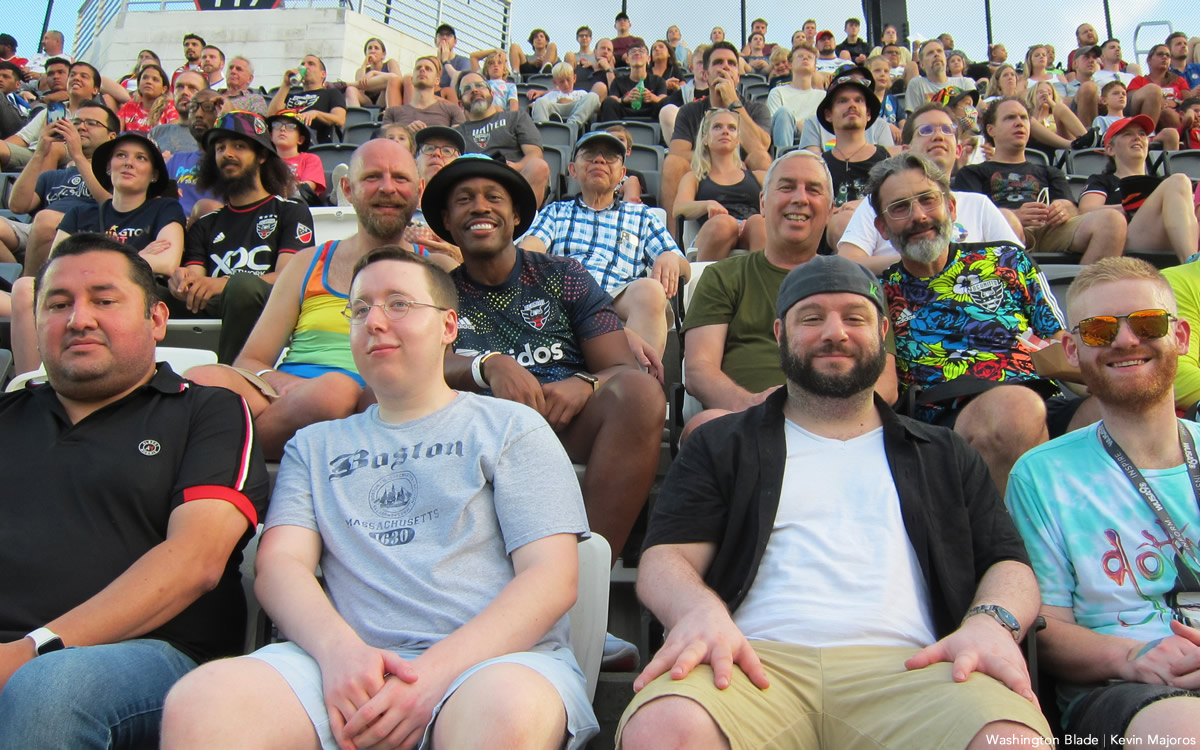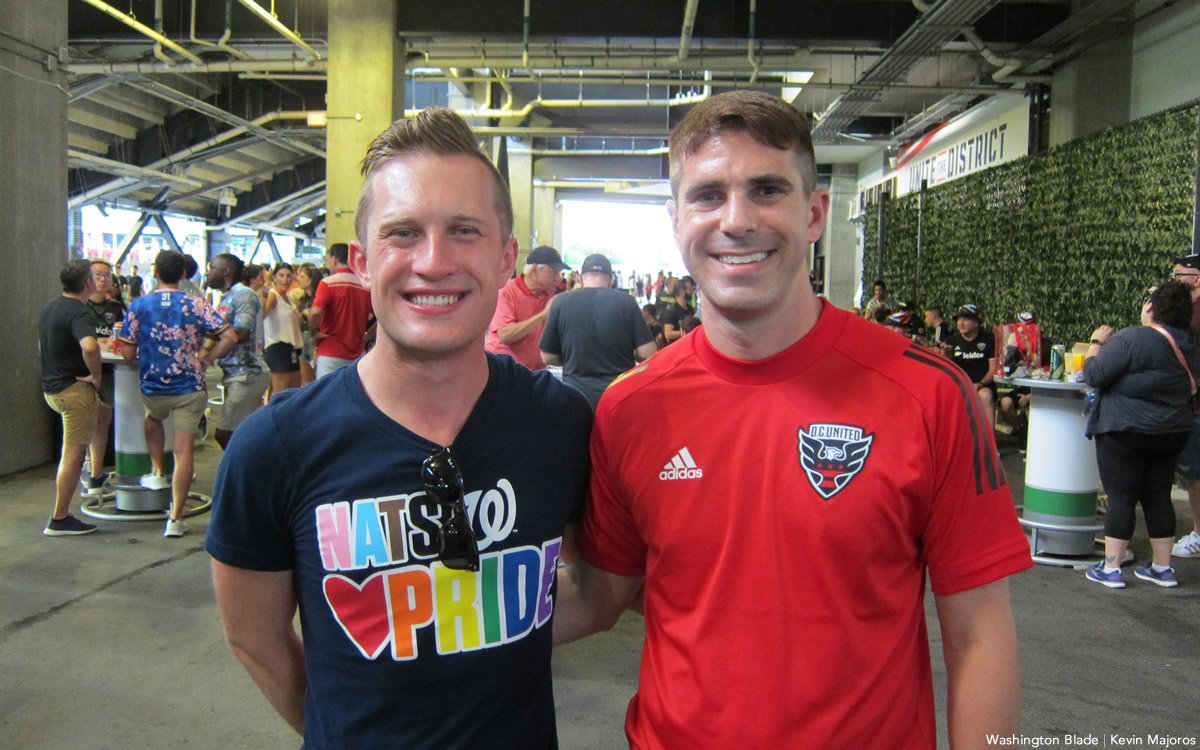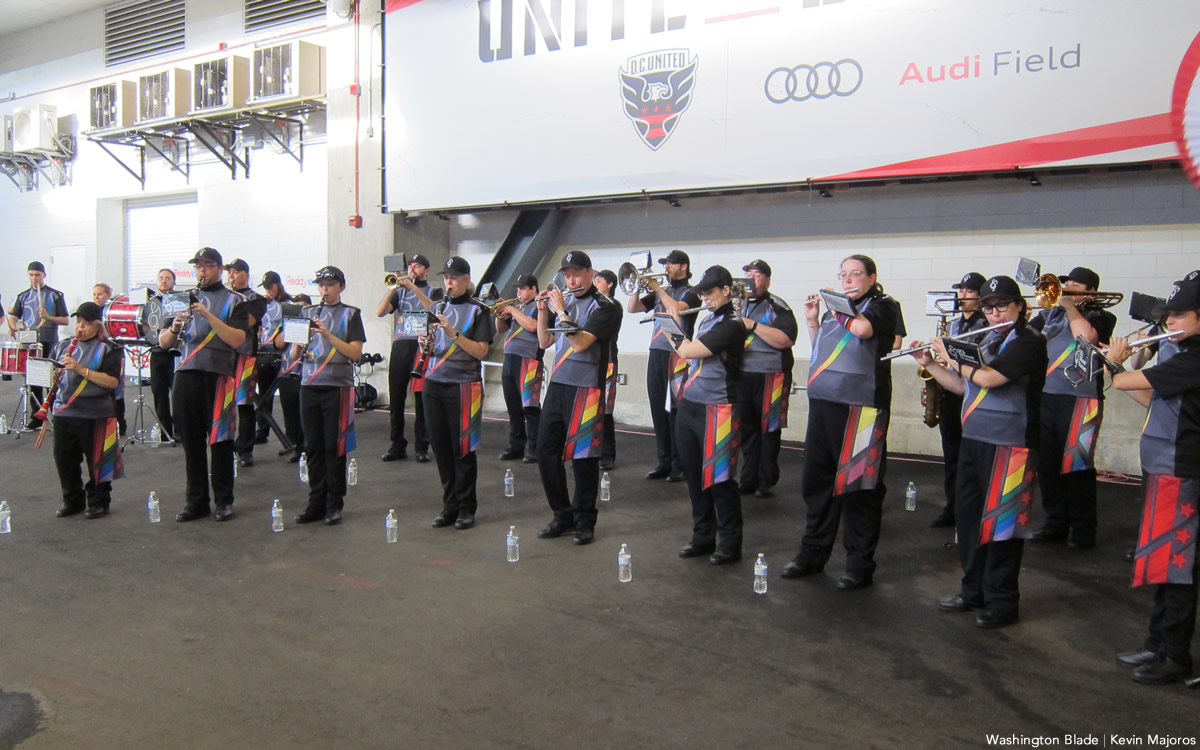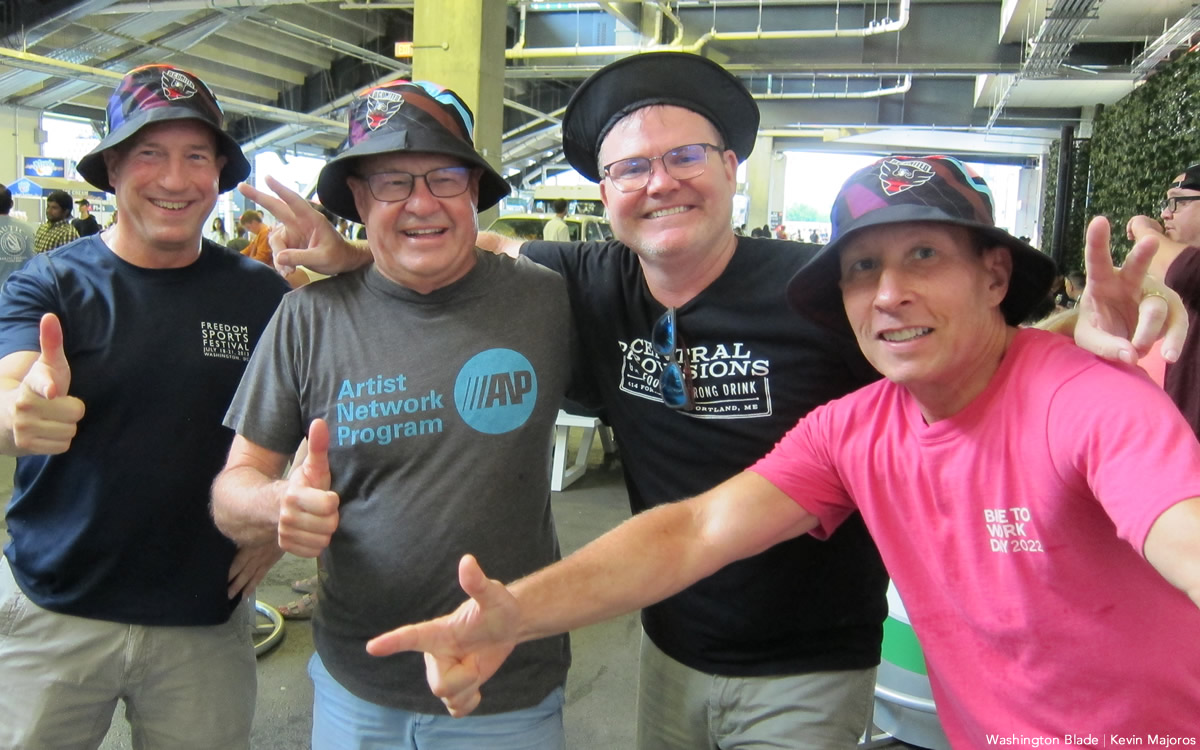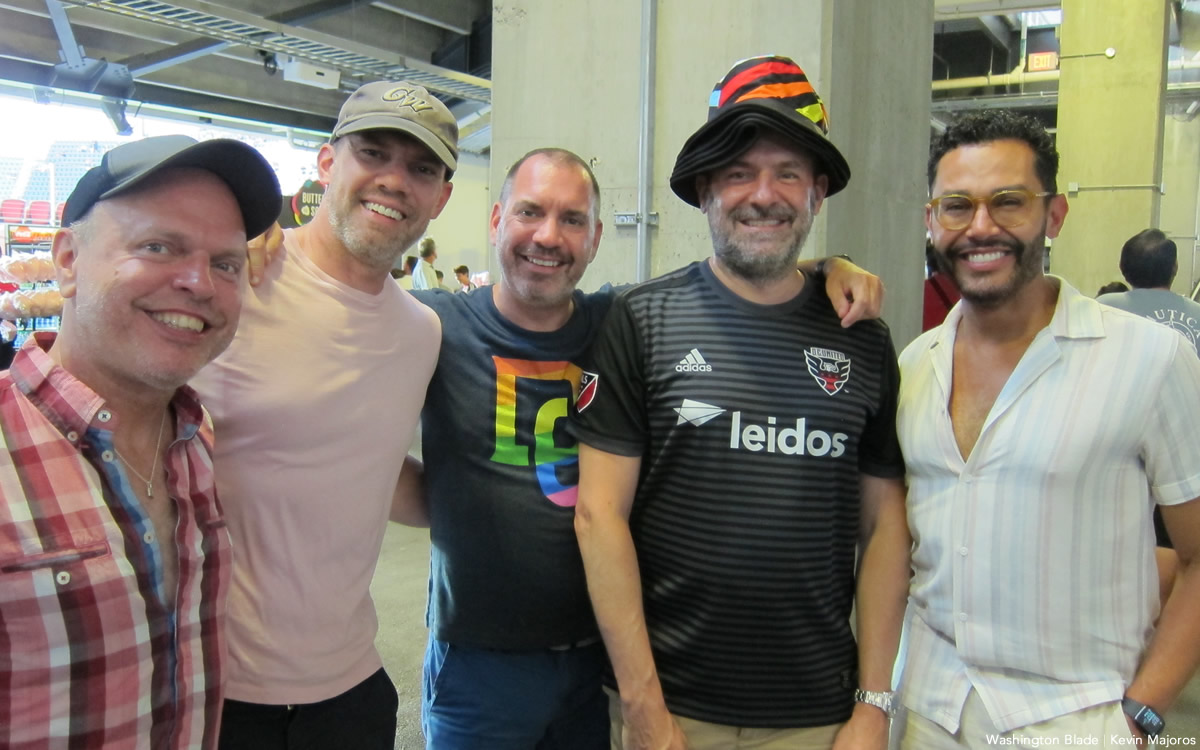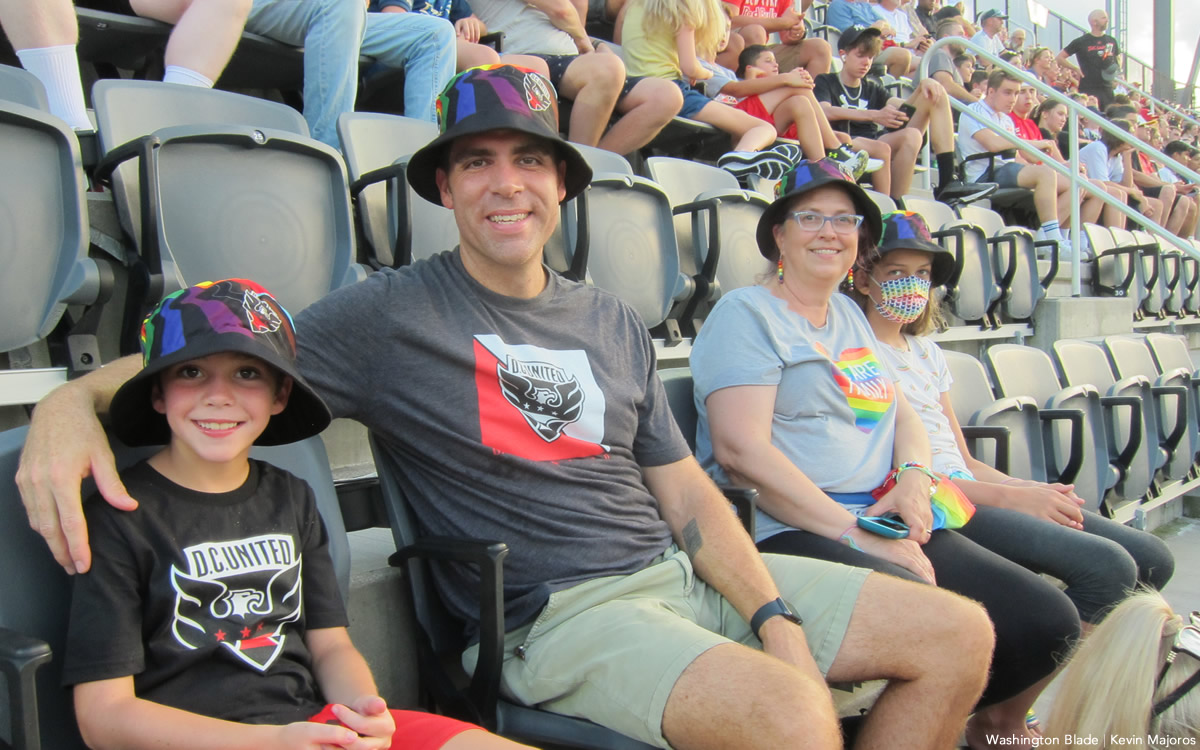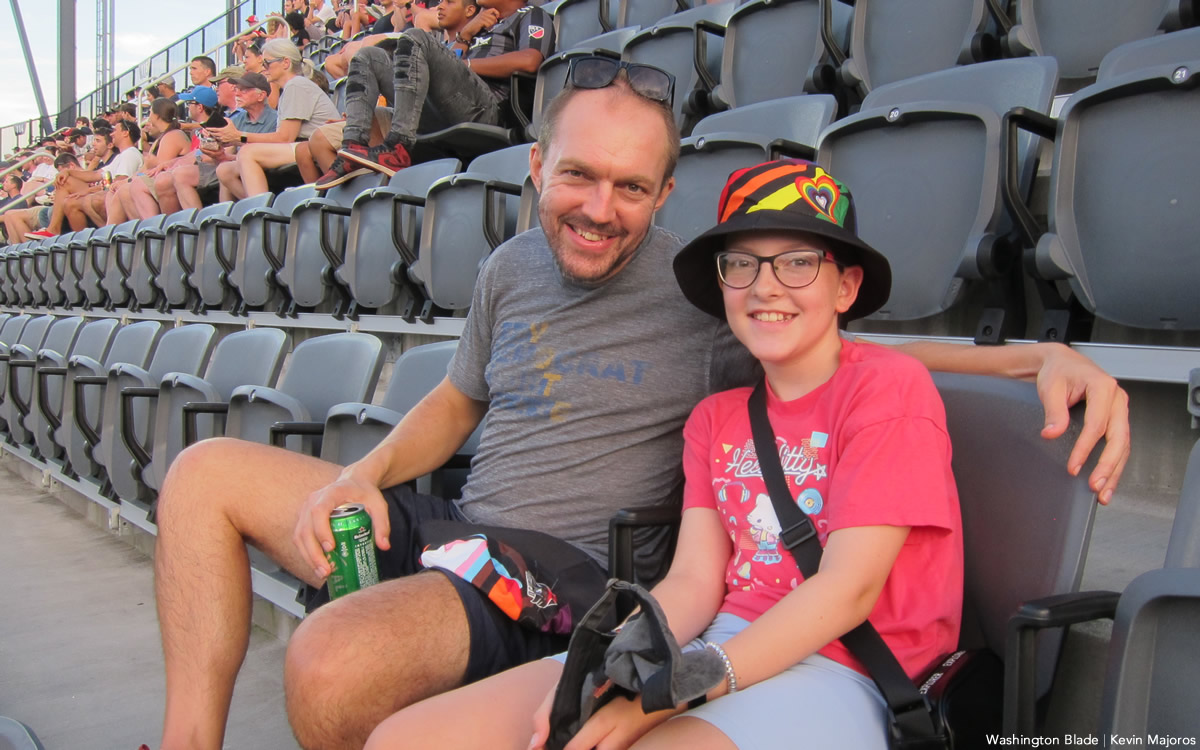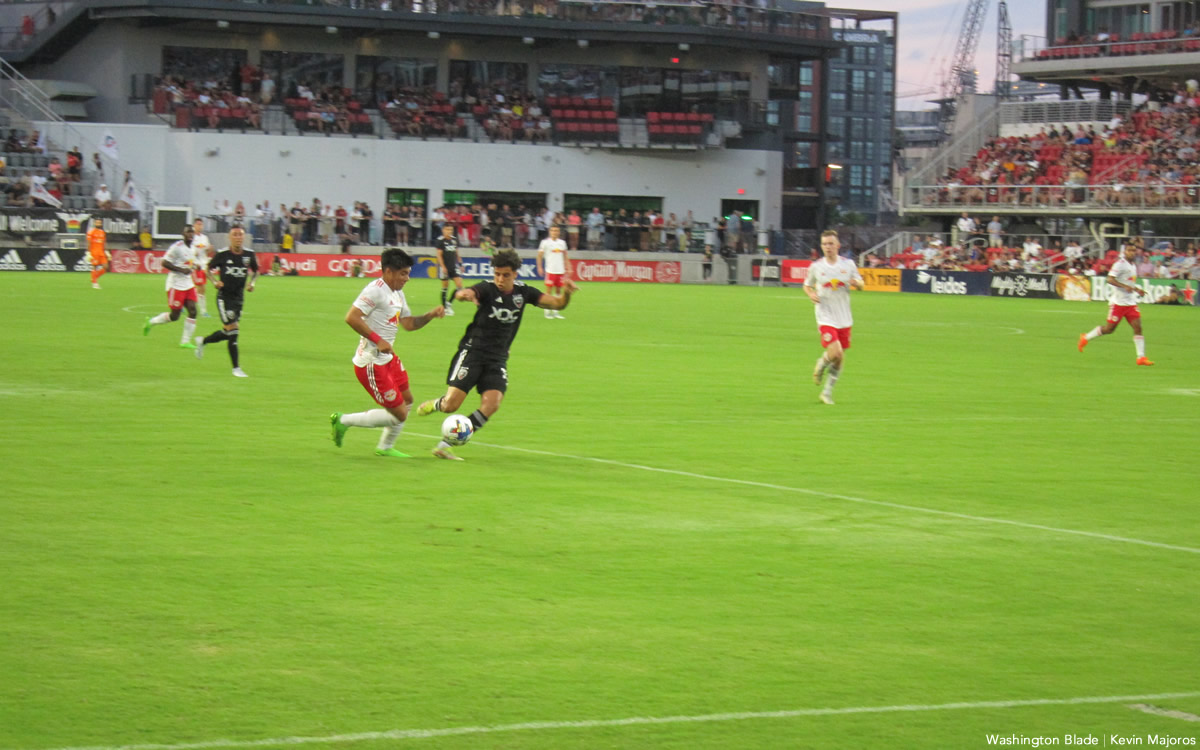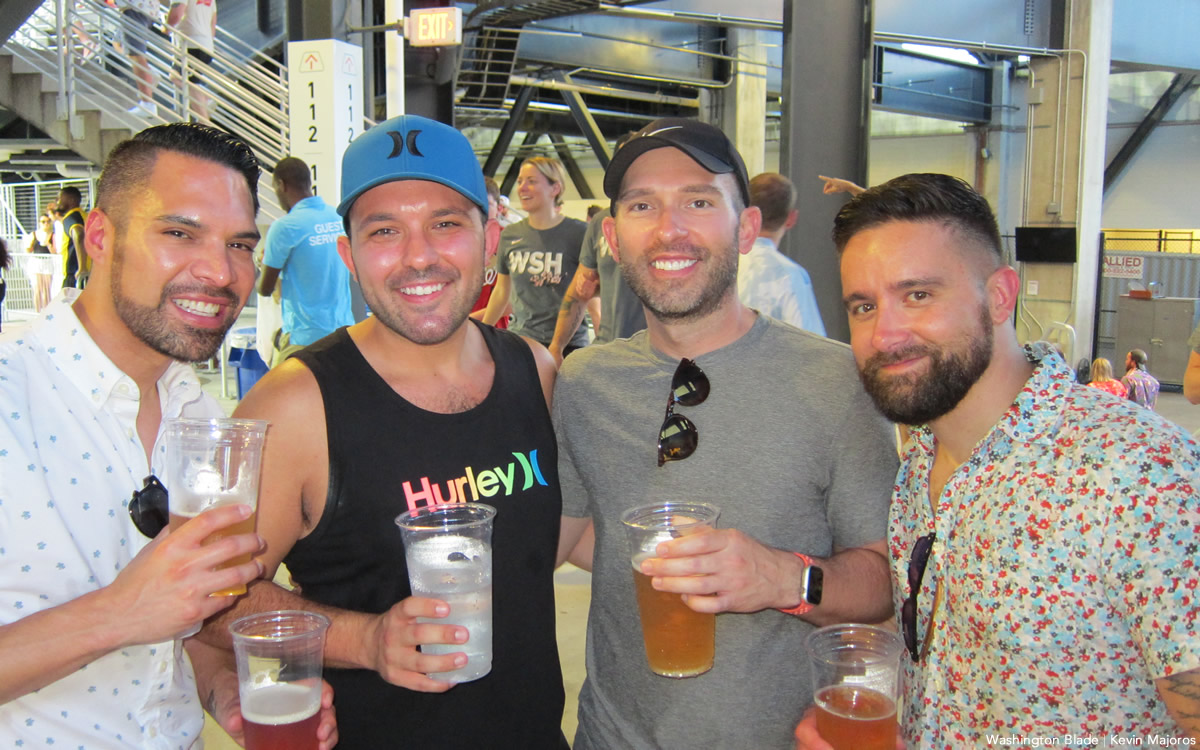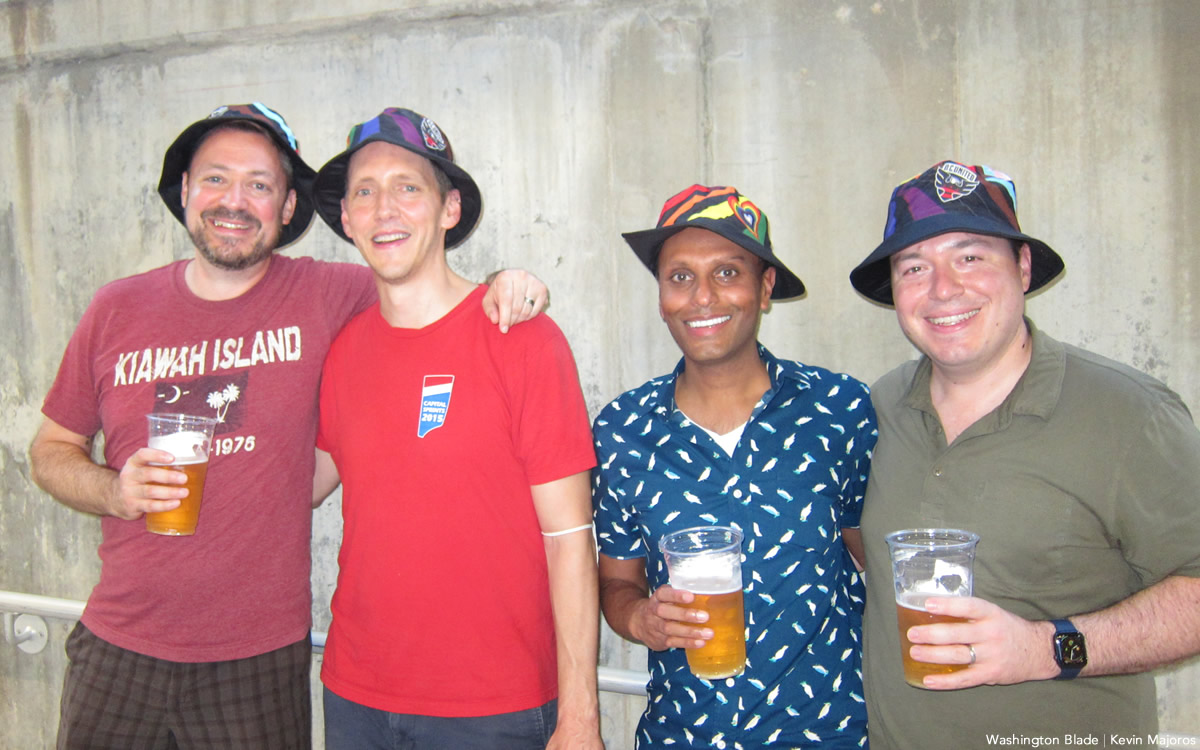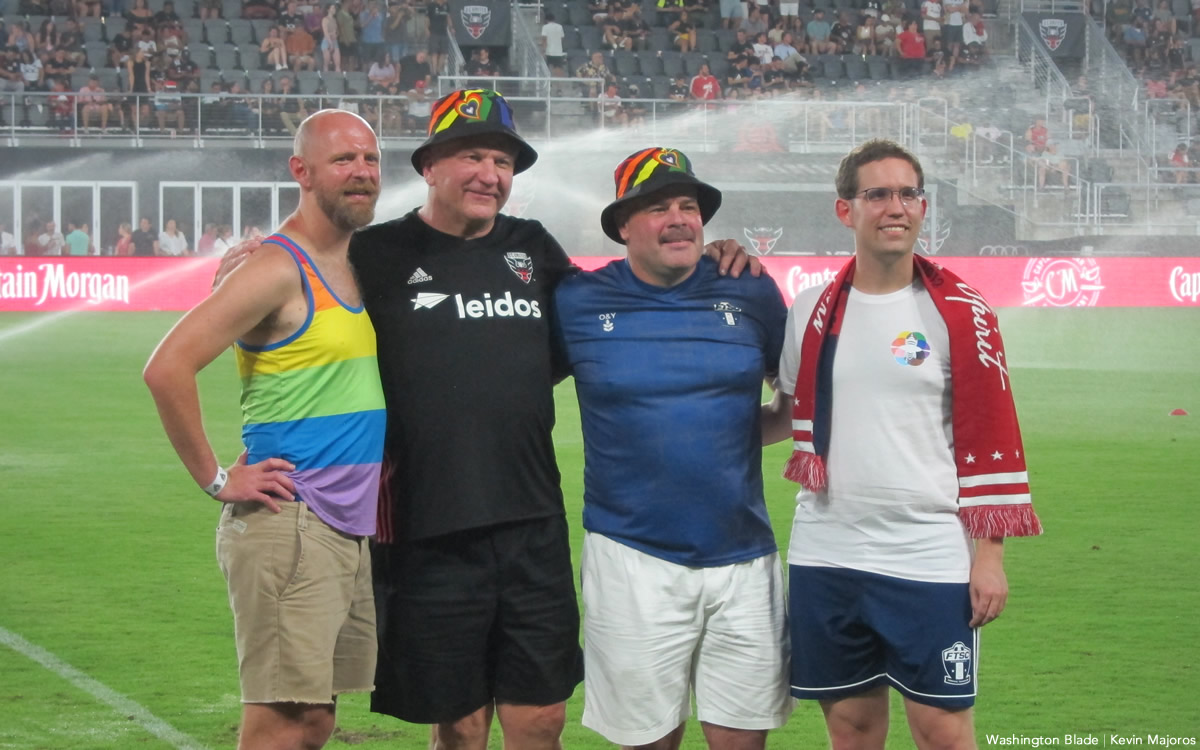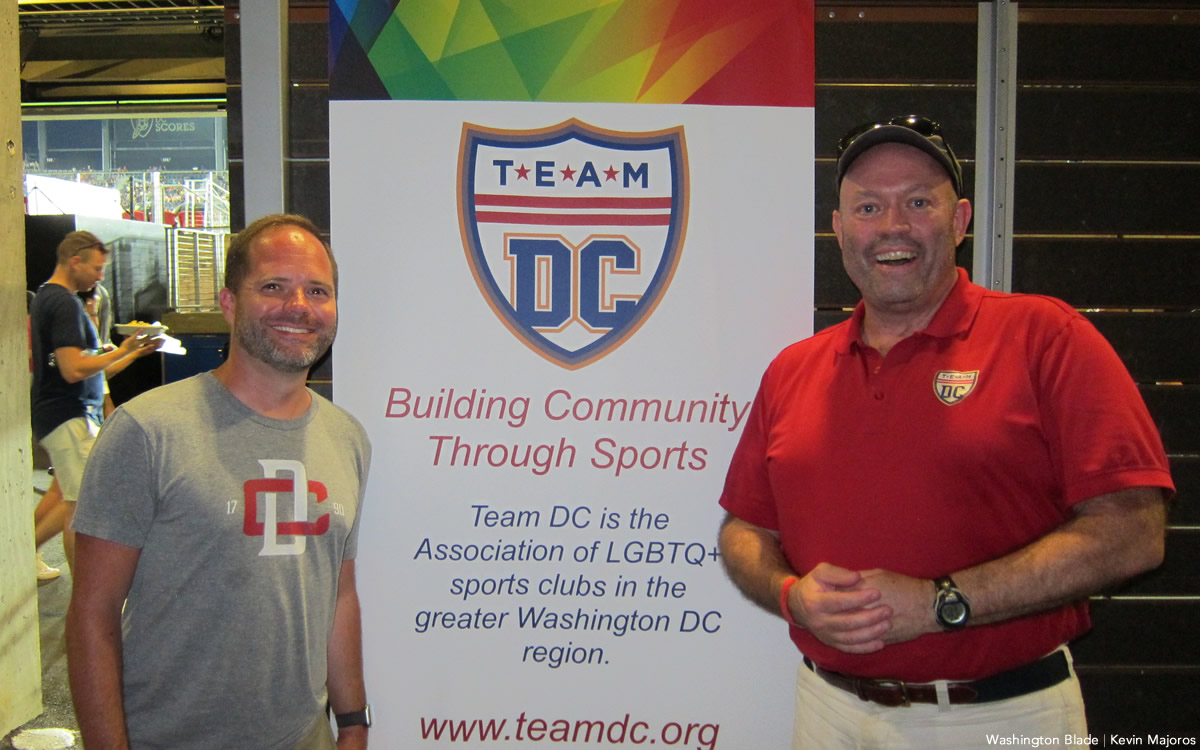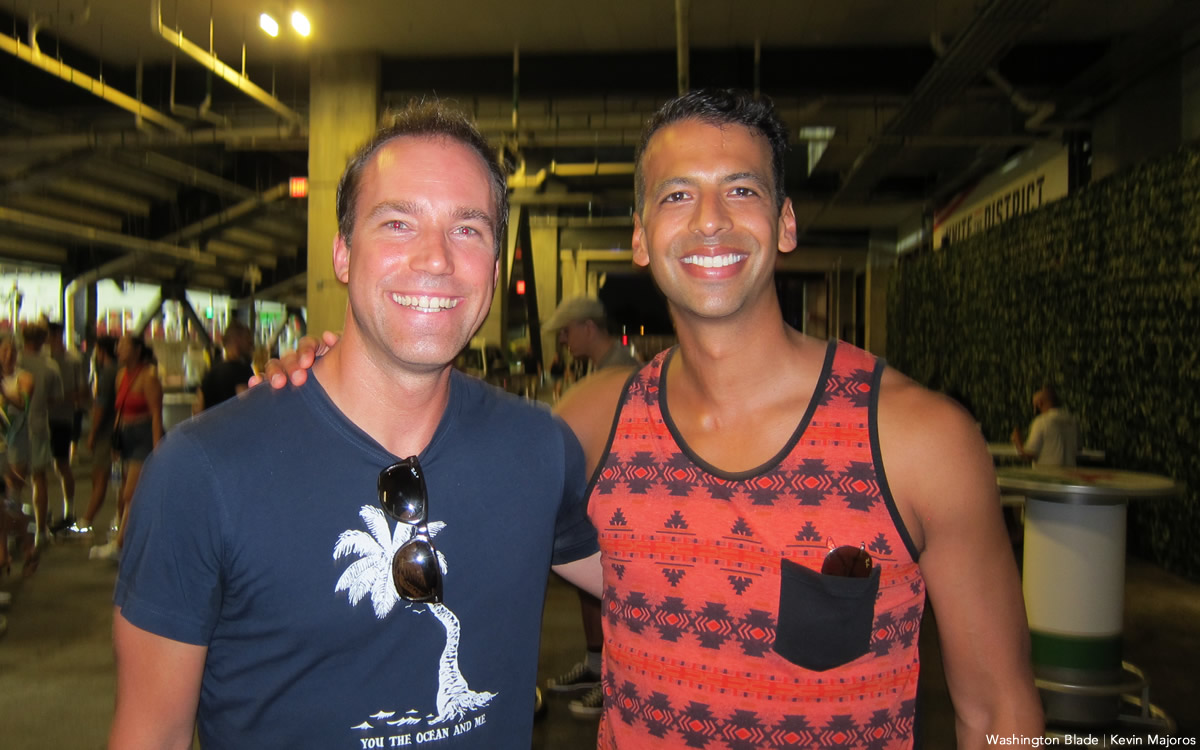 Abbi Jacobson engaged to her girlfriend Jodi Balfour
Last week, Jacobson and Balfour made their first red carpet debut at the Los Angeles premiere of A League of Their Own.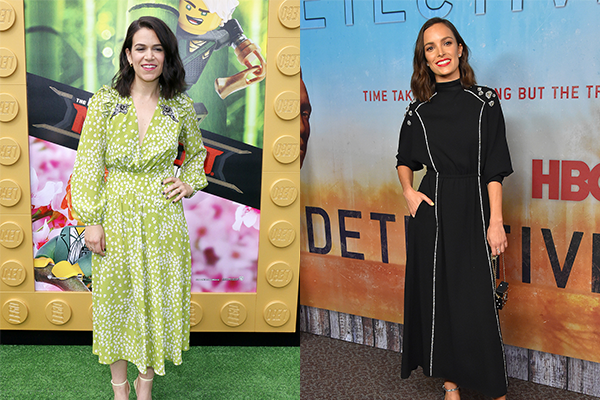 Abbi Jacobson, the Emmy Award nominee, is engaged to her girlfriend Jodi Balfour. She confirmed the news to People as she celebrated with her costars in the upcoming Amazon Video series A League of Their Own.
D'Arcy Carden, the costar and Jacobson's friend of 15 years, said, "It's out. It's great. We're so happy. We love [Jodi]."
"Abbi's engaged! Abbi's engaged! Abbi's engaged!" Chanté Adams, also a costar in the upcoming series, followed, "We've had to hide it for … No, I'm kidding."
"No, you have not. You have not had to hide it." Jacobson responded, blushing, "That was not a thing. It was not a secret."
Last week, Jacobson and Balfour made their first red carpet debut at the Los Angeles premiere of A League of Their Own.
The couple started dating in 2020 and celebrated their first anniversary last October. Jacobson shared some selfies of them on instagram: "One year with this incredible human. Don't know how I got so lucky ❤️."
Likewise, Balfour wrote in the caption: "365 days of the best surprise of my life 💚."
Jacobson officially came out as a bisexual in the interview with Vanity Fair. "I date men and women," she said, adding as long as the person is "funny" and is "doing something they love."
Balfour, a South African actress, is known for her performances on For All Mankind, Supernatural, The Crown and True Detective.
Jacobson is both cast and co-creator of A League of Their Own, in which she would tell the stories of these LGBTQ women in the 1940s. She also talked about Maybelle Blair, a consultant of the show as well as a former All-American Girls Professional Baseball League player who came out at 95.
"But Maybelle's point of view, specifically on the All-American Girls Professional Baseball League experience, what that was like to play baseball at the time, what it was like to be a queer woman in the league, was pretty important for some of the stories we were telling. But at Tribeca, she had not come out publicly and that was so incredible. And don't you feel like it's like, '95!' I'm like, 'This show needs to come out.' She came out because we made this show."
The first episode of A League of Their Own will be released on August 12.