British prime minister panned as 'disgrace' in response to Pride message
Government cancelled conference after rights groups announced boycott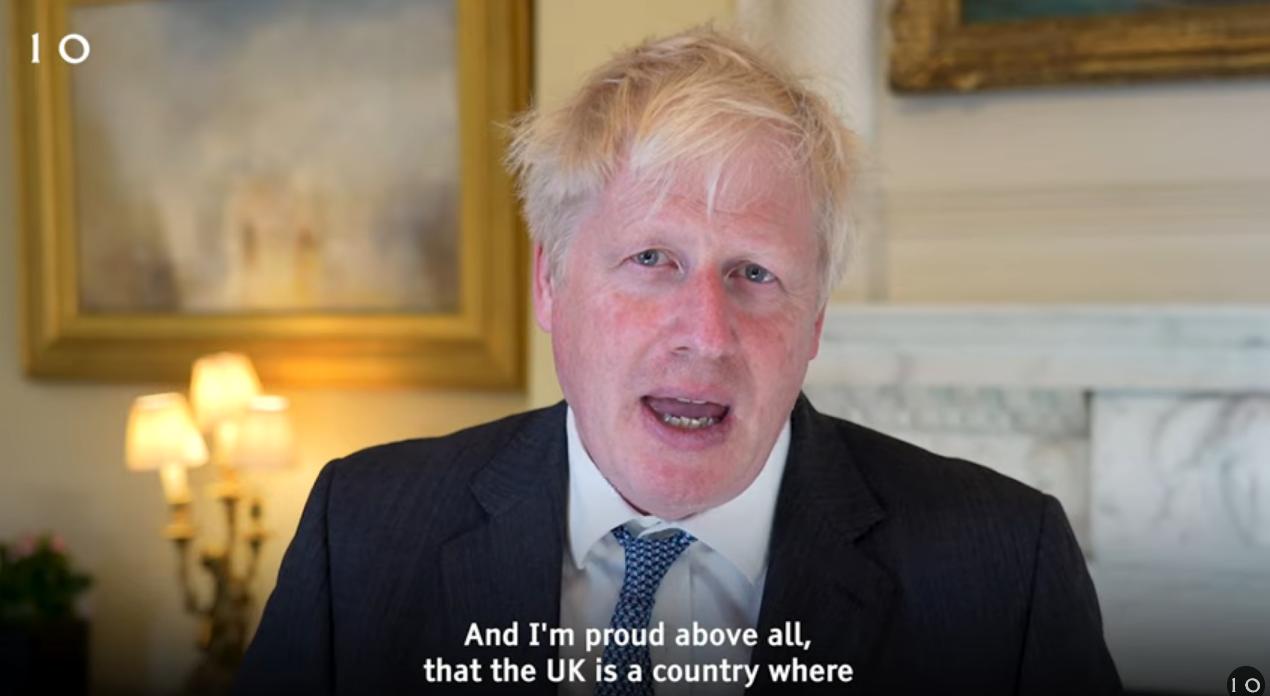 British Prime Minister Boris Johnson released a video message on his official Twitter and YouTube platforms celebrating Pride Month in the U.K. Tuesday under the social hashtag of #WhyPridematters.
The prime minister said that he was "proud" at how many LGBTQ and intersex people have sought asylum in the U.K. from Afghanistan after the Taliban regained control of the country. However, within literal minutes he was promptly criticized and in the Twitter pushback was told by one user: "You're an absolute disgrace."
Another chimed in saying his remarks were hollow.
Johnson's Tory-led government seemingly has been more indifferent to Britain's LGBTQ and intersex community — transgender people in particular — according to activists and the largest LGBTQ and intersex advocacy group, Stonewall UK.
Last Spring, in early April, Bloomberg reported more than 80 organizations pulled out of the British government's international LGBTQ and intersex conference due to be held in June after Johnson dropped a plan to ban so-called conversion therapy for trans people.
One of Johnson's top ministers, Liz Truss, was accused of using LGBTQ and intersex rights to 'rile up her right-wing support base' PinkNewsUK reported.
As minister for women and equalities, Truss scrapped much-needed reform to the Gender Recognition Act (GRA) despite reams of evidence showing there was strong public support for changes that would make accessing legal gender recognition easier for the trans community.
She has also been criticized for her appointments to the Equalities and Human Rights Commission, and her defenses of "gender critical" views.
There has also been outcry by LGBTQ and intersex advocacy groups and activists over the government's willingness to deport LGBTQ and intersex and other asylum seekers on one-way flights to Rwanda. That decision has been criticized by queer and trans advocates as "hugely concerning" and "potentially life-threatening."
Canadian LGBTQ and intersex news outlet Xtra reported that queer and trans asylum seekers in the U.K. already face inhospitable conditions. Sebastian Rocca, founder of charity Micro Rainbow, which provides safe housing to LGBTQ and intersex asylum seekers and refugees in the U.K., tells Xtra in a statement: "One of the most common reasons for the Home Office to refuse asylum to LGBTQI+ people in the U.K. is because they do not believe they are LGBTQI+," adding that the policy has "potentially life-threatening consequences."
The "single young men" framing of the policy means any gay or bisexual men, transmasculine people or transfeminine people — including those seeking asylum in the U.K. for their sexual orientation or gender identity — could potentially be deported to a country with a long history of human rights violations.
In Tuesday's message the prime minister referred specifically to Afghan LGBTQ and intersex people fleeing the notoriously intolerant Taliban which regained control of the country after the Biden administration pulled the remaining armed forces out of the war-torn country last summer after nearly 21 years of conflict.
"LGBT Afghans coming to this country because we're a place that is welcoming and understands that type of intolerance is simply unacceptable in this country," Johnson said.
Why #Pride Matters. pic.twitter.com/XBj8frzPo3

— UK Prime Minister (@10DowningStreet) June 20, 2022
Johnson added: "I'm proud above all that the U.K. is a country where you can be however you want to be and you can love whomever you choose to love no matter who you are or where you come from or what your background is.
"So it's great to see Afghans coming to this country with that knowledge and seeing our country as a beacon of hope.
"That's why Pride Month matters so much. And I hope you have a great Pride."
Twitter was less than impressed:
Boris Johnson said gay people are 'tank top bum boys' and compared equal marriage to three men marrying a dog.

The Tory government have also deported LGBT+ people to countries where LGBT+ people are criminalised and more Tory MPs voted against same sex marriage than for it. https://t.co/cqgNBjCI87

— George Aylett (@GeorgeAylett) June 21, 2022
Hollow words from a Government who are still content with deporting LGBT+ refugees to Rwanda despite their own report stating that LGBT+ people "regularly" face "arbitrary arrest and detention by state security forces without due process." #ToriesOut https://t.co/0qB0U9irIQ

— Chris Davis 🇺🇦 (@Chris_Davis1998) June 21, 2022
You're an absolute disgrace. https://t.co/pBWcti3UbX

— Richard 🌈🏳️‍🌈 (@RJFirth) June 21, 2022
Why Pride matters | Prime Minister Boris Johnson:
British prime minister backs transgender athletes ban
Boris Johnson made comments during Commonwealth meeting in Rwanda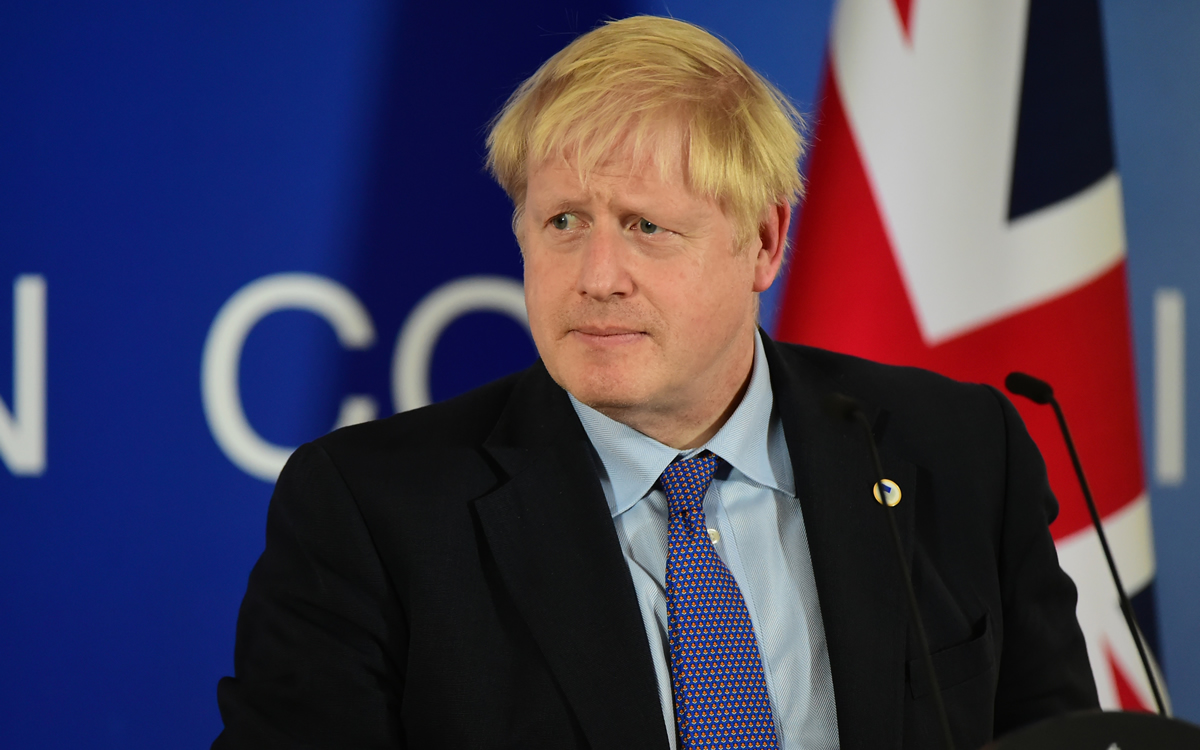 During a break between sessions during the first summit meeting of the Commonwealth nations since the coronavirus pandemic in the Rwandan capital this past weekend, British Prime Minister Boris Johnson was asked by a reporter about the FINA ban on transgender women athletes.
The prime minster's response was that there were "particular problems" around "issues of gender."
"Look it's very, very important that as a society we should be as understanding of everybody else as possible. I've always stood for that. When it comes to, when you start to move from issues of sexuality to issues of gender, you start to raise particular problems," Johnson told reporters.
In a follow-up question the prime minster was also asked whether women can be born with a penis, he replied: "Not without being a man."
"I think I've spoken of three concerns I've had in the past. They are to do with the age at which you can deem it competent to transition, the question of safe spaces for women, and the difficulties you have with sporting competitions," Johnson continued.
"These are all very difficult problems and you have to be very sensitive. But these are the areas."
Pressed on whether he backed the swimming ban, Johnson said: "I haven't studied it in detail but I see no reason to dissent. That follows from what I've previously said."
British Secretary of State for Digital, Culture, Media and Sport Nadine Dorries in a column published this past weekend by the Mail on Sunday wrote:
"I have the greatest compassion for anyone who finds themselves living in a body they don't recognize. But we can't pretend that sex doesn't matter. Sex has biological consequences. If you're born a male, and you go through puberty as a male, your body develops natural physical advantages over a woman's. That makes you stronger and faster.
I'm setting a very clear line on this: competitive women's sport must be reserved for people born of the female sex. Not someone who was born male, took puberty blockers or has suppressed testosterone, but unequivocally and unarguably someone who was born female. I want all of our sporting governing bodies to follow that policy."
The Guardian UK noted that Dorries, said she will make it "crystal clear" to British sporting bodies that competitive women's sport must be reserved for people born of the female sex when she meets them on Tuesday to discuss their trans policies.
Dorries will urge organizations representing football, cricket, rugby, tennis, athletics and other sports to follow the lead of FINA, the governing body of swimming, by barring from female events trans women who have "gone through male puberty."
PinkNewsUK reported Monday that since FINA announced its revised trans eligibility policy, several national and international sporting administrators have followed.
The International Rugby League, FIFA and World Athletics, among others, have either temporarily banned or launched reviews into their trans inclusion policies.
London mayor criticizes city's police for 'systemic' homophobia
Former Met Commissioner Cressida Dick resigned in February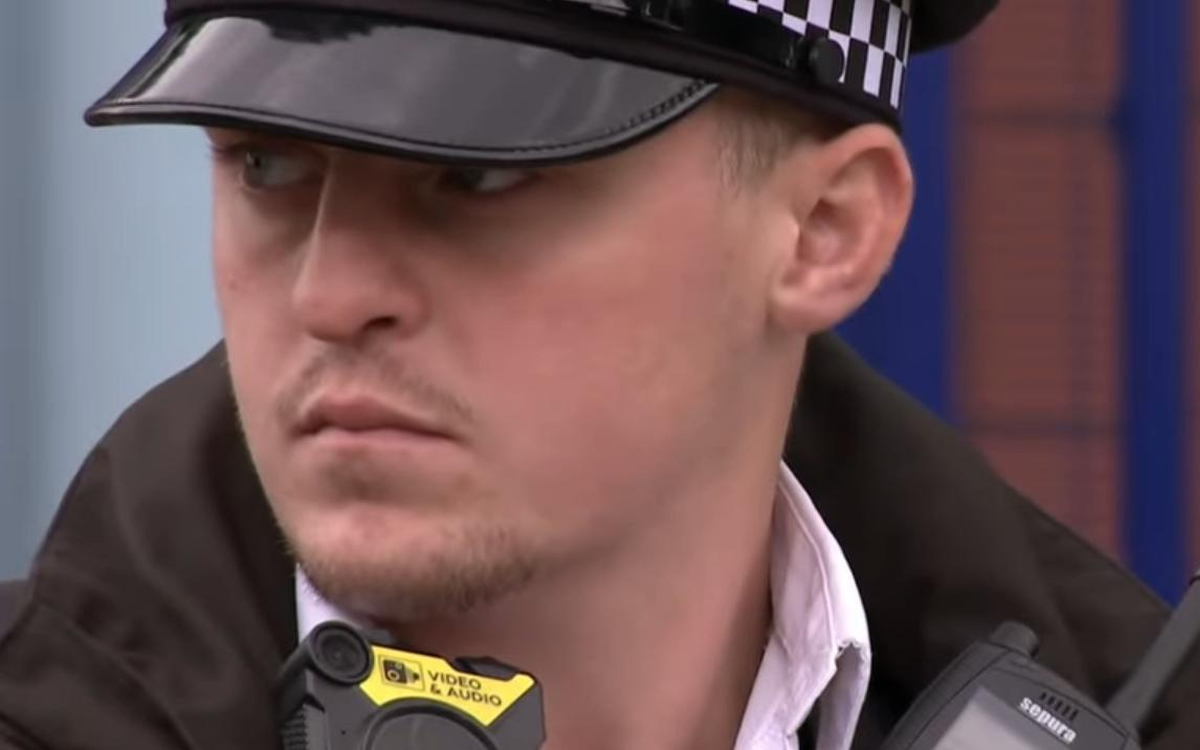 Appearing on a Sunday morning talk show on the BBC, London Mayor Sadiq Khan said that the public was "losing trust and confidence" in the Metropolitan Police force. Khan harshly condemned the current environment which had led to the departure of former Met Commissioner Cressida Dick.
PinkNewsUK had reported in April that Dick had stepped down from the post in February after a damning report from England's police watchdog exposed a troubling pattern of homophobia and bullying within the Met.
The report also detailed how homophobic, racist, misogynist and violent comments made by officers were dismissed as "laddish banter."
She said she initially had "no intention" of stepping down after the scandal despite the fact she had been placed "on notice" by Khan. But Dick changed her mind and admitted in a statement that Khan's skepticism in her ability to lead the force left her "no choice" but to resign early.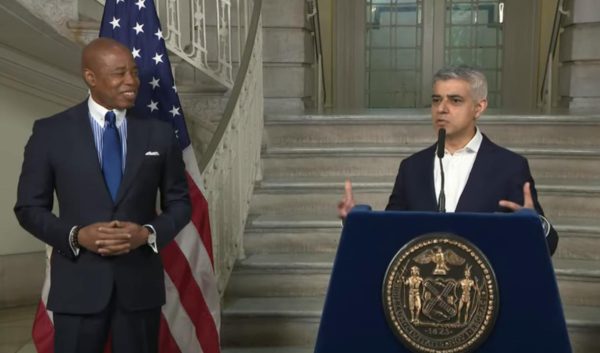 Speaking to the BBC, the mayor noted:
"It's possible to recognize the dedicated, decent, brave officers we have in the police service but to also say we've got real problems — real problems that have been shown recently in relation to evidence of overt systemic sexism, racism, homophobia, discrimination, misogyny — which need to be addressed."
He added that it was important that the new commissioner — who will be appointed by the British Home Secretary Priti Patel — takes steps to "address those challenges." He believed the new commissioner would also need to "win back the trust and confidence of too many Londoners that has been lost."
"One of the reasons why I lost confidence in the previous commissioner was my lack of confidence in her plans to address the two big issues — addressing the systemic racism, sexism, homophobia and misogyny, but also the trust and confidence required from our public when you police by consent," Khan said.
Deputy Commissioner Stephen House has been temporarily serving as acting commissioner as the recruitment process continues, PinkNewsUK reported.
According to the Guardian, the process has been whittled down to the final two candidates: Mark Rowley, a former head of counter-terrorism, or Nick Ephgrave, currently part of Met's top leadership.
Britain's Royal Mint marks 50 years of 'Pride UK' with first LGBTQ+ coin
This is first ever UK coin dedicated to Britain's LGBTQ+ community, with color printing technology capturing the spirit of Pride UK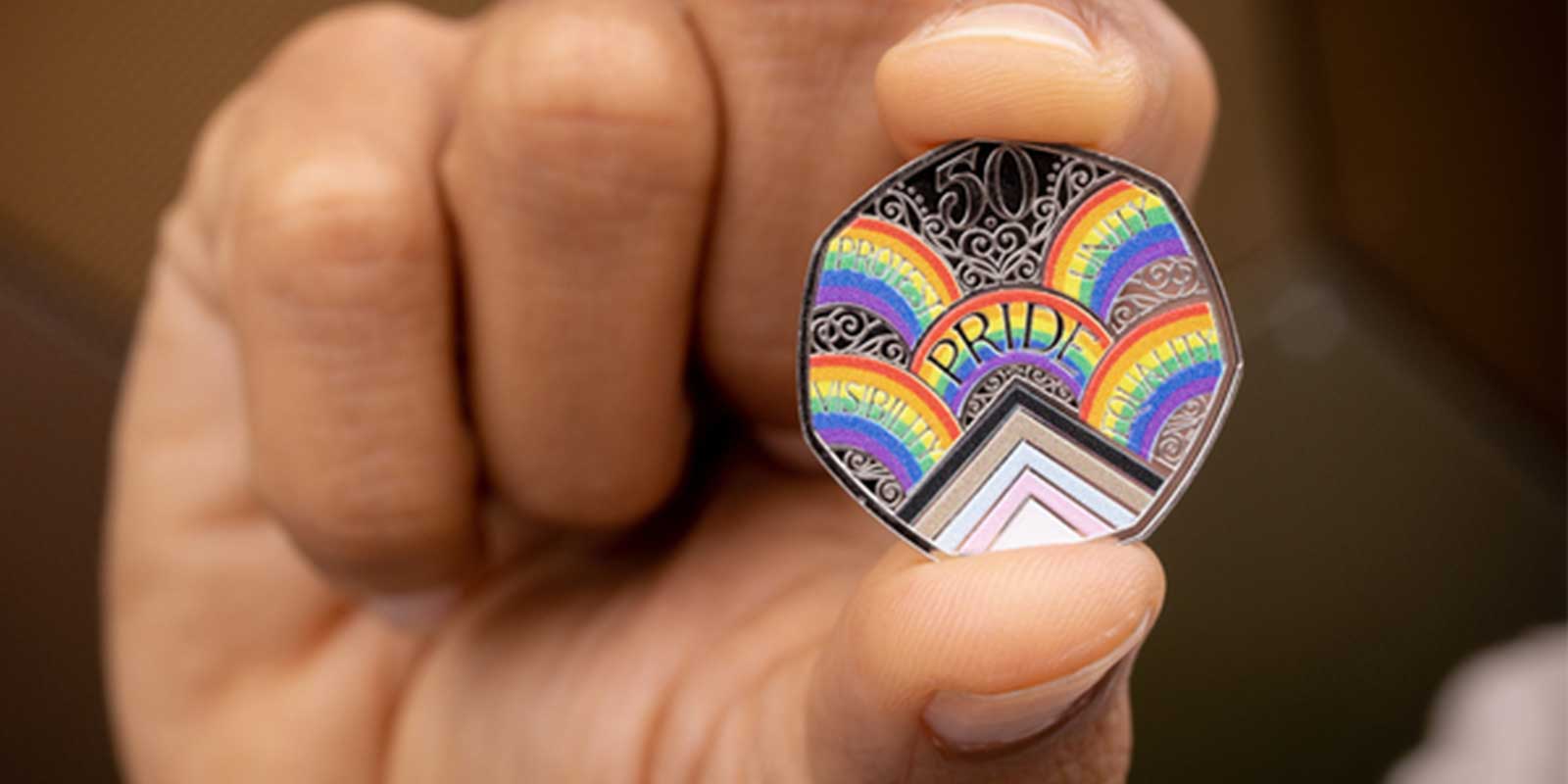 The Royal Mint this week revealed a commemorative 50p (50 pence) coin celebrating the 50th anniversary of Pride UK. This coin marks the first time Britain's LGBTQ+ community has been celebrated on official UK coinage, and forms part of The Royal Mint's wider commitment to diversity and inclusion.
The coin has been designed by Dominique Holmes, an east London artist, writer, and LGBTQ+ activist with a varied artistic background that includes tattoo artistry. The coin design features Pride in London's values of Protest, Visibility, Unity, and Equality in rainbows. With state-of-the-art color printing technology, the iconic colors of the Pride progression flag are recreated with special-edition color versions of the silver and BU coins.
Since the first official Pride UK event in 1972, the Pride UK movement has been one of significant political and cultural importance. Now in its 50th year, Pride UK is more popular than ever and continues to fight against societal oppression and stand up for rights of the LGBTQ+ community.
"As part of the launch, The Royal Mint will make a financial contribution to London LGBT Community Pride. The 50p will not enter circulation but will be available to purchase via The Royal Mint website this summer."
Asad Shaykh, Director of Marketing and Communications at Pride in London said, "It was a privilege to visit The Royal Mint as part of our partnership and see our coin being made.
"It humbles me greatly that the words that I coined for the brand, PROTEST, VISIBILITY, UNITY & EQUALITY – will be on an actual coin, opposite the Queen. This queer brown immigrant has come a long way, powered by hope, love and this city. Nowhere in the world had this been possible, except the UK. Pride in London feels very proud today."
Clare Maclennan, Director of Commemorative Coin at The Royal Mint said, "The 50th Anniversary of Pride UK is a milestone celebration, and it is a privilege to mark 50 years of progress with this 50p coin. This is the first ever UK coin dedicated to Britain's LGBTQ+ community, with color printing technology capturing the spirit of Pride UK with its iconic rainbow colors.
"It was an honour to host representatives from Pride in London at The Royal Mint recently to strike their own coins as part of the launch and discuss with them our commitment to diversity and inclusion within the business and show how we are reinventing for the future."
As part of the launch, The Royal Mint will make a financial contribution to London LGBT Community Pride. The 50p will not enter circulation but will be available to purchase via The Royal Mint website this summer. The range includes gold, silver, and brilliant uncirculated versions.
The launch of the new LGBTQ+ coin forms part of The Royal Mint's wider commitment to equality, diversity, and inclusion. Alongside D&I training for all employees, a network of D&I Champions has been established to support The Royal Mint's wider vision of celebrating differences for an inclusive future.
This commitment also extends to an LGBTQ+ society for employees at The Royal Mint; established last year. Named 'Enfys', the Welsh word for Rainbow, the group has hosted Q+A sessions, shared their personal stories and encouraged visibility and allyship amongst employees.
It is the first time the LGBTQ+ community has been celebrated on an official UK coin. https://t.co/15at8tIwRM

— BBC London (@BBCLondonNews) May 18, 2022
To find out more information about the 50th Anniversary of Pride 50p and to register for updates please visit The Royal Mint website.