London mayor criticizes city's police for 'systemic' homophobia
Former Met Commissioner Cressida Dick resigned in February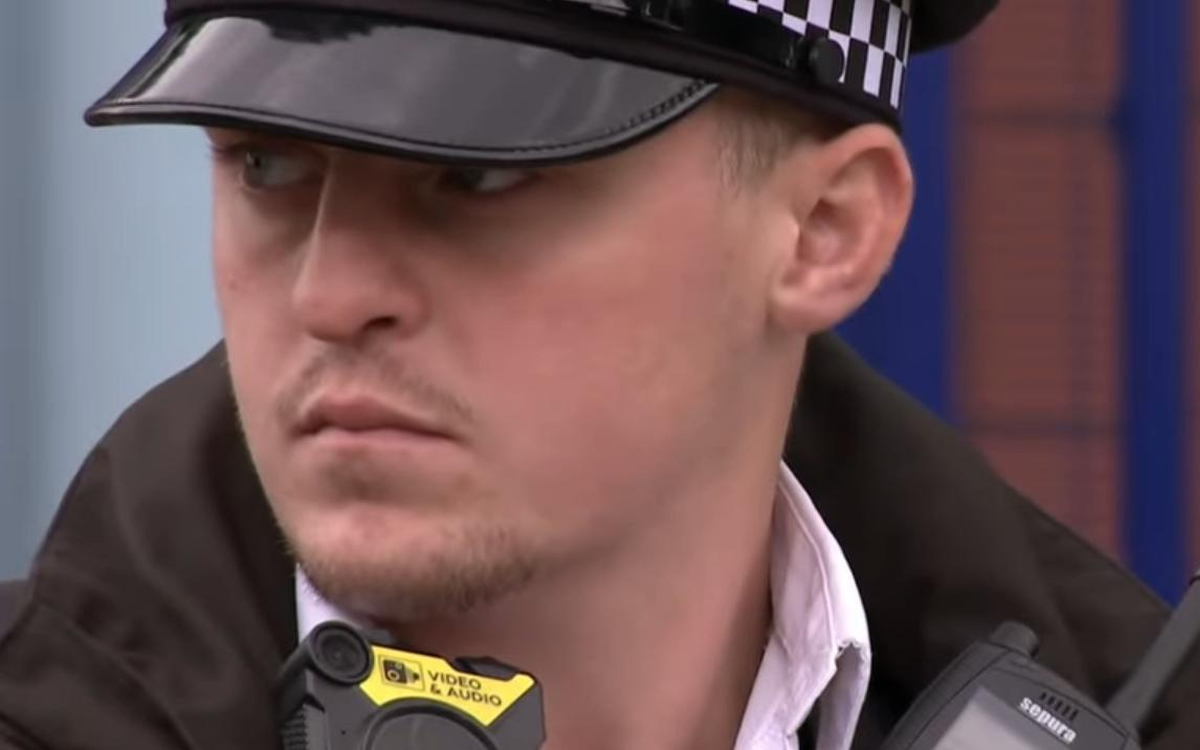 Appearing on a Sunday morning talk show on the BBC, London Mayor Sadiq Khan said that the public was "losing trust and confidence" in the Metropolitan Police force. Khan harshly condemned the current environment which had led to the departure of former Met Commissioner Cressida Dick.
PinkNewsUK had reported in April that Dick had stepped down from the post in February after a damning report from England's police watchdog exposed a troubling pattern of homophobia and bullying within the Met.
The report also detailed how homophobic, racist, misogynist and violent comments made by officers were dismissed as "laddish banter."
She said she initially had "no intention" of stepping down after the scandal despite the fact she had been placed "on notice" by Khan. But Dick changed her mind and admitted in a statement that Khan's skepticism in her ability to lead the force left her "no choice" but to resign early.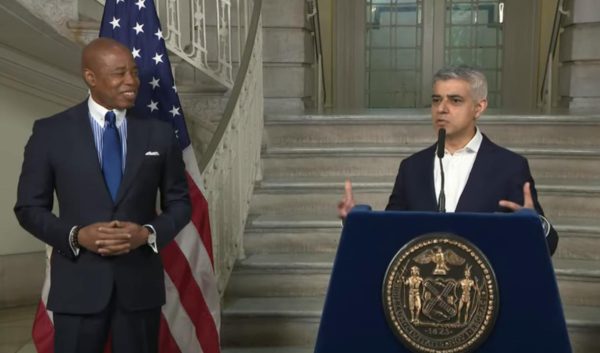 Speaking to the BBC, the mayor noted:
"It's possible to recognize the dedicated, decent, brave officers we have in the police service but to also say we've got real problems — real problems that have been shown recently in relation to evidence of overt systemic sexism, racism, homophobia, discrimination, misogyny — which need to be addressed."
He added that it was important that the new commissioner — who will be appointed by the British Home Secretary Priti Patel — takes steps to "address those challenges." He believed the new commissioner would also need to "win back the trust and confidence of too many Londoners that has been lost."
"One of the reasons why I lost confidence in the previous commissioner was my lack of confidence in her plans to address the two big issues — addressing the systemic racism, sexism, homophobia and misogyny, but also the trust and confidence required from our public when you police by consent," Khan said.
Deputy Commissioner Stephen House has been temporarily serving as acting commissioner as the recruitment process continues, PinkNewsUK reported.
According to the Guardian, the process has been whittled down to the final two candidates: Mark Rowley, a former head of counter-terrorism, or Nick Ephgrave, currently part of Met's top leadership.
UK Black Pride celebrates 18 years of empowerment
Phyll Opoku-Gyimah founded event in 2005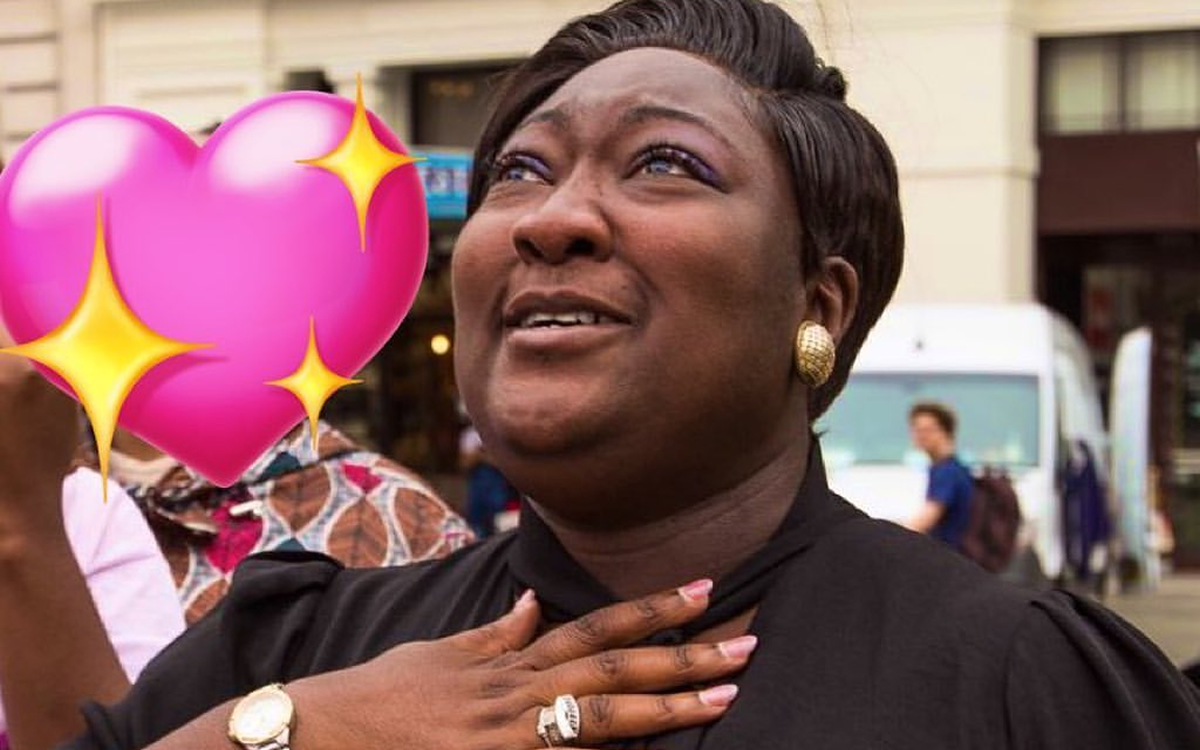 In a world where diversity and inclusivity are increasingly valued, UK Black Pride stands as a beacon of empowerment and celebration. As it prepares to mark its 18th anniversary on Saturday, the event continues to shine a spotlight on the experiences, struggles and triumphs of LGBTQ individuals from Black, Asian, and other minority ethnic backgrounds. With each passing year, UK Black Pride grows stronger, amplifying its message of unity, acceptance, and change.
Founded by Phyll Opoku-Gyimah, affectionately known as Lady Phyll, in 2005, the event emerged from the necessity to create a space that speaks directly to the intersection of race and LGBTQ identity. Traditional Pride events, while important, often fall short in fully addressing the unique challenges faced by individuals who belong to both marginalized communities. Recognizing this gap, UK Black Pride was born with the intention to provide a platform for underrepresented voices.
The essence of UK Black Pride lies in its commitment to fostering unity within diverse communities.
"UK Black Pride's Community Stage is where thought-provoking discussions intertwine with the performances of emerging musicians and talented spoken word artists," UK Black Pride says in a statement. "This event celebrates the kaleidoscope of identities that exist within the LGBTQ+ spectrum, highlighting the beauty of difference while erasing the lines that have historically divided us. Attendees find solace in connecting with people who share their experiences, building a support network that extends beyond the event itself."
Over the years, UK Black Pride has not only created a safe space but also played a crucial role in amplifying the visibility of LGBTQ individuals of color, and this year's no different. Visibility is key to breaking down stereotypes, dispelling misconceptions, and creating a world that values and respects all identities. This year, programs that prioritize health, such as breast cancer and Best for My Chest Campaign, refugees, finding and building connections, faith, sexuality, and even poems, would go in full swing. The anniversary, which NYX Professional Makeup has sponsored, would serve as a reminder of the progress made, and the battles yet to be fought.
Only recently, it was reported that two queer people were stabbed outside a south London nightclub. This is testament of the rife homophobia that continues to trump the country. It is also this premise upon which UK Black Pride is built. The 18th anniversary therefore becomes a testament to the resilience of both the event itself, and the communities it represents. Against the backdrop of ongoing struggles for equality and justice, this celebration offers a moment of joy and triumph. It stands as a symbol of the strength found in unity and the determination to overcome challenges. To this vain, music genres like Afrobeats and Amapiano will be played from leading DJs like DJ Biggy C, Scarlett K, DIBS, etc.
As UK Black Pride enters its 18th year, its impact continues to extend beyond the event itself. The visibility it creates, the conversations it sparks, and the connections it forges all contribute to a broader cultural shift.
"With each passing year, the event moves us closer to a world where everyone's identity is embraced, and discrimination is a thing of the past. This event, born out of necessity, continues to stand tall as a beacon of empowerment, amplifying the voices of LGBTQ individuals from minority ethnic backgrounds. As we honor this milestone, let us also recognize that the journey towards equality and acceptance is ongoing. UK Black Pride reminds us that the struggle is real, but so is the strength that comes from unity and love."
UK confirms efforts to decrease number of gender-neutral toilets
Anti-transgender rhetoric on the rise in the country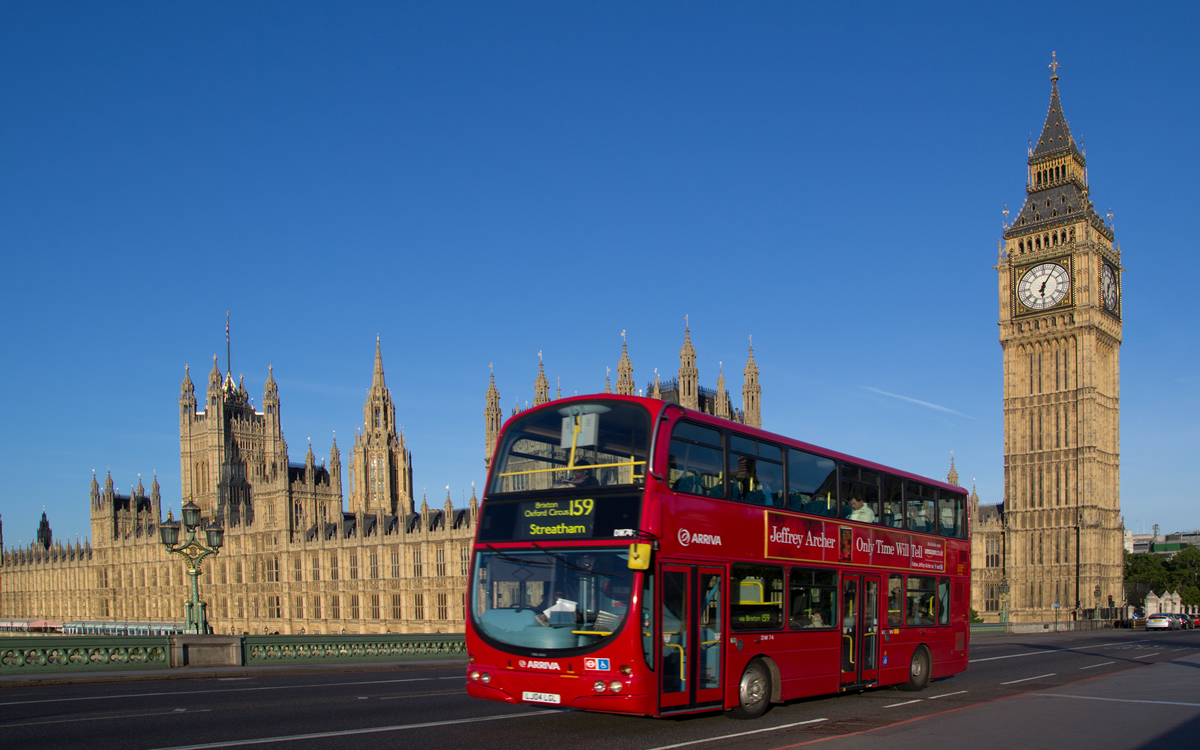 The Home Office's Department for Leveling Up announced Sunday that the U.K. government will implement measures to reverse the rise of gender-neutral toilets as part of wider efforts to protect single sex spaces.
Any changes will affect England only. The department has made no suggestion whether these measures will extend to Scotland, Wales or Northern Ireland in the future.
In its statement the government noted all new non-domestic public and private buildings will be required to provide separate single-sex toilets for women and men and/or a self-contained, private toilet as a minimum.
According to the department's statement, these changes come amid dignity and privacy concerns from women and elderly people who feel they are being unfairly disadvantaged as publicly accessible toilets are increasingly being converted into gender neutral facilities.
Concerns over the rise of neutral gender facilities has meant that public have been forced to share cubicle and hand-washing facilities, leading to increasing waiting in shared queues, decreased choice and a limitation on privacy and dignity for all, the statement read.
The government claims that these new regulations and guidance will mean women, who may need to use facilities more often because of pregnancy or sanitary needs, will now be guaranteed appropriate facilities either through a separate single-sex space or through a self-contained, private toilet.
PinkNewsUK reported that pro-LGBTQ activists have previously signaled the importance of gender-neutral toilets, including conservative MP Caroline Nokes, who said in 2022 that the "inclusive" facilities are something she stands up for "enormously."
Following the policy's announcement, Nokes told PinkNewsUK: "What matters most when it comes to toilets is design. I always point at Portcullis House in Parliament which has bathrooms on every floor, nobody refers to them as gender-neutral bathrooms — they are just bathrooms."
"If you have lavatory facilities that are each self-contained units, with their own wash basin and hand drier, and wall-to-ceiling walls and doors, and men remember to put the seat down, there really is nothing to complaint about," she continued. "What we all want is nice, clean, private loos and in new builds in particular that ought not to be impossible."
Women and Equalities Minister Kemi Badenoch said:
"It is important that everybody has privacy and dignity when using public facilities. Yet the move towards 'gender neutral' toilets has removed this fundamental right for women and girls.
"These proposals will ensure every new building in England is required to provide separate male and female or unisex facilities, and publish guidance to explain the difference, protecting the dignity, privacy and safety of all."
Badenoch has faced much criticism from the LGBTQ community over her transgender-hostile statements previously and her opposition to a conversion therapy ban that includes trans people.
PinkNewsUK also reported that in remarks leaked in 2021, but made in 2018, just a year after Badenoch became an MP, she reportedly described trans women as "men using women's bathrooms" and asked: "We've got gay marriage and civil partnerships, so what are transsexuals looks for?"
The changes will be made through building regulations and guidance. The aim of the new requirements will ensure that:
Separate single-sex toilets facilities are provided for men and women; and/or
Self-contained, private toilets are provided where space allows to ensure privacy and safety;
Mixed sex shared facilities are not an option, except when lack of space allows only a single toilet
Changing the rules for single sex and/or universal toilets to be required would have positive equality outcomes for those who may not currently feel safe while using toilet facilities.
According to a recent YouGov opinion tracker, as of Wednesday (Aug. 9), 47 percent of women in the U.K. oppose gender-neutral toilets, while a separate 47 percent of women support having gender-neutral toilets as well as separate toilets for men and women. The remaining six per cent support gender-neutral toilets only, or do not know.
People aged 18-24 are more strongly in favor of including gender-neutral toilets (51 percent), while 34 percent oppose them.
Additional reporting from PinkNewsUK
Transphobes outraged over British coffee shop chain's mural
Artist drew trans man with surgery scars with Costa Coffee cup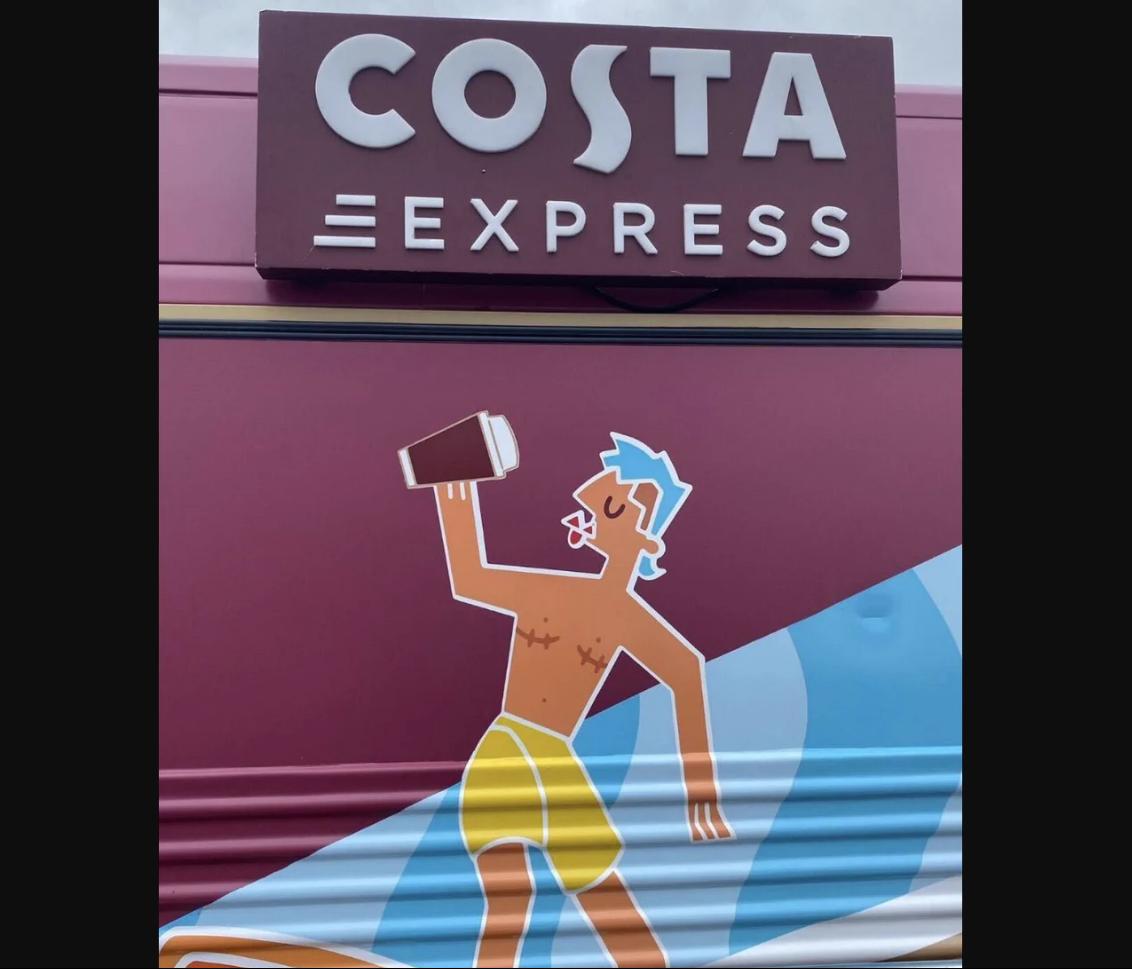 A British coffee house chain is drawing heavy critique over its inclusion of an artistic caricature of a shirtless "trans man" sipping on a coffee emblazoned on one of its company's vans.
Costa Coffee, the second largest coffeehouse chain in the world and largest in the U.K., had a mural created that depicts a trans male with double mastectomy scars pictured, which a company spokesperson defended telling reporters it "showcases and celebrates inclusivity." 
The reaction from British "gender criticals" and others opposed to trans rights in the U.K. was to launch a furious #BoycottCostaCoffee campaign on X, the social media platform formerly called Twitter.
Trans male YouTube creator and social media influencer Jamie Raines took to his X account to applaud the company writing: "So @CostaCoffee depicted a trans masc person, and transphobes are angry and shouting #BoycottCostaCoffee (obvs). Shockingly to them trans people exist, and might drink coffee. Anyway, as a trans man with similar scars, thank you Costa for the representation."
So @CostaCoffee depicted a trans masc person, and transphobes are angry and shouting #BoycottCostaCoffee (obvs). Shockingly to them trans people exist, and might drink coffee. Anyway, as a trans man with similar scars, thank you Costa for the representation 🏳️‍⚧️ pic.twitter.com/cSwhIPEyt8

— Jamie Raines 🦖🥔 (@jammi_dodger94) July 31, 2023
"At Costa Coffee we celebrate the diversity of our customers, team members and partners. We want everyone that interacts with us to experience the inclusive environment that we create, to encourage people to feel welcomed, free and unashamedly proud to be themselves. The mural, in its entirety, showcases and celebrates inclusivity," a Costa Coffee spokesperson said in an emailed statement.
One prominent critic of the trans community, James Esses, a British therapist who was expelled from his training institute over his ideological opposition regarding the care of trans-identified youth and his long held gender critical beliefs also took to X castigating the coffee chain.
"Dear @CostaCoffee,
Could you kindly explain why you are glorifying irreversible surgery performed on healthy breasts of women for a mental health condition?" Esses wrote.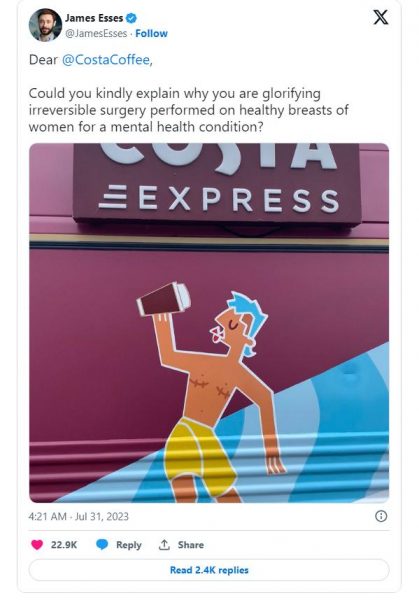 In another tweet he attacked the artist of the mural: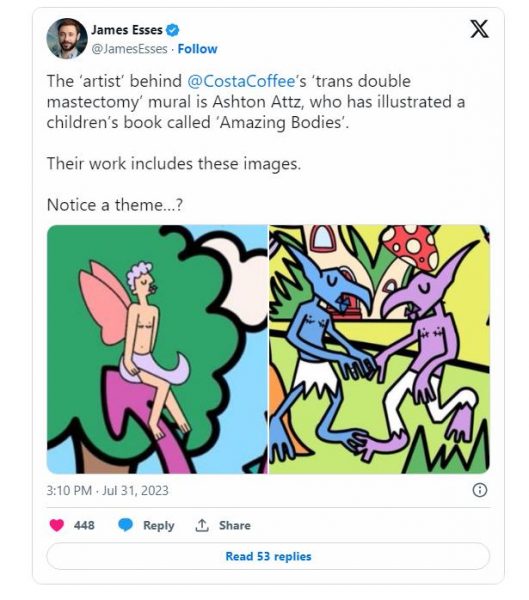 British physician Dr. Helen Webberley, however, took the "gender criticals" to task, noting:
"Know where I'll be stopping for my morning cuppa tomorrow morning.
Everyone shouting #BoycottCostaCoffee because it 'promotes the mutilation of teenage girls' have completely missed the point. Top surgery is a completely routine and normal procedure that helps reduce gender dysphoria in trans men — a debilitating mental health issue that sadly takes so many lives every year. Top surgery doesn't harm people — it saves lives. Good on @CostaCoffee for being on the right side of history."
I know where I'll be stopping for my morning cuppa tomorrow morning.☕

Everyone shouting #BoycottCostaCoffee because it "promotes the mutilation of teenage girls" have completely missed the point.

Top surgery is a completely routine and normal procedure that helps reduce gender… pic.twitter.com/J4WL36wXUD

— Dr Helen Webberley she/her 🏳️‍⚧️🧜‍♀️🏳️‍⚧️ (@HelenWebberley) July 31, 2023
One local Scottish politician wryly noted that the positive aspect to the uproar over the mural was the revelation of exactly who the "transphobes" were. Nairn McDonald posted to his X account:
"Watching idiots sharing #BoycottCostaCoffee because Costa put a trans man in their art work is exposing so many transphobes. Bravo @CostaCoffee for being truly inclusive. To the Transphobes … I look forward to my Costa being quieter without you."