Becerra gets defensive over Biden administration's approach to monkeypox
HHS sec'y vaguely blames localities and 'communities at risk'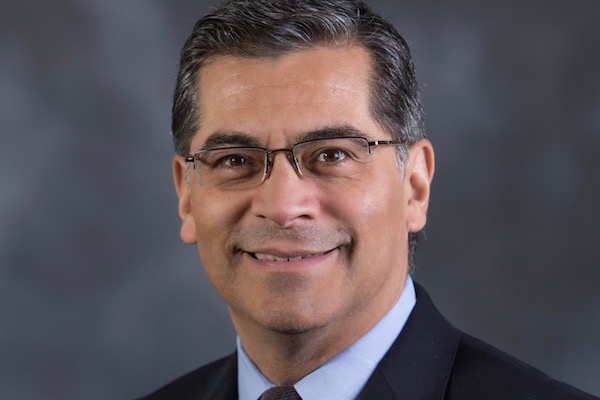 The Biden administration's top health official got defensive on Thursday in response to questions about its response to monkeypox, suggesting localities and "communities at risk" weren't doing enough on prevention efforts and asserting the federal government has "done our homework" in addressing the outbreak.
Secretary of Health & Human Services Xavier Becerra made the comments during a conference call with reporters intended to highlight the federal procurement of an additional 786,000 JYNNEOS vaccines from Bavarian Nordic, which are designed to protect against smallpox and monkeypox, amid concerns over a lack of supply causing localities to restrict access to the shots.
When reporters started asking questions about whether the U.S. government could eliminate monkeypox, or simply get ahead of it and whether the disease would become endemic in the United States, Becerra became defensive and downplayed concerns about vaccine availability.
"I almost want to turn that question back at you…and ask you how many vaccines do you think we need at this stage?" Becerra said. "Now there are 330 million Americans. We could try to vaccinate all 330 million but as we've seen with COVID, which is far deadlier. There's not a person who's died from monkeypox. We've lost over a million people from COVID. We still haven't seen every American get vaccinated with a vaccine that has proven itself to be effective to keep people alive."
Although challenges have persisted in getting Americans to take now widely available COVID vaccines, the problem with the monkeypox vaccine is supply not meeting demand. The D.C. government announced it would temporarily discontinue a two-shot strategy and offer one shot, which is below the recommended federal guidelines, unless a patient is considered high risk. D.C. Health officials have said the first dose is effective for six months and they anticipate having enough vaccine within that time frame to administer the second doses. Critics have said the Biden administration has not sufficiently ramped up efforts to make vaccines widely available for a disease that has been around since the 1950s.
Meanwhile, the number of cases of monkeypox in the United States, which have occurred almost entirely among men who have sex with men, has reached 3,591. The number of cases is now the highest anywhere in the world.
"So on monkeypox, there are so far less than 5,000 cases reported," Becerra continued. "So we've already made available to jurisdictions throughout the country more than 330,000 vaccines and today we're announcing that another 786,000 are available. How many more vaccines would you say we need today?"
That's when Becerra appeared to shift blame over criticism to the government response to localities and "communities at risk," suggesting they weren't doing enough to prevent monkeypox. Although Becerra didn't elaborate exactly on what he meant by prevention for monkeypox, nor "communities at risk," he compared such efforts to social distancing and masks during the coronavirus pandemic.
"If the response is we're not going to expect any type of prevention work by the communities at risk, by the state and local officials, then chances are we're going to have to go to the really high numbers of vaccines," Becerra said. "But if everyone does their work, and remember containing the virus requires a lot of preventative work — as you know we did masks, that's why we did social distancing with COVID — we know what we need to do pretty well on monkeypox."
Becerra went on to promote the federal government's efforts on monkeypox as rising to the moment, continuing to say state and local officials were responsible for not getting vaccines to populations in need.
"And so to the question: Can we not only stay ahead of this virus, but end this outbreak? Absolutely," Becerra said. "And we believe that we have done everything we can at the federal level to work with our state and local partners and communities affected to make sure we can stay ahead of this and end this outbreak, but everybody's got to take the oar and row. Everybody's got to do their part. We don't control, as you can see from our lack of data that we've gotten from jurisdictions, what they're doing with their vaccines. We don't have the authority to tell them what to do. We need them to work with us. And so, I would say that if you're asking students in the classroom who did their homework, I will raise my hand and say that at HHS, we've done our homework."
Lindsay Dawson, associate director of HIV Policy and director of LGBTQ Health Policy at the Kaiser Family Foundation, told the Washington Blade in response to Becerra's comments the secretary has a point about the role of localities, but said current problems are at least partly attributed to "barriers at the federal level."
"Responding to infectious disease outbreaks, including monkeypox, often requires a joint federal and state or local response," Dawson said. "It is certainly true that local governments have a significant role to play in curbing the current outbreak and that the different decisions they make will likely foreshadow their success to some degree. That said, many of the primary tools to address the monkeypox outbreak, particularly vaccination and treatment, remain limited to date due, at least in part, to barriers at the federal level. Limited access to these tools could challenge local communities in mounting a comprehensive response in the immediate term."
Over 100 LGBTQ-themed books in a Florida school district labeled with advisory warning
They warn: "this book has been identified by some community members as unsuitable for students."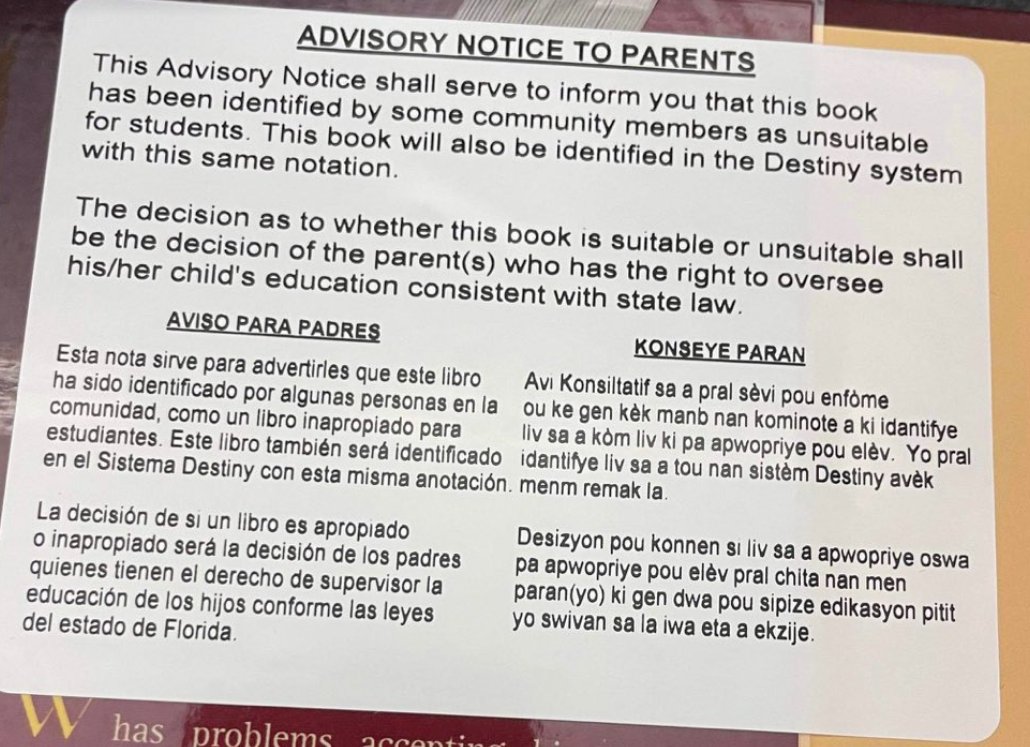 A southwest Florida district put parental "advisory notice" on over 100 books, many of which are race or LGBTQ-themed. 
A great number of books in Collier County Public Schools, either digital or physical, now have warning labels writing "Advisory notice to parents," according to an NBC report,
The label, tweeted by nonprofit free-speech-promoting group PEN American, states, "This Advisory Notice shall serve to inform you that this book has been identified by some community members as unsuitable for students. This book will also be identified in the Destiny system with the same notation. The decision as to whether this book is suitable or unsuitable shall be the decision of the parent(s) who has the right to oversee his/her child's education consistent with state law." 
The labels appear digitally in the library records & physically on the books. They warn: "this book has been identified by some community members as unsuitable for students." Apparently, a lot is 'unsuitable'. Even Everywhere Babies by Susan Meyers & illustrated by @MarlaFrazee. pic.twitter.com/wA5fT5fjLr

— PEN America (@PENamerica) August 5, 2022
Stephana Ferrell, co-founder of the Florida Freedom to Read Project, which means to fight book banning, told NBC that she had a call from Elizabeth Alves, the associate superintendent of teaching and learning for Collier County Public Schools. In the call, Alves told her that the district added the labels starting in February. 
These measures, which Alves described as a "compromise," happened after the district's legal representative talked with the Florida Citizens Alliance, a conservative group which initiated a "Porn in Schools Report" project last year. The report included a list of books that "promote gender self-identification and same-sex marriage" as well as titles that include "indecent and offensive material," as the group explained.
Chad Oliver, the Collier County Public Schools spokesperson, on the other hand offered a different story.
Oliver sent an email to NBC News and said, "Based upon advice from the General Counsel, we placed advisory notices on books about which parents and community members had expressed concern and in accordance with the recently passed Parents' Bill of Rights Law (HB 241)."
The law referred by Oliver is also known as the "Don't Say Gay" law.
According to PEN America, there are 110 labeled books in total, and the list greatly overlaps with the one Florida Citizens Alliance inquired about with Collier County Public Schools. 
Rep. Sean Patrick Maloney introduces bill to make monkeypox testing free
Health insurers would be required to cover costs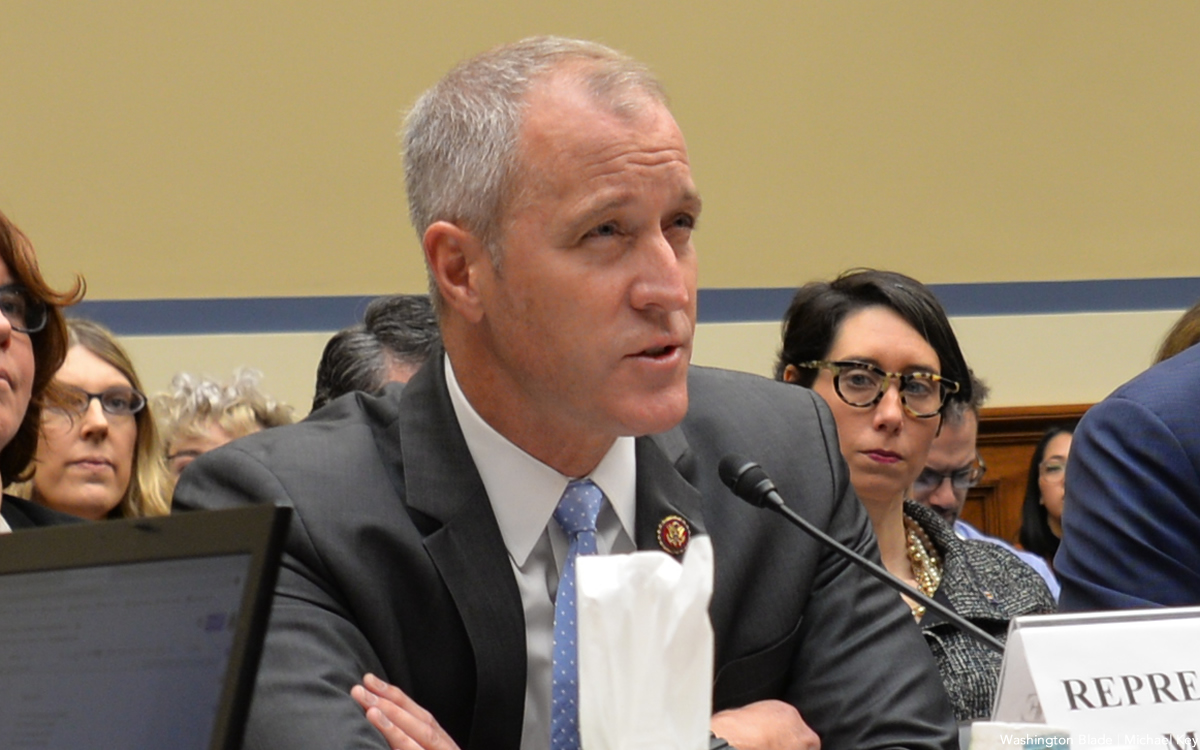 Rep. Sean Patrick Maloney (D-N.Y.), amid the ongoing monkeypox affecting gay and bisexual men, has introduced legislation in the U.S. House seeking to make testing for disease free to the public.
Maloney, one of seven openly gay members of Congress and chair of the Democratic Congressional Campaign Committee, said in a statement the measure, called the No Cost for Monkeypox Testing Act, would testing amid the monkeypox outbreak would be accessible to all.
"It is critical that we eliminate cost as a barrier to testing for monkeypox to ensure we can identify cases and prevent further spread," Maloney said. "This legislation takes the lessons we learned from past public health emergencies and protects those at risk of contracting monkeypox by making tests accessible to everyone."
The legislation would require private health insurers as well as Medicare and Medicaid to cover the costs of monkeypox testing at no expense to the patients, either through deductibles, co-payments, and co-insurance.
The bill introduction comes the week after the Biden administration declared the monkeypox outbreak a public health emergency and the same it has issued new guidance to enhance to the accessing of existing vaccines doses amid criticism federal officials were too slow in distributing shots.
The Washington Blade has placed a request in with the Centers for Disease Control seeking comment on the legislation. Secretary of Health & Human Services Xavier Becerra said Tuesday the federal government has the capacity to conduct an estimated 80,000 tests each week.
Maloney has been representing New York's 18th congressional district, but after redistricting is now seeking re-election in the 17th district. Amid controversy over a potential showdown between Maloney and Rep. Mondaire Jones (D-N.Y.), who's Black, another openly gay member of Congress and the current representative of that district, Jones has since opted to run for re-election in the New York's 10th congressional district. Maloney is now running unopposed in the 17th.
Biden administration shifts monkeypox vaccine approach amid shortage
Health experts sees new guidance as mixed bag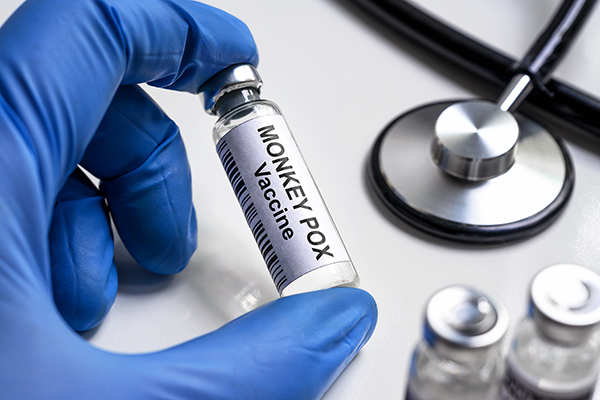 The Biden administration, amid criticism it was slow to act on the monkeypox outbreak and still not meeting the demand for vaccines as the number of cases continues to grow, has announced a shift in guidance for implementation of the shot in an effort to enhance availability.
As the estimated number of monkeypox cases in the United States reaches 8,900, top health officials announced the new move on Tuesday as part of a decision by Secretary of Health & Human Services Xavier Becerra to issue a determination under Section 564 of the Federal Food, Drug and Cosmetic Act to justify emergency use authorization of vaccines. The announcement follows up on the Biden administration's announcement last week declaring the monkeypox outbreak a public health emergency.
Becerra said in a conference call with reporters the 564 determination and change in approach to vaccines would "boost and strengthen" the Biden administration's response to monkeypox, which has overwhelmingly affected gay and bisexual men, and "safely accelerates and multiplies our supply of effective vaccines by up to fivefold."
"Today's action also reaffirms HHS and this administration's commitment to using all available resources and capabilities to end the monkeypox outbreak and provide the best possible care to those suffering from the virus," Becerra added.
The new vaccine approach, which may may be considered minor to non-medical observers, would change injections of the JYNNEOS vaccine from the subcutaneous route (delivery of the vaccine under the fat layer underneath the skin) to the intradermal route (delivery of the vaccine into the layer of skin just underneath the top layer). In theory, that would allow for greater accessibility of monkeypox vaccines as it increases the number of doses from each vial of vaccine.
The change was made amid criticism the Biden administration failed to meet the demand for vaccines during the outbreak and geographic inequity as certain metropolitan areas of the country have more access to vaccines than other places.
As The New York Times reported last week, the Biden administration has faced criticism for not moving quickly enough in acquiring and distributing vaccines, including bulk stocks already owned by the U.S. government manufactured in Denmark by Bavaria Nordic now being given to other clients.
"The government is now distributing about 1.1 million doses, less than a third of the 3.5 million that health officials now estimate are needed to fight the outbreak," the Times reported. "It does not expect the next delivery, of half a million doses, until October. Most of the other 5.5 million doses the United States has ordered are not scheduled to be delivered until next year, according to the federal health agency."
Biden officials, nonetheless, touted the numbers of vaccines and tests in response to monkeypox as a positive, acknowledging the 1.1 million vaccines being made available as well as delivery of more than 620,000 of those doses, deployment more than 15,000 courses of the monkeypox treatment and increasing the country's capacity to administer tests on a weekly basis to around 80,000. Meanwhile, officials also promoted the change in approach in vaccines as means to allow greater accessibility to the shots.
Rochelle Walensky, director of the Centers for Disease Control & Prevention, promoted during the conference call the use of intradermal injections and said they're "often used for TB skin tests and have been used for other types of vaccines."
Although Walensky conceded some health care providers "may not be as familiar with intradermal administration" as they are with subcutaneous injection, she said CDC would make additional guidance materials available, including a clinician alert message to the Association of State & Territorial Health Officials, outreach to key clinician partners and an education resource video. The change in guidance, Walensky said, is for vaccine implementation in adults, but children — where single digit monkeypox cases have been reported — would continue to receive vaccination in the traditional subcutaneous approach.
But health experts aren't responding with overwhelming praise to the decision to change the guidance on vaccine implementation from subcutaneous injections to intradermal injections, expressing concerns the new approach may be insufficient.
Jennifer Kates, director of global health & HIV policy at the Kaiser Family Foundation, was among those saying the change in guidance on vaccine approach was a mixed bag and told the Blade more data is needed to evaluate the effectiveness.
"As we saw with COVID, using these authorities in the context of public health emergencies is an important strategy," Kates said. "In this case, this step will significantly expand access to vaccines for those most at risk. However, there remain questions about the effectiveness of this approach — real world studies are needed — and challenges to translating vaccines into vaccinations."
Peter Marks, director of the Center for Biologics Evaluation & Research (CBER) at the Food & Drug Administration, was asked during the conference call with reporters to respond to concerns the change in guidance was insufficient and downplayed the novelty of implementing the vaccines through the intradermal route as "not at all new."
"In fact, the reason why the Bavaria part of this equation comes from the fact that in Germany, this vaccine was given intradermally originally, in an effort to replicate the original version of the smallpox vaccine," Marks said. "It's been given to thousands of people intradermally, so this isn't the first time it's been done."
Walkensky said the intradermal vaccine approach has been implemented amid policies among localities to implement a one-dose approach to the JYNNEOS vaccine through the subcutaneous route. (The D.C. government is one of the jurisdictions that had enacted a one-dose approach amid a vaccine shortage.) There is not data, Walkensky said, to support that approach and "in fact, if anything, there are data saying that that is not protective enough."
"So by using this alternative strategy of intradermal dosing, not only do we have more doses, but we actually allow people to get two doses in a way that shows immunologic response that's superimposable from the subcutaneous dosing," Walkensky said. "So we have more doses, and in fact, we have the ability to doubly vaccinate people so that they get the protection that they need."