Gay incumbent challenges petition signatures of gay opponent in ANC race
Rivals clash over Shaw bike lane project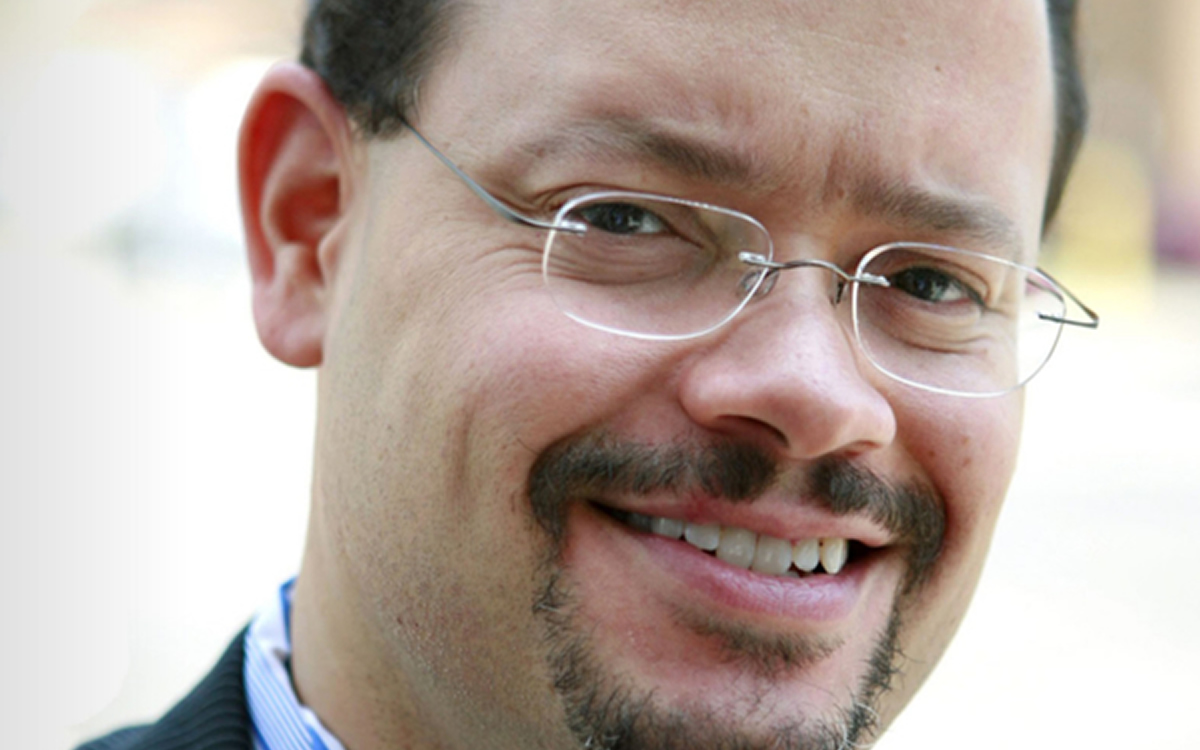 Gay D.C. Advisory Neighborhood Commissioner Michael Eichler, who represents the newly configured ANC Single Member District 2G02 in the city's Shaw neighborhood, has filed a challenge to the petition signatures of his opponent, gay former Shaw ANC commissioner Alexander 'Alex' Padro, before the D.C. Board of Elections.
Eichler and Padro are among at least a dozen confirmed openly LGBTQ candidates running for Advisory Neighborhood Commission seats in the city's Nov. 8 election, although activists believe there are far more out LGBTQ ANC candidates who have yet to be identified.
Padro told the Washington Blade Eichler has challenged seven signatures of the 32 he obtained from residents of the ANC district. Twenty-five valid signatures are required for an ANC candidate to be placed on the ballot. Padro said he is certain that all but one of the seven challenged signatures will be upheld by the Board of Elections as valid.
"This is not a challenge that will bear fruit," he said.
"I am challenging his petition because it's part of the process," Eichler told the Blade in an email message. "I reviewed the signatures and found some irregularities," he said. "The only way to resolve those irregularities is through a petition challenge."
The Board of Elections is scheduled to make a final determination on Sept. 12 on whether the petition challenge will be upheld or turned down.
Eichler and Padro each said the main issue the two have clashed over in the past and that will likely be one of the lead issues before voters in the Shaw ANC election is the D.C. Department of Transportation's controversial 9th Street, N.W. bike lane project.
Eichler, who describes himself as an environmentalist and advocate for ending what he calls "traffic violence," has been a leading supporter of the project, among other things, on grounds that it will help curtail a growing number of pedestrian and bicyclist fatalities caused by vehicles operated by reckless drivers.
Padro, who serves as executive director of Shaw Main Streets, a nonprofit group that advocates for Shaw historic preservation and support for community-based businesses, has been a vocal opponent of the project on grounds that it will harm Shaw businesses.
The project, which has the support of D.C. Mayor Muriel Bowser, calls for installing a 1.6-mile protected bike lane connecting Florida Avenue/U Street on its north end to Pennsylvania Avenue, N.W., to the south.
Part of the project has already been put in place along 9th Street between T Street and the block where U Street becomes Florida Avenue in the heart of the Shaw business and nightlife district. The area is sometimes referred to as Little Ethiopia because many Ethiopian owned bars and restaurants are located along 9th Street between T and U Streets.
Nellie's Sports Bar, one of the city's popular gay bars, is located at the corner of 9th and U Streets.
According to Padro, the installation of the one-block long bike lane on the east side of 9th Street in the Shaw business district involved closing one of the two northbound traffic lanes to make room for the bike lane. He said the change created an immediate hardship for the businesses along the street by eliminating parking spaces and making it difficult for trucks to deliver supplies to the businesses.
He said he met about two weeks ago with representatives of the businesses along the 1900 block of 9th Street, where the bike lane was installed, and was told of the problems they have encountered. "They are already registering losses of sales from 40 to 50 percent," Padro said. "There will be businesses that will fail."
Eichler has pointed to studies conducted by the Department of Transportation, known as DDOT, which show removal of the 9th Street traffic lane for vehicles would result in a minimal impact on traffic congestion and instead would lead to lower vehicular speeds, making the street safer for bicyclists, pedestrians, and drivers. Bike lane supporters have also argued that businesses have not been significantly impacted by bike lanes in other parts of the city.
LGBTQ activists have said the LGBTQ community, like city residents in general, is divided over bike lane projects in different parts of the city, including the 17th Street, N.W. commercial strip near Dupont Circle that has several LGBTQ owned and supportive bars and restaurants.
Bowser: No credible threats to D.C. Pride events
Mayor spoke with the Blade after flag-raising ceremony at the Wilson Building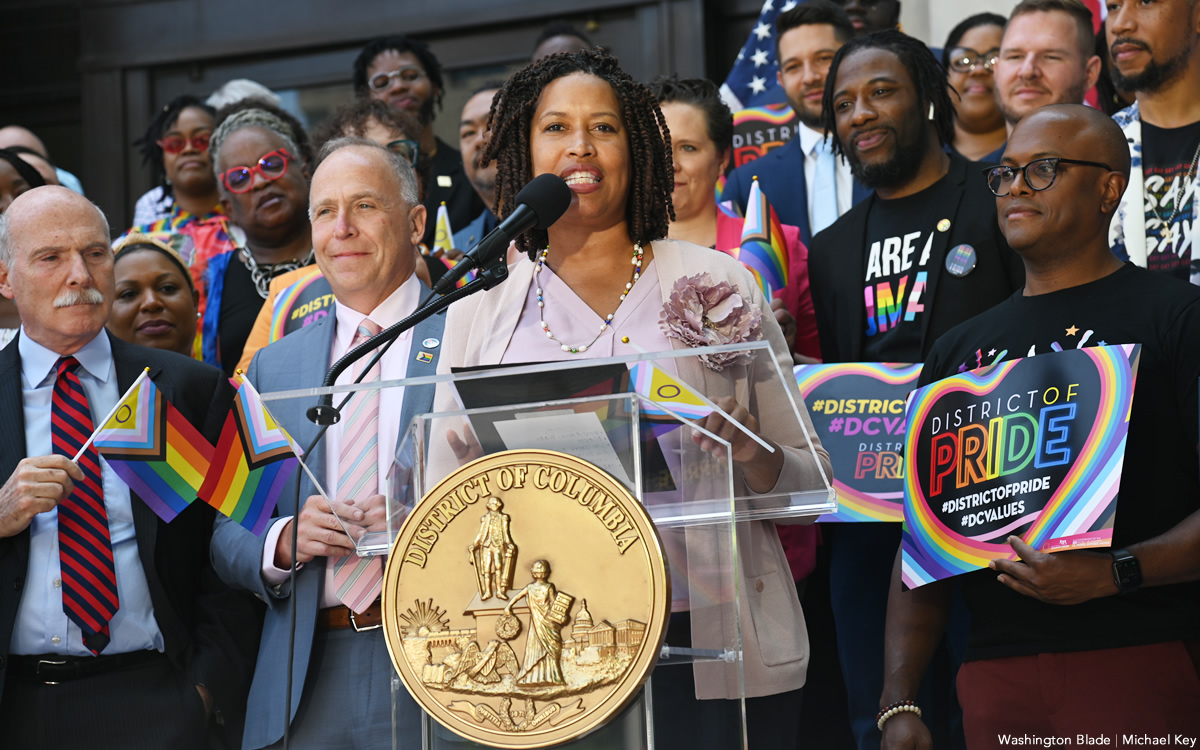 D.C. Mayor Muriel Bowser on Thursday said authorities have not received any credible threats to upcoming Pride events.
"We don't have any to report," she told the Washington Blade.
"MPD is constantly working with all of our agencies to make sure we have safe special events and we're going to keep going with our planning, like we do every year," added Bowser. "There's always a scan for any threats to the District."
Bowser spoke with the Blade after she joined D.C. Council Chair Phil Mendelson, Council members Anita Bonds, Charles Allen, Kenyon McDuffie and Zachary Parker, D.C. Attorney General Brian Schwalb, D.C. Mayor's LGBTQ Affairs Office Director Japer Bowles and other officials and activists in raising the Progress Pride flag in front of the Wilson Building.
The Blade last month reported D.C. police are investigating a bomb threat a Twitter user made against the annual District Pride concert that will take place at the Lincoln Theater on June 29. Bowles in a May 19 statement said his office reported the tweet, but further stressed that "no credible threat at this time has been made."
Point Foundation offers growing range of scholarships, support
'Resources to succeed and thrive rather than just make it through'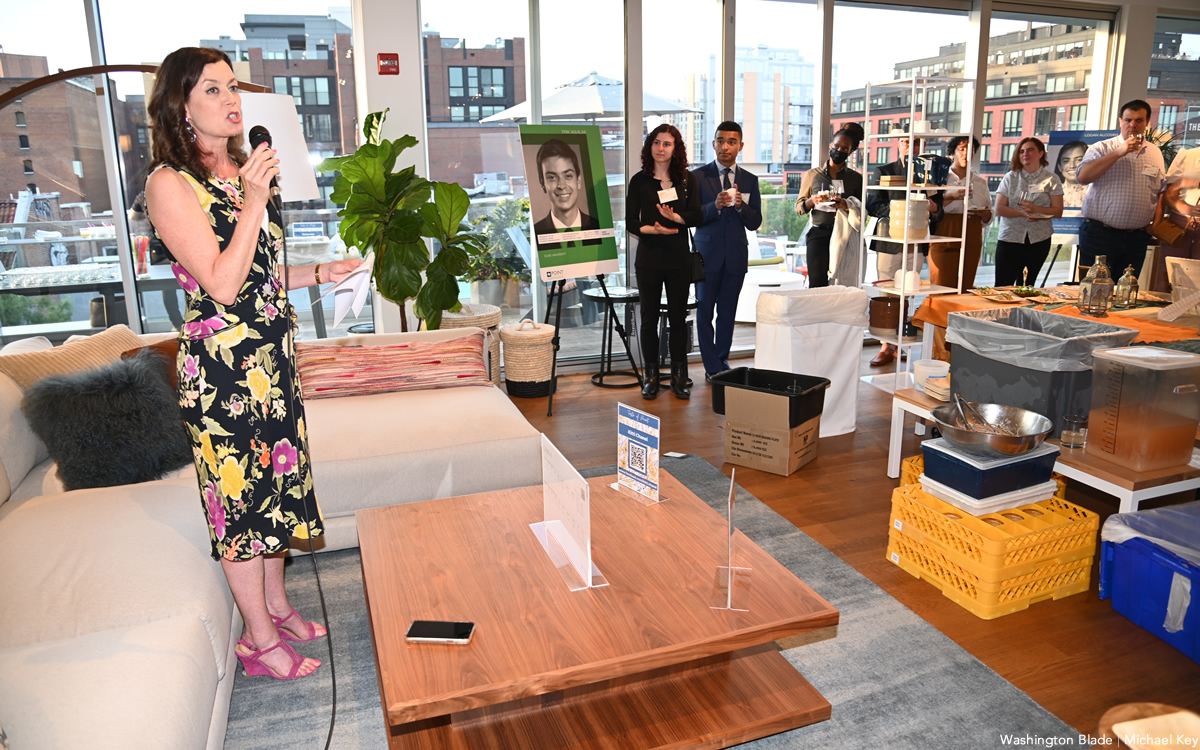 Many in D.C. know the Point Foundation for its longstanding scholarship program and its popular Taste of Point fundraiser each spring. But the nonprofit is offering a growing range of services to its young scholars, including mental health resources and social media support.
This year's Taste of Point brought mixologists, restaurateurs, and donors together on May 3 at Room and Board for the annual celebration. With a number of local businesses and organizations donating to the silent auction, the event both raised money for Point Foundation's scholarships while recognizing scholarship recipients and program alumni.
Among the lineup of featured speakers was one of the foundation's flagship scholarship recipients, Rio Dennis, a dual master's and law candidate at Georgetown University.
"I applied for the Point Foundation Flagship Scholarship because I believed in its mission of helping LGBTQ+ students achieve their academic goals while also providing training and resources so we can become better leaders within the LGBTQ community during school and long term," Dennis said in her speech.
The Taste of Point celebration began in 2013, born from another event called the Cornerstone Reception. Originally planned as a normal fundraiser with hor d'oeuvres, the foundation transformed it into the current Taste of Point celebration that facilitates partnerships with new, local restaurants.
Some restaurants, like Compass Rose and Hank's Oyster Bar, partnered with Point Foundation for their first celebration. They have been catering at the fundraiser ever since.
"It really gives you the sense of the amount of love and the amount of community that we have around the Point Foundation and mission," said Celina Gerbic, a member on the foundation's board of directors. "They really see, with hearing from the scholars, what the effects can be if we're raising money for those scholarships and mentoring opportunities."
The event also allows the foundation to showcase new offerings, such as the Community College Scholarship that was rolled out just before the pandemic in collaboration with Wells Fargo. The community college program gives scholars a financial scholarship each year of their community college experience as well as coaching and admissions counseling for students planning to transfer to a university.
Meanwhile, the foundation is also expanding its new BIPOC scholarship, which announced its next round of recipients on May 22. The scholarship is currently supporting between 500 and 555 scholars across the country.
Omari Foote, one of the current BIPOC scholarship recipients, appreciates how the scholarship recognizes her as a Black queer student. She is even encouraging other queer students and friends to apply to receive similar assistance.
However, Point is even more than that, Dennis notes.
Before the school year started, the Point Foundation sent Dennis and all of the new flagship scholars to Los Angeles for a leadership development conference. Scholars discussed how to become active leaders on campus, how to ask for certain resources, what is offered by their campuses, and what tutoring programs are available.
This year, Point also did a joint partnership with an online therapy program to offer discounted prices for all scholars.
"I have anxiety and depression and I struggled a lot in undergrad with trying to balance that with my having to support myself financially," Dennis said. "So I was definitely grateful that Georgetown did have a program that is specifically for people of color to get free therapy and Point definitely helped with… asking those questions because it is one of those programs that isn't as well publicized."
Point even provided Dennis with a mentor who was also a Point Scholar in law school. Meeting monthly on Zoom and texting all throughout the month, Dennis's mentor provides academic support that helps her use the right resources and make decisions about her career.
Foote finds the scholarship unique in other ways as well. As a recipient of a handful of other scholarships outside of Point, Foote's interactions with her scholarship programs mostly stop after they send instructions for writing donor thank you notes. But Point keeps reaching out to maintain a relationship with scholars long after that.
"They've reached out to me to spotlight me on Instagram," Foote said. "They reached out to me even for this dinner, paying for my transportation to and from the dinner … It's like they're not just there to give you the money. They're there to really help you navigate the college world and to be that caring supportive system that a lot of us just don't have anymore now that we are living by ourselves."
Last November, the foundation also held an Out in Higher Ed Week, wherein they teach scholars how to be LGBTQ+ advocates on campus. These resources help students navigate the ins and outs of discussing LGBTQ+ issues in university settings.
After graduation, Dennis has even thought about returning to the Point Foundation as a mentor to help future Black queer students, especially first generation law students, balance their mental health and financial situations.
"Point has connected me with fellow scholars who have become my friends. Point has provided me with resources and support to succeed and thrive rather than just make it through," Dennis said. "I definitely plan on continuing to be involved with Point."
D.C.'s Pride celebrations include parade, festival, fireworks, and more
More than 100 events for all ages planned for June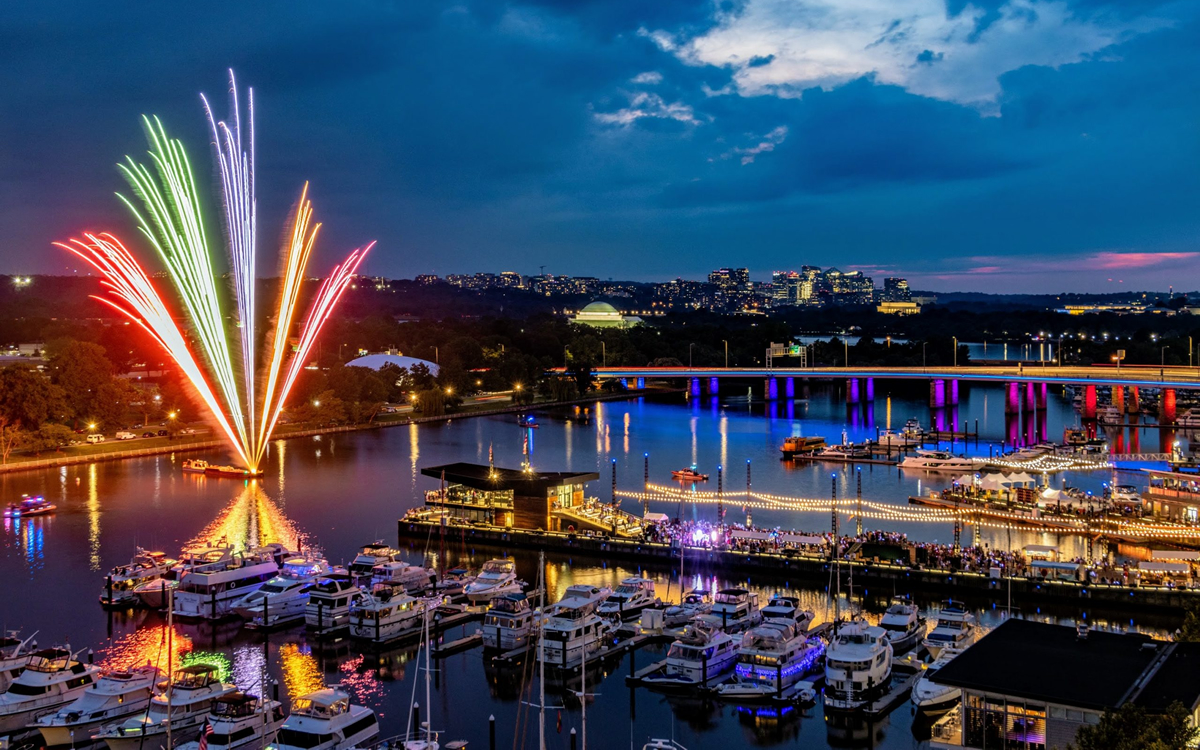 More than 100 different events for all ages and interests will take place in D.C. for Pride month.
The Capital Pride Alliance will officially kick off Pride month on Thursday with a show from "RuPaul's Drag Race" winner Sasha Velour, the 17th Official D.C. Latinx Pride Party and more at Bunker (2001 14th St., N.W.)
Capital Pride on Friday will hold Capital Pride Honors at Penn Social (801 E St., N.W.). Capital Pride every Pride month honors individuals and organizations that have made a lasting impact on D.C.'s LGBTQ community. Among the honorees this year is the National LGBTQ Task Force, which is celebrating its 50th anniversary.
The Washington Nationals will host the 17th annual Pride Night Out on June 6. With the purchase of a Pride ticket, attendees will receive a Pride T-shirt and $5 from their ticket will go to support Team DC, which helps to support the LGBTQ community in sports.
D.C.'s largest Pride event, the Capital Pride Parade, will take place on June 10. The parade will follow a 1.5-mile route, which will step off on 14th Street at T Street, N.W., and finish on P Street at 21st Street N.W. A map of the expected parade route can be found on the Capital Pride website.
During the parade, the Capital Block Party will take place at the intersection of Q and 17th Streets. The party will feature local vendors, food trucks and a 21+ beverage garden. The party will also have a designated viewing area for families with children to watch the parade, along with other children's activities.
The Wharf will be home to the fourth annual Pride on the Pier during the parade, hosted by the Washington Blade, LURe DC and the Wharf. The event, held from 2-9 p.m., will feature a fireworks show at 9 p.m., a DJ, drag performances, and more. VIP tickets are available in two shifts, offering catered food, open bar, and more. The fireworks display is sponsored by the Leonard-Litz LGBTQ Foundation. For more information and to buy VIP tickets, visit prideonthepierdc.com. General admission to the festivities on the pier is free.
The parade will be followed by the Capital Pride Festival on June 11. Taking place on Pennsylvania Avenue, N.W., the festival will feature more than 300 booths with local vendors, businesses and organizations. From 12-8 p.m., the Capital Pride Concert will host acts such as Broadway actress Idina Menzel and "RuPaul's Drag Race" winner Monét X Change.
From June 5-Aug. 11, ARTECHOUSE will be exhibiting its newest exhibit "PIXELBLOOM: Timeless Butterflies." Visitors can use the promo code "PRIDE20" to get 20 percent off their ticket during Pride month.
Throughout the summer, Capital Pride will also host a variety of online events. In partnership with the Smithsonian's National Museum of the American Indian, Capital Pride will host Youth in Action: Wearing Our PRIDE, which will feature young indigenous activists working toward social justice. Capital Pride will also host Zoom affinity support groups and social hours.
Further details and a full calendar of events can be found on the Capital Pride website.