Youngkin calls for schools to out transgender students
Governor made comments during 'Parents Matter' rally in Annandale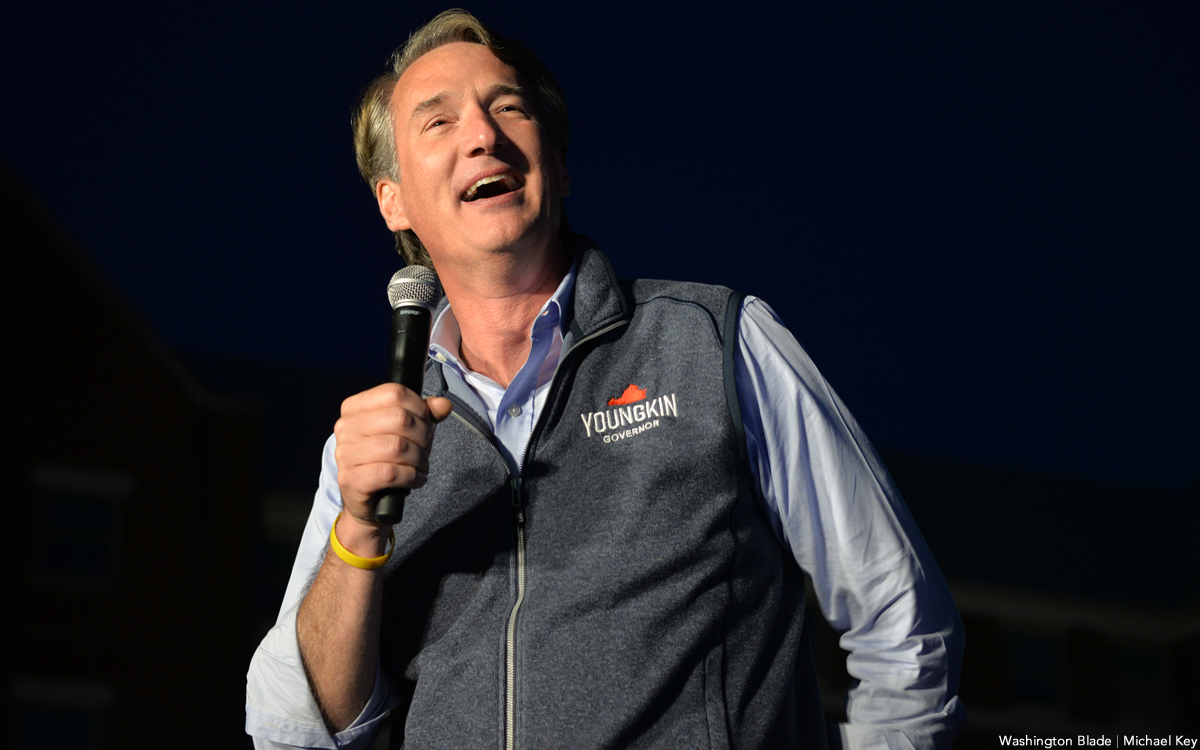 During a "Parents Matter" rally on Wednesday, Virginia Gov. Glenn Youngkin called for schools to out transgender and gender nonconforming students to their parents and guardians, prompting a rebuke from GLSEN.
GLSEN Executive Director Melanie Willingham-Jaggers condemned the covernor's comments in an exclusive emailed statement to the Washington Blade, writing: "It's devastating to see politically motivated attempts to break trust between students and educators and to force educators to violate students' privacy by outing them to guardians."
They added, "This kind of hostile school climate puts trans youth at greater risk of harassment, mental health challenges or discrimination. Transgender and nonbinary students need respect and autonomy, not additional scrutiny and policing of their gender identity in school."
Youngkin's comments on the subject addressed Fairfax County Public Schools' Regulation 2603, which stipulates that students may choose to use pronouns and restrooms/facilities that correspond with their gender identity and transition their gender without parental permission. 
"They think that parents have no right to know what your child is discussing with their teacher or their counselor, particularly when some of the most important topics, most important topics that a child may want to discuss are being determined," the governor said during the back-to-school event Wednesday.
"What's their name? What pronoun will they use? How are they going to express their gender? This is a decision that bureaucrats in Fairfax County believe that they should be able to make without telling parents," Youngkin said.
Protecting students' privacy is a core element of "A Guide for Transgender and Gender Nonconforming Students," published by GLSEN and the ACLU.
The document tells students their schools should act to prevent harassment and bullying, facilitate their access to their preferred restrooms and facilities, and protect their privacy "by not revealing that you are transgender to others unless you have given them permission to do so," adding, "your school should not be outing you to anyone."
"It's time that Gov. Youngkin stops using trans students' lives to gain political points at the expense of their safety and well-being," said Equality Virginia in a statement. "Transgender and nonbinary students are not going anywhere, and we need to treat them with the respect and care that they deserve. The governor's administration needs to hear and really listen to what transgender youth in our schools have to say about their experiences, and ensure that there are policies in place to protect them. By instead making open threats to their rights, the administration is failing transgender students in Virginia and contributing to hostile school environments for our youth."
Youngkin's office did not respond to a request for comment on the apparent conflict between the tenets of this guidance and the governor's comments on Wednesday.
Elected officials turn out for annual Equality NoVa Ice Cream Social
Northern Virginia LGBTQ group stresses 'political awareness, education'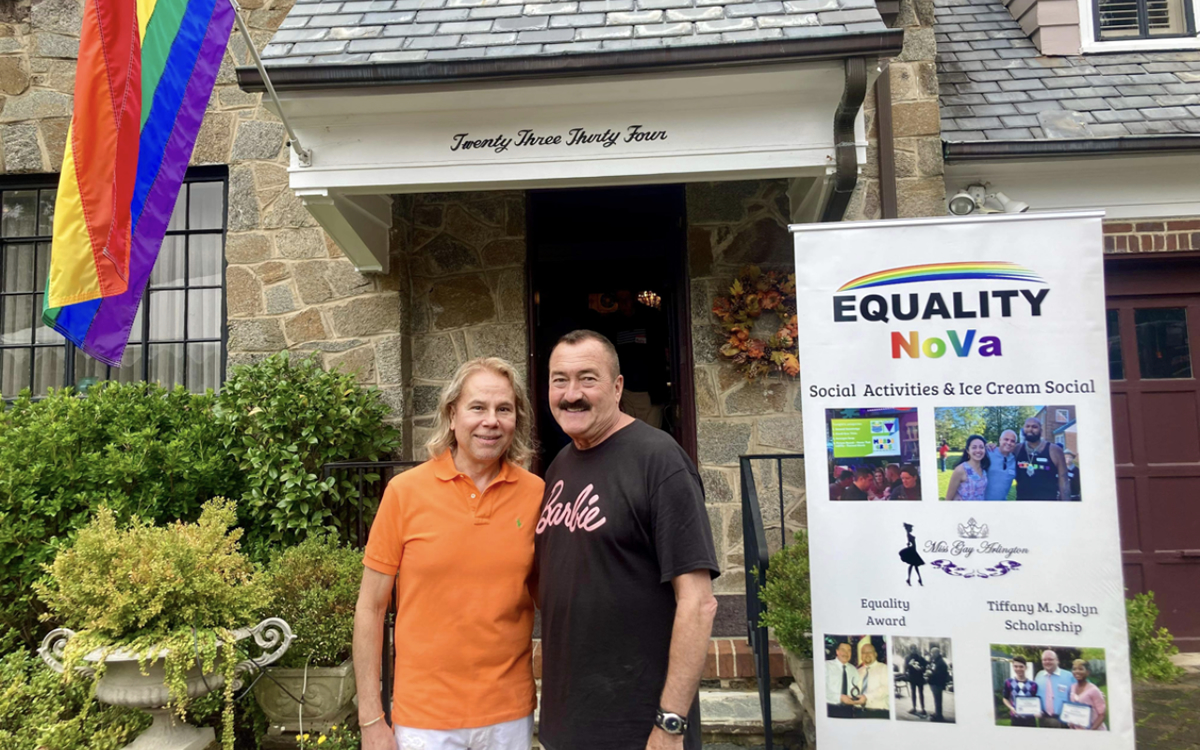 Four LGBTQ supportive members of the Virginia General Assembly and two candidates running for seats on the Arlington County Board were among more than 100 people who turned out on Sunday, Sept. 24, for the LGBTQ organization Equality NoVa's annual Ice Cream Social.
The event was held at the Arlington, Va. home of Freddie Lutz, owner of the Arlington gay bar and restaurant Freddie's Beach Bar, and Lutz's husband, Johnny Cervantes.
Daniel Hays, president of Equality NoVa, told those attending the event in introductory remarks that Equality NoVa, which recently changed its name from the Arlington Gay and Lesbian Alliance (AGLA), was founded in 1981 and is the oldest continuously operating LGBTQ organization in Virginia.
In an announcement in April the group said the name change came after it had taken on for some time the activities and representation of the now-defunct LGBTQ groups in Alexandria and Fairfax counties and had expanded its operations to cover most if not all the regions known as Northern Virginia.
Hays noted that the group is a nonpartisan organization that doesn't endorse candidates for public office but organizes educational and political awareness events and awareness campaigns on issues impacting LGBTQ people related to statewide and local government agencies and officials.
The elected officials attending the event were Virginia House of Delegates members Charniele Herring (D-Alexandria & Fairfax), Elizabeth Bennett-Parker (D-Alexandria & Arlington), and Vivian Watts (D-Fairfax).
Also attending was Virginia State Sen. Barbara Favola, a Democrat whose district includes parts of Arlington, Fairfax, and Loudoun Counties.
Joining the state lawmakers attending the Equality NoVa social were Arlington County Board candidates Maureen Coffey and Susan Cunningham and Arlington County School Board candidate Miranda Turner.
Many of those attending the event said they were rooting for the re-election of Herring, Bennett-Parker, Watts, and Favola in the upcoming Virginia elections in November. All members and candidates for the General Assembly will be on the ballot in an election that political observers say could decide which party controls both houses of the state legislature.
Currently, Democrats control the 40-member Virginia Senate by a margin of 22-18 seats. Republicans currently control the House of Delegates by a margin of 51 to 46 seats, with three vacancies in the 100-member House.
With Virginia Gov. Glenn Youngkin (R) putting in place through executive action public school policies that LGBTQ activists consider hostile and discriminatory for transgender students, LGBTQ activists are hopeful that a Democratic takeover of the House of Delegates would result in a reversal of Youngkin's school policy.
Some of the activists attending the Equality NoVa event said they were fearful that a Republican takeover of the state Senate and if Republicans retain control of the House of Delegates could result in the General Assembly approving the type of anti-LGBTQ legislation passed in Florida and other states.
Anti-transgender heckler interrupts Danica Roem during debate
Trans lawmaker is running for the Va. state Senate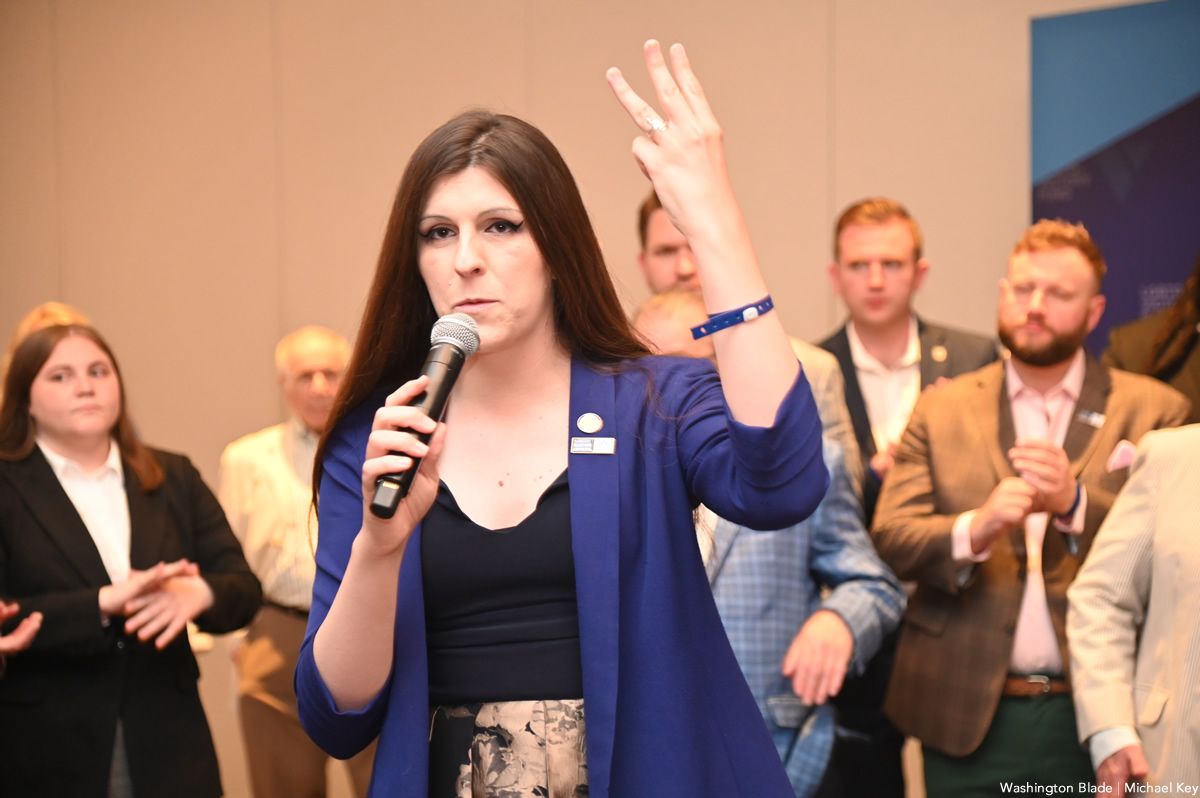 An anti-transgender heckler interrupted Virginia state Del. Danica Roem (D-Manassas) on Sept. 28 during a debate with her Republican opponent for the state Senate.
The woman heckled Roem during the Prince William Committee of 100-organized debate between her and Bill Woolf that took place at Metz Middle School in Manassas. 
"Thank you for reminding me why I won three elections in this district in Prince William County, which is the most diverse county in all of Virginia and the 10th most nationally where we welcome everyone because of who they are, not despite it, no matter what you look like, where you come from how you worship, if you do, or who you love because you should be able to thrive here because of who you are, never despite it," said Roem.
Audience members applauded Roem after she responded to the heckler who was eventually removed from the auditorium.
Roem in 2017 defeated then-state Del. Bob Marshall, a vocal LGBTQ rights opponent who co-wrote Virginia's constitutional amendment defining marriage as between a man and a woman that voters approved 11 years earlier. Roem subsequently became the first openly transgender person seated in a state legislature in the U.S.
Roem in 2019 became the first out trans state legislator to win re-election. Roem in May 2022 announced she is running to represent the newly redistricted Senate District 30, which includes western Prince William County and the cities of Manassas and Manassas Park.
Woolf during the Sept. 28 debate did not say whether he would support the repeal of the marriage amendment. Woolf also reiterated his support of a bill that would require school personnel to out trans students to their parents.
Virginia Beach high school students stage walkouts to support transgender rights
City's school board approved policy to out trans students to parents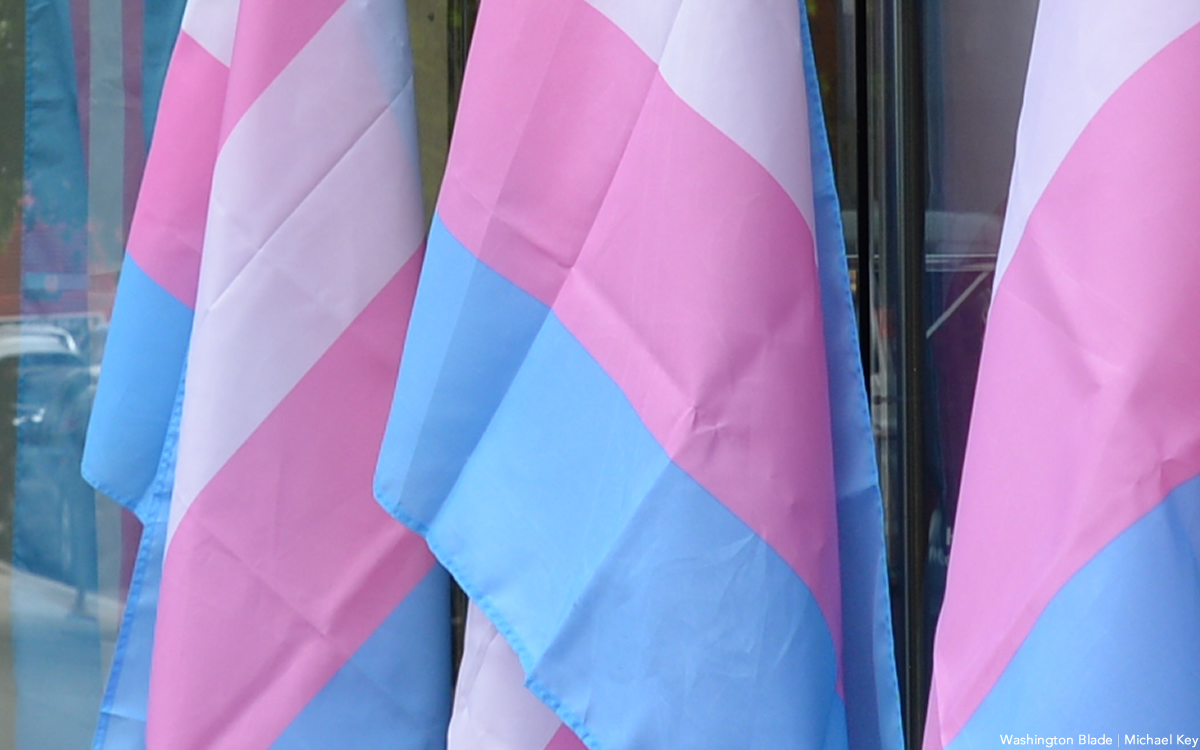 Students at five Virginia Beach high schools on Friday staged walkouts in support of transgender rights.
The walkout is in response to the Virginia Beach School Board potentially approving policy 5-31, which the Pride Liberation Project says will require schools to out trans students to their parents.
Students have been organizing walkouts across the state since Republican Gov. Glenn Youngkin earlier this year announced new guidelines for trans and nonbinary students.
"Students like me aren't going to be able to talk to our teachers if we're constantly worried about our school officials calling home to forcibly out us," AJ, a trans Kellam High School Student, told the Pride Liberation Project.