Liquor license suspended for Larry's Lounge
City says bar failed to submit renewal application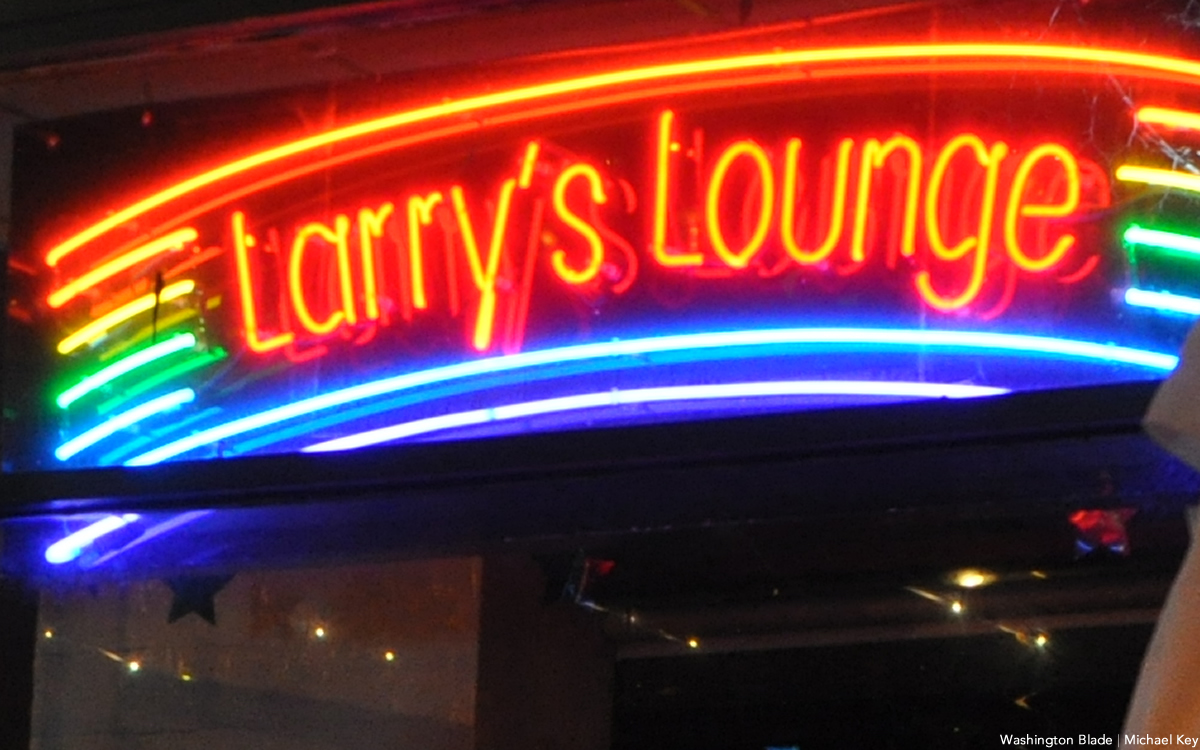 The D.C. Alcoholic Beverage Control Board on Oct. 19 suspended the liquor license for Larry's Lounge, a popular neighborhood gay bar at 1840 18th St., N.W., on grounds that it failed to submit its license renewal application by a Sept. 30 deadline.
In a two-page Cease and Desist Order the ABC Board states that Larry's Lounge did not respond to one or more attempts by the city's Alcoholic Beverage Regulation Administration (ABRA) to notify Larry's Lounge prior to the Sept. 30 deadline that it had not renewed its liquor license.
The Oct. 19 order prohibits Larry's Lounge from selling or allowing the consumption of alcoholic beverages on its premises until it pays the required fee to renew its license and pays a "daily fine of $50" in late fees imposed by the Board. The order does not require the bar to close as long as it doesn't serve alcohol.
A spokesperson for ABRA said Larry's Lounge had not taken steps to renew its license as of Monday, Oct. 24. The spokesperson, Jared Powell, said that similar to all other liquor serving establishments in the city, if Larry's Lounge does not renew its license by Nov. 1 the license will be revoked.
Attempts by the Blade to reach Larry's Lounge and its owner, Ron Robinson, for comment were unsuccessful. A call to the bar's listed phone number reached a recorded message saying the voice mailbox was full and a message could not be left. An email sent to the email address listed for Larry's Lounge in ABRA's records was not answered as of Oct. 25.
Postings on social media by operators of D.C. bars and restaurants have raised an issue that caused delays in the renewal of their liquor licenses that could have been a reason for the Larry's Lounge problem. According to these postings, the D.C. Office of Tax and Revenue has been experiencing long delays in processing a required "Clean Hands" certification needed for the renewal of a liquor license. The certification informs the ABC Board that the bar or restaurant does not owe back taxes to the city and is eligible to have its liquor license renewed.
The social media postings by bar and restaurant operators have said they could not obtain their Clean Hands certification in time for the deadline to renew their liquor license which, in some cases, resulted in their license lapsing while waiting for the OTR to process their Clean Hands certification. A spokesperson for OTR couldn't immediately be reached by the Blade. ABRA spokesperson Powell said Larry's Lounge did not inform ABRA about the Clean Hands issue impacting its failure to renew its license.
Two of Larry's Lounge's regular customers told the Blade they observed a sign posted outside the bar saying it was closed for construction or renovation.
'Talking Trans History' explores lives of D.C. advocates
Rainbow History Project holds first panel for city-funded Trans History Initiative
Longtime D.C. transgender rights advocates Earline Budd and Gabrielle 'Gibby' Thomas gave personal accounts of their transition as transgender women and their work as trans rights advocates Tuesday night, Jan. 24, at a "Talking Trans History" panel discussion organized by D.C.'s Rainbow History Project.
Joining them as a panelist was Rayceen Pendarvis, the acclaimed local event host, public speaker, and LGBTQ community advocate. Pendarvis, among other things, told of being nurtured and taught by dynamic transgender women who proudly affirmed their identity not only as trans people but productive citizens in the community at large.
Vincent Slatt, Rainbow History Project's director of archiving, served as moderator of the panel discussion. He told the audience of about 25 people who gathered at the Southwest Branch of the D.C. Public Library that the event was the first of many such panels planned by the project's recently launched Trans History Initiative.
Slatt noted that Rainbow History Project received a $15,000 grant for fiscal year 2023 from the Mayor's Office of LGBTQ Affairs to conduct the Trans History Initiative. The initiative plans to "better integrate the often-under-represented histories of trans people into our programming," according to a RHP statement.
Budd, 64, who has been a trans-identified activist since the 1970s, became involved in the 1980s with supporting people with HIV/AIDS before founding the D.C. organizations Trans Health Empowerment and Empowering the Transgender Community (ETC), for which she currently serves as executive director. She has received numerous awards for her work in support of the trans community and her self-proclaimed role as "the advocate" for the trans and LGBTQ community.
In her remarks at the panel discussion, Budd told of her childhood upbringing in a religious family where, like many trans people, her parents didn't approve of her early identity as a girl.
"I want to say that around eight or nine my mother found me to be different," Budd said. "The difference was she would lay my clothes out, my sister's clothes and my clothes for us to go to school. And when I would come downstairs, I would always have on my sister's clothes," Budd told the gathering.
"And she would say why do you have on your sister's clothes?" Budd continued. "I said mommy, it fits. No, it does not, you're a boy," Budd quoted her mother as responding. "And let me tell you, that went on and on and on," said Budd, who told how she eventually parted ways with her parents and left the house to embark on her role as one of D.C.'s leading trans advocates.
Among her many endeavors was successful discrimination complaints, including one against a D.C. skating rink and another against the D.C. Jail for discrimination based on gender identity. Budd told how she won in both cases, with strong backing from the D.C. Office of Human Rights.
Pendarvis, among other things, spoke about how an association with trans women as a young adult helped to shape Pendarvis's longstanding and award-winning role as co-founder of Team Rayceen Productions, including 10 years as leading host of "The Ask Rayceen Show," which highlighted topics promoting the LGBTQ and trans community in D.C.
Similar to Budd, Pendarvis has received numerous awards and honors, including recognition from the D.C. City Council, for work as a host and speaker at LGBTQ-related festivals, fundraisers and other events.
"As an activist and host, I have been blessed to do many things," Pendarvis told the panel discussion gathering. "For many who do not quite know how to identify or ask me to identify, first of all, I'm a human being," Pendarvis said. "I am a father of five and a mother of many."
Pendarvis added, "I'm a human being first and foremost, a child of God. And my trans sisters uplifted me first, embraced me first. I came out in a community where our transgender sisters were always on the front line."
Thomas, 65, told the panel session she is a native of North Brentwood, Md., located just outside D.C., but D.C. became her home since shortly after finishing high school. She began her work in the LGBTQ community in 1989 as a caregiver for people with HIV. She has since worked for the local organizations Us Helping Us, Transgender Health Empowerment, and Terrific, Inc. She currently works for Damien Ministries and its "Trans Specific" programming called Shugg's Place that, among other things, focuses on providing services for transgender older adults.
She told of her growing up as one of seven children in a family whose mother and father, she said 'were very loving." But like other trans kids, Thomas said her parents were uncomfortable over her desire to identify as a girl. A more understanding next door neighbor allowed Thomas to spend time in her house as Thomas helped with household errands.
"I would go to the store and things like that for her," Thomas said. "But what's most important, I could dress as I wanted to in her house. She would give me dresses that I could wear. And I could go up there and put on my dresses and watch TV," Thomas continued. "And then I would get to take my dress off and go home because mom and daddy wasn't standing for that."
At around the age of 10, Thomas said, she was aware of current events and observed that her father was a strong supporter and admirer of Martin Luther King Jr. and his civil rights leadership. "I said you can march with Martin Luther King for everybody else's rights but you are going to deny me mine," she recalled telling her father.
Thomas said she initially began patronizing D.C. gay bars after befriending gay men from her high school. A short time later, after realizing that the gay scene was not who she was, she discovered the then D.C. gay drag bars Louis' and The Rogue and had a chance to meet "people like me." But she said someone she met at one of those two bars introduced her to the then D.C. Black gay bar called the Brass Rail, where transgender women hung out.
"And I said, oh my God, I am home. This is heaven," Thomas told the panel gathering. "When I came to the Brass Rail I felt like I was home" as a trans person, Thomas said. "I met so many terrific people."
She went on to tell about the trials and tribulations of fully transitioning as a trans woman and her growth as a transgender activist with a career dedicated to supporting the trans and LGBTQ community.
Japer Bowles, director of the Mayor's Office of LGBTQ Affairs, spoke briefly at the start of the Talking Trans History panel discussion. He said the mayor's office was excited to be supporting the Rainbow History Project's newly launched Trans History Initiative.
"I'm really, really excited to work for a mayor who not only is fighting for things for our community, but truly funding these opportunities," Bowles said. "This is about you and our trans communities. So, I'm here to listen."
Slatt also announced at the panel session that Rainbow History Project has a paid job opening for one or more positions to help run the city funded Trans History Initiative. He said information about the job opening for people interested in applying can be obtained through RHP's website. He said a video recording of the panel session would be posted on the website in a week or two.
SMYAL for the New Year fundraiser set for Thursday
Annual event benefits housing, mental health programs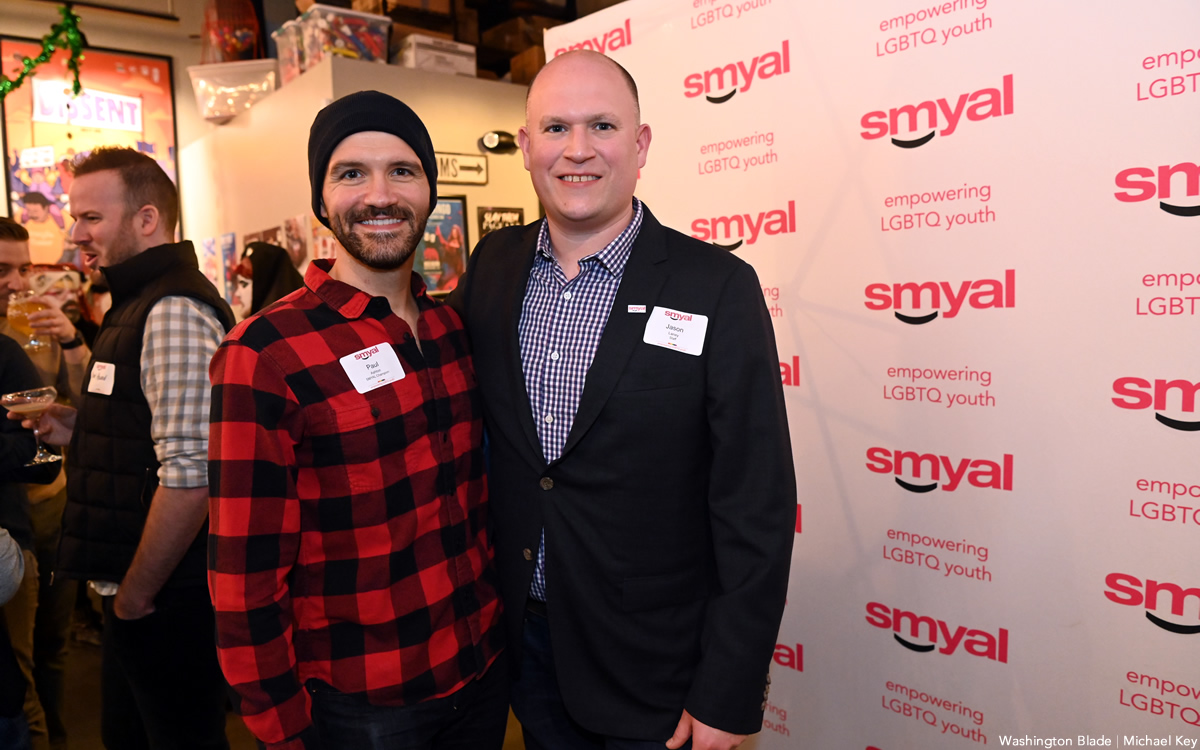 SMYAL (Supporting and Mentoring Youth Advocates and Leaders) is hosting its annual SMYAL for the New Year fundraising event on Thursday at Red Bear Brewing Co. The event will kick off a series of fundraisers supporting the non-profit's new street outreach and mental health programs.
"SMYAL for the New Year serves a dual purpose," said Hancie Stokes, director of communications for SMYAL. "One is to fundraise for the organization and the programs and services that we provide for LGBTQ youth, but the other is also to be an introductory event for folks in the community."
For more than five years, the Young Donors Committee and SMYAL Champions have held SMYAL for the New Year to engage young professionals in philanthropy. The Young Donors Committee is comprised of new philanthropists between 20 and 30 years old and operates under the larger SMYAL Champions network of donors who give roughly $10 to $35 a month.
This year, SMYAL is directing those funds to a new bilingual street outreach program aimed at connecting LGBTQ youth to services such as legal aid, healthcare, hormone replacement therapy, and housing. The non-profit is also fundraising for its free mental health counseling program, which opened last year.
SMYAL's commitment to assisting and empowering LGBTQ+ youth in Washington D.C. dates back to 1984, but the non-profit recently underwent programming changes. In March 2020 when COVID-19 hit, most of SMYAL's programming went online, connecting members on Discord and Zoom.
While SMYAL aims to engage those in D.C., Maryland, and Virginia, the virtual platform allowed the organization to reach youth in Texas, California, and Florida who are unable to access local centers like SMYAL.
"We did about two years of virtual events and we had folks still showing up and listening to what our programmatic updates were," Stokes said. "But it is really nice to be able to share physical space with folks again."
SMYAL continues to offer two virtual events a week alongside two in-person events, however, many of the larger fundraising events are back to fully in-person.
Last year, SMYAL's new year event centered around two housing programs, which opened in spring 2022 and has since made the non-profit the largest LGBTQ youth housing provider in the region. But since Casa Ruby – an LGBTQ community center and housing provider – closed last September, more youth are in need of housing.
"One of our main goals as we head into 2023 is to really grow that program," Stokes added.
SMYAL receives funding from the Mayor's Office of LGBTQ+ affairs and Capital One, but Stokes says more support is crucial to continue investing in services that are accessible to non-English speaking youth.
Meanwhile, as anti-LGBTQ rhetoric gains traction in legislation across the country, Stokes emphasizes the importance of maintaining a safe space for LGBTQ youth.
"Our role as a service provider is to make sure that young people have places that they can turn to people that they can talk with, where they can just be a young person, understand their LGBTQ identity and find community and support," Stokes said. "That's what our programs really strive to do, everything from our housing programs to our mental health services, even just our weekly drop-in programs."
Blade welcomes new journalism fellow, intern
Winter Hawk to cover issues of interest to local queer youth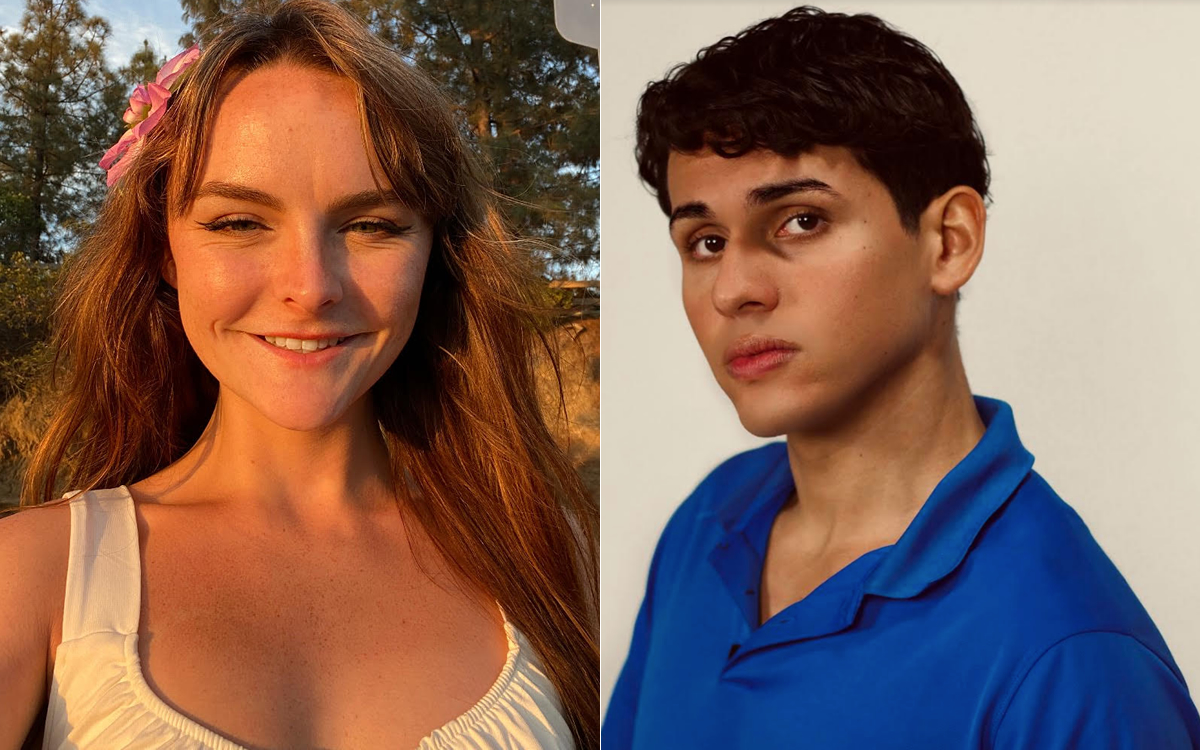 The Blade Foundation this week announced the recipient of a new 12-week fellowship focused on covering issues of interest to queer youth in D.C.
Winter Hawk, a senior majoring in multiplatform journalism at the University of Maryland College Park was named recipient of the fellowship, which is funded by a grant from the D.C. Mayor's Office of LGBTQ Affairs.
"The Washington Blade and Blade Foundation have been a crucial voice for the LGBTQIA+ community and movement since 1969," said Japer Bowles, director of the Mayor's Office of LGBTQ Affairs. "Mayor Muriel Bowser and the Mayor's Office of LGBTQ Affairs believe it is essential to support the next generation of LGBTQIA+ journalism."
Hawk started her new position on Monday. Her work will be featured in the Washington Blade and she will be mentored by Blade editors and reporters.
"Despite covering LGBTQ+ news in art and culture for the past year, I feel like I've only skimmed the surface on true and just LGBTQ+ news coverage," Hawk said. "As a queer woman, I cover LGBTQ+ stories because I want to highlight the LGBTQ+ community in ways its community thrives, not only to cover the community when it faces heterosexism. I'm incredibly grateful and excited to delve deeper into the stories that represent and impact the LGBTQ+ community in D.C. through this fellowship, especially as I seek ways to incorporate and elevate disenfranchised voices."
Meanwhile, the Washington Blade this week welcomed a new winter intern. Andrés Jové Rodríguez is a third-year student at the University of Puerto Rico, Arecibo.
He is majoring in Tele-Radio Communications with an emphasis on News, Production and Direction. Andrés is interning with the Washington Blade this semester as part of a continued partnership with the Washington Center.
"My goal is to one day be able to report on international and national political news on broadcast media so as to keep the general public informed of the to's and fro's of not only our political system, but also the ones abroad," he said. "Likewise, I believe it's imperative that as a reporter I properly educate myself on evolving trends that are taking the world by storm in order to have a conscious mode of communicating."
Blade Editor Kevin Naff welcomed the two new contributors.
"The best part of my job is working with the next generation of LGBTQ journalists and we're all thrilled to welcome Winter and Andrés to the team," Naff said. "They will help the Blade continue our mission of telling the stories of our local queer community and elevating underrepresented voices."