Fla. rule would effectively ban gender-affirming care for minors
State surgeon general asked for regulation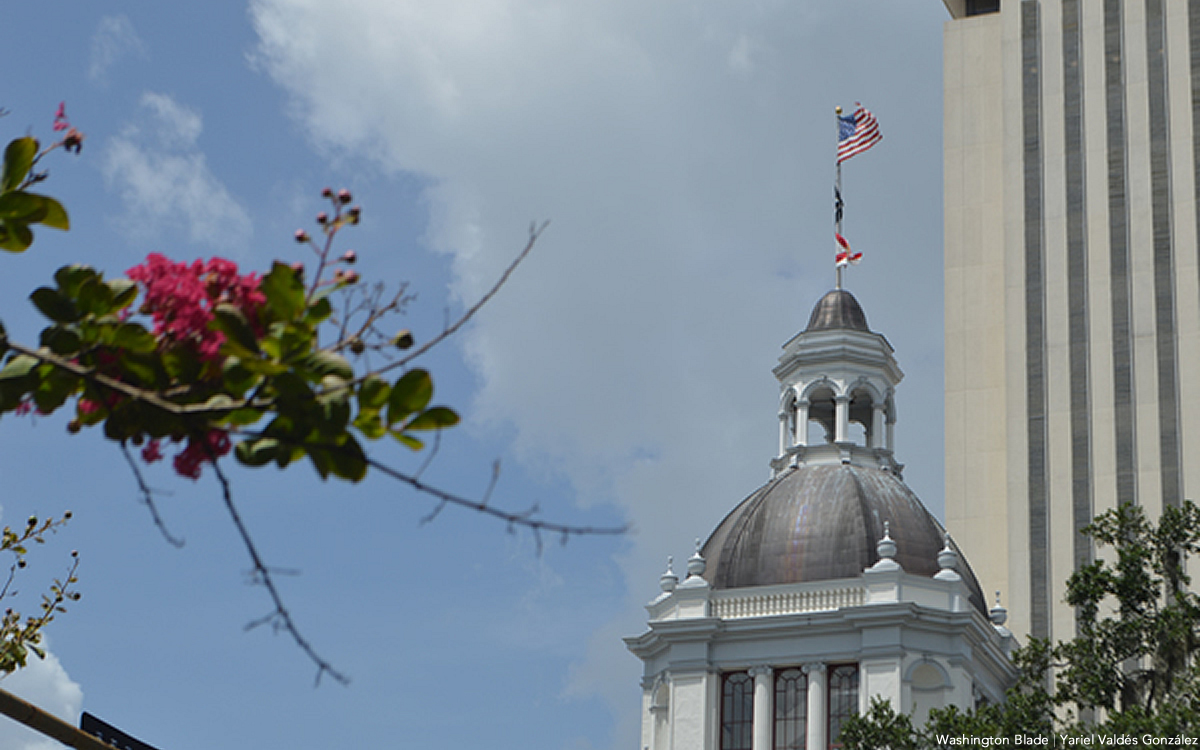 The Florida Board of Medicine and Board of Osteopathic Medicine Joint Rules/Legislative Committee Friday advanced a rule that would effectively ban gender-affirming care for minors in the state. 
The policy, which would likely block a minor's access to puberty blockers, hormone therapies and surgeries — a rare intervention for transgender youth — will now head to the full the Board of Medicine and Board of Osteopathy for finalization and a vote. 
It came after the Florida Surgeon General Joseph Ladapo in June asked the board to establish a standard for "complex and irreversible" gender-affirming care treatments. Ladapo recommended against certain pharmaceutical, non-pharmaceutical and surgical treatments for gender dysphoria. Puberty blockers, a form of gender-affirming care, are reversible.
Major medical organizations, such as the American Academy of Pediatrics, recommend gender-affirming care for trans and nonbinary youth. The group, in a statement, said it "strongly oppose[s] any legislation or regulation that would discriminate against gender-diverse individuals, including children and adolescents, or limit access to comprehensive evidence-based care which includes the provision of gender-affirming care."
Still, Ladapo called the scientific evidence supporting gender-affirming care "extraordinarily weak."
Republican Gov. Ron DeSantis, who is likely to run for president in 2024, holds tremendous power over the board. Equality Florida, a statewide LGBTQ advocacy group, said the board was stacked with "right-wing extremists" and "subverted into weapons against LGBTQ Floridians."
During the meeting, the committee heard from scheduled presenters meant to act as experts on gender-affirming care and members of the public. Before the meeting, one of the experts, Dr. James Cantor, was quietly removed from the agenda after it was revealed that he advocated for pedophiles to be included under the LGBTQ umbrella, according to Media Matters.
Oxford University sociology professor Michael Biggs, who did speak to the board, has posted transphobic tweets in the past, according to the Oxford Student, the college's student newspaper.
LGBTQ activists and state representatives called into question the fairness of the speakers. According to Florida Planned Parenthood Action, two state representatives, Democrats Anna Eskamani and Carlos Smith, "begged" the board to let public comment continue.
"It is totally unacceptable for a public Board to permit only speakers who agree with the board members' position to testify, and then refuse to permit others from the public with a different perspective to speak," tweeted Florida state Rep. Ben Diamond, a Democrat. 
After the board cut off public comment, the crowd began to chant: "Let them speak."
Smith called the meeting a "sham," adding: "They put all the speakers from out of state and out of the country who agreed with them first. When they ran out of people on their side, they cut off public comment from Floridians OPPOSED to the politicization of gender affirming care."
"Just disgusting," tweeted Jack Petocz, a political strategist for Gen-Z for Change.
Just disgusting. https://t.co/oeKQx6y2cP

— Jack Petocz (@Jack_Petocz) October 28, 2022
The board also heard from several so-called "detransitioners" who spoke in favor of the rule.
However, those who receive gender-affirming care rarely decide not to continue with treatment. A recent study published in "The Lancet" found that 98 percent of people who had started gender-affirming medical treatment in adolescence continued to use gender-affirming hormones at follow-up.
"It needs to be repeated without end: gender-affirming care is lifesaving care," said Equality Florida Transgender Equality Director Nikole Parker.
Sharply divided 11th Circuit upholds Fla. school district bathroom policy
Judges in 7-4 decision upheld regulation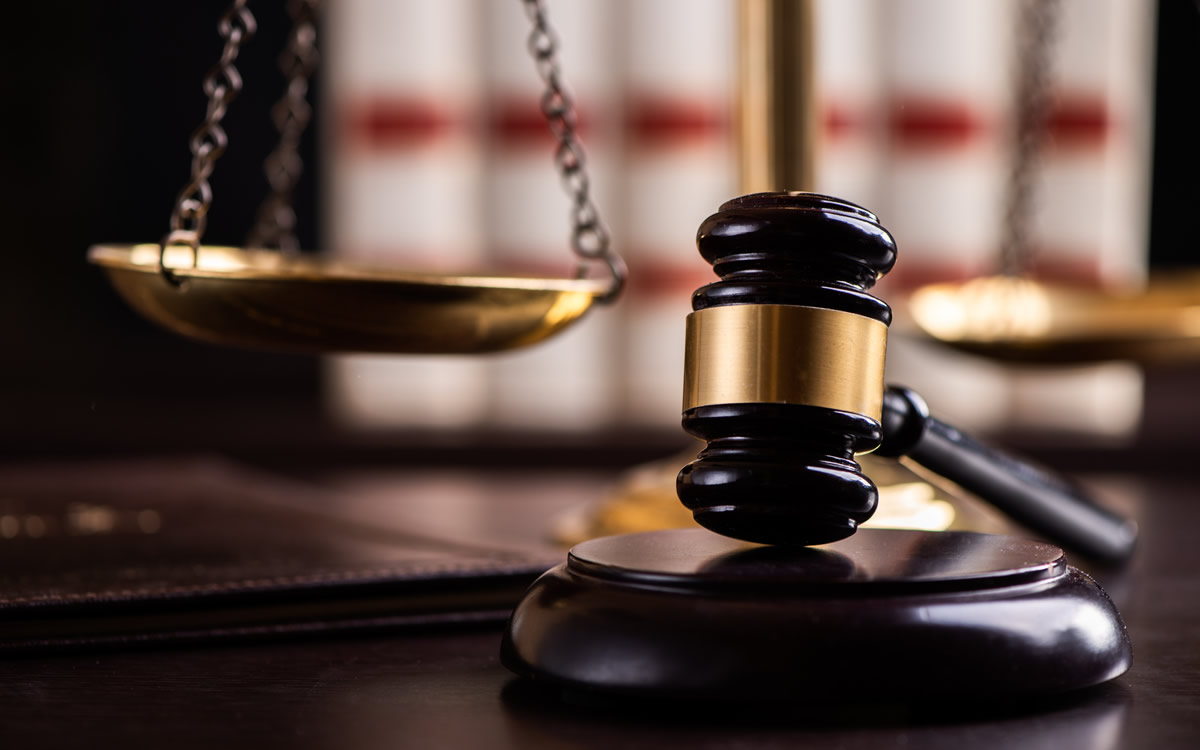 The 11th U.S. Circuit Court of Appeals last week ruled, in a 7-4 vote, that a Florida school district did not violate the U.S. Constitution nor federal civil rights laws by requiring students to use bathrooms corresponding to their biological sex as listed on their birth records.
All seven judges in the majority were appointed by Republican presidents, including six by former President Donald Trump, while the four dissenting judges were Democratic appointees.
Because other federal appellate courts have issued previous rulings allowing a student to chose to use bathrooms based on their gender identity, an appeal to the U.S. Supreme Court is likely.
In June 2021, the high court declined to hear arguments in the earlier appeals court ruling of a former high school student who challenged his Virginia school district's bathroom policy.
Gavin Grimm was a sophomore at Gloucester County High School when he filed a federal lawsuit against the Gloucester County School District's policy that prohibited students from using bathrooms and locker rooms that did not correspond with their "biological gender."
The 4th U.S. Circuit Court of Appeals in Richmond in 2016 ruled in Grimm's favor.
The Biden administration had urged the 11th Circuit to strike down the Florida school board's policy. The White House had no immediate comment in regard to Friday's ruling.
The suit was brought by Drew Adams, a transgender man who sued in 2017 after being barred from using the boys' bathroom when he attended the Allen D. Nease High School in Ponte Vedra Beach, Fla.
"This is an aberrant ruling that contradicts the rulings of every other circuit to consider the question across the country," Tara Borelli, a lawyer with Lambda Legal representing Adams, said in a statement. "We will be reviewing and evaluating this dangerous decision over the weekend."
In the suit Reuters reported that Adams contended that the high school's bathroom policy violated the Constitution's Equal Protection Clause and Title IX, which bars sex discrimination in education.
Writing for the majority, Circuit Judge Barbara Lagoa disagreed, saying the school board had an important interest in protecting students' privacy, and calling it "wrong" to suggest it relied on illegal stereotypes of transgender people.
The Trump appointee also said Title IX allows separate bathrooms based on biological sex, citing "the plain and ordinary meaning of 'sex' in 1972" when that law took effect.
She also warned that ruling for Adams could "transform schools' living facilities, locker rooms, showers, and sports teams into sex-neutral areas and activities. Whether Title IX should be amended to equate 'gender identity' and 'transgender status' with 'sex' should be left to Congress — not the courts."
Circuit Judge Jill Pryor, an appointee of Barack Obama, countered in dissent that by forcing Adams to use gender-neutral bathrooms, the St. Johns (County) School Board branded him with a "badge of inferiority" by deeming him "unfit" for equal protection.
"The Constitution and laws of the United States promise that no person will have to wear such a badge because of an immutable characteristic," Pryor wrote. "The majority opinion breaks that promise."
A legal analyst told the Washington Blade the 11th Circuit's ruling is a victory for anti-LGBTQ activists and so-called family focused conservatives who continue to push anti-LGBTQ and anti-trans legislation, including trans bathroom ban measures across the country.
Last May, Oklahoma Senate Bill 615 passed the Oklahoma legislature and was quickly signed into law by Republican Gov. Kevin Stitt. The law requires all pre-K through 12th grade public schools and public charter schools to restrict the use of multiple occupancy restrooms and other facilities at school based on the sex listed on an individual's original birth certificate.
Provisions in the language of the law requires schools to adopt disciplinary procedures to punish students who do not comply and allows parents and guardians to take legal action against any school that does not comply with the new law.
The American Civil Liberties Union, the ACLU of Oklahoma Foundation, Lambda Legal and pro-bono co-counsel Covington and Burling LLP filed a lawsuit this past September alleging that SB 615 violates the Equal Protection Clause of the 14th Amendment and Title IX of the Education Amendments of 1972, by discriminating on the basis of sex, gender identity, and trans status. 
Author of Fla. 'Don't Say Gay' law indicted for wire fraud
Joseph Harding allegedly obtained pandemic loans fraudulently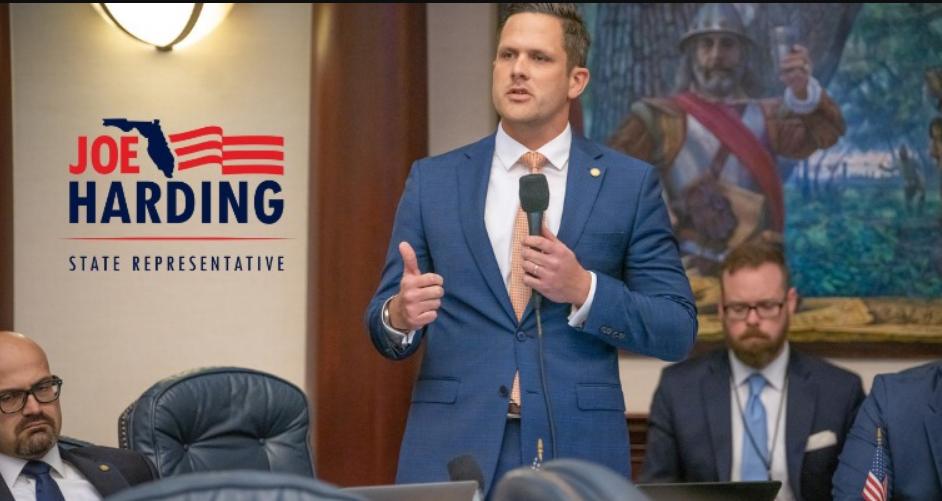 A federal grand jury has returned a 6-count indictment against Florida state Rep. Joseph Harding (R-Williston).
The indictment was announced by Jason R. Coody, the U.S. Attorney for the Northern District of Florida.
Harding, 35, represents Florida's House District 24. He wrote the state's infamous "Don't Say Gay" law, titled the "Parental Rights in Education," passed in March of this year by the Republican-controlled Legislature and signed into law by Gov. Ron DeSantis.
The U.S. Attorney's Office for the Northern District of Florida stated:
The indictment alleges that between Dec. 1, 2020, and March 1, 2021, Harding committed two acts of wire fraud by participating in a scheme to defraud the Small Business Administration (SBA) and for obtaining coronavirus-related small business loans by means of materially false and fraudulent pretenses, representations, and promises, and for the purpose of executing such scheme, caused wire communications to be transmitted in interstate commerce.
The indictment alleges that Harding made and caused to be made false and fraudulent SBA Economic Injury Disaster Loan (EIDL) applications, and made false representations in supporting loan documentation, in the names of dormant business entities, submitted to the SBA. 
The indictment further alleges that Harding obtained fraudulently created bank statements for one of the dormant business entities which were used as supporting documentation for one of his fraudulent EIDL loan applications. By this conduct, the indictment alleges that Harding fraudulently obtained and attempted to obtain more than $150,000 in funds from the SBA to which he was not entitled. 
Harding is also charged with two counts of engaging in monetary transactions with funds derived from unlawful activity related to his transfer of the fraudulently obtained EIDL proceeds into two bank accounts, and two counts of making false statements to the SBA.
The investigation was jointly conducted by the Federal Bureau of Investigation, the Internal Revenue Service-Criminal Investigation, the Federal Deposit Insurance Corporation (FDIC) Office of Inspector General and the SBA's Office of Inspector General. 
Harding's trial is scheduled for Jan. 11 at 8:30 a.m., at the U.S. Courthouse in Gainesville before U.S. District Judge Allen Winsor.
The maximum terms of imprisonment for the offenses are as follows:
20 years: Wire Fraud
10 years: Money Laundering
5 years: Making False Statements
Florida Politics reported that according to Politico's Gary Fineout, Harding has already been released on bond, and the government did not look to detain Harding.
Court files show the federal government did not request that Harding be detained – and he was released on bond earlier today

— Gary Fineout (@fineout) December 7, 2022
Harding has already lost his committee assignments for the upcoming legislative term.
"After consultation with Representative Harding regarding his indictment, I am temporarily removing him from his committee assignments to allow him time to focus on this matter," House Speaker Paul Renner said Wednesday in a written statement.
"In America we adhere to the rule of law, and as such, Representative Harding is presumed innocent and will have the opportunity to plead his case before a court. Since the indictment does not relate to any aspect of his legislative duties, any further questions should be directed to his legal counsel."
"In America we adhere to the rule of law, and as such, Representative Harding is presumed innocent and will have the opportunity to plead his case before a court." Says further questions should be directed to Harding's lawyer

— Gary Fineout (@fineout) December 7, 2022
The governor cannot remove a lawmaker from office, even if arrested. The Florida Constitution states that "each house shall be the sole judge of the qualifications" of members. To expel a lawmaker, each chamber needs a two-thirds majority vote.
DeSantis reelected in Fla.
Republican incumbent signed state's 'Don't Say Gay' law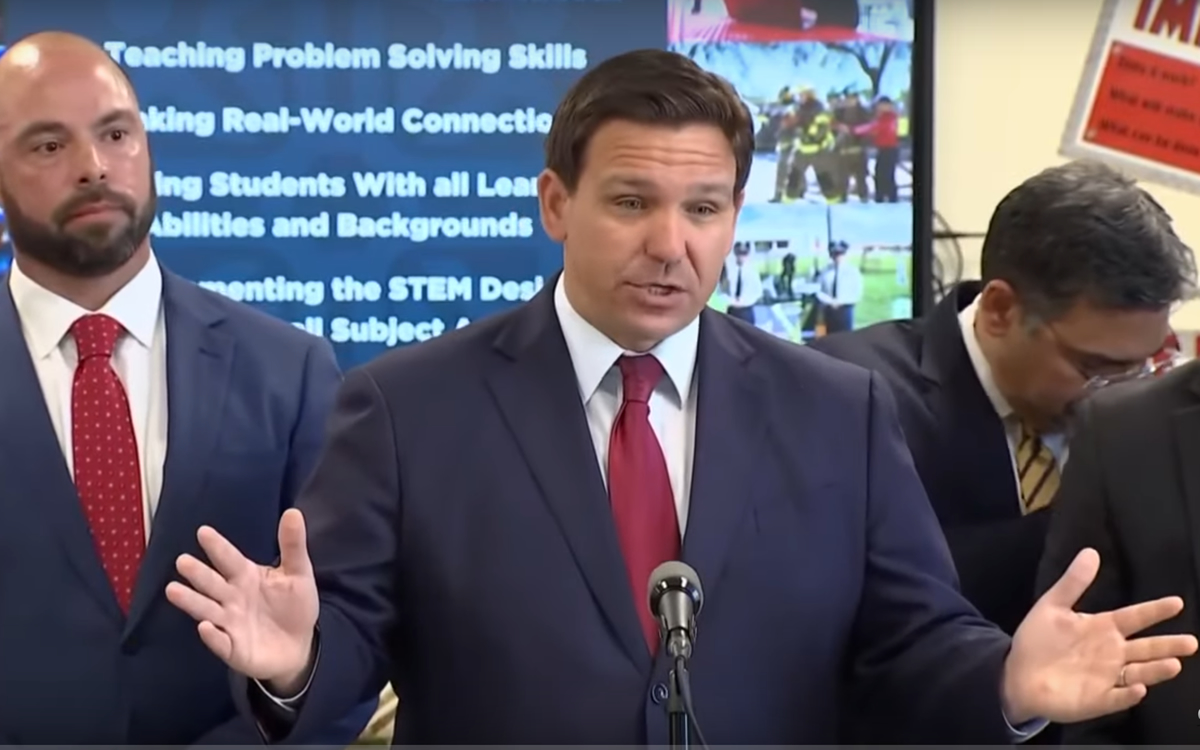 Republican Florida Gov. Ron DeSantis on Tuesday defeated Democrat Charlie Crist in the state's gubernatorial election.
DeSantis as of 8:12 p.m. ET was ahead of Crist by a 57.5-41.9 percent margin with 74 percent of the total number of votes counted.
DeSantis, who signed Florida's "Don't Say Gay" law earlier this year, narrowly defeated Democrat Andrew Gilliam in 2018. DeSantis, who is a former congressman, is expected to run for president in 2024.