Incoming HRC President Kelley Robinson warns: 'They are coming for us'
Urges intersectionality, unity as best ways to fight back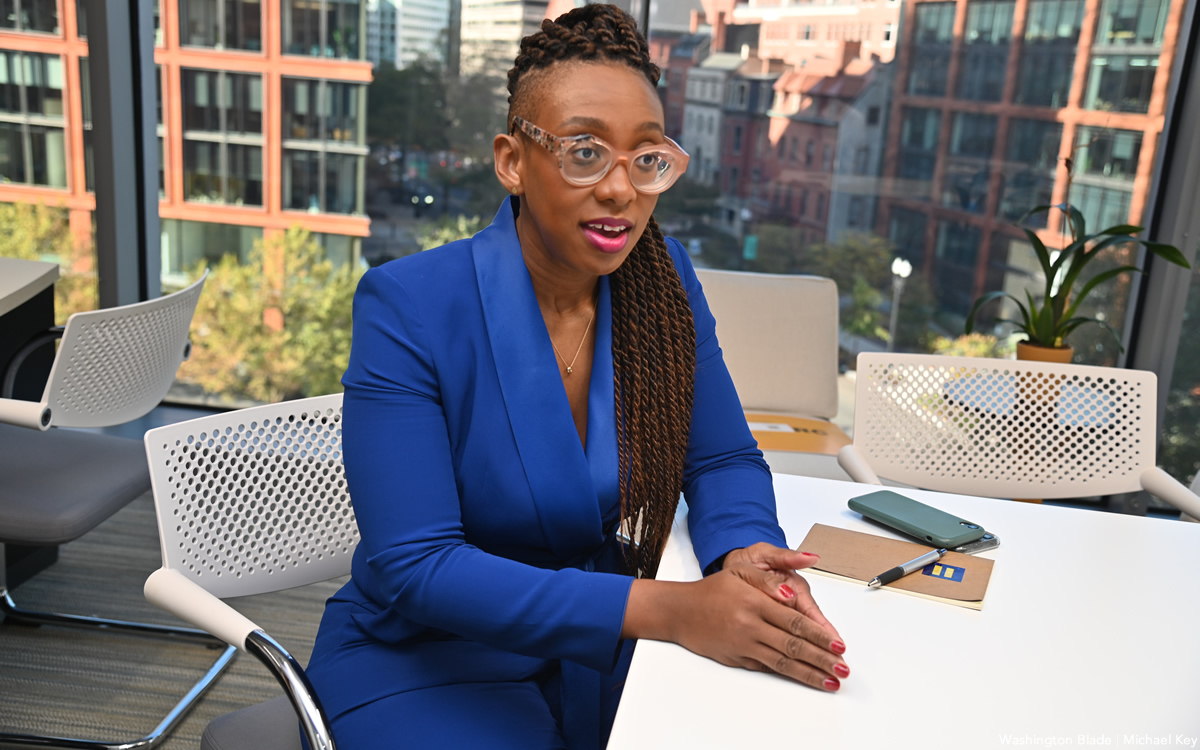 Kelley Robinson convened a press briefing on Monday with representatives from local and national LGBTQ advocacy groups and gun violence prevention organizations to discuss the deadly shooting over the weekend at an LGBTQ nightclub in Colorado Springs.
"We are, of course, having this call under the worst of circumstances," Robinson said, expressing her heartbreak and outrage in personal terms "as a wife, a mother, and a member of the LGBTQ community."
Around the same time, news outlets reported that hate crime charges were filed against the suspected gunman who killed five people and injured at least 19 others when he opened fire with an assault style rifle in Club Q late Saturday night.
Just a couple of weeks ago, when Robinson sat down for an interview with the Washington Blade, she was smiling for much of the conversation. For one thing, she was looking forward to the official start of her tenure as president of the Human Rights Campaign . On Nov. 28, she will become the first Black queer woman to serve in that role leading the nation's largest LGBTQ organization.
The interview also came on the heels of a midterm election cycle that had seen record turnout among LGBTQ voters and historic firsts for LGBTQ candidates. Additionally, by then it had become clear that by the year's end Congress would likely pass the landmark Respect for Marriage Act, which carries significant legal protections for same-sex couples.
Tone and tenor aside, however, there was little daylight between Robinson's words and actions following the mass shooting and her comments during that Nov. 10 interview, during which she pledged to lead HRC with an intersectional approach to the work, in a manner consistent with her prior leadership as executive director of Planned Parenthood Action Fund and professional background as a community organizer.
On Monday, Robinson – along with the other speakers – urged collective, decisive action to stem the escalating tides of hateful rhetoric, online misinformation and disinformation, and violence and threats of violence directed at LGBTQ people. They focused their comments on how these factors work together to raise the likelihood of violent attacks like that which happened on Saturday.
Likewise, they said solutions must involve a diverse array of stakeholders: lawmakers and social media companies tasked with fighting online hate, misinformation, and disinformation; law enforcement agencies responsible for enforcing existing gun laws; and groups representing vulnerable communities that are disproportionately impacted, like trans women of color and LGBTQ youth.
"What we saw this past year is that our opposition gets intersectionality," Robinson told the Blade. "They are coming for us, for all of us," she said, citing as examples the Supreme Court's decision revoking Americans' constitutional right to abortion, the hateful rhetoric of Fox News host Tucker Carlson, and recent spate of statewide anti-LGBTQ bills.
"They are launching an intersectional attack against us and trying to divide our power," she said. "And we are going to fight back together, because ultimately we are stronger together."
From her vantage point as a queer Black woman, Robinson said intersectionality is not just a theory relegated to academia but rather a fact of life. It also happens to also be exceptionally effective in engendering concrete change through movement building and coalition building, she said.
For these reasons, Robinson said HRC is focused on political advocacy at the federal, state, local, and grassroots levels. And the organization is expanding its programs in other areas that are designed to, for example, make schools more welcoming environments for LGBTQ youth, empower trans people in the workplace, and hold employers as well as municipalities to account for their policies concerning treatment of, respectively, LGBTQ employees, residents, and visitors.
Likewise, with respect to the organization's impact litigation work, intersectionality is front and center, Robinson said. HRC's attorneys are working with other legal actors and entities in the movement ecosystem on cases involving everything from protecting the rights of the incarcerated to fighting back against anti-LGBTQ state laws, she said.
Still, Robinson said she is realistic about the challenges that lie ahead. Asked what keeps her up at night, she said it's how high the stakes are: "This is truly a matter of life and death for so many people," she said.
"People are hurting right now. We may be in a different phase of the pandemic, but it's not over for people. The impact that it's had for people's work lives, the impact it's had for our mental health, all of that lingers and is present…I can't tell you the number of people that have come up to me in tears about their kids, worrying about their kids, worrying about their trans kids who are getting kicked out of sports and told they're different when they're five, six, seven, eight years old. They're worried about their gay kids and if they'll be able to love the people that they choose to love and still live in the states that they call home."
However, Robinson said, "there's a unique opportunity for us to do something about it right now. We've built the political power. We have the organization. We're so close to having the political leadership that we need in office to get some stuff done. So, this is one of those moments where it just feels like there's so much on the line, there's such a sense of urgency. But the hope and optimism is coming from the fact that we're not done."
Dr. Martin Luther King Jr. famously proclaimed that "the arc of the moral universe is long, but it bends toward justice," but "that doesn't happen by accident," Robinson said. "We've got to pull it and push it and prod it, and I'm proud to be part of that struggle and that legacy fighting for freedom; fighting for change."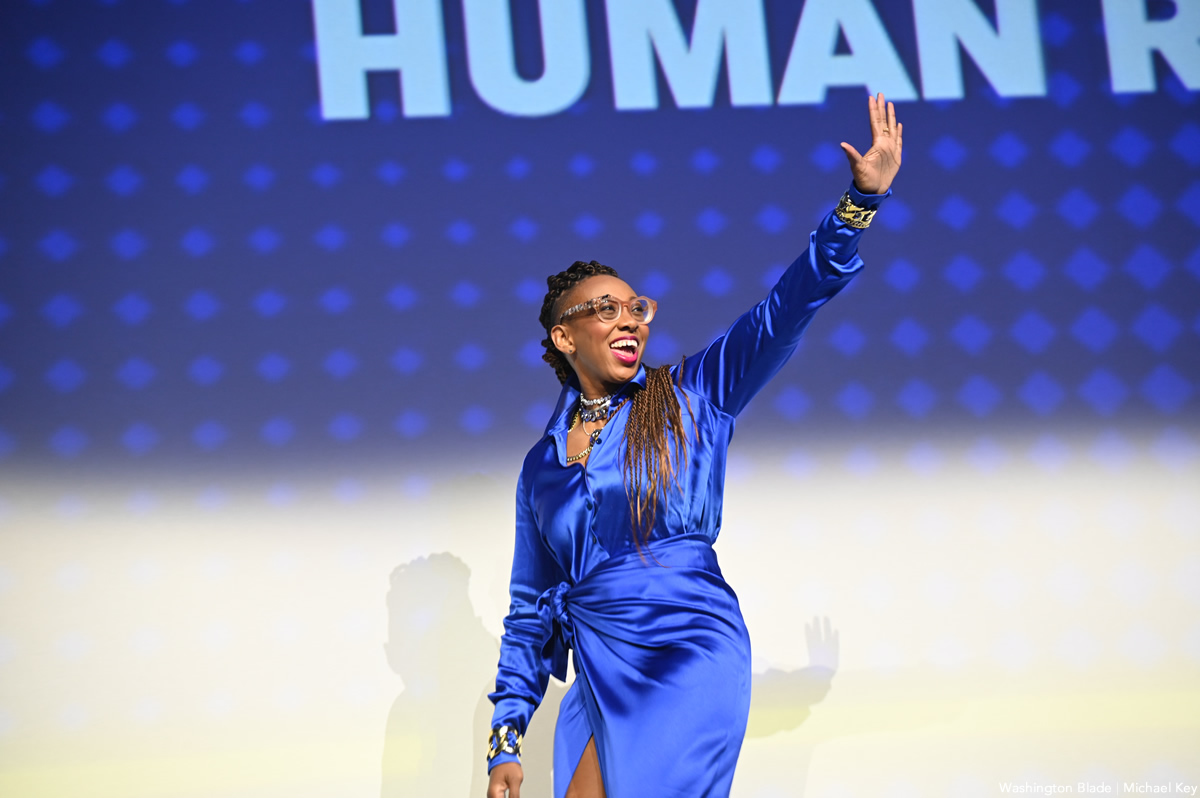 Jim Kolbe dies at 80
Former Ariz. congressman first openly gay Republican House member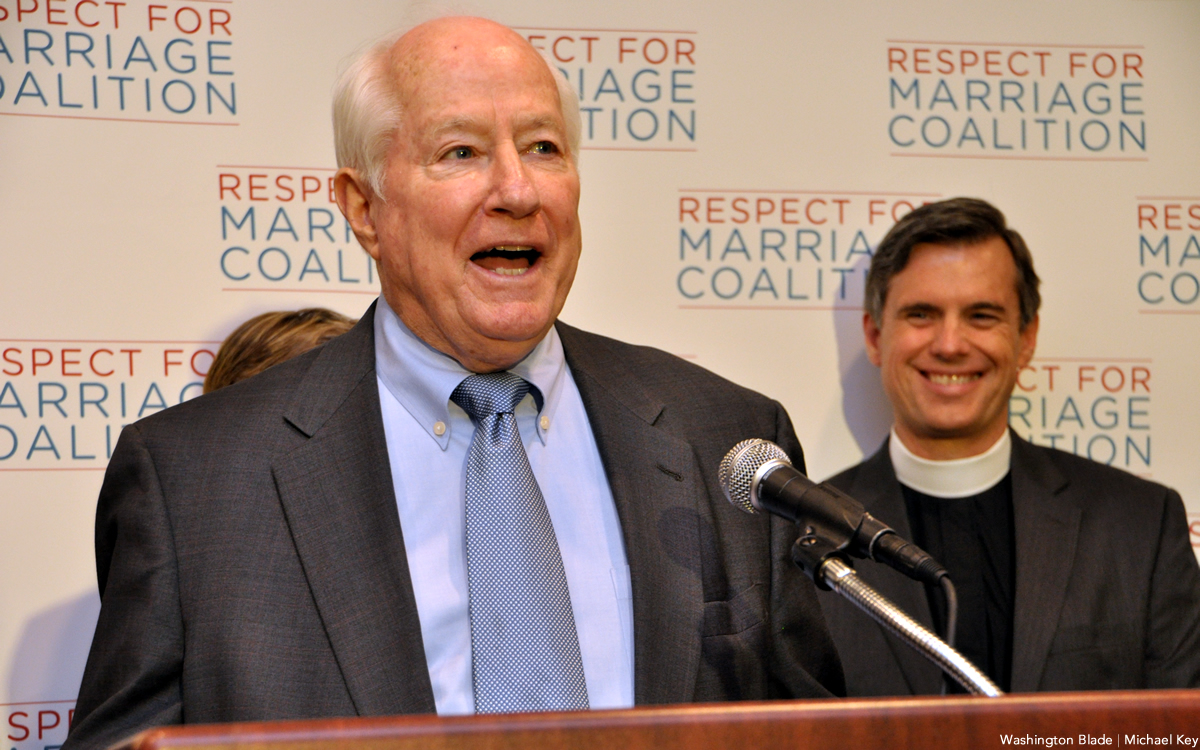 Former Republican Congressman James (Jim) Thomas Kolbe, who represented Southern Arizona in Congress for 22 years, died Saturday of a stroke at the age of 80 his husband Hector Alfonso confirmed to Arizona media outlets.
"He belongs to so many people," his husband said through tears on Saturday. "He gave his life for this city. He loved Tucson, he loved Arizona."
Republican Arizona Gov. Doug Ducey ordered flags at all state buildings be lowered to half-staff until sunset Sunday in honor of the former congressman. In a series of tweets the Arizona governor lauded Kolbe's record of public service.
Congressman Kolbe led a life of remarkable public service. A Navy veteran, 11-term congressman, state legislator — even a congressional page for Sen. Goldwater — his commitment and dedication were boundless. 2/

— Doug Ducey (@DougDucey) December 3, 2022
He was a highly-regarded expert on trade, a champion of the free market and a passionate advocate for the line-item veto. From his community in Tucson, to those in need around the world, Congressman Kolbe had a profound and lasting impact. 3/

— Doug Ducey (@DougDucey) December 3, 2022
We've ordered flags at state buildings will be flown at half staff until sunset Sunday in Congressman Kolbe's memory. 5/5

— Doug Ducey (@DougDucey) December 3, 2022
Kolbe was the first openly serving gay Republican in the U.S. House of Representatives having served from 1985 to 2007. During his 22-year tenure he served as chair of the Subcommittee on Foreign Operations, Export Financing and Related Programs of the House Appropriations Committee.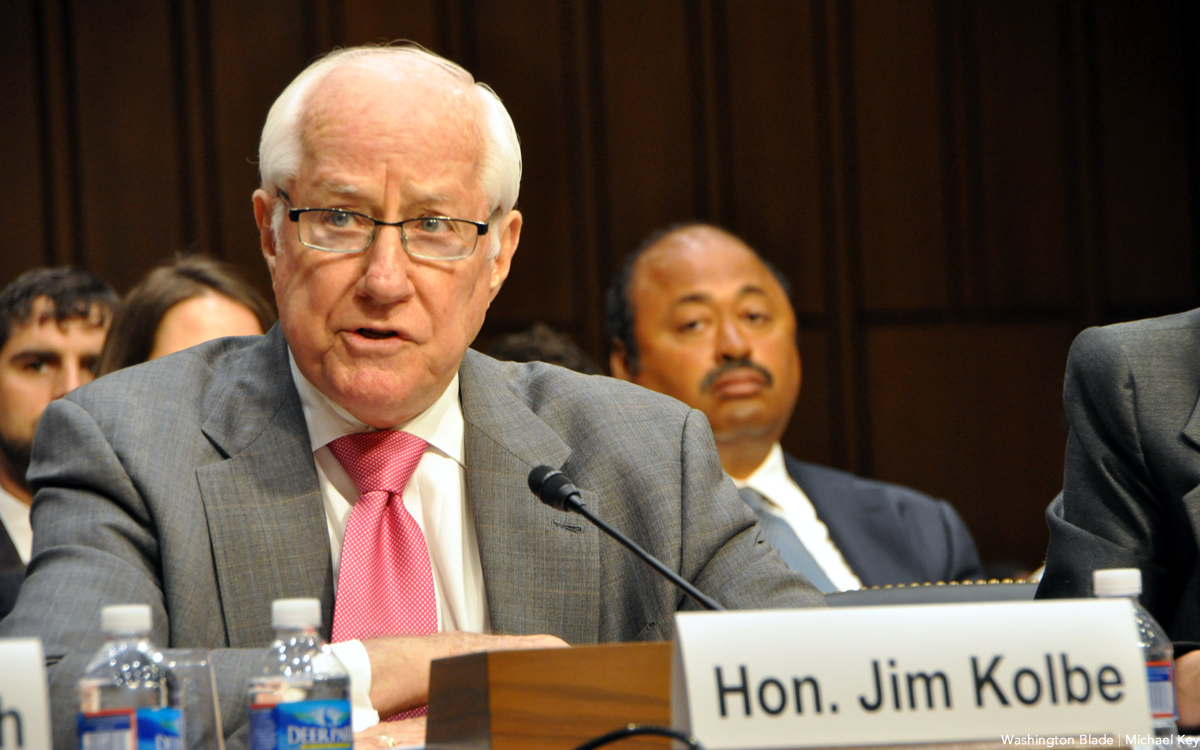 In 1996, Kolbe held a press conference and outed himself after his vote for the Defense of Marriage Act. This, according to political journalist Jake Tapper, was owed to the fact that Kolbe was under the impression he was about to be outed by a gay publication.
Addressing a gathering of Log Cabin Republicans and other gay Republicans in 1997, he said he didn't want to be a poster child for the gay movement.
"Being gay was not — and is not today — my defining persona," Kolbe said during his first speech as an openly gay GOP lawmaker. He also sat on the national advisory board of the Log Cabin Republicans.
In 2013, however, Kolbe was a signatory to an amicus brief in support of overturning California's Proposition 8.
In a private ceremony in 2013, after being together for eight years, Kolbe and Alfonso were married.
Alfonso, a Panamanian native who came to the U.S. on a Fulbright scholarship to pursue studies in special education, had been a teacher for two decades. The couple's nuptials were held at a private event at the Cosmos Club on Massachusetts Avenue.
"Two decades ago, I could not have imagined such an event as this would be possible," Kolbe told the Washington Blade in an interview in May 2013. "A decade ago I could not imagine that I would find someone I could be so compatible with that I would want to spend the rest of my life with that person. So, this is a very joyous day for both of us."
The couple had to endure a year-long separation when Alfonso returned to Panama while immigration issues were being sorted out, although he was granted U.S. residency, also known as a green card.
Kolbe also battled his friend and fellow Republican, U.S. Sen. John McCain (R-Ariz.), who opposed the repeal of the Clinton-era "Don't Ask, Don't Tell" policy, which barred military service by gay and lesbian Americans. He repeatedly co-sponsored a bill to scrap the military's "Don't Ask, Don't Tell" policy at odds with others in his party over the issue.
After he left Congress he continued to be active in Republican politics in 2012 endorsing former Massachusetts Gov. Mitt Romney in his race for the presidency against then incumbent President Barack Obama.
In an interview with the Blade at the time, Kolbe responded to the anti-gay language in the draft version of the Republican Party platform. In addition to endorsing a Federal Marriage Amendment, the platform criticized the Obama administration for dropping defense of DOMA in court and judges for "re-defining marriage" in favor of gay couples.
Kolbe predicted the 2012 Republican platform will be the last one to include such language.
"That'll be the last time that will be in the Republican Party platform," Kolbe said. "It won't be there four years from now. It's got its last gasp. I don't believe it'll be there four years from now; I wish it weren't there now, but I don't believe it will be four years from now."
The issue over the rights of same-sex couples to marry ended with Obergefell v. Hodges, 576 U.S. 644, the landmark civil rights case in which the U.S. Supreme Court ruled that the fundamental right to marry is guaranteed to same-sex couples by both the Due Process Clause and the Equal Protection Clause of the 14th Amendment to the Constitution.
Just this week prior to his death, the Respect for Marriage Act passed the Senate by a vote of 61-36.
That legislation requires the federal government to recognize a marriage between two individuals if the marriage was valid in the state where it was performed and guarantee that valid marriages between two individuals are given full faith and credit, regardless of the couple's sex, race, ethnicity or national origin. It is expected to pass the House again this week after which it heads to President Joe Biden for his signature.
Early in his career, Kolbe in 1976 ran for a seat in the Arizona Senate in the Tucson-Pima County district and defeated a one-term Democrat. In mid-1982, he resigned from the state Senate to run in the newly created Arizona's 5th U.S. congressional district, but lost to Democrat Jim McNulty.
He ran again in 1984 winning the seat that he went to hold for over two decades.
According to his biography Kolbe was born in Evanston, Ill., a suburb of Chicago, but when he was five, his family moved to a ranch in rural Santa Cruz County, Arizona. It was there he attended Patagonia Elementary School and Patagonia Union High School, but graduated from the U.S. Capitol Page School in 1960 after serving for three years as a Senate Page for Arizona Republican U.S. Sen. Barry Goldwater.
He matriculated first at Northwestern University and then at Stanford University earning a master's degree in economics. During the Vietnam era from 1965 to 1969, he served in the U.S. Navy, including a tour in Vietnam as a member of the Navy's "Swift Boat" force.
After military service Kolbe served as a special assistant to Republican Illinois Gov. Richard B. Ogilvie. He then moved back to Arizona settling in Tucson where he worked in business.
Accolades for the former congressman included many from Arizona political and business fields of endeavor.
"Pima County and southern Arizona could always count on Jim Kolbe," Pima County Board of Supervisors Chair Sharon Bronson said in a statement.
Matt Gress, who was recently elected to the Arizona Legislature, called Kolbe a political pioneer.
"Today, because of Jim Kolbe, being a member of the LGBT community and serving in elected office has become irrelevant," he said in a statement.
HHS secretary discusses federal overdose prevention efforts at Whitman-Walker
Officials held round table with clients, 'community stakeholders'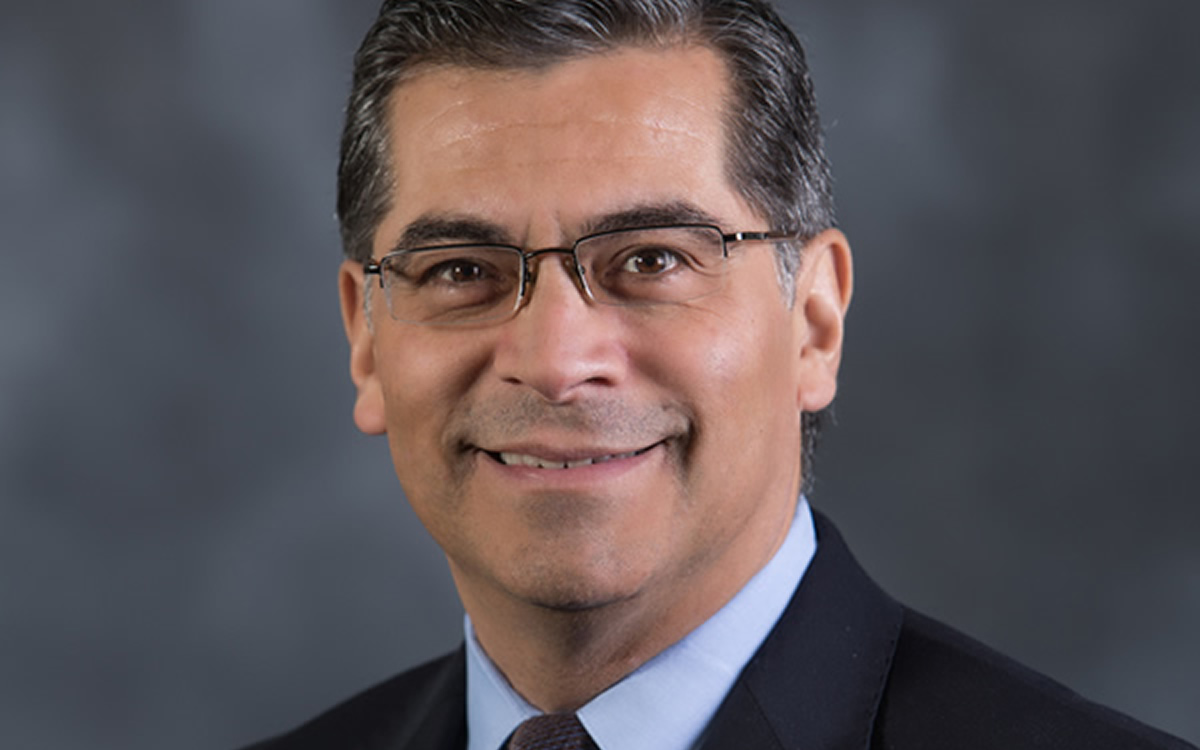 U.S. Department of Health and Human Services Secretary Xavier Becerra and four other high level federal health officials held a roundtable community meeting followed by a press conference at D.C.'s Whitman-Walker Health headquarters on Friday to discuss what they said were "groundbreaking" efforts to address and end the nation's epidemic of deaths from the overdose of opioid drugs.
A statement released by HHS says Becerra and the other officials, including Dr. Rahul Gupta, director of the White House Office of National Drug Control Policy, reached out to Whitman-Walker, which, among other things, operates one of the D.C. metro area's preeminent substance abuse treatment programs, to commemorate the one-year anniversary HHS's Overdoes Prevention Strategy program.
"Now, one year after the release of this strategy, our nation is in a much stronger position to treat addiction and save lives," Becerra said. "We didn't get here by accident. Thanks to decades of work by advocates, coupled with an unparalleled people-first strategy and unprecedented investment by the Biden-Harris administration, we have made a great deal of progress," he said.
The officials, including Gupta, pointed out that the Overdose Prevention Strategy over the past year and an updated effort launched this month have focused on greatly expanding availability of the drug overdose antidote medication naloxone.
"Deaths caused by opioids like illicit fentanyl are preventable with naloxone, and today's announcement means more life-saving naloxone will be in communities across the country," Gupta said. "The latest data continue to show a hopeful trend of a decreases in overdose deaths, so we must remain focused on fully implementing President Biden's National Drug Control Strategy that will save tens of thousands of lives by expanding care for substance use disorder, making naloxone more accessible, and dismantling drug trafficking operations," he said.
In addition to Gupta from the White House, Becerra was joined at the community meeting and press conference by Dr. Miriam Delphin-Rittmon, assistant secretary for the Substance Abuse and Mental Health Services Administration (SAMHSA), which is an arm of HHS; Dr. Debra Houry, acting principal deputy director of the U.S. Centers for Disease Control and Prevention and Dr. Robert Califf, commissioner of the U.S. Food and Drug Administration.
Also participating in the roundtable session and press conference was U.S. Sen. Tammy Baldwin (D-Wis.), the nation's first out lesbian member of the Senate.
Becerra said he invited Baldwin to participant in the day's events, among other things, because of her record of advocacy and support for funding of federal substance abuse and overdose prevention programs.
"One area I've championed in Congress is increasing access to overdose reversal medication like naloxone," Baldwin said. "We know that when you increase access to this safe and effective treatment that you save lives," she said. "And I'm thrilled to see the Biden administration and especially the Food and Drug Administration taking steps to increase access to naloxone."
Califf told the gathering one of the FDA's recently launched efforts is to work with drug manufacturers to arrange for naloxone to become an over-the-counter drug that would further expand its availability.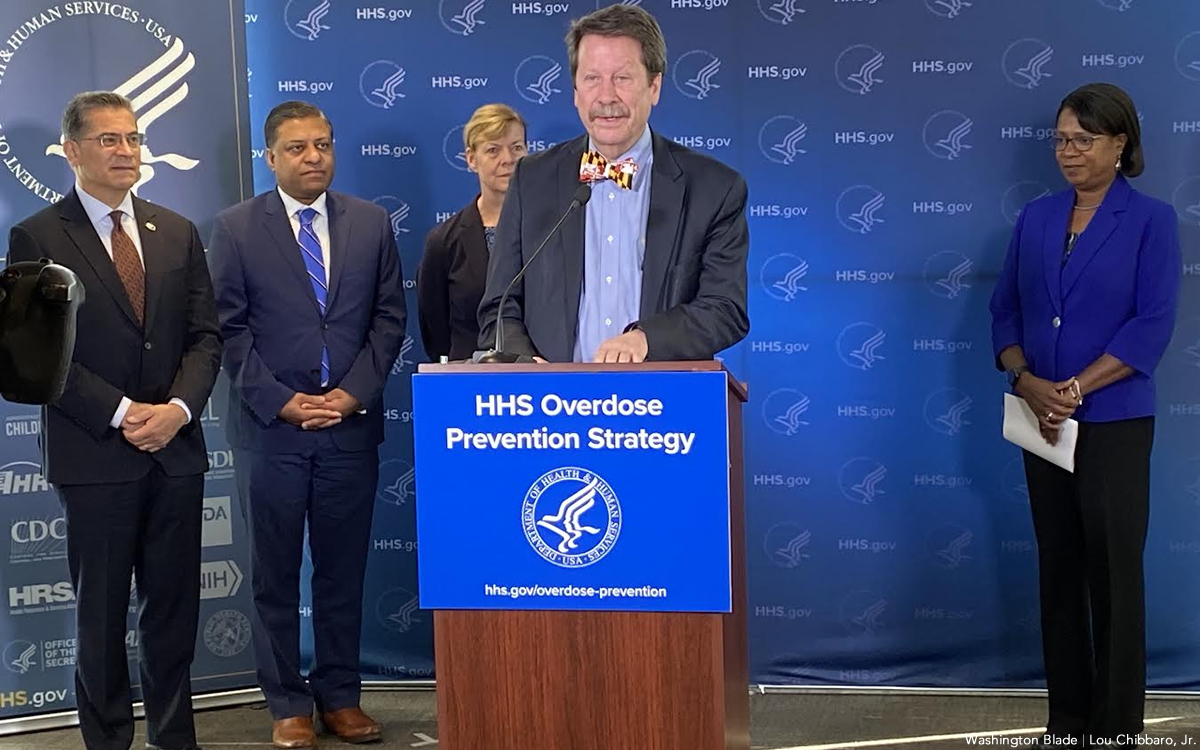 The roundtable discussion session, which included close to 50 participants, including Becerra and the other federal officials, was closed to the press, according to an HHS spokesperson, because among those participating were Whitman-Walker clients and others who receive services and support for what the officials called substance use disorder.
During the press conference that followed, Becerra spoke of how some of those participating in the roundtable discussion were part of Whitman-Walker's success stories in helping people overcome substance use problems
"We're here because a year ago we decided to go in a different direction at the federal level," he said at the press conference. "We decided that we're not moving fast enough, we're not moving close enough to where we need to be to try to help communities and those folks at Whitman-Walker who are trying to not just get folks into treatment but to save lives," Becerra said.
"And that was the great thing about the round table that we just had," he said. "We heard about how people thrive," he said, adding, "And one of the clients, Deborah, spoke about how she's on the verge of getting her degree from college … That's what we want to see … I want to thank the folks at Whitman-Walker for letting us come today to see how people can thrive and be part of that success."
Whitman-Walker Health CEO Naseema Shafi told the Washington Blade after the press conference that Whitman-Walker has a long history of partnering with federal government agencies in addressing health issues, including Whitman-Walker's role as a healthcare facility welcoming the LGBTQ community.
U.S. envoy for global LGBTQ, intersex rights cancels Indonesia trip
Prominent Islamic group criticized Jessica Stern's planned visit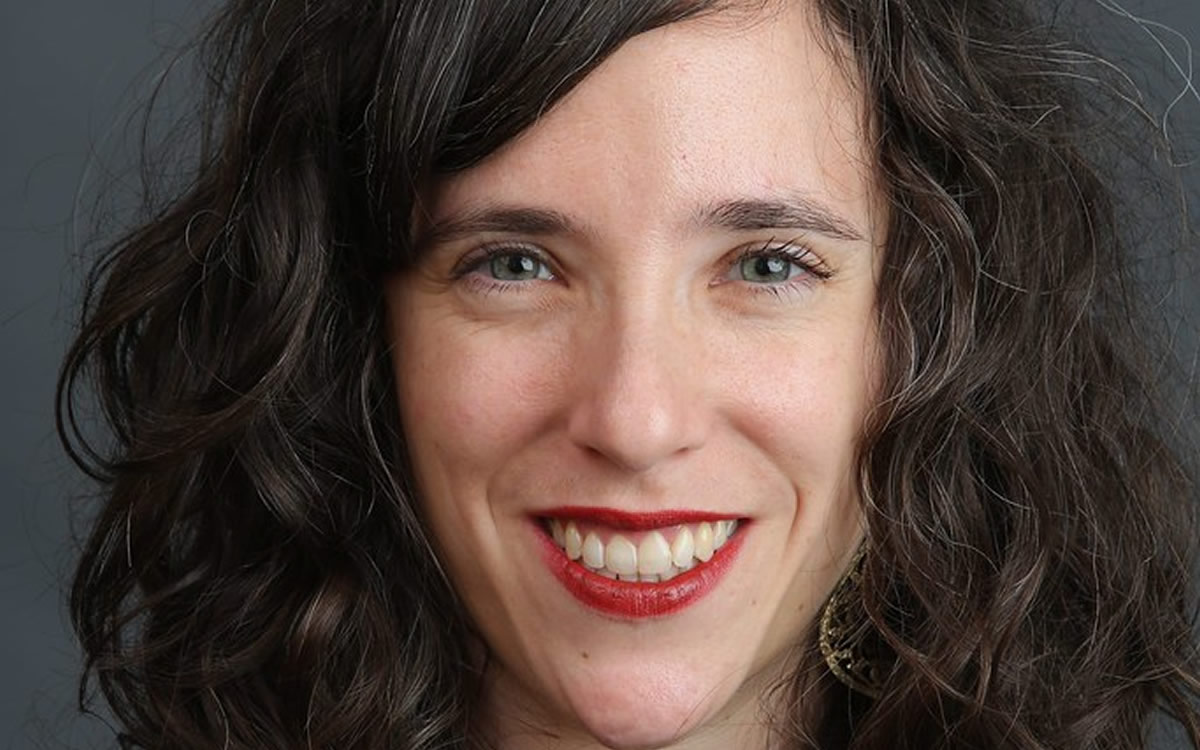 The special U.S. envoy for the promotion of LGBTQ and intersex rights abroad's trip to Indonesia has been cancelled after the country's most prominent Islamic group criticized.
Jessica Stern had been scheduled to arrive in Indonesia on Dec. 7.
The Washington Post reported Anwar Abbas, the vice chair of the Indonesian Ulema Council, in a statement on Friday said the group "cannot accept guests whose purpose of coming here is to damage and mess up the noble values of our nation's religion and culture."
U.S. Ambassador to Indonesia Sung Kim in a statement announced Stern would no longer travel to the country.
"One of the reasons the United States and Indonesia have such a strong relationship is that we both uphold values such as democracy, human rights, diversity and tolerance. Those values should apply to every member of society, including LGBTQI+ persons," said Kim. "In every country, dialogue about human rights is crucial. Dialogue, after all, is fundamental to democracy. Advanced democracies oppose hatred, intolerance and violence against any group of people, and encourage dialogue that reflects the broad diversity of their societies."
"While we look forward to continuing our dialogue with religious leaders, government officials and members of the public on the important topic of ensuring respect for the human rights of LGBTQI+ persons, after discussions with our counterparts in the Indonesian government, we have decided to cancel Special Envoy Stern's visit to Indonesia," added Kim. "Knowing that around the world LGBTQI+ persons experience disproportionate levels of violence and discrimination, it is important to continue the dialogue and ensure mutual respect for one another, rather than pretending that the issues do not exist. Countries like Indonesia and the United States can learn from one another about how to counter hatred and ensure more prosperous, inclusive societies for all."
A State Department spokesperson on Friday told the Washington Blade that "after discussions with counterparts in the Indonesian government and with Indonesian human rights advocates, Special Envoy Jessica Stern and Ambassador Sung Kim decided to cancel the special envoy's visit to Indonesia planned for Dec. 7-9."
"We will continue to work with our Indonesian partners to promote democracy, human rights, diversity and tolerance," said the spokesperson.
"While we are disappointed that Special Envoy Stern will not travel to Indonesia at this time, it is important to continue the dialogue and ensure mutual respect for every member of society, including LGBTQI+ persons," added the spokesperson. "Indonesia is a valued partner of the United States, and we seek to work together with Indonesia to counter hatred and intolerance and build more prosperous, inclusive societies."
President Joe Biden in February 2021 signed a memo that committed the U.S. to promoting LGBTQ and intersex rights abroad as part of his administration's overall foreign policy.
Consensual same-sex sexual relations are decriminalized in most of Indonesia, but officials in Aceh province in 2021 caned two men under Shariah law after their neighbors caught them having sex. The Indonesian government in recent years has faced criticism over its LGBTQ and intersex rights record.
Authorities in Jakarta, the Indonesian capital, in 2017 arrested 51 people who were attending a "gay party" at a sauna. The closure of an Islamic school for transgender people in the city of Yogyakarta in 2016 also sparked outrage.
Indonesian lawmakers are currently debating a bill that would criminalize sex outside of marriage.