McCarthy suffers humiliating losses in bid for House speakership
19 Republicans decline to support longtime party leader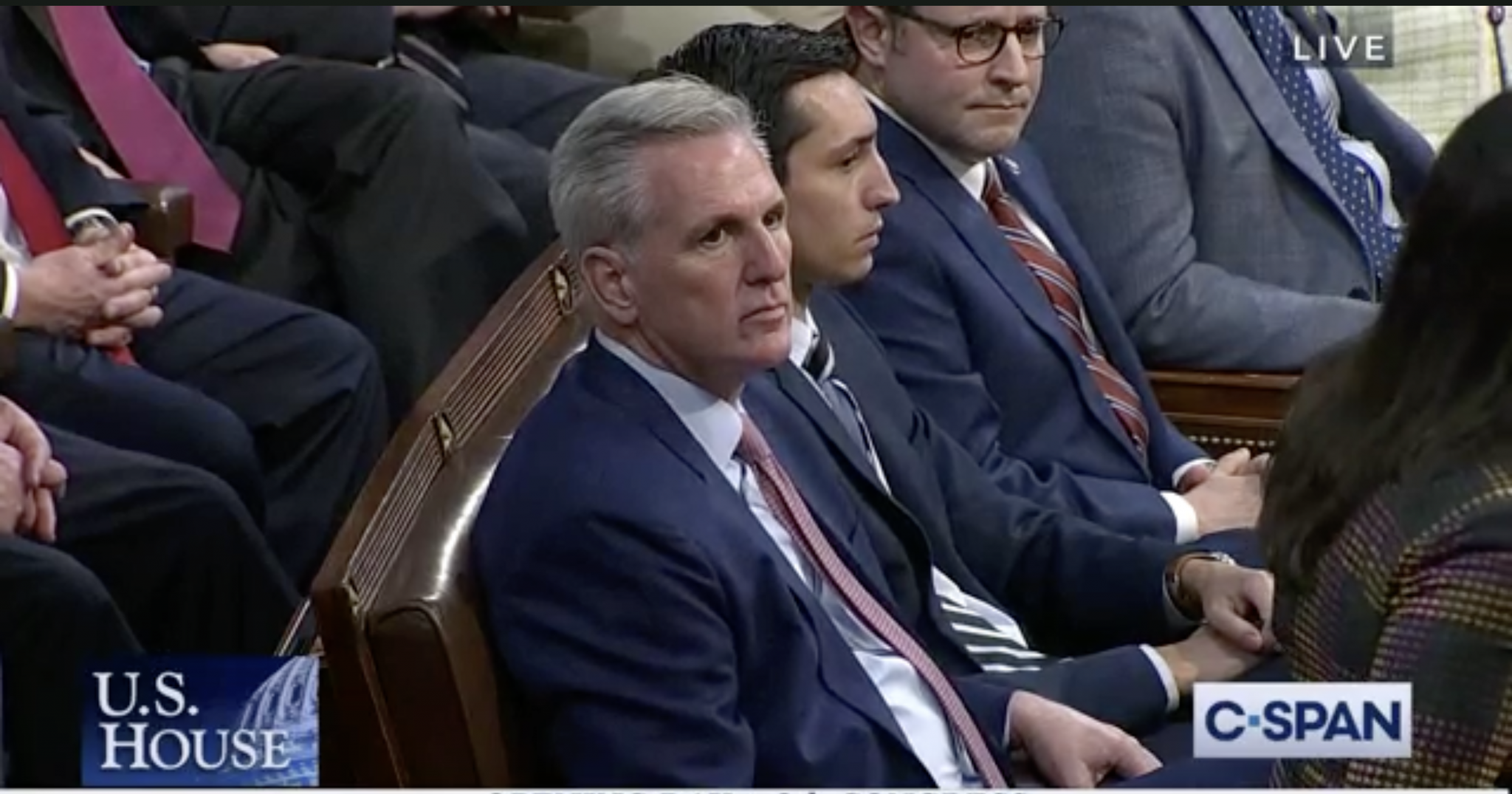 (UPDATE 4:45 p.m.: Kevin McCarthy lost his bid for House Speaker in second- and third-round voting Tuesday afternoon. Further rounds of voting are expected to continue late into the night.)
Republicans in the U.S. House of Representatives declined to elect Rep. Kevin McCarthy (R-Calif.) as House Speaker for the 118th Congress during a decisive floor vote on Tuesday afternoon.
Nineteen GOP members declined to cast their ballots for McCarthy, who could only lose four votes from the Republican caucus given the party's slim majority control of the House.
McCarthy's loss, which marks the first time since 1923 in which a speaker had not been seated after the first vote, means additional floor votes will be necessary to determine who will hold the gavel for the Republican House majority.
The delays may prove costly, because without a speaker, the House is unable to adopt rules, make committee assignments, or move on any legislation. It was only after nine ballots over the course of two months that a speaker was seated in 1923.
Leading up to Tuesday's vote, as many as 20 GOP members had not publicly endorsed McCarthy. Among those were five members who were staunchly opposed – all belonging to the ultraconservative House Freedom Caucus, including Rep. Andy Biggs of Arizona, who challenged McCarthy for the Speaker's gavel on the floor Tuesday.
Biggs ultimately won 10 GOP votes, with others casting their ballots for Republican Reps. Jim Jordan (Ohio), Jim Banks (Ind.), Byron Donalds (Fla.), and Lee Zeldin (R-Ny.).
Other members of the Republican caucus who were less calcified in their opposition to McCarthy had conditioned their support on winning concessions, from promises regarding membership on standing committees to procedural agreements that would limit the power of the speakership.
Most important was a compromise struck ahead of the vote that would have allowed five members to file for a motion to vacate the speakership at any time, bringing back a House rule that cost John Boehner his speakership in 2015.
McCarthy served as House Majority Leader from 2014 to 2019 under Speakers Boehner and Paul Ryan, who both lost their gavels because of their resistance to the demands of the Freedom Caucus.
By contrast, McCarthy has embraced the most conservative members of the GOP caucus, earning support from the likes of Rep. Marjorie Taylor Greene (Ga.).
According to media reports, in a closed-door meeting with Republican members on Tuesday morning that preceded the floor vote, McCarthy delivered a defiant speech in which he refused to make additional concessions to the ultraconservative holdouts and told his colleagues, "I earned this job."
Representative Lauren Boebert (Colo.) reportedly shouted, "Bullshit!"
Speaking with reporters after the closed-door meeting, Greene admonished the members of her caucus who opposed McCarthy's speakership.
During the meeting, she said, "we found out that there were several members – three, in fact – that went in last night and were demanding positions for themselves. Demanding gavel positions, demanding subcommittees, demanding for people to be taken off committees for people to be put on committees."
Greene noted that she had not conditioned her support for McCarthy on winning any concessions for herself, despite having been stripped of her committee assignments in 2021. "This is about electing someone to serve in the speaker's chair so that we can get to work," she said.
The congresswoman added that "the conservatives who our base believes in, let me remind everyone: They're not perfect either. Scott Perry [Pa.], before his general election, refused to vote against the gay marriage bill [the Respect for Marriage Act]…Then, when it came back around after his election, he was able to vote against it. Conservatives would not like that."
Embattled freshman Republican Rep. George Santos (N.Y.) also cast his vote for McCarthy on Tuesday, having evaded reporters who were gathered this morning in front of his office in the Longworth House building.
A series of news reports over the past few weeks revealed the congressman had lied about nearly every part of his life, education, identity, and career, while his alleged financial malfeasance has triggered investigations by federal and local prosecutors.
The latest news published by The New York Times on Monday was the revival of fraud charges against Santos by authorities in his native Brazil who formally requested that the U.S. Department notify him of the charges.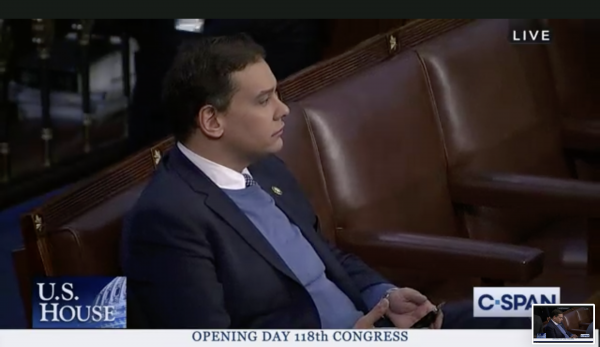 Takano to renew House Democrats' push for the Equality Act
Measure would extend federal anti-discrimination protections to LGBTQ Americans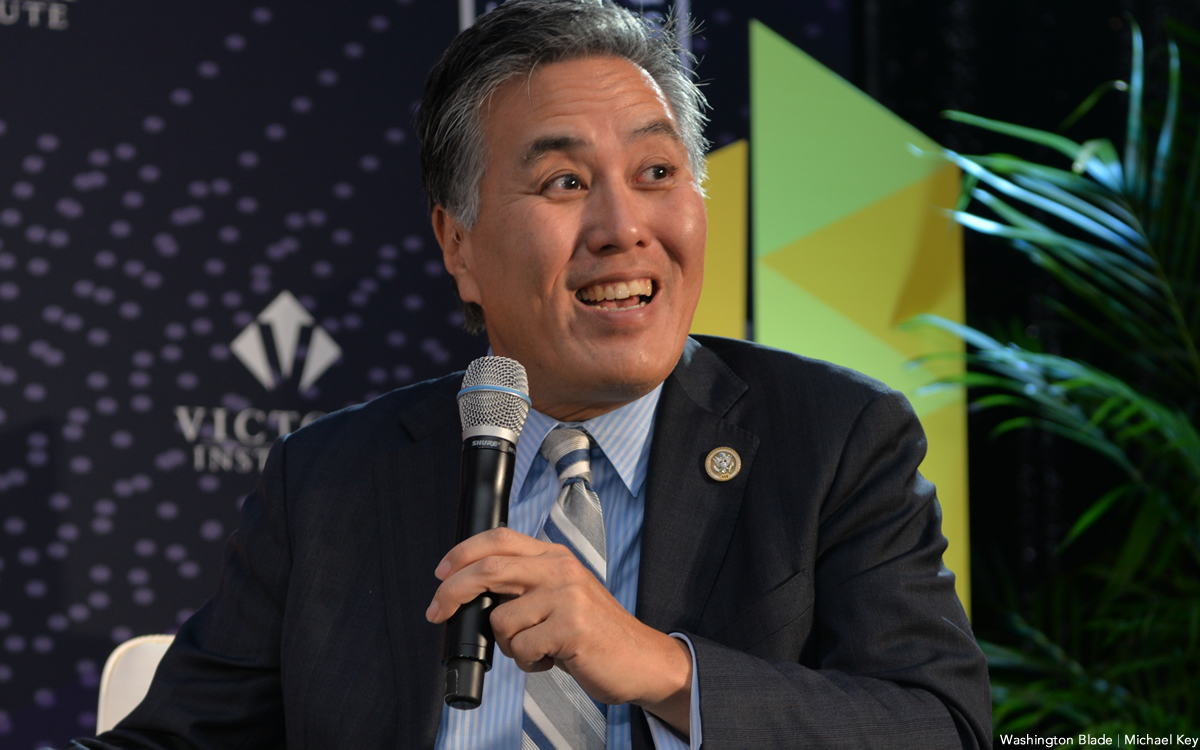 U.S. Rep. Mark Takano (D-Calif.), a co-chair of the Congressional Equality Caucus, issued a statement Thursday pledging to introduce the Equality Act during this Congress, legislation that would extend federal anti-discrimination protections to LGBTQ Americans.
The bill would prohibit discrimination on the basis of sexual orientation and gender identity in "employment, education, access to credit, jury service, federal funding housing, and public accommodations."
Four previous versions were introduced in the House by Rep. David Cicilline (D-R.I.) and in the Senate by U.S. Sen. Jeff Merkley (D-Ore.) in 2015, 2017, 2019, and 2021. The Biden administration and congressional Democrats have signaled that the legislation remains a major priority despite the Republicans now exercising their majority control of the lower chamber.
With Cicilline's planned departure from Congress on June 1 to lead the nonprofit Rhode Island Foundation, Takano thanked and credited his colleague "for his leadership on behalf of our community and stewardship of the Equality Act."
Cicilline, who drafted the legislation and chaired the Equality Caucus in the last Congress before Rep. Mark Pocan (D-Wis.) took over this year, noted the heightened importance of the Equality Act's passage amid the proliferation of anti-LGBTQ and especially anti-trans legislation.
"With homophobic and transphobic legislation being proposed in state legislatures across the country and here in Congress," he said, "it is far past time we act to finally outlaw discrimination against the LGBTQI+ community by passing the Equality Act."
The legislation is also backed by major LGBTQ advocacy groups including the nation's largest, the Human Rights Campaign. "There is overwhelming support for this bill among the American people and the business community, and we will continue fighting until this bill is signed into law," said the organization's President Kelley Robinson.
Robinson also thanked Cicilline for his leadership on the bill and said the Human Rights Campaign looks forward to working with Takano, "an incredible champion for our community" who "is the perfect leader for this effort" to "build on he work Congressman Cicilline started and get the Equality Act signed into law."
Ritchie Torres speaks about mental health struggles
Openly gay N.Y. congressman appeared on 'GMA3'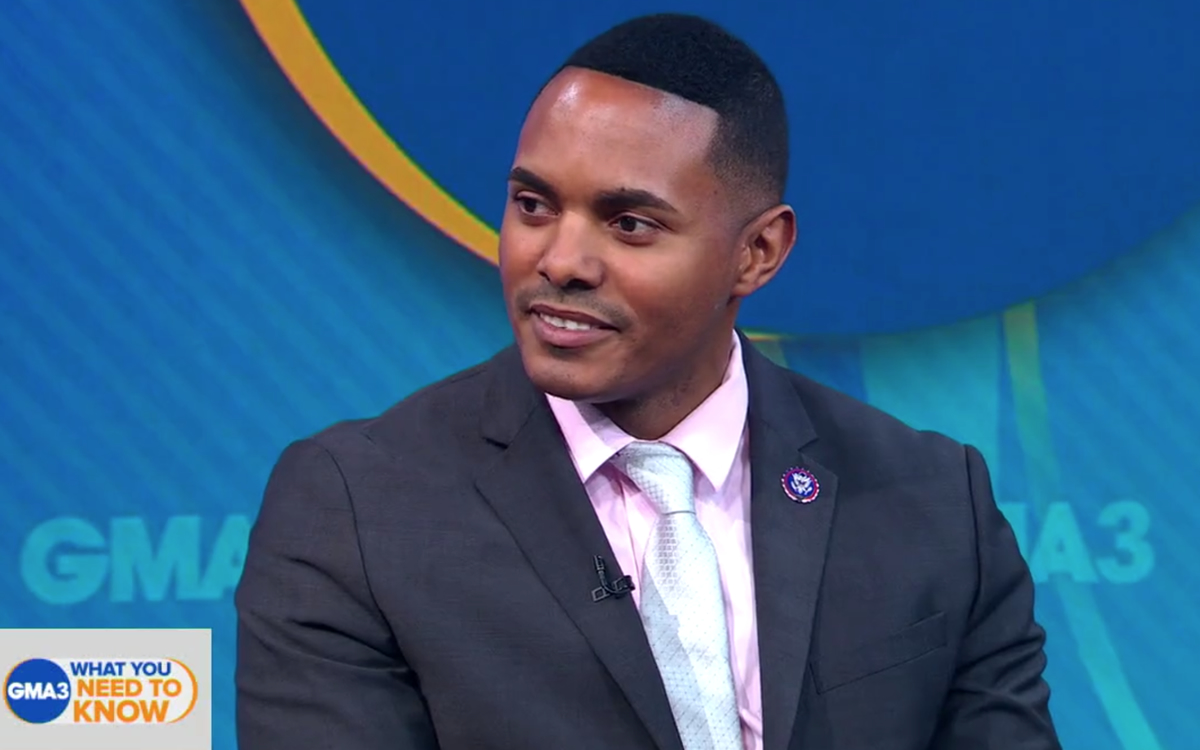 New York Congressman Ritchie Torres has spoken out about his struggle with depression and the importance of mental health in the wake of U.S. Sen. John Fetterman (D-Pa.)'s recent hospitalization for clinical depression. 
Torres, a Democrat who is the first openly gay Afro-Latino member of Congress, told "GMA3" hosts DeMarco Morgan and Eva Pilgrim on Tuesday that he had "an obligation to tell" his "story in the hopes of breaking the shame and silence, and stigma that too often surrounds the subject of mental health."
Torres views his coming to terms with his mental health issues — while also being open about it — as a form of "public service" to the American people.
"We live in a society that historically has shamed people for experiencing mental illness, that has framed mental illness as a failure of character or a failure of willpower. And I'm here to send a message that mental illness is nothing of which to be ashamed, that there are millions of Americans who struggle with depression and anxiety," Torres explained.
Even before being elected to Congress, Torres, 34, spoke freely about his past experiences concerning mental health issues and how they affected him. While campaigning, one of his opponents tried to use his depression as a counterpoint to prove that he was not worthy of being in public office. 
From then on, Torres vowed to "never again would I allow my mental health to be weaponized," he told Time magazine.
He emphasized the importance of psychotherapy and medication as a means of controlling his depressive episodes and going through his day by day as a congressman.
He noted, however, that "there are people who have trouble accessing mental health care."
"And even if you do, the process of experimenting with psychiatric medications can be draining and debilitating, because there's no one size fits all," he added.
Torres said he hopes that Congress can pave the way for more mental health care for the millions of Americans who need it.
"Our healthcare system is fundamentally broken and Congress is no closer to fixing it," he argued.
I was once hospitalized because of severe depression. I thought of taking my own life because I felt the world around me had collapsed.

I would not be alive, let alone in Congress, were it not for mental health care.

My Story:pic.twitter.com/5v9pXCN33E

— Ritchie Torres (@RitchieTorres) March 15, 2023
Sorensen: 'We're going to do better today for the next generation'
'Everyone should be speaking out' against anti-trans extremism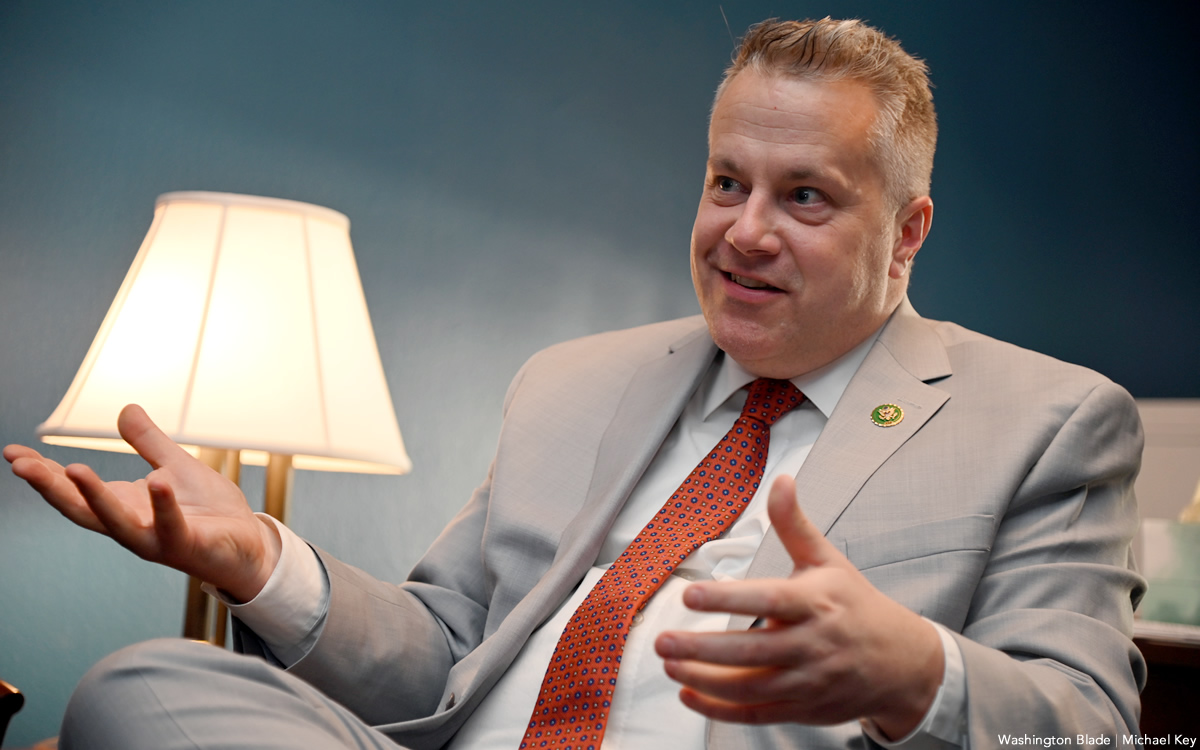 Whether on matters concerning climate change or LGBTQ rights, members of Congress ought to focus on making progress for the benefit of the next generation, U.S. Rep. Eric Sorensen (D-Ill.) told the Washington Blade.
"It's making that decision today to talk about what's in our future, not what's in our past, and to say, 'let's just do what's best for our kids,'" Sorensen said during an exclusive interview with the Blade from his office last week.
The congressman, who became the first openly gay member to represent the state of Illinois in either chamber with his election in 2022, has plenty of experience reaching folks with this message.
A meteorologist by trade, Sorensen began his television career at the ABC affiliate KTRE in Lufkin, Texas in 1999 before becoming chief meteorologist for WREX, Rockford, Illinois's NBC affiliate, and then senior meteorologist at the ABC affiliate WQAD serving the Quad Cities area.
"You know, I was the one talking about climate change to farmers," Sorensen said.
"Whenever I talk about climate change, I don't fault anyone for being in a different place in the past," he said, which helps to avoid positioning conservatives and climate skeptics in a defensive posture.
"We don't ever have to agree on who's causing climate change, or what 1.5 degrees celsius or two degrees celsius means," Sorensen said. "Let's just say that we're going to do better today for the next generation, okay? And the same thing with LGBTQ issues, right?"
As it turned out, discussing climate change "wasn't this third rail that we thought it was," he said. Likewise, "it was the same thing as when I had my trans friends on television on Good Morning Quad Cities" for National Coming Out Day.
The move was important, Sorensen said, "so that my community could see these are real people…my friend Paula and my friend Chase are real people." The congressman added, "we talked about how we came out, and we didn't get any backlash [from the audience], because, you know what? I don't live in a hateful community."
Sorensen said the network looked at audience engagement metrics for segments featuring his trans friends, and for segments in which he addressed climate change, and the data repeatedly indicated that viewers were able to easily countenance both.
Some of this might be attributed to the good will he had built with this audience. After all, "I was the one they were turning to when the tornado was bearing down on their family's home," Sorensen said.
Regardless, "how do we expect people to understand if we don't explain these things?"
'Everyone should be speaking out' against anti-trans extremism
Last week, Republicans on the U.S. House Education and Workforce Committee passed legislation that would bar transgender women and girls from competing in school sports per Title IX.
The measure, part of a nationwide wave of anti-trans bills, is likely fated to languish in the Democratic-controlled Senate.
On the heels of a press conference to drum up opposition to the bill that was hosted by the Congressional Equality Caucus and its chair, Rep. Mark Pocan (D-Wis.), Sorensen said, "I'm disappointed because these are real people."
"We have to understand that, you know, when we talk about the threat that transgender people face today, if you just look at what is being proposed, what the extreme Republicans are saying, is that there's now a group of kids or a group of people that don't deserve to learn what athletics is about," said the congressman, who is also a co-chair of the Equality Caucus.
Sorensen said the message from Republican members backing this legislation is that "this group [of women and girls] doesn't deserve to learn teamwork as a kid."
"It's terrible," he said. "Everyone should be speaking out against this. What it just shows is that these Republicans, they're just stoking fear and division and being extreme, instead of actually solving the problems of the people."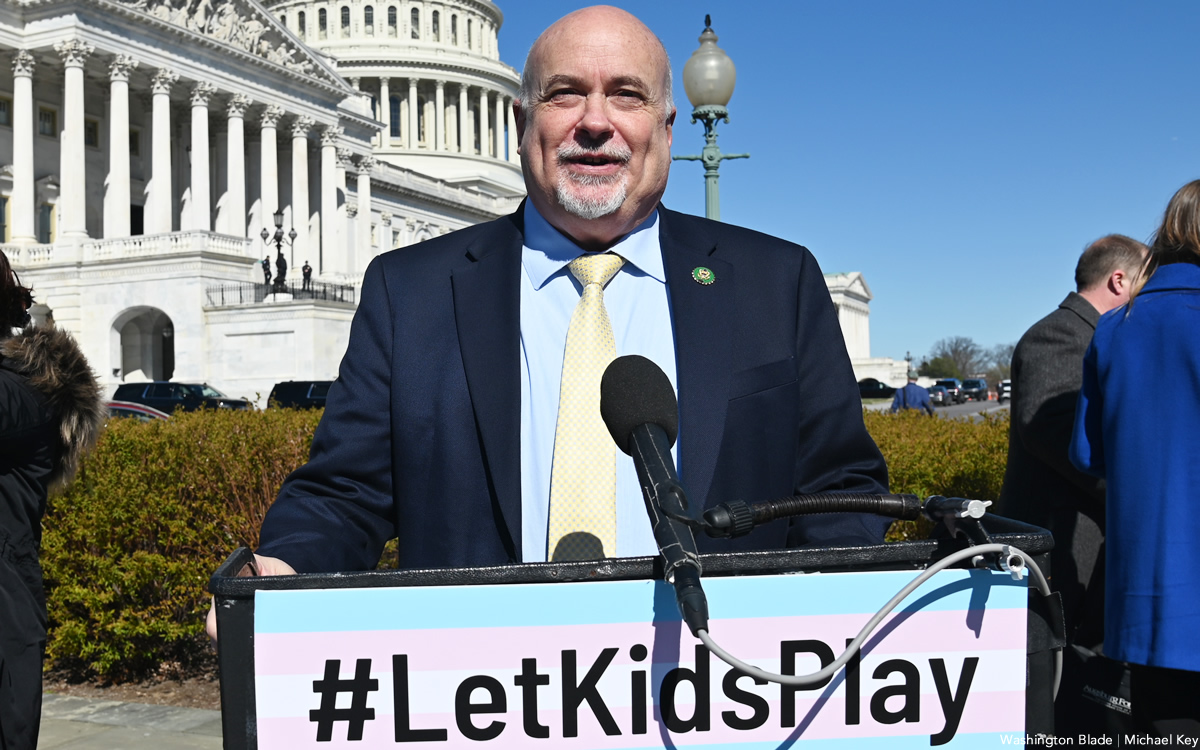 "I think it's a point of extreme Republicans to run on this platform instead of solving the problems that we do have in front of us," Sorensen said.
He noted extremism doesn't seem to have been a winning message for Republican candidates in the 2022 midterm elections, during which time the GOP's focus was on issues like the economy and healthcare.
It is remarkable "how things have changed in such a short amount of time," Sorensen said. "And that's because the Republicans, these extreme Republicans, have decided that they're going to to roll through this division and hate."
"It's insane," he said, pointing to legislation like the bill proposed in the Iowa Legislature to ban same-sex marriage "when it's already been set in stone."
At the same time, the congressman said, there is ample reason for optimism. For example, "in the state of Illinois we rejected that hate because the state of Illinois elected its first LGBTQ member of Congress."
And back in the Quad Cities, Sorensen had the chance to meet the next generation of out youth when volunteering at the area's LGBTQ community center, Clock, Inc. "I just stood there in awe at these kids that were able to be themselves."
Moving forward, Sorensen said Democrats should continue to prioritize issues that Americans actually care about.
"I don't feel like we need to defend ourselves," he said. "You know, if they want to put this wedge issue out there, we need to just be able to say, 'I'm fighting for Americans. I'm fighting to lower the price of goods, connecting people to health care,'" which includes healthcare for trans folks as well as reproductive care including abortions.
Sorensen said his identity as a gay man was not a central feature of his congressional campaign, but still, for many folks, "the only gay person that they knew was Eric Sorensen on channel eight."
Overcoming homophobia
Growing up in the 1980s during the AIDS crisis, Sorensen said he asked himself, "Why should I even try?" He told the Blade, "I can see in my head the pictures of a hospital room, and I thought, 'that's how I'm gonna die,'" he said, so, "why would I even try, when they're never going to allow me to be on television?"
Having relocated from Lufkin to Tyler, after a couple of years working as a meteorologist in the comparably larger northeast Texas metropolitan area, Sorensen said his sexual orientation became a problem for his employer in 2003.
"My boss told me, 'Eric, I need you to go to the conference room after your show's over,'" the congressman remembers.
Laid before Sorensen was his employment contract, a document he had not seen since he had signed it. "All of a sudden," he said, "the members of management walk in, and I was told to have a seat while nobody across the table sat down – so they were looking down upon me."
They had been alerted to Sorensen's profile on Gay.com and offered him the choice to "be that person," pointing to a printout of his profile, "or have a job."
From there, he took a pay cut to return to Illinois where "I got to be out," he said, "I got to be myself," while every day at work, "I was telling my mom and dad what the weather was like."
The congressman added, "If I would have given up in that space in Texas, where would I be? I wouldn't be here today."