Activist expresses concern over no LGBTQ contingents in D.C. MLK Day Parade
Pannell says lack of participation sends wrong message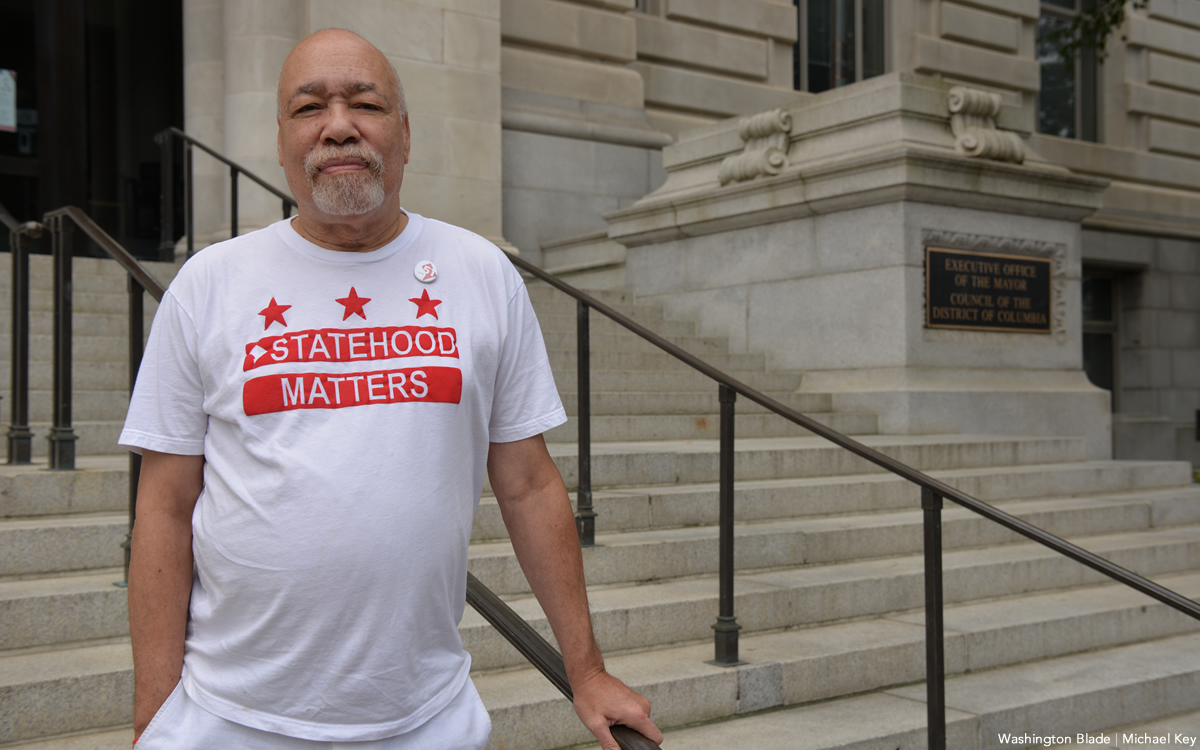 Longtime D.C. LGBTQ rights advocate Philip Pannell sent an email to fellow activists on Monday expressing strong concern that no LGBTQ organization had signed up to be a contingent in this year's annual Martin Luther King Jr. Day Parade in D.C.
The D.C. parade was held Monday, Jan. 16, along Martin Luther King Jr. Ave. in Southeast D.C.
Pannell, who serves as executive director of the Anacostia Coordinating Council, a community advocacy organization, noted that the parade this year included about 120 organization contingents and was the largest MLK Day Parade in D.C. in the 42 years that D.C. has hosted the parade.
He said he was not familiar with the names of all of the groups that signed up as a contingent and he urged those receiving his message to correct him if an LGBTQ group was on the parade list that he did not recognize.
"That notwithstanding, there should be more LGBT participation and presence in today's parade," he said in his email message. "In my opinion, the dearth of LGBT organizations in today's parade makes a statement. In D.C. does organized LGBT concerns and activities end at the western shore of the Anacostia River?" he continued.
"Are LGBT organizations so unconcerned about Dr. King's life and legacy that they cannot be bothered with organizing a marching contingent or float to show human rights solidarity in a parade along Martin Luther King Jr. Avenue in Ward 8?" he asked.
Monika Nemeth, a local transgender rights advocate who was recently elected president of Capital Stonewall Democrats, D.C.'s largest local LGBTQ political group, said she marched in Monday's MLK Day parade with the contingent of the D.C. Democratic State Committee.
It couldn't immediately be determined if other LGBTQ people marched in the parade as individuals or with other contingents.
Pannell said he planned to reach out to the Human Rights Campaign, the nation's largest LGBTQ advocacy organization based in D.C, to urge HRC to participate in the parade in future years.
HRC spokesperson Elizabeth Bibi told the Blade HRC has been involved with the part of the Martin Luther King Day commemoration that involves community service projects. She said HRC has a longstanding service project with D.C.'s Wanda Alston House, which provides services for homeless LGBTQ youth.
"In addition, HRC volunteers across the country are actively participating in several MLK Day of Service projects this month," Bibi said. "On MLK Day we strive to support local community action with less visibility for our own organization front and center, but certainly appreciate this coming to our attention," she said in response to Pannell's concerns.
Pannell noted that he watched this year's parade from the official reviewing stand at the invitation of parade organizers. Two years ago he served as one of the parade's grand marshals and every year he supports and promotes the parade, he said.
"Today as I review and applaud the parade, I will honor and thank Dr. King, who gave his life so that this elderly Gay man who lives in the poorest part of town can be as proud of his Gayness as he is of his Blackness," Pannell wrote in his email message.
D.C. police release video of person, car 'of interest' in trans murder case
Officials seek help from public in Jan. 7 death of Jasmine Star Parker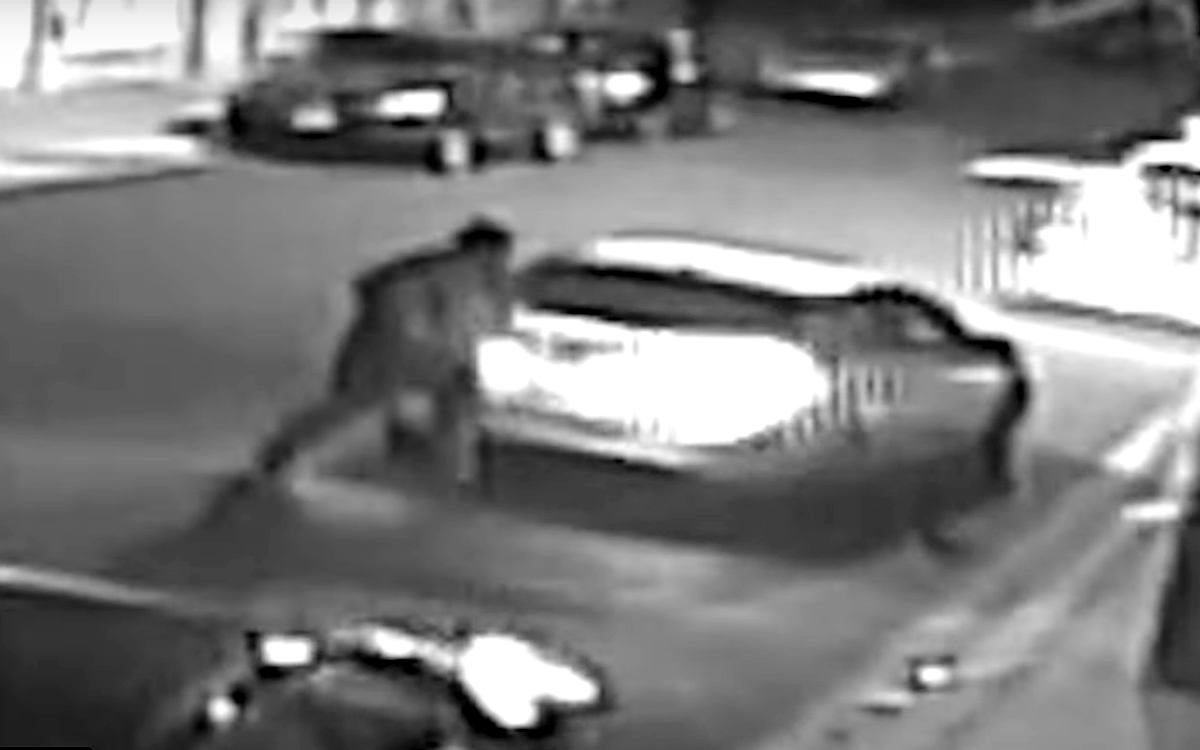 D.C. police on Feb. 1 released a video showing what they say is a person and vehicle of interest in connection with the Jan. 7 murder of transgender woman Jasmine Star Parker, who was found fatally stabbed shortly before 3 a.m. on the 2000 block of Gallaudet St., N.E.
The video, which police obtained from a nearby surveillance camera, shows a car driving along Gallaudet Street and then pulling over to the side and parking, with what appears to be a man getting out of the driver's door and walking in the same direction that he was driving the car.
"Detectives from the Metropolitan Police Department's Homicide Branch seek the public's information in identifying and locating a person and a vehicle of interest" related to the video and the Parker murder, a police statement accompanying the video says.
Shortly before the release of the video, police said they had no suspects and no known motive for the Jan. 7 homicide. A police spokesperson said the case was not listed as a suspected hate crime, but that could change if new information is obtained.
Parker, 36, was honored at a Jan. 16 vigil held on the street where someone took her life. The vigil was organized by the local group Empowering the Transgender Community (ETC) and D.C. Mayor Muriel Bowser's Office of LGBTQ Affairs.
Earline Budd, the founder and executive director of ETC, told the vigil gathering that she knew Parker for many years and observed first-hand how Parker did her best to overcome discrimination and bias as a trans woman of color.
Among those participating in the vigil were Parker's mother, sister, and brother, who expressed their love and admiration for their deceased loved one.
Police are urging anyone with information about the case to call police at 202-727-9099. Information may also be provided anonymously through the police text tip line by sending a text message to 50411.
D.C. police are offering a reward of up to $25,000 to anyone that provides information that leads to the arrest and conviction of the person or persons responsible for the Parker murder.
D.C. police data show 67 anti-LGBTQ hate crimes reported in 2022
Community continues to be hit with most bias incidents in city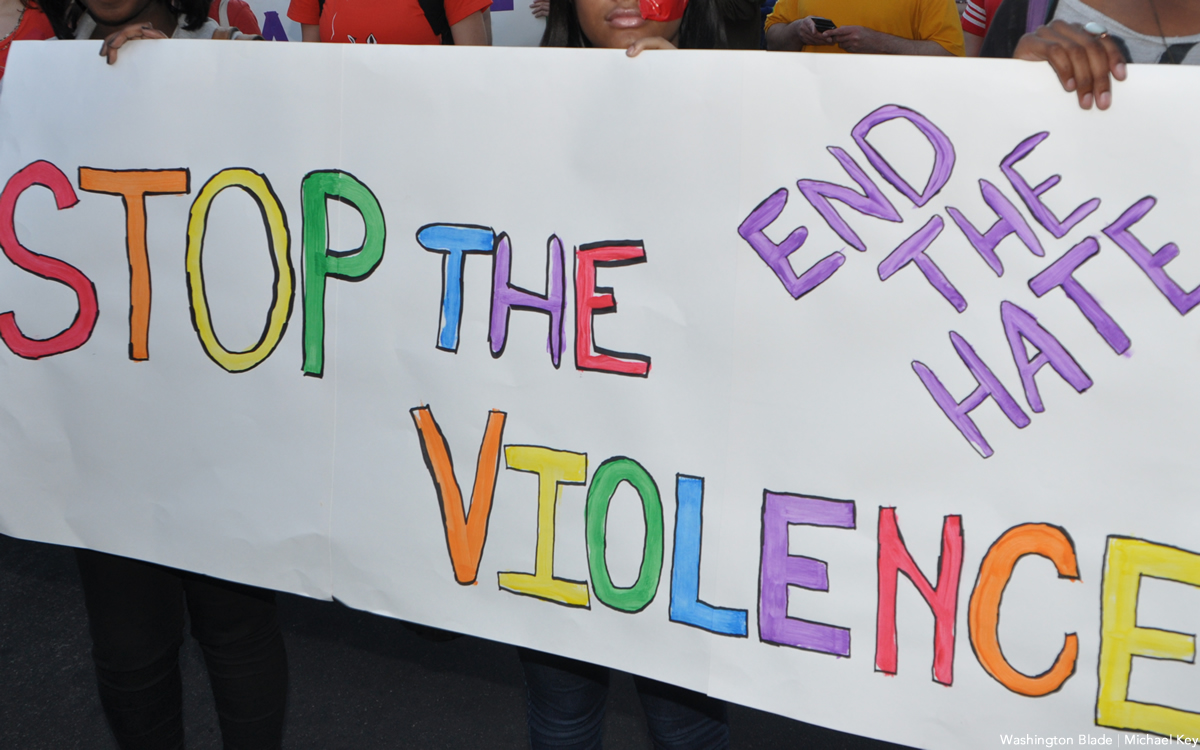 Recently released hate crime data by the D.C. Metropolitan Police Department shows that similar to nearly every year since 2011, LGBTQ people in 2022 were victims of a hate crime in far greater numbers than the other categories of victims, such as ethnicity/national origin, race, religion, or disability.
The data show that 45 of the reported hate crimes in 2022 were based on the victim's sexual orientation and 22 of the reported hate crimes were based on the victim's gender identity or gender expression, bringing the total number of anti-LGBTQ hate crimes to 67.
By comparison, the 2022 data show that 30 reported hate crimes were based on the victim's ethnicity or national origin, 20 were based on the victim's race, and four on the victim's religion. Three 2022 hate crimes were reported to be based on the victim's status as a homeless person and just one reported hate crime was said to be based on the victim's political affiliation.
The 67 reported anti-LGBTQ hate crimes reported in 2022 represent an increase over the 54 anti-LGBTQ hate crimes reported in 2021. The 2021 data show that 38 of the reported hate crimes were based on the victim's sexual orientation and 16 were based on the victim's gender identity or gender expression.
LGBTQ rights advocates, as well as law enforcement officials, have said they believe the reported number of hate crimes targeting LGBTQ people and other minorities are significantly less than the actual number of such cases because many go unreported.
"While the District strives to reduce crime for all residents of and visitors to the city, hate crimes can make a particular community feel vulnerable and more fearful," a D.C. police statement accompanying the release of the hate crime data says. "This is unacceptable and is the reason everyone must work together not just to address allegations of hate crimes, but also to proactively educate the public about hate crimes," the statement says.
Police and prosecutors have also pointed out that a hate crime is not legally classified as a crime in and of itself but instead as a hate or "bias" related designation to an underlying crime such as assault, threats of violence, destruction of property, and numerous other criminal offenses.
The Washington Blade couldn't immediately obtain from D.C. police additional 2022 data showing which underlying criminal acts were linked to the LGBTQ related hate crimes. The Blade has also requested data showing how many of the 67 reported anti-LGBTQ hate crimes in 2022 resulted in an arrest.
In past years, police data have shown that far fewer arrests are made compared to the number of reported hate crime cases. Past data has also shown that the Office of the U.S. Attorney for the District of Columbia prosecutes significantly fewer hate crimes cases than those sent to prosecutors after an arrest has been made.
The U.S. Attorney's Office has said that it has dropped a hate crime designation for cases on grounds that there was insufficient evidence to prove a motive of hate if the case goes before a trial by jury. Spokespersons for the office have said that when a hate crime designation is dropped, they often continue to prosecute the person arrested for the underlying crime.
A chart showing hate crime data reported by DC police from 2011 through 2022, including all categories of hate crimes, can be accessed at the D.C. police website.
Prosecutors drop multiple charges in D.C. gay murder case
One count remains for defendant in 2019 stabbing death of Vongell Lugo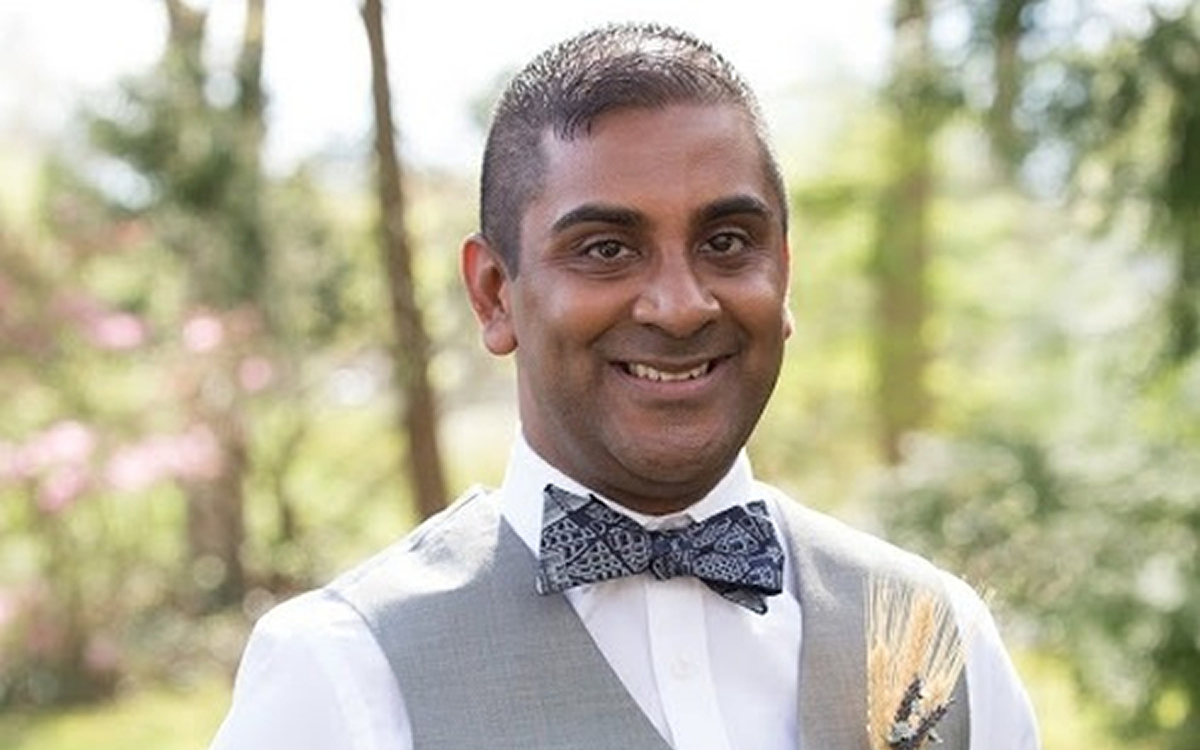 Without providing a reason, prosecutors with the Office of the U.S. Attorney for the District of Columbia requested and received approval from a D.C. Superior Court judge on Jan. 23 to drop four of the five pending charges, including two counts of murder, against the man charged with the Jan. 6, 2019 murder of gay retail manager Vongell Lugo.
Court records show that Assistant U.S. Attorney Peter V. Roman asked Judge Marisa Demeo to dismiss four of the five charges handed down in an Aug. 20, 2019, grand jury indictment against former U.S. Navy Hospital Corpsman Collin J. Potter, who was 26 years old when D.C. police charged him with fatally stabbing Lugo at least 47 times.
A single charge of First Degree Murder While Armed remains pending.
An arrest affidavit filed in court states that the murder took place inside Lugo's Northwest D.C. apartment shortly after the two men met, possibly for the first time, at the Black Whisky bar at 1410 14th St., N.W., and Lugo invited Potter to his apartment.
The arrest affidavit says police arrested Potter on the night of the murder after being called to the apartment building by a neighbor and after observing Potter fully nude standing over Lugo's nude body that Potter minutes earlier dragged outside the apartment door. Potter has remained in jail since the time of his arrest on Jan. 6, 2019, while awaiting a trial that has repeatedly been postponed. The trial is currently scheduled for April 18.
Court records show that in response to a motion filed by an assistant U.S. attorney on Jan. 18 of this year, Judge Dameo agreed to drop Counts 1 through 4 of the grand jury indictment. Those charges include Kidnapping While Armed, Felony Murder While Armed (Aggravating Circumstances), First Degree Sexual Assault While Armed, and Felony Murder While Armed (Aggravating Circumstances).
Roman's motion, which the judge approved, called for leaving in place Count 5 of the indictment – First Degree Murder While Armed (Premeditated) (Aggravating Circumstances).
When contacted by the Washington Blade, a spokesperson for the U.S. Attorney's Office declined to disclose the reason for the office's decision to drop the four indictment counts.
"We cannot comment on matters not in the public record," said spokesperson Patricia Hartman.
Prosecutors sometimes drop or lower charges against a defendant in cases like this in exchange for a plea bargain agreement in which the defendant agrees to plead guilty to a lower charge. Doing so avoids a trial, which prosecutors sometimes feel could result in a verdict of not guilty on all or some of the charges.
The public court records in the case pending against Potter do not show whether a plea bargain offer was made prior to the dropping of the four charges. Potter's defense attorney, Matthew Davis, has not responded to attempts by the Blade to reach him for comment on the case.
The next court hearing for the case, a Trial Readiness Hearing, is scheduled for 9:30 a.m. on Friday, Feb. 3. The Blade couldn't immediately determine whether an explanation for why prosecutors chose to dismiss the four indictment counts would be disclosed at the Feb. 3 hearing.