Dianne Feinstein announces she won't seek re-election
Calif. Democrat won special election to U.S. Senate in 1992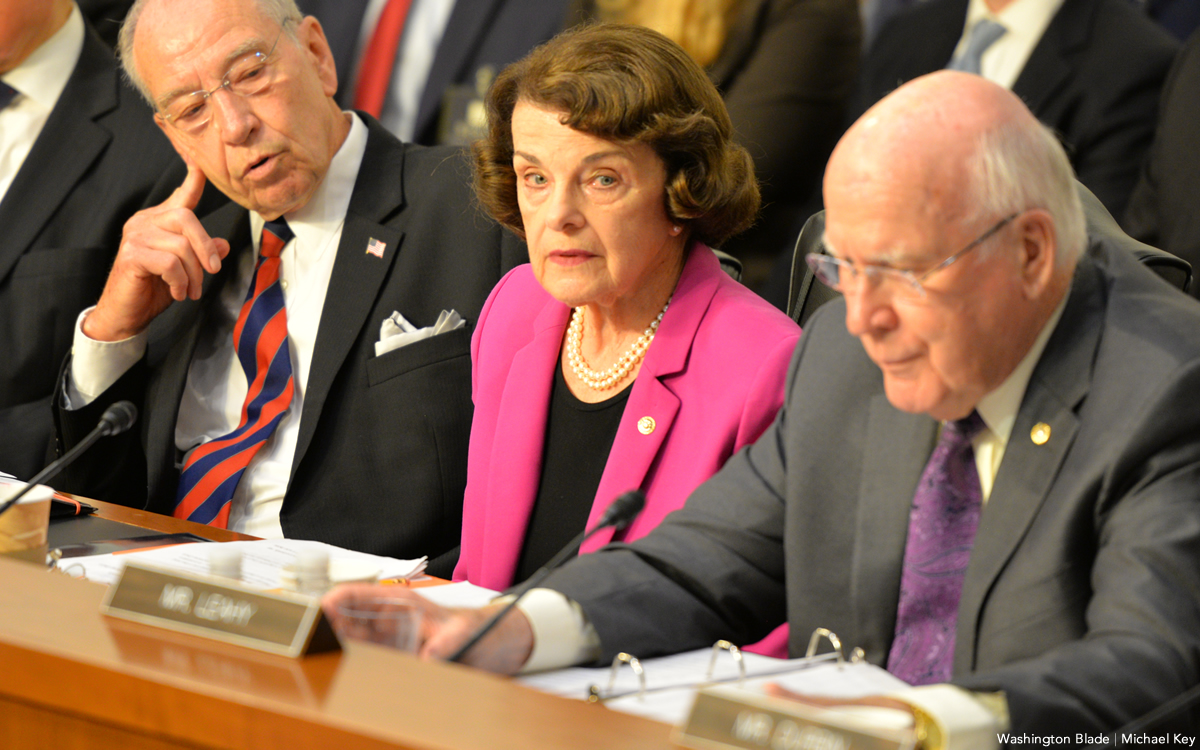 California's senior U.S. Sen. Dianne Feinstein announced Tuesday that she will not seek re-election in 2024, but will continue to serve out her current term in office.
"I am announcing today I will not run for reelection in 2024 but intend to accomplish as much for California as I can through the end of next year when my term ends," Feinstein said in a statement.
Feinstein added she will be focused on the pandemic of gun violence that has gripped the American nation, her announcement coming a day after a mass shooting at Michigan State University that killed three and wounded five others and Tuesday's 5th anniversary of the Valentine's Day massacre at Marjorie Douglas Stoneman High School in Parkland, Fla., on Feb. 14, 2018, that killed 17 and grievously wounded more than a dozen others.
The shooter used a Smith and Wesson M&P 15, an AR-15 style semi-automatic assault rifle which had been previously banned under the Federal Assault Weapons Ban legislation she had co-authored in 1994 that expired on Sept. 13, 2004, in accordance with its sunset provision. Attempts to renew the ban had failed.
In her statement Feinstein wrote: "I also remain focused on passing commonsense legislation to fight the epidemic of gun violence."
She ended her statement saying: "Even with a divided Congress, we can still pass bills that will improve lives. Each of us was sent here to solve problems. That's what I've done for the last 30 years, and that's what I plan to do for the next two years. My thanks to the people of California for allowing me to serve them."
Feinstein, 89, has been the target of questions and critique in the past couple of years over her mental acuity, which the senator has recently characterized as caused by the death of her husband Richard Blum last year, as a chief distraction in her life causing uneven perception of her abilities.
In April 2022, in an article by the San Francisco Chronicle, the newspaper cited four anonymous senators — including three Democrats — and three former Feinstein staffers as well as a Democratic lawmaker from California who said her memory is rapidly deteriorating and it appears she can no longer fulfill her responsibilities in Congress without her staff doing a good deal of the work. They also said her memory lapses did not appear to be constant.
The story quoted one anonymous Democratic senator who said Feinstein has a hard time keeping up with conversations. Another lawmaker, identified only as a California Democrat, told the newspaper that they had to reintroduce themselves to Feinstein several times during an interaction that spanned several hours.
Earlier today on Capitol Hill, according to The Hill's Capitol correspondent, Al Weaver, apparent signs of her declining mental acuity were clear on Tuesday. After a reporter asked her what message she has for her Senate colleagues, Feinstein asked why she would have a message for them.
"About your not seeking reelection," the reporter asked.
"Well, I haven't made that decision. I haven't released anything," Feinstein said.
A Feinstein staffer then interjected, telling her that they put out a press release with her retirement statement.
"You put out the statement?" she asked, adding a few seconds later, "I should've known they put it out."
"It is what it is. The time is come," Feinstein continued.
In March 2021, California Gov. Gavin Newsom speaking with MSNBC host Joy Reid in an appearance on her show, said that should Feinstein retire early at that point, the governor committed to nominating a Black woman for the Senate seat.
Newsom's remarks came after he had appointed then-California Secretary of State Alex Padilla to the Senate seat vacated by Kamala Harris as she was sworn in as the vice president. At the time Politico noted many women's groups and Black leaders, including San Francisco Mayor London Breed, expressed disappointment when Newsom picked Padilla. Among those whose names considered in the mix for the Harris seat were then-U.S. Rep. Karen Bass of Los Angeles, U.S. Rep. Barbara Lee of Oakland and Breed.
Political sources have told the Washington Blade that should Feinstein change her mind and step down early, Newsom is expected to keep his commitment of appointing a Black woman to replace her.
As news of her retirement spread Tuesday, Senate Majority Leader Charles Schumer (D-N.Y.) and her senatorial colleagues, President Joe Biden and Newsom all weighed in praising Feinstein's 31 years serving in the Senate starting with the 102nd Congress in 1992.
Democratic U.S. Reps. Adam Schiff and Katie Porter of California have declared their candidacies for Feinstein's seat, while Lee is expected to also run.
The senator has yet to make clear whom she will be endorsing. Her office has not returned requests for comment on this question from the Blade.
Newsom said in a statement:
"Senator Feinstein has been a powerful champion for California and California values on the national stage for three decades — changing lives across our state and nation for the better while opening doors for generations of women leaders."
"A daughter of San Francisco, Senator Feinstein became the first woman to serve as mayor of the city after the assassination of Mayor George Moscone and Supervisor Harvey Milk. The tragic events of that day led to her lifetime crusade for common-sense gun control laws, including her role as author of a federal assault weapons ban. For the last 30 years, she has served her state with distinction as our senior U.S. senator, blazing a trail for a new generation of female lawmakers."
"Throughout her career, Senator Feinstein has worked tirelessly across the aisle to advance tremendous progress on priorities that matter deeply to Americans. Her lifetime of service and leadership has made our country fairer, safer and stronger, and I am proud to call her a mentor and a friend. California and the nation owe Senator Feinstein a deep debt of gratitude."
Speaking to reporters, Schumer called her "a legend" and "an amazing person."
"She's a legend. A legend in California as the first woman senator. A legend in this Senate, she was the leader on so many different issues," he said.
Schumer also told reporters that Feinstein at the Democrats' caucus lunch "got a standing ovation that lasted minutes and minutes and minutes, one of the longest I've ever seen, which shows the love our caucus, and our country, have for this wonderful leader and legend."
Padilla said in an emailed statement:
"You can't tell the story of California politics — or the story of American politics — without the trailblazing career of Dianne Feinstein. For five decades, California has been privileged to have as gifted, as dedicated, and as iconic a public servant as my colleague."
"From her early days in San Francisco City Hall helping bring together and heal a wounded city after the assassination of Mayor Moscone and Harvey Milk, to her election as the first woman to represent California in the U.S. Senate, in the face of violence, stifling misogyny, and great personal loss, she broke down barriers and created a government that better represented the people — and the spirit — of California."
"Her selfless service and unrivaled grit and persistence have given our state so many treasures that many Californians now take for granted, from Joshua Tree National Park, to the clear blue water of Lake Tahoe, to the thriving redwoods north of San Francisco Bay and the wetlands that surround it. And because of her leadership against all of the odds, the 1994 Assault Weapons Ban saved countless lives and made our country safer in the 1990s and early 2000s."
"On a personal note, Dianne gave me one of my first jobs in politics as a young MIT grad looking to make a difference in my community. She was the embodiment of principled leadership and taking on the difficult issues, and it's in part because of her groundbreaking career that a Latino son of immigrants could one day join her in breaking down barriers and serving alongside her."
"I'll truly miss her leadership and her counsel in the U.S. Senate. But the legacy she leaves behind will be carried on by the 40 million Californians who now see their government — and their country — differently because of her service.
"Thank you, Senator Feinstein."
Biden, who served with Feinstein in the Senate, said in a statement released Tuesday afternoon by the White House:
"Senator Dianne Feinstein was elected in 1992 — dubbed the Year of the Woman in part because of her victory. Often the only woman in the room, she was determined to lift America up, and through her intellect, empathy, character, and drive, to make this country everything it could be.
As chairman of the Senate Judiciary Committee, I knew I wanted Dianne to serve alongside me, with her proven track record of standing up for people's rights and fighting to make their lives better. She agreed to join the committee, and the nation was better for it.

Through force of will, she led the fight to get the assault weapons ban passed. Like so many who have been touched by gun violence, that victory was personal for her. She is a passionate defender of civil liberties and a strong voice for national security policies that keep us safe while honoring our values. A lifelong Californian, she has worked tirelessly to protect our environment for future generations.

Over the three decades I've known her, Dianne and her late husband Richard became dear friends to Jill and me. I've served with more U.S. senators than just about anyone. I can honestly say that Dianne Feinstein is one of the very best. I look forward to continuing to work with her as she serves out her term."
Schiff, who is vying to replace her in the Senate having declared his candidacy a week ago praised Feinstein's record in a tweet:
Dianne Feinstein is one of the finest legislators we've ever known.

From the torture report, a dogged pursuit of gun safety, and championship of LGBTQ+ rights, her body of work defines her legacy.

We are so grateful for her ongoing leadership.

— Adam Schiff (@RepAdamSchiff) February 14, 2023
Breed, San Francisco's first Black female mayor, paid tribute to her predecessor in a statement calling her "a trailblazer in every sense of the word."
"From becoming San Francisco's first female mayor in 1978 to being sworn in as California's first female senator in 1992, she has always served our city, state and country with conviction and honor," Breed said. "Her landmark policy victories in the Senate like the Assault Weapons Ban, the repeal of the Defense of Marriage Act, and reckoning with our country's past with unlawful interrogation tactics made our country safer, our society more equal, and our nation more true to its ideals. As the longest serving female senator in our nation's history, Senator Feinstein will leave a long legacy of legislative achievements and shattered glass ceilings that young women everywhere can look to and be inspired by as they too consider what service they can do for their country."
A native San Franciscan born in the city on June 22, 1933, she first attended San Francisco public schools and then graduated from the Convent of the Sacred Heart High School in 1951.
She earned her degree at Stanford University in Palo Alto in 1955 and became actively involved in government service first serving as a member of the California Women's Board of Terms and Parole from 1960-1966.
In her first foray into city politics she won a seat on the San Francisco Board of Supervisors representing the Marina neighborhood, serving from 1970-1978, and as president from 1970-1971, 1974-1975 and 1978.
Feinstein was thrust into the state and national political spotlight when on Nov. 27, 1978, she became the mayor of San Francisco, after disgruntled former City Supervisor Dan White entered City Hall and assassinated Mayor George Moscone after Moscone refused to appoint White back into his seat he had resigned from days before. White then also murdered openly gay City Supervisor Harvey Milk who had sparred with White over gay rights and had opposed White getting his seat back.
Feinstein served as mayor for 10 years from 1978-1988 then she served on the board as a director of the Bank of California 1988-1989 at which point she made and unsuccessful run as a candidate for governor of California in 1990.
After losing that race for governor in 1990, Feinstein later won a special election on Nov. 3, 1992, as a Democrat to the U.S. Senate. The special election was triggered by the resignation of Pete Wilson, who had defeated her in the 1990 gubernatorial election. She took office on Nov. 4, 1992, and was subsequently reelected in 1994, 2000, 2006, 2012 and again in 2018 for the term ending Jan. 3, 2025.
Senator Feinstein's record on LGBTQ rights was mixed as reported on by San Francisco's LGBTQ+ newspaper, the Bay Area Reporter's Assistant Editor John Ferrannini who noted:
Earlier in that campaign [1979] she'd faced some opposition from members of the LGBTQ community after she made remarks to Ladies' Home Journal perceived as homophobic, but later won community support after gay candidate David Scott endorsed her in a runoff against independent Quentin Kopp. Scott endorsed Feinstein after she committed to appoint a gay person to the police oversight panel, which Feinstein followed through on with her appointment of lesbian Jo Daly.
Feinstein's veto of city employee benefits for domestic partners led to a recall effort in 1983, though she won 81 percent to 18 percent.
In the Senate she was one of the few Democratic members who voted against the Defense of Marriage Act in 1996, which had been supported by then-U.S. Sen. Biden. The last vestiges of DOMA were formally repealed in December when Biden signed the Respect for Marriage Act. DOMA had key provisions struck down by the U.S. Supreme Court in 2013 (Section 3, U.S. v. Windsor) and 2015 (Section 2, Obergefell v. Hodges.)
Feinstein was never without controversy though, and in 2004 upset more progressive Democrats when she said then-mayor and now Gov. Newsom's decision to order San Francisco officials to issue marriage licenses to same-sex couples was "too much, too fast, too soon."
She was criticized in 2020 when she said Supreme Court Justice Amy Coney Barrett's confirmation hearing was "one of the best" and hugged U.S. Sen. Lindsay Graham (R-S.C.), then the chair of the Senate Judiciary Committee. Barrett's vote last June on the Supreme Court was key for the overturning of Roe v. Wade, which had protected abortion as a constitutional right, a key issue for Feinstein.
In 2017 the senator openly criticized then-President Donald Trump's ban on transgender military service.
Out gay California state Sen. Scott Wiener (D-San Francisco) wrote on Twitter:
"Dianne Feinstein has been a trailblazer for more than 50 years," he stated. "Her accomplishments are legion. We're so proud of her in San Francisco and grateful for her service to our city and our state."
Dianne Feinstein has been a trailblazer for more than 50 years. Her accomplishments are legion. We're so proud of her in San Francisco & grateful for her service to our city & our state.

— Senator Scott Wiener (@Scott_Wiener) February 14, 2023
Equality California, the nation's largest statewide LGBTQ civil rights organization, released the following statement from Executive Director Tony Hoang:
"Throughout her storied political career, Dianne Feinstein has been a champion for LGBTQ+ rights — from her early days on the San Francisco Board of Supervisors serving alongside Harvey Milk, to her historic service as the first woman mayor of San Francisco and the first woman to represent California in the United States Senate."
"From being one of only 14 senators to oppose the discriminatory Defense of Marriage Act (DOMA) in 1996 to being the lead Senate sponsor on the recently-signed Respect for Marriage Act, which repealed DOMA, Senator Feinstein has worked tirelessly to improve the lives of not only her constituents, but all LGBTQ+ Americans."
"She has supported landmark federal hate crime legislation, fought for access to life-saving treatment for people living with HIV, sponsored the Equality Act, spoken out in support of LGBTQ+ service members before and after 'Don't Ask, Don't Tell,' and has stood up for our community — even before it was popular to do so and when it presented significant political risks. Senator Feinstein has also been a leading champion in the fight against gun violence, recently reintroducing legislation to ban high-capacity magazines in the wake of deadly mass shootings like those at Club Q — an LGBTQ+ nightclub in Colorado. Equality California has been proud to call her a friend and ally — we are eternally grateful for her service and will continue to work with her as she finishes out her term."
Andrés I. Jové Rodríguez contributed to this article.
Ritchie Torres speaks about mental health struggles
Openly gay N.Y. congressman appeared on 'GMA3'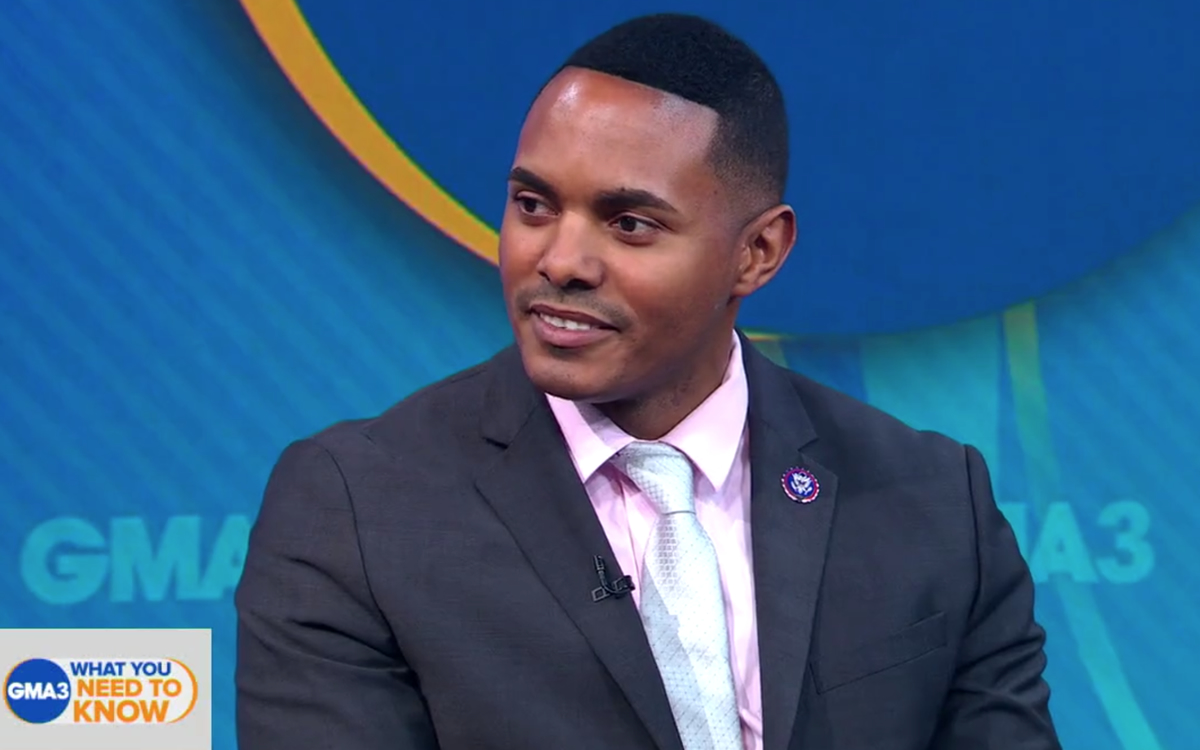 New York Congressman Ritchie Torres has spoken out about his struggle with depression and the importance of mental health in the wake of U.S. Sen. John Fetterman (D-Pa.)'s recent hospitalization for clinical depression. 
Torres, a Democrat who is the first openly gay Afro-Latino member of Congress, told "GMA3" hosts DeMarco Morgan and Eva Pilgrim on Tuesday that he had "an obligation to tell" his "story in the hopes of breaking the shame and silence, and stigma that too often surrounds the subject of mental health."
Torres views his coming to terms with his mental health issues — while also being open about it — as a form of "public service" to the American people.
"We live in a society that historically has shamed people for experiencing mental illness, that has framed mental illness as a failure of character or a failure of willpower. And I'm here to send a message that mental illness is nothing of which to be ashamed, that there are millions of Americans who struggle with depression and anxiety," Torres explained.
Even before being elected to Congress, Torres, 34, spoke freely about his past experiences concerning mental health issues and how they affected him. While campaigning, one of his opponents tried to use his depression as a counterpoint to prove that he was not worthy of being in public office. 
From then on, Torres vowed to "never again would I allow my mental health to be weaponized," he told Time magazine.
He emphasized the importance of psychotherapy and medication as a means of controlling his depressive episodes and going through his day by day as a congressman.
He noted, however, that "there are people who have trouble accessing mental health care."
"And even if you do, the process of experimenting with psychiatric medications can be draining and debilitating, because there's no one size fits all," he added.
Torres said he hopes that Congress can pave the way for more mental health care for the millions of Americans who need it.
"Our healthcare system is fundamentally broken and Congress is no closer to fixing it," he argued.
I was once hospitalized because of severe depression. I thought of taking my own life because I felt the world around me had collapsed.

I would not be alive, let alone in Congress, were it not for mental health care.

My Story:pic.twitter.com/5v9pXCN33E

— Ritchie Torres (@RitchieTorres) March 15, 2023
Sorensen: 'We're going to do better today for the next generation'
'Everyone should be speaking out' against anti-trans extremism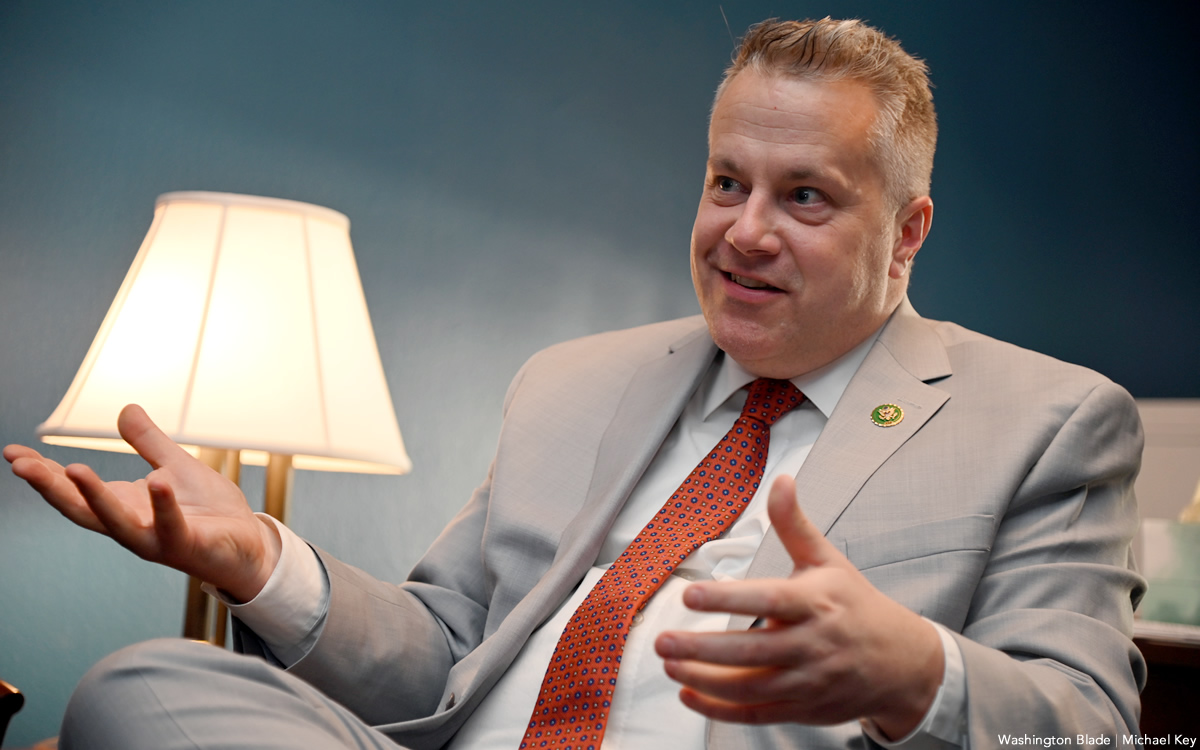 Whether on matters concerning climate change or LGBTQ rights, members of Congress ought to focus on making progress for the benefit of the next generation, U.S. Rep. Eric Sorensen (D-Ill.) told the Washington Blade.
"It's making that decision today to talk about what's in our future, not what's in our past, and to say, 'let's just do what's best for our kids,'" Sorensen said during an exclusive interview with the Blade from his office last week.
The congressman, who became the first openly gay member to represent the state of Illinois in either chamber with his election in 2022, has plenty of experience reaching folks with this message.
A meteorologist by trade, Sorensen began his television career at the ABC affiliate KTRE in Lufkin, Texas in 1999 before becoming chief meteorologist for WREX, Rockford, Illinois's NBC affiliate, and then senior meteorologist at the ABC affiliate WQAD serving the Quad Cities area.
"You know, I was the one talking about climate change to farmers," Sorensen said.
"Whenever I talk about climate change, I don't fault anyone for being in a different place in the past," he said, which helps to avoid positioning conservatives and climate skeptics in a defensive posture.
"We don't ever have to agree on who's causing climate change, or what 1.5 degrees celsius or two degrees celsius means," Sorensen said. "Let's just say that we're going to do better today for the next generation, okay? And the same thing with LGBTQ issues, right?"
As it turned out, discussing climate change "wasn't this third rail that we thought it was," he said. Likewise, "it was the same thing as when I had my trans friends on television on Good Morning Quad Cities" for National Coming Out Day.
The move was important, Sorensen said, "so that my community could see these are real people…my friend Paula and my friend Chase are real people." The congressman added, "we talked about how we came out, and we didn't get any backlash [from the audience], because, you know what? I don't live in a hateful community."
Sorensen said the network looked at audience engagement metrics for segments featuring his trans friends, and for segments in which he addressed climate change, and the data repeatedly indicated that viewers were able to easily countenance both.
Some of this might be attributed to the good will he had built with this audience. After all, "I was the one they were turning to when the tornado was bearing down on their family's home," Sorensen said.
Regardless, "how do we expect people to understand if we don't explain these things?"
'Everyone should be speaking out' against anti-trans extremism
Last week, Republicans on the U.S. House Education and Workforce Committee passed legislation that would bar transgender women and girls from competing in school sports per Title IX.
The measure, part of a nationwide wave of anti-trans bills, is likely fated to languish in the Democratic-controlled Senate.
On the heels of a press conference to drum up opposition to the bill that was hosted by the Congressional Equality Caucus and its chair, Rep. Mark Pocan (D-Wis.), Sorensen said, "I'm disappointed because these are real people."
"We have to understand that, you know, when we talk about the threat that transgender people face today, if you just look at what is being proposed, what the extreme Republicans are saying, is that there's now a group of kids or a group of people that don't deserve to learn what athletics is about," said the congressman, who is also a co-chair of the Equality Caucus.
Sorensen said the message from Republican members backing this legislation is that "this group [of women and girls] doesn't deserve to learn teamwork as a kid."
"It's terrible," he said. "Everyone should be speaking out against this. What it just shows is that these Republicans, they're just stoking fear and division and being extreme, instead of actually solving the problems of the people."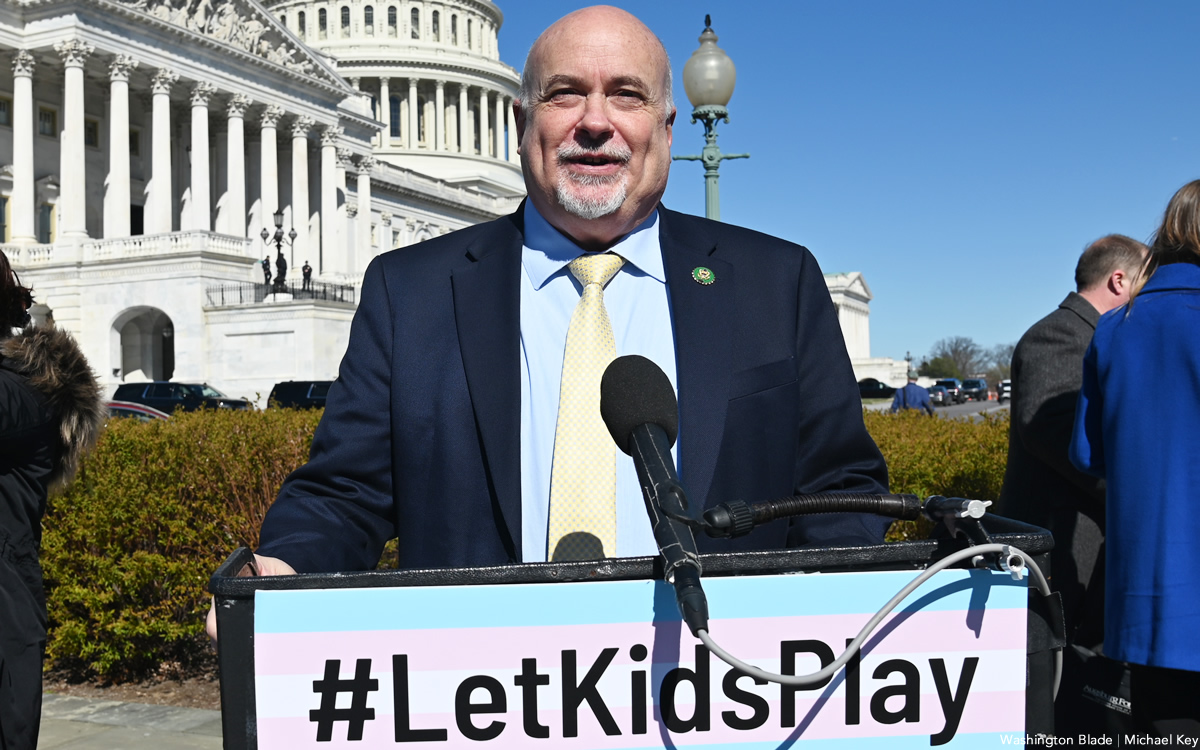 "I think it's a point of extreme Republicans to run on this platform instead of solving the problems that we do have in front of us," Sorensen said.
He noted extremism doesn't seem to have been a winning message for Republican candidates in the 2022 midterm elections, during which time the GOP's focus was on issues like the economy and healthcare.
It is remarkable "how things have changed in such a short amount of time," Sorensen said. "And that's because the Republicans, these extreme Republicans, have decided that they're going to to roll through this division and hate."
"It's insane," he said, pointing to legislation like the bill proposed in the Iowa Legislature to ban same-sex marriage "when it's already been set in stone."
At the same time, the congressman said, there is ample reason for optimism. For example, "in the state of Illinois we rejected that hate because the state of Illinois elected its first LGBTQ member of Congress."
And back in the Quad Cities, Sorensen had the chance to meet the next generation of out youth when volunteering at the area's LGBTQ community center, Clock, Inc. "I just stood there in awe at these kids that were able to be themselves."
Moving forward, Sorensen said Democrats should continue to prioritize issues that Americans actually care about.
"I don't feel like we need to defend ourselves," he said. "You know, if they want to put this wedge issue out there, we need to just be able to say, 'I'm fighting for Americans. I'm fighting to lower the price of goods, connecting people to health care,'" which includes healthcare for trans folks as well as reproductive care including abortions.
Sorensen said his identity as a gay man was not a central feature of his congressional campaign, but still, for many folks, "the only gay person that they knew was Eric Sorensen on channel eight."
Overcoming homophobia
Growing up in the 1980s during the AIDS crisis, Sorensen said he asked himself, "Why should I even try?" He told the Blade, "I can see in my head the pictures of a hospital room, and I thought, 'that's how I'm gonna die,'" he said, so, "why would I even try, when they're never going to allow me to be on television?"
Having relocated from Lufkin to Tyler, after a couple of years working as a meteorologist in the comparably larger northeast Texas metropolitan area, Sorensen said his sexual orientation became a problem for his employer in 2003.
"My boss told me, 'Eric, I need you to go to the conference room after your show's over,'" the congressman remembers.
Laid before Sorensen was his employment contract, a document he had not seen since he had signed it. "All of a sudden," he said, "the members of management walk in, and I was told to have a seat while nobody across the table sat down – so they were looking down upon me."
They had been alerted to Sorensen's profile on Gay.com and offered him the choice to "be that person," pointing to a printout of his profile, "or have a job."
From there, he took a pay cut to return to Illinois where "I got to be out," he said, "I got to be myself," while every day at work, "I was telling my mom and dad what the weather was like."
The congressman added, "If I would have given up in that space in Texas, where would I be? I wouldn't be here today."
Pocan, Congressional Equality Caucus criticize trans sports ban bill
Measure scheduled for markup in House committee on Wednesday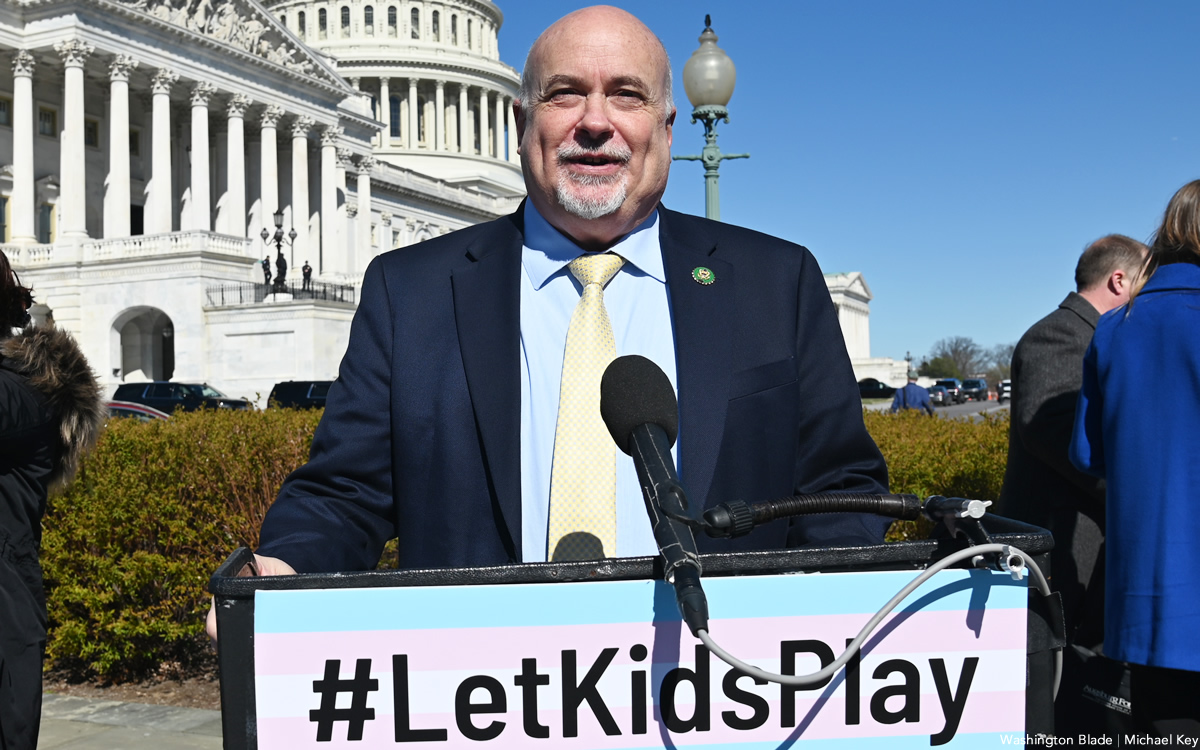 U.S. Rep. Mark Pocan (D-Wis.) and the Congressional Equality Caucus held a press conference Wednesday at the U.S. Capitol to rally opposition to House Republicans' proposed legislation that would prohibit transgender women and girls from participating in sports.
The bill was slated for markup by the U.S. House Education and the Workforce Committee later Wednesday.
"I'm assuming by the time it gets to the floor, we have talked to many members of Congress, especially on the Democratic side, we're gonna fight hard on this," Pocan said in response to a question from the Washington Blade.
"I have no idea where some of the extreme politicians may try to take this, but the bottom line is they promised us they're going to lower the costs for the American people they promised us smaller, less intrusive government, and now they're being the biggest of big brother that can possibly be by trying to determine which kids can play in sports," Pocan said.
Joining Pocan and the caucus at the press conference were Shiwali Patel, director of justice for student survivors and senior counsel at the National Women's Law Center, Rebekah Bruesehoff, a trans student athlete, and Jamie Bruesehoff, her mother.
"Today, Republicans are showing their real priorities, political priorities, by considering a trans and intersex sports ban as the opening salvo in their efforts to undermine the rights of LGBTQI+ people," Pocan said during his prepared remarks.
"Women and girls face real problems on the field, from strained resources to unequal pay and sexual harassment and assault, but rather than dealing with these matters or other challenges like gun violence, members on the Education and the Workforce Committee will spend their first legislative markup targeting a handful of trans girls and women who participate in school sports," Pocan said.