Partisan rancor continues over Gigi Sohn's historic FCC nomination
Committee urged to reject 'homophobic and unfair attacks'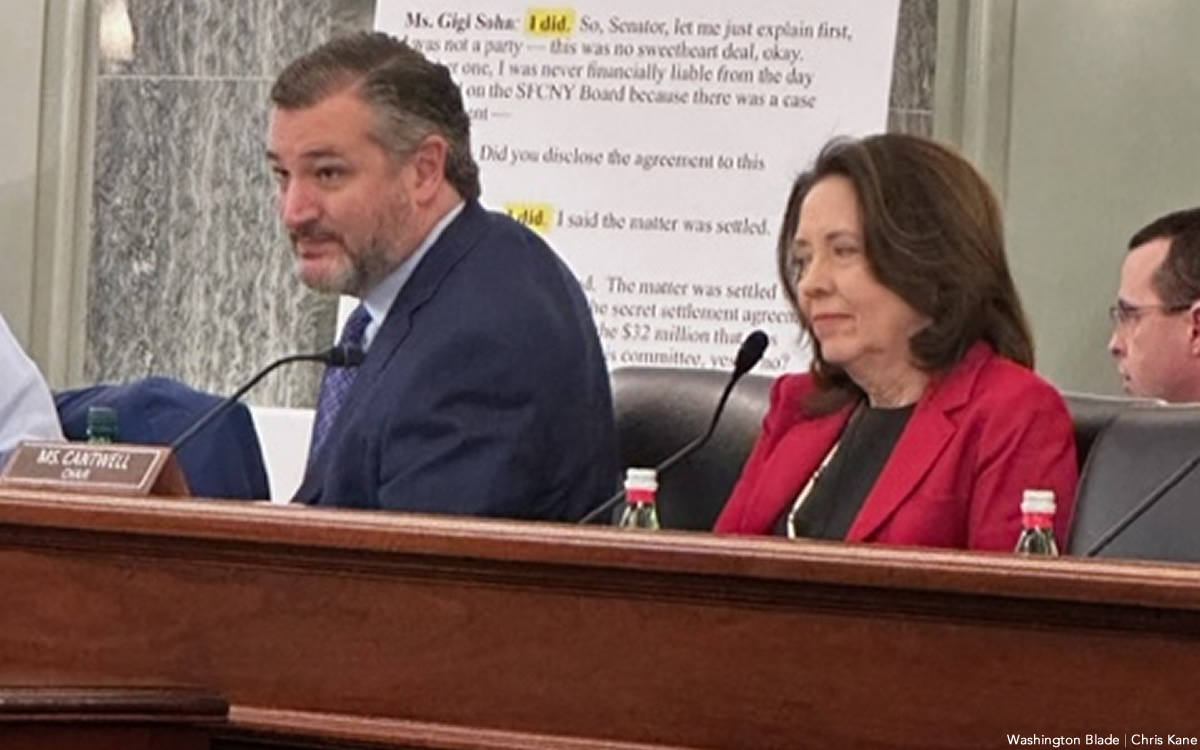 Gigi Sohn, President Joe Biden's nominee for commissioner at the Federal Communications Commission, faced a contentious third hearing before the U.S. Senate Commerce, Science and Transportation Committee on Tuesday.
"I only ask to be treated the way other nominees were treated," she told U.S. Sen. Marsha Blackburn (R-Tenn.), who questioned Sohn's ability to act in an objective manner if confirmed given her history of working on behalf of public interest groups.
"The role of a policymaker is different from that of an advocate," Sohn said, noting "[Former] Chairman [Ajit] Pai worked at Verizon, and I'm sure he was a fervent advocate for Verizon" during that time and prior to his tenure as FCC chair.
The contention that Sohn has been treated differently from other nominees has recently given rise to accusations of homophobia. Last week, the LGBTQ Victory Institute issued a letter with more than 375 signatories urging Congress to confirm Sohn's nomination.
The letter cited right-wing media coverage that has sought to infer a link between Sohn and child sexual abuse and exploitation by virtue of her membership on the board of an organization that came out against child sex trafficking laws that, the group has argued, are ineffective.
However, remarks by Republicans on the committee Tuesday did not directly address these matters. For their part, Democratic members, beginning with Committee Chair U.S. Sen. Maria Cantwell (D-Wash.), took the opportunity to celebrate that Sohn made history as the first openly gay nominee for FCC commissioner.
Those remarks were echoed later by U.S. Sen. Tammy Baldwin (D-Wis.), who was the first openly LGBTQ woman elected to serve in the House as well as in the Senate.
"Millions of people across the country including myself are grateful for you continuing to pave the way for LGBTQ people who want to serve our country," Baldwin said.
In a comment emailed to the Washington Blade shortly after the hearing on Tuesday, U.S. Sen. Ed Markey (D-Mass.) said, "Ms. Sohn has faced baseless attacks from industry-backed lobbyists and mouthpieces since President Biden nominated her."
"Congress must reject the homophobic and unfair attacks on Ms. Sohn and confirm her as soon as possible," Markey said.
During the hearing, Markey noted he has known Sohn for 30 years. "She is one of the single most qualified candidates for any position ever to come before the Commerce committee for confirmation," he said.
Markey's comments also spotlighted the important work in which Sohn will be engaged, if and when she is confirmed to serve on the FCC.
"The FCC has important work to do to bridge the digital divide, protect consumers, and ensure that every household in our country has access to a free and open internet upheld by strong net neutrality rules," the senator told the Blade by email.
The FCC is an independent agency governed by a bipartisan slate of commissioners serving under Democratic Chair Jessica Rosenworcel. Several of the exchanges on Tuesday focused on how American consumers have been negatively impacted by the vacancy that has remained since Sohn was first nominated by Biden in October 2021.
U.S. Sen. Amy Klobuchar (D-Minn.) asked Sohn to explain why it was important to have a fully constituted FCC for the rollout of the bipartisan infrastructure law passed by Congress last year.
"Myriad ways," Sohn said. "First, I would love to be able to help the FCC ensure they have the most accurate broadband map … Without that, money spent by [the] Commerce Department won't go to the right places," she said. "I could be an enormous help in that regard."
Spokespeople from the Commerce Department did not immediately return a request from the Blade for comment.
Republicans on the Committee, beginning with Ranking Member U.S. Sen. Ted Cruz (R-Texas) focused their comments and questions on allegations that Sohn harbors deeply held prejudice against conservatives.
"There's a reason we're on our third nomination hearing," Cruz said. "She's shown herself to be a partisan and associated herself repeatedly with the most extreme views on the far-left."
"She has engaged in extreme vitriol," Cruz said. "She has deep ties to far-left organizations and has promoted anti-police views."
Sohn repeatedly batted away these accusations, which were reiterated by other GOP members, by denying that she shares all of the views espoused by public interest groups with which she has associated.
She also denied there was any link between many of the matters discussed by opponents to her nomination and the actual work she would do at the FCC if confirmed. In many cases, Sohn pointed out that the agency does not have any domain over the issues raised by committee members.
Under questioning from Republican members about instances — many of which happened several years ago — in which she retweeted or otherwise seemed to endorse incendiary messages about conservative media figures and politicians, Sohn said "I will admit that some of my tweets have been sharp," adding, "The country has changed a lot since 2016."
Cantwell noted that despite her past tweets, Sohn's nomination has been endorsed by the presidents of news networks OAN and Newsmax, which are billed as more conservative alternatives to Fox News.
Freshman U.S. Sen. J.D. Vance (R-Ohio) accused Sohn, by virtue of her past comments, of being part of a "weird trend to be very racialized, to criticize racial groups," pointing to her decision to re-tweet acclaimed actor and comedian Issa Rae's tweet calling former President Donald Trump a "raggedy white supremacist" who "would rather kill everybody than stop killing black people."
Vance then turned his attention to comments made by Transportation Secretary Pete Buttigieg in the wake of a train derailment earlier this month in East Palestine, Ohio, by rail cars carrying toxic chemicals.
"We had a really bad train crash in Ohio," Vance said. "We're doing as much as we can to help constituents. But [Sec.] Buttigieg, instead of commenting on this, focused on [what he called] the 'terrible scourge of too many white men in the construction industry.' It was a terrible focus for the Secretary of Transportation."
Andrés I. Jové Rodríguez contributed to this article.
White House condemns Uganda's anti-homosexuality bill
U.S. could impose economic consequences
White House Press Secretary Karine Jean-Pierre spoke out on Wednesday against Ugandan lawmakers' passage of an anti-homosexuality bill on Tuesday that threatens to further criminalize consensual same-sex sexual conduct along with LGBTQ and intersex populations in the country.
If the bill "is signed into law and enacted, it would impinge upon universal human rights, jeopardize progress in the fight against HIV/AIDS, deter tourism and investment in Uganda, and damage Uganda's international reputation," Jean-Pierre told reporters during Wednesday's press briefing.
"The bill is one of the most extreme anti LGBTQI+ laws in the world," she said, adding "human rights are universal – no one should be attacked, imprisoned or killed simply because of who they are or who they love."
Asked what concrete steps the U.S. might explore in response to the legislation in Uganda, John Kirby — who serves as National Security Council Coordinator for Strategic Communications at the White House and joined Jean-Pierre at the podium Wednesday — said "there might be repercussions that we would have to take."
"We're certainly watching this real closely," Kirby said, noting it remains unclear whether or when the bill might become law and take effect. Punitive economic measures against Uganda could be "devastating," he said, as America provides substantial aid to the country, including through the U.S. President's Emergency Plan for AIDS Relief (PEPFAR).
The 2023 anti-homosexuality bill sailed through Uganda's parliament Tuesday with broad support from lawmakers. It would impose a 10-year prison sentence for the "promotion, recruitment, or funding" of LGBTQ activities.
According to Human Rights Watch, anyone who "holds out as a lesbian, gay, transgender, a queer, or any other sexual or gender identity that is contrary to the binary categories of male and female" could be prosecuted and sentenced up to 10 years.
Southern Poverty Law Center condemns Ga.'s passage of anti-trans healthcare bill
Group urges Gov. Kemp to veto measure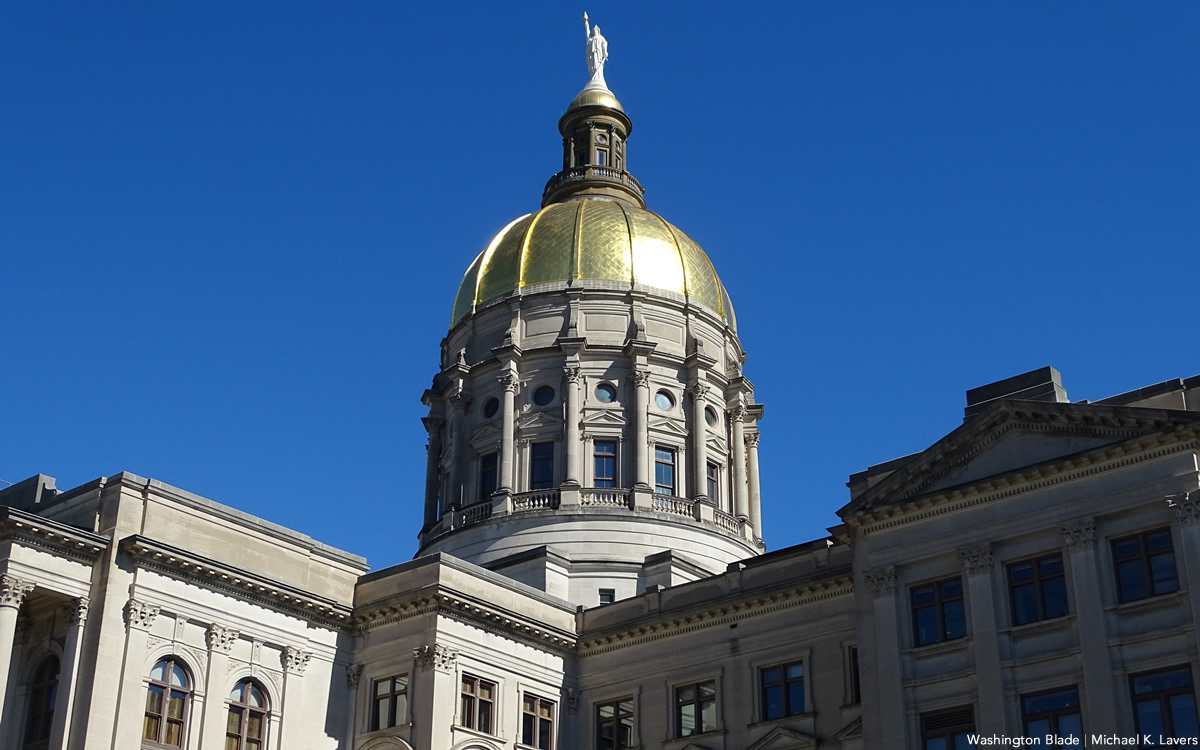 The Southern Poverty Law Center Action Fund published a statement Tuesday condemning the Republican-controlled Georgia Legislature's passage of S.B. 140, a bill that will criminalize gender-affirming health care for minors.
The statement, issued by Beth Littrell, senior supervising attorney of the Southern Poverty Law Center's LGBTQ and Special Litigation Practice Group, urges Georgia Gov. Brian Kemp (R) to veto S.B. 140, calling on him to not "give into pressure from his party" when "the health and wellbeing of young people are at risk" through the denial of "safe, effective medical treatment to transgender youth — based only on prejudice and political pandering."
Kemp should "leave personal healthcare decisions in the capable hands of parents, children, and their doctors," Littrell's statement continues. "We hope the governor will elevate himself and the State of Georgia above this cynical partisan attack on transgender youth, medical autonomy, and parental rights."
S.B. 140 specifically prohibits "sex reassignment surgeries, or any other surgical procedures, that are performed for the purpose of altering primary or secondary sexual characteristics" when they are "performed on a minor for the treatment of gender dysphoria."
"Limited exceptions" are made for the treatment of conditions other than gender dysphoria, if deemed medically necessary by the physician or healthcare practitioner, and for the treatment of patients with "a medically verifiable disorder of sex development."
The mainstream medical societies with relevant clinical expertise have repeatedly spoken out against legislation that limits access to or criminalizes, as in the case of Georgia's bill, guideline directed interventions for the treatment of trans and gender nonconforming youth.
On March 16, far-right GOP Rep. Marjorie Taylor Greene, who represents Georgia's 14th Congressional District, called for the state legislature to make the bill more restrictive.
Specifically, in a tweet she urged the lawmakers to amend S.B. 140 such that treatment of gender dysphoria in minor patients with puberty blockers would be criminalized alongside the other interventions covered in the bill and also to remove the covered exceptions.
Chasten Buttigieg speaks out against Pence's homophobic remarks
Pence doubled down Thursday on homophobic remarks about the Transportation Secretary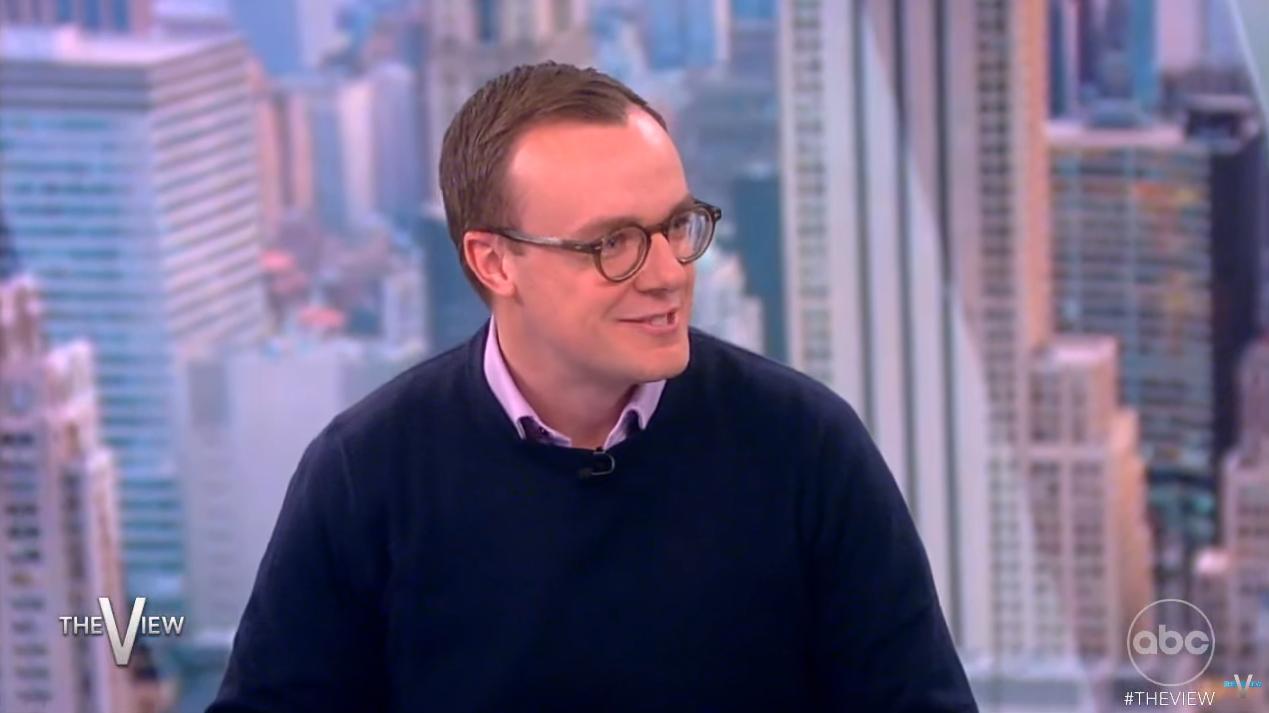 Chasten Buttigieg, husband of Transportation Secretary Pete Buttigieg, said former Vice President Mike Pence has not apologized for homophobic and misogynistic remarks about the couple that he made at a dinner in D.C. last weekend.
"I spoke up because we all have an obligation to hold people accountable for when they say something wrong, especially when it's misogynistic, especially when it's homophobic," Chasten Buttigieg said during an appearance Thursday on ABC's The View.
Last Saturday, Pence had joked that following the birth of the Buttigieg twins in 2021, the transportation secretary took "maternity leave" and then the country suffered "postpartum depression" over issues with airlines and air travel.
The former vice president delivered the remarks — which were first reported by the Washington Blade — during the annual Gridiron Club dinner, which he headlined along with Secretary of State Antony Blinken and New Jersey Gov. Phil Murphy (D).
Per tradition, speakers at the dinner are expected to poke fun at political figures, including guests in attendance, but Pence's comments quickly drew outrage for their homophobia and misogyny.
White House Press Secretary Karine Jean-Pierre addressed the matter in a comment shared with the Blade on Monday, "The former vice president's homophobic joke about Secretary Buttigieg was offensive and inappropriate, all the more so because he treated women suffering from postpartum depression as a punchline."
The Buttigiegs have been public about the "terrifying" ordeal they suffered following the premature births of their twins. The newborns developed serious Respiratory Syncytial Virus Infections (RSV) — which required one to be hospitalized, put on a ventilator, and transferred to a children's hospital in Grand Rapids, Mich., for treatment.
"An honest question for you, @Mike_Pence, after your attempted joke this weekend," Chasten Buttigieg tweeted on Monday, "If your grandchild was born prematurely and placed on a ventilator at two months old – their tiny fingers wrapped around yours as the monitors beep in the background – where would you be?"
The transportation secretary, asked on Monday whether they are owed an apology from Pence, said, "I'll let others speak to that."
During Thursday's interview, Chasten Buttigieg called out the hypocrisy of Pence's putative identity as a "family values Republican," telling the talk show's hosts, "I don't think he's practicing what he preaches here."
"But also," he added, "it's a bigger conversation about the work that women do in families — taking a swipe at all women and all families and expecting that women would stay home and raise children is a misogynistic view."