Comings & Goings
Curve Foundation announces honorees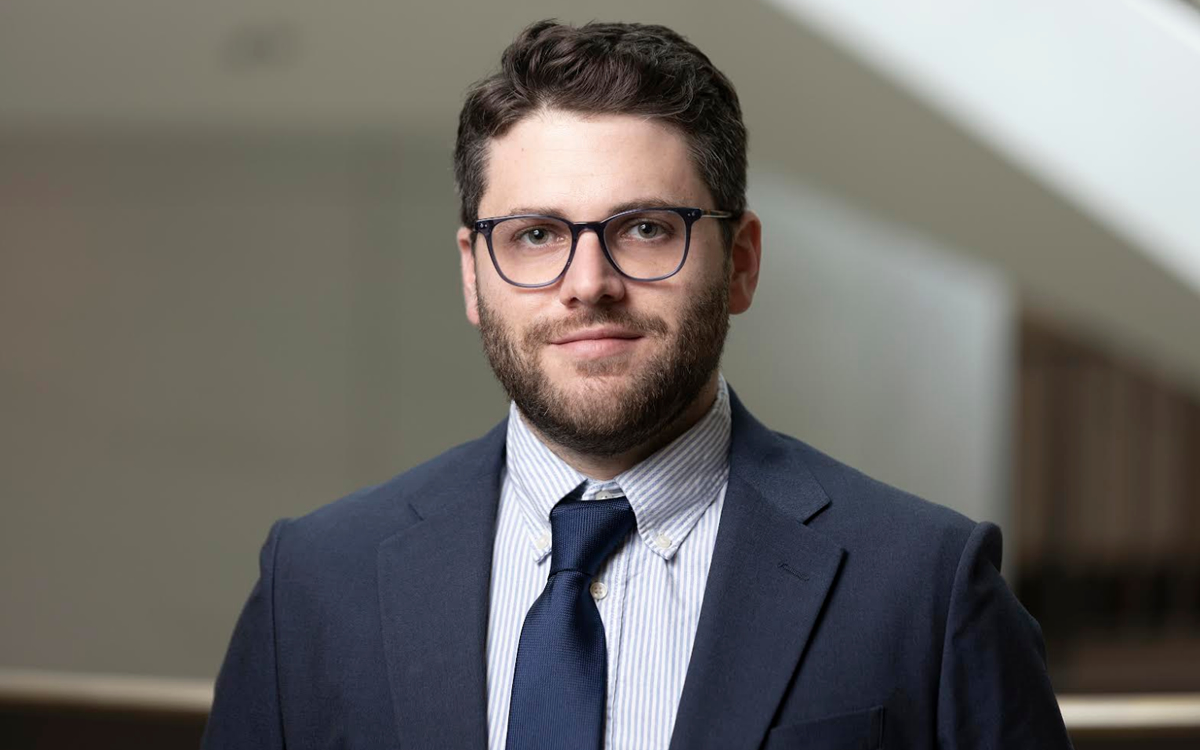 The Comings & Goings column is about sharing the professional successes of our community. We want to recognize those landing new jobs, new clients for their business, joining boards of organizations and other achievements. Please share your successes with us at [email protected].
Congratulations to Kyle Fradkin on his new position as D.C.-based Legislative Policy Advisor with the County of San Diego. On accepting the position, he said, "As someone who's first job was working for the County of Los Angeles while in high school, this new role as the D.C.-based Legislative Policy Advisor with the County of San Diego feels like a full circle kind of moment. I look forward to bringing a decade of experience in government affairs to advocate for the residents of the county here in Washington."
Prior to this, Fradkin was Deputy Director of Public Policy with MAZON: A JEWISH RESPONSE TO HUNGER. Among other duties he managed the organization's relationship with members of Congress and their staff. Prior to that he was Senior Government Affairs Associate for J Street. He started with them as Senior Regional Associate in San Francisco.
Congratulations also to the three journalists awarded the inaugural Curve Award for Excellence in Lesbian Coverage. The award, sponsored by the Curve Foundation, honors the contributions of journalists who have dedicated their careers to telling the stories of the Curve community. The award includes a $2,500 cash award and access to unique professional development opportunities. Awardees will be honored with a digital exhibit at curvemag.com, archiving major moments and career accomplishments, and available throughout the year.
Victoria A. Brownworth is a Pulitzer Prize-nominated, award-winning journalist. Her work has appeared in The New York Times, the Los Angeles Times, and The Philadelphia Inquirer, among others. Her work focuses on social justice issues and local and national politics. She is the author and editor of more than 20 books
Dana Piccoli has been writing about the LGBTQ community for more than a decade and is now the editor of News is Out, a queer media collaborative. With a special dedication to queer women's issues, Piccoli has written for numerous sites, including The Mary Sue, The Decider, Curve, and NBC. She's the former Managing Editor of the Bella Media Channel and the founder of Queer Media Matters. She lives in Vancouver with her wife. 
Femi Redwood is an award-winning journalist not afraid to ask tough questions or have uncomfortable conversations that lead to teachable moments. Redwood was a host and managing producer of podcasts at Audacy's NYC news stations, 1010 WINS and WCBS Newsradio 880. She launched several successful shows, including Beyond Black History Month. Redwood spent more than a decade in TV news, including working as a correspondent in prominent newsrooms such as CBS Newspath and VICE News. Redwood is co-chair of the National Association of Black Journalists' LGBTQ+ Task Force. Redwood lives in Brooklyn with her wife and cat.
Inaugural Uptown Pride to take place June 10
Festival to feature drag storytime, makers' market, DJs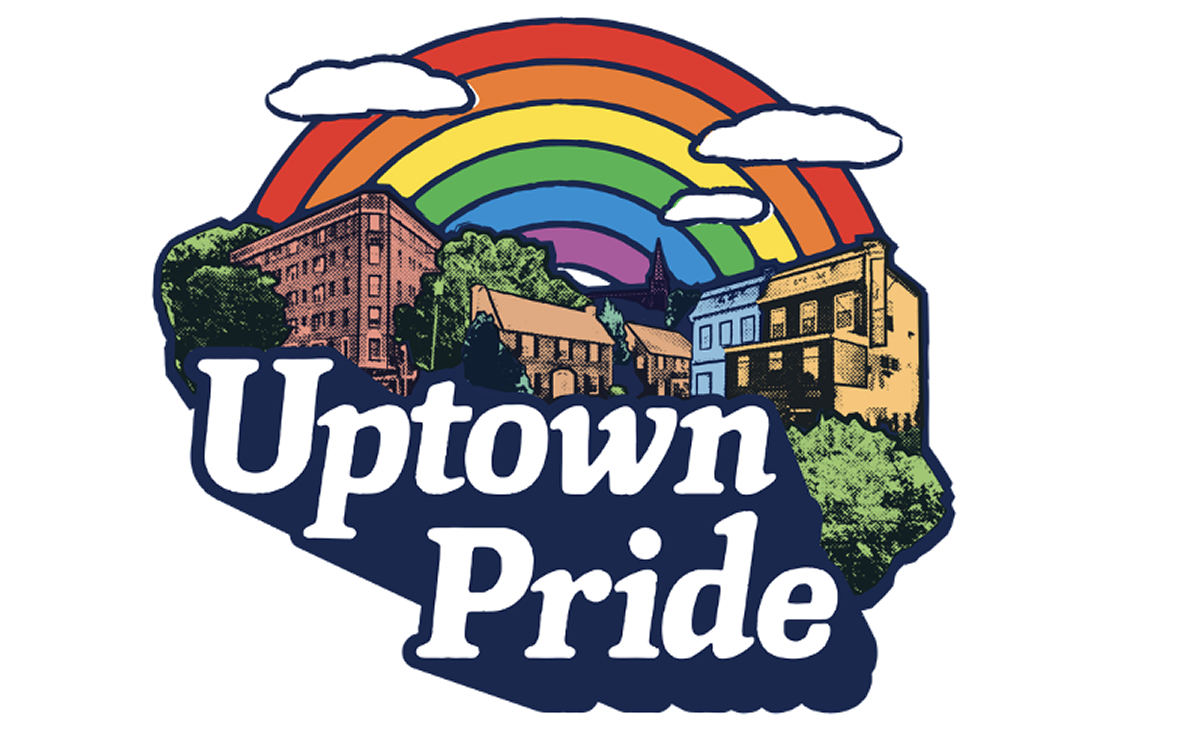 A new Pride festival is coming to D.C.
The inaugural Uptown Pride will be hosted in Sixteenth Street Heights on June 10 with Pride celebrations for Washingtonians of all ages.
The festival, hosted at the intersection of 14th Street, Colorado Avenue and Kennedy Street, NW, will feature a drag storytime, a makers' market, DJs and more. There will also be a raffle for various prizes, with all proceeds going to the Trevor Project, which provides suicide prevention services for LGBTQ teens.
The festival will be from 2-7 p.m. and is partnering with local businesses like Moreland's Tavern, Captain Cookie and Lighthouse Yoga Center for activities and refreshments.
Justin Noble, one of the organizers of the festival, said that the inspiration for the event came out of wanting a Pride experience tailored to the residents of the Sixteenth Street Heights, Petworth and Brightwood neighborhoods.
"It can be a hassle to get to downtown," Noble said. "There needs to be something in our community that supports LGBTQ+ people and the culture and all of that because we're everywhere, right? We are everywhere."
Organizer Max Davis said that the inclusion of children's events like a drag storytime was purposeful, and helps make the event more accessible to LGBTQ families and youth.
"Kids I feel are the most important in as far as just showing them, just visibly showing them that you can live out and you can be queer," Davis said. "There is no more dangerous time than now to be queer, questioning youth … So who better to welcome into the fold than kids who might be questioning their sexuality."
Davis said that a big part of wanting to bring Pride celebrations uptown was to have a physical representation of support for the LGBTQ community.
"I felt like because there wasn't anything going on in Sixteenth Street Heights — the clientele that we were serving up at Moreland's absolutely is supportive, and I never felt that it wasn't a supportive environment — but if you don't have something to actively support that I feel that your support is just words," Davis said. "If our community had someplace to attend even for one day to just be like, 'Hey, I stand with you,' … that is something that every community should have available to them to actively support the LGBTQ community."
Capital Pride announces 2023 honorees, grand marshals
Assistant Secretary of Health Levine among picks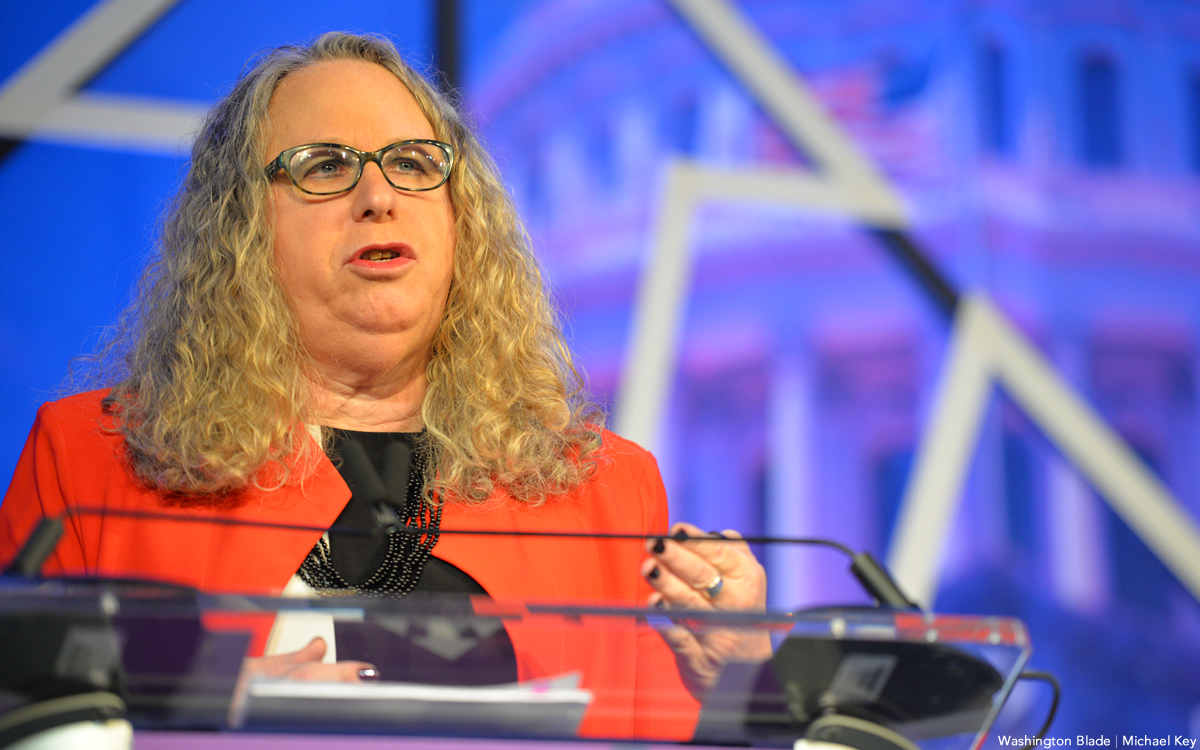 Assistant U.S. Secretary of Health Admiral Dr. Rachel Levine and acclaimed longtime D.C. LGBTQ and transgender rights advocate Earline Budd are among nine prominent LGBTQ community leaders named on Wednesday by the Capital Pride Alliance as its 2023 Capital Pride honorees.
Capital Pride Alliance, which organizes D.C.'s annual Capital Pride parade, festival, and related events, announced in a May 24 statement that it will present the honoree awards to each of the recipients at a ceremony scheduled for 7 p.m. on Friday, June 2, at the Penn Social event and catering hall at 801 E St., N.W.
"The recipients are nominated each year by members of the community," the Capital Pride statement says. "They represent individuals who and organizations that have advanced the causes of LGBTQ+ rights," it says.
The statement says Levine was selected for the Capital Pride Paving the Way Award, which "acknowledges an individual or organization that has provided exemplary contributions, support, and/or advocacy that has positively impacted the LGBTQ+ community, and whose leadership has inspired continued progress."
Levine, who was appointed by President Biden in 2021 as Assistant Secretary of Health, is a longtime pediatrician who also serves as an admiral in the U.S. Public Health Service Commissioned Corps. She became the first openly transgender person to hold the admiralty position.
Capital Pride named Earline Budd as recipient of the Capital Pride Super Hero Award, which "recognizes additional significant and important contributions to the LGBTQ+ community in the national capital region."
The statement announcing the honorees says Levine and Budd will also serve as grand marshals for the June 10 Capital Pride Parade. It says each of the other honorees will serve as parade marshals.
The announcement says the following four people have been named as recipients of the Capital Pride Hero Award:
• Shi-Queeta Lee, the D.C.-based nationally acclaimed drag performer
• Benjamin Rosenbaum, longtime congressional staffer, LGBTQ rights advocate, and LGBTQ Jewish community advocate
• Nancy Canas, president of D.C. Latinx History Project and advocate for the LGBTQ Latinx community
• Abdur-Rahim Briggs, longtime leader of the D.C.-based Project Briggs, which provides philanthropic support for LGBTQ causes.
The following two organizations were named as recipients of the Capital Pride Breaking Barriers Community Impact Award, which recognizes individuals or organizations that have "demonstrated a significant impact to the LGBTQ+ community at either the local or national level and who helped eliminate barriers for social, personal, or professional growth of the LGBTQ+ community:
• Drag Story Hour DMV
• National LGBTQ Task Force
The Bill Miles Award for Outstanding Volunteer Services, which acknowledges "exemplary contributions to the Capital Pride Alliance, its programs, initiatives, or other Pride sponsored activities," is being given to Brandon Bayton, Jr., a longtime Capital Pride volunteer, consultant, and organ transplant advocate, and LGBTQ rights advocate.
"We are fortunate to have such a vibrant honoree selection process, with so many outstanding individuals who were nominated," said Ashley Smith, president of the Capital Pride Alliance Board of Directors. "We are very pleased to celebrate these individuals at the 2023 Capital Pride Honors," Smith said in the CPA statement.
Blade names recipients of two summer fellowships
Kravis, Lev-Tov join LGBTQ news team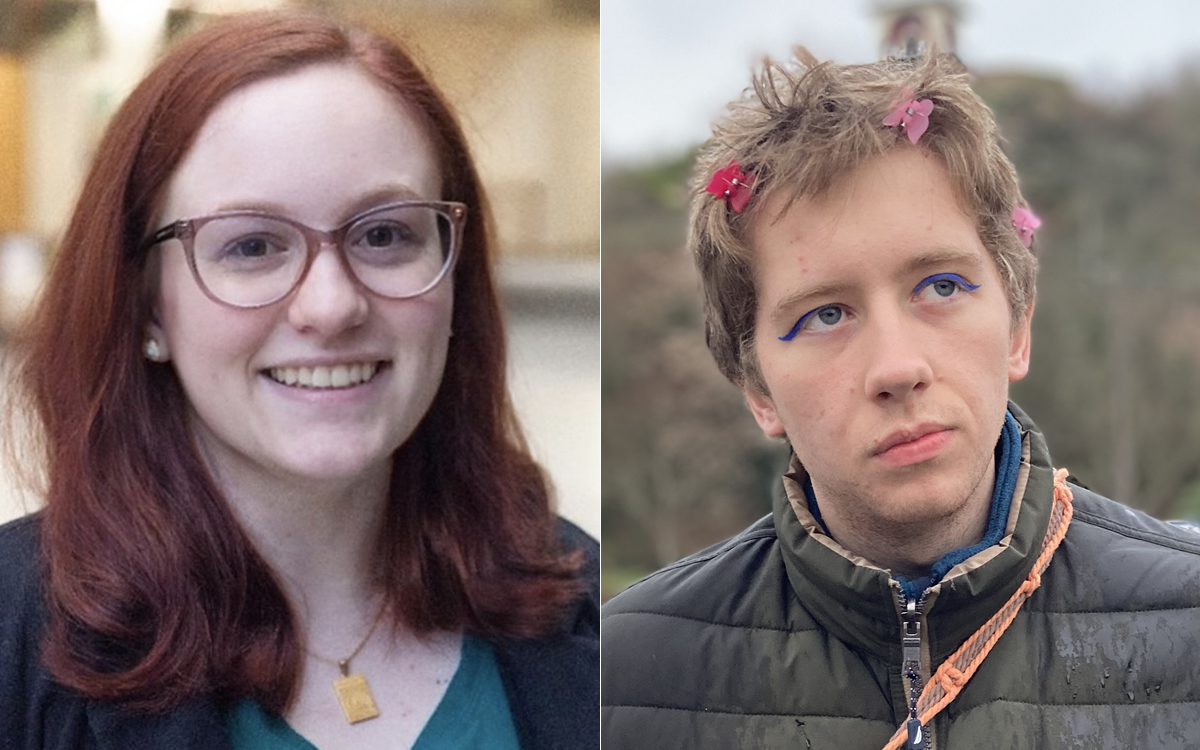 The Blade Foundation this week announced the recipients of its 2023 summer fellowship program.
Isabelle Kravis (she/they) is a senior at American University studying journalism and women's, gender, and sexuality studies. She will focus on covering LGBTQ issues in the local D.C. area for 12 weeks starting this week. The fellowship is made possible by a generous donation from the DC Front Runners Pride Run 5K event.
"I've been reading the Blade since I first moved to D.C. for my freshman year and I'm so excited to be able to contribute to such a historic paper," Kravis said. "I love covering the LGBTQ community because of the diversity of experiences that each queer person has and the joy that queer people bring to everything they do. I'm incredibly lucky to have this opportunity to be able to cover both the city and community that I love."
Joel Lev-Tov (they/them) is a senior at the University of Maryland College Park studying journalism. Lev-Tov also serves as president of the Association of LGBTQ Journalists at College Park. Lev-Tov is the sixth recipient of the Steve Elkins Memorial Journalism Fellowship, which honors the co-founder of CAMP Rehoboth. The fellow covers issues of interest to the LGBTQ community in Delaware, also for 12 weeks. The fellowship is funded by donations from the Rehoboth Beach community.
"I'm extremely excited to start reporting about my community for my community," Lev-Tov said. "The Blade is offering me a special opportunity that I'm very grateful for. I can't wait to start reporting!"
Kevin Naff, editor of the Blade, welcomed Kravis and Lev-Tov to work this week.
"We're all excited to work with Isabelle and Joel this summer," Naff said. "There's never been more news to cover and they will add an important, fresh perspective to our work. Thank you to our donors and to the Front Runners for making this program possible."
For more information on the fellowship program or to donate, visit bladefoundation.org.