Officials hold groundbreaking for new D.C. LGBT community center
Activists, community members tour unfinished space in sprawling Shaw building
The D.C. Center for the LGBT Community and the Capital Pride Alliance hosted a ceremonial "groundbreaking" on Wednesday to showcase the yet unfinished 6,671-square-foot space on the first floor of a five-story building in the city's Shaw neighborhood where the center plans to move later this year.
Nearly 100 local LGBTQ activists and community supporters turned out for the event, and were given a tour of the sprawling space located in The Adora, a partially renovated warehouse building at 1827 Wiltberger St., N.W. The building is located steps away from the Howard Theatre and a little over a block from the Shaw-Howard University Metro station.
The D.C. Center and Capital Pride Alliance, which organizes D.C.'s annual LGBTQ Pride events, announced last December that they had signed a joint lease to move their operations into The Adora, with several other local LGBTQ organizations agreeing to occupy space in the building.
The new space is more than double the 2,400-square-foot offices the D.C. Center and Capital Pride currently occupy in the city's Reeves Center municipal building at 2000 14th St., N.W.
"Thank you so much for joining us this afternoon as we mark this momentous occasion on our ceremonial groundbreaking," said Andrew Zapfel, president of the D.C. Center's Board of Directors. "As you know, groundbreaking ceremonies take place at the beginning of a project. And in this case the beginning of a new community center."
Added Zapfel, "And talking about service delivery and giving back to our community, we are pleased to announce today that Wegmans, a longtime supporter of the D.C. Center, will fund the completion of our food pantry. Not only that, they are also going to be providing in-kind sustainable support."
He was referring to Wegmans Food Markets, Inc., the national supermarket chain that center officials say will provide, among other things, food for the food pantry.
Others who spoke at the ceremony were Kimberley Bush, executive director of the D.C. Center; Rehana Mohammed, vice chair of the D.C. Center's board; Ryan Bos, executive director of Capital Pride Alliance; Ashley Smith, president of the Capital Pride board; and Japer Bowles, director of the D.C. Mayor's Office of LGBTQ Affairs.
Each of the D.C. Center and Capital Pride officials attending the event, including Bush and Smith, thanked D.C. Mayor Muriel Bowser and Bowles for what they said was their effort to help provide city funds to support the new D.C. Center space. D.C. Center officials announced in December that the mayor's office provided the Center with a $1 million city grant to help cover some of the costs for the build out renovation project for the new D.C. Center space.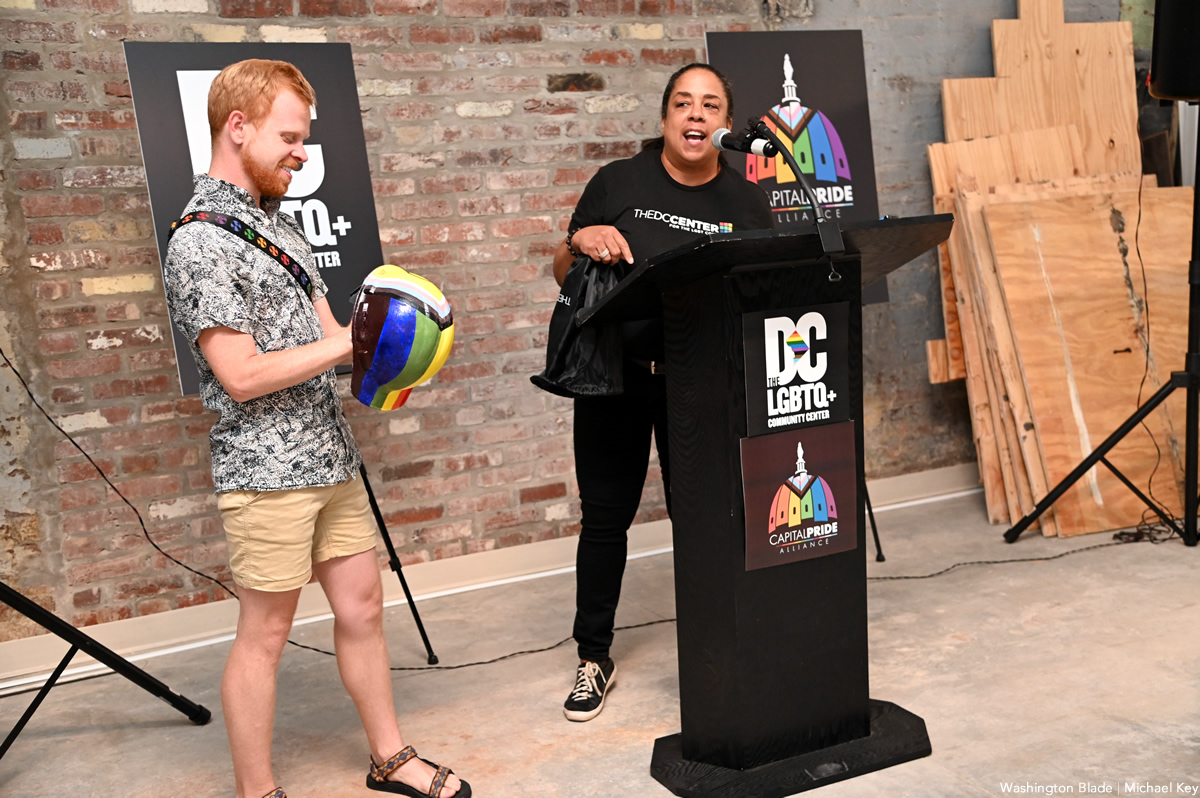 "And speaking of build out, thank you very much to the entire architectural team for helping us design this space that will help us with all of our needs to help our community," Bush told the gathering. "When community members come to this new space, they will see a broader range of life and human services offered and an enhanced experience will aid in increasing their health and wellness," Bush said.
"The new D.C. Center will be a state-of-the-art space for the community to gather, connect, collaborate as well as seek and receive an array of services in furtherance of liberation," an information sheet released at the ceremony says. Among other amenities, the information sheet says, the new center will include meeting and conference room space, cyber computer space, a food pantry, Americans With Disabilities Act accommodating shower and bathroom, and a clothing closet and lockers.
Center officials have said the expanded accommodations are aimed at assisting LGBTQ people who may be homeless or in need of mental health support. A second information sheet released at the ceremony says therapists, counselors, and case managers will be available at the new center along with HIV and STD testing and counseling services.
"On behalf of the Capital Pride Alliance, I want to say how excited we are to have been able to join the D.C. Center to support this opportunity and come together in a new and larger space with fuller community organizations and leaders," Bos said at the ceremony.
"We have shared office space with the D.C. Center for over 12 years," said D.C. Center president Smith. "And our thrill is creating this bigger space and to allow other organizations into this space to be partners, advocates, activists, and service providers," Smith said.
Among the other LGBTQ organizations that have so far signed on to lease space in the new center include Rainbow Families, the Wanda Alston Foundation, Team DC, SMYAL, the Equality Chamber of Commerce, Mary's House for older LGBTQ adults, and the LGBTQ supportive consulting firm GIII Associates.
At the time plans for the new D.C. Center were announced in December, D.C. Center officials said they expected the renovation and build out project to be completed in time for the new center to open in July or August of this year.
But center officials said this week that the renovation work, which has yet to take place, was expected to begin in July. Mohammed told the Washington Blade at the Wednesday ceremony that an increase in expenses for the build out construction has created a shortfall in funds that the center hopes to remedy through additional support from the mayor's office and private sector supporters.
"We have some fantastic partners who have already signed on to support the project," she said. "But we absolutely need more funding to complete it this year as planned," she said, adding, "supplies have gotten more expensive due to supply chain issues and inflation, and we simply need more funds to close out this project."
Asked when the new center will hold its grand opening, Mohammed said, "We don't have a date for the grand opening ceremony yet. But we're anticipating we'll open our doors this year for the community. So, we're very excited about that."
Added Mohamed, "It really depends on how the construction progresses. We're now waiting to get the go-ahead on our permit and start construction in the next few weeks."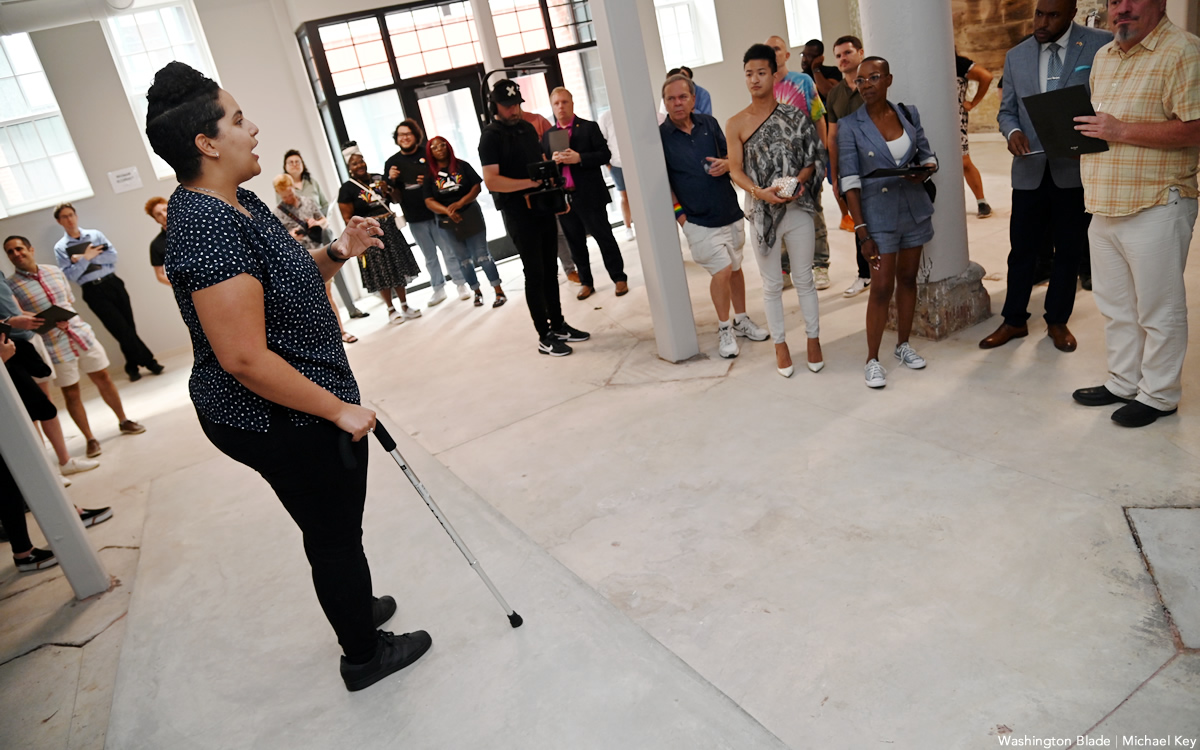 Anacostia group honors LGBTQ advocate Pannell for 30 years of service
Oct. 5 celebration set for Ward 8 Sycamore & Oak retail village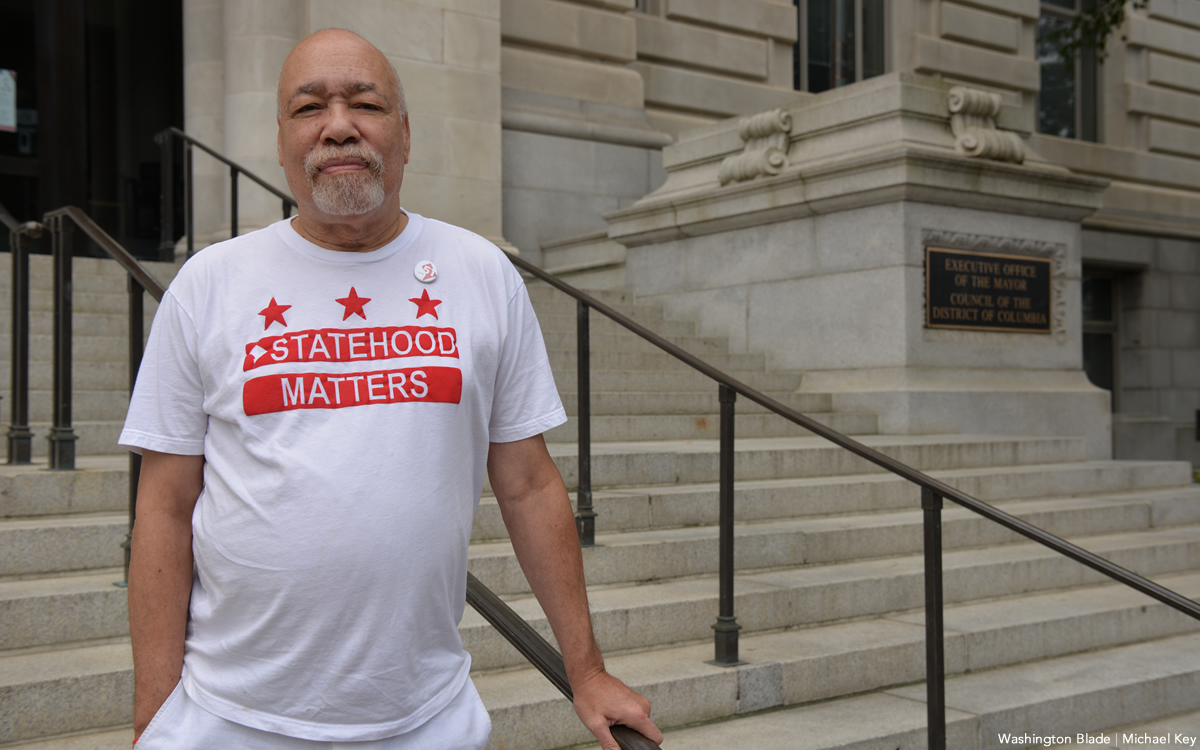 The Anacostia Coordinating Council (ACC), an advocacy organization for D.C.'s Anacostia neighborhood and surrounding areas east of the Anacostia River, is holding a celebration honoring LGBTQ rights and Anacostia community activist Phillip Pannell for his 30 years of service with the ACC.
The event was scheduled to take place from 6-8 p.m. on Thursday, Oct. 5, at the recently opened Sycamore & Oak retail village mall on the St. Elizabeth's East Campus in Southeast D.C.
Pannell, 73, serves as the ACC executive director, a position he has held since 1995. He has been a member of the Anacostia-based nonprofit organization's staff since 1993.
A longtime advocate for LGBTQ rights, Pannell has been credited with persuading many of D.C.'s LGBTQ organizations to reach out to LGBTQ residents who live in Wards 7 and 8 east of the Anacostia River.
He has also been credited with persuading African-American organizations, including organizers of the annual Martin Luther King Jr. memorial celebrations, to include and welcome LGBTQ people to their events.
"Join us for an evening of food, fun, and surprises," an announcement of the event released by the ACC says.
ACC spokesperson Lamont Mitchell told the Washington Blade several community leaders and public officials who have known Pannell during his many years of D.C. community involvement were expected to speak at the Oct. 5 celebration. Among the expected speakers, Mitchell said, was former D.C. Mayor Sharon Pratt.
According to the announcement, the event is free and open to the public, but organizers requested that people register in advance at tinyurl.com/Pannell35.
The ACC event honoring Pannell was to take place about a month after the D.C. newspaper Washington Informer published a detailed article profiling Pannell's career as a community activist and advocate for several important local causes and issues, including D.C. statehood.
"D.C. statehood is not just a political issue, it is also a civil and human rights issue because if D.C. were a state, we would be a state with the highest percentage of African Americans, basically a majority, minority state," the Informer quoted Pannell as saying. "That's one of the reasons a lot of right-wing Republicans don't want to see D.C. become a state because we are going to elect progressive, Black Democratic senators," Pannell told the Informer.
A statement on the ACC's website says Pannell has received more than 100 awards during his nearly four decades of work in D.C., including the 2011 U.S. President's Call to Service Award and the 2012 D.C. Federation of Civic Associations award for Outstanding President of a Member Association.
Pepco, Exelon announce $2.7 million in funding for four minority-owned businesses
'It's good business sense to bring more people to the table'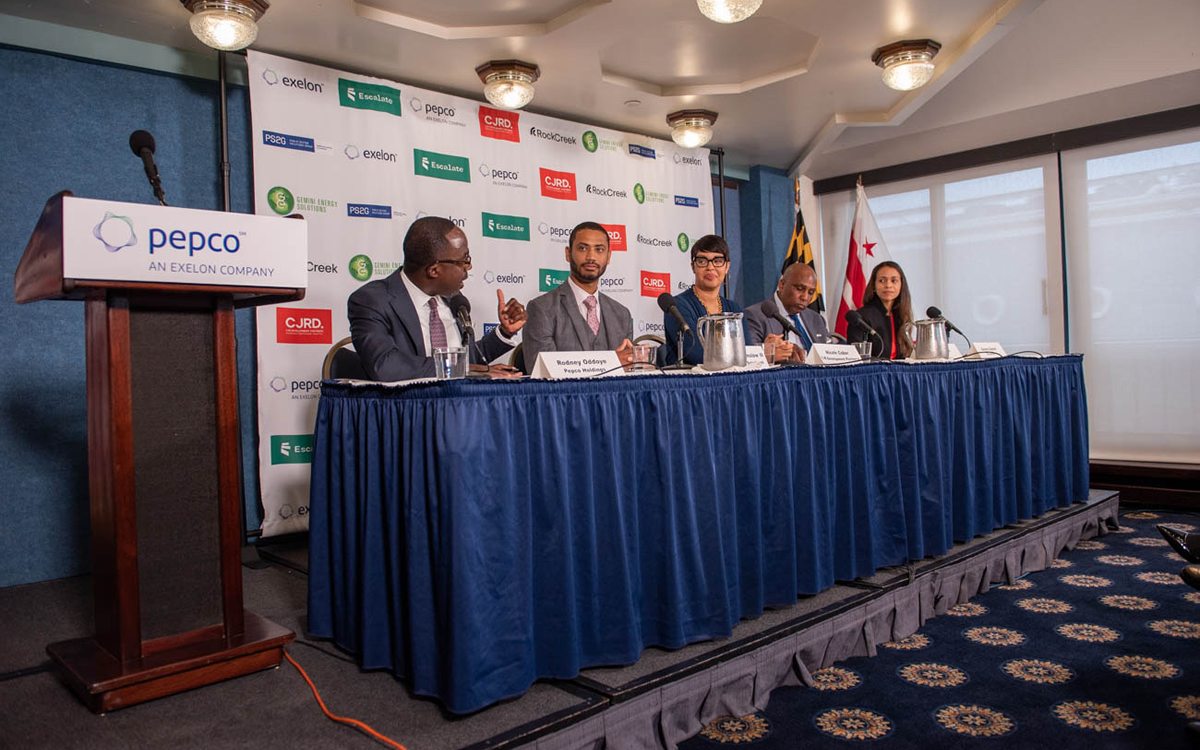 Pepco and Exelon announced a $2.7 million investment in four minority-owned businesses on Friday.
"Today's been a long time coming," said Pepco Vice President of Governmental and External Affairs Valencia McClure.
Pepco's parent company, Exelon, launched the Racial Equity Capital Fund (RECF) in 2022 to expand capital access to diverse businesses. This latest $2.7 million investment is just a portion of RECF's $36 million in funding.
At the announcement, D.C. Mayor Muriel E. Bowser spoke about the other ways Pepco and Exelon have "put their money where their mouth is" through their partnership with the D.C. Infrastructure Academy. She reported that all 22 of the residents that graduated from the program last week have a job offer from Pepco.
"We know that is not just a job, but a career," she said to the crowd's applause. "We know that working together, we can invest in D.C. residents, provide opportunity, and ensure that our D.C. businesses are a part of D.C.'s growing prosperity."
The four minority businesses that received funding were Gemini Energy Solutions, Public Sector Solutions Group, CJR Development Partners, and Escalate.
"It's good business sense to bring more people to the table," said fund recipient Nicole Cober, CJR Development's Principle Managing Partner.
Gemini Energy Solutions, which is Black owned, received $1 million, the most of the four companies. Its mission is to equitably scale energy efficiency to marginalized communities. For the founder and CEO Anthony Kinslow II, this investment means that he is able to get paid and advance the work of his organization.
"We are now able to accelerate the work in our software and technology development," he said. "What we were going to do in two years, we are now going to do in six months."
For Escalate, a workforce development platform focused on frontline worker retention, the funding means that it will be able to double the pay for frontline workers.
Public Sector Solutions Group CEO Darryl Wiggins emphasized that this investment was not just 'charity' work, but mission-driven work.
"The principle and the intent is greater than the money we receive," he said. Public Sector Solutions is Black owned.
Public Sector Solutions Group received a $600,000 debt investment; CJR Development, a minority and woman-owned small business, received a $600,000 debt investment; and Escalate, a majority Black and woman-owned company, received a $500,000 equity investment.
Exelon launched the RECF in partnership with RockCreek, one of the world's largest diverse-owned global investment firms, in 2022. The RECF expands capital access to diverse businesses so they can create more jobs, grow their companies and reinvest in their neighborhoods and communities, according to a statement from Exelon.
New RECF applications are accepted on a rolling basis. Interested businesses may apply online or contact RockCreek at [email protected] for more information.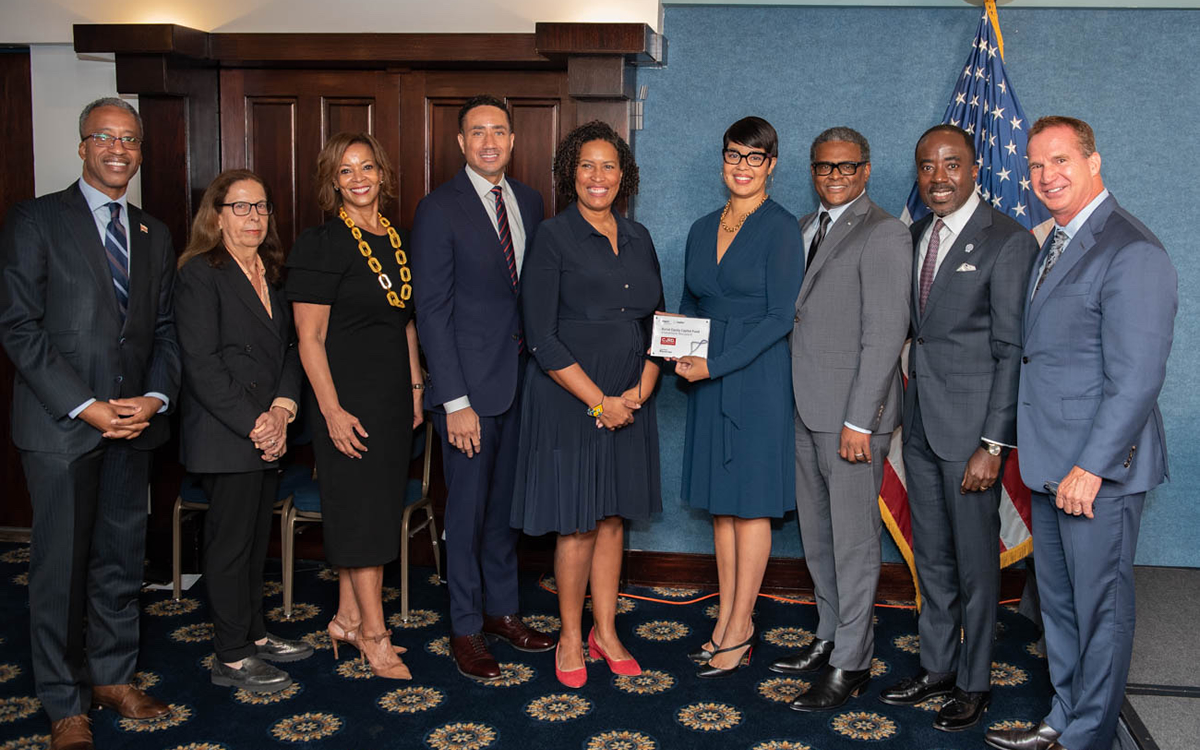 AIDS Healthcare Foundation celebrates opening of new D.C. healthcare center
Ribbon-cutting marks launch of state-of-the-art facility on Capitol Hill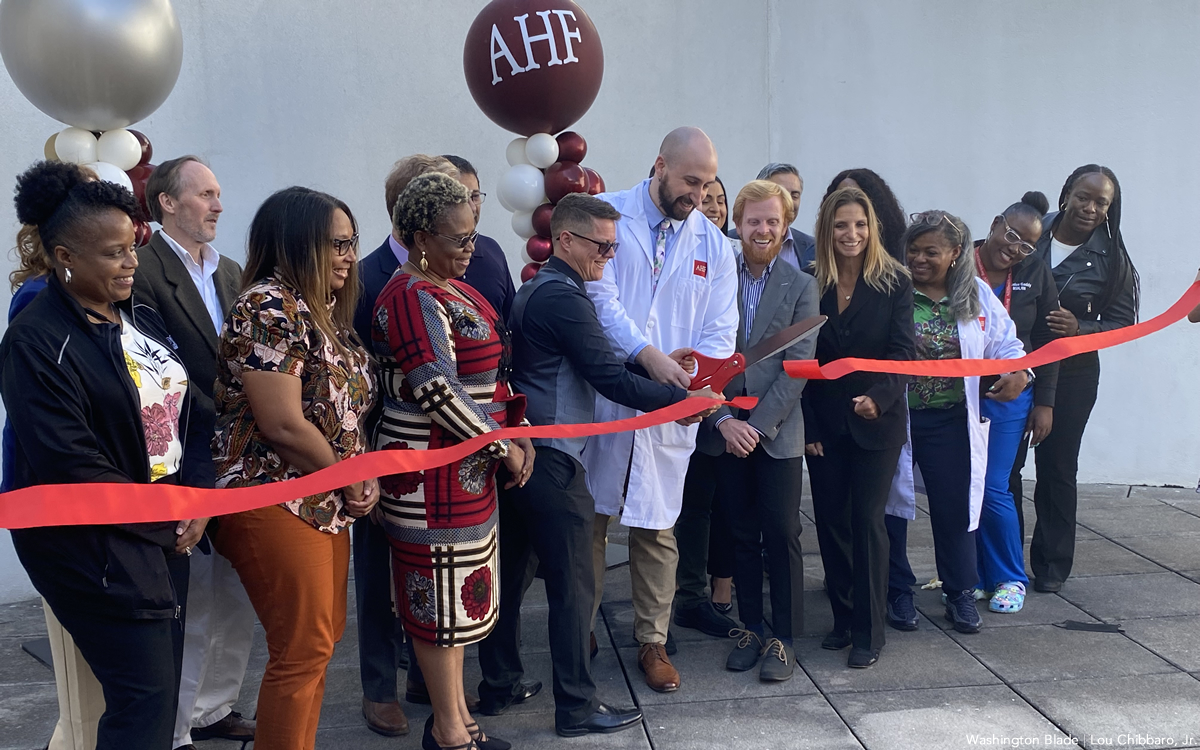 The AIDS Healthcare Foundation, the world's largest HIV/AIDS healthcare organization with its headquarters in Los Angeles, held a ribbon-cutting ceremony on Sept. 27 to mark the official opening of its Capitol Hill Healthcare Center.
The new center, which AHF describes as a state-of-the-art facility for the holistic care and treatment of people with HIV as well as a site for HIV prevention and primary care services, is located at 650 Pennsylvania Ave., S.E. a half block away from the Eastern Market Metro station.
A statement released by AHF says the Capitol Hill Healthcare Center will continue AHF's ongoing delivery of "cutting-edge medical care and services to patients regardless of insurance status or ability to pay." The statement adds, "The site also features a full-service AHF Pharmacy and will host Wellness Center services on Saturdays to offer STI testing and treatment."
The statement was referring to the testing and treatment for sexually transmitted infections. The D.C. Department of Health has said the highest number of STIs in the city have been reported for men who have sex with men.
Mike McVicker, AHF's Regional Director for its D.C., Maryland, and Virginia facilities, said the Capitol Hill center began taking patients in October of 2021 as AHF transferred its operations from its facility on Benning Road, N.E. about two miles from the Capitol Hill site. McVicker said the Benning Road site has now been closed.
AHF's second D.C. medical center is located downtown at 2141 K St., N.W. AHF operates three other extended D.C.-area health care centers in Falls Church, Va., Temple Hills, Md. and Baltimore.
"Our Capitol Hill Healthcare Center has no waiting room, so patients immediately are escorted to treatment rooms and serviced from a centrally located provider workstation," McVicker said. "The goal is to maximize efficiency using this patient-centered model to improve health outcomes and increase retention in care."
McVicker told the Blade the AHF Capitol Hill center is currently serving 585 patients and has a staff of 10, including Dr. Conor Grey, who serves as medical director. He said a separate team of five staffers operates the Saturday walk-in center that provides STI services as well as services related to the HIV prevention medication known as PrEP.
"I'm very excited to be a part of this team," Dr. Grey said at the ribbon-cutting ceremony, which was held in a courtyard outside the Capitol Hill office building where the AHF center is located. About 50 people, including D.C. government officials, attended the event.
"This is a beautiful thing to celebrate," Grey said. "So, I'm very happy to enjoy the day with all of you, and looking forward to a bright, productive future working together and fighting a common enemy that has unfortunately been with us."
Others who spoke at the event included Tom Myers, AHF's Chief of Public Affairs and General Counsel; Toni Flemming, Supervisory Public Health Analyst and Field Operations Manager for the D.C. Department of Health's HIV/AIDS, Hepatitis, STD, and Tuberculosis Administration (HAHSTA), and Dr. Christie Olejeme, Public Health Analyst for HAHSTA's Care and Treatment Division.
Also speaking at the event was Japer Bowles, director of D.C. Mayor Muriel Bowser's Office of LGBTQ Affairs.
Bowles called the AHF Capitol Hill center "another pivotal resource" for the LGBTQ community as well as for the city.
"We know, as has been previously stated, a low-barrier HIV prevention support is pivotal to the mayor's mission of eliminating HIV infections in the District of Columbia and the region," Bowles told the gathering.
"So, I'm very excited to see more services specifically provided to those in the Southeast and Northeast quadrants of our District," he said, referring to the AHF Capitol Hill center. "This is a great moment for our community, but also for D.C. as a whole."
In its statement released this week announcing the official opening of the Capitol Hill Center AHF notes that currently, 11,904 D.C. residents, or 1.8 percent of the population, are living with HIV. It points out that HIV disproportionately impacts Black residents, who make up about 44 percent of the population but comprise nearly three-quarters of the city's HIV cases.
AHF official Myers said the Capitol Hill center will join its other D.C.-area facilities in addressing the issue of racial disparities related to HIV.
"Our treatment model helps eliminate barriers for those already in care, those who may not know their HIV status, and those living with HIV who may not currently be in care," he said.
AHF says in its statement that it currently operates more than 900 healthcare centers around the world in 45 countries including 17 U.S. states. It has more than 1.7 million people in care, according to the statement. Founded in 1987, the organization has also taken on the role of public advocacy for federal and local government programs in the U.S. to address the HIV/AIDS epidemic, including efforts to lower the costs of HIV drugs.
During its work in the late 1980s and early 1990s AHF emerged as a strong advocate for addressing the special needs of gay and bisexual men who were hit hardest by HIV/AIDS at the start of the epidemic.