Former firefighter arrested in connection with Rio councilwoman's murder
Marielle Franco was a bisexual woman of African descent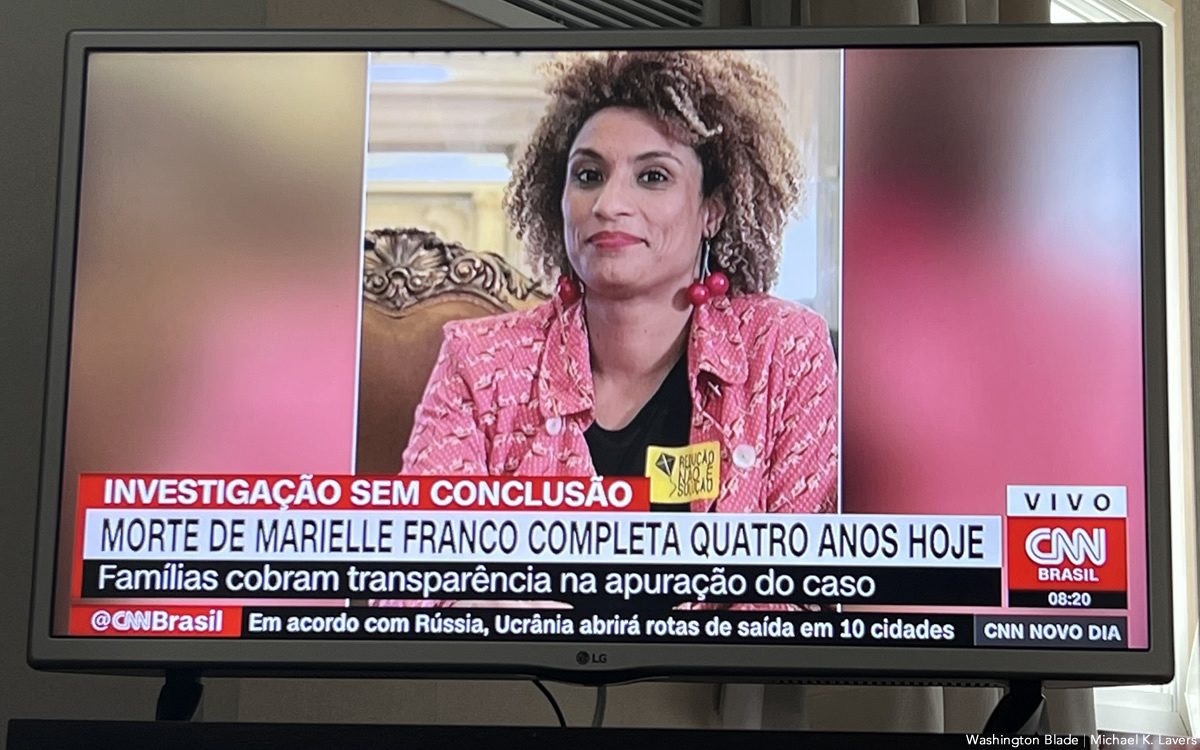 Brazilian police on Monday arrested a third person in connection with the 2018 murder Rio de Janeiro Municipal Councilwoman Marielle Franco and her driver.
Reuters reported officers arrested Maxwell Simões Correia, a former firefighter who allegedly hid the guns that two former police officers used to shoot Franco and Anderson Gomes in Rio's Lapa neighborhood on March 14, 2018.
Franco, a bisexual woman and single mother of African descent, grew up in Maré, a favela in the northern part of Rio that is close to the city's international airport. Franco, among other things, was an outspoken critic of police raids in Rio's favelas that have left hundreds of people dead.
Authorities in 2019 arrested two former police officers in connection with Franco's murder.
Reuters reported one of them, Elcio de Queiroz, who prosecutors say drove the car that he and Ronnie Lessa, his alleged co-conspirator, used in the shooting, has entered into a plea agreement.
Lessa lived in the same large condominium complex in Rio's exclusive Barra da Tijuca neighborhood in which former President Jair Bolsonaro lives.
Bolsonaro, a former Brazilian Army captain who represented Rio in Congress for decades before he became president, had yet to be elected when Franco and Gomes were murdered.
Bolsonaro has strongly denied media reports that indicate Lessa visited his home before the killings. Franco's widow, Rio Municipal Councilwoman Mônica Benício, during a March 2022 interview with the Washington Blade described the fact that Lessa and Bolsonaro were neighbors as "just a coincidence."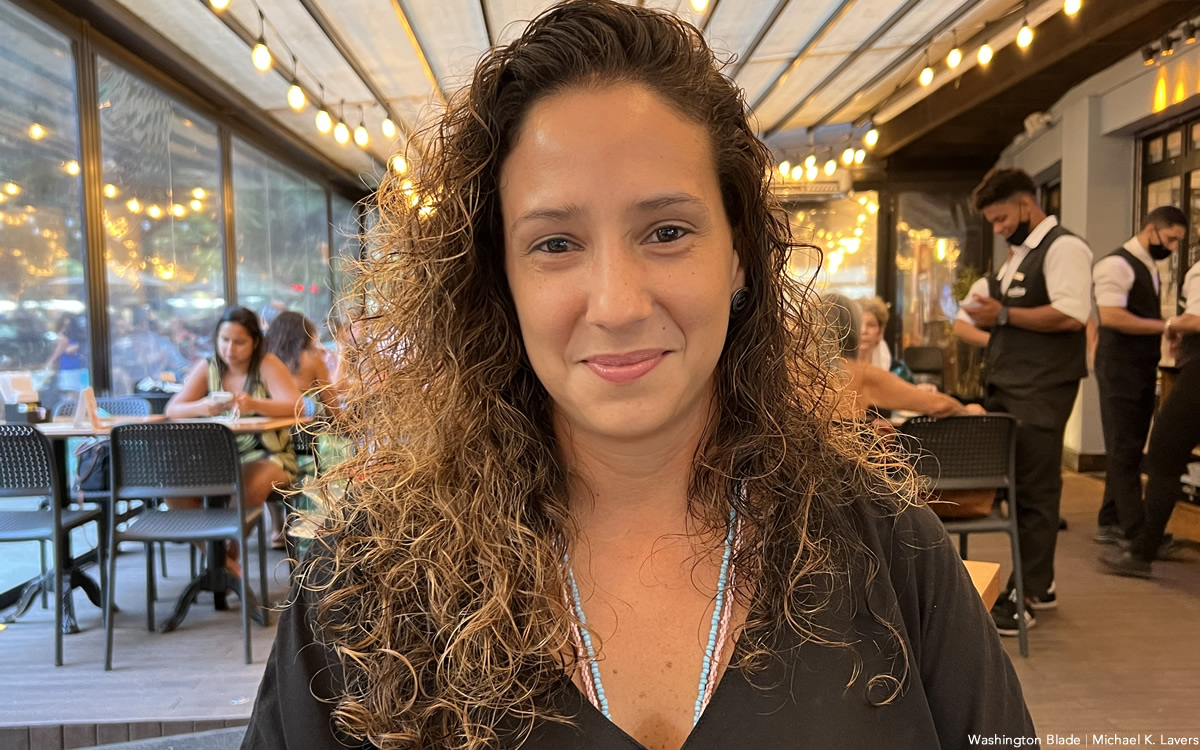 Lessa and Queiroz remain in custody.
Justice Minister Flávio Dino on Monday said during a press conference in Brasília, the Brazilian capital, that Queiroz has provided investigators with information they can use to help identify others who plotted to assassinate Franco and Gomes.
"We are close to solving this horrendous crime," said Dino.
Benício on Monday praised Dino and President Luiz Inácio Lula da Silva for their continued efforts to investigate Franco's murder.
"I would like to thank Minister Flavio Dino and President Lula for their efforts to seek a solution to this crime that has shaken our state's structures," tweeted Benício. "Who had Marielle killed? I have faith and conviction that we will have that answer."
Agradeço ao empenho do ministro @FlavioDino e do presidente @LulaOficial em buscar uma solução para esse crime que abalou as estruturas do nosso Estado. Quem mandou matar Marielle? Tenho fé e convicção de que teremos essa resposta.

— Monica Benicio 🏳️‍🌈 (@monica_benicio) July 24, 2023
Benício on Monday sent the Washington Blade this statement.
"The Federal Police and Public Prosecutor's Office operation renews our hopes in having an answer about who are the principals and their motivations for the murder of Marielle and Anderson.
The role of the FP in investigations, in collaboration with the MPRJ (The State of Rio de Janeiro's Public Ministry), has been fundamental, But our struggle as family members and civil society, which formed a large task force over these five years, is what has made this case stand out.
Maxwell's arrest, today, is an important step towards the accountability of others directly involved in the execution of the crime, but I hope that the PF and the Public Prosecutor's Office continue in this mutual cooperation action to take Ronnie Lessa and Elcio Queiroz to trial later this year. The pact of silence between these killers has been broken, it is necessary to act with agility and prudence to reach the principals and their motivations. Answering who ordered Marielle's death and why is essential for us to restore democracy in our country. I am hopeful that moment is approaching."
Far-right takes control of Chile's constitutional council
Activists fear LGBTQ, intersex rights could be at risk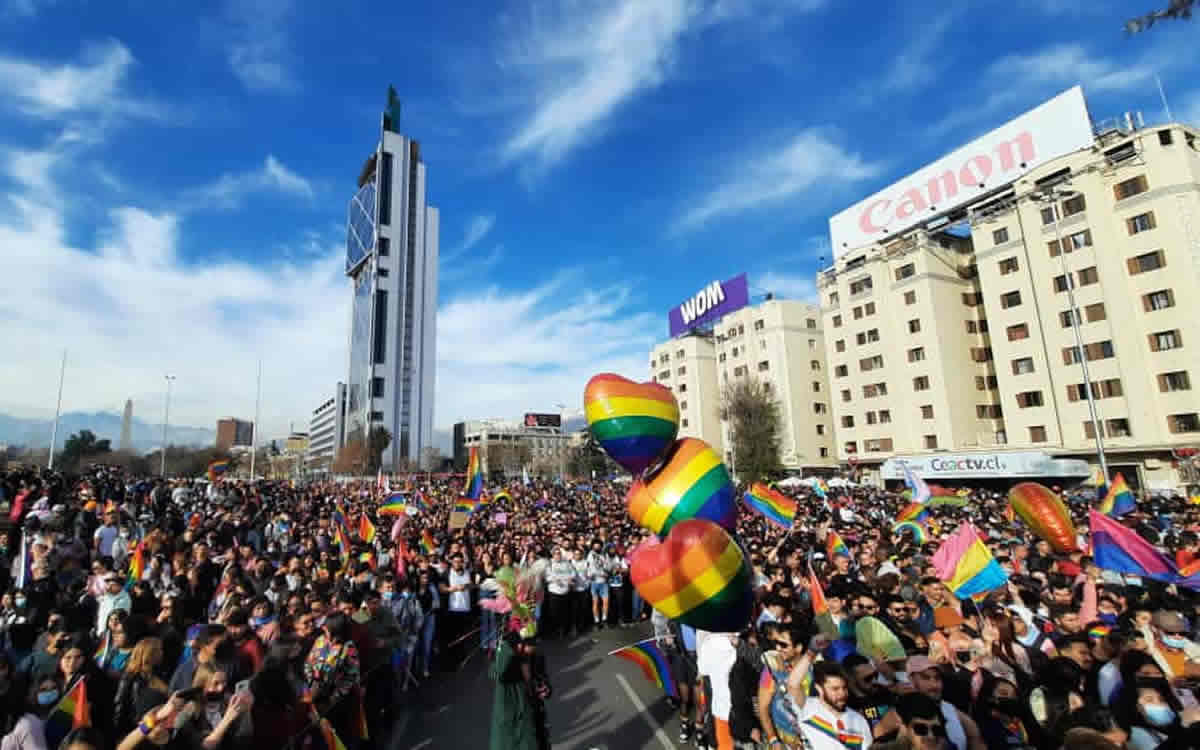 In a twist that raises concerns about LGBTQ and intersex rights in Chile, the body charged with writing the country's new constitution is now under the control of a far-right political coalition that former presidential candidate José Antonio Kast leads.
Compared to the progressive approach that had characterized the previous Constitutional Convention, the change in the composition and the Republican Party's control of the constitutional council raises serious concerns.
The former council demonstrated a willingness to address equality and nondiscrimination, including the rights of LGBTQ and intersex people. With the Republican Party in control, however, there have been warnings of potential pushback on hate speech and constitutional protections for queer people.
"The current constitutional process is the last effort to replace the current constitution, which, with all the modifications it has undergone, is still the one built during the dictatorship and reformed with the rules established by the dictatorship," Gaspar Domínguez, an openly gay man who was the vice president of the previous Constitutional Convention, told the Washington Blade.
Chile's LGBTQ and intersex community for years has been fighting for recognition and equal right, and it is increasingly fearful the Republican Party could thwart these efforts. Marriage equality, nondiscrimination and recognition of gender identity could be at risk.
Chileans in December will have to return to the polls to approve or reject the constitutional council's proposal. If rejected, the current constitution that dates back to Gen. Augusto Pinochet's dictatorship and caused widespread social upheaval in 2019 will remain in force.
Domínguez explained "the text that will be submitted to plebiscite at the end of the year will be the result of the deliberation and voting on the amendments of the constitutional council, which is composed mostly by conservative sectors of the Chilean society that opposed the decriminalization of sodomy in 1999, opposed the divorce law in 2004, that have opposed same-sex marriage bills over the last two decades and that have been linked to the most conservative sectors of the right, to the Catholic and Evangelical churches."
"Considering this political scenario, it is a real option that the proposal to be voted on at the end of the year constitutes a threat to the civilizational advances that have allowed the LGBTIQ+ community to grow in equality," he noted.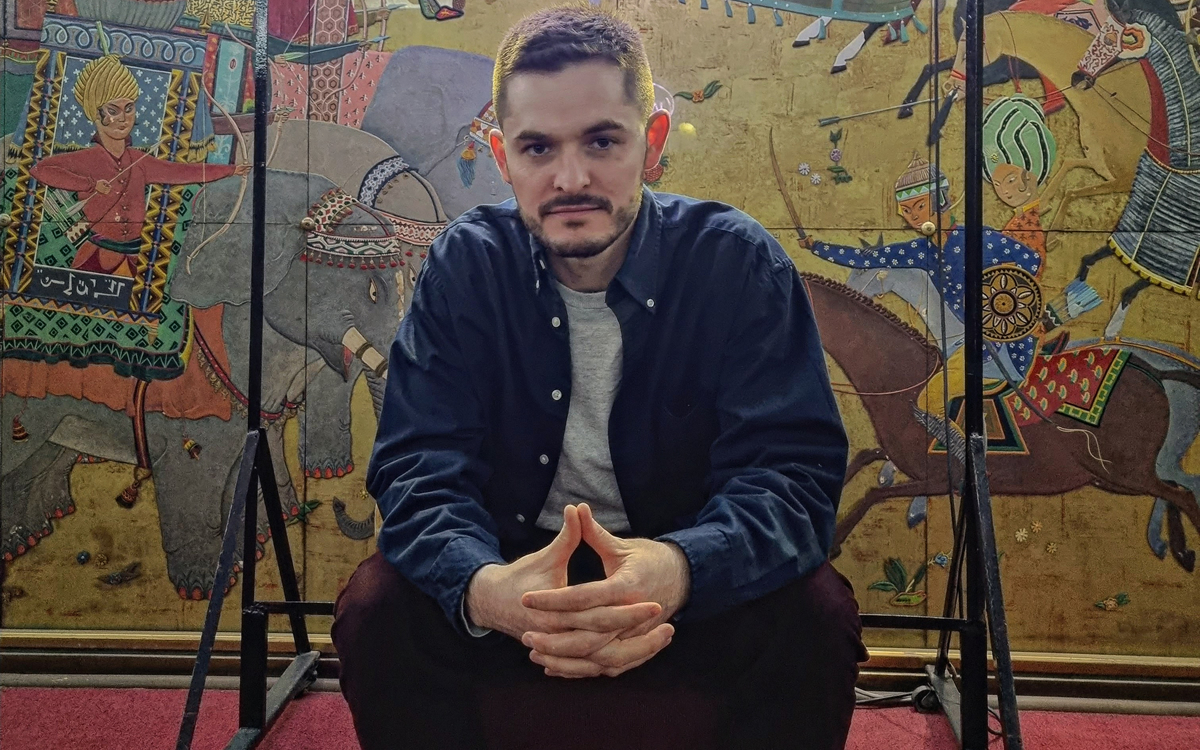 María Pardo, a constitutional lawyer with "Unity for Chile," the pro-government bloc within the council that champions queer issues, told the Blade "we are in a political context that has led us to write a shorter constitution and with a much more conservative and majority opposition than the previous period that wants to go backwards or not to advance on these issues for different reasons that they use. They consider, for example, that historically oppressed groups enjoy privileges. Faced with sectors (that have) a clear anti-women and anti-sexual diversity agenda, we have to confront them."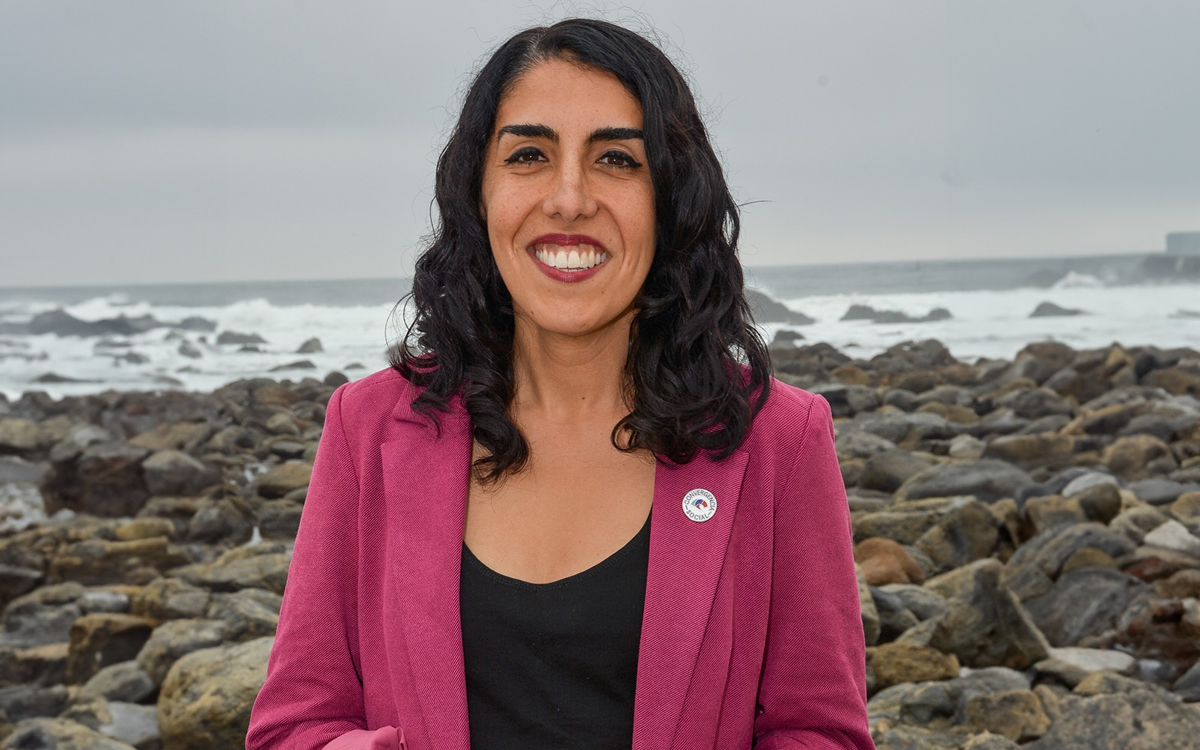 Pardo's coalition did not present amendments with explicit references to LGBTQ and intersex people because "we did not present aspects as specific as in the convention, but we did present aspects tending to nondiscrimination and recognition of historically vulnerable groups. In this sense, we consider fundamental the development of the so feared, by the right wing, Comprehensive Sexual Education (ESI), as the basis for children and adolescents to feel integrated in safe spaces of development and conversation, leaving out discriminatory stereotypes. In this sense, we insist that comprehensive sexual education is a human right and not a sole and exclusive responsibility of families."
Gloria Hutt, a constitutional advisor for Evópoli, a center-right political party that supports LGBTQ and intersex rights, indicated the nondiscrimination amendment is not at risk. 
"My impression is that it should indeed be approved in the plenary, because it is an obvious right the protection of people's rights and an element of nondiscrimination," she told the Blade. "At least, I don't have the impression that it is at risk."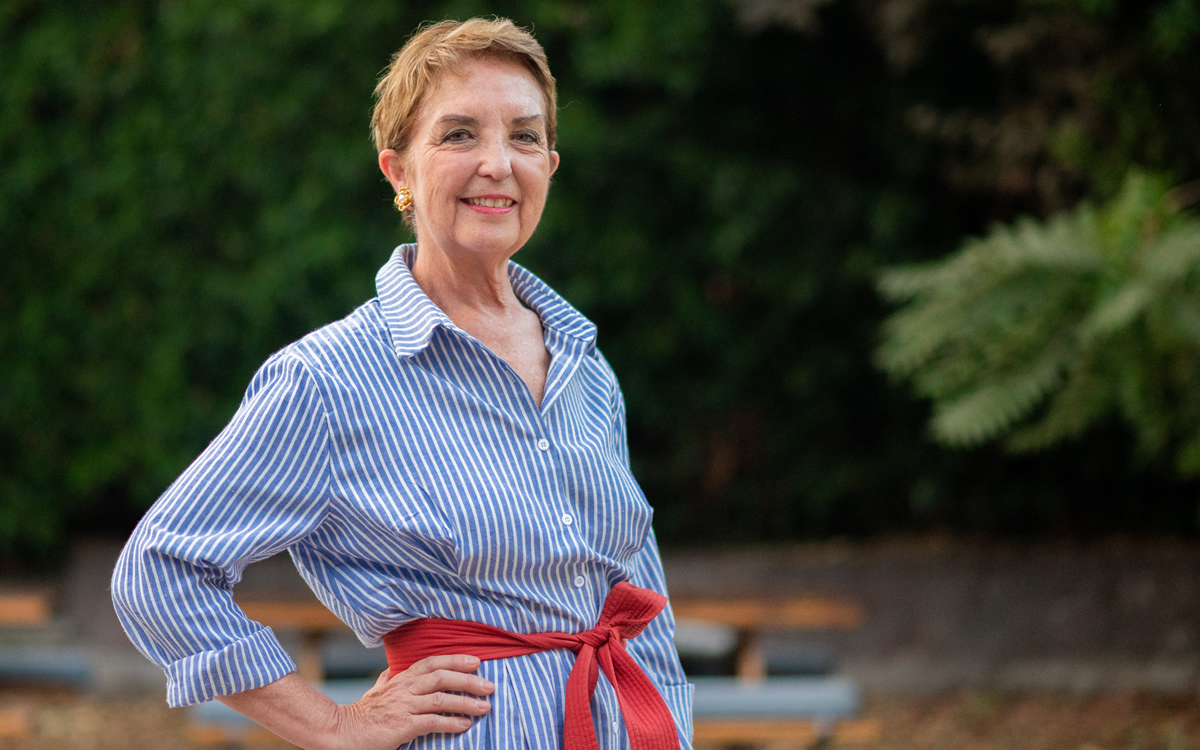 Hutt, who was a former minister in President Sebastián Piñera's government, argues the "lack of mention of specific groups" in the draft constitution "has to do mainly with the fact that the identification of elements of inclusion or nondiscrimination are very many. So, in the constitution, what is left is the general principle and not the specific mention of each one of the groups. That is why nondiscrimination is maintained as a principle, but without specifying the type of discrimination, but of course, sexual orientation."
Fundación Iguales, a Chilean LGBTQ and intersex rights organization, said they are closely watching the debate over the new constitution and how it will impact queer people.
"We are monitoring the work with concern," Mauricio Henríquez, the group's legal director, told the Blade. "Extreme conservative discourses could directly harm the rights of LGBTI+ people."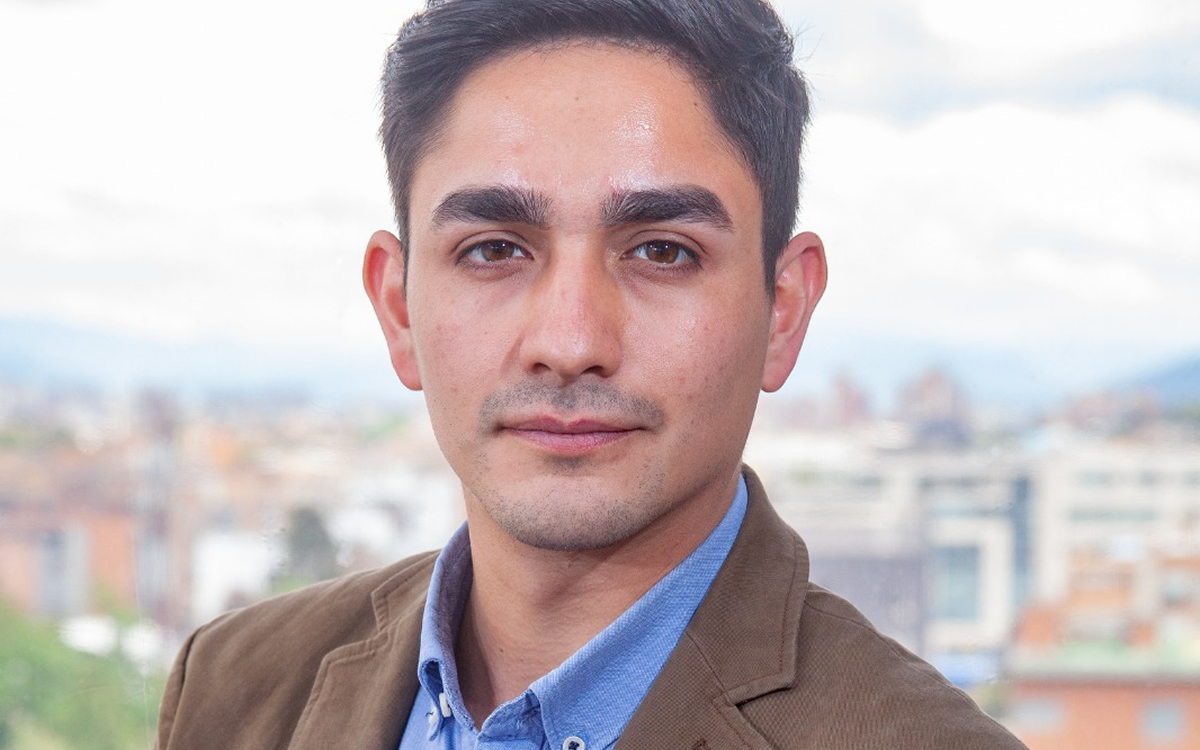 Henríquez added "historically, the conservative ultra-right has opposed the recognition and protection of the rights of sexual and gender diversity. They were against the Civil Union Agreement, equal marriage, the regulation of gender Identity, etc. So, given this background and the harsh comments expressed by some councilors regarding rights and freedoms in the last weeks, it would not be surprising that the constituent drafting would take the same course as the aforementioned rights."
Henríquez finally pointed out that "more than a setback, there is a kind of invisibilization of historically discriminated groups, including LGBTI+ people."
"Here it is important to make clear that the state of Chile and the inhabitants of this country already have a commitment to sexual and gender diversity that no political sector, no matter how conservative or extremist it may be, can deny," he said. "For this reason, the call we make from Fundación Iguales is that the constitutional advisors legislate looking at the reality of a country that day by day advances in freedom, development and protection of human rights."
Brazilian Supreme Court rules homophobia punishable by prison
Justices on Monday issued near unanimous decision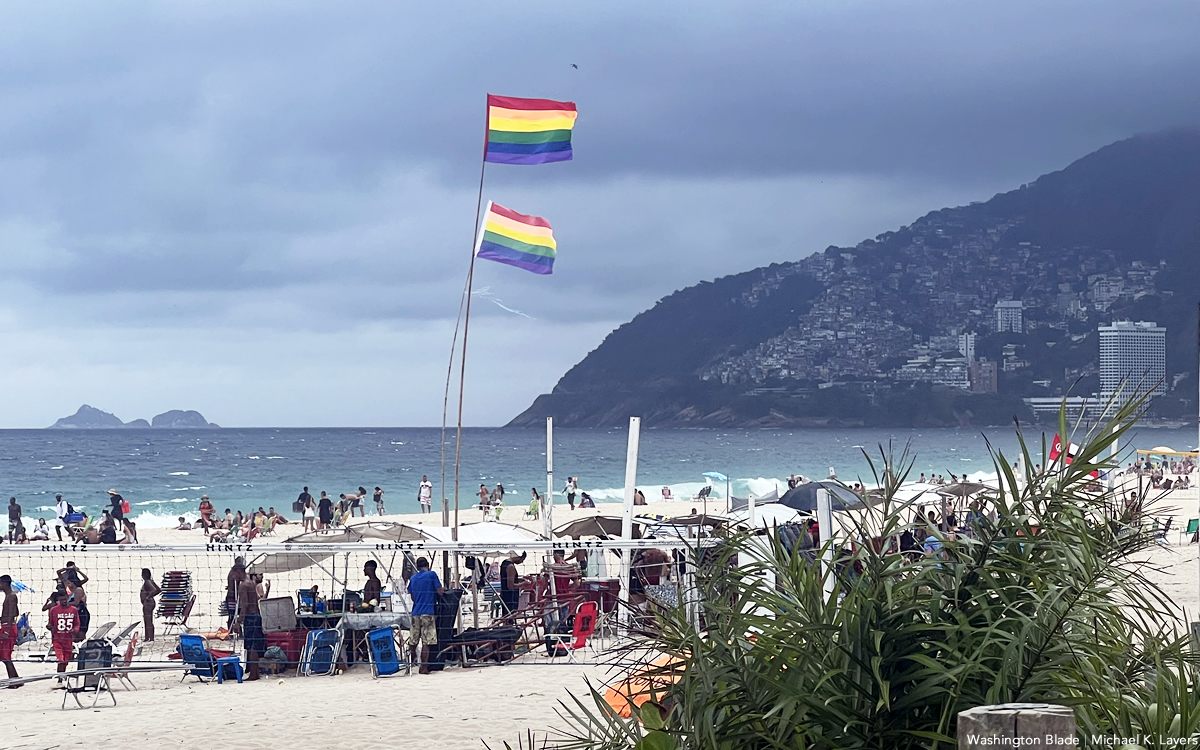 The Brazilian Supreme Federal Court this week ruled homophobia now punishable with up to five years in prison.
The justices on Monday ruled by a 9-1 margin. Their decision equates homophobia to racism in terms of prison time.
The Supreme Federal Court in 2019 criminalized homophobia and transphobia. The Brazilian Association of Gays, Lesbians, Bisexuals, Travestis, Transsexuals and Intersex People petitioned for additional protections and penalties.
"Such a decision brings legal certainty and reinforces the court's understanding with regard to the principle of equality and nondiscrimination," said the National LGBTI+ Alliance, a Brazilian LGBTQ and intersex rights group, in a statement. "It is an important step in the civilizing process and in the fight against hatred in Brazilian society."
Congresswoman Erika Hilton, who is transgender, in a tweet described the ruling as a "victory against LGBTphobia."
The Supreme Federal Court issued its ruling less than eight months after President Luiz Inácio Lula da Silva took office.
His predecessor, former President Jair Bolsonaro, faced sharp criticism over his rhetoric against LGBTQ and intersex Brazilians and other groups.
Bolsonaro, among other things, encouraged fathers to beat their sons if they come out as gay and claimed people who are vaccinated against COVID-19 are at increased risk for AIDS. The country's Federal Police last August urged prosecutors to charge Bolsonaro with incitement over his COVID-19 claim.
Argentine activists raise alarm over far-right primary victory
Javier Milei won Aug. 13 primary, LGBTQ candidates also advanced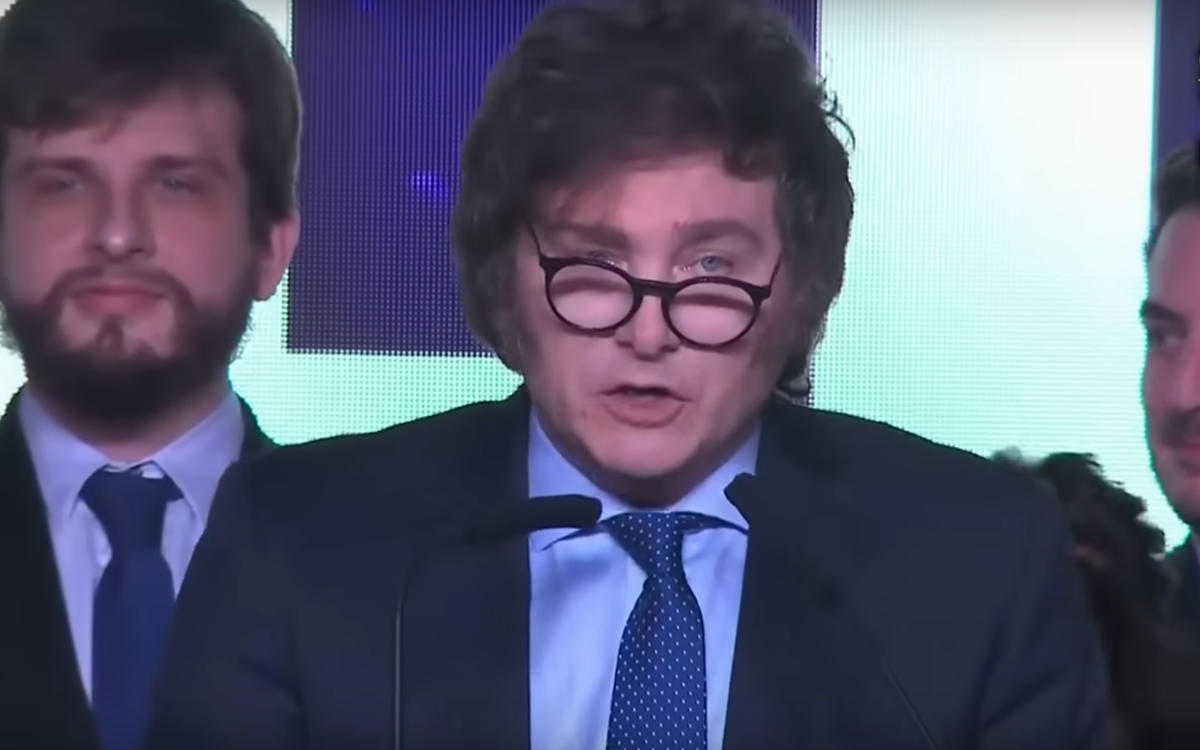 The results of Argentina's primary elections on Aug. 13 have exposed a political landscape that combines significant advances in LGBTQ and intersex rights with the worrying expansion of the far-right in that country. In an election in which only a few openly queer candidates managed to advance to the general elections on Oct. 22, the LGBTQ and intersex community is watching closely the rise of conservative tendencies that could impact their rights.
The results had an unexpected protagonist: Ultra-right wing candidate Javier Milei won the most votes.
With almost 7 million votes — about 30.1 percent of the total cast — the libertarian economist leader of La Libertad Avanza capitalized upon Argentines' discontent with leftist President Alberto Fernández's government.
Former Security Minister Patricia Bullrich, who was part of right wing President Mauricio Macri's government, and her "Together for Change" coalition finished second with 28.3 percent of the votes. Peronism, represented by Finance Minister Sergio Massa and his "Unión por la Patría" ruling coalition, obtained 27.2 percent, which is its worst result since 2011.
Milei's running mate, Congresswoman Victoria Villarruel, during the campaign spoke against marriage rights for same-sex couples, saying a union between people of the same sex was already "guaranteed with the civil union." Milei himself also spoke against sexual and gender diversity.
LGBTQ candidates
Reina Ibañez became the first transgender woman presidential candidate in Argentina's history. She won enough votes to stay in the race.
Ibañez told the Washington Blade she feels like a winner for making history in Argentina.
"It was a triumph to be the first trans candidate for president of Argentina," said Ibañez. "This marks a historical fact here in the country."
For her, "the triumph of the ultra-right here in Argentina I attribute it to the fact that more and more people are buying the discourse of the right and in this case the ultra-right won, which in this case would be Milei with his discourse of anti-politics, anti-caste and it worries that this type of characters have won in Argentina."
"We will be vigilant and attentive so that they do not take away the rights we have won," she said.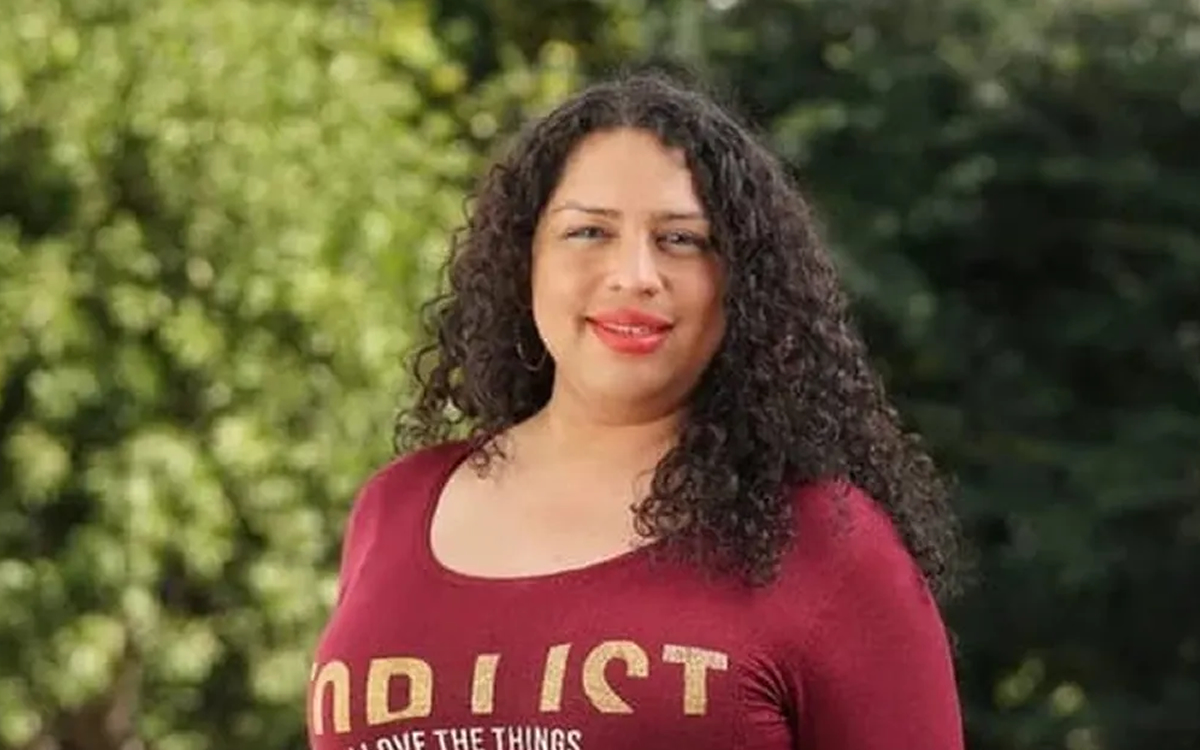 Ibañez added "it is a threat to the LGBT community because Milei said that there is no need for the ministry of gender and women in his campaign. And he is against LGBT people, so if the same result is confirmed in October, it will be a very difficult country for all sectors, not only for the LGBT community."
Esteban Paulón, a well-known activist, in a historic milestone won enough votes in his race to become a congressman to advance to the general elections.
"We obtained 62,000 votes throughout my province and we need to increase to a little more than double that to manage to fight for the seat on Oct. 22," Paulón told the Blade.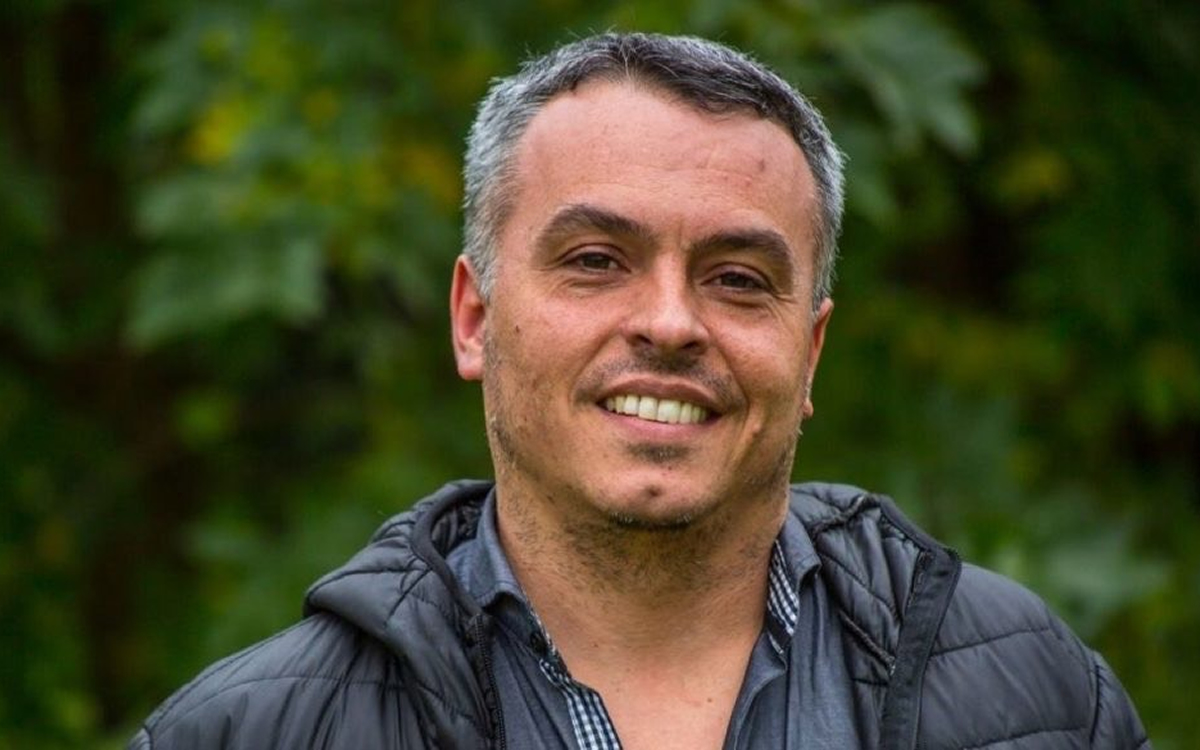 The candidate for the province of Santa Fe in northeastern Argentina explained "we are going to intensify the campaign in the big cities, the tours in the towns and communes of Santa Fe and seek the support of those who, in spite of the national panorama, want to count on a voice that will defend the rights of all in Congress."
On the other hand, Santiaga D'Ambrosio, a nonbinary candidate of the Popular Left Front, explained to the Blade that they believe "the electoral triumph of the ultra-right in Argentina is an expression, distorted, of punishment vote to the current national government of the Front of All, with a still very fresh memory of what was Mauricio Macri's government."
"We must be clear about two things: That the electorate as a whole does not fully and consciously share the program of political-economic subordination to the United States and the cut to basic rights such as health, education and work; and on the other hand, that an electoral victory is not a blank check so that it can implement the whole of its liberal program as we saw in Jujuy winning Morales with a 54 percent of the votes and then having a popular rebellion that was an example of how to face the adjustment," stressed D'Ambrosio.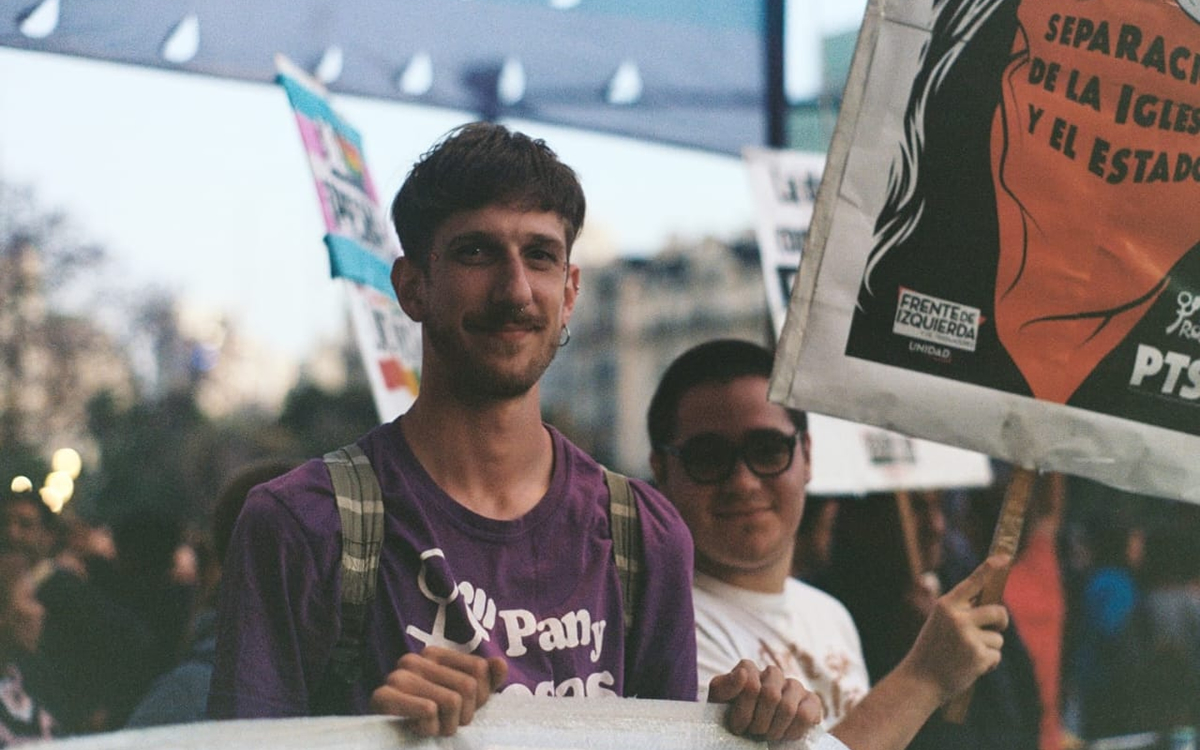 Finally, they indicated that "it must be emphasized that this is not an ideological vote, but one identified with anger towards the political caste and the great economic problems of the country, without ever talking about the role played by businessmen and that caste of which he is a part."
Far right's rise a challenge for LGBTQ rights
The primary election has highlighted the rise of far-right tendencies in Argentina, which has raised concerns within the LGBTQ and intersex community. With parties and candidates seeking to curtail LGBTQ and intersex rights and speaking out against sexual diversity, many activists fear the gains they have made in recent years could be at risk.
Among the group that supports Milei there are recognized anti-rights militants, deniers of the dictatorship and climate change, and anti-LGBT+ rights, which they have characterized as privileged," said Paulón.
The candidate added "in this sense Milei's electoral rise implies a concrete risk for queer people, both because of the possibility of regression in terms of rights, Milei's vice presidential candidate has proposed to repeal equal marriage and sanction a different civil union for queer couples. At the same time she is a militant against comprehensive sex education and the alleged gender ideology."
LGBTQ and intersex activists are in an effort to mobilize voters and raise awareness about the importance of maintaining and strengthening the gains made in equal rights and acceptance of diversity. The general election is shaping up to be an opportunity for Argentine citizens to take a clear position on the political and social direction the country will take in the coming years.
Flavia Massenzio, president of the LGBT+ Federation of Argentina, the most important queer organization in that country, told the Blade that "it is a very worrying result for the right wing in Argentina."
"The truth is that both the equal marriage law, the gender identity law, as well as many advances that Argentina had, may be at risk with the advances of these candidates if they are actually elected," lamented Massenzio.