First GOP debate sees abortion dominating other non-economic issues
LGBTQ comments largely focused on school policies and athletics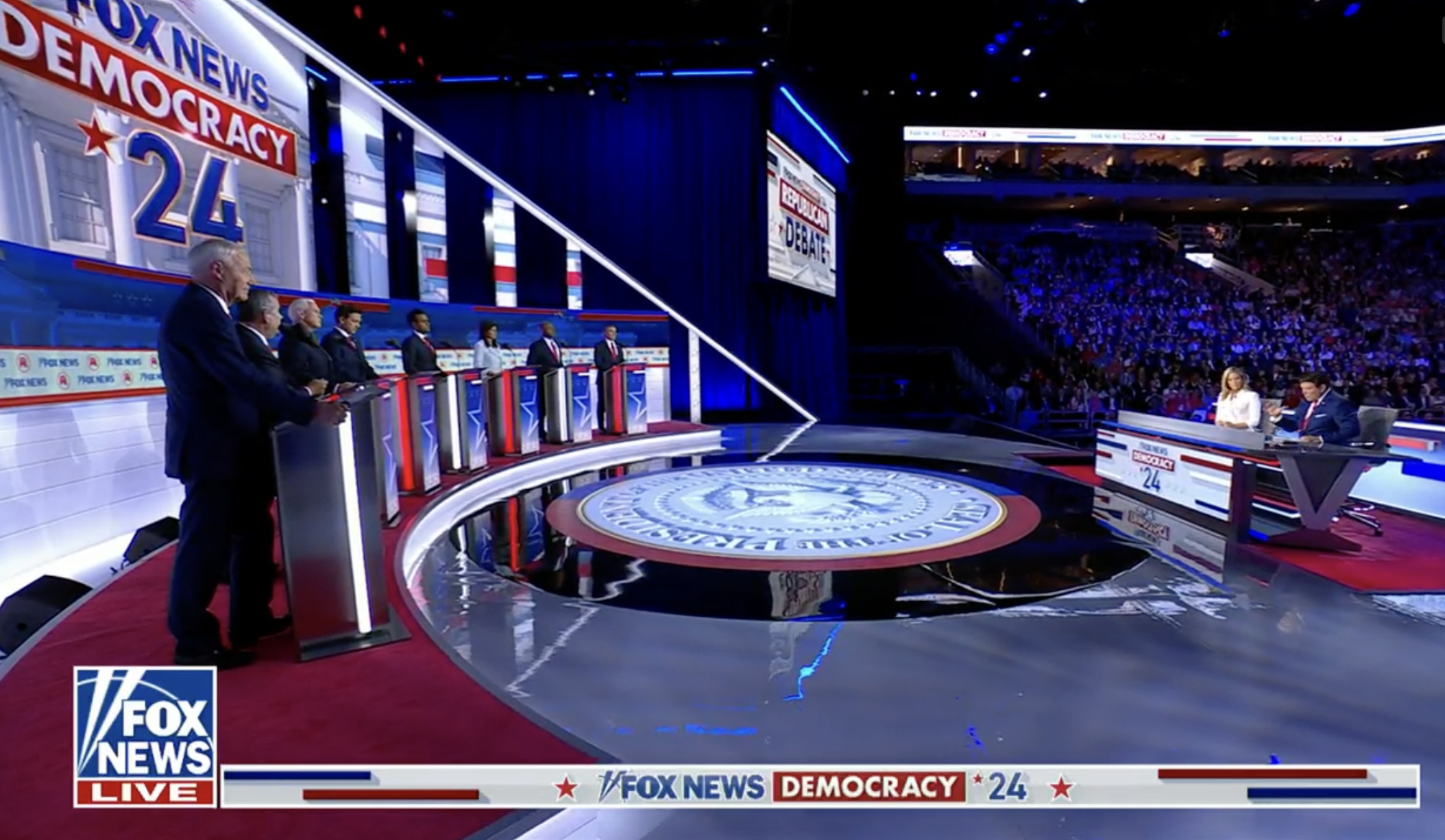 Among the non-economic issues discussed by the eight candidates who appeared on stage Wednesday night for the first Republican Party 2024 presidential primary debate, abortion loomed larger than other topics including LGBTQ rights.
The Fox News moderators asked each GOP hopeful to share their positions on a federal law governing access to the procedure, with only two – South Carolina's U.S. Senator Tim Scott and former Vice President Mike Pence – pledging to support a 15-week ban.
"We cannot let states like California, New York, and Illinois have abortions on demand up until the day of birth," said Scott, who called the 15-week limit the "minimum" restriction he would support.
The proposal is "an idea whose time has come," Pence said, adding, "We appointed three conservatives to the Supreme Court who gave Americans a new beginning for the right to life," a reference to last year's Dobbs decision overturning the constitutional protections of Roe v. Wade.
Former President Donald Trump, who appointed those justices, did not attend the debate. The latest polls show he is leading the other candidates by a wide margin, with 56 percent support among likely Republican primary voters compared to 10 percent each for the candidates tied for second place, both of whom participated in the debate: Florida Gov. Ron DeSantis and entrepreneur Vivek Ramaswamy.
Hours before the event began, the South Carolina Supreme Court allowed the legislature's six-week abortion ban to take effect. The state's former Gov. Nikki Haley, who also served as U.N. ambassador under Trump, struck a more measured tone — asserting that she is "unapologetically pro-life" but lamenting that the High Court's "unelected justices did not need to decide something this personal."
Haley accused her rivals of misrepresenting the political challenges that would come with passage of a federal ban, which would require a 60-vote majority in the Senate that she stated is not a realistic expectation.
North Dakota Gov. Doug Burgum, who had signed a six-week abortion ban, came out against proposals for a federal prohibition by the Congress.
Also sharing the stage were former New Jersey Gov. Chris Christie and former Arkansas Gov. Asa Hutchinson. The debate was moderated by Fox News hosts Bret Baier and Martha MacCallum.
Candidates who discussed LGBTQ matters focused on education policies
"In Florida, we eliminated critical race theory from our K-12 schools, we eliminated gender ideology from our K-12 schools," DeSantis said. "We need education in this country, not indoctrination in this country."
Haley again reiterated her opposition to allowing transgender girls to compete on girls' sports teams, proclaiming that "biological boys don't belong in locker rooms of any of our girls," an issue that Fox host MacCallum noted, Haley had once called "the women's issue of our time."
"In North Dakota, we've made a priority of protecting women's sports, and we've done that in our state," Burgum said, referencing the anti-trans sports ban he signed in April. At the same time, he hedged that "the idea that every school district and state and every teacher is somehow indoctrinating people is just false."
In his closing statements, Ramaswamy said "there are two genders," along with other proclamations like "God is real," "reverse racism is racism," and "The nuclear family is the greatest form of governance known to man."
Other references to LGBTQ issues were more ambiguous.
Haley, for instance, said "There's a lot of crazy woke things happening in these schools," arguing "We need transparency in the classroom because parents should never have to wonder what's being said or taught to their children in the classroom."
"If God made you a man, you play sports against men," Scott said in his closing statement, a possible reference to policies allowing transgender student athletes to compete on teams consistent with their gender identities.
Responding to a question about the 91 felony counts against Trump, Scott addressed what he called "the weaponization of the Department of Justice against political opponents, but also against parents who show up at school board meetings," adding, "They're called, under this DOJ, 'domestic terrorists.'"
Other elected Republicans including DeSantis have made similar claims over the past few years, beginning with the discovery of a one-page memo issued by Attorney General Merrick Garland in 2021, which concerned coordination with local law enforcement after widespread reports of threats by parents against school board members, administrators and teachers over COVID-19 policies.
DeSantis spokeswoman Christina Pushaw spoke out against the arrest of a parent for protesting "a Loudoun school's coverup of his 14-year-old daughter's sexual assault by a transgender classmate in her school bathroom," an account later revealed to be untrue.
Ramaswamy
The only candidate on stage with no experience serving in government, Ramaswamy's remarks often presented himself to be more conservative politically than his opponents.
"Let us be honest as Republicans, the climate change agenda is a hoax," he said, later claiming that "fossil fuels are a requirement for prosperity."
During an interview with right-wing pundit and former Fox News host Tucker Carlson that aired last week, Ramaswamy likened the beliefs by proponents of LGBTQ rights and climate change activists to the ideologies of people in religious cults, bent on effectuating "a broader vision that defines itself in opposition to the American vision, to the American way of life."
Ramaswamy also distinguished himself as the only candidate on stage who pledged to pardon Trump if he is elected president. Others, by contrast, focused on leveling accusations about the weaponization of law enforcement against conservatives, arguing that Republicans should move on from the matters being litigated against the former president, including over his role in the January 6 insurrection, defending Pence for refusing to overturn the results of the 2020 election, or – in Christie's case – asserting that "Whether or not you believe that criminal charges [against Trump] are right or wrong, the conduct is beneath the office of President of the United States."
Baier noted Ramaswamy's pledge to abolish federal administrative agencies including the U.S. Department of Education, the Federal Bureau of Investigation, the U.S. Treasury Department's Bureau of Alcohol, Tobacco, Firearms, and Explosives, the Nuclear Regulatory Commission, the IRS, and the Department of Commerce.
In a possible reference to his pledge, Ramaswamy concluded his closing statement with the message that "There are three branches of government, not four. And the U.S. Constitution is the strongest guarantor of freedom in human history — that is what won us the American revolution, that is what will win us the revolution of 2024."
Kevin McCarthy ousted as House speaker
Matt Gaetz led effort against Calif. Republican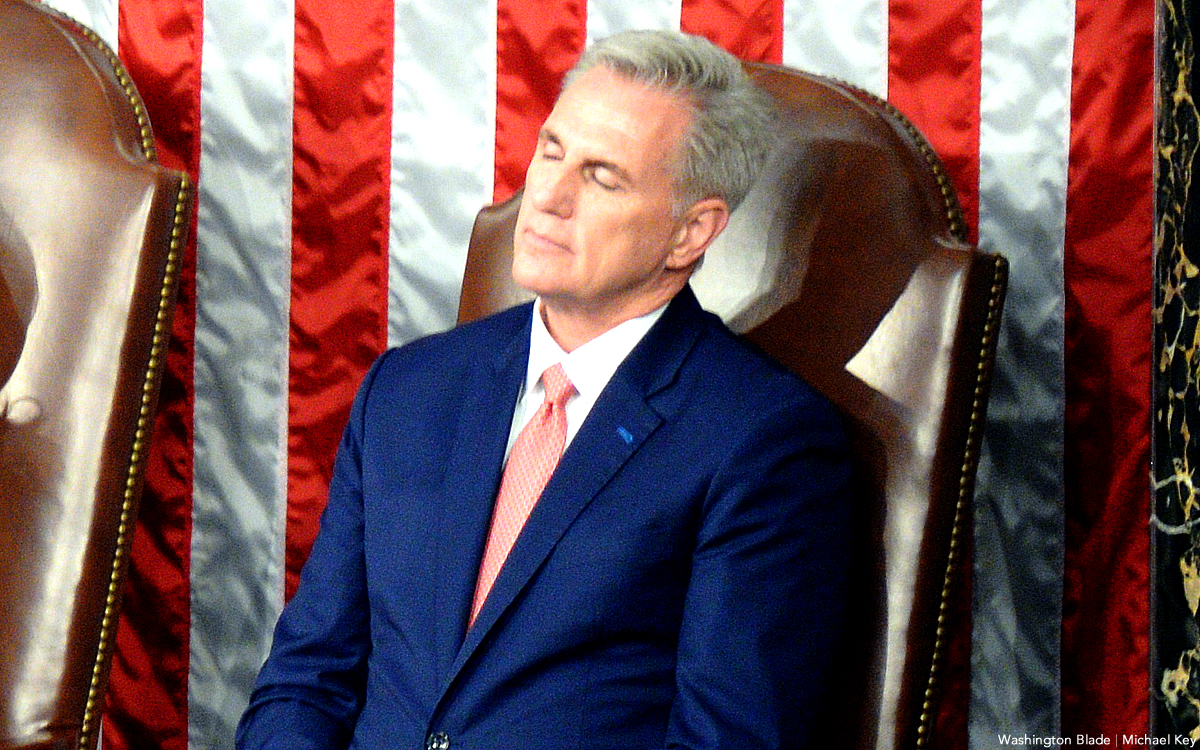 A motion to declare the chair vacant submitted by U.S. Rep. Matt Gaetz (R-Fla.) to oust House Speaker Kevin McCarthy (R-Calif.) succeeded on a 216-210 vote Tuesday after an at times contentious debate between House Republicans on the floor.
The last to vote in the full order of the roll call was McCarthy, who voted against the motion to remove him from his post. U.S. Rep. Steve Womack (R-Ark.), who chaired the proceedings, declared the speaker vacant after the House chamber went silent, after it had asked if anyone wishes to change their vote, then read off the tally submitted by the clerk.
U.S. Rep. Patrick McHenry (R-N.C.), a close McCarthy ally, will serve as speaker pro tem, or as temporary acting speaker.
With a sharp bang of the gavel, he declared the chamber in recess.
This is a historic action by the House as never before has a House speaker successfully been voted out of the chair. The last time the House had a vote to oust the speaker was in 1910.
The vote that year stemmed from angst among progressive Republicans that the speaker at the time, Joseph Cannon, a conservative known as "Uncle Joe," refused to bring progressive legislation to the floor for a vote.
The House Cannon Office Building, which was completed in 1908 and is the oldest congressional office building — a significant example of the Beaux Arts style of architecture is named for Cannon, who had served as House speaker. 
Earlier Tuesday afternoon the chamber voted 208-218 with Democrats supporting a motion to table Gaetz's resolution to oust McCarthy, setting the stage for a vote on whether McCarthy should remain in the top spot. Democratic leadership had told reporters earlier that their conference would be united in an effort to remove the House speaker.
Laphonza Butler sworn in as California's newest senator
Former vice president advisor will succeed Dianne Feinstein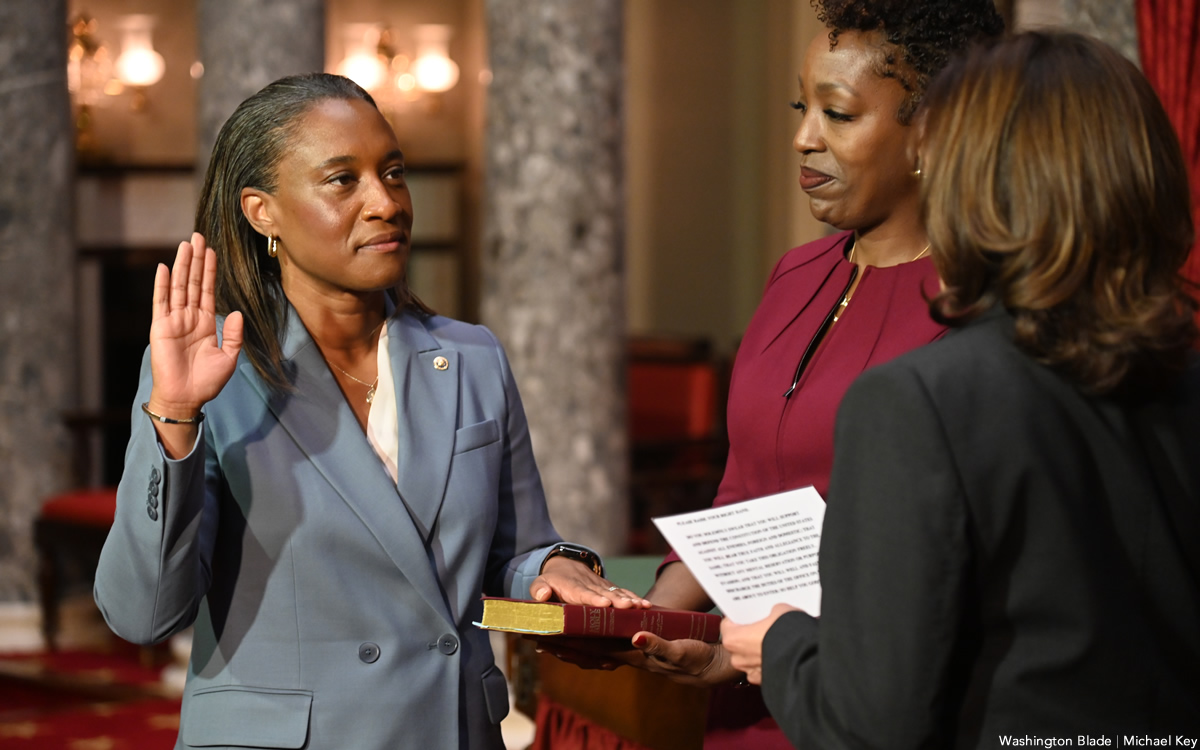 Vice President Kamala Harris on Tuesday swore in Democrat Laphonza Butler as California's newest U.S. senator during a ceremony at the U.S. Capitol.
The first Black lesbian to serve in the Senate, Butler was president of the nation's largest organization dedicated to electing women to public office, EMILY's List, and previously was a senior advisor to the vice president during her 2020 bid for the Oval Office.
Harris, the country's first woman vice president as well as the first Black and South Asian person to serve in that role, also made history with her tenure as attorney general and then senator for California.
Democratic California Gov. Gavin Newsom appointed Butler to fill the vacancy caused by the death, on Friday, of U.S. Sen. Dianne Feinstein, who had represented the state in the upper chamber since 1992.
Per the terms of her appointment, Butler will be eligible to run for the seat during next year's elections, in which case she would face competition from three high profile Democrats now representing California in the House: U.S. Reps. Barbara Lee, Katie Porter and Adam Schiff.
Newsom in 2021 pledged that he would appoint a Black woman to Feinstein's seat. Lee, so far the only Black woman among the declared candidates, congratulated Butler in a statement in which the congresswoman said she is "singularly focused on winning" her Senate campaign.
California "deserves an experienced senator who will deliver on progressive priorities," she said. "That's exactly what I'm running to do."
Consistent with her work in progressive politics, Butler was previously a labor leader with Service Employees International Union, SEIU, the powerful union where her wife, Neneki Lee, serves as director of the Public Services division.
Human Rights Campaign President Kelley Robinson and Claire Lucas and Judy Dlugacz were among those who attended the swearing in alongside Butler's wife.
Senate Majority Leader Chuck Schumer (D-N.Y.) and U.S. Sen. Alex Padilla (D-Calif.) escorted Butler into the chamber. Lee and Schiff were among those who attended the ceremony.
"It's a good day," Lucas told the Washington Blade as she left the chamber.
Michael K. Lavers contributed to this story.
Laphonza Butler appointed as California's first openly LGBTQ U.S. senator
Dianne Feinstein died in D.C. on Sept. 28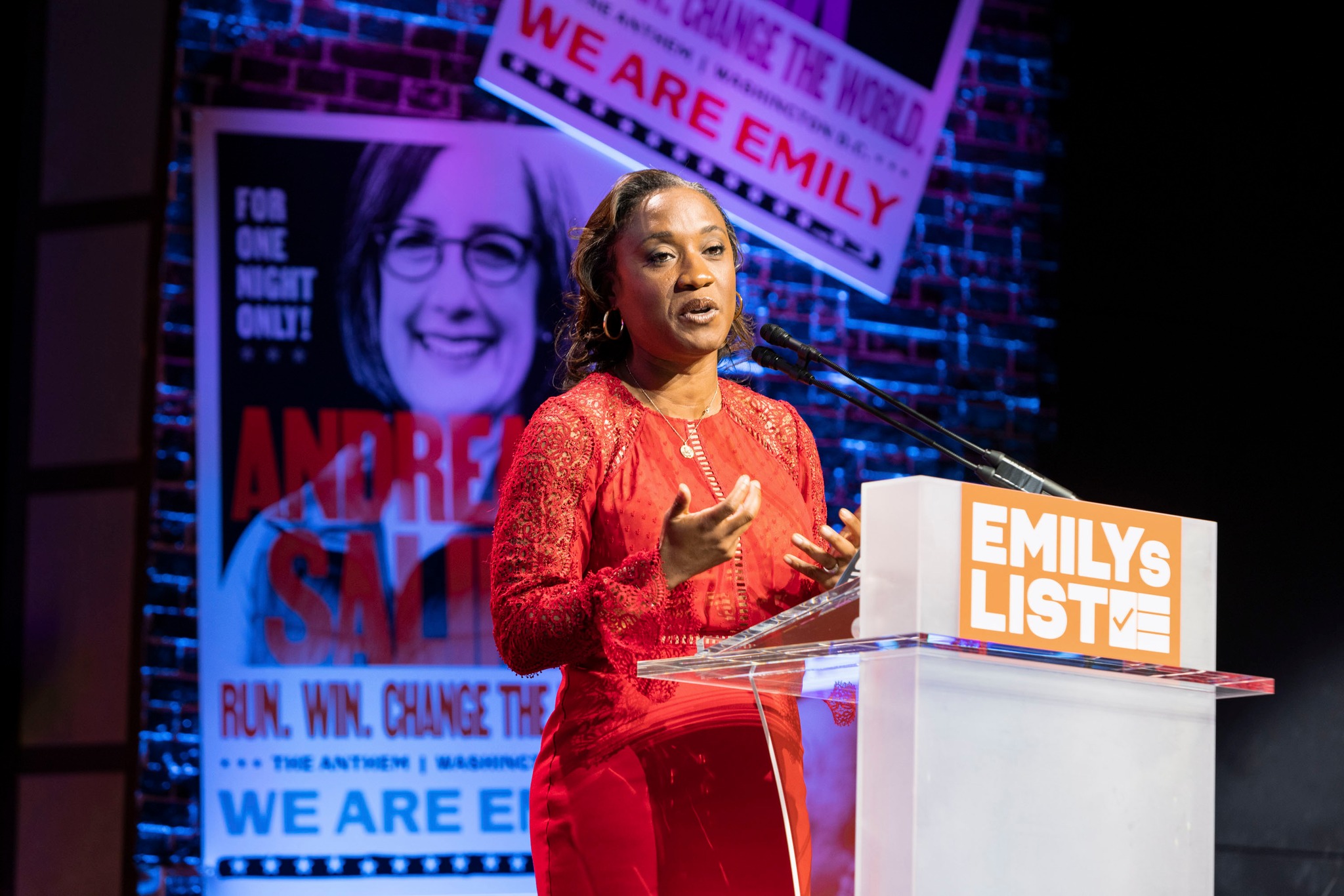 On Sunday evening, California Gov. Gavin Newsom announced he is appointing Black openly lesbian EMILY's List President, Laphonza Butler, to the vacant seat of the late U.S. Sen. Dianne Feinstein who died Friday at age 90.
Butler's wife is Neneki Lee, the D.C.-based director for labor union SEIU's Public Services Division.
News of Butler's selection by Newsom was first reported by Politico's California Bureau Chief Christopher Cadelago. A source knowledgeable on the governor's team told Politico there were no preconditions about whether she could run in 2024.
Newsom's office confirmed that he has picked Butler, a Democratic strategist who rose to prominence in the labor movement, to fill Feinstein's seat.
In an emailed statement, Newsom said:
"An advocate for women and girls, a second-generation fighter for working people, and a trusted adviser to Vice President Harris, Laphonza Butler represents the best of California, and she'll represent us proudly in the U.S. Senate. As we mourn the enormous loss of Senator Feinstein, the very freedoms she fought for — reproductive freedom, equal protection, and safety from gun violence — have never been under greater assault. Laphonza will carry the baton left by Senator Feinstein, continue to break glass ceilings, and fight for all Californians in Washington D.C."
SCOOP: Gavin Newsom will appoint EMILY's List President Laphonza Butler to fill the seat of the late Sen. Dianne Feinstein, elevating the head of a fundraising juggernaut that works to elect Dem women who support abortion rights, per a person familiar.https://t.co/FtOv4fneAk

— Christopher Cadelago (@ccadelago) October 2, 2023
Equality California tweeted a statement praising Newsom's action:
Executive Director @TonyHoang on Governor @GavinNewsom's selection of @LaphonzaB to serve as the next U.S. Senator from California: pic.twitter.com/6RYB1SUyEr

— Equality California (@eqca) October 2, 2023
Democrat Alex Padilla, now serving as California's senior U.S. senator, released the following statement after Newsom appointed Butler to fill the vacancy created by the late Senator Feinstein:
"Throughout her career, Laphonza Butler has been a strong voice for working families, LGBTQ rights, and a champion for increasing women's representation in politics. I'm honored to welcome her to the United States Senate.
"Governor Newsom's swift action ensures that Californians maintain full representation in the Senate as we navigate a narrow Democratic majority. I look forward to working together to deliver for the people of California."
Butler is a longtime leader in Democratic politics in California and beyond. She has been involved in campaign strategy, and the labor movement for two decades, and according to her official biography she has dedicated her life to empowering women and supporting them in finding their voice, and using it to make meaningful change.
Newsom's office noted in its statement:
"Butler, a longtime senior adviser to Vice President Kamala Harris, labor leader and advocate for women and working people, will be the first openly LGBTQ person to represent California in the Senate. She will also be the first Black lesbian to openly serve in Congress in American history and the second Black woman to represent California in the Senate following Vice President Kamala Harris."
Prior to joining EMILYs List, Butler served as Director of Public Policy and Campaigns in North America for Airbnb. She also was a partner at SCRB Strategies, a political consulting firm where she was a strategist for candidates running up and down the ballot and a senior advisor to Vice President Kamala Harris' presidential campaign.
With nearly 20 years in the labor movement, Butler has served as the president of the biggest union in California, and the nation's largest home care workers union, SEIU Local 2015. She was elected to this position at just 30 years old, one of the youngest to take on this role. As president, Butler was the leading voice, strategist, and architect of efforts to address pay inequity for women in California and a top advocate for raising the state's minimum wage to $15 an hour — the first state in the nation to do so, benefiting millions of working women in low wage jobs. That effort also gave hundreds of thousands of home workers access to paid time off. She also served as an SEIU International Vice President and President of the SEIU California State Council.
Throughout her career, Butler has been highly regarded as a strategist working to elect Democratic women candidates in political offices across California and nationally. A long-time supporter of Kamala Harris in her California runs, Butler was a key leader in Vice President Harris' presidential campaign. She served as a senior advisor to Hillary Clinton's presidential campaign in California during the primary and general elections. Most recently, Butler was a campaign operative behind the campaign to make the Los Angeles Board of Supervisors all-women for the first time in its history with the election of Supervisor Holly Mitchell.
She has been a member of the University of California Board of Regents and a member of the board of directors for the Children's Defense Fund and BLACK PAC.
Laphonza grew up in Magnolia, Miss., and attended one of the country's premier HBCUs, Jackson State University. She lives in Maryland with her wife, Neneki, and together they have a daughter, Nylah.
EMILY's List is an American political action committee that aims to help elect Democratic female candidates in favor of abortion rights to office. It was founded by Ellen Malcolm in 1985. The group's name is an acronym for "Early Money Is Like Yeast." Malcolm commented that "it makes the dough rise."
Related:
Newsom appoints Laphonza Butler to the U.S. Senate: