Former UN ambassador Bill Richardson dies at 75
One-time N.M. governor helped secure Brittney Griner's release from Russian prison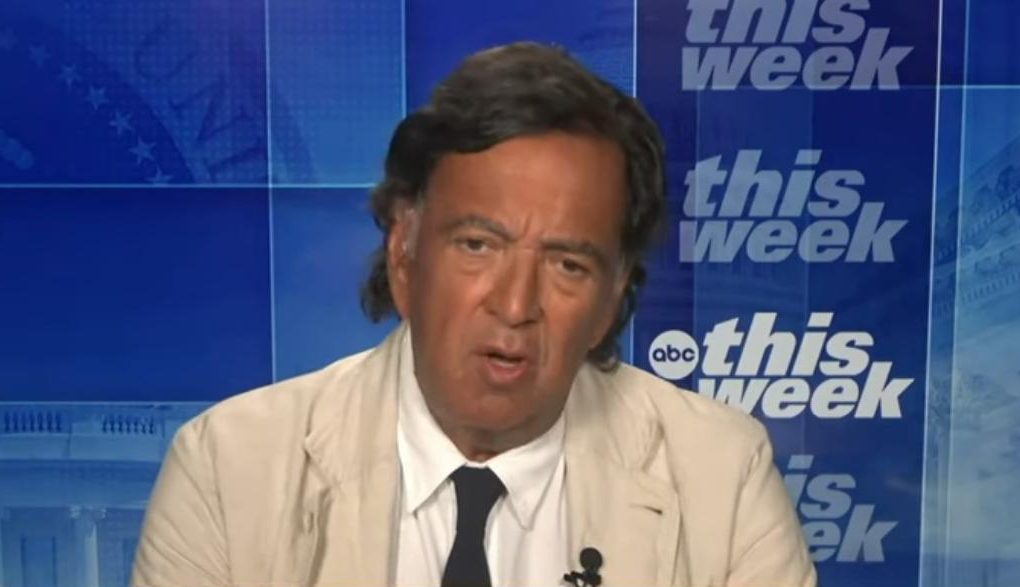 Former U.S. Ambassador to the U.N., Energy Secretary, congressman and two term New Mexico Gov. Bill Richardson died in his sleep at age 75 on Friday at his Cape Cod summer home, a spokesperson for the Richardson Center for Global Engagement said in a statement released Saturday.
Mickey Bergman, vice president of the Richardson Center, said "Gov. Richardson passed away peacefully in his sleep last night. He lived his entire life in the service of others — including both his time in government and his subsequent career helping to free people held hostage or wrongfully detained abroad. There was no person that Gov. Richardson would not speak with if it held the promise of returning a person to freedom. The world has lost a champion for those held unjustly abroad and I have lost a mentor and a dear friend."
Bergman added: "Right now our focus is on supporting his family, including his wife Barbara of over 50 years, who was with him when he passed. We will share further information as it becomes available."
A lifelong progressive Democrat, the former U.S. ambassador to the U.N. had worked almost exclusively in recent years, through the Richardson Center he founded in 2011, to free people who were held hostage or wrongfully detained abroad.
This past month Richardson was nominated for a Nobel Peace Prize for his role in rescuing Americans, most recently Phoenix Mercury player Brittney Griner. Over the last several decades Richardson traveled the world negotiating and securing the release of American prisoners and hostages in Bangladesh, North Korea, Sudan, Colombia and Iraq.
As one of the 351 candidates for the Nobel Peace Prize in 2023, the former ambassador told The Hill that he was honored by the nomination.
Richardson served as a congressman, U.S. ambassador to the U.N. and Energy Secretary under President Bill Clinton, and two terms as governor of New Mexico.
New Mexico's junior U.S. Senator, Ben Ray Luján, issued a statement Saturday after learning of Richardson's passing:
"Governor Richardson was a close friend who held the same House seat that I was elected to. He knew how to get things done, and he worked closely with my late father in the Legislature.
His passing is incredibly heartbreaking for so many New Mexicans who knew and respected him. He leaves behind a legacy that will never be matched, and one that New Mexicans will always take pride in. My prayers are with Barbara, the Richardson family and all New Mexicans. His memory will always be a blessing."
Traveling in Florida surveying Hurricane Idalia damage, President Joe Biden released a statement on the death of Richardson:
"Bill Richardson wore many weighty titles in his life — congressman, governor, ambassador, secretary. He seized every chance to serve and met every new challenge with joy, determined to do the most good for his country, his beloved New Mexico, and Americans around the world. Few have served our nation in as many capacities or with as much relentlessness, creativity, and good cheer. He will be deeply missed.
 
Bill's legacy will endure in many places — in New Mexico, which Bill served for seven terms as congressman and two as governor; at the Department of Energy, where he helped strengthen America's nuclear security; and at the United Nations, where he put his considerable negotiating skills to work advocating for American interests and values on the world stage.
 
But perhaps his most lasting legacy will be the work Bill did to free Americans held in some of the most dangerous places on Earth. American pilots captured by North Korea, American workers held by Saddam Hussein, Red Cross workers imprisoned by Sudanese rebels — these are just some of the dozens of people that Bill helped bring home. He'd meet with anyone, fly anywhere, do whatever it took. The multiple Nobel Peace Prize nominations he received are a testament to his ceaseless pursuit of freedom for Americans. So is the profound gratitude that countless families feel today for the former governor who helped reunite them with their loved ones.
 
Bill and I crossed paths for the first time decades ago, when he was a staffer on the Senate Foreign Relations Committee, which I served on as senator. Over the years, I saw firsthand his passion for politics, love for America, and unflagging belief that, with respect and good faith, people can come together across any difference, no matter how vast. He was a patriot and true original, and will not be forgotten. Jill and I send our love to his family, including his wife of over 50 years, Barbara, and their daughter Heather."
Although the ambassador was committed to LGBTQ rights in the U.S. and globally, his early interactions during his 2008 presidential campaign cost him support among LGBTQ voters that election cycle for a series of gaffes made during a campaign forum sponsored by the Human Rights Campaign and Logo TV.
Also appearing on the forum was another candidate, then-U.S. Sen. Barack Obama (D-Ill.) In January 2008, Richardson dropped out of the race which ultimately saw the election of Obama as the 44th president of the U.S.
A non-scientific poll on Logo's website after the forum had the Illinois senator with the most support at 35 percent, while Richardson garnered the least at 4 percent.
Heath Haussamen, a political journalist based in Las Cruces, N.M., and the editor and publisher of the now defunct political news website NMPolitics.net that covered the state of New Mexico, documented what turned into a fiasco for Richardson.
Richardson was asked about a prior comment he made on the Don Imus show in 2006 — repeating the use of the Spanish word for "faggot" after Imus used it — and he seemed to tentatively satisfy his critics.
"I meant no harm when I said that," Richardson said. "It was one of those exchanges when I was caught off guard … But I think you should look at my actions, and not words."
The forum moderator then commented that she had misspoken once on Imus' show, and said each guest is entitled to one mistake on that show
It got worse, according to Haussmen's reporting:
But after being forgiven for one mistake, Richardson immediately made more.
He was asked, if the state Legislature passed a bill making gay marriage legal, whether he would sign it. After discussion with Richardson and other candidates about the strong difference between domestic partnerships and gay marriage — one panel member characterized it as the difference between being separate but equal and being truly equal — Richardson said this:
"The New Mexico Legislature, I am pushing it very hard to expand domestic partnerships. It's the same thing."
Not only was this mistake No. 2, but it resurrected mistake No. 1 — the Imus comment. Which prompted the next question: Where do you stand on gay marriage?
"In my heart, I am doing what is achievable, and I'm not there yet. New Mexico isn't there yet, the country isn't there yet," he said. "That doesn't mean I'm closed on this issue. It means I'm doing what is achievable."
Which prompted the next question, from rock star Melissa Etheridge: "Do you think homosexuality is a choice, or is it biological?"
"It's a choice. It's, it's …" he said.
Mistake No. 3. The audience was silent.
Not long after that debate forum, he reached out to the then-Advocate Political Editor Kerry Eleveld, requesting an in-person interview to clarify his position, saying that he has long known being gay is biological.
"I misunderstood the question, and I made a mistake in the way I answered it," he said during that interview.
His campaign also attempted to mitigate the damage with the LGBTQ community issuing a statement that read in part:
"Let me be clear: I do not believe that sexual orientation or gender identity happen by choice," Richardson said in the release. "But I'm not a scientist, and the point I was trying to make is that no matter how it happens, we are all equal and should be treated that way under the law. That is what I believe. That is what I have spent my career fighting for. I ask that people look at my record and my actions and they will see I have been a true supporter of the LGBT community."
The campaign also stressed Richardson's long support of the LGBTQ community.
The University of California, Santa Barbara,'s "The American Presidency Project" has an archived statement made by Richardson during Pride month released on June 22, 2007, which read:
"I am very pleased to join my friends in the GLBT community and Americans across the country in celebrating Pride month. This month is a deserved commemoration of the contributions of GLBT Americans to the United States and a welcome symbol of how far we have come as a nation.
"We must also acknowledge that we are in the midst of a difficult struggle for basic human rights and we have a long way to go. This month is a worthy symbol of our progress towards full civil rights for every American, but we cannot ignore the challenges we still must conquer before we can truly move forward and create a better society.
"I have been a strong, dedicated, and proud supporter of the GLBT community throughout my time in public service. In Congress, I voted against the Pentagon's "Don't Ask, Don't Tell" policy. I continue to believe that it is wrong, shamefully wrong. This policy is not only detrimental to GLBT Americans, it is harmful to the security of every American, as badly-needed military personnel are discharged for no other reason than that they are gay or lesbian.
"As governor of New Mexico, I have led the charge for equality in my state. We expanded anti-discrimination laws to include sexual orientation and gender identity. We provided state health insurance for domestic partnerships. And I signed into law the state's first hate crimes legislation for crimes based on sexual orientation and gender identity. I have fought hard for a Domestic Partner Rights Act in New Mexico and I will not stop fighting until the legislation is passed.
"As president, I will not rest until we have fulfilled America's most basic promise — that every human being is created equal and that every American is due certain basic, inalienable rights. I know that until the human rights of every American are guaranteed, the rights of all Americans are demeaned."
Biden, Harris, deliver remarks for White House Office of Gun Violence Prevention
Pulse survivor Brandon Wolf among those who spoke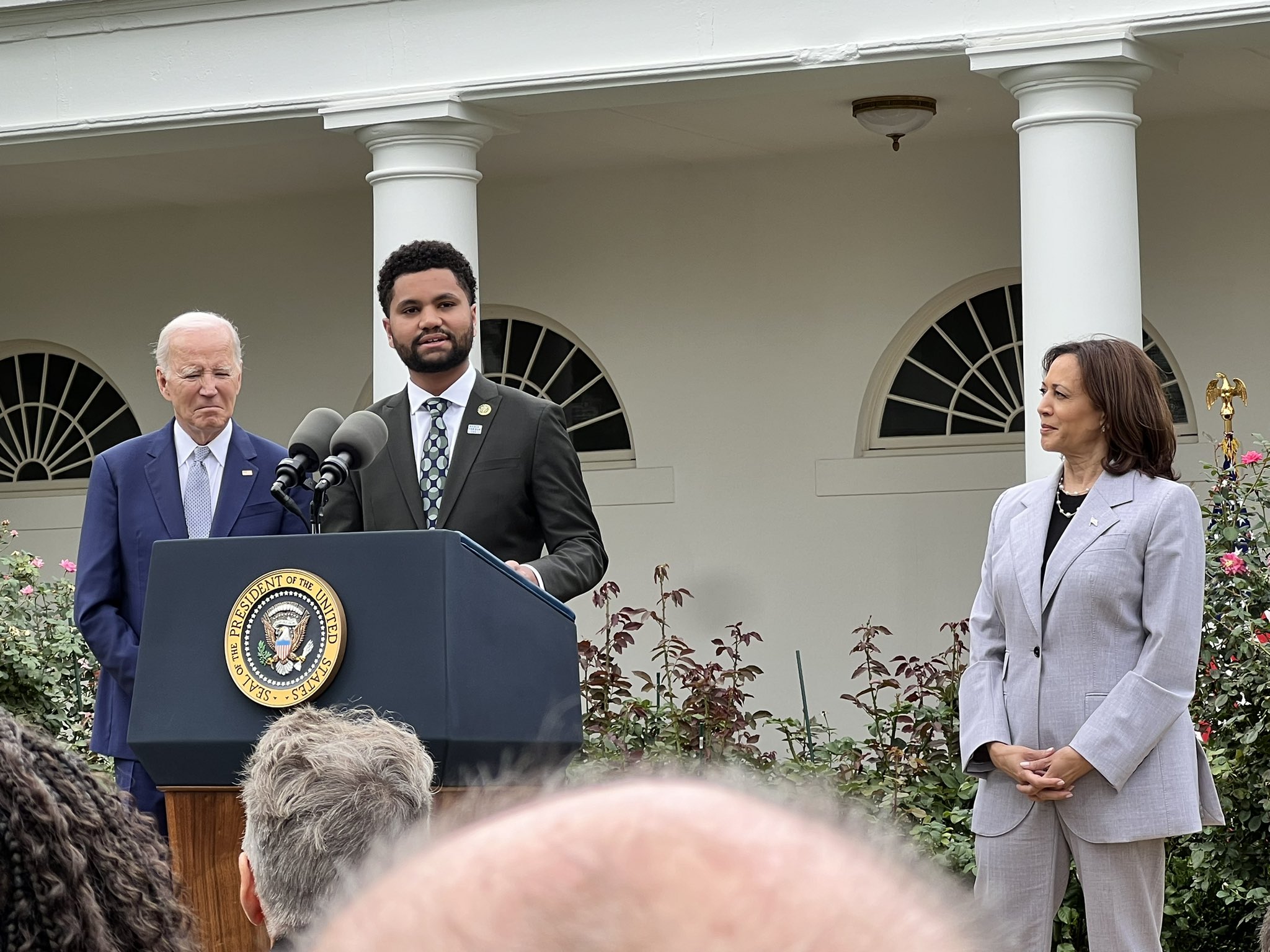 President Joe Biden, Vice President Kamala Harris, and U.S. Rep. Maxwell Frost (D-Fla.) addressed an audience from the Rose Garden of the White House on Friday to honor the establishment of a first-ever White House Office of Gun Violence Prevention.
In a press release Thursday announcing the move, the administration said its aim is to implement and expand the provisions of last year's Bipartisan Safer Communities Act along with those contained in the president's executive orders targeting issues of gun violence.
Additionally, Biden explained in his remarks, the office will coordinate more support for survivors, families and communities, including mental health services and financial aid; identify new avenues for executive action; and "expand our coalition of partners in states and cities across America" given the need for legislative solutions on the local and state level.
Harris, who will oversee the office, pledged to "use the full power of the federal government to strengthen the coalition of survivors and advocates and students and teachers and elected leaders to save lives and fight for the right of all people to be safe from fear and to be able to live a life where they understand that they are supported in that desire and that right."
The vice president noted her close experiences with the devastating consequences of gun violence in her work as a federal prosecutor, San Francisco district attorney, California attorney general and in her current role.
Biden's comments also included highlights of his administration's accomplishments combatting gun violence and a call to action for Congress to do more. "It's time again to ban assault weapons and high capacity magazines," he told lawmakers.
The president also credited the the work of advocates including those who were gathered at the White House on Friday: "all of you here today, all across the country, survivors, families, advocates — especially young people who demand our nation do better to protect all; who protested, organized, voted, and ran for office, and, yes, marched for their lives."
Taking the stage before introducing Biden, Frost noted that "Right before I was elected to Congress, I served as the national organizing director for March for Our Lives, a movement that inspired young people across the nation to demand safe communities."
"The president understands that this issue especially for young people, especially for marginalized communities, is a matter of survival," the congressman said. And the formation of this office, "comes from Pulse to Parkland," he said, adding, "we fight because we love."
Human Rights Campaign National Press Secretary Brandon Wolf, a survivor of the 2016 Pulse nightclub shooting, which was America's second deadliest mass shooting and the deadliest against the LGBTQ community, shared a comment with the Washington Blade after Friday's ceremony:
"Seven years ago, when my best friends and 47 others were murdered at our safe place — Pulse Nightclub — we promised to honor them with action. This is what that looks like. This deep investment in the fight to end gun violence matters, and I cannot wait to see Vice President Harris lead these efforts. We can blaze the path toward a future free of gun violence. And today marked an important step in that direction."
Federal judge: drag is 'vulgar and lewd,' 'sexualized conduct'
Ruling 'bristles with hostility toward LGBTQ people'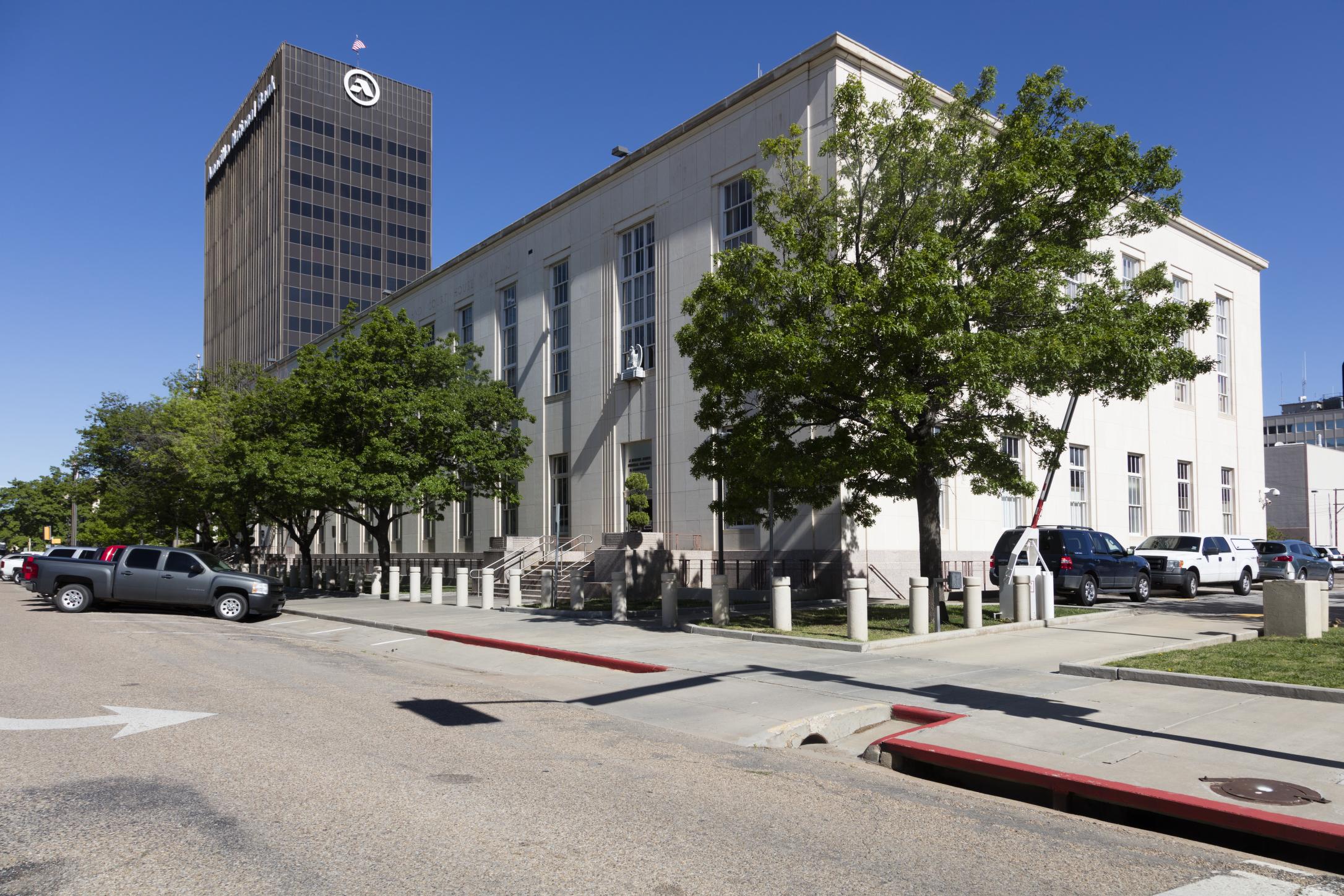 Judge Matthew Kacsmaryk of the U.S. District Court for the Northern District of Texas issued a ruling Thursday denying relief to a group of university students who sought to host a drag show over the objections of their school's president.
A Trump appointed jurist with deep ties to anti-LGBTQ and anti-abortion conservative legal activists, Kacsmaryk argued that drag performances probably do not constitute speech protected by the First Amendment.
As Slate Senior Writer Mark Joseph Stern wrote on X, this conclusion "conflicts with decisions from Texas, Florida, Tennessee and Montana which held that drag is constitutionally protected expression."
"It also bristles with undisguised hostility toward LGBTQ people," he added.
Kacsmaryk's 26-page decision describes drag performances as lewd and licentious, obscene and sexually prurient, despite arguments the plaintiffs had presented about the social, political, and artistic merit of this art form.
Judge Matthew Kacsmaryk refuses to grant relief to Texas college students who may be punished for hosting a drag show.

His condemns drag as "vulgar and lewd" "sexualized conduct" that harms children and is likely unprotected by the First Amendment. https://t.co/UPeolMfGON

— Mark Joseph Stern (@mjs_DC) September 22, 2023
As the Human Rights Campaign recently wrote, "drag artists and the spaces that host their performances have long served as a communal environment for queer expression."
The group added, "It is a form of art and entertainment, but, historically, the performances haven't only served to entertain, but also to truly advance the empowerment and visibility of LGBTQ+ people."
Nevertheless, anti-LGBTQ conservative activists and organizations have perpetuated conspiracy theories about members of the community targeting children for sexual abuse including by bringing them to drag performances.
Among these is a group with ties to the Proud Boys that was cited by Kacsmaryk in his ruling: Gays Against Groomers, an anti-LGBTQ and anti-transgender extremist group, according to the Anti-Defamation League and Southern Poverty Law Center.
Harris to oversee White House Office of Gun Violence Prevention
Goal is to implement and expand upon legislation, executive actions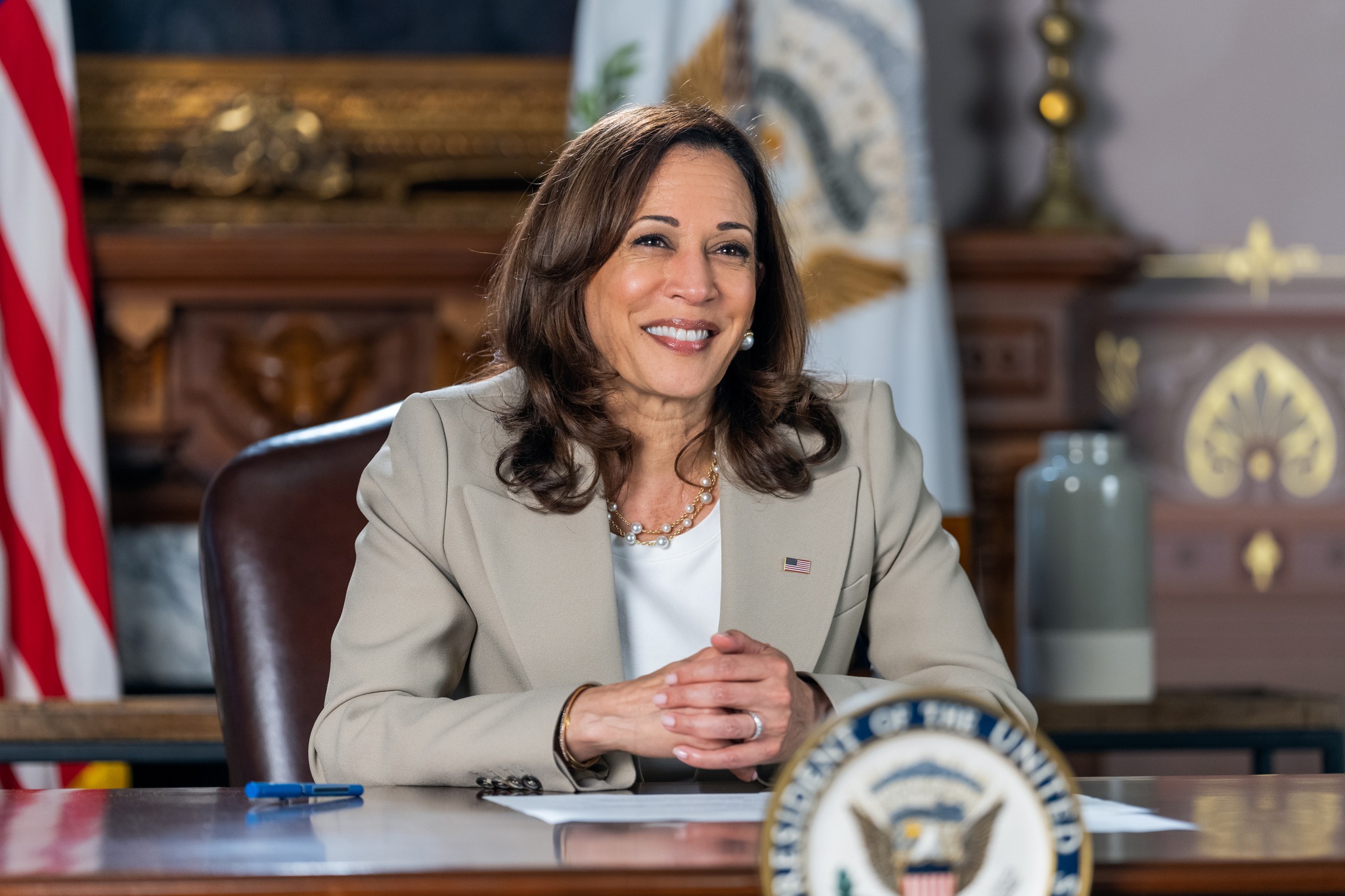 The White House announced Thursday evening that President Joe Biden on Friday will establish the first-ever White House Office of Gun Violence Prevention, to be overseen by Vice President Kamala Harris.
The office will focus on implementing and expanding upon executive and legislative actions, including the Bipartisan Safer Communities Act, "to reduce gun violence, which has ravaged communities across the country."
Serving under Harris will be Stefanie Feldman, "a longtime policy advisor to President Biden on gun violence prevention," and "leading gun violence prevention advocates Greg Jackson and Rob Wilcox."
"Every time I've met with families impacted by gun violence as they mourn their loved ones, and I've met with so many throughout the country, they all have the same message for their elected officials: 'do something,'" Biden said in a statement.
The president noted his signing of last year's bipartisan gun violence prevention law, a flagship legislative accomplishment for the administration, along with his issuance of more executive actions than any president in history to address this problem.
Calling these "just the first steps," Biden said the establishment of the White House Office on Gun Violence Prevention will "build upon these measures and keep Americans safe."
He also urged Congress to do more by passing legislation requiring universal background checks, and baning assault weapons and high capacity magazines.
In a statement, Harris said, "This epidemic of gun violence requires urgent leadership to end the fear and trauma that Americans experience every day."
"The new Office of Gun Violence Prevention will play a critical role in implementing President Biden's and my efforts to reduce violence to the fullest extent under the law," she said, "while also engaging and encouraging Congressional leaders, state and local leaders, and advocates to come together to build upon the meaningful progress that we have made to save lives."
"Our promise to the American people is this: we will not stop working to end the epidemic of gun violence in every community, because we do not have a moment, nor a life to spare," the vice president said.