February 17, 2011 at 2:42 pm EDT | by Joe Phillips
Pocket-rocket coupes
It's easy to think all coupe owners are single and fancy free — there's just a certain joie de vivre about two-door speedsters. But as any "player" knows, you've got to keep your game fresh.
That's what Scion found out the hard way. The tC coupe was a hit when it first scooted into showrooms in 2004. But that was seven years ago, back when MySpace was king and Facebook just opened its doors. Today, Facebook has more than 600 million users, MySpace is an also-ran and — at long last — the tC gets that much-needed makeover.
And just in time, too. Automakers have been increasing the number of fuel-friendly cars — many of them coupes — as fast as they've been axing SUVs from their lineups. The result is more muscle and hipper options on smaller chassis. And thanks to innovative designs, even the tiniest two-door rides are now bigger inside than they look.
For gay and lesbian drivers, the result is a cornucopia of cool coupes. Here are three of the best.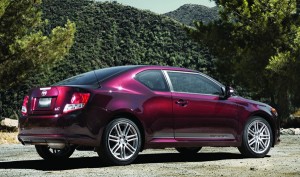 Scion tC
$19,000
MPG: 23 city/31 highway
0-to-60 mph: 7.3 seconds
A lot of TLC went into redesigning the new tC. There's all-new sculpted sheet-metal. A high-tech cabin with nifty iPod interface. And a punchier, more fuel-efficient four-cylinder engine. Scion even fine-tuned the steering and suspension, though the ride is more Corolla than Supra — not exactly taut but agile enough around corners and potholes. The look is sporty chic, with well-bolstered seats and a fat, flat-bottomed steering wheel straight out of NASCAR. Lots of legroom, with easy rear-seat access — a real bonus. And the large hatchback opening allows for more cargo space than most of the competition. Along with lots of safety gear —including stability/traction control and front/side/head/knee airbags — there's keyless entry, a panoramic sunroof, tilt/telescoping steering wheel, seven-color interior mood lighting and a thumpin' Pioneer stereo to help channel your inner "Glee."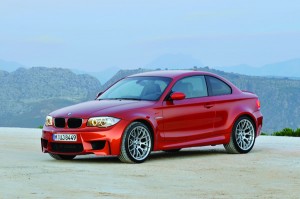 BMW 1-Series M Coupe
$48,000
MPG: 19 city/26 highway
0-to-60 mph: 4.7 seconds
Enthusiasts love M cars — BMW's high-performance line — but these rides can top $100,000. Even the compact M3 Coupe starts at a hefty $60,000. But now the baby 1-Series adds an M to its stable. Due this summer, the Lilliputian pocket rocket gets a 335-hp twin-turbo paired to a silky-smooth six-speed manual. To reduce weight, there's lots of aluminum but, alas, no sunroof. The payoff: blasting from 0 to 60 mph in just 4.7 seconds — and that means Ferrari territory. To rein in all of you lead-foots out there, the top speed is limited to 155 mph. And to set the M apart from more traditional Bimmers, there's a new front fascia with honeycomb grille, foxy flared fenders, sluice-like air ducts in the front bumpers and a sassy spoiler on the trunk lid. Inside, except for the orange stitching on the black Alcantara seats, everything else is swathed in dark Euro-trendy colors.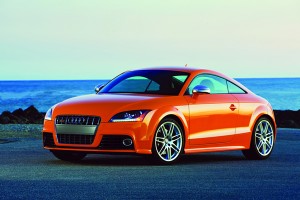 Audi TTS Coupe
$47,000
MPG: 21 city/29 highway
0-to-60 mph: 4.8 seconds
Sure, Audi's popular TT has always been a design star. It just lacked the oomph to compete with the likes of BMW, Mercedes, Porsche, Acura, Infiniti, Lexus and, well, you get the picture. But that's all changed, thanks to the top-gun TTS. This speed racer has plenty of power, grip and quick reflexes, thanks in part to its inline-4 turbo, all-wheel drive and slick dual-clutch automated manual transmission. For a more wicked ride, press the Sport mode button to recalibrate the steering, suspension and even the exhaust note. The cabin is elegant, full of modish dials, crisp aluminum trim and baseball-glove stitching on the seats. All in all, the TTS is basically a luxe-like tuner car, mixing frills with high-test gusto. For daredevil sun mavens, there's even a convertible model.