March 17, 2011 at 3:44 pm EDT | by Joe Phillips
Best (and worst) for fuel
With gasoline spiking higher each day, fuel-efficient cars are hot once again. But even after the past bump in pump prices back in 2007, hybrids still account for only 3 percent of all car sales. Diesels — despite new "clean" technology — still get a bum rap as noisy, foul-smelling claptraps. And consumers don't seem that charged up about electric cars, even with all the hype surrounding the Nissan Leaf, Chevy Volt and Tesla roadster.
That all may change over the next decade or so. But for now, the traditional combustion engine is still king. Luckily, many automakers haves been fine-tuning their combustion-engine cars and making them into true gas-sippers. Engineers lowered the car weight by using aluminum and other light metals. And designers made aerodynamic tweaks — sometimes reducing car height just half an inch — to ratchet up styling and fuel savings.
The result: combustion-powered rides that get better mileage — and have much lower price tags — than some hybrids, diesels or electrics. Below are five of the best, as well as five gas guzzlers you'll want to avoid.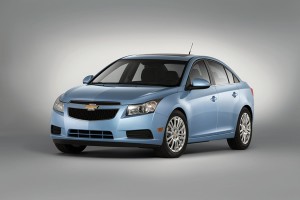 Chevy Cruze Eco
$16,500
MPG: 28 city/42 highway
While the regular Cruze gets 26 city/36 highway, the Eco model — especially with manual transmission — is even better. Under the right conditions, you can snag more than 50 mpg. A chic rear spoiler and novel grill "shutters" help reduce wind drag. And despite some cheap interior trim, the Euro styling — inside and out — is swanky, not gaudy. Ditto for the ride, handling and a bevy of add-ons, including alloy wheels, steering-wheel audio controls and rear-parking sensors.
Ford Fiesta
$14,500
MPG: 29 city/40 highway
Fast. Fun. Full of options. Sure, cargo space may be a bit tight on the Fiesta but everything else, from the slew of safety gear — including a driver-knee bag — to the best-in-class steering and suspension shows how much Ford is committed to this compact car. A Super Fuel Economy package helps max out fuel mileage with lighter wheels, special tires and aerodynamic nips and tucks.
Hyundai Elantra
$16,000
MPG: 29 city/40 highway
Only special versions of the Chevy Cruze and Ford Fiesta get the best gas mileage. But 40 mpg is standard on all models of the recently redesigned Elantra. Consistency comes at a price, though, with limited rear headroom, and acceleration and handling that are predictable, not exciting. Still, there's plenty of space up front and in the trunk, and the sexy sheet-metal design beats the competition.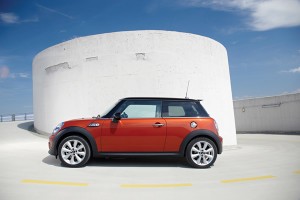 MINI Cooper
$21,000
MPG: 29 city/37 highway
The natty retro design still works. So does the quirky interior, including a Frisbee-shaped speedometer in the center dash. With BMW as its parent, the MINI is the only fuel-efficient German car here. And it's the only one that handles like one, with bolstered seats, spry acceleration and superb cornering/braking. This car makes you wonder why anyone would opt for a $40,000 Bimmer when a MINI costs half the price and is just as playful.
Toyota Yaris
$13,000
MPG: 29 city/36 highway
Solid, comfortable but oh-so-bland, including a sluggish transmission, Munchkin-like cargo area and user-unfriendly gauges. A better bet: the 2012 redo that arrives late this year. But if you need something just as inexpensive right now, go for the all-new Mazda 2 (which loses out to the Yaris by just 1 mpg) — it's sportier in looks and feel.
Worst gas guzzlers:
The least fuel-efficient cars are, surprise, all high-end brands. The good news is you probably can't afford one anyway.
Bugatti Veyron: $1.8 million, 8 city/14 highway
Aston Martin DB9: $180,000, 11 city/17 highway
Bentley Continental Flying Spur Speed: $208,000, 11 city/17 highway
Bentley Continental GTC: $206,000, 11 city/18 highway
Rolls-Royce Phantom: $308,000, 11 city/18 highway