Contact Us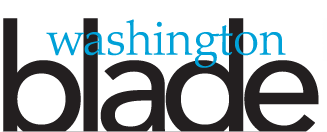 Call: (202) 747-2077
Fax: (202) 747-2070
Published By
Brown Naff Pitts Omnimedia, Inc.
PUBLISHER
LYNNE J. BROWN
lbrown@washblade.com ext. 8075
EDITORIAL
Editor
KEVIN NAFF
knaff@washblade.com ext. 8088
Features Editor
JOEY DiGUGLIELMO
joeyd@washblade.com ext. 8081
Sr. News Reporter
LOU CHIBBARO JR.
lchibbaro@washblade.com ext. 8079
Chief Political & White House Reporter
CHRIS JOHNSON
cjohnson@washblade.com ext. 8083
Staff Reporter
MICHAEL LAVERS
mlavers@washblade.com ext. 8093
Photo Editor
MICHAEL KEY
mkey@washblade.com
CREATIVE
Creative Director
JAMES M NEAL
jneal@washblade.com ext. 8074
Senior Graphic Designer
RICHARD W.C. SKIPPON
rskippon@washblade.com
SALES & ADMINISTRATION
Sr. Acct. Executive
BRIAN PITTS
bpitts@washblade.com ext. 8089
Acct. Executive
JERYL PARADE
jparade@washblade.com ext. 8072
Classified Advertising / Administration
PHILLIP G. ROCKSTROH
prockstroh@washblade.com ext. 8092
Acct. Executive
ERIN WOMMACK
ewommack@washblade.com ext. 8094
Marketing and Events Director
STEPHEN RUTGERS
srutgers@washblade.com ext. 8077
For distribution, contact Lynne Brown at (202) 747-2077 ext. 8075
Distributed by MediaPoint, LLC
Accounting services provided by Martin & Wall, P.C. C.P.A.
Editorial positions of Washington Blade are expressed in editorials and in editors' notes as determined by the paper's editors. Other opinions are those of the writers and do not necessarily represent the opinion of the Washington Blade or its staff.
© 2010, Brown, Naff, Pitts Omnimedia, Inc. All rights reserved