America's Leading Gay News Source
M.I.A.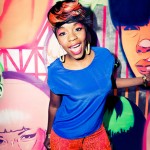 Baltimore rapper is M.I.A. protege
March 6, 2014 |
Leave a comment

Roland Martin causes a Twitter uproar, now GLAAD is calling on CNN to fire him, and more
February 6, 2012 |
Comments Off

San Diego may get a gay mayor, Russian airline breaks up one marriage to force another sham marriage, and Madonna!
January 30, 2012 |
Comments Off
© Copyright Brown, Naff, Pitts Omnimedia, Inc. 2014. All rights reserved.