The big LGBT story this week was the Proposition 8 trial in San Francisco challenging California's ban on same-sex marriage. Elsewhere, from Bozeman, Mont., to Beijing, China, our community and allies also fought discrimination, persecution and marginalization, winning some and losing a few.
On Monday, just before the Prop 8 trial was about to commence, the U.S. Supreme Court temporarily blocked the videotaping and subsequent showing on YouTube of the proceedings. LGBT journalists, bloggers and advocates stepped up and made sure that information flowed through several outlets. Two days later, the high court ruled that the trial could not be broadcast, questioning the propriety and haste of the federal judge's decision to record the proceedings. The Supreme Court apparently heeded the fear of harassment among those who rabidly promote the continued oppression of a minority.
In other places in the U.S., the community had some gains. The City Commission of Bozeman voted Monday to protect LGBT city employees by adding "sexual orientation" and "gender identity" to the categories covered by the city's anti-discrimination policy.
The following day, the California State Assembly Committee on Public Safety passed the Lesbian, Gay, Bisexual & Transgender Prisoner Safety Act, which is designed to prevent violence against LGBT people in the state prison system. According to a recent study, 69 percent of trans inmates report sexual victimization while incarcerated.
In Iowa, as the 2010 legislative session began, supporters and opponents of marriage equality rallied their forces. On Sunday, leaders from labor, faith and civil rights groups gathered in Des Moines, calling for all Iowans to speak up in support of same-sex marriage. Two days later, supporters of LGBT rights gathered again at the capital in an effort to thwart opponents' attempt to co-opt Gov. Chet Culver's state of the state address and intimidate Iowa legislators into pushing for a constitutional amendment that would revoke the rights of lesbian and gay Iowans to wed.
In Washington, D.C., the countdown to legalized same-sex marriage in the District began. On Monday, Del. Eleanor Holmes Norton confirmed that the bill approved by the D.C. Council last month had arrived on Capitol Hill and that Congress will have 30 legislative days to review it. The bill becomes law immediately after that review period has ended. In the meantime, Republican Rep. Jason Chaffetz of Utah announced his scheme to introduce legislation that would subject LGBT rights to mob rule, even though he admits that his chances for success are slim.
Other civil rights opponents were kept at bay. Yesterday, D.C. Superior Court Judge Judith Macaluso upheld the city election board's decision to keep gay marriage off the ballot, finding that ballot initiatives are indeed subject to the city's Human Right Act, which prohibits discrimination of LGBT individuals.
The importance of having pro-equality elected officials was highlighted in two national contests. In New York, supporters of Democratic U.S. Sen. Kirsten Gillibrand were up in arms over former U.S. Rep. Harold Ford Jr.'s interest in becoming the state's junior senator, in part due to his about face on same-sex marriage and abortion. Ford had been against a woman's right to choose and was one of the 34 Democrats who voted for the Federal Marriage Amendment, the constitutional ban on same-sex unions. His carpetbagger status does not engender him to many New Yorkers, either.
In Massachusetts, the race between State Attorney General Martha Coakley and Republican state Sen. Scott Brown for the U.S. Senate seat held by the late Sen. Edward Kennedy was closely monitored. Brown, who had posed nude for Cosmopolitan magazine, does not support equal rights for all Americans. In 2007, he voted for an amendment to ban same-sex marriage.
In Puerto Rico, justice may yet be served for Jorge Steven Lopez Mercado and his family. The teenager's alleged murderer, Juan Martinez Matos, was found fit to stand trial Wednesday. However, the island's LGBT community may be dealt more injustice. Last Friday, it was reported that during an address to religious leaders, Gov. Luis Fortuño proposed that the commonwealth's constitution be amended to ban same-sex marriage.
Internationally, the pressure on Uganda continues. On Tuesday, Democratic U.S. Sen. Ron Wyden of Oregon called for a review of Uganda's preferred trade status as a result of the country's proposed anti-LGBT bill — a bill that would make homosexuality punishable by life imprisonment or death. Wyden said in a press release that passage of the bill would be a violation of the African Growth & Opportunity Act, which authorizes duty-free importation of certain goods from preferred status countries. He also sent a letter to Secretary of State Hillary Clinton and U.S. Trade Representative Ron Kirk to request that they "communicate immediately to the Ugandan government, and President Yoweri Museveni directly, that Uganda's beneficiary status under AGOA will be revoked should the proposed legislation be enacted."
Protests by American and other foreign leaders may have had some effect on Uganda's president. On Tuesday, Museveni said that the country must take into consideration its foreign policy interests when debating an anti-homosexuality bill. He was quoted as saying, "The prime minister of Canada came to see me and what was he talking about? Gays. Prime Minister Gordon Brown came to see me and what was he talking about? Gays. Mrs. Clinton rang me. What was she talking about? Gays."
Meanwhile, in Malawi, the lawyers of Steven Monjeza and Tiwonge Chimbalanga, the couple arrested for holding a wedding ceremony last December challenged
the constitutionality of the nation's homosexuality ban. Homosexuality is punishable in Malawi by up to 14 years in prison.
The religious venom that fuels much of the hatred such as that in Uganda and Malawi spewed forth from the Vatican this week. Reacting to Portugal's move to legalize same-sex marriage, Pope Benedict XVI called laws enabling such marriages an "attack" on nature.
In Northern Ireland, a rabid homophobe who likewise fanned anti-LGBT sentiment got her comeuppance. The hypocrisy of Parliament Member Iris Robinson was revealed last week when reports came out that she had an affair with a teenage boy. Moreover, she solicited loans for her young lover to open a business. The May-December romance occurred in the summer of 2008, when Robinson was making a name for herself as a bigot, hurling a string of offensive comments about homosexuality.
In Japan, the transgender community suffered a setback this week. A trans man who had a child with his wife was informed by officials that his child was classified as illegitimate. The 27-year-old man transitioned in 2008 and later that year, his wife gave birth to a son using his brother's sperm. The decision to class his child as illegitimate was based on the grounds that a couple of the same gender cannot have a child.
But in China, the LGBT community continues to gain visibility and officially sanctioned tolerance. On Wednesday, the state newspaper splashed a front-page photo of the country's first publicly "married" gay couple. Today, China's first gay pageant is being held in Beijing to choose a representative for the Mr. Gay World contest in Norway next month. And this weekend, the top state-run radio network plans to launch a new program about AIDS that features an HIV-positive host. It's not clear, however, whether the host is gay. Still, homosexuality remains a sensitive issue in China. It was only decriminalized in 1997 and it was officially considered a form of mental illness until 2001. Same-sex marriages or civil unions have no legal standing.
In South Africa, there appeared to be some confusion over Olympic athlete Caster Semenya's future. On Wednesday, her coach told the Associated Press that her lawyers confirmed she could compete internationally despite the ongoing controversy over her gender. However, her lawyers later said that they are still working with international track officials to settle the matter.
Finally, in Italy, plans to open one of the world's first prisons for transgender inmates surfaced. The prison, which will accommodate about 30 people, is expected to house inmates who mainly have convictions for drug-related offences and prostitution. It is thought that Italy has a total of some 60 transgender prisoners. Until now, transgender prisoners have been located in women's prisons and are often segregated.
National Gay & Lesbian Chamber of Commerce Certifies Brown, Naff, Pitts Omnimedia, Inc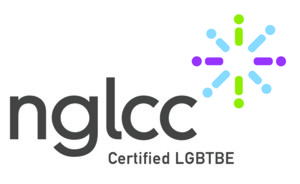 Washington, D.C. — Brown, Naff, Pitts Omnimedia, Inc, the parent company of the Washington Blade and Azer Creative, announced today it has been certified by the National Gay and Lesbian Chamber of Commerce (NGLCC) as an LGBT Business Enterprise. The NGLCC supports and advocates for diversity and inclusion for LGBT-owned businesses. With this certification the Blade's parent company joins more than 510 business and 134 corporate partners of the NGLCC.
Brown, Naff, Pitts Omnimedia, Inc. owns and operates the Washington Blade, the oldest and most acclaimed LGBT newspaper in the country. In 2012, the company launched Azer Creative, a full-service design firm. The company employs more than a dozen full-time LGBT staff.
"We are excited to become one of the 500 LGBT businesses across the country certified by NGLCC," said Lynne Brown, the Blade's publisher and a co-owner of the company. "The LGBT community has been part of our company from the beginning and we look forward to continue that for many years to come."
The Washington Blade was founded in 1969 and is known as the "newspaper of record" for the LGBT community both locally and nationally. Visit washingtonblade.com for more information. Azer Creative is a full-service graphic design firm based in Washington, D.C. Visit azercreative.com for more information. 
Vote now for the 2013 Best of Gay DC!
Choose in dozens of categories among hundreds of nominees, and make your voice heard!
Nominate the 'Best of Gay D.C.' now!
Dozens of categories cover all the best for LGBT Washington. Who deserves the prize this year?