Dustin Lance Black returns to D.C.
A gay rights activist and one of the more politically outspoken members of the film industry is bringing his message to Washington that the time for federal action on gay civil rights is here and now.
Dustin Lance Black, Oscar-winning gay screenwriter for "Milk," the 2008 biopic about the life and death of San Francisco city supervisor Harvey Milk, will speak Monday at the Jewish Community Center, 1529 16th St., N.W.
Black will speak with the center's audience at 8 p.m. General admission is $20; a $50 ticket includes a 7:30 p.m. private reception with Black. The event is sponsored by the JCC's Gay & Lesbian Outreach & Engagement program.
Black shot to sudden celebrity last year at the Academy Awards when he won for best original screenplay. He wore a white knot to the ceremony as a symbol of solidarity with same-sex marriage supporters and declared in his acceptance of the award that, "I heard the story of Harvey Milk and it gave me hope … to live my life openly as to who I am, and that one day I could even fall in love and maybe even get married."
Noting that he first heard of Milk "when I was 13 years old [and] my beautiful mother moved me and my family from a conservative Mormon home in Texas to California," Black told the audience that "most of all, if Harvey had not been taken from us 30 years ago, I think he would want me to say to all the gay and lesbian kids out there tonight who have been told they are less by their churches, or by the government, or by their families, that you are beautiful, wonderful creatures of value, and that no matter what anyone tells you, God does love you and that very soon, I promise you, you will have equal rights federally across this great nation of ours."
Black grew up in a Mormon household in San Antonio, and later moved to Salinas, Calif., when his mother remarried. His father was a former Mormon missionary who had baptized Black's mother earlier, and he grew up surrounded by Mormon culture. He has said that "my father vanished, literally just took off one day" and that they were "welfare kids" until his mother remarried for the second time. Black was then reared in a military culture as his stepfather was in the Army.
He struggled with his sexual orientation, telling himself he would surely go to hell when he felt attracted to a neighborhood boy at the age of six or seven and that his sexual anguish made him dark, shy and even suicidal until he finally came out in his senior year at UCLA's School of Theater, Film & Television where he graduated with honors in 1996.
After seeing Rob Epstern's documentary "The Times of Harvey Milk," Black has said he decided to do something with the material, wondering why no one had done so yet.  In fact, gay filmmaker Gus Van Sant had been working on script ideas for several years. Black devoted three years to researching Milk's life, then wrote a film on spec and showed it to Milk's protege, Cleve Jones, who took it to Van Sant, a friend, who decided to make the film based on Black's script after Sean Penn signed on to the starring role. The rest is Oscar history.
Black also wrote "Pedro," a documentary profile of AIDS activist and MTV "Real World" personality Pedro Zamora, a film for which Black was just nominated for a Writers Guild of America screenwriting award to be decided at the WGA ceremony in Hollywood and New York in mid February.  And he is now moving ahead on the script for Van Sant's next film, an adaptation of Tom Wolfe's "The Electric Koolaid Acid Test," about Ken Kesey and the Merry Pranksters of the LSD-saturated biker culture in the San Francisco Bay Area of the 1960s.
Black is also preparing to direct his first full-length feature, "What's Wrong with Virginia?" which he wrote five years ago. He has called it "a very personal story," one loosely based on his childhood. The drama is about a boy taking care of his impoverished, schizophrenic mother — although the idea is based on another of Black's family members, not his mother.
Disco Funk Brunch at Crazy Aunt Helen's
Tara Hoot and DJ Phil Reese perform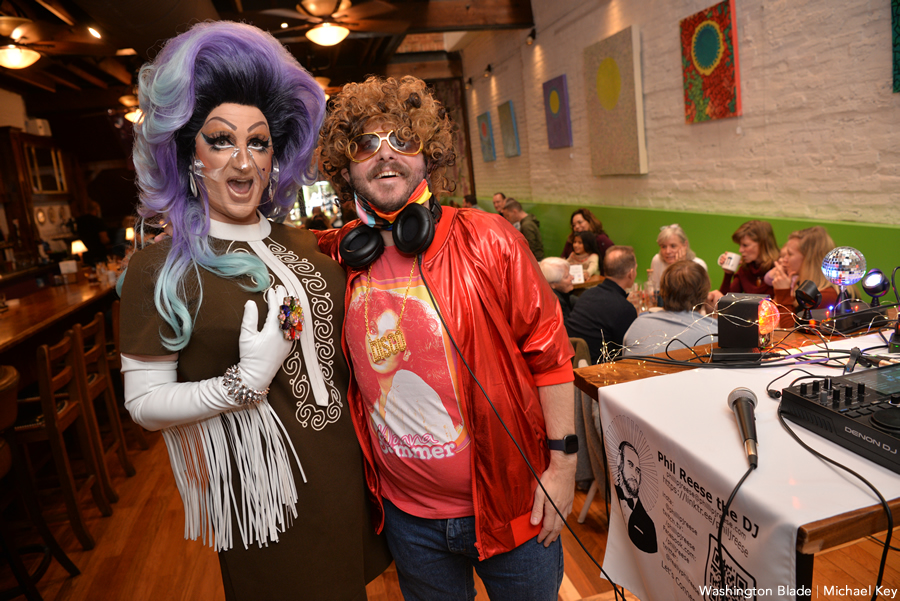 Drag queen Tara Hoot and DJ Phil Reese perform at the biweekly Disco Funk Brunch at the LGBT-owned Crazy Aunt Helen's on Sunday. For future showtimes, go to crazyaunthelens.com. (Blade photo by Michael Key)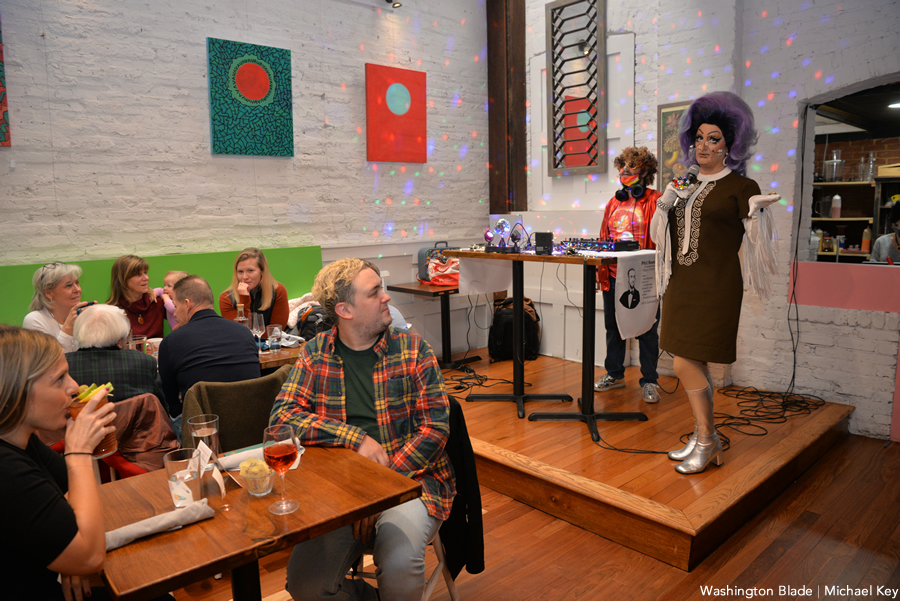 Blade's summer closing party set for Sept. 17 in Rehoboth
Benefits journalism scholarship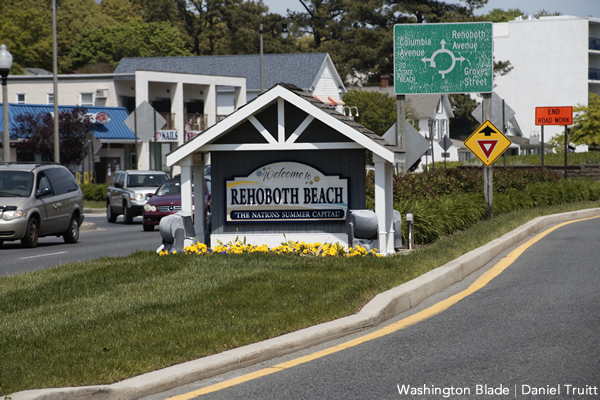 The Washington Blade's 15-year tradition of hosting a summer kickoff party in Rehoboth Beach was disrupted due to COVID restrictions. In lieu of that May event, the Blade is hosting a summer closing party on Friday, Sept. 17 at 6 p.m. at The Pines (56 Baltimore Ave., Rehoboth Beach, Del.).
Tickets are $20, which includes two drinks and appetizers. The event benefits the Blade Foundation's Steve Elkins Memorial Journalism Fellowship, a 12-week program in which an LGBTQ student journalist covers stories of interest to Delaware's queer community each summer.
All COVID safety protocols will be followed, including a requirement that attendees furnish proof of vaccination to gain entry.
If you are unable to attend you can make a donation to the Blade Foundation at BladeFoundation.org. Sponsors of the event include Delmarva Power and The Pines.
Rehoboth to close out summer with SunFest
Series of events to replace long-running Sundance due to pandemic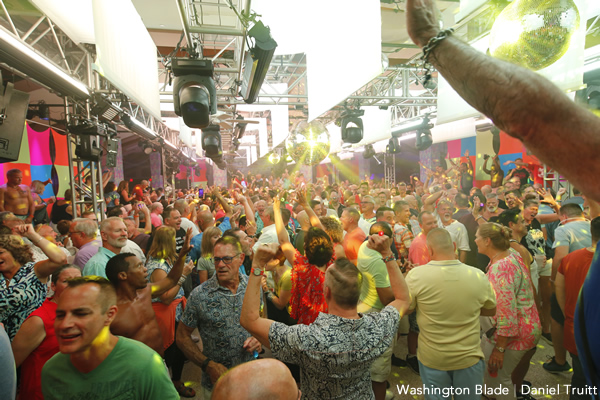 SunFest will feature a week of live performances, dances, and a live auction, sponsored by non-profit LGBTQ+ center CAMP Rehoboth.
The weeklong festival runs from Aug. 29 to Sept. 5 and is a change from the annual SunDance that CAMP Rehoboth has sponsored since 1988. This transformation began last year when the event was forced to go digital due to the coronavirus and the in-person events scheduled this year are important, according to development director and co-coordinator of SunFest Anita Broccolino.
"We love that community feel and the in-person makes all the difference in the world for us. Not being able to do it last year just reminded everyone how important we all are to one another," Broccolino said. "I think that bringing back these events this year is just huge for us and it will be extra celebratory as a result."
The festival begins with a 5k race and online auction opening on Sunday. Monday night features a give-back event at Iron Hill Brewery while Tuesday's agenda is still to be determined, said Broccolino. Diego's will host a Studio 54 give-back dance party on Wednesday and Thursday is the Port 251 women's give-back.
Live performances featuring the Skivvies, Randy Harrison and Diane Huey are scheduled for Friday night and Jennifer Holiday will follow with a performance on Saturday night, both at the Rehoboth Beach Convention Center. The festival closes out Sunday with auction pick-ups and Fun in the Sand and Sun, according to the CAMP Rehoboth website.
This event is also important to the organization's contributions to the community, said Broccolino.
"The essential services we provide for free to the community, which is a huge amount of health and wellness activities, as well as arts programming, a lot of youth programming and the community counts on us for those things. We never stopped during COVID, we made as much as we could virtual, but we took quite a hit not being able to raise those funds and awareness of the programs," Broccolino said. "We invite the entire community to come celebrate with us and make it to Rehoboth Beach, and let's make it joyful, and wonderful and make sure we're living up to the standards of all the people who helped found CAMP Rehoboth and live up to their legacy and beyond."