Westenhoefer gets totally inappropriate
It seems inconceivable that starting a comedy career on a dare would produce a 20-year run that has no signs of stopping. This, however, is exactly how Suzanne Westenhoefer got her start as a comic.
She went on to be the first openly gay comic to host her own HBO comedy special in 1994 (which earned her a Cable Ace Award nomination) and appear on "The Late Show with David Letterman" in 2003.
Westenhoefer's current U.S. tour, titled "Totally Inappropriate," hits the Birchmere Theater in Alexandria, Va., Jan. 30. Beyond the tour, Westenhoefer has a starring role in the online web drama "We Have to Stop Now," which is prepping for a second season as Wolfe Video is readying the first season for DVD.
DC Agenda talked to Westenhoefer this week to discuss the beginnings of her career, what it's like to be an out comic, and her "lack of appropriate boundaries."
DC Agenda: You began your career delivering gay-themed material to straight audiences in mainstream comedy clubs in New York City in the early 1990s. What were the initial reactions from the audience? Was it as you expected?
Westenhoefer: To be honest, I had no expectations whatsoever. I was completely surprised. I can only say I wanted to try and it went well. It went really great nearly every time, as a matter of fact. By the end of the first year, I was headlining so it was going better than I could have hoped.
Agenda: You were the first openly lesbian comic ever to appear on television in 1991 on an episode of Sally Jesse Raphael entitled "Breaking the Lesbian Stereotype…Lesbians Who Don't Look Like Lesbians." Do you feel that stereotype has been completely broken since?
Westenhoefer: The typical lesbian stereotype has been broken, but it doesn't matter who you are looking at as a comic, because everyone can be stereotyped when setting up a joke. When I was on the Sally Jesse show, the typical lesbian stereotype at the time was "angry lesbian" and I was brought on to show there were so many more sides to being a lesbian: we are models, comics, business women, etc.
Agenda: What can your audience expect from your current show?
Westenhoefer: The audience can expect to laugh. Each show is different because I feed off the audience a lot and what's going on that day. I love performing at the Birchmere because it has consistently been a great show, due to the diversity of the D.C. audience. I performed a lot in D.C. at [the] beginning of my career, so I know what to expect of the audience.
Agenda: Your girlfriend Jennifer describes you as having a "lack of appropriate boundaries" and this is the inspiration for "Totally Inappropriate." Can you elaborate on this?
Westenhoefer: Jennifer and her family were brought up so well mannered and I have always been the type to say what is exactly on my mind. It doesn't matter what it may be about and I don't really shy away from anything, which normally leaves Jennifer in a state of shock.
Agenda: Describe your involvement with "We Have to Stop Now."
Westenhoefer: It's such an amazing show! It started last season, and the second season is taped and finished. I play a therapist for two women who are therapists. It's really sweet and funny and has been received very well. The second season has Meredith Baxter's involvement, which we are so excited about. Meredith came out right after we were on the same cruise together. When I saw Meredith come out to Matt Lauer on "Today," several of the things she said we had discussed while on the cruise together. I was so happy for her.
Agenda: You participated in a photo shoot for the NOH8 campaign. How did you find the experience? Do you feel the campaign is helping the cause?
Westenhoefer: It's getting a lot of attention and taken on a life of its own. The NOH8 campaign is drawing people's attention since it makes use of mainstream pop culture figures. Adam Bouska really is a genius and it's unbelievable how much attention his work has drawn.
Agenda: Coming out is such a personal choice. When you see comics like Wanda Sykes, who wait until later in their career to do so, do you wish you had done the same thing or did you know it was the right time for you then?
Westenhoefer: I've never been in the closet, so there was no choice. I was an openly gay college student, starting the gay group on campus and things like that. It was never an option to be closeted for me but I do believe it's a personal choice and it has to be right for the person.
Beyonce vs. Rihanna dance party
Music provided by DJ Just Different at Union Stage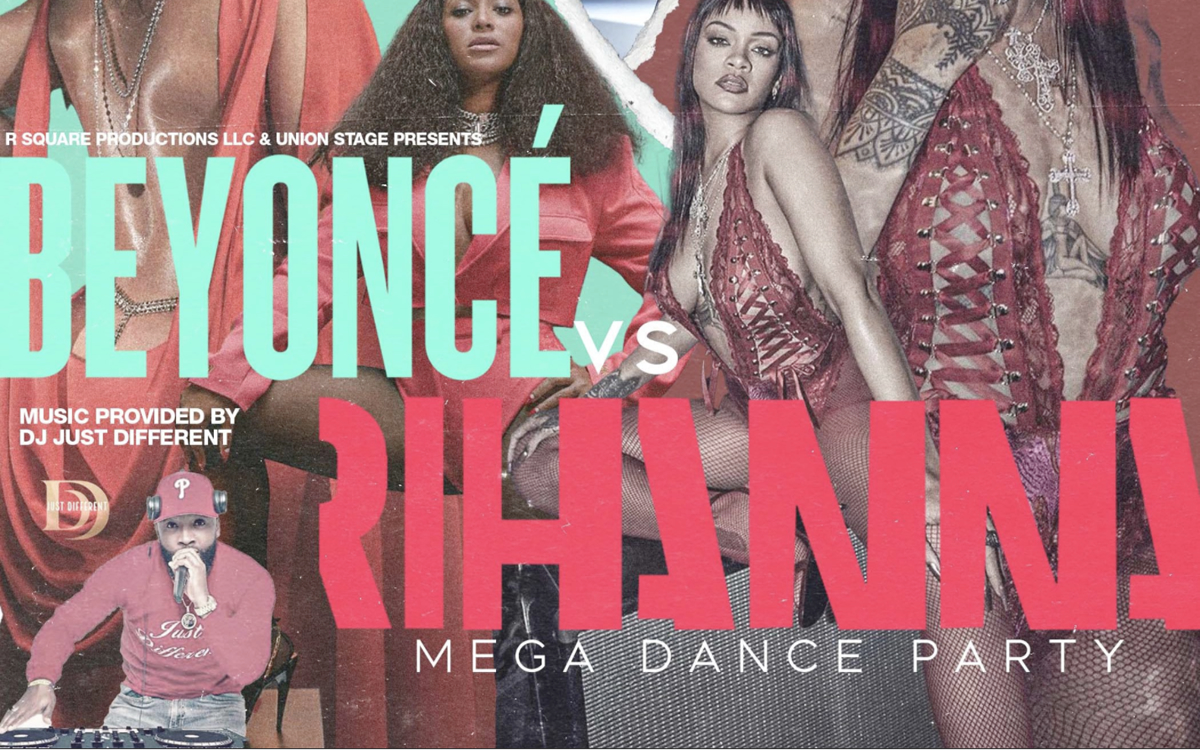 R² Productions LLC and Union Stage are teaming up to host R² Productions' inaugural "MEGA Dance Party" on Thursday, Feb. 24 at 7 p.m. at Union Stage at The Wharf.
The event will be a night full of dancing to music by pop stars Beyonce and Rihanna. DJ Just Different will be performing at the event.
General Admission tickets cost $25 and Premier Plus tickets cost $35. For more information about ticket purchases, visit Union Stage's website.
Kiki quickly becomes popular LGBTQ destination
New bar on U Street plans summer expansion, patio space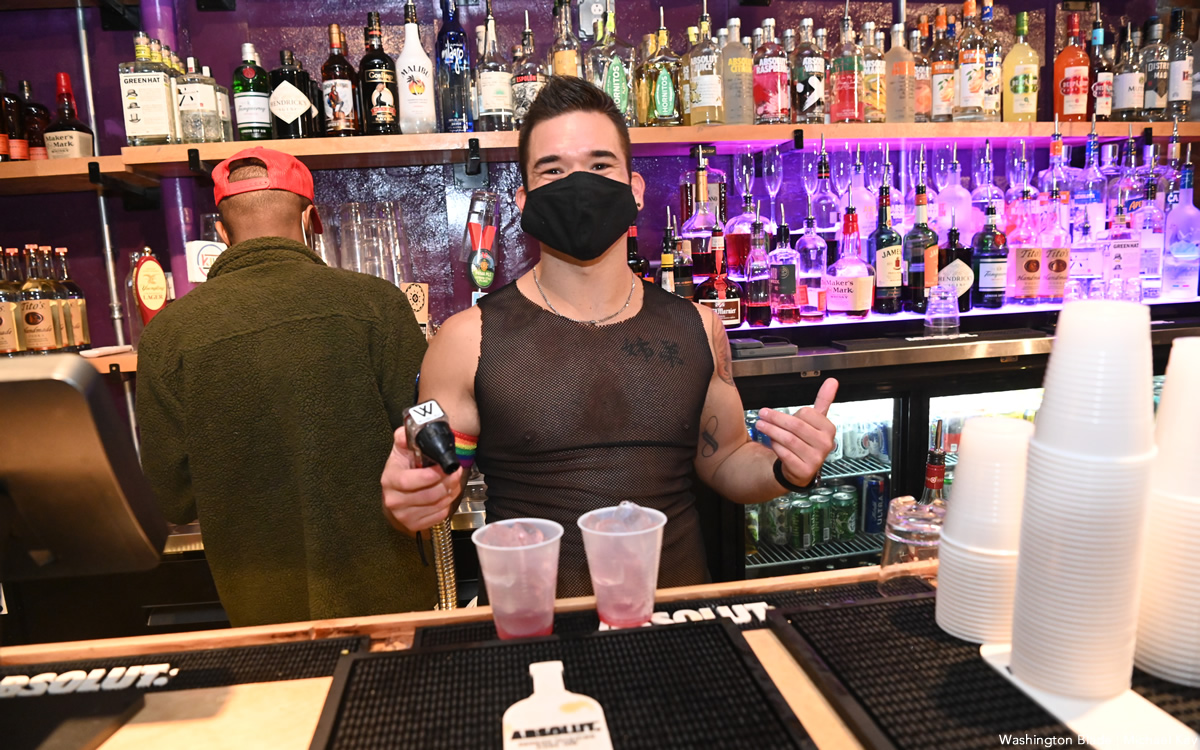 After a New Year's Eve soft opening, Kiki has become one of the most popular LGBTQ destinations in Washington, D.C.
The two-floor bar takes over the space vacated by Velvet Lounge and Dodge City on the 900 block of U Street. Both closed during the pandemic. The locale is directly adjacent to another gay bar, Dirty Goose.
Owner and gay man Keaton Fedak, a general manager at Dirty Goose, noticed that these two next-door bars had gone dark during the pandemic, and met with the owners of the two buildings, who are cousins. Plans quickly developed to use both buildings to craft an expansive, interconnected, inclusive space to transform the city's gay bar landscape.
Fedak called the bar "Kiki" both after himself (it's a nickname) and for its connection with the LGBTQ community. "The word wasn't invented by the Scissor Sisters song," he explains. "It's been an important concept in the community for decades."
The first half of Fedak's vision has already opened. The ground floor of the 915 U St. building is open-plan space with bar stools and a color-block wall of rainbow panels. A bar sits in the back up a short flight of stairs. This level will feature music, but quieter than the second-floor space. There, a DJ booth presides over a large dance floor. Disco lights flood this space; there is a bar on this level as well. The elevated dance floor is set to hold drag shows.
In the spring, a small patio will open, strung with fairy lights. It will have a "backyard aesthetic," he says, to be green, bright, and relaxing. "It's a good place to chill on a nice day outside." It may even be reminiscent of Town Danceboutique's popular patio.
The second half, at 917 U St., is still waiting for permits, and Fedak hopes to open this section in the summer.
It will connect to the current space via the outdoor patio. This section will have more of a sports bar feel, given Fedak's connection to D.C.'s Gay Flag Football League (he is a former board member). The bar will welcome Stonewall Sports and other LGBTQ sports teams, and will be replete with plenty of mounted TVs to show various games.
After the closing of Cobalt and Town, Fedak wanted to ensure that Kiki was "an inclusive space, so that there's vibes for everyone," he says. "It should be a place where regulars would just show up and hang out." He made sure that he recruited staff from different professional and personal backgrounds.
Fedak began working in food and hospitality at age 17 in his hometown in Pennsylvania. After moving to the D.C. area for work, he continued to moonlight as a bartender. Fedak joined Dirty Goose as general manager in 2019 before starting his Kiki journey.
To stock the bar, Fedak has plenty of spirits to go around. There is a focus on the vodka offerings, but he ensures that local distilleries take center stage: He carries District Made Vodka and Rye Whiskey, as well as Green Hat Gin. The beer game is also a winning strategy: there are more than 25 bottles and cans available, with three beers on tap. Local options are first-string, including selections from DC Brau, Right Proper, and Anxo Cider. Finally, the bar comes complete with a house margarita on tap (" it's a homemade recipe," notes Fedak, using agave nectar syrup instead of sugar). The 16-ounce marg is always on special for $10.
While Kiki doesn't serve food, Fedak is exploring options for a small truck or stand in the backyard.
Moving forward, Kiki will host weekly events. The bar already hosts drag shows during "RuPaul's Drag Race" viewing parties. Fedak plans to begin a "Cobalt-style underwear contest" as well. Once COVID cases decline, he also wants to resurrect the Sunday funday parties that Cobalt would host with sports teams.
Fedak's mantra for Kiki is evident in the mural that will take up the backyard patio – a quote from "Schitt's Creek": "I like the wine and not the label."
Disco Funk Brunch at Crazy Aunt Helen's
Tara Hoot and DJ Phil Reese perform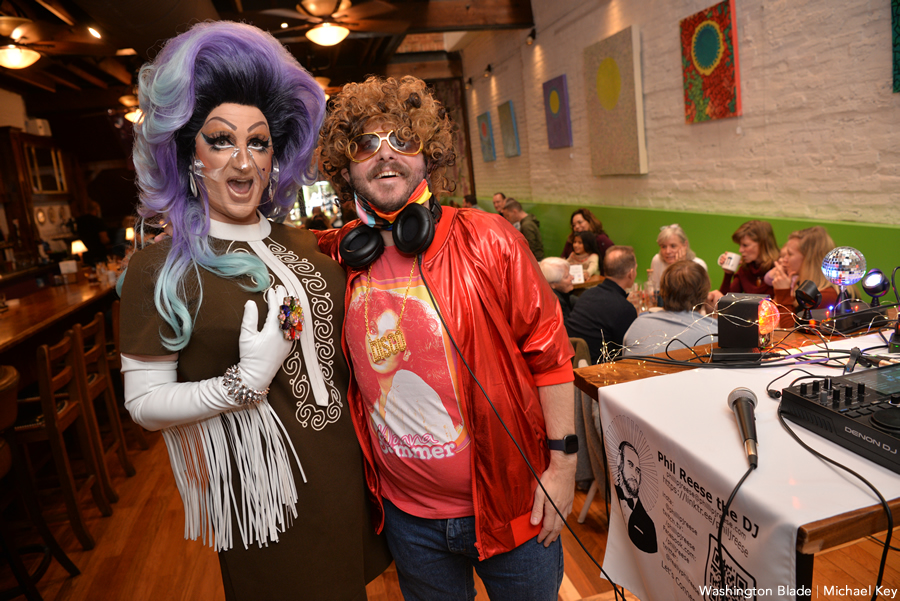 Drag queen Tara Hoot and DJ Phil Reese perform at the biweekly Disco Funk Brunch at the LGBT-owned Crazy Aunt Helen's on Sunday. For future showtimes, go to crazyaunthelens.com. (Blade photo by Michael Key)