Westenhoefer gets totally inappropriate
It seems inconceivable that starting a comedy career on a dare would produce a 20-year run that has no signs of stopping. This, however, is exactly how Suzanne Westenhoefer got her start as a comic.
She went on to be the first openly gay comic to host her own HBO comedy special in 1994 (which earned her a Cable Ace Award nomination) and appear on "The Late Show with David Letterman" in 2003.
Westenhoefer's current U.S. tour, titled "Totally Inappropriate," hits the Birchmere Theater in Alexandria, Va., Jan. 30. Beyond the tour, Westenhoefer has a starring role in the online web drama "We Have to Stop Now," which is prepping for a second season as Wolfe Video is readying the first season for DVD.
DC Agenda talked to Westenhoefer this week to discuss the beginnings of her career, what it's like to be an out comic, and her "lack of appropriate boundaries."
DC Agenda: You began your career delivering gay-themed material to straight audiences in mainstream comedy clubs in New York City in the early 1990s. What were the initial reactions from the audience? Was it as you expected?
Westenhoefer: To be honest, I had no expectations whatsoever. I was completely surprised. I can only say I wanted to try and it went well. It went really great nearly every time, as a matter of fact. By the end of the first year, I was headlining so it was going better than I could have hoped.
Agenda: You were the first openly lesbian comic ever to appear on television in 1991 on an episode of Sally Jesse Raphael entitled "Breaking the Lesbian Stereotype…Lesbians Who Don't Look Like Lesbians." Do you feel that stereotype has been completely broken since?
Westenhoefer: The typical lesbian stereotype has been broken, but it doesn't matter who you are looking at as a comic, because everyone can be stereotyped when setting up a joke. When I was on the Sally Jesse show, the typical lesbian stereotype at the time was "angry lesbian" and I was brought on to show there were so many more sides to being a lesbian: we are models, comics, business women, etc.
Agenda: What can your audience expect from your current show?
Westenhoefer: The audience can expect to laugh. Each show is different because I feed off the audience a lot and what's going on that day. I love performing at the Birchmere because it has consistently been a great show, due to the diversity of the D.C. audience. I performed a lot in D.C. at [the] beginning of my career, so I know what to expect of the audience.
Agenda: Your girlfriend Jennifer describes you as having a "lack of appropriate boundaries" and this is the inspiration for "Totally Inappropriate." Can you elaborate on this?
Westenhoefer: Jennifer and her family were brought up so well mannered and I have always been the type to say what is exactly on my mind. It doesn't matter what it may be about and I don't really shy away from anything, which normally leaves Jennifer in a state of shock.
Agenda: Describe your involvement with "We Have to Stop Now."
Westenhoefer: It's such an amazing show! It started last season, and the second season is taped and finished. I play a therapist for two women who are therapists. It's really sweet and funny and has been received very well. The second season has Meredith Baxter's involvement, which we are so excited about. Meredith came out right after we were on the same cruise together. When I saw Meredith come out to Matt Lauer on "Today," several of the things she said we had discussed while on the cruise together. I was so happy for her.
Agenda: You participated in a photo shoot for the NOH8 campaign. How did you find the experience? Do you feel the campaign is helping the cause?
Westenhoefer: It's getting a lot of attention and taken on a life of its own. The NOH8 campaign is drawing people's attention since it makes use of mainstream pop culture figures. Adam Bouska really is a genius and it's unbelievable how much attention his work has drawn.
Agenda: Coming out is such a personal choice. When you see comics like Wanda Sykes, who wait until later in their career to do so, do you wish you had done the same thing or did you know it was the right time for you then?
Westenhoefer: I've never been in the closet, so there was no choice. I was an openly gay college student, starting the gay group on campus and things like that. It was never an option to be closeted for me but I do believe it's a personal choice and it has to be right for the person.
Disco Funk Brunch at Crazy Aunt Helen's
Tara Hoot and DJ Phil Reese perform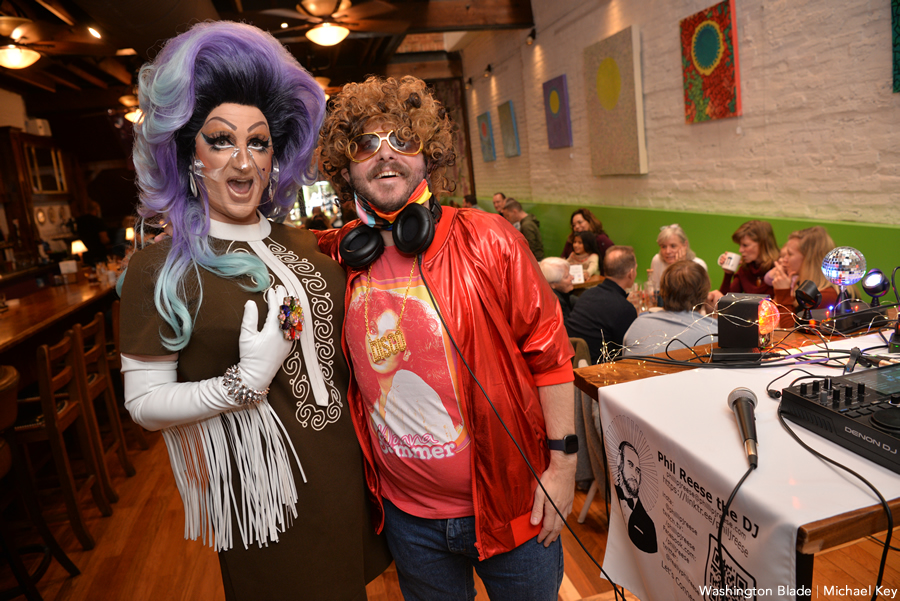 Drag queen Tara Hoot and DJ Phil Reese perform at the biweekly Disco Funk Brunch at the LGBT-owned Crazy Aunt Helen's on Sunday. For future showtimes, go to crazyaunthelens.com. (Blade photo by Michael Key)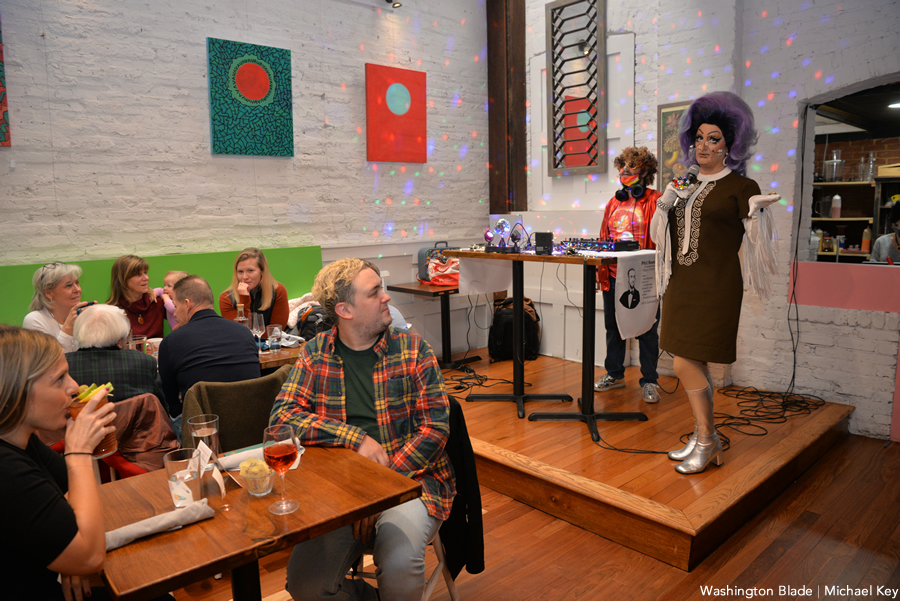 Blade's summer closing party set for Sept. 17 in Rehoboth
Benefits journalism scholarship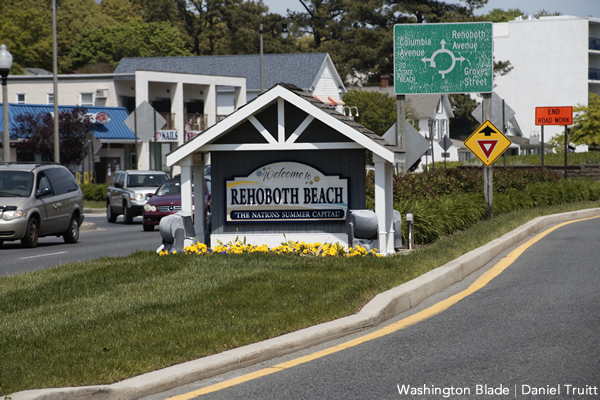 The Washington Blade's 15-year tradition of hosting a summer kickoff party in Rehoboth Beach was disrupted due to COVID restrictions. In lieu of that May event, the Blade is hosting a summer closing party on Friday, Sept. 17 at 6 p.m. at The Pines (56 Baltimore Ave., Rehoboth Beach, Del.).
Tickets are $20, which includes two drinks and appetizers. The event benefits the Blade Foundation's Steve Elkins Memorial Journalism Fellowship, a 12-week program in which an LGBTQ student journalist covers stories of interest to Delaware's queer community each summer.
All COVID safety protocols will be followed, including a requirement that attendees furnish proof of vaccination to gain entry.
If you are unable to attend you can make a donation to the Blade Foundation at BladeFoundation.org. Sponsors of the event include Delmarva Power and The Pines.
Rehoboth to close out summer with SunFest
Series of events to replace long-running Sundance due to pandemic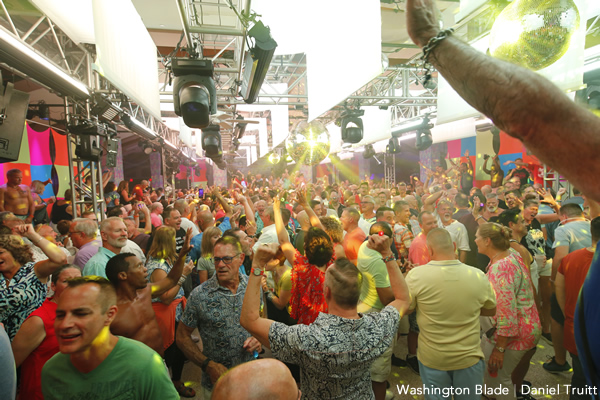 SunFest will feature a week of live performances, dances, and a live auction, sponsored by non-profit LGBTQ+ center CAMP Rehoboth.
The weeklong festival runs from Aug. 29 to Sept. 5 and is a change from the annual SunDance that CAMP Rehoboth has sponsored since 1988. This transformation began last year when the event was forced to go digital due to the coronavirus and the in-person events scheduled this year are important, according to development director and co-coordinator of SunFest Anita Broccolino.
"We love that community feel and the in-person makes all the difference in the world for us. Not being able to do it last year just reminded everyone how important we all are to one another," Broccolino said. "I think that bringing back these events this year is just huge for us and it will be extra celebratory as a result."
The festival begins with a 5k race and online auction opening on Sunday. Monday night features a give-back event at Iron Hill Brewery while Tuesday's agenda is still to be determined, said Broccolino. Diego's will host a Studio 54 give-back dance party on Wednesday and Thursday is the Port 251 women's give-back.
Live performances featuring the Skivvies, Randy Harrison and Diane Huey are scheduled for Friday night and Jennifer Holiday will follow with a performance on Saturday night, both at the Rehoboth Beach Convention Center. The festival closes out Sunday with auction pick-ups and Fun in the Sand and Sun, according to the CAMP Rehoboth website.
This event is also important to the organization's contributions to the community, said Broccolino.
"The essential services we provide for free to the community, which is a huge amount of health and wellness activities, as well as arts programming, a lot of youth programming and the community counts on us for those things. We never stopped during COVID, we made as much as we could virtual, but we took quite a hit not being able to raise those funds and awareness of the programs," Broccolino said. "We invite the entire community to come celebrate with us and make it to Rehoboth Beach, and let's make it joyful, and wonderful and make sure we're living up to the standards of all the people who helped found CAMP Rehoboth and live up to their legacy and beyond."