A prom-inent affair
Queer dance helps gays replace high school injustices with fun memories
(DC Agenda video by Steve Fox)
Ebone Bell did the whole prom thing in 1999 when she was an 18-year-old senior at Sherwood High School in Olney, Md. But she wasn't out yet and went with a guy to conform to societal expectations and the whole evening just felt off.
"I was going through the motions," the 28-year-old lesbian says. "I had the whole long hair, nails, long dress, makeup and everything. And I'd even say I had a good time because I was with my friends. But I didn't have that monumental rite of passage that it's supposed to be. I was obviously battling something and I guess I kind of knew then."
Nobody can go back in time, of course, but local LGBT people can find prom nightmare redemption in Saturday's fourth annual Capital Queer Prom, which runs from 7 to 10:30 p.m. at the Almas Temple (1315 K St., N.W.). Tickets are $50 per individual through today (www.capitalqueerprom.com). Bell, a local party and events promoter, got the idea watching a teen movie with a de rigueur prom scene. She'd heard of similar events for gays on college campuses and realized she could adapt it to a broader forum.
She was right. She started in 2005 with a women's only event. It sold out with about 200 people boarding the Spirit of Washington on the waterfront. The next year she opened it up to men and it grew to nearly 300. The real marker of success, though, she says, is the money that's raised each year for local LGBT non-profits. The Women's Collective, Wanda's Will and One in Ten were the recipients the first three years. This year it's the Wanda Alston House, D.C.'s transitional home for homeless LGBT youth, managed by Transgender Health Empowerment.
"We look for groups that don't get as much funding or promotional help as some of the bigger non-profits," Bell says. "The Wanda Alston House lost some funding last year and it's a shame, it really is. It's the only place like it in this area so we really want to do our part to help it as much as possible. Even if you don't go to prom, please go online and make a donation to the Wanda Alston House."
Proceeds come from sponsors and ticket sales but mostly from a silent auction. Queer Prom has raised about $2,000 for each of its charities in previous years, a figure Bell hopes to exceed this year. Miller Lite is the event's sole corporate sponsor but many locals have made donations.
A new dimension this year is Queer Prom's Casino Royale theme. Metro Casinos is bringing gambling paraphernalia to the party and attendees can play poker, blackjack, roulette and craps. Fake money and chips will be used to play and each ticket comes with $500 worth of chips. Additional chips can be purchased reasonably for real money — it's meant to be more fun than high stakes and Bell says prom goers who don't know the games can learn at the event.
"I just thought it sounded like something unique and different that hadn't been done before in the LGBT community," she says.
And though drinking and gambling are antithetical to high school prom, Bell does have more traditional elements planned. A prom court and king and queen — who could be of either gender in either category — will be named again this year.
Tia Terchila, a local activist and drag king who performs as Rusty Nutz, was named prom king last year, in part for her extensive volunteer efforts. She says the honor meant more than it might appear to on the surface.
"It totally had a deeper meaning," Terchila says. "It really made my entire year. It was really special and made me feel good and made me want to keep helping others."
Terchila, who graduated from Albuquerque's Cibola High School in 1998, was out in high school but still sorting through identity issues and didn't feel comfortable going to prom with a girl so she stayed home.
"I had a girlfriend but I didn't know how to properly identify myself back then at prom. I was nervous. I didn't want to wear a dress or a suit. I didn't know who I was. If I was a girl, if I was a boy, if it mattered. Why I think prom is cool now, for those of us who didn't get to experience prom in the open way we wanted to, we can dress how we want to dress and not be judged. It's fun without the pressure of high school."
Liz Steggemann, an Alexandria, Va., lesbian, also skipped her high school prom. She heard about Queer Prom last year through some of her friends at Burgundy Crescent Volunteers and offered to help.
"I had never been to my prom," she says. "I just thought, 'OK, whatever,' and I got over that, but when my friends told me about Queer Prom, I thought, 'Oh, that sounds fun. Why not?'"
She went last year with a friend and says it was an incredible evening.
"I had an awesome time," she says. "I don't think I would have had that much fun at my high school prom. I wasn't really interested in it and I couldn't see what everybody was so excited about."
Last year Steggemann wore a black and blue pinstripe suit with a white dress shirt and rainbow tie. She has another suit chosen for this year.
Bell says the event is formal but attendees don't have to feel any pressure to spend a lot of money.
"It's a gay prom so I expect all kinds of creativity," Bell says. Suits or tuxes if you want. Some go all out in big gorgeous ball gowns. It's what prom means to you. Some think it's a little black dress and that's fine. But at the end of the day, it's no jeans or sneakers."
Here's your guide to the merriest gay holiday season!
Cocktails, music and dancing at upcoming parties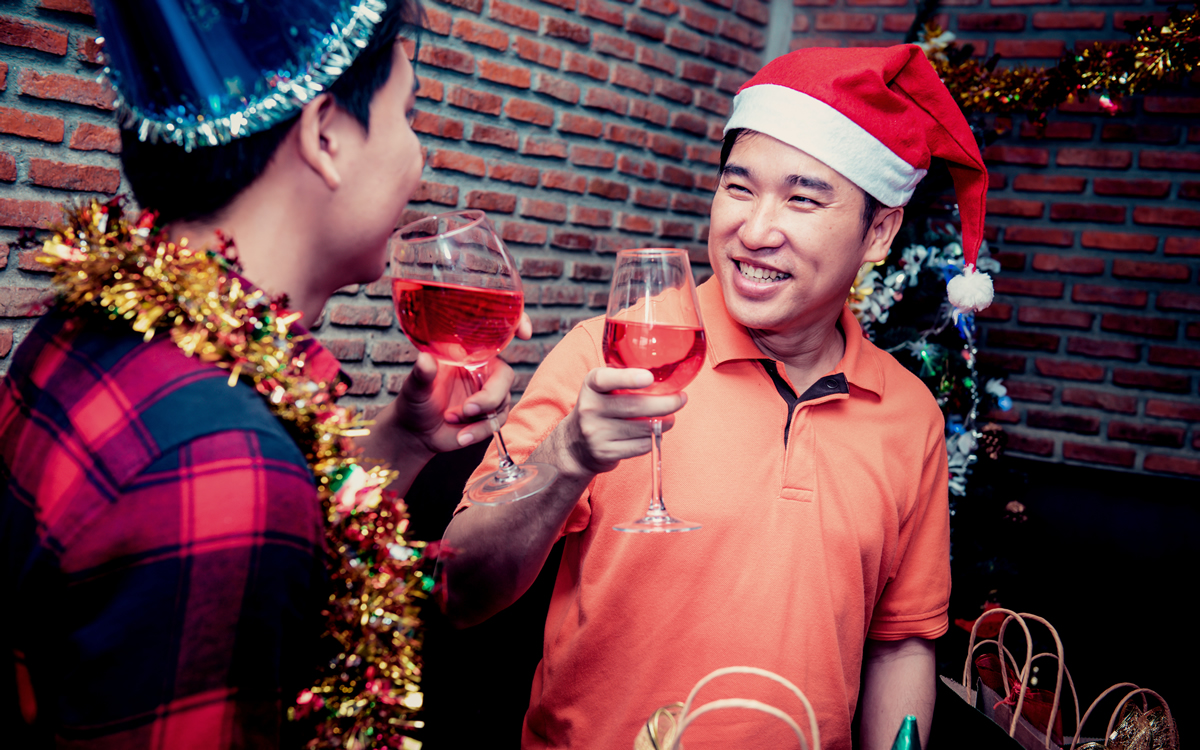 "LGBTQ Social Mixer – Pride On The Patio at Showroom" will be on Tuesday, Dec. 27 at 5:30 p.m. at Showroom.
There will be happy hour cocktails and dinner on the heated patio at the venue. Dress is casual, fancy, or comfortable. Guests are encouraged to bring their most authentic selves to chat, laugh, and get a little crazy.
Admission is free and more details are available on Eventbrite.
The Iconic International House of Balenciaga will host "Naughty or Nice: A Holiday Extravaganza" on Thursday, Dec. 22 at 10 p.m. at Privilege.
There will be a limited buffet and open bar, hookah, VIP packages, bottle specials and music by DJ Dave Thom and DJ Obie. There will also be a sweater contest with a cash prize.
Tickets are $20 and can be purchased on Eventbrite.
"Hip Hop Garden DC Day Party" will be on Saturday, Dec. 24 at 4 p.m. at Lost Society. This exclusive day party experience will feature non-stop music, dancing, and good vibes. Music played will be a crossover of genres and fusion of cultures.
Tickets are $20 and can be purchased on Eventbrite.
Winterfest remains in full force
Yappy Hour will be on Sunday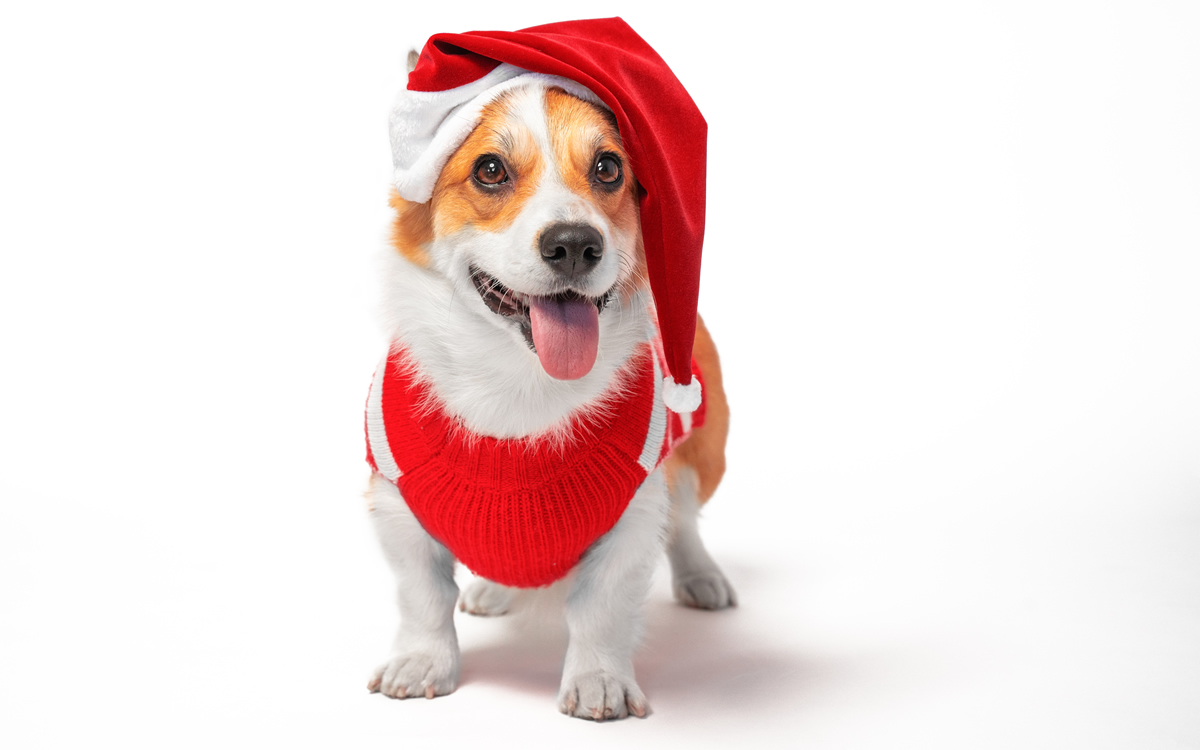 Events for Wunder Garten's 6th Annual Winterfest are still underway at one of D.C.'s most enthralling beer gardens at 1101 First St., N.E.
A Night of 1,000 Santas will be on Saturday, Dec. 17 at 8 p.m. Guests are encouraged to come dressed as Santa, Mrs. Claus, an elf, a reindeer, anything or anyone, to dance the night away and celebrate the holidays. This event is free and more details are available on Eventbrite.
Yappy Hour will be on Sunday, Dec. 18 at 12 p.m. This is a special day for the pups and their "hoomans" and perfect opportunity for the pups to get some treats and make new friends. Select beers cost $6 and there will be free pupucinnos with a purchase. This event is free and more details are on Eventbrite.
Trivia Mondays will be on Monday, Dec. 19 at 7 p.m. This event will be hosted by Mark Lloyd. Guests are encouraged to bring friends and test their knowledge to win prizes and glory. There will also be boozy cocktails, seasonal beers and themed decor. Tickets are free and more details are available on Eventbrite.
Halloween is back and more queer than ever!
Freddie's Beach Bar to host Halloween party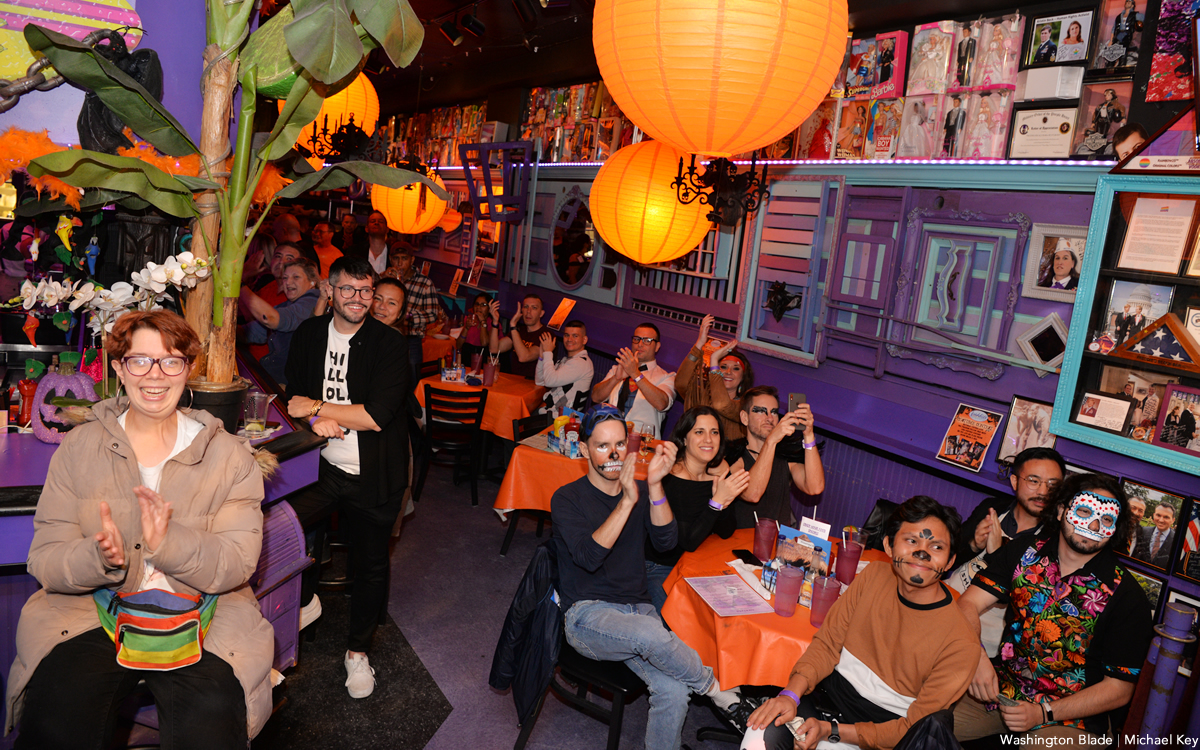 Freddie's Beach Bar and Restaurant will be hosting a Halloween party on Monday, Oct. 31 at 6 p.m.
Guests are encouraged to bring friends and meet new people from all over the world. Guests will gather in the back outside patio if the weather is nice or near the stage if not. Go Gay DC leader TJ Flavell will be there to greet you. Name tags will be provided. There's no cover charge.
For more details, visit Eventbrite. 
Metrobar DC to host 'Booze and Brews' Halloween Brunch'
"Booze and Brews Halloween Brunch" will be on Saturday, Oct. 29 at 7 p.m. at metrobar DC.
Guests are encouraged to come enjoy sounds from DJ Lalee and tasting tables from Catoctin and Republic Restoratives from 7-10 p.m. and drink specials featuring Catoctin or Republic Restoratives spirits all evening long.
This event is free to attend with an optional $15 Bash + SMYAL Fundraiser Ticket to help support LGBTQ youth across the district. Ticket holders will be honored with a cocktail.
For more details, visit Eventbrite.
Cake Pop to host 'HallowQueen Drag Brunch'
"HallowQueen Drag Brunch" will be on Sunday, Oct. 30 at 11 a.m. at The Hall CP. New host Cake Pop will be hosting this ultimate Halloween-themed event.
Flavored mimosas and Bloody Marys will cost $24 and the brunch buffet costs $30 and will include French toast casserole, buttermilk pancakes, tater tots hash, among many other menu items.
Tickets for this event start at $25 and can be purchased on Eventbrite.
Baltimore Playhouse to hold 'Haux-lloween' party
"Taste.Touch.Feel: Haux-lloween" will be on Saturday, Oct. 29 at 7:30 p.m. at Baltimore Playhouse – Private Social Club.
Guests are encouraged to come and enjoy top-tier burlesque and specialty performances, kink edutainment, interactive games, and plenty of surprises to thrill one's senses.
There will also be a costume ball with three categories. Each category is limited to eight participants. The categories are:
Alien Superstar: Most unique, intergalactic freak
Fetish Faerie: Whimsy, kinky, faerie hauxs
Best Couples Costume: Period.
After the costume ball, there will be an "Adult Play Date After Party" for mingling and a night of no inhibitions where guests can enjoy spontaneous performances, play with their lover(s) or be a voyeur while the music plays.
Tickets start at $45 and can be purchased on Eventbrite.
Sirene, X and Nadia to perform at Firefly
Firefly Halloween Special Event will be on Saturday, Oct. 29 at p.m. at Firefly. This event will feature performances by drag queens Sirene, X and Nadia. There will also be two competitions:
• "Holy" a ghoulie drag performance with a cash prize of $100 and a bookings prize of $100.
• A costume contest where the 1st place winner wins a one-night stay at Hotel Madeira, 2nd place wins dinner for two at Firefly, and 3rd place wins brunch for two at Firefly.
This event is free and more details are available on Eventbrite.