A prom-inent affair
Queer dance helps gays replace high school injustices with fun memories
(DC Agenda video by Steve Fox)
Ebone Bell did the whole prom thing in 1999 when she was an 18-year-old senior at Sherwood High School in Olney, Md. But she wasn't out yet and went with a guy to conform to societal expectations and the whole evening just felt off.
"I was going through the motions," the 28-year-old lesbian says. "I had the whole long hair, nails, long dress, makeup and everything. And I'd even say I had a good time because I was with my friends. But I didn't have that monumental rite of passage that it's supposed to be. I was obviously battling something and I guess I kind of knew then."
Nobody can go back in time, of course, but local LGBT people can find prom nightmare redemption in Saturday's fourth annual Capital Queer Prom, which runs from 7 to 10:30 p.m. at the Almas Temple (1315 K St., N.W.). Tickets are $50 per individual through today (www.capitalqueerprom.com). Bell, a local party and events promoter, got the idea watching a teen movie with a de rigueur prom scene. She'd heard of similar events for gays on college campuses and realized she could adapt it to a broader forum.
She was right. She started in 2005 with a women's only event. It sold out with about 200 people boarding the Spirit of Washington on the waterfront. The next year she opened it up to men and it grew to nearly 300. The real marker of success, though, she says, is the money that's raised each year for local LGBT non-profits. The Women's Collective, Wanda's Will and One in Ten were the recipients the first three years. This year it's the Wanda Alston House, D.C.'s transitional home for homeless LGBT youth, managed by Transgender Health Empowerment.
"We look for groups that don't get as much funding or promotional help as some of the bigger non-profits," Bell says. "The Wanda Alston House lost some funding last year and it's a shame, it really is. It's the only place like it in this area so we really want to do our part to help it as much as possible. Even if you don't go to prom, please go online and make a donation to the Wanda Alston House."
Proceeds come from sponsors and ticket sales but mostly from a silent auction. Queer Prom has raised about $2,000 for each of its charities in previous years, a figure Bell hopes to exceed this year. Miller Lite is the event's sole corporate sponsor but many locals have made donations.
A new dimension this year is Queer Prom's Casino Royale theme. Metro Casinos is bringing gambling paraphernalia to the party and attendees can play poker, blackjack, roulette and craps. Fake money and chips will be used to play and each ticket comes with $500 worth of chips. Additional chips can be purchased reasonably for real money — it's meant to be more fun than high stakes and Bell says prom goers who don't know the games can learn at the event.
"I just thought it sounded like something unique and different that hadn't been done before in the LGBT community," she says.
And though drinking and gambling are antithetical to high school prom, Bell does have more traditional elements planned. A prom court and king and queen — who could be of either gender in either category — will be named again this year.
Tia Terchila, a local activist and drag king who performs as Rusty Nutz, was named prom king last year, in part for her extensive volunteer efforts. She says the honor meant more than it might appear to on the surface.
"It totally had a deeper meaning," Terchila says. "It really made my entire year. It was really special and made me feel good and made me want to keep helping others."
Terchila, who graduated from Albuquerque's Cibola High School in 1998, was out in high school but still sorting through identity issues and didn't feel comfortable going to prom with a girl so she stayed home.
"I had a girlfriend but I didn't know how to properly identify myself back then at prom. I was nervous. I didn't want to wear a dress or a suit. I didn't know who I was. If I was a girl, if I was a boy, if it mattered. Why I think prom is cool now, for those of us who didn't get to experience prom in the open way we wanted to, we can dress how we want to dress and not be judged. It's fun without the pressure of high school."
Liz Steggemann, an Alexandria, Va., lesbian, also skipped her high school prom. She heard about Queer Prom last year through some of her friends at Burgundy Crescent Volunteers and offered to help.
"I had never been to my prom," she says. "I just thought, 'OK, whatever,' and I got over that, but when my friends told me about Queer Prom, I thought, 'Oh, that sounds fun. Why not?'"
She went last year with a friend and says it was an incredible evening.
"I had an awesome time," she says. "I don't think I would have had that much fun at my high school prom. I wasn't really interested in it and I couldn't see what everybody was so excited about."
Last year Steggemann wore a black and blue pinstripe suit with a white dress shirt and rainbow tie. She has another suit chosen for this year.
Bell says the event is formal but attendees don't have to feel any pressure to spend a lot of money.
"It's a gay prom so I expect all kinds of creativity," Bell says. Suits or tuxes if you want. Some go all out in big gorgeous ball gowns. It's what prom means to you. Some think it's a little black dress and that's fine. But at the end of the day, it's no jeans or sneakers."
Disco Funk Brunch at Crazy Aunt Helen's
Tara Hoot and DJ Phil Reese perform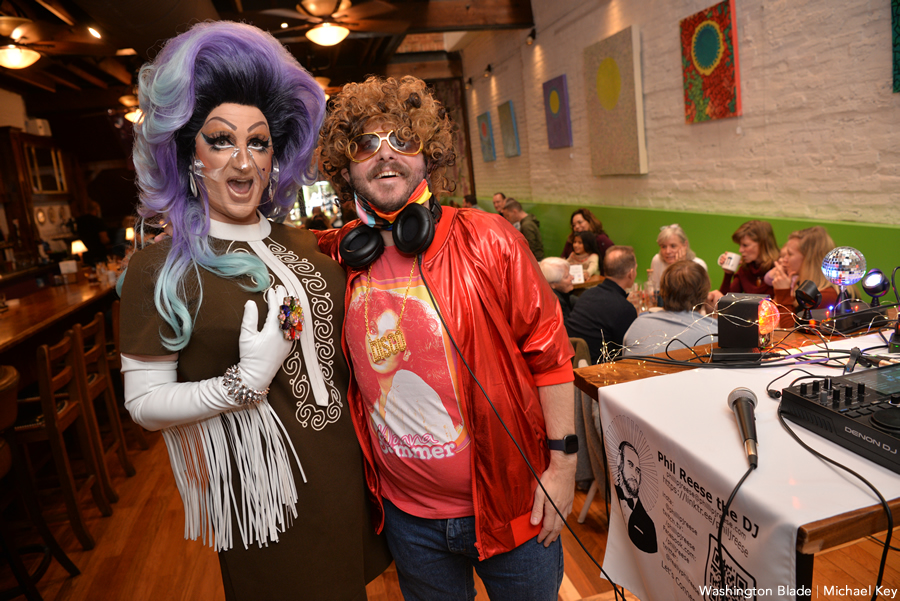 Drag queen Tara Hoot and DJ Phil Reese perform at the biweekly Disco Funk Brunch at the LGBT-owned Crazy Aunt Helen's on Sunday. For future showtimes, go to crazyaunthelens.com. (Blade photo by Michael Key)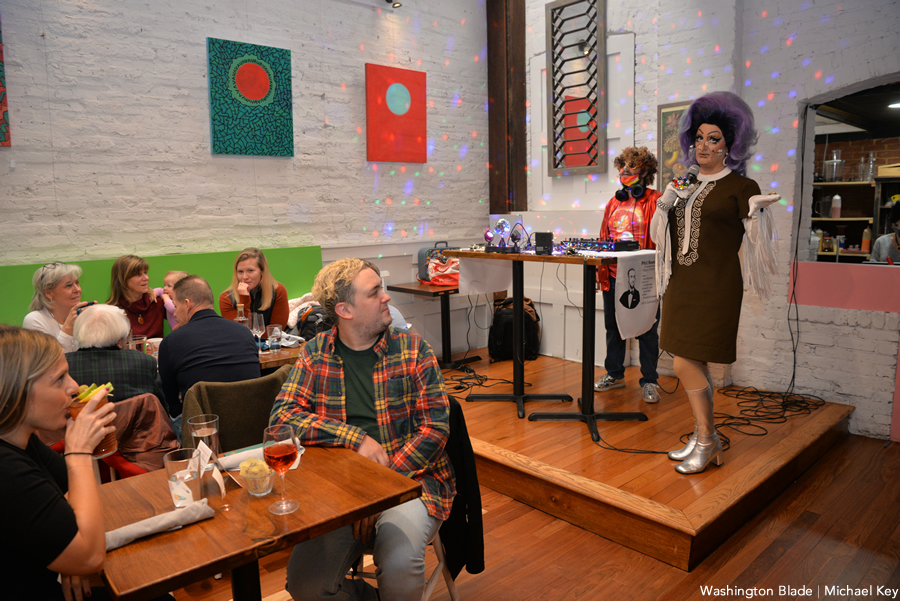 Blade's summer closing party set for Sept. 17 in Rehoboth
Benefits journalism scholarship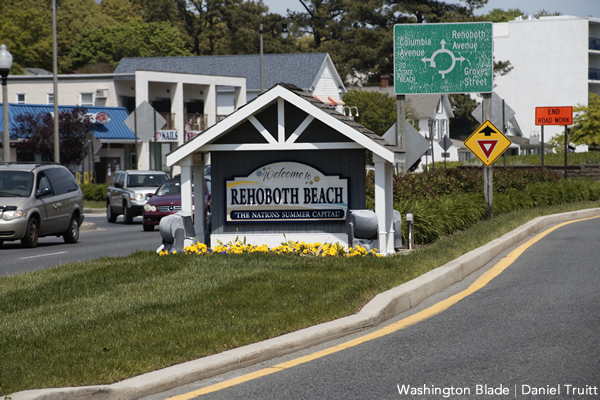 The Washington Blade's 15-year tradition of hosting a summer kickoff party in Rehoboth Beach was disrupted due to COVID restrictions. In lieu of that May event, the Blade is hosting a summer closing party on Friday, Sept. 17 at 6 p.m. at The Pines (56 Baltimore Ave., Rehoboth Beach, Del.).
Tickets are $20, which includes two drinks and appetizers. The event benefits the Blade Foundation's Steve Elkins Memorial Journalism Fellowship, a 12-week program in which an LGBTQ student journalist covers stories of interest to Delaware's queer community each summer.
All COVID safety protocols will be followed, including a requirement that attendees furnish proof of vaccination to gain entry.
If you are unable to attend you can make a donation to the Blade Foundation at BladeFoundation.org. Sponsors of the event include Delmarva Power and The Pines.
Rehoboth to close out summer with SunFest
Series of events to replace long-running Sundance due to pandemic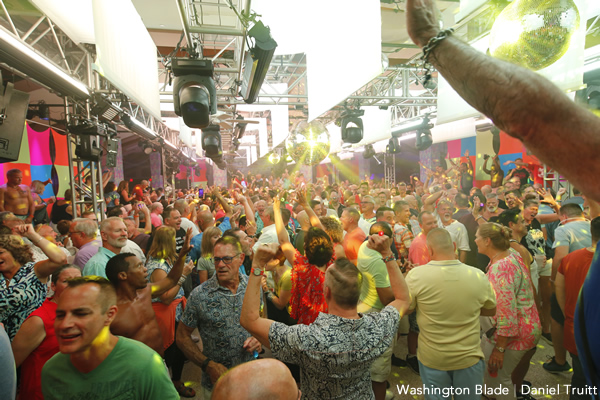 SunFest will feature a week of live performances, dances, and a live auction, sponsored by non-profit LGBTQ+ center CAMP Rehoboth.
The weeklong festival runs from Aug. 29 to Sept. 5 and is a change from the annual SunDance that CAMP Rehoboth has sponsored since 1988. This transformation began last year when the event was forced to go digital due to the coronavirus and the in-person events scheduled this year are important, according to development director and co-coordinator of SunFest Anita Broccolino.
"We love that community feel and the in-person makes all the difference in the world for us. Not being able to do it last year just reminded everyone how important we all are to one another," Broccolino said. "I think that bringing back these events this year is just huge for us and it will be extra celebratory as a result."
The festival begins with a 5k race and online auction opening on Sunday. Monday night features a give-back event at Iron Hill Brewery while Tuesday's agenda is still to be determined, said Broccolino. Diego's will host a Studio 54 give-back dance party on Wednesday and Thursday is the Port 251 women's give-back.
Live performances featuring the Skivvies, Randy Harrison and Diane Huey are scheduled for Friday night and Jennifer Holiday will follow with a performance on Saturday night, both at the Rehoboth Beach Convention Center. The festival closes out Sunday with auction pick-ups and Fun in the Sand and Sun, according to the CAMP Rehoboth website.
This event is also important to the organization's contributions to the community, said Broccolino.
"The essential services we provide for free to the community, which is a huge amount of health and wellness activities, as well as arts programming, a lot of youth programming and the community counts on us for those things. We never stopped during COVID, we made as much as we could virtual, but we took quite a hit not being able to raise those funds and awareness of the programs," Broccolino said. "We invite the entire community to come celebrate with us and make it to Rehoboth Beach, and let's make it joyful, and wonderful and make sure we're living up to the standards of all the people who helped found CAMP Rehoboth and live up to their legacy and beyond."