'Don't Ask' protesters interrupt Obama speech
Protesters angered with President Obama's progress on repealing "Don't Ask, Don't Tell" interrupted

Protesters angered with President Obama's progress on repealing "Don't Ask, Don't Tell" interrupted his speech several times during a fundraising event in Los Angeles on Monday, leading him to reiterate he's in favor of ending the law.
The activists were affiliated with GetEqual.org — the same group responsible for organizing Lt. Dan Choi's and Capt. James Pietrangelo's act of civil disobedience last month in which the two soldiers chained themselves to the White House gate.
According to White House pool reports, demonstrators called out to Obama several times to end "Don't Ask, Don't Tell" during a Democratic National Committee fundraising speech aimed to build support for Sen. Barbara Boxer (D-Calif.).
"What about don't ask, don't tell?" one protester shouted to the president.
In response to the protesters' ourbursts, the crowd tried to hush the activists. Obama yelled back, "We are going to do that," and kept talking, increasing his volume to speak over the demonstrators. The crowd then erupted into chants of "Yes, we can!"
Obama later said, "We are going to repeal don't ask, don't tell."
"It's time for equality for all Americans!" another protester yelled, and Obama replled, "Can I just say again Barbara and I are supportive of repealing 'Don't Ask, Don't Tell?'"
But protesters kept yelling, bringing Obama's remarks to a halt. The crowd responded again by shouting, "Yes we can!" over the protesters.
Obama then left the microphone briefly and spoke with Boxer. After he returned he said, "I just checked with Barbara, so if anybody else is thinking about starting a chant, Barbara didn't even vote for 'Don't Ask, Don't Tell' in the first place, so you know she's going to be in favor of repealing 'Don't Ask, Don't Tell.'" 
According to a statement from GetEqual.org, demonstrators were then escorted out of the reception by security officers, and Obama regained control over his speech to discuss how the economy was showing signs of recovery.
In a statement, Dan Fotou, a Los Angeles, Calif., resident and one of the protesters at the speech, said Obama has been "has been AWOL" on efforts to repeal "Don't Ask, Don't Tell."
"We had to reminded him of the promises he made to the LGBT community during his campaign and several times during his presidency – that ['Don't Ask, Don't Tell'] will be repealed because, as he's stated, 'it's the right thing to do,'" Fotou said.
Kip Williams, co-founder of GetEqual.org, commended the actions taken by protesters during Obama's speech.
"These empowering and brave activists feel so strongly about our rights they were willing to confront the President of the United States on his lack of leadership on ['Don't Ask, Don't Tell'] and to hold him accountable for the promises he has made to our community," Williams said.
Obama addresses the "Don't Ask, Don't Tell" protestors in this video at time marks 2:10, 5:23 and 6:20.
National Gay & Lesbian Chamber of Commerce Certifies Brown, Naff, Pitts Omnimedia, Inc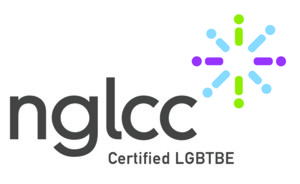 Washington, D.C. — Brown, Naff, Pitts Omnimedia, Inc, the parent company of the Washington Blade and Azer Creative, announced today it has been certified by the National Gay and Lesbian Chamber of Commerce (NGLCC) as an LGBT Business Enterprise. The NGLCC supports and advocates for diversity and inclusion for LGBT-owned businesses. With this certification the Blade's parent company joins more than 510 business and 134 corporate partners of the NGLCC.
Brown, Naff, Pitts Omnimedia, Inc. owns and operates the Washington Blade, the oldest and most acclaimed LGBT newspaper in the country. In 2012, the company launched Azer Creative, a full-service design firm. The company employs more than a dozen full-time LGBT staff.
"We are excited to become one of the 500 LGBT businesses across the country certified by NGLCC," said Lynne Brown, the Blade's publisher and a co-owner of the company. "The LGBT community has been part of our company from the beginning and we look forward to continue that for many years to come."
The Washington Blade was founded in 1969 and is known as the "newspaper of record" for the LGBT community both locally and nationally. Visit washingtonblade.com for more information. Azer Creative is a full-service graphic design firm based in Washington, D.C. Visit azercreative.com for more information. 
Vote now for the 2013 Best of Gay DC!
Choose in dozens of categories among hundreds of nominees, and make your voice heard!
Nominate the 'Best of Gay D.C.' now!
Dozens of categories cover all the best for LGBT Washington. Who deserves the prize this year?