Slain D.C. middle school principal was gay
Brian Betts hailed as innovative educator, hero to students
Brian Betts, the highly acclaimed D.C. middle school principal who was found shot to death April 15 at his home in Silver Spring, Md., was out as a gay man to a circle of friends and D.C. public school system colleagues, multiple sources have told the D.C. Agenda.
Montgomery County police said they discovered Betts' fully clothed body in a second floor bedroom in his house along the 9300 block of Columbia Boulevard in Silver Spring. Police noted there were no signs of a forced entry into the house, leading them to believe that Betts, 42, invited his killer or killers inside.
Police spokesperson Sgt. C. Thomas Jordan said he could not comment on whether Betts' murder was related to the slain principal's sexual orientation, saying only that homicide detectives were investigating all possible angles of the case to identify a suspect or suspects.
"I know our investigators are talking to everyone they know of to get to the bottom of the case," he said. "We are going to investigate every avenue. Our role is to solve a homicide."
Betts established a reputation as a rising star in the Montgomery County public school system as a teacher and assistant principal before D.C. Public Schools Chancellor Michelle Rhee recruited him to join her and Mayor Adrian Fenty's efforts to overhaul the District's long troubled school system.
In 2008, Rhee named Betts principal of Shaw Middle School at Garnet-Patterson, a recently reorganized school in the city's historic Shaw neighborhood. School officials said he quickly emerged as one of the school system's most innovative principals.
The Washington Post reported that students liked him so much that they asked and Rhee agreed to allow 100 students to remain at the middle school for their ninth grade instead of the normal process of advancing to another school for that grade.
"The unexpected death of Brian Betts is unspeakably tragic for his family, for the Shaw Middle School community, and for all of D.C. Public Schools," Rhee said in a statement.
"Brian Betts had the courage to take on the leadership of a struggling, underperforming DCPS school," she said. "He was an inspirational leader for the teachers and for the students, and that leadership was bringing results. He knew what the children under his care were capable of, and he was determined to show them how to get there."
Montgomery County police disclosed that D.C. police found Betts' blue Nissan Xterra SUV on April 16 along the 3900 block of Fourth Street, S.E., in D.C., where it was believed to have been abandoned by two suspects between noon and 3 p.m. Police sources said investigators learned from a nearby resident that two males were seen leaving the vehicle, but as of Tuesday police declined to release a description of them.
On Monday, a Montgomery police spokesperson issued another statement saying investigators established that Betts was alive at least until 11:30 p.m. April 14. News media have reported neighbors observing that Betts had hosted a barbeque cookout for one or more people in his back yard on the night of April 14. Police would neither confirm nor deny that report.
Police arrived at Betts' house about 7:30 p.m. April 15 after a co-worker called to report he had failed to show up at work that morning and could not be reached. The co-worker arrived at the house to investigate his whereabouts and entered the house after discovering the front door was unlocked, police said. Rather than investigate further, the co-worker called police, and police discovered Betts' body in an upper floor bedroom.
One gay man who knew Betts from the time Betts lived in D.C.'s Shaw neighborhood said Betts had a circle of gay friends and was seen patronizing the Dupont Circle gay bars Omega and Fireplace.
Another gay man who knew him said he assumed Betts was "out" as gay because many people in the gay community knew him in gay circles.
"He was definitely a member of the GLBT community," said the man, who spoke to D.C. Agenda on condition that he was not identified.
Capt. Paul Starks, director of the Montgomery County police's public affairs office, declined to comment on Betts' sexual orientation or whether police were looking into whether the case was a possible hate crime or pick-up murder.
Gay activists and LGBT anti-violence groups in D.C. and other cities have expressed concern in the past that police investigators sometimes failed to seek help from the LGBT community in cases where mostly gay men were robbed or killed by men they met in gay clubs or meeting places and invited home.
In an investigative series of stories in the 1980s and 1990s, the Washington Blade reported more than 20 murders of gay men in the D.C. metropolitan area believed to be pick-up murders remained unsolved. Police confirmed that in each of the cases, investigators found no signs of a forced entry into the victims' homes, where their bodies were found.
Following the murder of D.C. gay resident Anthony Perkins in December, when police found him shot to death inside his parked car in Southeast D.C., the D.C. police's Gay & Lesbian Liaison Unit distributed flyers with Perkin's photo to local gay clubs seeking information from members of the LGBT community.
The GLLU issued a similar flyer in February following the murder of a gay man from Maryland who also was shot inside his car on a Northeast Washington street.
D.C. police have arrested and charged suspects with first-degree murder while armed in both cases.
"Brian Betts was by all accounts an amazingly dedicated teacher and administrator," said Peter Rosenstein, a D.C. gay activist. "Nothing can ever take that reputation from him. I never knew Brian, but friends did and according to them he was a brilliant, charming, funny, committed-to-his-family-and-students gay man.
"If this is true, my question to the police is: If his murder could be related to his being gay, are they using the GLBT community to help find his murderer?" Rosenstein said. "Are notices being sent out through the GLLU and other avenues to find this murderer and bring him [or] them to justice? Brian deserves no less from society than that we find who is responsible for this heinous crime."
Sharon Stapel, executive director of the New York City Anti-Violence Project, which monitors violence against LGBT people, said her group defers to police, family members and relatives of LGBT crime victims on whether to disclose the sexual orientation of such victims.
But she added, "Certainly the stigma and fear about being outed is something that can be an obstacle to investigating cases where someone may identify as LGBT."
"We want people to feel free to come forward if they think that they have information that would be helpful," Stapel said. "But all of those decisions have to be made in the context of what's going on in their lives and in the victims' lives and in the lives of other folks who care for the victim.
"And the reality is we still live in a very violent and very dangerous homophobic world."
Eliza Byard, executive director of the Gay, Lesbian & Straight Education Network, called Betts "a remarkable example of many, many, many men and women who are gay and lesbian who dedicate their lives to education."
Pointing to Betts' work to help transform D.C.'s public schools through his job as a middle school principal, Byard characterized him as "a real example of the amazing work that lesbians and gay men are doing as leaders in schools every single day, whether they are principals or teachers, and the contributions they are making to our schools."
Elected officials turn out for annual Equality NoVa Ice Cream Social
Northern Virginia LGBTQ group stresses 'political awareness, education'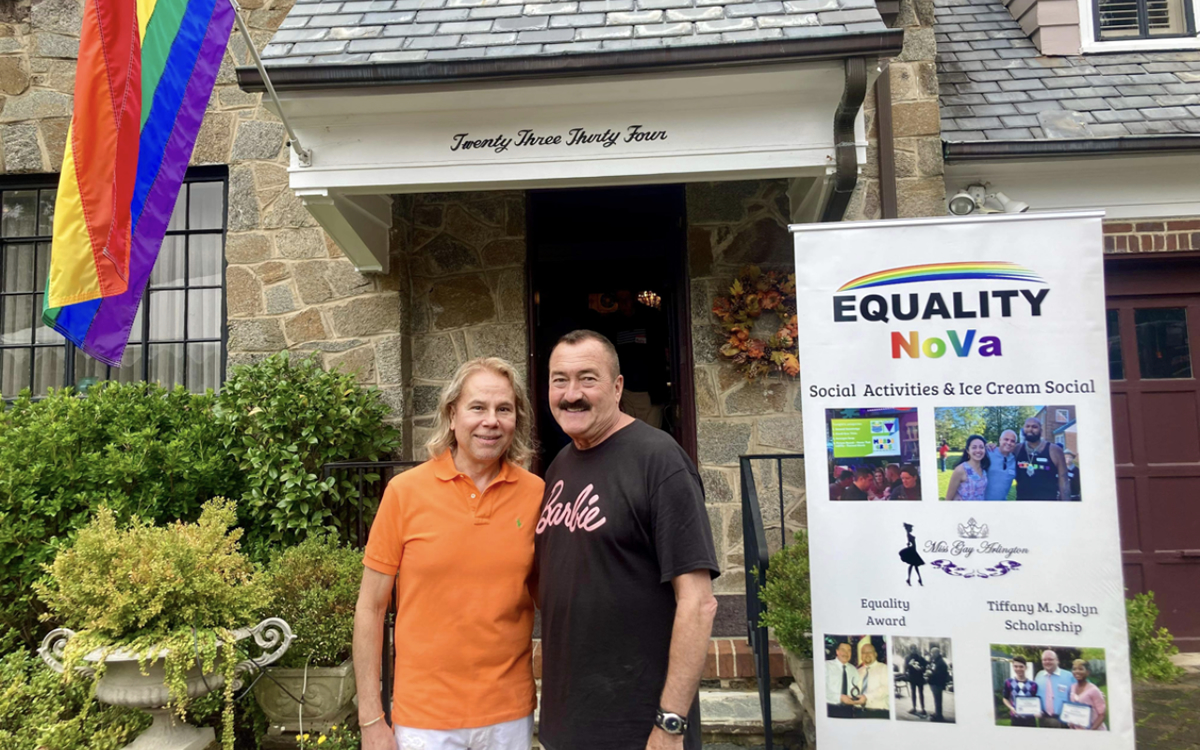 Four LGBTQ supportive members of the Virginia General Assembly and two candidates running for seats on the Arlington County Board were among more than 100 people who turned out on Sunday, Sept. 24, for the LGBTQ organization Equality NoVa's annual Ice Cream Social.
The event was held at the Arlington, Va. home of Freddie Lutz, owner of the Arlington gay bar and restaurant Freddie's Beach Bar, and Lutz's husband, Johnny Cervantes.
Daniel Hays, president of Equality NoVa, told those attending the event in introductory remarks that Equality NoVa, which recently changed its name from the Arlington Gay and Lesbian Alliance (AGLA), was founded in 1981 and is the oldest continuously operating LGBTQ organization in Virginia.
In an announcement in April the group said the name change came after it had taken on for some time the activities and representation of the now-defunct LGBTQ groups in Alexandria and Fairfax counties and had expanded its operations to cover most if not all the regions known as Northern Virginia.
Hays noted that the group is a nonpartisan organization that doesn't endorse candidates for public office but organizes educational and political awareness events and awareness campaigns on issues impacting LGBTQ people related to statewide and local government agencies and officials.
The elected officials attending the event were Virginia House of Delegates members Charniele Herring (D-Alexandria & Fairfax), Elizabeth Bennett-Parker (D-Alexandria & Arlington), and Vivian Watts (D-Fairfax).
Also attending was Virginia State Sen. Barbara Favola, a Democrat whose district includes parts of Arlington, Fairfax, and Loudoun Counties.
Joining the state lawmakers attending the Equality NoVa social were Arlington County Board candidates Maureen Coffey and Susan Cunningham and Arlington County School Board candidate Miranda Turner.
Many of those attending the event said they were rooting for the re-election of Herring, Bennett-Parker, Watts, and Favola in the upcoming Virginia elections in November. All members and candidates for the General Assembly will be on the ballot in an election that political observers say could decide which party controls both houses of the state legislature.
Currently, Democrats control the 40-member Virginia Senate by a margin of 22-18 seats. Republicans currently control the House of Delegates by a margin of 51 to 46 seats, with three vacancies in the 100-member House.
With Virginia Gov. Glenn Youngkin (R) putting in place through executive action public school policies that LGBTQ activists consider hostile and discriminatory for transgender students, LGBTQ activists are hopeful that a Democratic takeover of the House of Delegates would result in a reversal of Youngkin's school policy.
Some of the activists attending the Equality NoVa event said they were fearful that a Republican takeover of the state Senate and if Republicans retain control of the House of Delegates could result in the General Assembly approving the type of anti-LGBTQ legislation passed in Florida and other states.
Anti-transgender heckler interrupts Danica Roem during debate
Trans lawmaker is running for the Va. state Senate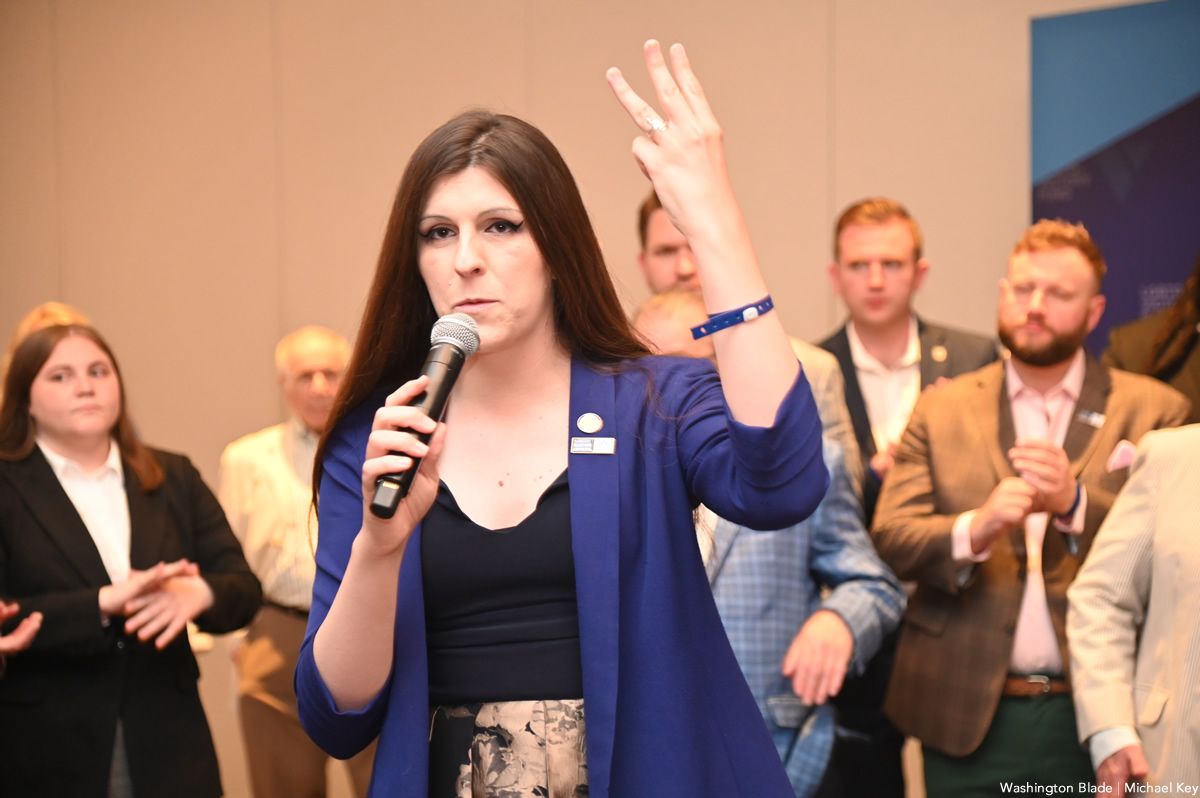 An anti-transgender heckler interrupted Virginia state Del. Danica Roem (D-Manassas) on Sept. 28 during a debate with her Republican opponent for the state Senate.
The woman heckled Roem during the Prince William Committee of 100-organized debate between her and Bill Woolf that took place at Metz Middle School in Manassas. 
"Thank you for reminding me why I won three elections in this district in Prince William County, which is the most diverse county in all of Virginia and the 10th most nationally where we welcome everyone because of who they are, not despite it, no matter what you look like, where you come from how you worship, if you do, or who you love because you should be able to thrive here because of who you are, never despite it," said Roem.
Audience members applauded Roem after she responded to the heckler who was eventually removed from the auditorium.
Roem in 2017 defeated then-state Del. Bob Marshall, a vocal LGBTQ rights opponent who co-wrote Virginia's constitutional amendment defining marriage as between a man and a woman that voters approved 11 years earlier. Roem subsequently became the first openly transgender person seated in a state legislature in the U.S.
Roem in 2019 became the first out trans state legislator to win re-election. Roem in May 2022 announced she is running to represent the newly redistricted Senate District 30, which includes western Prince William County and the cities of Manassas and Manassas Park.
Woolf during the Sept. 28 debate did not say whether he would support the repeal of the marriage amendment. Woolf also reiterated his support of a bill that would require school personnel to out trans students to their parents.
Virginia Beach high school students stage walkouts to support transgender rights
City's school board approved policy to out trans students to parents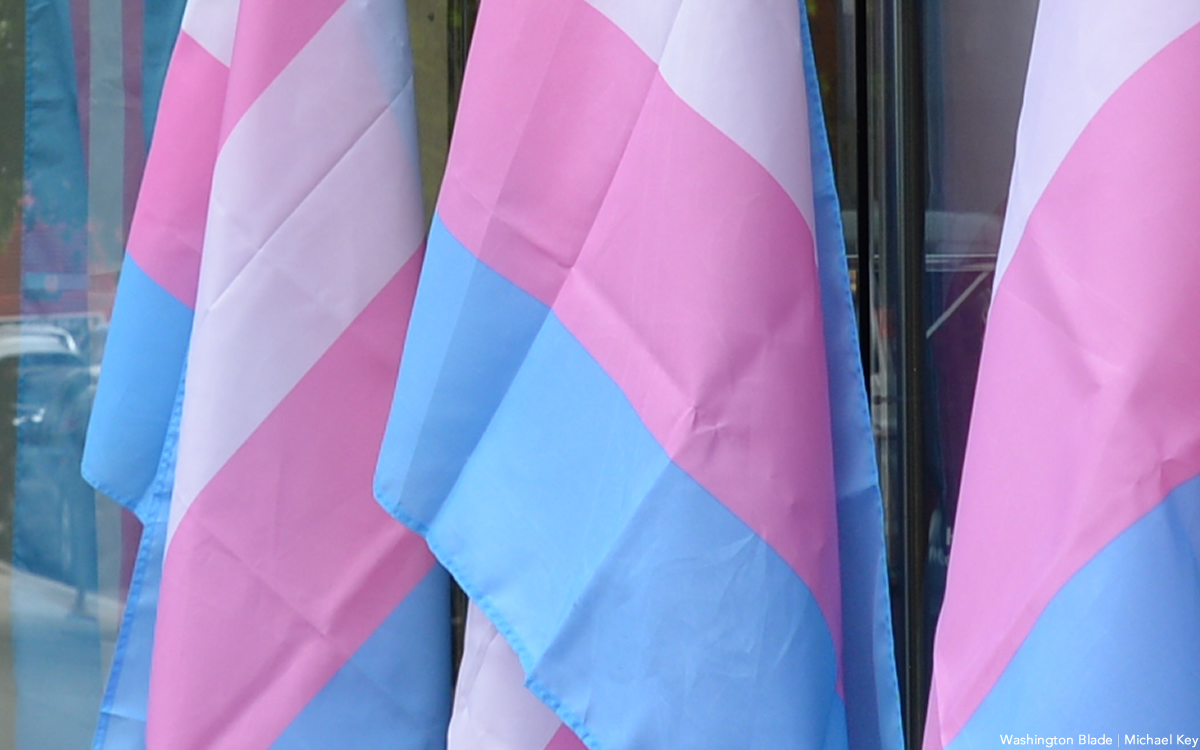 Students at five Virginia Beach high schools on Friday staged walkouts in support of transgender rights.
The walkout is in response to the Virginia Beach School Board potentially approving policy 5-31, which the Pride Liberation Project says will require schools to out trans students to their parents.
Students have been organizing walkouts across the state since Republican Gov. Glenn Youngkin earlier this year announced new guidelines for trans and nonbinary students.
"Students like me aren't going to be able to talk to our teachers if we're constantly worried about our school officials calling home to forcibly out us," AJ, a trans Kellam High School Student, told the Pride Liberation Project.