Local news in brief
Evidence fight continues as Wone trial nears & more

Evidence fight continues as Wone trial nears
The judge presiding over the upcoming obstruction of justice trial for three gay men implicated in the 2006 murder of D.C. attorney Robert Wone will issue a final decision next week on witnesses and evidence admissible in the trial, including evidence about the sexual proclivities of the three defendants.
During an April 23 status hearing, D.C. Superior Court Judge Lynn Leibovitz set a final pre-trial status hearing for May 5, at which time she promised to rule, among other things, on whether the government can submit evidence showing the defendants used sex toys, including restraints, at their home.
Joseph Price, Victor Zaborsky and Dylan Ward are charged with obstruction of justice, conspiracy to obstruct justice and evidence tampering in connection with the stabbing death of Wone inside the Dupont Circle area house where the three defendants lived in August 2006.
Prosecutors have pointed to an autopsy report saying Wone appeared to have been "immobilized" when he was stabbed three times in a guest bedroom at the house. They have since backed away from an earlier theory that Wone was immobilized from a paralytic drug, suggesting they may argue at trial that he was restrained before being stabbed.
The defense has filed motions asking Leibovitz to bar the government from submitting evidence or witnesses showing that the crime scene was "cleaned" of blood stains; that Wone was sexually assaulted or immobilized by a drug; and that Wone may have been bound by "restraints." Another defense motion calls for barring the government from submitting evidence about the sex lives of the three gay men, including any S&M-related sexual activities.
Prosecutors, meanwhile, say they may file a motion seeking to bar the defense from calling as a witness a cardiologist who's expected to testify that a single stab wound to the heart could immobilize a person. The defense was expected to use the witness to counter the autopsy finding of no signs of a struggle or movement by Wone when he was stabbed.
Authorities have yet to charge anyone with the murder itself. The trial is scheduled to begin May 10.
The men have pleaded not guilty and say they believe an intruder killed Wone after entering the house while they were asleep. Wone, a friend of the men, was spending the night at their house after working late at his nearby office. Wone was married to a woman, and his family says he was straight.
LOU CHIBBARO JR.
LGBT activists absent from Gray campaign kickoff
Similar to D.C. Mayor Adrian Fenty's opening campaign event earlier this month, nearly all of the city's well-known LGBT activists stayed away from City Council Chairman Vincent Gray's mayoral campaign kickoff event.
Activists following city politics are speculating that many LGBT city residents are taking a wait-and-see posture on the mayor's race and are not ready to take sides. Fenty and Gray both have strong records on LGBT issues. Fenty signed the city's same-sex marriage law in December, and Gray was a strong advocate for the measure in his role as Council chairman.
Although he did not mention Fenty by name during the April 24 campaign kickoff, Gray leveled strong criticism of the mayor's leadership style, saying the mayor's office has alienated many city residents in his efforts to push through reforms for the city's public schools and other programs.
Gray said he supports school reform but promised to work more closely with teachers, parents and principals.
Also similar to the mayor's opening campaign event, Gray did not mention LGBT issues. He chided Fenty for being a divisive force in the city, but did not mention that both he and Fenty received an equal amount of criticism from some of the city's ministers and socially conservative residents for allegedly dividing the city through their support of same-sex marriage.
Gray told reporters after his kickoff speech before a large audience at the Historical Society of Washington that he decided to limit the topics covered in his address to broad themes dealing with his plans to unite the city. He said he would address a wide range of other issues, including same-sex marriage, in future campaign appearances and events.
Among the few gay Democratic activists attending the kickoff were Paul Kuntzler, co-founder of the Gertrude Stein Democratic Club, the city's largest LGBT political group; and Stein member Christopher Fitzgerald. The club's current officers were not present. Stein President Jeffrey Richardson has said the club's rules require the officers to remain neutral until the club makes an official endorsement of a mayoral candidate.
Other out gays attending the event were Ronald Collins, the City Council's deputy secretary; and Christopher Murray, the clerk of the Council's Committee of the Whole, which Gray chairs. Also attending was gay activist Kenneth Borden and D.C. Nightlife Association Executive Director Skip Coburn, whose group represents gay and straight bars and nightclubs in matters before the city. Coburn said he attended as an observer and hasn't made up his mind on which candidate to support.
David Meadows, a former Stein Club president and member of the D.C. Democratic State Committee, said he also attended as an observer and is neutral in the mayor's race.
LOU CHIBBARO JR.
Earline Budd honored for trans advocacy work
Veteran D.C. transgender activist Earline Budd has been named the 2010 recipient of the International Foundation for Gender Education's Trinity Award, which recognizes outstanding work on behalf of the transgender community.
"The Trinity Award honors our heroes: living transgender persons who have performed extraordinary acts of courage and love in service to the transgender community," says a letter announcing Budd's selection for the award.
"I know of no one more deserving of this recognition," Denise Leclair, a Foundation official, told Budd in the letter.
Budd received the award at the organization's annual conference April 23 at the Alexandria Mark Center Hilton Hotel in Alexandria, Va.
"I am always pleased at doing something that will continue to put the District of Columbia out front," Budd said in an e-mail to LGBT activists. "This award tells me that with your continued support I am doing something right. I really appreciate each of you being in some way a part of my life and say thank you."
LOU CHIBBARO JR.
DC Front Runners Pride 5K to take place as scheduled
Air quality improved overnight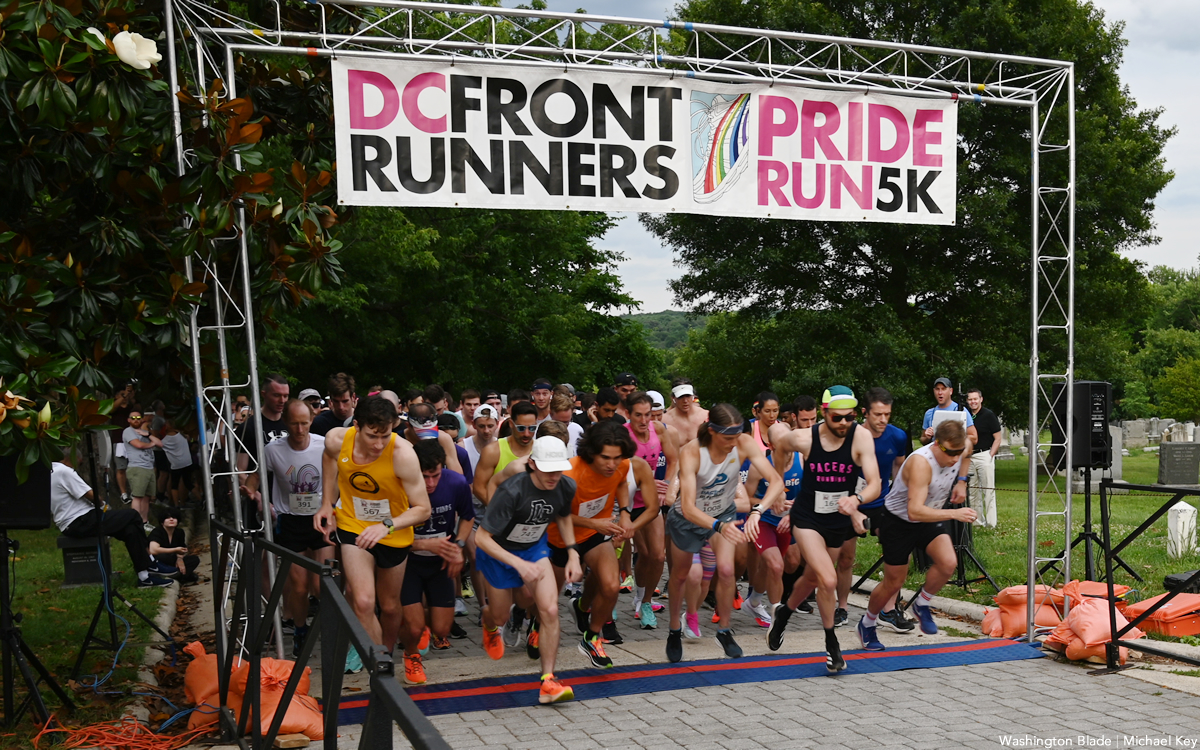 The D.C. Front Runners' annual Pride Run 5K will take place as scheduled at Congressional Cemetery on Friday.
The Blade Foundation, SMYAL, the Wanda Alston Foundation, Team DC, Teens Run DC, Pride 365 and Ainsley's Angels of America are among the race's beneficiaries. Wegmans, Shake Shack, Knead Hospitality and Design, Choice Hotels and Capital One Café are among the sponsors.
Rooftop Pool Party postponed
Capital Pride Alliance moves official event to June 22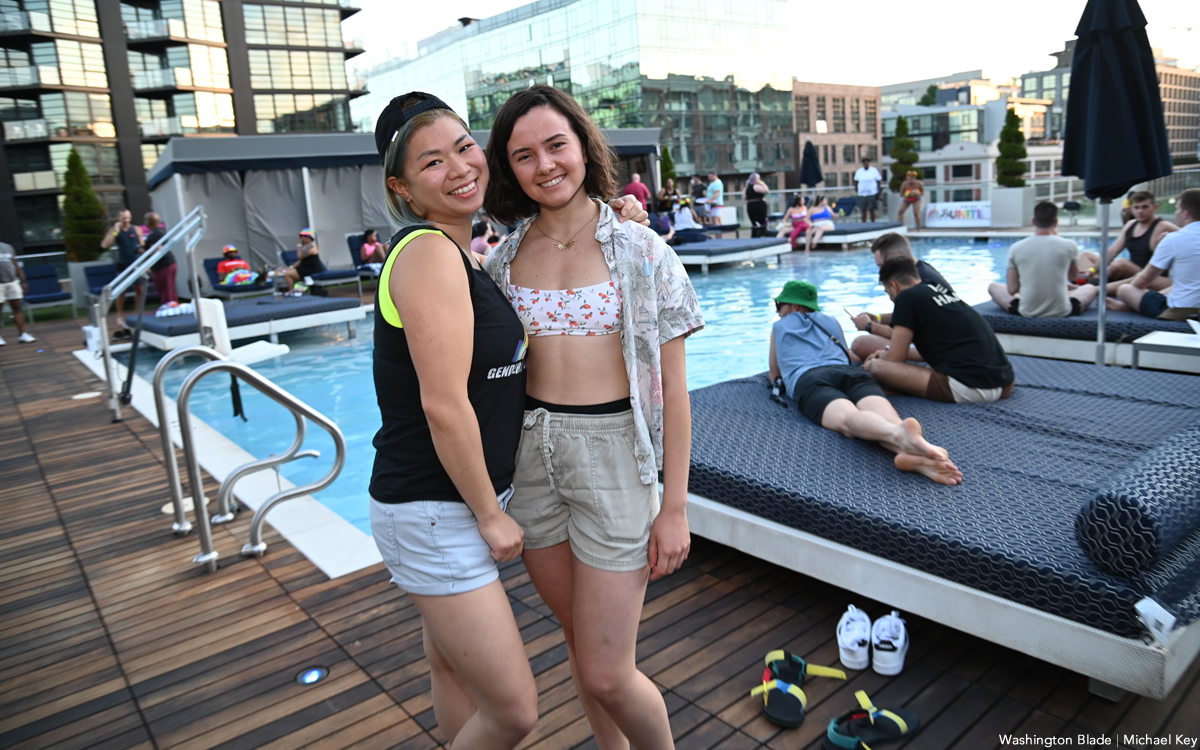 The Capital Pride Rooftop Pool Party, originally scheduled to begin at 8 p.m. tonight, has been postponed until Thursday, June 22, according to a statement released by the Capital Pride Alliance on Instagram. This action comes amid an international climate event created by the Canadian wildfire that has resulted locally in poor air quality and a haze around the region.
The Capital Pride Alliance Instagram account posted, "As with all concerns regarding health and safety issues, the Capital Pride Alliance will closely monitor the air quality situation resulting from Canadian wildfire smoke and take necessary precautions in consultation with our partners in the DC government."
"What does this mean for the pool party?" a question one private Instagram account user posed in the comment section.
"Important Update:" A representative of the Capital Pride Alliance responded through the group's official Instagram account. "Tonight's Capital Pride RoofTop Pool Party at VIDA The Yards is being postponed until Thursday, June 22 at 8:00 pm, due to the current air-quality situation resulting from the Canadian wildfires smoke. Please note that this postponement only applies to today's event."
The Capital Pride Alliance has yet to cancel or postpone any further events.
The White House earlier today rescheduled a large outdoor Pride reception planned for this evening to Saturday.
White House postpones Pride event due to wildfire smoke
Thousands expected for celebration bumped to Saturday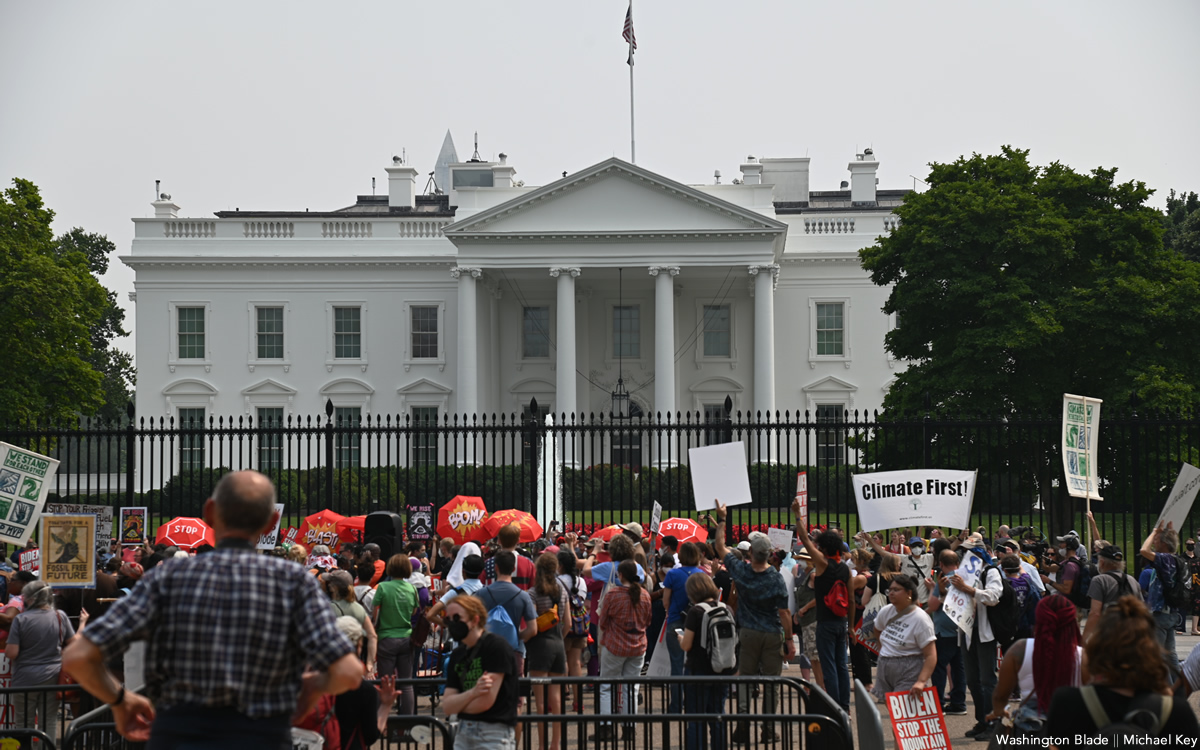 The White House announced Thursday that a Pride event scheduled for this evening has been postponed to Saturday due to the lingering Canadian wildfire smoke.
The smoke has enveloped D.C. in a dangerous haze that triggered a "purple alert" on Thursday, considered worse than a "red alert."
The event, expected to draw thousands of invited LGBTQ advocates and supporters to D.C., has been rescheduled for 1 p.m. on Saturday on the South Lawn of the White House, the same day as D.C.'s Capital Pride Parade, which kicks off at 3 p.m., and Pride on the Pier celebration, which starts at 2 p.m.