Men of Mautner to honor Catania
Council member praised for work on health care, marriage

All MOMs should report to the rooftop of 701 Pennsylvania Ave., N.W., on May 26, says Mautner Project executive director Leslie Calman.
And do it for your mom, she says, or your sister, your daughter or other loved one or friend — anyone who partners with other women and who has ever needed health care services including "during a time of overwhelming challenge of threatening illness."
Why? "Because the Men of Mautner will celebrate another year of partnership on Wednesday, May 26 when we come together to honor the 2010 Man of Mautner, DC Councilman David Catania," Calman adds.
Cocktails and hors d'oeuvres will be plentiful that evening, she says, and she also promises a gorgeous rooftop view of the city as well as the chance to meet other Men of Mautner, those volunteers and donors who help the non-profit organization now in its 20th year serving the health care needs of women who partner with women whether as lesbian or bisexual or trans individuals.
Catania, D.C. Council member at large and chair of the Health Committee, declared: "I could not be more excited or honored about this award," adding that he has "supported the Mautner Project in fundraising and other ways for such a long time, because of its important, indeed indispensable, role in serving the health care needs of the lesbian community in the D.C. area."
Catania pointed in particular to the Mautner Project's leadership role, together with other LGBT groups, in spearheading a drive to encourage smoking cessation and the results have been "a phenomenal success," he said, "seeing dramatic drops in the rate of smoking" among LGBT individuals. "Mautner provides a crucial voice and can clearly reach into the community with messages we need to have heard to improve health outcomes"
The 2009 Men of Mautner honoree, Bill Gannon, MD, the first man to be elected to Mautner's board, in 2003, hailed the selection of Catania as his successor MOM this year as "an important step to acknowledge the critical leadership role of elected officials in meeting health care needs of LGBT people" as well as for Catania's major role in promoting same-sex marriage equality in the enactment of the District's recent landmark law.
Gannon, a physician specializing in oncology and cancer-related clinical trials for biotech and pharmaceutical companies, noted that "men play a key supportive role to women in these initiatives, and a lot of us see this as helping our sisters — actual or otherwise — touched by cancer and also as a way of giving back to the gay community."
He also noted that in his own case his mother-in-law — partner David Weidner's own mother — is a breast-cancer survivor. "So it's up close and very personal for me."
Gannon urged all men, and all others, to invest in the work of the Mautner Project. Tickets are $100 for the event, which is from 7-9 p.m., Wednesday, May 26 at 701 Pennsylvania Ave., N.W. The event is sponsored by Ackerman Legal PLLC. Catania will speak after being introduced by Washington Blade editor Kevin Naff.
Speaking of the Men of Mautner fundraiser, host Glen Ackerman, head of the law firm Ackerman Legal, PLLC, said: "I have served on the Mautner board for just a little over a year, but this affiliation has afforded me the opportunity for the most personal growth and learning I have experienced so far, since as a gay man I've now had to learn all about women's health issues and all the problems that lesbian women face in getting their health care needs met." Ackerman also was co-chair of the Mautner Project's 20th anniversary gala event.
The Mautner Project was founded in 1990, following the death due to breast cancer in 1989 of local lesbian-rights activist and mother Mary-Helen Mautner, then 42, who asked her partner Susan Hester to begin an organization to help other lesbians facing life-threatening illness. Calman calls this "our founding story … of how she literally outlined on a piece of paper a plan for how lesbians could help other lesbians deal with cancer."
In the past 20 years, according to Calman, the Mautner Project has won many grants to advance such public health initiatives as smoking cessation and most recently obesity among women who partner with women, especially including African-American women. That newest project, a 3-year, $250,000 grant from the District's Health Department, goes into effect later this month as an integrated research and public education outreach for direct intervention to change people's behaviors leading to obesity.
Men of Mautner
May 26, 7 p.m.
701 Pennsylvania Ave, N.W.
Tickets $100
mautnerproject.org
Disco Funk Brunch at Crazy Aunt Helen's
Tara Hoot and DJ Phil Reese perform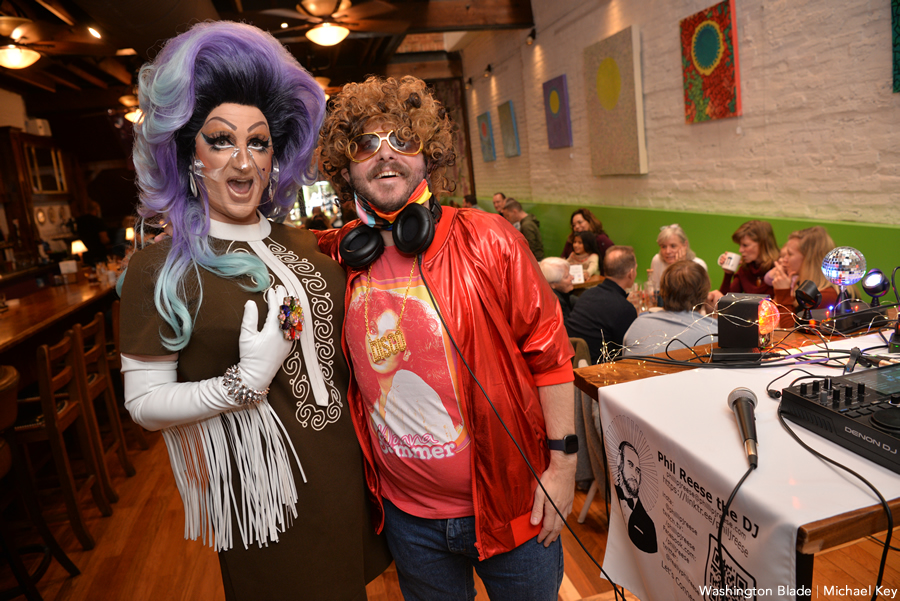 Drag queen Tara Hoot and DJ Phil Reese perform at the biweekly Disco Funk Brunch at the LGBT-owned Crazy Aunt Helen's on Sunday. For future showtimes, go to crazyaunthelens.com. (Blade photo by Michael Key)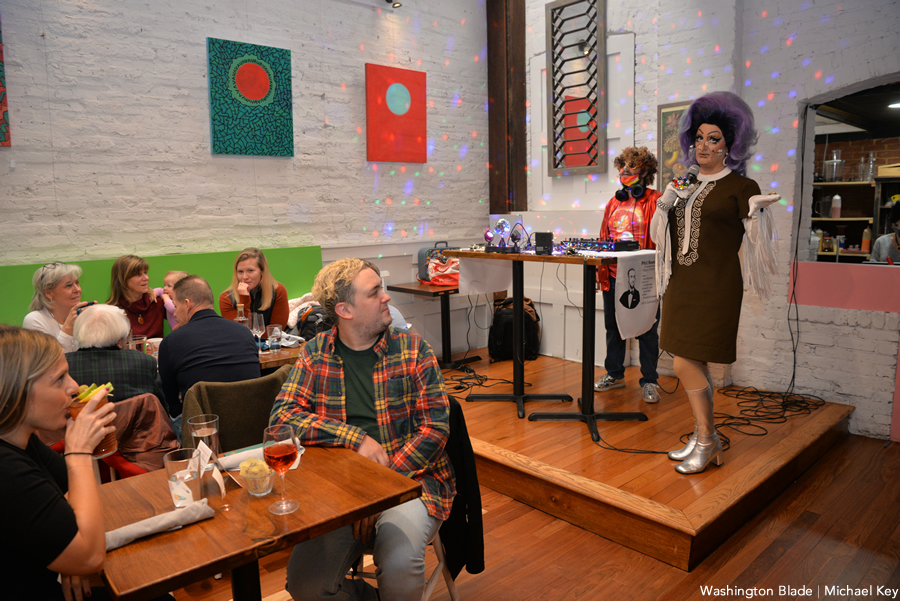 Blade's summer closing party set for Sept. 17 in Rehoboth
Benefits journalism scholarship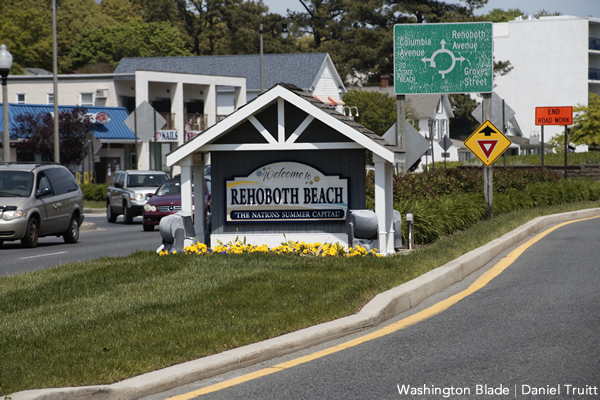 The Washington Blade's 15-year tradition of hosting a summer kickoff party in Rehoboth Beach was disrupted due to COVID restrictions. In lieu of that May event, the Blade is hosting a summer closing party on Friday, Sept. 17 at 6 p.m. at The Pines (56 Baltimore Ave., Rehoboth Beach, Del.).
Tickets are $20, which includes two drinks and appetizers. The event benefits the Blade Foundation's Steve Elkins Memorial Journalism Fellowship, a 12-week program in which an LGBTQ student journalist covers stories of interest to Delaware's queer community each summer.
All COVID safety protocols will be followed, including a requirement that attendees furnish proof of vaccination to gain entry.
If you are unable to attend you can make a donation to the Blade Foundation at BladeFoundation.org. Sponsors of the event include Delmarva Power and The Pines.
Rehoboth to close out summer with SunFest
Series of events to replace long-running Sundance due to pandemic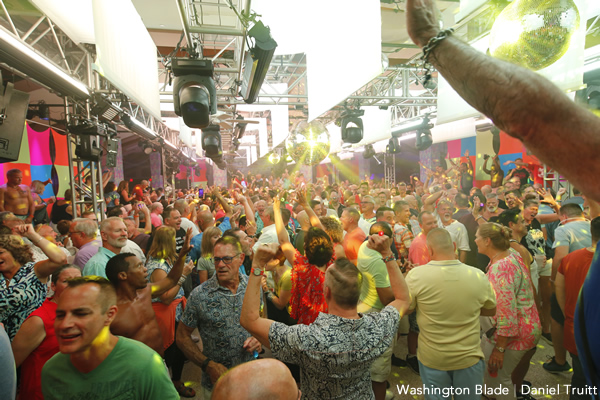 SunFest will feature a week of live performances, dances, and a live auction, sponsored by non-profit LGBTQ+ center CAMP Rehoboth.
The weeklong festival runs from Aug. 29 to Sept. 5 and is a change from the annual SunDance that CAMP Rehoboth has sponsored since 1988. This transformation began last year when the event was forced to go digital due to the coronavirus and the in-person events scheduled this year are important, according to development director and co-coordinator of SunFest Anita Broccolino.
"We love that community feel and the in-person makes all the difference in the world for us. Not being able to do it last year just reminded everyone how important we all are to one another," Broccolino said. "I think that bringing back these events this year is just huge for us and it will be extra celebratory as a result."
The festival begins with a 5k race and online auction opening on Sunday. Monday night features a give-back event at Iron Hill Brewery while Tuesday's agenda is still to be determined, said Broccolino. Diego's will host a Studio 54 give-back dance party on Wednesday and Thursday is the Port 251 women's give-back.
Live performances featuring the Skivvies, Randy Harrison and Diane Huey are scheduled for Friday night and Jennifer Holiday will follow with a performance on Saturday night, both at the Rehoboth Beach Convention Center. The festival closes out Sunday with auction pick-ups and Fun in the Sand and Sun, according to the CAMP Rehoboth website.
This event is also important to the organization's contributions to the community, said Broccolino.
"The essential services we provide for free to the community, which is a huge amount of health and wellness activities, as well as arts programming, a lot of youth programming and the community counts on us for those things. We never stopped during COVID, we made as much as we could virtual, but we took quite a hit not being able to raise those funds and awareness of the programs," Broccolino said. "We invite the entire community to come celebrate with us and make it to Rehoboth Beach, and let's make it joyful, and wonderful and make sure we're living up to the standards of all the people who helped found CAMP Rehoboth and live up to their legacy and beyond."