Obama earns mixed reviews on LGBT progress
Is the president our 'fierce advocate' or a disappointment?
After 18 months in office, the harsh realities of politics and compromise have caught up to President Obama. Hailed as a champion of LGBT rights during the 2008 campaign, LGBT rights advocates now give Obama mixed reviews for his performance to date.
In a statement to the Blade, Joe Solmonese, president of the Human Rights Campaign, said "there's no doubt" that Obama has done more for LGBT people than any other U.S. president in history.
"Within the constraints of current law, he's advanced policies that will vastly improve the lives of tens of millions," Solmonese said. "Has change occurred quickly enough? No. The pace of change will never be quick enough for a community that is consistently denied their equality."
Solmonese noted that LGBT people continue to face inequality on "a whole host of fronts" that could be remedied through legislative or policy change.
"But none of that obscures the fact that this president has and will continue to be our partner and advocate," Solmonese said.
But Richard Socarides, a gay New York attorney who was an adviser to former President Clinton, has a very different view of Obama's tenure. Socarides said there's a "pretty strong consensus that it's been a disappointing 18 months."
Among Obama's early disappointments, Socarides said, was the invitation to Rick Warren, pastor of the Saddleback Church in California and staunch opponent of same-sex marriage, to give the invocation during last year's inauguration.
More recently, Socarides said he was unhappy that Obama approved a "Don't Ask, Don't Tell" repeal compromise that "did not include a non-discrimination rule, nor even actual repeal."
"When Obama took office, these were our priorities: open military service, a federal statute banning workplace discrimination, and repeal of federal anti-marriage laws," Socarides said. "You tell me how we're doing."
Socarides also criticized the White House for failing to install a senior official whose primary responsibility is LGBT rights, much like the role he held in the Clinton administration.
"There is no gay person in Obama's inner circle, period," Socarides said.
Shin Inouye, a White House spokesperson, said Obama ran on a commitment to bring change to all Americans — including LGBT people — and since taking office, the president has "taken many steps toward achieving that goal."
Inouye noted the signing of federal hate crimes legislation as among Obama's accomplishments for LGBT people and said the president looks forward to signing more pro-LGBT legislation.
"The president and his administration remain committed to achieving equality for all, and it's clear that we're moving forward," Inouye said.
Two years ago, he issued an open letter during Pride month outlining his promises to the LGBT community.
"I'm running for president to build an America that lives up to our founding promise of equality for all — a promise that extends to our gay brothers and sisters," Obama wrote at the time. "It's wrong to have millions of Americans living as second‐class citizens in this nation. And I ask for your support in this election so that together we can bring about real change for all LGBT Americans."
In the letter, Obama pledged to "place the weight" of his administration behind the enactment of hate crimes protections legislation and to pass a trans-inclusive Employment Non-Discrimination Act.
Obama has sometimes been credited with having a role in the decision to advance the hate crimes legislation last year as an amendment to defense authorization legislation.
Progress on ENDA, on the other hand, has been stagnant. The bill remains pending before committees in the House and Senate and many supporters are concerned that lawmakers won't take up the bill by year's end.
Mara Keisling, executive director of the National Center for Transgender Equality, noted that Obama "exerted appropriate influence" in guiding the hate crimes legislation toward passage.
On ENDA, Keisling said the administration has been "as helpful as they can be" to this point, and she expects the president "will be a lot more helpful once it starts moving."
At this point, Keisling said "there really hasn't yet been much for them to do" on ENDA.
Keisling noted that for congressional hearings on ENDA last year in the House and Senate, the administration sent officials who provided "really great testimony" in favor of moving forward with the legislation.
"If the president had prioritized ENDA instead of, I don't know, health care reform or financial reform or bank bailouts, we'd be better off, but he prioritized what he prioritized," she said. "I'm very hopeful that when ENDA does start moving, the White House will be extremely supportive and will help get it done."
Also in the letter, Obama promised to "use the bully pulpit" to urge states to treat same-sex couples equally in their family and adoption laws. He additionally advocated for the establishment of civil unions as the best way to advance rights for LGBT couples.
"But I also believe that the federal government should not stand in the way of states that want to decide on their own how best to pursue equality for gay and lesbian couples — whether that means a domestic partnership, a civil union, or a civil marriage," Obama wrote.
Additionally, the presidential candidate said he supported "complete repeal" of the Defense of Marriage Act.
"Federal law should not discriminate in any way against gay and lesbian couples, which is precisely what DOMA does," Obama wrote.
Obama has stuck to his position on same-sex marriage as several jurisdictions — such as Iowa, Vermont, New Hampshire and D.C. — have advanced marriage rights for same-sex couples. The White House has either said nothing in response to those developments or reiterated that Obama prefers civil unions.
Evan Wolfson, executive director of the New York-based Freedom to Marry, said Obama has "taken some positive steps" in advocating for same-sex couples, but hasn't "matched his actions to his words."
Wolfson said Obama should be leading the fight to repeal DOMA legislatively through the Respect for Marriage Act, a bill pending in the U.S. House, and should stop urging judges to "rubberstamp" DOMA in Justice Department briefs defending the statute against legal challenges.
"And, most importantly, he should make the case to the American people that same-sex couples deserve fair and equal treatment under the law — using personal stories and appeals to values such as fairness, respect for commitment and the Golden Rule," Wolfson said.
Another item that Obama mentioned in the letter is repeal of "Don't Ask, Don't Tell." Late last month, Congress voted in favor of a compromise measure that would end the law after the Pentagon completes its study on the issue at the end of the year.
Alex Nicholson, executive director of Servicemembers United, said the White House's endorsement of the compromise the week that Congress voted on it was helpful in finding the votes needed to advance the measure.
"The fact that the White House was willing to come out and publicly support a repeal plan and get the Pentagon to do the same was a critical element in getting that passed in the Senate Armed Services Committee," Nicholson said.
Still, Nicholson said he didn't know how involved Obama was in lobbying members of the House and Senate directly to vote in favor of repeal once the deal was reached.
Also in the letter, Obama pledged to work to address HIV/AIDS, arguing that "we do not have to choose between values and science" in working to fight the epidemic.
"While abstinence education should be part of any strategy, we also need to use common sense," he wrote. "We should have age‐appropriate sex education that includes information about contraception."
Carl Schmid, deputy executive director of the AIDS Institute, said he had mixed feelings about Obama's track record on the matter.
"There have been a lot of positives, but there still needs to be greater attention in response and resources," he said.
Schmid said Obama has followed through on his plans to confront HIV/AIDS through scientific means and has set out to eliminate "abstinence-only" sex education programs through the budget process.
But Schmid noted the abstinence-only sex education programs were reinstated by amendment in the passage of the health care reform legislation.
"It's not in the appropriations bill, but it's in the managerial program now, just like it was in the past," he said.
Schmid cited the reauthorization of the Ryan White Care Act as an accomplishment regarding HIV/AIDS, as well as passage of health care reform legislation, which he called a "huge, huge, huge accomplishment."
He said the White House was of limited help, though, in pushing to renew funding under the Ryan White Care Act.
"The administration was very slow in getting their principle and positions out on getting the Ryan White reauthorized," he said. "They didn't speak out and early enough. Ryan White is up for renewal in 2013 — right before all this health care reform kicks in. We're going to need the administration's support for the continuation of Ryan White after 2013."
Noting a national AIDS strategy is currently being developed in the White House, Schmid said he hopes the plan will provide the discussion of homosexuality at appropriate ages in sex education programs because HIV is often transmitted through men who have sex with men.
Schmid gave Obama credit for lifting the travel ban that prevented foreign nationals with HIV from entering the country, although he noted this process began under the Bush administration with the passage of the President's Emergency Plan for AIDS Relief legislation.
Obama closed his letter by calling on people to step "outside our comfort zone" to win broader support for LGBT rights in places often considered homophobic, such as black churches.
"If we want to repeal DOMA, repeal 'Don't Ask, Don't Tell,' and implement fully inclusive laws outlawing hate crimes and discrimination in the workplace, we need to bring the message of LGBT equality to skeptical audiences as well as friendly ones — and that's what I've done throughout my career," Obama wrote.
In the letter, Obama noted that he spoke out against homophobia during the presidential campaign at the Ebenezer Baptist Church in Atlanta, Ga., where Martin Luther King, Jr. once preached.
Obama also spoke out against homophobia during a February speech at the National Prayer Breakfast in D.C., a gathering of Christian evangelical leaders. And late last month, Obama spoke in favor of LGBT rights during his keynote speech at the National Association for the Advancement of Colored People's centennial convention.
Sharon Lettman, executive director of the National Black Justice Coalition, said Obama has "absolutely" been faithful to his promise of speaking out in favor of LGBT rights in places that are sometimes deemed unfriendly to LGBT people.
"I've experienced it on a number of occasions in predominantly black or all black venues," she said. "Even in his normal stump speech, he makes reference to his support of LGBT equality."
Lettman said as the first black president, Obama has a special role to play in educating black Americans about the LGBT community.
"He makes a point to always be inclusive," she said. "He doesn't selectively leave it out — not just in black churches, but in front of civil rights leaders and civil rights venues, like the NAACP convention, and other areas."
Lettman said Obama is "definitely trying to paint a picture of one America" in his actions and his speeches.
"In so many ways, even in the progressive agenda, people don't always select to include our community," she said, "and I have to give him a lot of credit for making sure that he speaks with one voice about his support for LGBT equality."
'Gay marriage, gay sex are going to fall like fucking dominoes'
Anger, fear as protesters decry Supreme Court ruling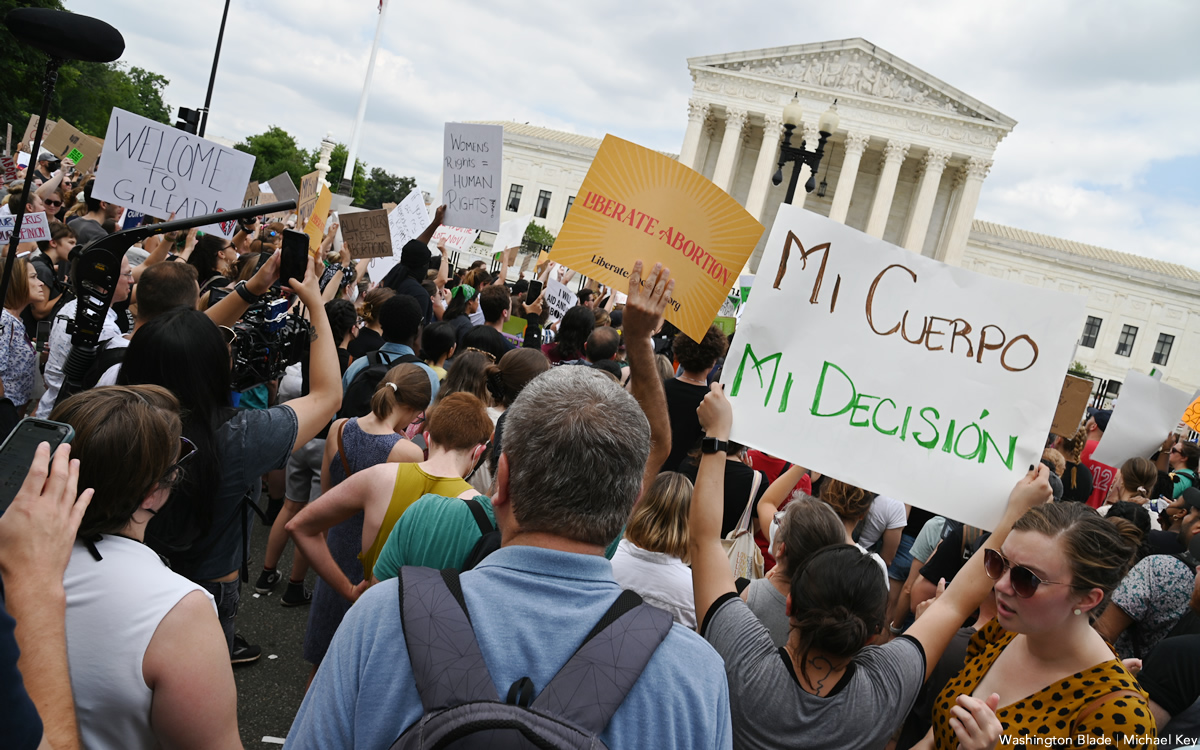 Just moments after the U.S. Supreme Court delivered its decision on Friday overturning its landmark ruling in Roe v. Wade that had legalized abortion nationwide for 49 years, hundreds gathered outside the court to both protest and celebrate the ruling.
In a 6-3 decision in Dobbs v. Jackson Women's Health Organization, the court found that access to abortion was not a right guaranteed under the language of the Constitution. The ruling effectively reversed the court's 1973 decision that mandated states to allow the procedure in most instances throughout the first two trimesters of pregnancy.
Immediately following the decision, a group of those welcoming the decision quickly gathered in front of the court.
Anna Lulis, a member of Students for Life of America, welcomed the decision as long overdue.
"I think it is a huge victory for human rights," Lulis said. "For far too long, since 1973, human rights have been infringed upon at an egregious level."
Beside Lulis, Olivia Cowin, a member of Survivors LA, shared a similar reason for gathering outside the court.
"This is a celebratory day to show our support of the unborn and of women and support both simultaneously," Cowin said.
But across the way from the court's west side, Virginia resident Alysia Dempsey feared what the verdict in Dobbs could mean for women's rights – including those of her four daughters.
"I believe in women's rights, and I think that our country needs to be able to start listening to each of our stories and to have empathy for them in so many different aspects," Dempsey said. "I feel like we're sort of going back in time with regard to so many rights."
Hailing from Arizona, a state under Republican legislative leadership where Planned Parenthood has already halted all abortion services pending legal clarity from the state, Hannah Waldrip cast doubt on the sincerity of anti-abortion rationale.
"For a country about personal rights and personal freedom, we're doing an awful lot right now to limit women's or people with uterus' ability to do what they want with their body," Waldrip said.
Stark divisions between the groups arose as ideological lines could be seen physically emerging between the crowds.
And as the day progressed, those protesting the ruling quickly began to outnumber its supporters.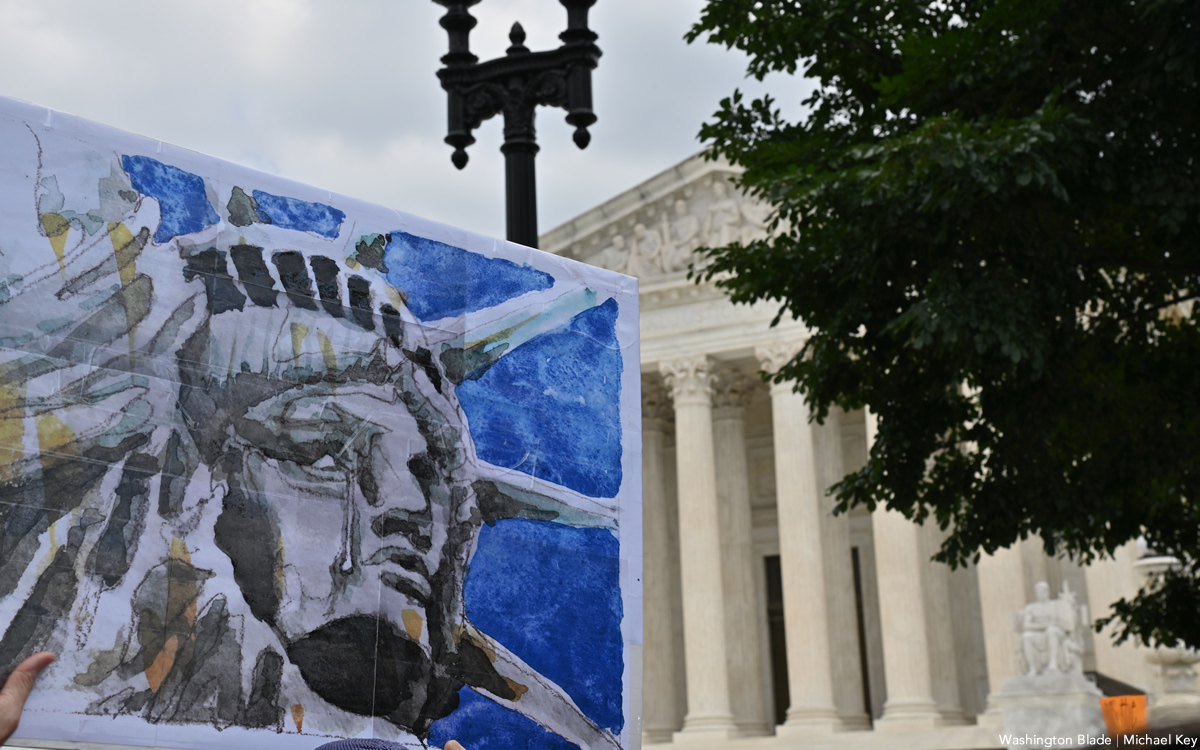 Among the protesters, the color green – a symbol for abortion rights activists borne out of similar movements in Argentina and elsewhere in Latin America – could be seen lining the street on scarves, shirts, stickers, and elsewhere.
As the crowd grew and green began to eclipse the simmering pavement beneath the protesters, several speakers emerged at the center of the crowd.
One of those speakers was Elizabeth Paige White, a civil rights lawyer working under nationally renowned attorney Ben Crump.
In connecting Friday's decision to the United States' history of patriarchal structure, White called into focus the disproportionate effect the repeal of nationwide abortion access is widely expected to have on minorities and communities of color with fewer resources to travel to abortion-friendly states.
"As Black, brown, and all these women out here know, we've been fighting for our rights since the inception of this country," White said. "We have been fighting to have rights over our own bodies since the inception of this country."
With the repeal of Roe, decisions on whether to legalize or outlaw abortion will now be left to each state. As of Friday's ruling, 13 states are set to make almost all abortions illegal, having passed "trigger bans" designed to take effect in the immediate aftermath of Roe's demise or within the next month.
However, many abortion rights supporters, activists, and lawmakers still fear that the curtailing of reproductive rights won't end with the court's decision.
Sen. Catherine Cortez-Masto (D-Nev.) addressed the crowd with a message of urgency and revelation.
"At the end of the day, let me just say, here's what's next," Cortez-Masto said. "I've got some of my Republican colleagues based on this decision who are already drafting legislation to restrict abortion in this country. If they win this election, they will pass that legislation and it will preempt all of the state laws we have protecting women in this country when it comes to our right to choose."
Beyond a nationwide restriction on abortion, some fear even more privacy restrictions are coming.
Such privacy rights have been established in other Supreme Court rulings based on the same Due Process and Equal Protection clauses of the 14th Amendment that justices used to interpret nationwide abortion rights nearly half a century ago. These cases have included those that established access in all states to contraception, same-sex marriage, interracial marriage, and the right to same-sex relations in the privacy of one's home.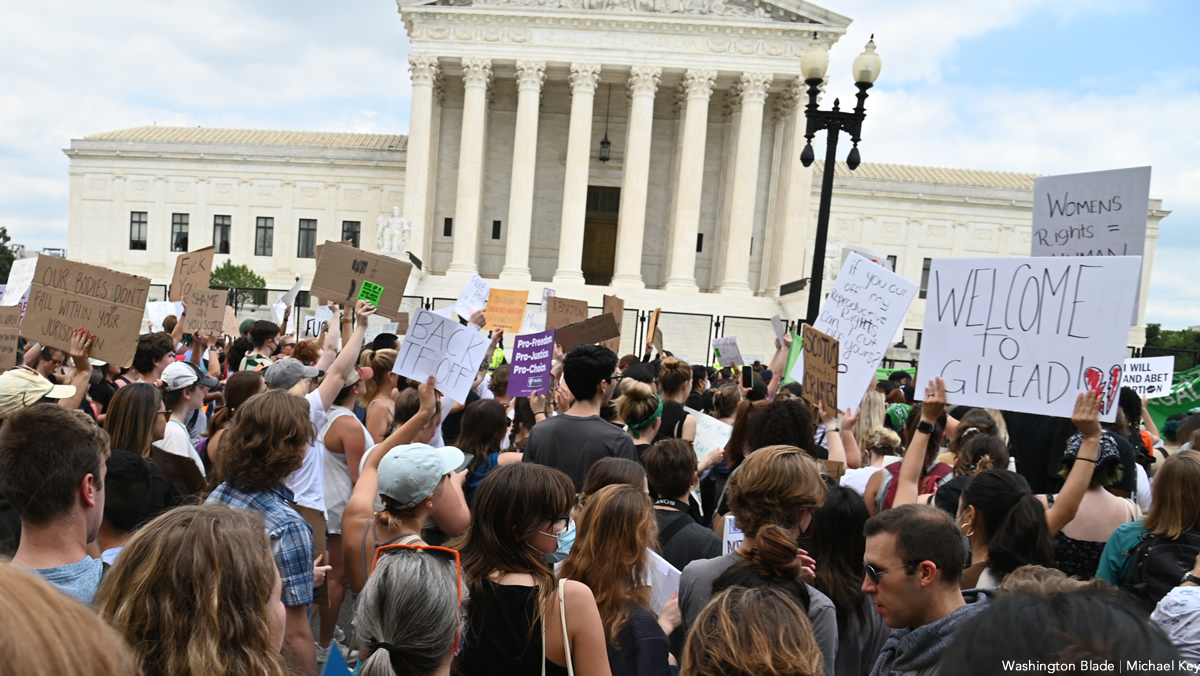 Among the crowd gathered on Friday, such was a sobering outlook for many.
"Gay marriage, interracial marriage, gay sex are going to fall like fucking dominoes if we let them," one speaker outside the court said.
Anger and fear could be felt permeating the crowd. Activists, however, were determined to turn their compatriots' fears into action and change.
"We must get out in the streets," the speaker said. "We need millions of people all around the country because this affects every single living, breathing person in this country whether they realize it yet or not."
Among protesters' trepidation regarding the future of women's rights and privacy rights in America, many clung to a message of hope as speakers and activists pledged to continue fighting.
"They have worked to keep us down, they worked to keep us enslaved, they worked to keep us out of the polls, they worked to keep us out of political offices, they've worked to keep us in the home," White said. "But we know, as we fought for centuries, that this will not stand."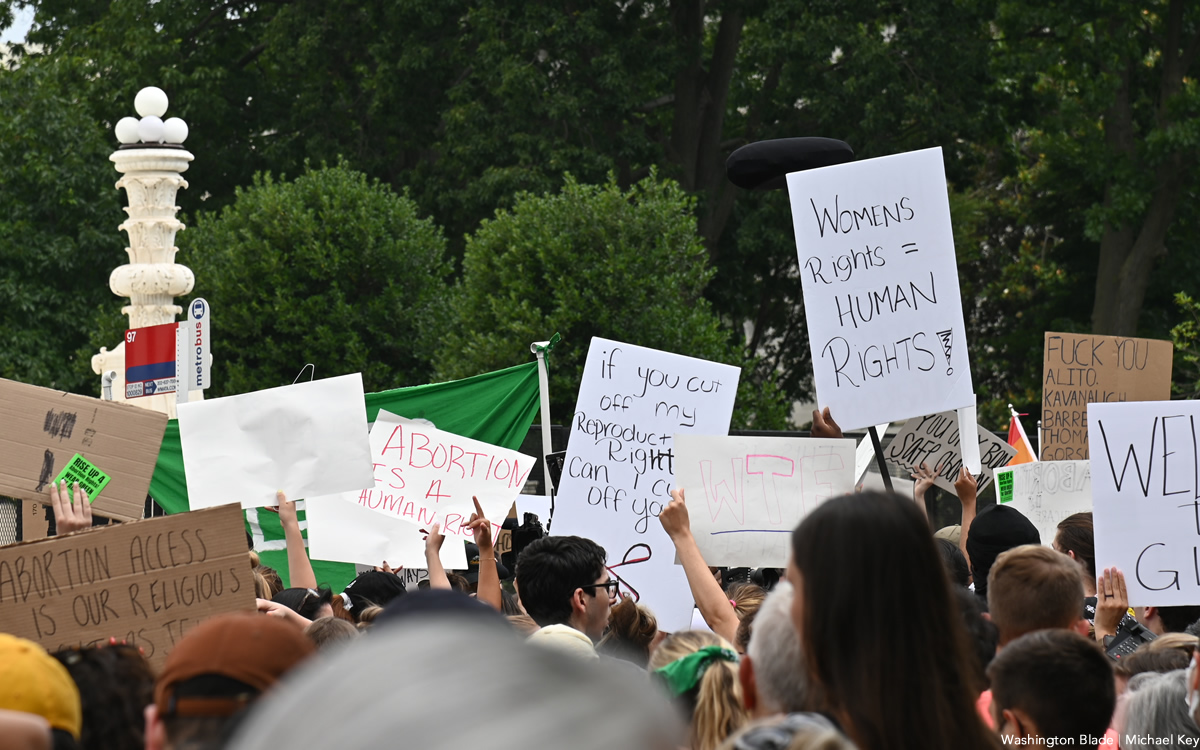 LGBTQ activists alarmed over concurring opinion in abortion ruling
Justice Thomas calls for 'reconsideration' of marriage, sodomy rulings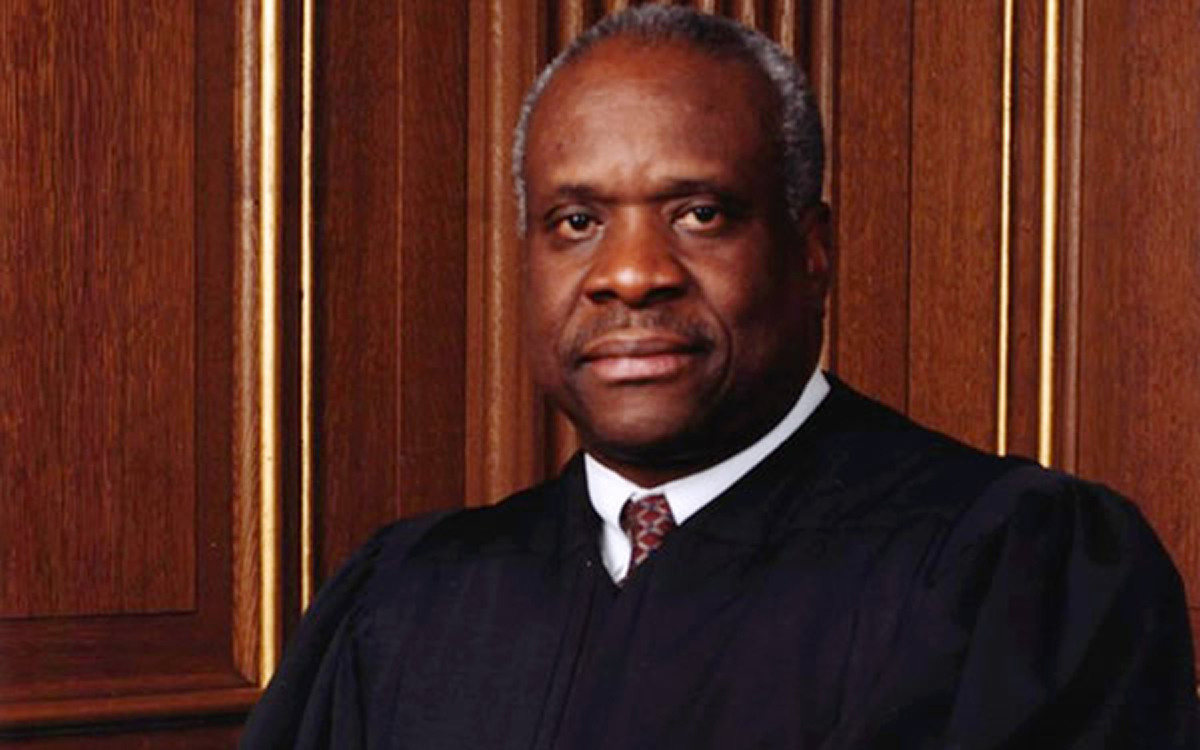 LGBTQ activists have expressed alarm over a concurring opinion issued on Friday by U.S. Supreme Court Justice Clarence Thomas calling for the high court to "reconsider" previous decisions overturning state sodomy laws and legalizing same-sex marriage as a follow-up to the court's controversial ruling on Friday to overturn the Roe v. Wade decision on abortion rights.
In an action that drew expressions of outrage from abortion rights advocates and strong support by right-to-life advocates, the Supreme Court handed down a 6-3 ruling on Friday overturning the fundamental right to an abortion that the court established nearly 50 years ago in its landmark decision known as Roe v. Wade.
In his concurring opinion, Thomas said he supports the high court's majority opinion overturning Roe v. Wade. He states that he agrees with the ruling that nothing in the majority opinion "should be understood to cast doubt on precedents that do not concern abortion."
But he also states that in potential future cases, "we should reconsider all of this Court's substantive due process precedents, including Griswold, Lawrence, and Obergefell."
He was referring to the past Supreme Court Griswold ruling that overturned state laws banning or restricting birth control such as contraceptives; the high court's 2003 Lawrence v. Texas ruling that overturned state laws banning sodomy between consenting adults; and the 2015 Obergefell ruling that legalized same-sex marriage nationwide.
"Justice Thomas's concurring opinion is obviously concerning, but it is important to note that not one other justice agreed with him," said Sarah Warbelow, legal director of the Human Rights Campaign, the nation's largest LGBTQ rights advocacy group. "In fact, the majority took pains to disagree with him and clarify that this opinion relates only to abortion. Justice Thomas stands alone," Warbelow told the Washington Blade in a statement.
"With that said, we know that if the court was willing to overturn 50 years of precedent with this case, that all of our constitutional rights are on the line," Warbelow said. "Lawmakers will be further emboldened to come after our progress. So, we must be vigilant in protecting our hard-won rights — we're ready."
Paul Kawata, executive director of the National Minority AIDS Council (NMAC), said the Supreme Court ruling overturning Roe v. Wade would have a "disastrous effect" on healthcare for women, especially women of color. He said the ruling could also lead to future rulings that adversely impact LGBTQ people and other minorities.
"We have no doubt that the conservative supermajority on the court will not stop with Roe," Kawata said in a statement. "Justice Thomas's chilling concurring opinion makes it very clear that the court could target other rights provided by the court — marriage equality, contraception access, and LGBTQ+ intimacy in private to name a few," he said.
Biden labels Supreme Court ruling on Roe v. Wade 'a sad day for court'
"Imagine, woman having to carry a child that's a consequence of incest, with no option" to terminate the pregnancy, Biden said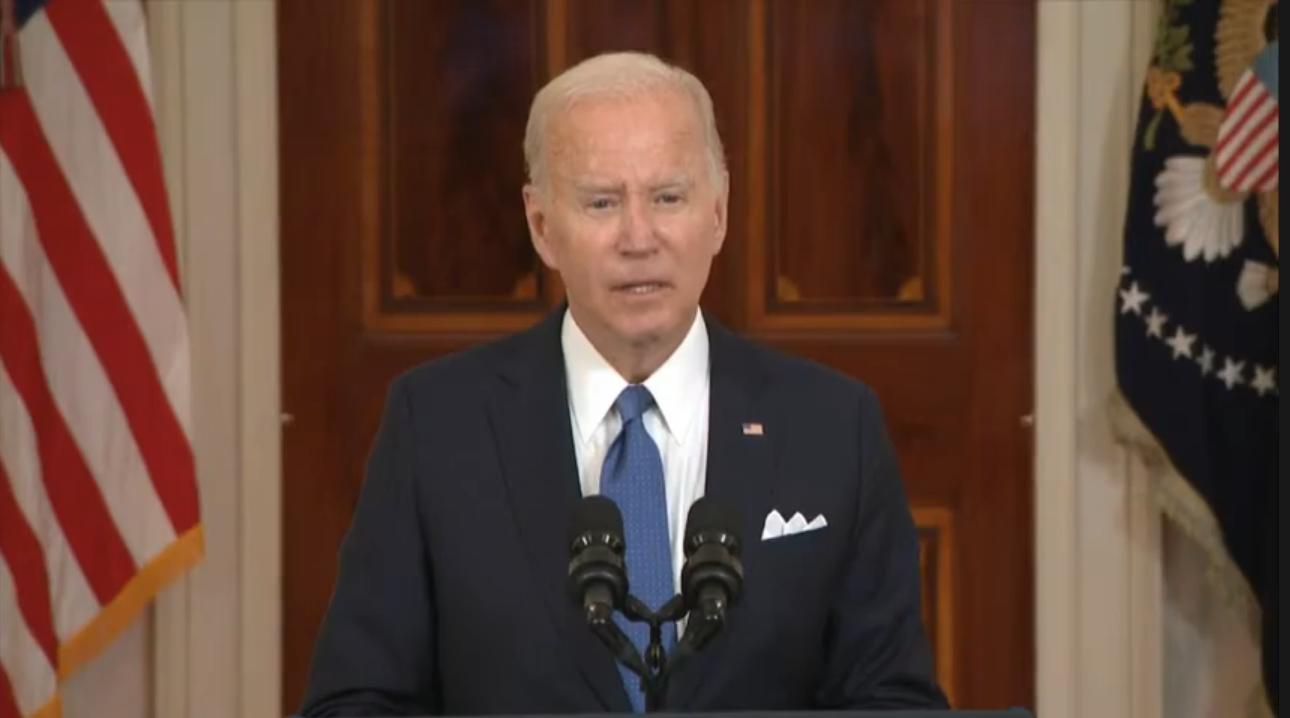 WASHINGTON – Just after the Supreme Court's conservative majority moved to overturn the constitutional right to abortion on Friday in a 6-3 ruling, President Joe Biden vowed to protect American women from prosecution for traveling to other states to terminate their pregnancies.
Thirteen states have made or will soon make abortion illegal, some without exceptions for rape and incest, following today's ruling. After a draft of that ruling was leaked in May, some state legislatures considered bills to prevent women from circumventing their restrictions on abortion.
"If any state or local official high or low tries to interfere with a woman exercising her basic right to travel, I will do everything in my power to fight that unamerican attack," Biden said.
Delivering his remarks from the Great Cross Hall of the White House, the President looked visibly upset, particularly when discussing the extreme abortion bans in some states that will now be allowed to go into effect.
"They are so extreme that women can be punished for protecting their health; that some women and girls will be forced to bear their rapists' child," Biden said. It was at this point that he appeared to go off-script to share his personal feelings on the ruling and its implications. "It just stuns me," he said. "Imagine, woman having to carry a child that's a consequence of incest, with no option" to terminate the pregnancy.
Biden called for those who share his anger and outrage – many who gathered on the steps of the Supreme Court in protest – to remain peaceful. He urged Americans to vote to give Democrats in Congress the majority that will be necessary for them to codify the constitutional right to abortion first established by the Supreme Court's 1973 ruling in Roe v. Wade and overturned today with the decision in Dobbs v. Jackson Women's Health.
Biden warned of the "dangerous path the court is taking us on," pointing to Justice Thomas's comments in the decision that "In future cases, we should reconsider all of this court's substantive due process precedents, including Griswold, Lawrence, and Obergefell."
Should the court revisit the precedents established by those cases, it could mean constitutional protections for the return of laws banning birth control, sodomy and same-sex marriage.
Biden noted Americans' constitutional right to abortion was affirmed in multiple decisions by the Supreme Court, endorsed by justices who were appointed by presidents from both parties.
"It was three justices named by one president, Donald Trump, who were the core of today's decision to upend the scales of justice and eliminate a fundamental right for women in this country," Biden said.
President Biden speaks on Supreme Court decision to overturn Roe v. Wade:
Full transcript:
REMARKS BY PRESIDENT BIDEN
ON THE SUPREME COURT DECISION
TO OVERTURN ROE V. WADE
Today is a — it's not hyperbole to suggest a very solemn moment. Today, the Supreme Court of the United States expressly took away a constitutional right from the American people that it had already recognized.

They didn't limit it. They simply took it away. That's never been done to a right so important to so many Americans.

But they did it. And it's a sad day for the Court and for the country.

Fifty years ago, Roe v. Wade was decided and has been the law of the land since then.

This landmark case protected a woman's right to choose, her right to make intensely personal decisions with her doctor, free from the inter- — from interference of politics.

It reaffirmed basic principles of equality — that women have the power to control their own destiny. And it reinforced the fundamental right of privacy — the right of each of us to choose how to live our lives.

Now, with Roe gone, let's be very clear: The health and life of women in this nation are now at risk.

As Chairman and Ranking Member of the Senate Judiciary Committee, as Vice President and now as President of the United States, I've studied this case carefully. I've overseen more Supreme Court confirmations than anyone today, where this case was always discussed.

I believe Roe v. Wade was the correct decision as a matter of constitutional law, an application of the fundamental right to privacy and liberty in matters of family and personal autonomy.

It was a decision on a complex matter that drew a careful balance between a woman's right to choose earlier in her pregnancy and the state's ability to regulate later in her pregnancy. A decision with broad national consensus that most Americans of faiths and backgrounds found acceptable and that had been the law of the land for most of the lifetime of Americans today.

And it was a constitutional principle upheld by justices appointed by Democrat and Republican Presidents alike.

Roe v. Wade was a 7 to 2 decision written by a justice appointed by a Republican President, Richard Nixon. In the five decades that followed Roe v. Wade, justices appointed by Republican Presidents — from Eisenhower, Nixon, Reagan, George W. [H.W.] Bush — were among the justices who voted to uphold the principles set forth in Roe v. Wade.

It was three justices named by one President — Donald Trump — who were the core of today's decision to upend the scales of justice and eliminate a fundamental right for women in this country.

Make no mistake: This decision is the culmination of a deliberate effort over decades to upset the balance of our law. It's a realization of an extreme ideology and a tragic error by the Supreme Court, in my view.

The Court has done what it has never done before: expressly take away a constitutional right that is so fundamental to so many Americans that had already been recognized.

The Court's decision to do so will have real and immediate consequences. State laws banning abortion are automatically taking effect today, jeopardizing the health of millions of women, some without exceptions.

So extreme that women could be punished for protecting their health.

So extreme that women and girls who are forced to bear their rapist's child — of the child of consequence.

It's a — it just — it just stuns me.

So extreme that doctors will be criminalized for fulfilling their duty to care.

Imagine having — a young woman having to ch- — carry the child of incest — as a consequence of incest. No option.

Too often the case that poor women are going to be hit the hardest. It's cruel.

In fact, the Court laid out state laws criminalizing abortion that go back to the 1800s as rationale — the Court literally taking America back 150 years.

This a sad day for the country, in my view, but it doesn't mean the fight is over.

Let me be very clear and unambiguous: The only way we can secure a woman's right to choose and the balance that existed is for Congress to restore the protections of Roe v. Wade as federal law.

No executive action from the President can do that. And if Congress, as it appears, lacks the vote — votes to do that now, voters need to make their voices heard.

This fall, we must elect more senators and representatives who will codify a woman's right to choose into federal law once again, elect more state leaders to protect this right at the local level.

We need to restore the protections of Roe as law of the land. We need to elect officials who will do that.

This fall, Roe is on the ballot. Personal freedoms are on the ballot. The right to privacy, liberty, equality, they're all on the ballot.

Until then, I will do all in my power to protect a woman's right in states where they will face the consequences of today's decision.

While the Court's decision casts a dark shadow over a large swath of the land, many states in this country still recognize a woman's right to choose.

So if a woman lives in a state that restricts abortion, the Supreme Court's decision does not prevent her from traveling from her home state to the state that allows it. It does not prevent a doctor in that state — in that state from treating her.

As the Attorney General has made clear, women must remain free to travel safely to another state to seek the care they need. And my administration will defend that bedrock right.

If any state or local official, high or low, tries to interfere with a woman's ex- — exercising her basic right to travel, I will do everything in my power to fight that deeply un-American attack.

My administration will also protect a woman's access to medications that are approved by the Food and Drug Administration — the FDA — like contraception, which is essential for preventative healthcare; mifepristone, which the FDA approved 20 years ago to safely end early pregnancies and is commonly used to treat miscarriages.

Some states are saying that they'll try to ban or severely restrict access to these medications.

But extremist governors and state legislators who are looking to block the mail or search a person's medicine cabinet or control a woman's actions by tracking data on her apps she uses are wrong and extreme and out of touch with the majority of Americans.

The American Medical Association and the American College of Obstetricians and Gynecologists wrote to me and Vice President Harris stressing that these laws are not based on — are not based on evidence and asking us to act to protect access to care. They say by limiting access to these medicines, maternal mortality will climb in America. That's what they say.

Today, I'm directing the Department of Health and Human Services to take steps to ensure that these critical medications are available to the fullest extent possible and that politicians cannot interfere in the decisions that should be made between a woman and her doctor. And my administration will remain vigilant as the implications of this decision play out.

I've warned about how this decision risks the broader right to privacy for everyone. That's because Roe recognized the fundamental right to privacy that has served as the basis for so many more rights that we have come to take — we've come to take for granted that are ingrained in the fabric of this country: the right to make the best decisions for your health; the right to use birth control — a married couple — in the privacy of their bedroom, for God's sake; the right to marry the person you love.

Now, Justice Thomas said as much today. He explicitly called to reconsider the right of marriage equality, the right of couples to make their choices on contraception. This is an extreme and dangerous path the Court is now taking us on.

Let me close with two points.

First, I call on everyone, no matter how deeply they care about this decision, to keep all protests peaceful. Peaceful, peaceful, peaceful. No intimidation. Violence is never acceptable. Threats and intimidation are not speech. We must stand against violence in any form regardless of your rationale.

Second, I know so many of us are frustrated and disillusioned that the Court has taken something away that's so fundamental. I know so many women are now going to face incredibly difficult situations. I hear you. I support you. I stand with you.

The consequences and the consensus of the American people — core principles of equality, liberty, dignity, and the stability of the rule of law — demand that Roe should not have been overturned.

With this decision, the conservative majority of the Supreme Court shows how extreme it is, how far removed they are from the majority of this country. They have made the United States an outlier among developed nations in the world. But this decision must not be the final word.

My administration will use all of its appropriate lawful powers. But Congress must act. And with your vote, you can act. You can have the final word. This is not over.

Thank you very much. I'll have more to say on this in weeks to come. Thank you.