Pentagon troop survey is outrageous, offensive
No other minority group would be treated this way

The text of the Pentagon's survey soliciting service members' views about fighting alongside suspected "homosexuals" is finally out and it couldn't be more offensive.
Replace each reference to "homosexuals" with "African Americans" and you see just how intolerable this exercise would be for any other minority group.
"If Don't Ask, Don't Tell is repealed and you are working with a Service member in your immediate unit who is African American, how, if at all, would your level of morale be affected?"
"Have you shared a room, berth or field tent with a Service member who is African American?"
"Have you been assigned to share bath facilities with an open bay shower that is also used by a Service member who is African American?"
You get the idea. The survey focuses on the same tired stereotypes and fears of encountering gays in the shower that Sam Nunn exploited in 1993. So much for change.
The notion that service members are brave enough to staff remote, dangerous outposts in Afghanistan or invade countries and topple their governments, but would be uncomfortable knowing that a colleague was living on base with a same-sex partner is so outrageous that it's surreal. And what if our fragile, immature service members decide they can't possibly work in a unit with an openly gay person? Do we rethink repeal entirely? Or maybe allow the gays to serve in a segregated unit?
Is this survey a trend in the modern armed forces? Next, let's poll everyone regarding future operations. "Which country should the U.S. invade next? A. Iran B. North Korea C. Pakistan D. All of the above."
The sloppy and offensive manner in which the administration has handled "Don't Ask, Don't Tell" offers proof positive that the military constitutes our fourth branch of government. A true commander in chief would push Congress to make the change he promised during the campaign, sign it into law, demand that everyone obey the new rules or resign and then move on. Instead, this has turned into a PR nightmare, with military chiefs publicly disagreeing with the president while gay activists chain themselves to the White House gates. And while the White House and the Pentagon fiddle, LGBT service members continue to
be discharged.
And no doubt we are in for more insults from the administration, as the Justice Department prepares to defend the Defense of Marriage Act, one section of which a federal judge struck down as unconstitutional this week. Candidate Obama vowed to repeal all of DOMA, something that set him apart from Hillary Clinton, who only wanted to repeal section three. President Obama now has a chance to demonstrate just how serious he was about that pledge. If, as expected, the government appeals, the legal arguments and language used will be important to watch.
Obama's Justice Department has an unfortunate record of filing briefs filled with homophobic language in defense of laws the president himself has vowed to fight to overturn. The DOMA ruling in Massachusetts gives the president another chance to do the right thing. But it's an election year and his administration's failure to aggressively fight the decision would give anti-gay Republicans some timely ammunition.
If the administration's handling of "Don't Ask, Don't Tell" is any indication, we can expect a spirited defense of DOMA, another law Obama has characterized as discriminatory.
National Gay & Lesbian Chamber of Commerce Certifies Brown, Naff, Pitts Omnimedia, Inc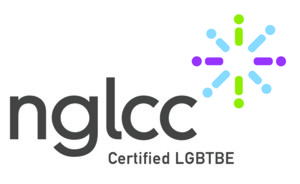 Washington, D.C. — Brown, Naff, Pitts Omnimedia, Inc, the parent company of the Washington Blade and Azer Creative, announced today it has been certified by the National Gay and Lesbian Chamber of Commerce (NGLCC) as an LGBT Business Enterprise. The NGLCC supports and advocates for diversity and inclusion for LGBT-owned businesses. With this certification the Blade's parent company joins more than 510 business and 134 corporate partners of the NGLCC.
Brown, Naff, Pitts Omnimedia, Inc. owns and operates the Washington Blade, the oldest and most acclaimed LGBT newspaper in the country. In 2012, the company launched Azer Creative, a full-service design firm. The company employs more than a dozen full-time LGBT staff.
"We are excited to become one of the 500 LGBT businesses across the country certified by NGLCC," said Lynne Brown, the Blade's publisher and a co-owner of the company. "The LGBT community has been part of our company from the beginning and we look forward to continue that for many years to come."
The Washington Blade was founded in 1969 and is known as the "newspaper of record" for the LGBT community both locally and nationally. Visit washingtonblade.com for more information. Azer Creative is a full-service graphic design firm based in Washington, D.C. Visit azercreative.com for more information. 
Vote now for the 2013 Best of Gay DC!
Choose in dozens of categories among hundreds of nominees, and make your voice heard!
Nominate the 'Best of Gay D.C.' now!
Dozens of categories cover all the best for LGBT Washington. Who deserves the prize this year?