A continuing plight
Federal action is needed to help same-sex, bi-national couples

Last week, U.S. Reps. Luis Gutierrez, Mike Honda, Jerrold Nadler, Jared Polis and Mike Quigley came out in support of an LGBT-inclusive immigration reform at a press event in the Rayburn House Building.
"The underlying part of any comprehensive immigration bill is family unity and I am here today because I think we need to speak more clearly, more articulately, and more frequently that the lesbian, gay, bisexual and transgender community, and same-sex couples and their binational relationships, are part of families," Rep. Gutierrez said.
He emphasized the difficulty that thousands of lesbian and gay bi-national couples face.
"Right now, too many same-sex, bi-national couples face an impossible choice: to live apart or to break the law to be with their partners, families, and children. That's not good for them and it is not good for the rest of us, either. That's why I think the provisions of [the Uniting American Families Act] must be part of any comprehensive immigration reform bill."
I was invited to share my own story as the foreign-born half of a bi-national couple. After the event, John Henrehan, a reporter for Fox 5 WTTG interviewed me. Over the weekend, his segment on immigration reform and same-sex couples was published online and played during local news broadcasts.
A few friends have seen the clip and have been very supportive. Many were unaware of the predicament my husband and I face. Although we have been together 12 years, registered domestic partners in New York City for six years, and now a married couple in the District, he is unable to sponsor me for permanent legal residence simply because we happen to be gay. Immigration is a federal matter and our union is not recognized by current U.S. immigration laws. If we were an opposite-sex couple, getting a green card would not be such a hurdle.
I have lived in the United States for two decades and this is home for me. This is home for both of us. Unfortunately, once I complete my doctorate and my student visa expires sometime during the next couple of years, we may need to leave the country — unless immigration reform which includes LGBT families is passed.
"I thought they did a great job with the story! Hopefully y'all won't have to move!" posted a friend on my Facebook page.
"Excellent interview. I hope and pray that the laws will change," wrote another.
Conversations about immigration and the plight of same-sex, bi-national couples are important. I appreciate the concern and well-wishes, but I also challenge my friends and allies to act.
Now that you are aware of this issue, talk to everyone about it: your neighbor, your colleagues, your friends and family, and especially your representatives and senators. Tell them you'd like immigration reform to be LGBT-inclusive and that you'd like immigration reform to happen this year in this Congress.
"You are not going anywhere. We are fighting for our full rights until the end," vowed a gay friend.
I'm counting on that.
You can follow Erwin on Twitter at @ErwindeLeon.
National Gay & Lesbian Chamber of Commerce Certifies Brown, Naff, Pitts Omnimedia, Inc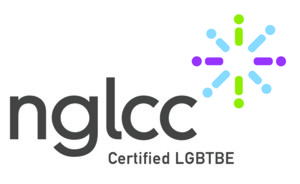 Washington, D.C. — Brown, Naff, Pitts Omnimedia, Inc, the parent company of the Washington Blade and Azer Creative, announced today it has been certified by the National Gay and Lesbian Chamber of Commerce (NGLCC) as an LGBT Business Enterprise. The NGLCC supports and advocates for diversity and inclusion for LGBT-owned businesses. With this certification the Blade's parent company joins more than 510 business and 134 corporate partners of the NGLCC.
Brown, Naff, Pitts Omnimedia, Inc. owns and operates the Washington Blade, the oldest and most acclaimed LGBT newspaper in the country. In 2012, the company launched Azer Creative, a full-service design firm. The company employs more than a dozen full-time LGBT staff.
"We are excited to become one of the 500 LGBT businesses across the country certified by NGLCC," said Lynne Brown, the Blade's publisher and a co-owner of the company. "The LGBT community has been part of our company from the beginning and we look forward to continue that for many years to come."
The Washington Blade was founded in 1969 and is known as the "newspaper of record" for the LGBT community both locally and nationally. Visit washingtonblade.com for more information. Azer Creative is a full-service graphic design firm based in Washington, D.C. Visit azercreative.com for more information. 
Vote now for the 2013 Best of Gay DC!
Choose in dozens of categories among hundreds of nominees, and make your voice heard!
Nominate the 'Best of Gay D.C.' now!
Dozens of categories cover all the best for LGBT Washington. Who deserves the prize this year?