Mondaire Jones ready to fight anti-LGBTQ extremism
Former congressman seeking a comeback to 'safeguard democracy'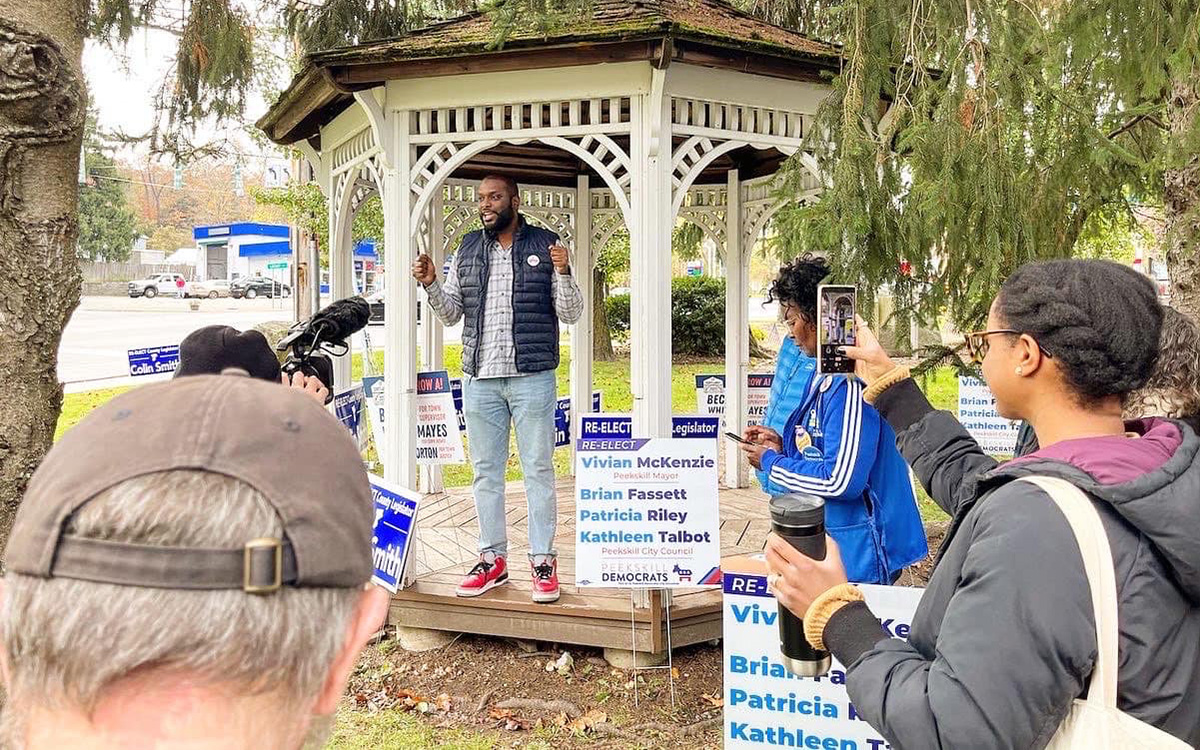 "The state of the race here" for New York's 17th congressional district "is good for those of us who want to safeguard democracy and protect LGBTQ+ rights," Mondaire Jones told the Washington Blade by phone on Monday.
Next year, Jones is looking to reclaim the House seat that he held from 2021 to 2023 before "unusual redistricting events" cost him the Democratic nomination and "lifelong political hack" GOP U.S. Rep. Mike Lawler eked out a victory by just 1,820 votes.
Confident in the state of his campaign looking ahead to the elections, having just out-raised Lawler along with all of his Democratic opponents, combined, in Q3, Jones is focused on the stakes:
"If you believe, as many people do, that with Joe Manchin's retirement we are likely to lose the Senate," began Jones, referring to the dimmed chances of Democrats retaining control of the upper chamber following the West Virginia senator's announcement of plans not to run in 2024.
"And if you believe most of the polling in the presidential race, which has shown Donald Trump well positioned to take back the White House," he continued, "I am the only person standing in the way of Mike Lawler" and Republican allies "passing a national abortion ban, gutting Social Security and Medicare, rolling back LGBTQ+ rights, raising the price of prescription drugs, and exacerbating the uniquely American problem of mass shootings."
"There are people in Congress and on television who say things like, 'if Joe Biden doesn't change his position on Israel, then the young people and people of color are not going to vote for him' — rather than [talking] about how irrational that is" or highlighting the Biden-Harris administration's work on behalf of young people, from student loan forgiveness to the child tax credit and the largest climate action ever undertaken via the Inflation Reduction Act, Jones said.
And if reelected, he noted, Trump has promised to reinstate the Muslim ban imposed during his administration. (In fact, the former president pledged to expand it to include barring resettlement of refugees from Gaza.)
Another example of the disservice done to voters: During a speech on Veterans Day, "Donald Trump just referred to his political opponents as vermin, which is an invocation of the sinister rhetoric used by people like Adolf Hitler to demonize an entire race of people," Jones said.
"The fact that the New York Times treated like a mere divergence from the speeches Donald Trump typically gives as opposed to the more sinister harbinger of a fascist and an anti-Semite and a racist who has promised to weaponize government against groups of people who he does not like is really a failure of the New York Times to get this moment; to understand this moment in American history."
Jones also bristles at how the media have sometimes characterized certain congressional Republicans as moderates, citing, for instance, the entire conference's support for their new Speaker, U.S. Rep. Mike Johnson (La.), despite his extreme views.
"I am concerned because the media have given a platform to the small handful of House Republicans who even purport to be moderate," he said. "Their treatment of these people who masquerade as moderates despite voting like extreme MAGA Republicans will give the impression to people that they are not part of the problem in the way that Matt Gaetz and Marjorie Taylor Greene are," Jones said, referring to the far-right firebrand GOP U.S. representatives from Florida and Georgia.
These Republican members include Lawler, who "did not have to vote with the extreme MAGA Republicans," Jones said, but chose not to separate himself from the far-right faction of his caucus "on issue after issue," which is "because he himself is an extremist."
For instance, he said, Lawler has "trafficked in climate denialism" and "mocked women and our Orthodox communities here in the lower Hudson Valley" while voting "to overturn a gun regulation intended to keep us safe from mass shootings" and for an abortion ban "without exception for rape or incest."
All to defend a seat in Congress in a district where Donald Trump was rejected by 10 points, Jones noted.
"People here in the 17th district want to protect a woman's right to an abortion," he said. "They want to protect LGBTQ+ rights and ban assault weapons so that kids can stop getting gunned down in schools throughout the country."
Jones continued, "Mike Lawler opposes these things. He also wants to cut Social Security and Medicare and raise the cost of prescription drugs as evidenced by the fact that he has been working to unravel the provisions of the Inflation Reduction Act."
Running on his record
"When I was elected in 2020, I was elected as the first person of color to ever represent this district and the first member of the LGBTQ+ community to represent this district," Jones said.
In Congress, he was named the most legislatively active freshman legislator by a landslide.
"I've got a record of actually delivering for this district," Jones said. "I brought hundreds of millions of dollars for schools, housing, and health care in the lower Hudson Valley. I negotiated passage of the bipartisan infrastructure law. And it was my bill with [U.S. Rep.] Jerry Nadler [D-N.Y.] called the Respect for Marriage Act that has made strides in safeguarding marriage equality for so many LGBTQ+ Americans around the country, even if the Supreme Court were to go back on its precedent."
He added, "I have a track record of being an effective legislator, and people want me back."
"I have great respect for the members of the Equality Caucus and the LGBTQ+ members in both chambers of Congress," Jones said. "I will say that it is apparent to both me and, I think, to many people who have compared last term with this term, that my voice is missing in a significant way with respect to matters concerning the LGBTQ community."
Among other matters, he said, this would include "of course, the Supreme Court, healthcare, healthcare equity," – including access to PrEP medication regardless of one's ability to pay for it – " and justice."
"Even the conversation around student debt cancellation is one that I described as an issue of LGBTQ justice to the president in the Roosevelt Room in the spring of 2022 when I was conveying to him the importance of canceling student debt by executive order."
Additionally, Jones said, "When I look at what's happened, when I look at what's happening abroad, in certain parts of Africa, with respect to the criminalization of queer people, that is something that I would be leading on right now as the nation's first openly gay Black member of Congress."
"I don't see anyone leading on that or on the Supreme Court," said Jones, a lawyer who has worked at the Justice Department, the multinational law firm Davis Polk, and as a clerk for a judge in the U.S. District Court for the Southern District of New York. "It makes me sad," he said, "but I also know that is the reason why I need to fight like hell to get back in Congress and continue the work that I started last term."
The High Court "is itself something that poses an existential threat to the lives and livelihoods of the LGBTQ+ community," Jones said.
To remedy the problem, Jones supports court expansion – a move he proposed in legislation with Nadler and U.S. Rep. Hank Johnson (D-Ga.) during the last term. It could be "a critical step to protecting basic freedoms for the LGBTQ+ community not to be discriminated against by business owners, as well as protecting the right of women to exercise their own healthcare rights, whether it is abortion or any other healthcare decision that they want to make."
The Supreme Court has also imperiled American democracy, Jones said, referencing the 2013 decision in Shelby County v. Holder, which "opened the floodgates to the hundreds of racist voter suppression bills that we have seen introduced in dozens of states around the country — and that, in many of those states, have become law."
Anti-LGBTQ provisions removed from NDAA
New version omits restriction on gender affirming care, book and drag bans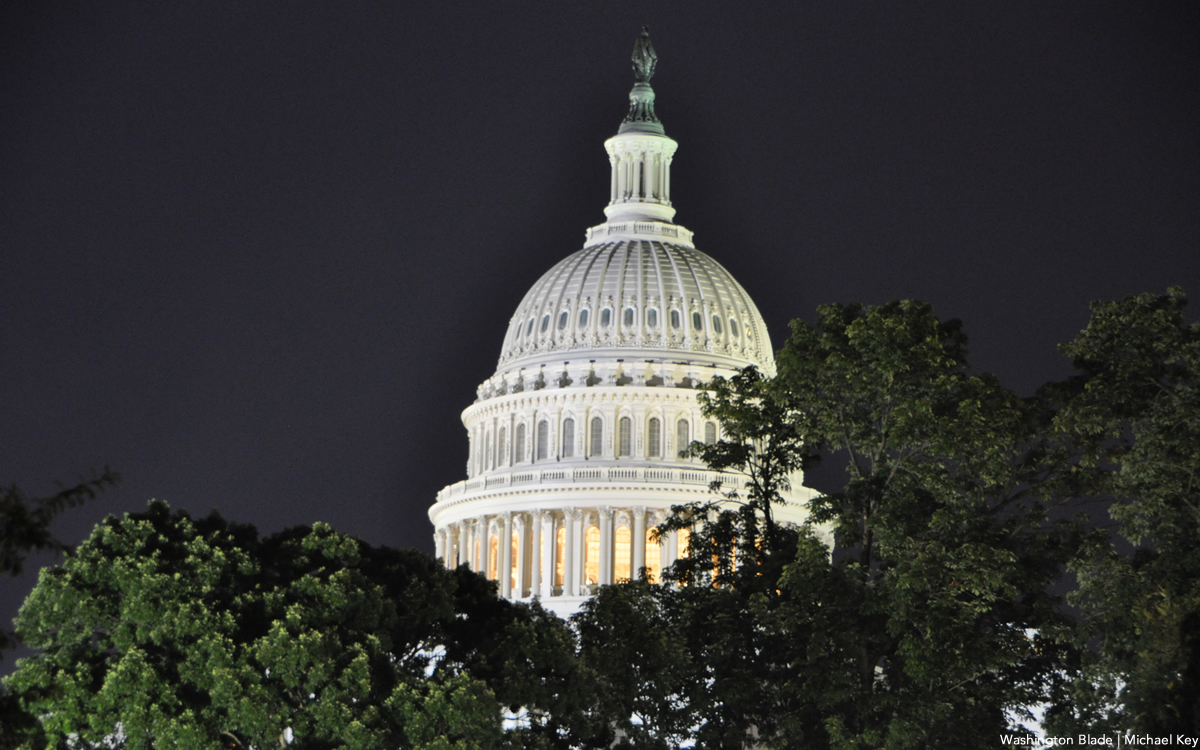 Anti-LGBTQ provisions submitted by House Republicans to the National Defense Authorization Act (NDAA) have been removed from the defense spending bill, triggering outrage from conservative lawmakers and praise from LGBTQ groups.
The conference version of the bill was released on Thursday.
This week saw the revocation of two measures targeting gender affirming care along with the book ban and drag ban. Language stipulating the list of approved flags that can be flown at military bases was amended such that more flags can be added on a discretionary basis.
"MAGA members of Congress tried to hijack the National Defense Authorization Act to advance their anti-LGBTQ+ agenda, attempting to riddle it with discriminatory riders," Human Rights Campaign National Press Secretary Brandon Wolf said in a statement to the Washington Blade.
His statement continued, "They failed and equality won. Anti-LGBTQ+ provisions, including efforts to restrict access to gender affirming care, were rejected. The anti-LGBTQ+ agenda continues to be deeply unpopular across the country and a failing political strategy."
Wolf thanked U.S. Sen. Jack Reed (D-R.I.) and U.S. Rep. Adam Smith (D-Wash.) for "defending equality and defeating attacks on the community."
Pledging to vote "no" on the bill, Republican U.S. Rep. Marjorie Taylor Greene (Ga.) said in a post on X, "I was appointed to the NDAA conference committee but NEVER got to work on the final version of the NDAA bc they made the deal behind closed doors and here are the horrible results."
I was appointed to the NDAA conference committee but NEVER got to work on the final version of the NDAA bc they made the deal behind closed doors and here are the horrible results 👇

I'm voting NO!!! pic.twitter.com/jnmTHCgzNG

— Rep. Marjorie Taylor Greene🇺🇸 (@RepMTG) December 8, 2023
New bill would protect LGBTQ-owned businesses from lending discrimination
Legislation introduced by Sens. Padilla, Gillibrand and Rep. Torres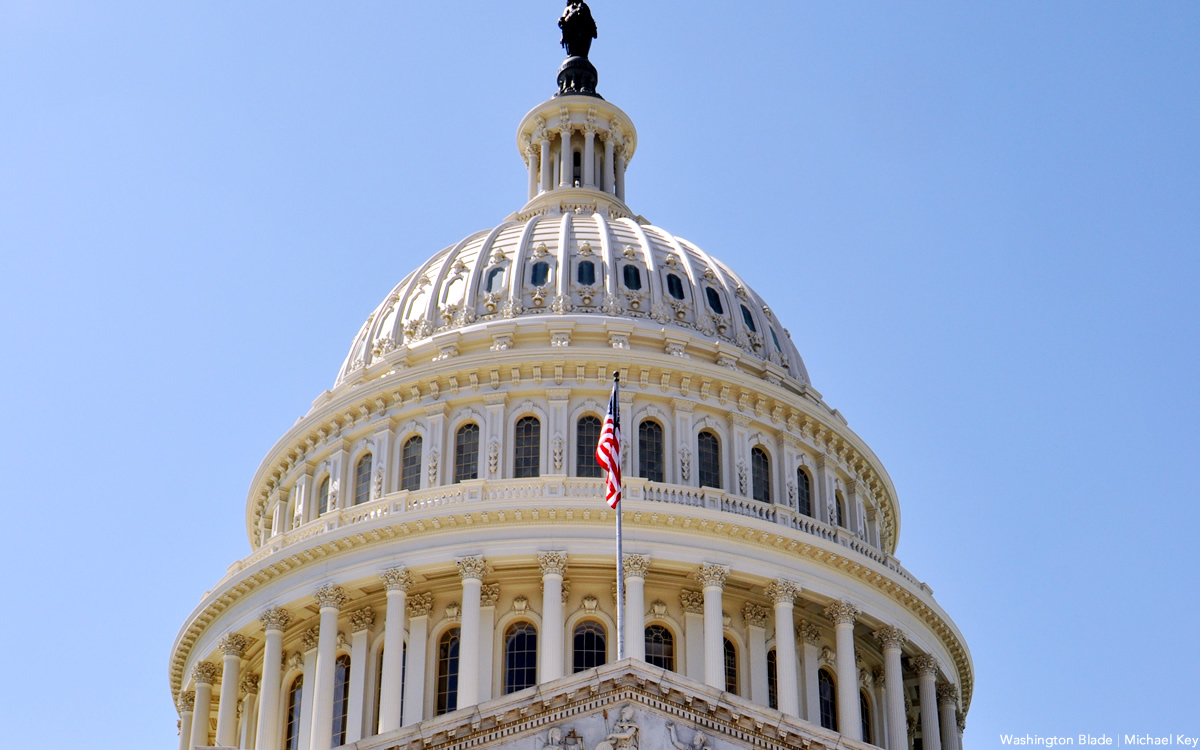 A bicameral bill introduced on Wednesday by U.S. Sens. Alex Padilla (D-Calif.) and Kirsten Gillibrand (D-N.Y.), along with U.S. Rep. Ritchie Torres (D-N.Y.) would require financial institutions to collect data on access to credit and capital by LGBTQ-owned businesses.
The legislation would thereby allow regulators to better identify and potentially remedy instances of anti-LGBTQ discrimination in these areas.
CNBC reported in June that a study by the Movement Advancement Project found LGBTQ-owned businesses encountered more rejections than non-LGBTQ-owned businesses that applied for funding, amid a tightening of lending standards across the board.
Specifically, the bill would "clarify that Section 1071 of the Dodd-Frank Wall Street Reform and Consumer Protection Act (Dodd-Frank) requires financial institutions to collect the self-identified sexual orientation and gender identity of the principal owners of small businesses, in addition to their sex, race, and ethnicity," according to a press release by Padilla's office.
The California senator said, "With anti-LGBTQ+ legislation and hate crimes on the rise, LGBTQ+ business owners continue to face persistent and unjust barriers to financial success," adding that "LGBTQ+-owned small businesses are a cornerstone of local economies, and they deserve equitable resources to help them grow and thrive."
Padilla's press release notes the legislation "would also add a definition for businesses owned by lesbian, gay, bisexual, transgender, queer, and intersex individuals to the ECOA statute."
Additionally, "The legislation also includes a Sense of Congress confirming that sexual orientation and gender identity are already covered under the ECOA (including the current data collection requirements)" while clarifying "that the sex, sexual orientation, and gender identity of the principal owners of a business should be collected as three separate forms of information."
The Congressional Equality Caucus, Ali Forney Center, Center for American Progress, Destination Tomorrow, Drag Out The Vote, Human Rights Campaign, Immigration Equality Action Fund, InterAct, and New Pride Agenda have backed the bill.
Endocrine Society corrects misinformation about gender affirming care at GOP debate
Presidential candidates clashed in Ala. on Wednesday.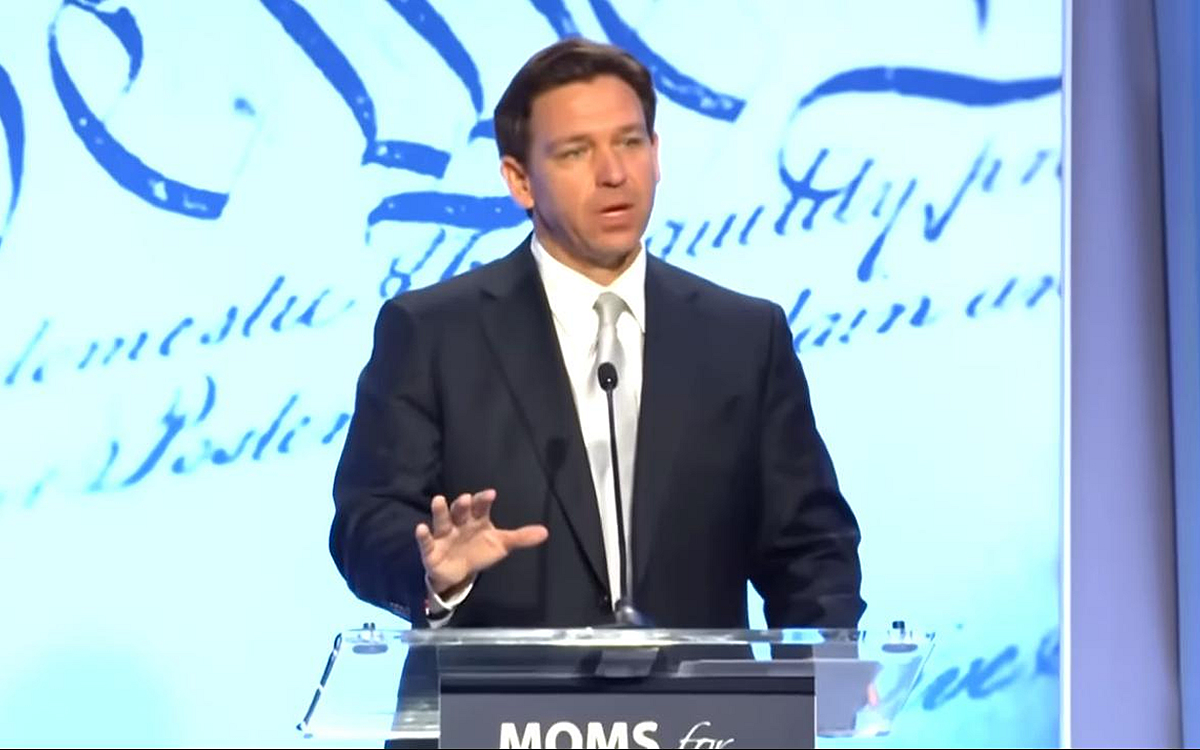 The Endocrine Society, the world's oldest and largest organization dedicated to the clinical practice of endocrinology, released a statement correcting misinformation about gender affirming healthcare that was spread at the fourth Republican presidential primary debate on Wednesday night.
The group said comments in which Florida Gov. Ron DeSantis (R) characterized care for transgender and gender-diverse youth as child abuse and genital mutilation "do not reflect the health care landscape" and contradict "mainstream medical practice and scientific evidence."
"Pediatric gender-affirming care is designed to take a conservative approach," the Endocrine Society wrote. "When young children experience feelings that their gender identity does not match the sex recorded at birth, the first course of action is to support the child in exploring their gender identity and to provide mental health support, as needed."

The statement continues, "Medical intervention is reserved for older adolescents and adults, with treatment plans tailored to the individual and designed to maximize the time teenagers and their families have to make decisions about their transitions."
Notwithstanding the remarks by DeSantis, other debate participants, and moderator Megyn Kelly, "gender-affirming genital surgery is rarely offered to anyone under the age of 18," the statement says.
Additionally, "More than 2,000 scientific studies have examined aspects of gender-affirming care since 1975, including more than 260 studies cited in the Endocrine Society's Clinical Practice Guideline."
Other major scientific and medical groups like the American Medical Association, the American Psychological Association and the American Academy of Pediatrics are "in alignment" with the Endocrine Society on "the importance of gender affirming care," the statement notes.
Further, research shows it "can be life saving for a population with high suicide rates."