Victory Fund backs Ray's D.C. Council bid
Gay candidate says endorsement boosts campaign
The Gay & Lesbian Victory Fund, a national group that helps elect LGBT candidates to public office, has endorsed gay D.C. City Council candidate Clark Ray.
Ray, former director of the city's Department of Parks & Recreation, is challenging incumbent Phil Mendelson in the Sept. 14 Democratic primary. Many political observers believe Ray has an uphill fight against Mendelson, a longtime supporter of LGBT rights who has held the seat for nearly 12 years.
The Victory Fund's decision to endorse Ray, announced Tuesday, is considered significant because it limits its endorsements to "viable" candidates capable of running a professional campaign, who are raising sufficient money to be competitive and have a reasonable chance of winning.
"I'm honored to receive the endorsement of the Gay & Lesbian Victory Fund," Ray said in a statement. "The Victory Fund's candidate evaluation process was rigorous, and we're proud to have made the grade."
Among other things, the Victory Fund raises money for its endorsed candidates through a national network of donors who are committed to helping elect qualified LGBT candidates.
Victory Fund spokesperson Dennis Dison said the group also has endorsed gay D.C. City Council incumbents Jim Graham (D-Ward 1) and David Catania (I-At Large), who are running for re-election.
Ray's campaign received a setback earlier this month when the Gertrude Stein Democratic Club, the city's largest LGBT political group, endorsed Mendelson. Club members backing Mendelson said Ray is qualified to hold public office, but they believe it would be wrong to turn against an incumbent who has championed LGBT causes.
Ray said the Victory Fund endorsement comes as his campaign gears up for the remaining four weeks leading up to the primary.
"The Victory Fund endorsement comes just as we're feeling great momentum — 10 new field workers hired, thousands of yard signs distributed, community leader endorsements from Anacostia to Georgetown, and increasing attention from observers citywide," he said.
DC Front Runners Pride 5K to take place as scheduled
Air quality improved overnight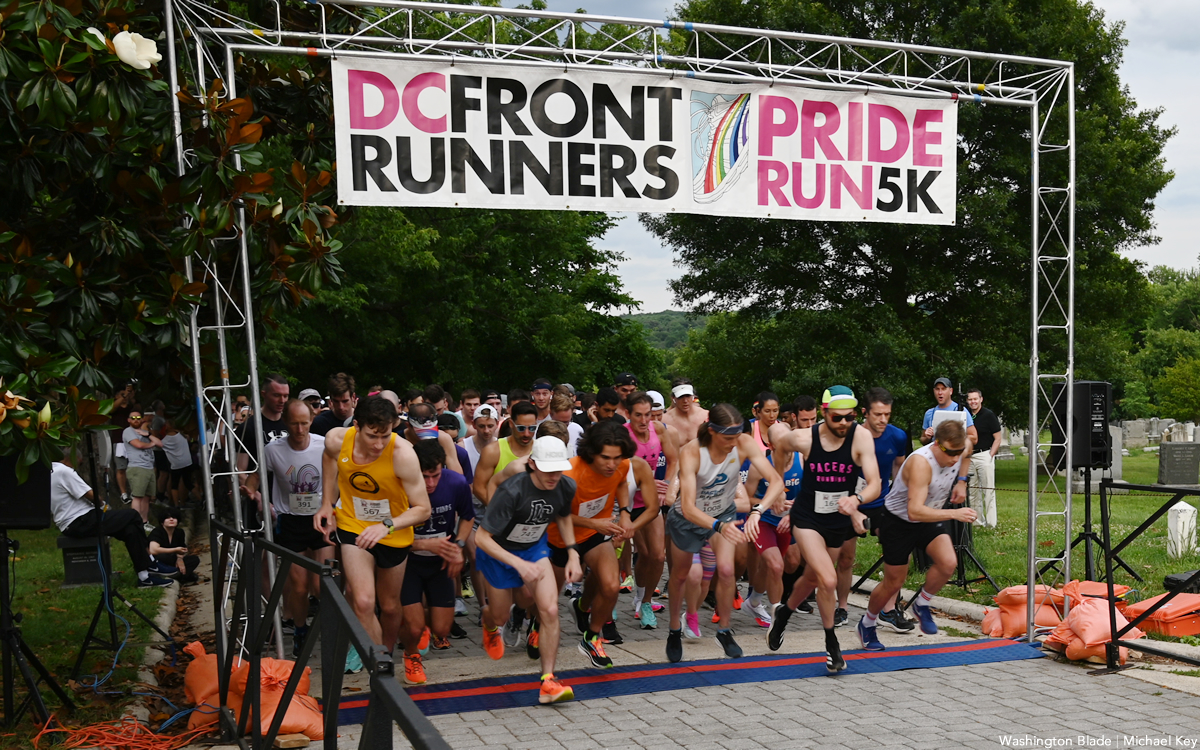 The D.C. Front Runners' annual Pride Run 5K will take place as scheduled at Congressional Cemetery on Friday.
The Blade Foundation, SMYAL, the Wanda Alston Foundation, Team DC, Teens Run DC, Pride 365 and Ainsley's Angels of America are among the race's beneficiaries. Wegmans, Shake Shack, Knead Hospitality and Design, Choice Hotels and Capital One Café are among the sponsors.
Rooftop Pool Party postponed
Capital Pride Alliance moves official event to June 22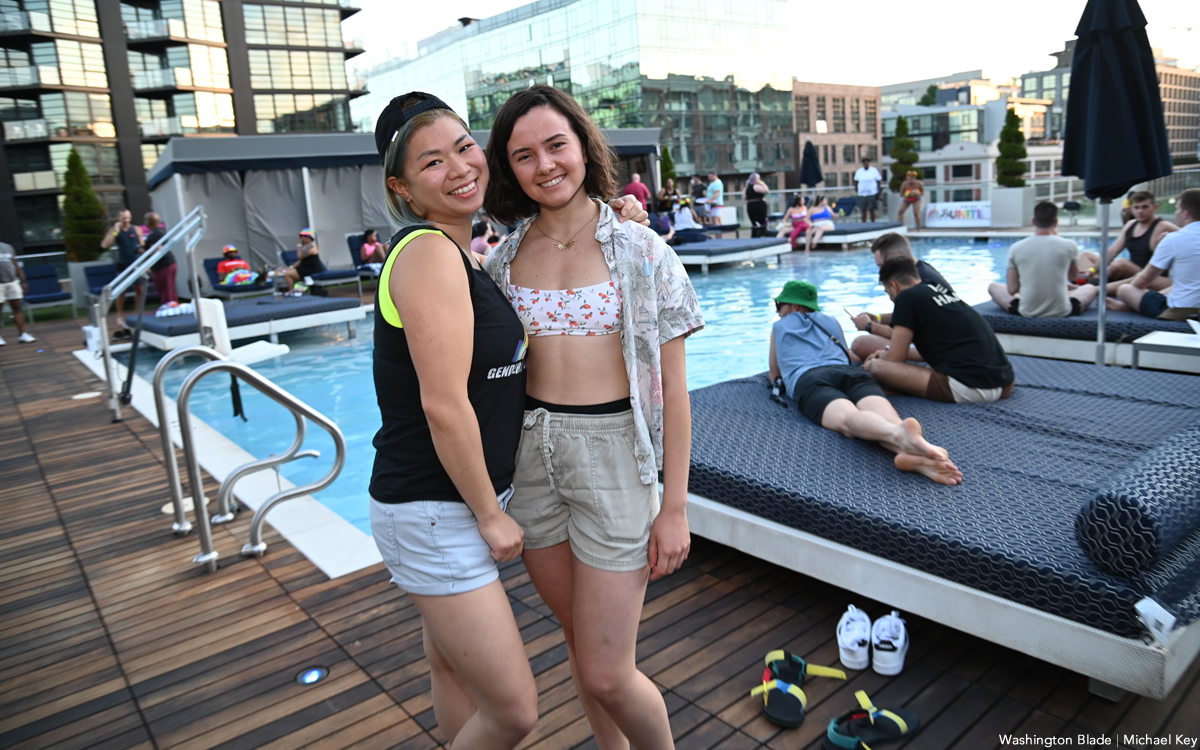 The Capital Pride Rooftop Pool Party, originally scheduled to begin at 8 p.m. tonight, has been postponed until Thursday, June 22, according to a statement released by the Capital Pride Alliance on Instagram. This action comes amid an international climate event created by the Canadian wildfire that has resulted locally in poor air quality and a haze around the region.
The Capital Pride Alliance Instagram account posted, "As with all concerns regarding health and safety issues, the Capital Pride Alliance will closely monitor the air quality situation resulting from Canadian wildfire smoke and take necessary precautions in consultation with our partners in the DC government."
"What does this mean for the pool party?" a question one private Instagram account user posed in the comment section.
"Important Update:" A representative of the Capital Pride Alliance responded through the group's official Instagram account. "Tonight's Capital Pride RoofTop Pool Party at VIDA The Yards is being postponed until Thursday, June 22 at 8:00 pm, due to the current air-quality situation resulting from the Canadian wildfires smoke. Please note that this postponement only applies to today's event."
The Capital Pride Alliance has yet to cancel or postpone any further events.
The White House earlier today rescheduled a large outdoor Pride reception planned for this evening to Saturday.
White House postpones Pride event due to wildfire smoke
Thousands expected for celebration bumped to Saturday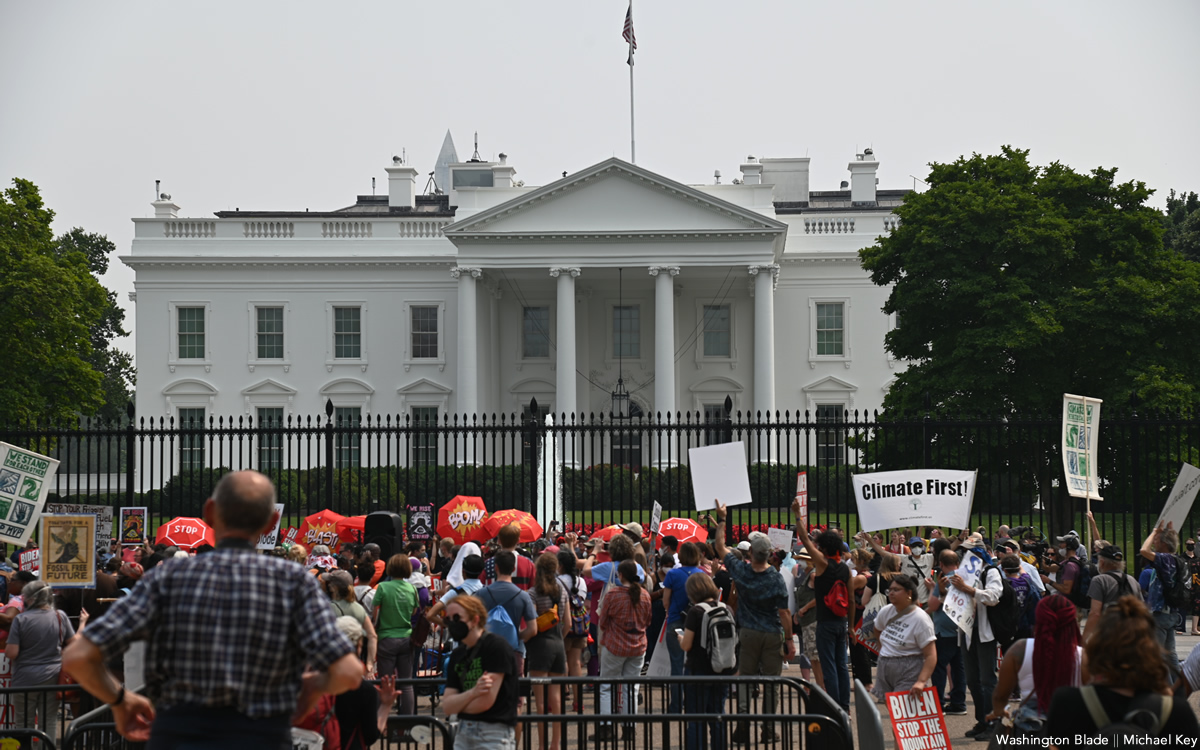 The White House announced Thursday that a Pride event scheduled for this evening has been postponed to Saturday due to the lingering Canadian wildfire smoke.
The smoke has enveloped D.C. in a dangerous haze that triggered a "purple alert" on Thursday, considered worse than a "red alert."
The event, expected to draw thousands of invited LGBTQ advocates and supporters to D.C., has been rescheduled for 1 p.m. on Saturday on the South Lawn of the White House, the same day as D.C.'s Capital Pride Parade, which kicks off at 3 p.m., and Pride on the Pier celebration, which starts at 2 p.m.