Choi, others arrested in Las Vegas after ENDA protest
Activists were arrested in Las Vegas on Tuesday following a protest urging Senate Majority Leader Harry Reid (D-Nev.) to move forward with the Employment Non-Discrimination Act.
Eight protesters — including Dan Choi, known in his role in protesting "Don't Ask, Don't Tell," and Robin McGehee, co-founder of GetEqual — were arrested after they blocked traffic on Las Vegas Boulevard while holding up a sign reading "Reid: No One Can Do More? GetEqual.org."
Around 20 activists in total played roles in the protest and not all were arrested, according to GetEqual. Many activists in HERO, a local group responsible for protesting Sen. John McCain (R-Ariz.) on LGBT issues, also took part in the event.
After she was released from prison, McGehee told the Blade she thinks the protest was "absolutely" successful because activists "sent a strong message to Sen. Reid" pressuring him to take action.
"Reid has said that he whole-heartedly supporters an inclusive ENDA," McGehee said. "It easy to say that while it sits in committee. What we want to see is leadership from not only the Senate, but also Congress, to not only talk about why you support it, but actually do the actual work to get it addressed and passed."
The Las Vegas office for Reid didn't respond to the Blade's request to comment on the protest or ENDA. Still, McGehee said she heard from local organizers that Reid's staffers knew about the protest and briefed him about the event.
The activists were charged with the misdemeanor of obstructing a police officer and blocking a roadway when a sidewalk was available, according to McGehee.
McGehee said those who were arrested were released without bail and set to appear Sept. 20 before the Clark County District Court. The maximum possible penalty for the protesters is $400, according to McGehee.
The names of the protesters who were arrested are:
* Robin McGehee, 36, a California resident;
* Dan Choi, 29, a D.C. resident;
* Dan Fotou, 34, a California resident;
* Natasha Dillon, 25, a New York resident;
* Meg Sneed, 27, an Arizona resident;
* Lee Walters, 45, an Arizona resident;
* Paul Roark, 41, an Arizona resident;
* and Jimmy Gruender, 36, an Arizona resident.
WH responds to Fulton decision after odd team-up in daily briefing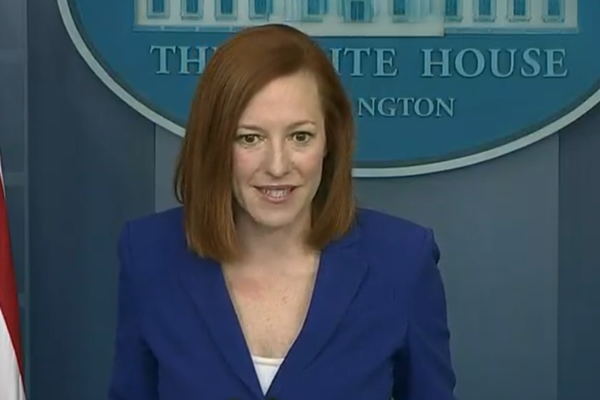 After an unlikely team-up of reporters in the White House briefing room, the Biden administration responded to the ruling in City of Philadelphia v. Fulton.
A White House spokesperson responded to the the decision last week, which was narrowly decided in favor of a religious-affiliated foster care agency seeking to reject LGBTQ families, via email to the Washington Blade.
"Since day one, the Biden-Harris Administration has been committed to fighting for full equality for LGBTQ+ families, and we intend to make good on that commitment," the spokesperson said. "It's possible to comply with the Fulton decision while taking a strong stand against discrimination."
The email response comes after White House Press Secretary Jen Psaki said incorrectly on Monday the administration had already issued a statement on the decision. The question was first posed to her in response to an inquiry from a conservative reporter, then again from the Washington Blade.
A reporter with the religious news service EWTN, in an apparent attempt to make Biden look bad on the issue of religious freedom, asked Psaki for a response to the decision.
"I think we had issued a reaction to it," Psaki said, even though the White House has made no official statement. "I don't have anything more to it, but I have to move on."
The EWTN reporter later interjected in the middle of the briefing a question about the supposed inconsistency of President Biden's Catholic faith and his support for abortion rights.
The Blade, after being called on by Psaki, pointed out the White House has issued no reaction to Fulton, which could have significant impact on the ability of LGBTQ couples to adopt and foster children. Asked whether Biden was briefed on the ruling, Psaki went back to a non-existent previous statement.
"I thought we had," Psaki replied. "If not, I will get that to you and this gentlemen over here."
The Supreme Court, in a rare unanimous decision, issued in Fulton a limited ruling for Catholic Social Services, which sought a First Amendment right to reject same-sex couples in foster care despite having signed a contract with the City of Philadelphia agreeing not to discriminate against LGBTQ people.
But instead of issuing a sweeping decision on the First Amendment, the Supreme Court issued a decision applying only to the context of the contract between Catholic Social Services and the City of Philadelphia. The ruling found the contract doesn't survive the test of strict scrutiny under the First Amendment because it had exemption language not generally applicable.
The Stonewall Inn bans Anheuser-Busch during NYC Pride weekend
"We urge Anheuser-Busch and other companies doing this to publicly commit to stop donating to anti-LGBTQ politicians"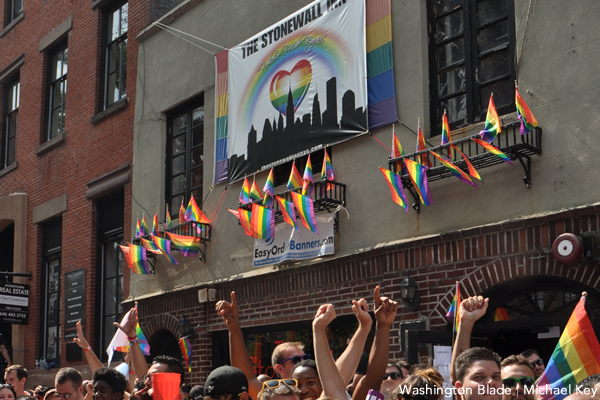 NEW YORK – In response to news that the Anheuser-Busch InBev company had made political contributions to lawmakers behind bills targeting transgender youth, the owners of the Stonewall Inn announced its ban of AB InBev products during New York City's Pride weekend.
The historic West Village pub, widely regarded as the location of one of the seminal defining events in the history of the LGBTQ rights movement, is sponsoring a public 'pour-out' of Bud Light, Michelob ULTRA, and Stella Artois in front of the bar on Wednesday, June 23, to demand that the Leuven, Belgium based AB InBev stop donating to anti-LGBTQ legislators and commit to using its lobbying efforts to advance the Equality Act.
Should the Equality Act be passed, it would afford LGBTQ people with equal nondiscrimination protections under federal law.
"You can't turn your logo rainbow on social media, call yourself an ally, and then turn around and make donations that fuel hate. There are really no excuses, and companies like Anheuser-Busch need to own up to what they've done," said Stonewall Inn co-owner Stacy Lentz. "As a business owner, it's never easy to stop selling a product that affects your bottom line — especially during the busiest weekend of the year. But I'm an activist above all else and we at The Stonewall Inn know we bear a unique responsibility to call out hypocrisy when we see it. Anheuser-Busch and other companies must do better."
According to data from the Keep Your Pride campaign, since 2015, Anheuser-Busch has made 48 donations totaling $35,350 to 29 anti-LGBTQ legislators behind recent bills attacking trans youth.
Through its nonprofit arm, The Stonewall Inn Gives Back Initiative, Stonewall recently launched the Safe Spaces program, which identifies and certifies entertainment venues, food and beverage locations, stores, businesses, and other public venues as Safe Spaces for LGBTQ people. Under its criteria for certification, businesses that donate to anti-LGBTQ lawmakers would not qualify for designation as a Safe Space.
"As one of our best-selling products, Bud Light has been a longtime staple here at The Stonewall Inn. It's deeply disappointing to learn that Anheuser-Busch has given money to lawmakers who are attacking trans kids, some of the most vulnerable people in the LGBTQ community," said Stonewall Inn co-owner Kurt Kelly.
"We're horrified to see so-called allies supporting lawmakers who would make life harder for anyone in our community. We urge Anheuser-Busch and other companies doing this to publicly commit to stop donating to anti-LGBTQ politicians and use their lobbying power to support the Equality Act," Kelly added.
White House mum on whether Biden raised LGBTQ rights with Putin
Geneva summit took place amid ongoing Chechnya crackdown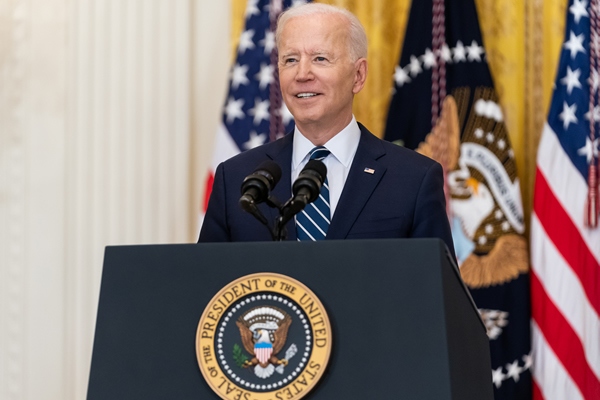 The White House on Wednesday did not say whether President Biden raised Russia's LGBTQ rights record during his summit with Russian President Vladimir Putin.
"I told President Putin my agenda is not against Russia or anyone else; it's for the American people: fighting COVID-19; rebuilding our economy; reestablishing our relationships around the world with our allies and friends; and protecting our people," Biden told reporters during a press conference that took place after the summit, which took place in Geneva, ended. "That's my responsibility as president.

"I also told him that no president of the United States could keep faith with the American people if they did not speak out to defend our democratic values, to stand up for the universal rights and fundamental freedoms that all men and women have, in our view," added Biden. "That's just part of the DNA of our country."
Biden said he told Putin that "human rights is going to always be on the table, I told him."
"It's not about just going after Russia when they violate human rights; it's about who we are," said Biden. "How could I be the president of the United States of America and not speak out against the violation of human rights?"
Biden also told reporters the U.S. will continue to "raise our concerns about cases like Alexey Navalny," a Russian opposition leader who remains in jail.
Navalny last August spent weeks in a coma after he was poisoned with Novichok in the Siberian city of Tomsk. Navalny underwent treatment in Germany before he returned to Russia in January.   
"I made it clear to President Putin that we'll continue to raise issues of fundamental human rights because that's what we are, that's who we are," Biden told the reporters. "The idea is: 'We hold these truths self-evident that all men and women … ' We haven't lived up to it completely, but we've always widened the arc of commitment and included more and more people."
Putin in 2013 sparked global outrage when he signed a law that bans the promotion of so-called gay propaganda to minors. Putin in April signed a series of constitutional amendments that, among other things, formally defines marriage as between a man and a woman in Russia.
Chechen President Ramzan Kadyrov, who is a close Putin ally, and the Kremlin continue to downplay the anti-LGBTQ crackdown in Chechnya.
The State Department in February expressed concern over the fate of two Chechen brothers who were arrested in Russia and returned to their homeland, even though they had fled its anti-LGBTQ crackdown.
The Russian LGBT Network, a Russian LGBTQ rights group, said authorities in Dagestan, a semi-autonomous Russian republic that borders Chechnya, on June 10 kidnapped a bisexual woman who had sought refuge at a shelter for domestic violence survivors. Reports indicate Chechen police officers forced her into a vehicle and drove her back to Chechnya.
The National Security Council before the summit did not respond to the Washington Blade's request for comment about whether Biden planned to raise Russia's LGBTQ rights record with Putin. A State Department spokesperson referred the Blade to the White House for comment.
Chris Johnson contributed to this article.